20 Best Labor Day Recipes
These easy meal ideas are perfect for fun in the sun.
Labor Day is the day set aside to honor U.S. laborers for the contributions they've made to the strength, well-being, and prosperity of this country. Although it didn't become a legal holiday in the U.S. until 1894, Labor Day has been observed in the U.S. in some form since September 5, 1882. That first Labor Day, which fell on a Tuesday, was actually intended to be a bit less of a celebration and a bit more a protest by laborers looking to draw attention to untenable working conditions in the days before labor reform. Nevertheless, the gathering was both celebratory and peaceful and included a parade through Manhattan and a massive day-long picnic for workers and their families.
Parades, inspirational speeches honoring workers and workers' rights, and outdoor feasts are still part of the Labor Day celebration. And because Labor Day falls—by an act of Congress—on the first Monday of September, its celebrations have come to be associated with acknowledging the end of summer and the beginning of the school year. With all of that in mind, here are our best Labor Day recipes to inspire your holiday festivities.
And if you love cooking, sign up for our newsletter to get daily recipes and food news in your inbox!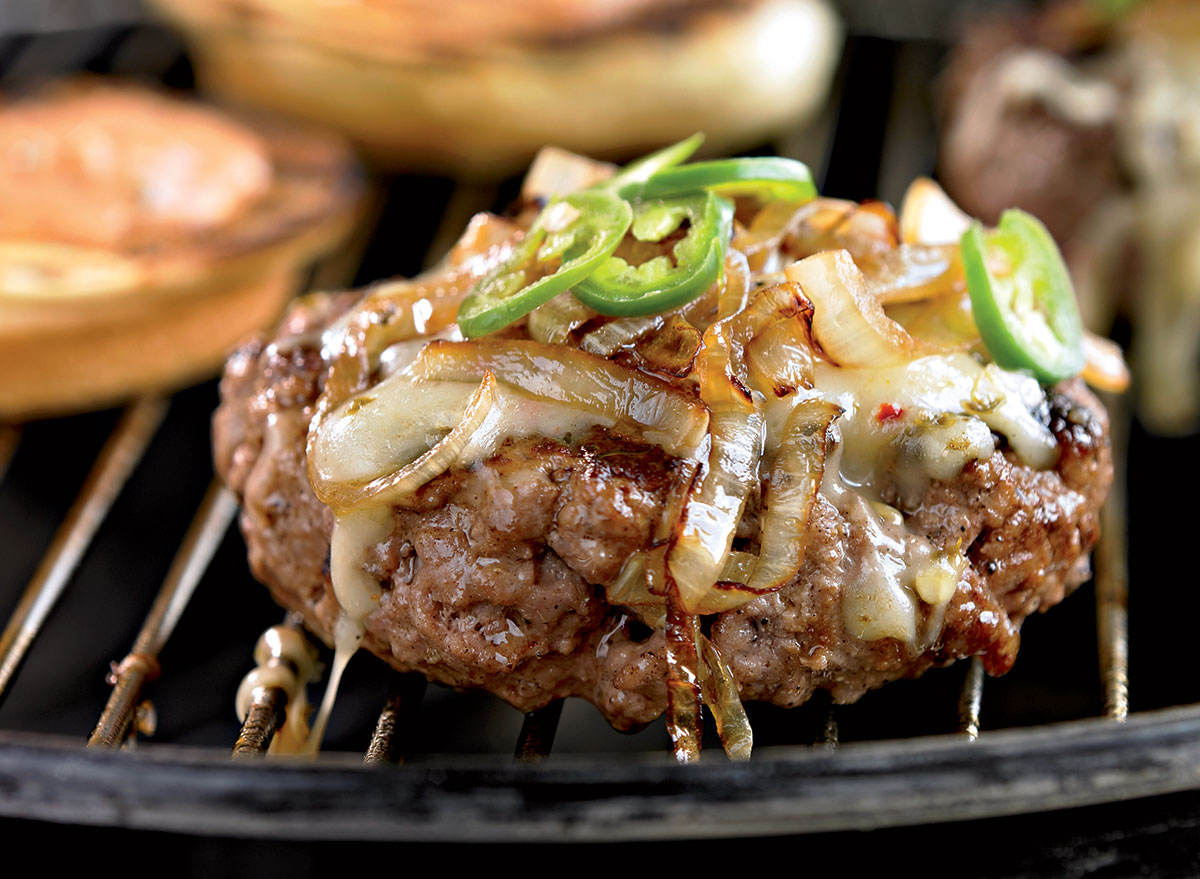 Cheeseburgers weren't invented until the 1920s, but hamburgers were already coming into popularity at the time of the first Labor Day celebration.
Here's how to grill burgers flawlessly—you can put those skills to the test with this restaurant-worthy Tex-Mex recipe featuring the audacious flavor and heat of jalapeño peppers.
Get our recipe for Jalapeño Cheeseburgers. 
Charcoal grilled pizza burgers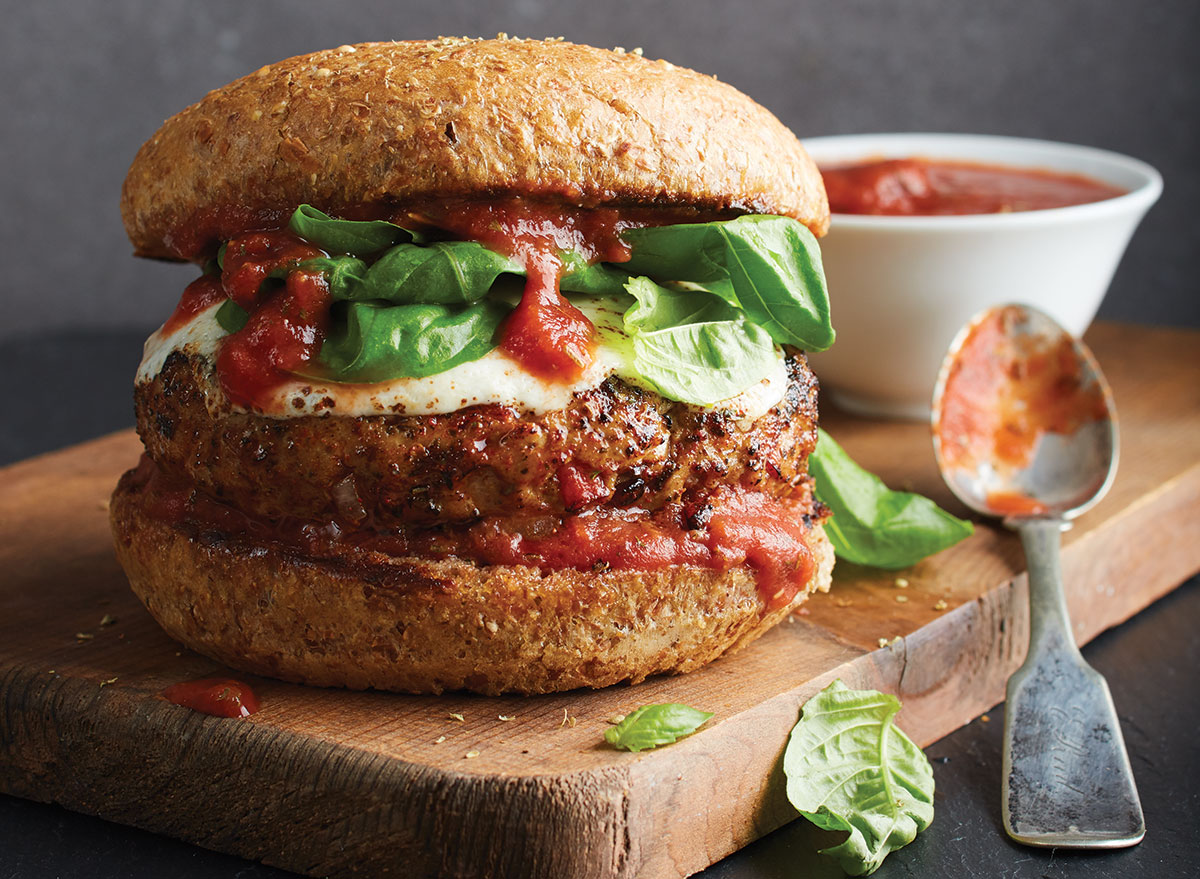 In recognition of the major role Italian Americans played in propelling the labor movement forward during the 19th and 20th centuries, here's an Italian-inspired burger that starts with a meatball-worthy ground turkey patty and gets topped like a pizza (pepperoni optional).
To keep the burger intact while eating it by hand, you can try serving it on a nice, sturdy Ezekiel 4:9's sprouted grain bun. For more info, check out our 36 Best and Worst Foods for Barbecues.
Get our recipe for Charcoal Grilled Pizza Burgers.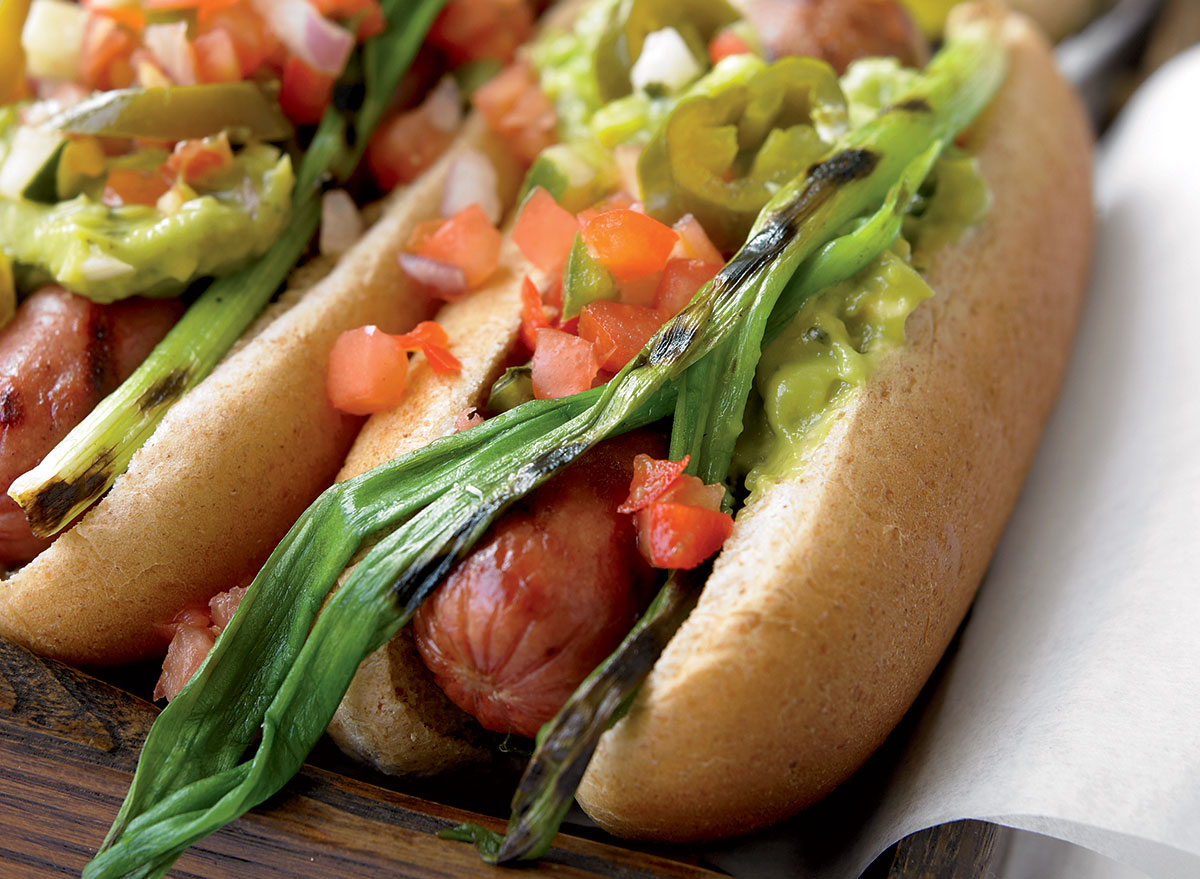 Hot dogs have been making the culinary rounds in the U.S. since the mid-19th century when a German immigrant first sold them from a cart on the streets of New York. And because they're relatively inexpensive and easy to eat out of hand, it's likely that hot dogs played a role in that first Labor Day picnic.
This delicious version gets its healthy, flavorful, Tex-Mex boost from guacamole and salsa. Not into Mexican-style dogs? Check out the other six options in our roundup of the 7 Tastiest Gourmet Hot Dogs You've Never Tried.
Get our recipe for Mexican Hot Dogs.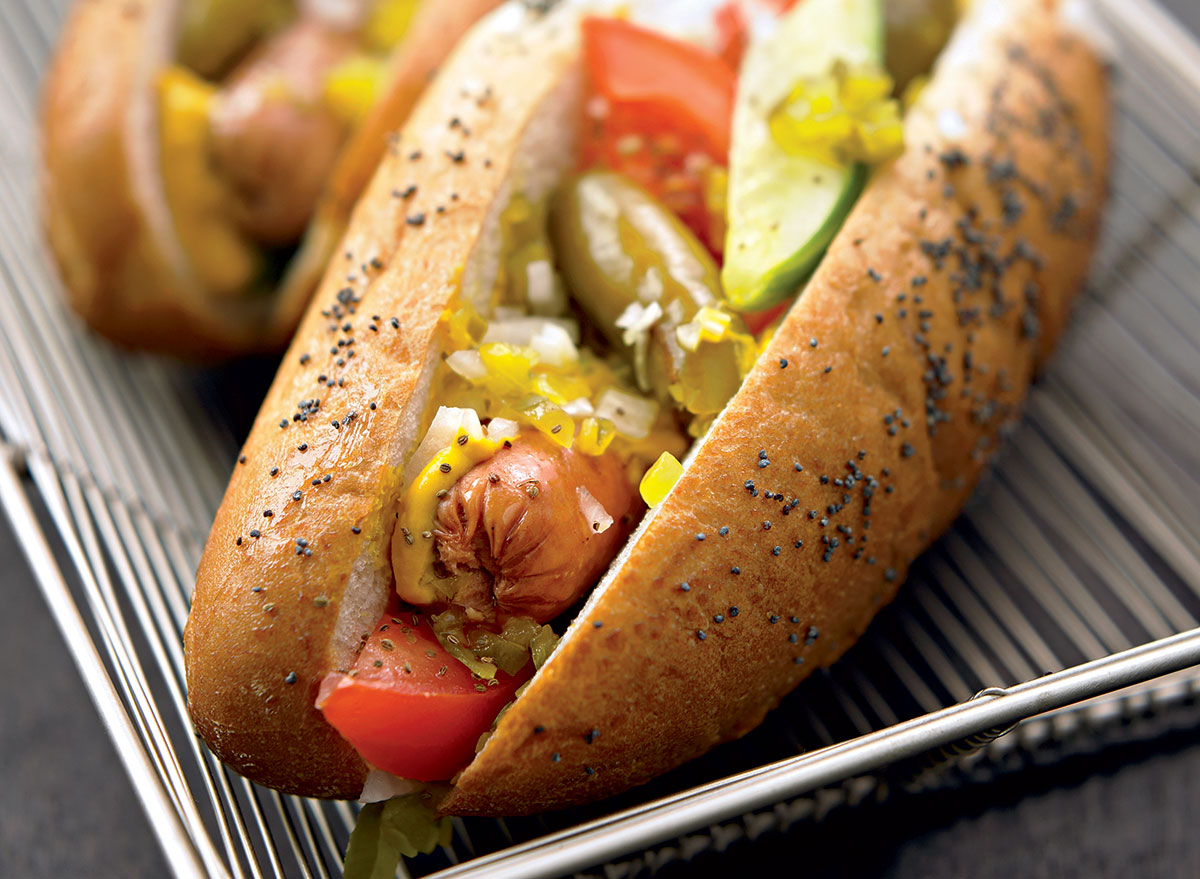 If you've never tried a Chicago-style hot dog, there's no better time than Labor Day. That's because Chicago-style hot dogs are piled high with fresh summer produce: chopped tomatoes; pickles and pickle-based relish (both of which are made from cucumbers); onions; and peppers. You could even argue that this Windy City specialty can count as a salad, as well as a sandwich.
Get our recipe for Chicago Hot Dogs. 
Smoky ribs with peach barbecue sauce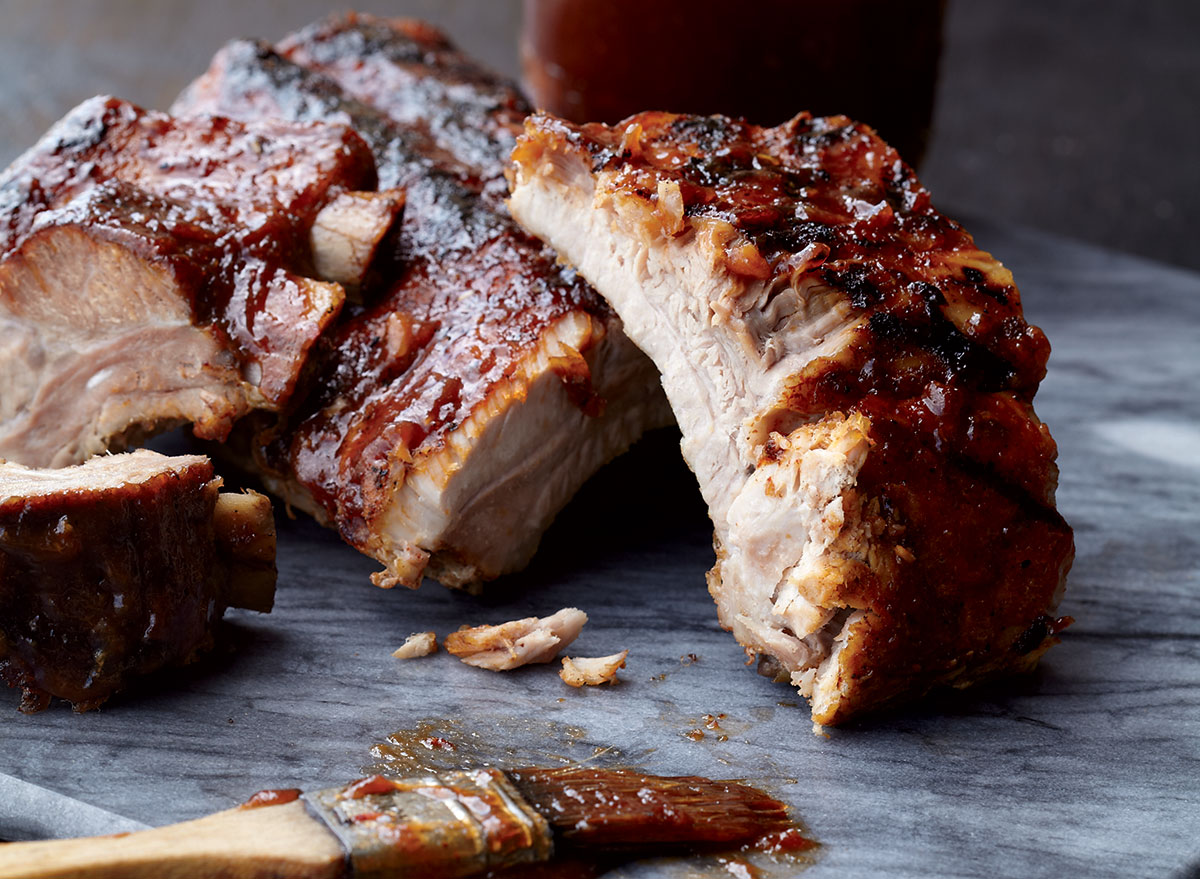 Smoky ribs are a staple of Southern cuisine. But you don't have to be from the South to appreciate them, and thanks to this recipe, you don't have to spend an entire day standing in front of a smoker to coax out that deep, smoky taste and tender texture.
Get our recipe for Smoky Ribs with Peach Barbecue Sauce.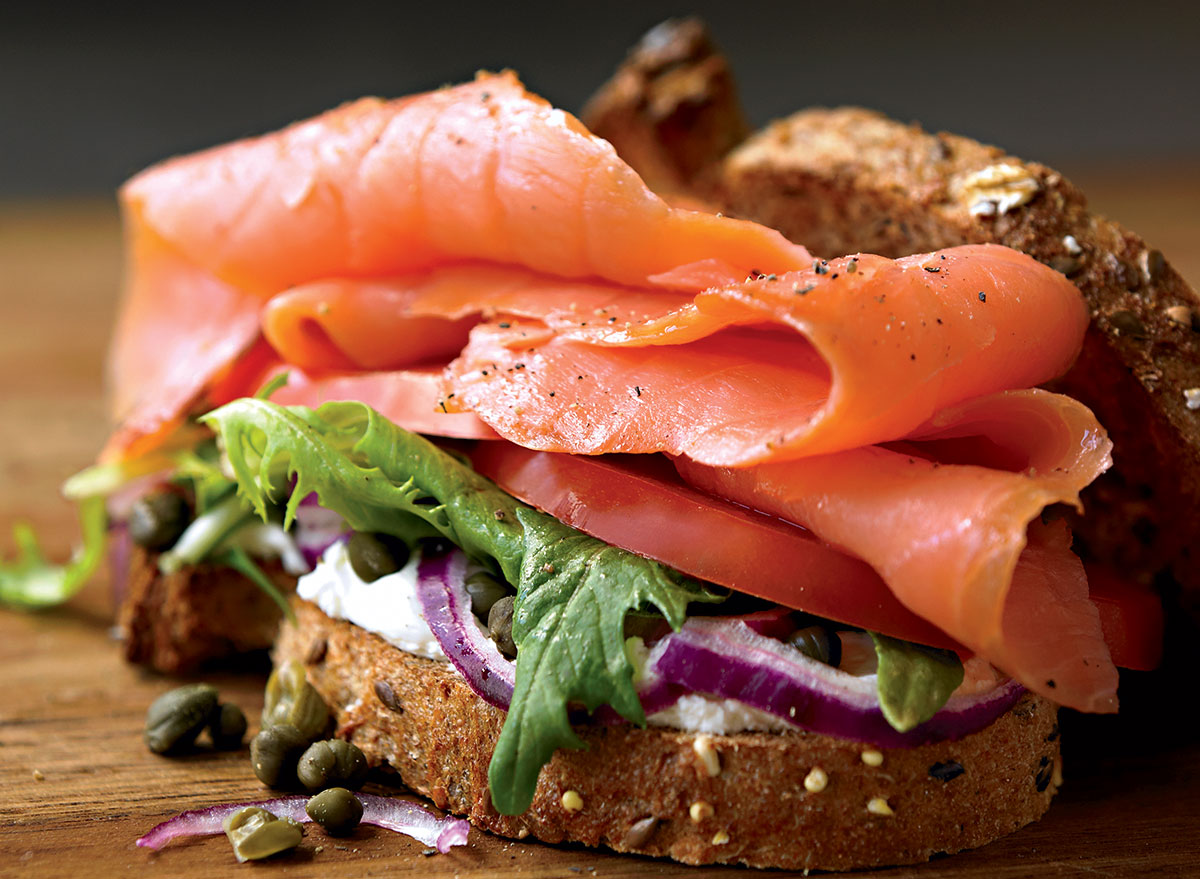 In honor of New York's role in the first Labor Day parade and picnic, here is our genius version of that New York brunch classic, the smoked salmon sandwich. Because smoked salmon is the star of this show, with the next most important supporting roles played by capers, tomatoes, and onions, we swapped the giant doughy New York bagels for healthy whole grain bread, and you won't miss the energy crash or any of these other carb-sequences.
Get our recipe for a Smoked Salmon Sandwich. 
Grilled buffalo chicken sandwich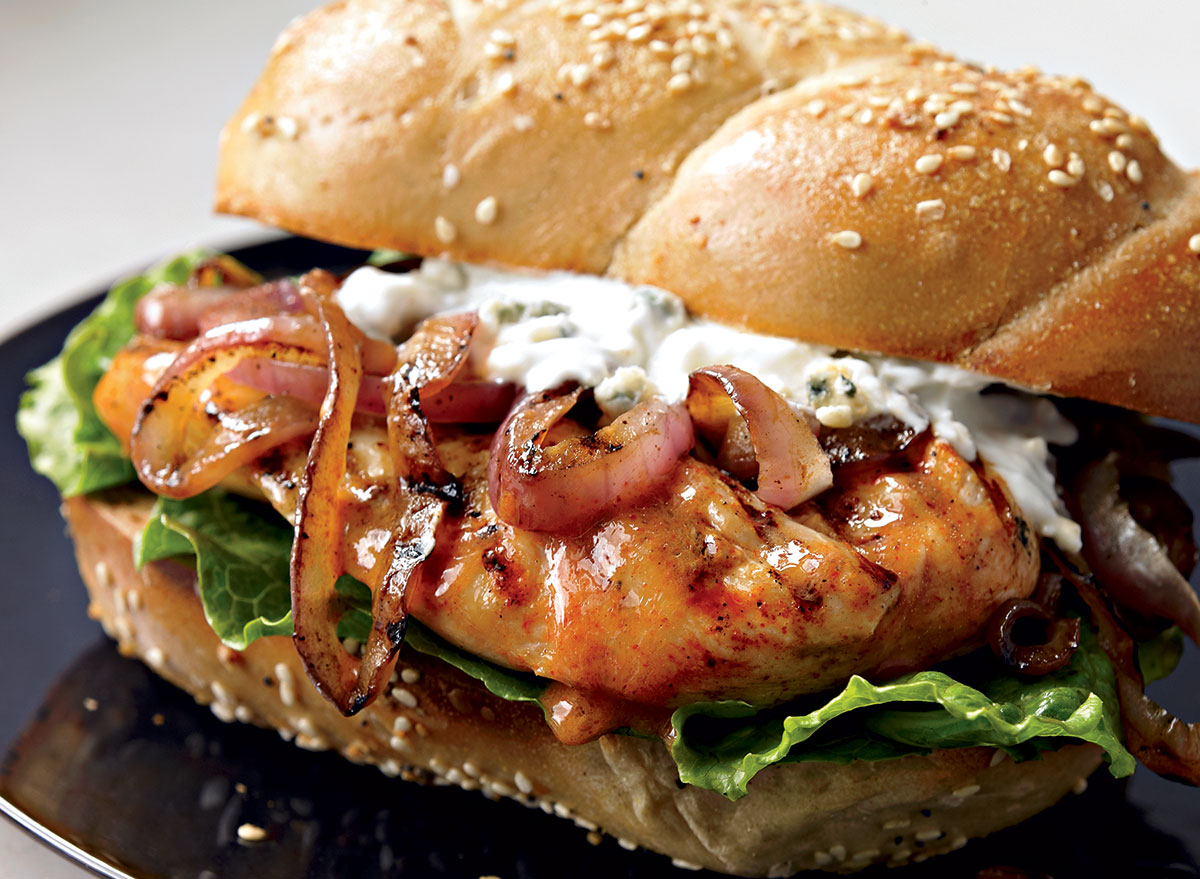 This version of a buffalo chicken sandwich is so indulgent, you might forget it's actually a healthy meal choice. Want to make it even healthier? Swap out the sesame buns in favor of whole-grain bread. Here are the 20 Best & Worst Store-Bought Bread Options For Every Health Goal.
Get our recipe for a Grilled Buffalo Chicken Sandwich. 
Pulled pork sandwiches are easy to make, easy to eat, and easy to love, especially when they're made in true North Carolina style with a splash of apple cider vinegar to complement the smoky taste of the pork. You can top them with coleslaw, or you can try them topped with this kiwi, cucumber, and mango salsa for a slightly sweeter contrast.
And as with our smoked salmon and buffalo chicken sandwiches, you should feel free to swap out the hamburger buns for any whole-grain bread of your choosing.
Get our recipe for a Pulled Pork Sandwich.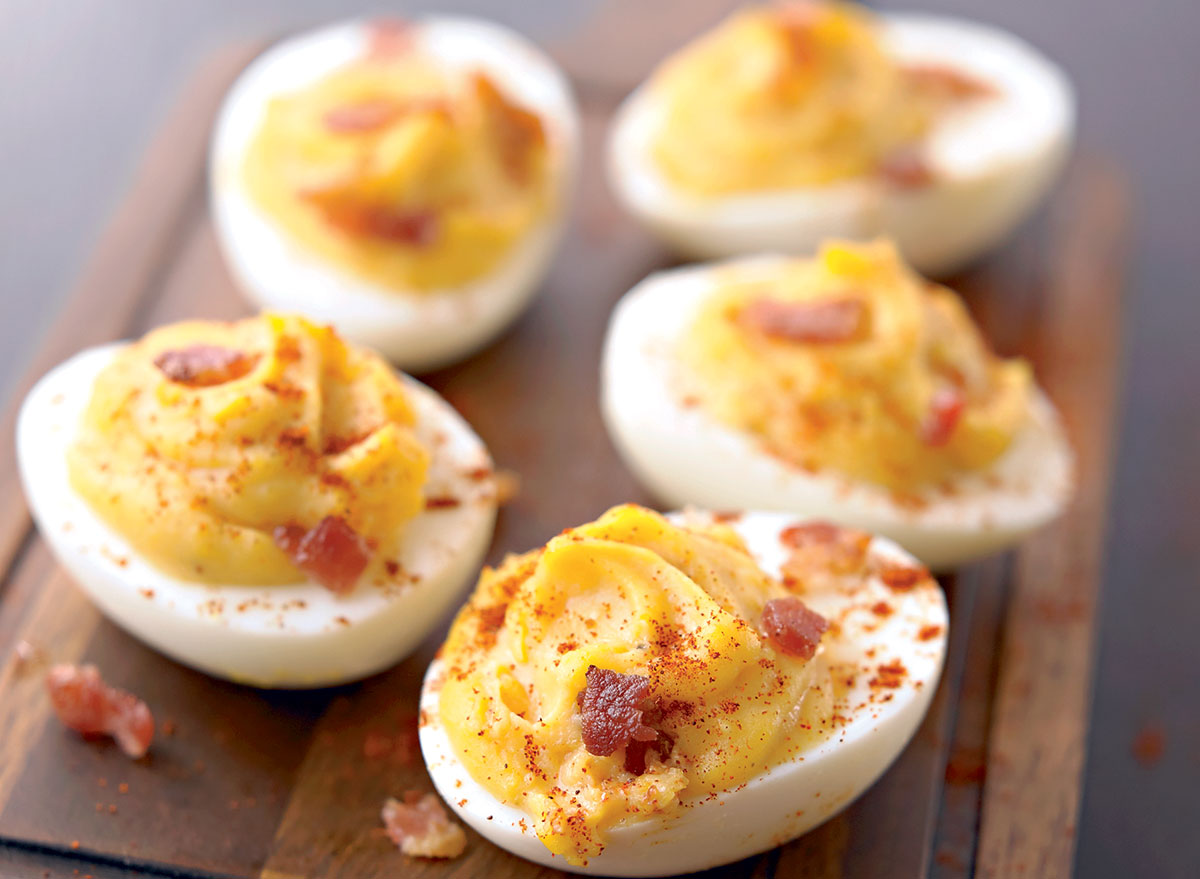 Deviled eggs are so synonymous with eating al fresco that they're often called "picnic eggs." That's because they're served cold, meaning they don't have to be warmed up, but they don't require intense cooling like the way, say, ice cream does. They're just fine with the sort of mild refrigeration you get from a picnic cooler. Here are 30 more of the Best Picnic Recipes for Eating Outside.6254a4d1642c605c54bf1cab17d50f1e
Get our recipe for Deviled Eggs with Bacon. 
Chef's salad-style eggs on a stick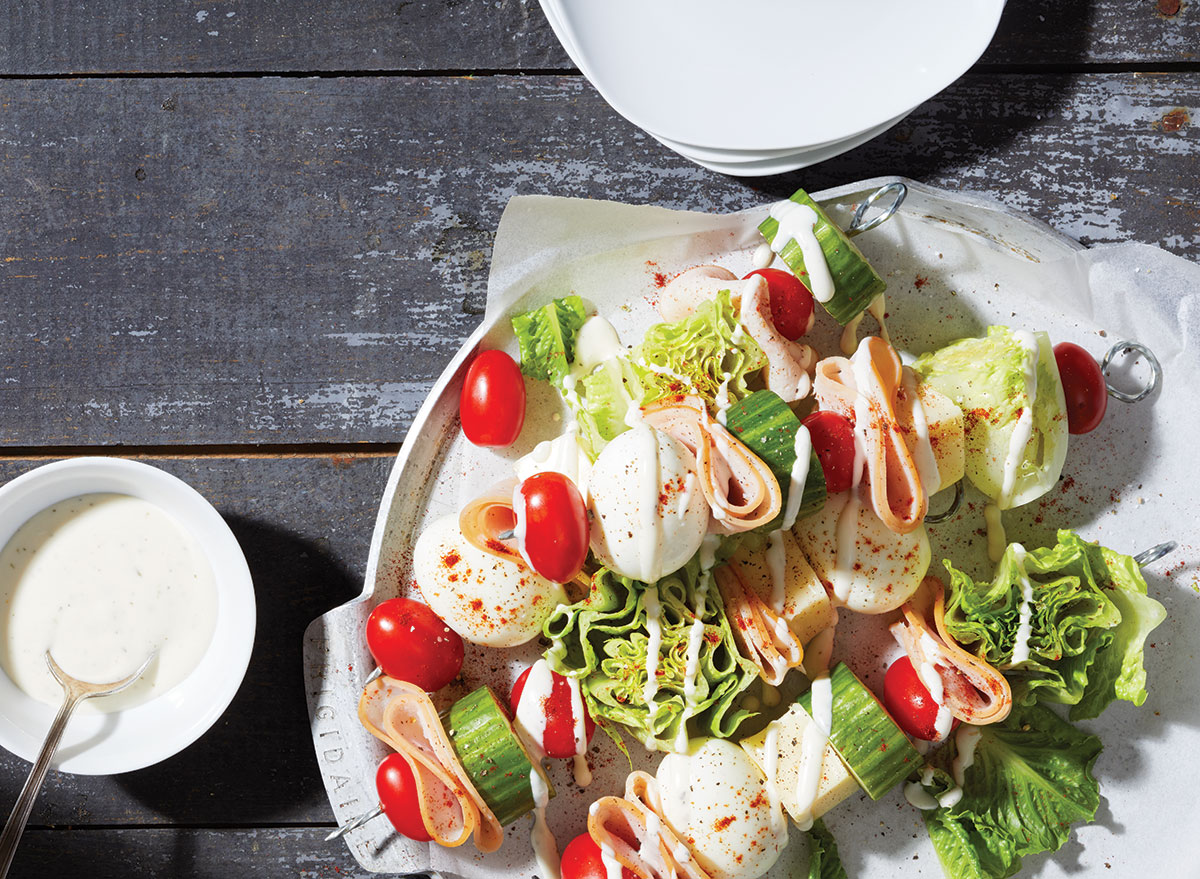 Everyone knows the best part of the chef's salad isn't the salad part but rather the inexplicably perfect combination of hard-boiled eggs, deli meat, and sliced cheese. It's just a question of whether you're willing to admit it—and we are. You'll always find these chef's salad kebabs on the menu at our moveable feasts because they deliver that best part while still including just enough salad to allow us to use the word "salad" when talking about them. That's why we include it among our best non-boring (yet healthy!) salad recipes.
Get our recipe for Chef's Salad Style Eggs on a Stick.
Grilled chicken and avocado salad
We don't have anything against salad that looks like a salad. In fact, we're looking forward to serving this grilled chicken and avocado salad at our Labor Day feast. We plan on grilling up the chicken ourselves, but this salad would be just as good if you were to start with a rotisserie chicken and chopped it up. Experiment with both the expected and the unexpected in terms of salad dressings. Here are 10 homemade salad dressing recipes to inspire you.
Get our recipe for Grilled Chicken and Avocado Salad.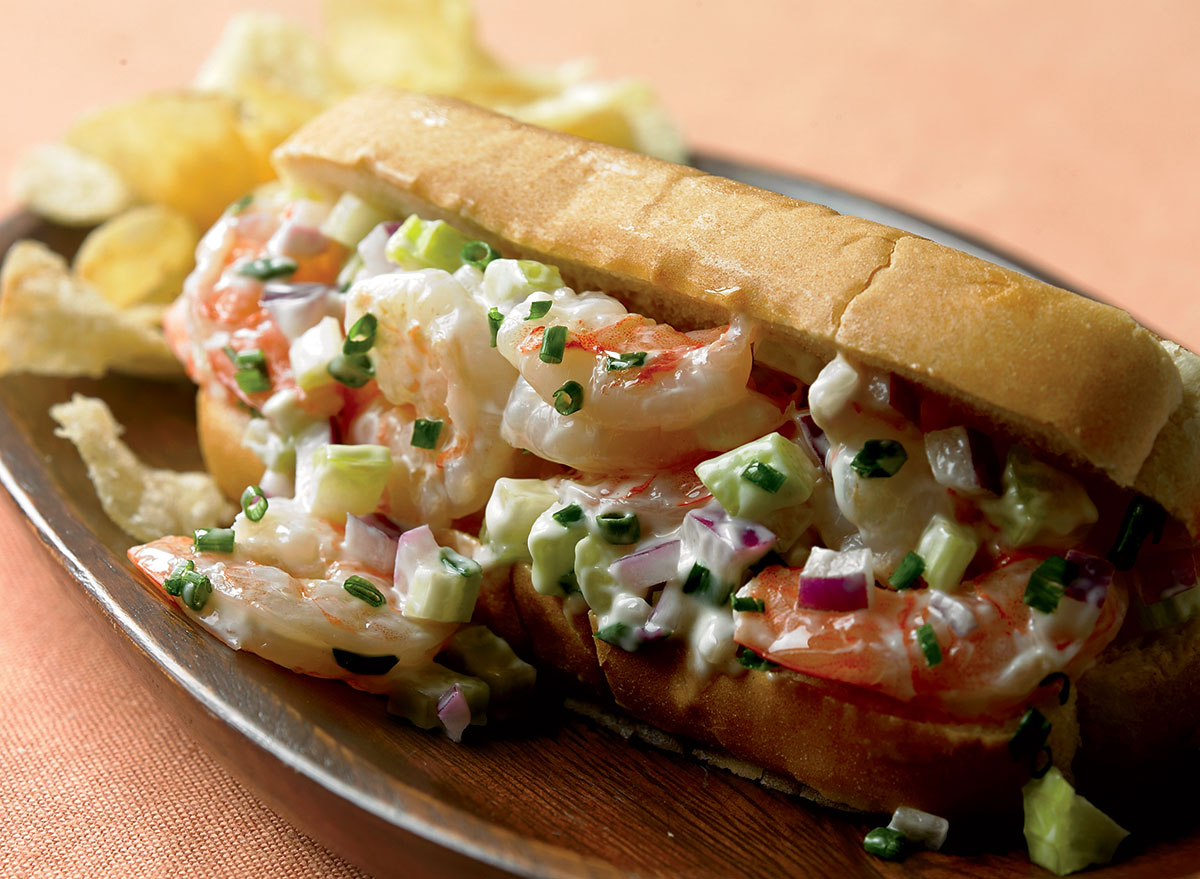 Lobster rolls are a traditional summer sandwich, but cooking fresh lobster is a whole lot of work, and buying it pre-cooked can be pricey. But shrimp? Now that's another story. Pre-cooked shrimp is available at most supermarkets in the frozen foods section and won't cost you an arm and a leg. Chop some up for these fantastic shrimp rolls, and you might wonder why people make such a fuss over lobster.
Get our recipe for Shrimp Rolls. 
Shrimp mango summer rolls
This virtuous "roll" is the third cousin, once-removed of the classic deep-fried egg roll. Like egg rolls, summer rolls are delicious and easy to eat finger-food. Unlike egg rolls, summer rolls are filled with lean protein and aren't deep-fried. Refreshing and healthy, they're perfect for outdoor dining.
Get our recipe for Shrimp Mango Summer Rolls.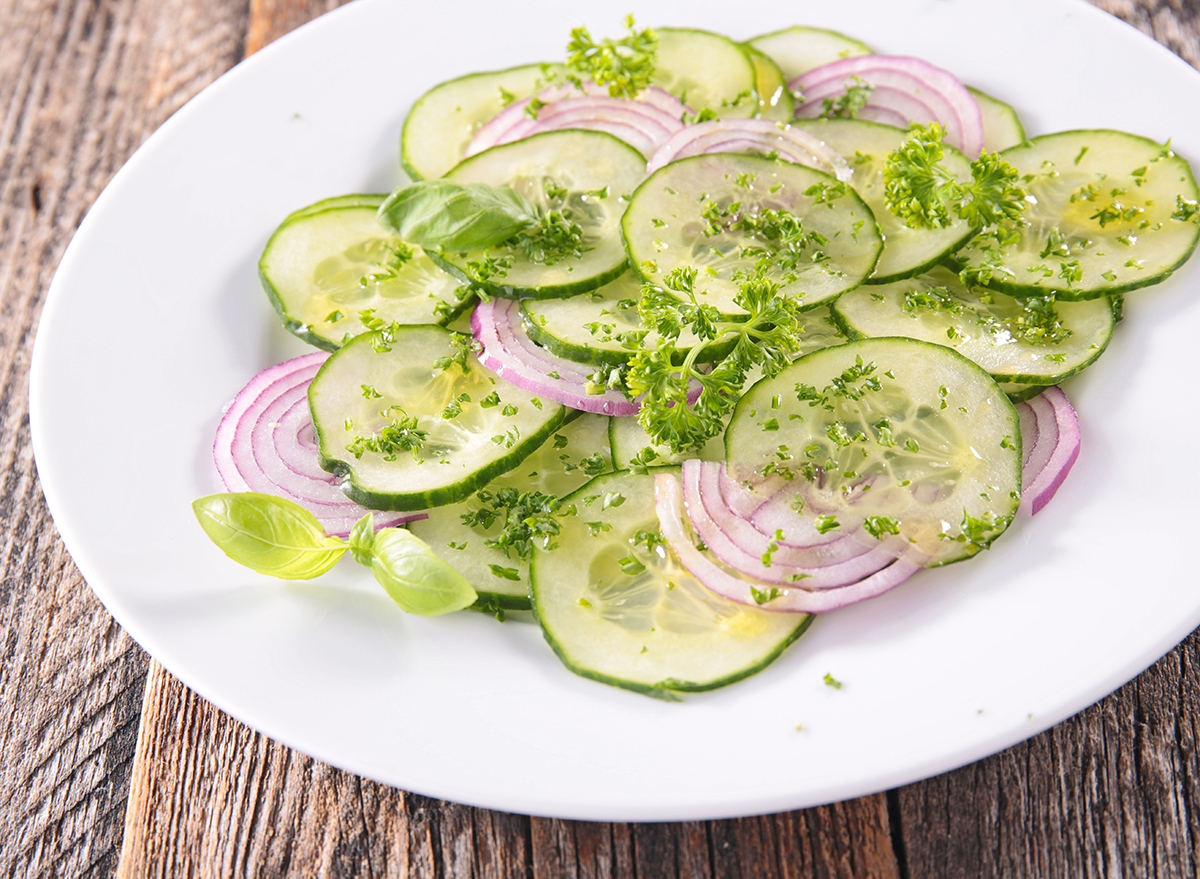 Although we have 30 summer salads you need to try before Labor Day, if we had to choose just one that deserves a role in your Labor Day festivities, it would have to be our pickled cucumber salad. Sturdy enough to survive making ahead and perfect as a condiment for any number of sandwiches and grilled meats, this salad is prepped in a matter of minutes and is ready to eat in 15.
Get our recipe for Pickled Cucumber Salad.
Murphy's law is that anything that can go wrong will go wrong. "Coleslaw" is that any vegetable tastes better finely shredded and swaddled in a tangy dressing. This particular coleslaw recipe gets its tang, in part, from Greek yogurt. Another salad that works as a condiment, coleslaw is perfect atop your pulled pork sandwiches, on hotdogs and hamburgers, or on any of these 25 healthy sandwiches, all under 500 calories.
Get our recipe for Coleslaw.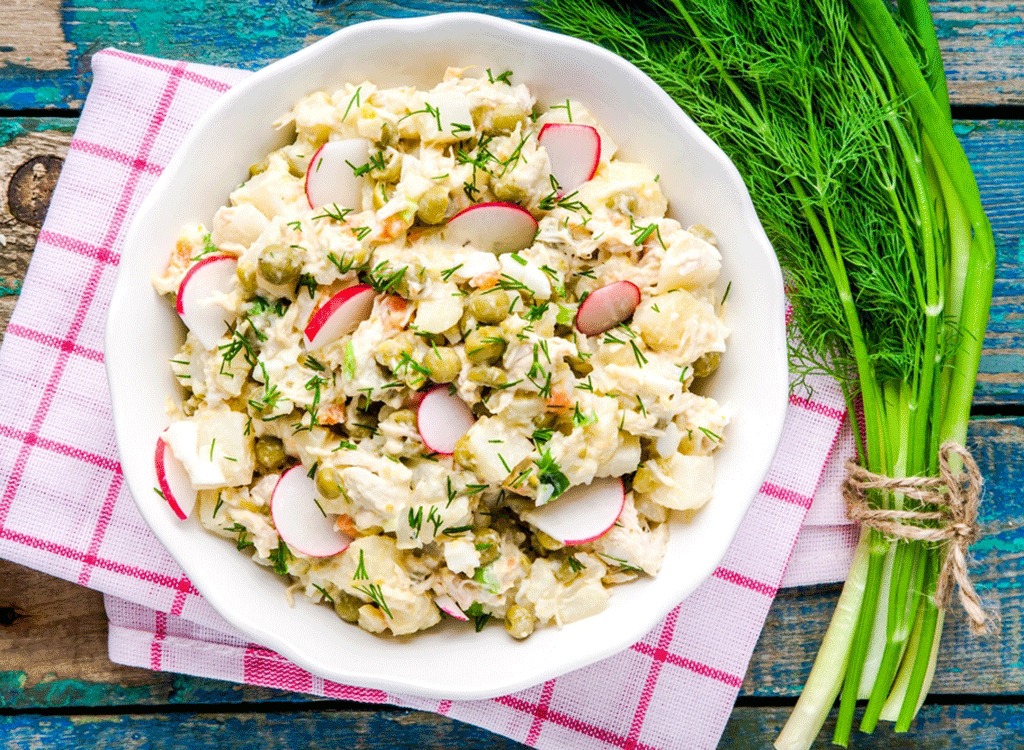 Potato salad is one of those ubiquitous side dishes that almost any season can claim as its own. However, this version—bright with pickles and vinegar and creamy with hard-cooked eggs and just the right amount of mayonnaise—practically begs to be included on your summer table.
And a few weeks after Labor Day, when you're looking for a more autumn vibe, go ahead and give this sweet potato salad recipe a whirl.
Get our recipe for Potato Salad. 
Grilled Mexican-style corn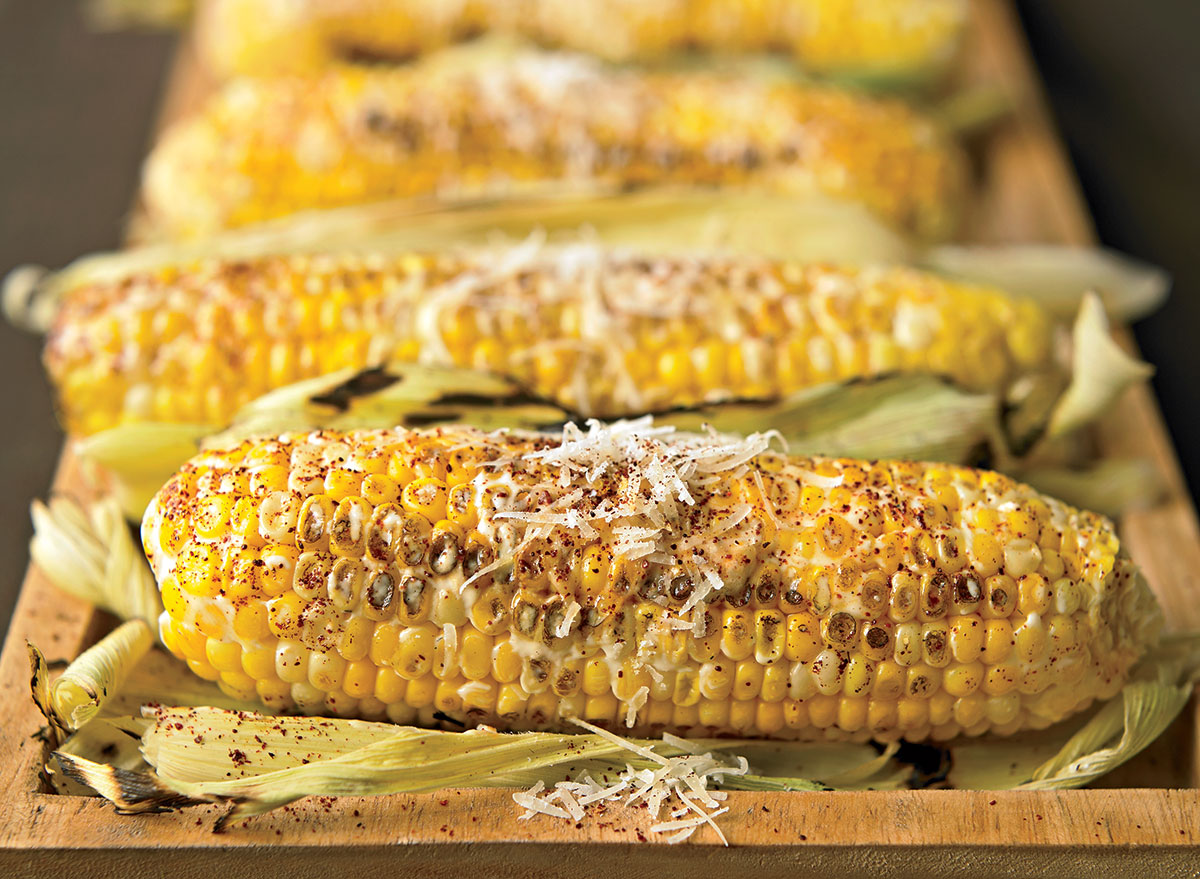 The only thing better than that intoxicating scent of roasted corn is the way it tastes fresh off the fire. And the only thing better than that is when you make it Mexican "street"-style. Who knew it was easy as a quick char, a swipe of mayo, and a sprinkling of chili and cheese? Well, now you do.
Get our recipe for Grilled Mexican-Style Corn. 
Grilled fruit kabobs with yogurt and honey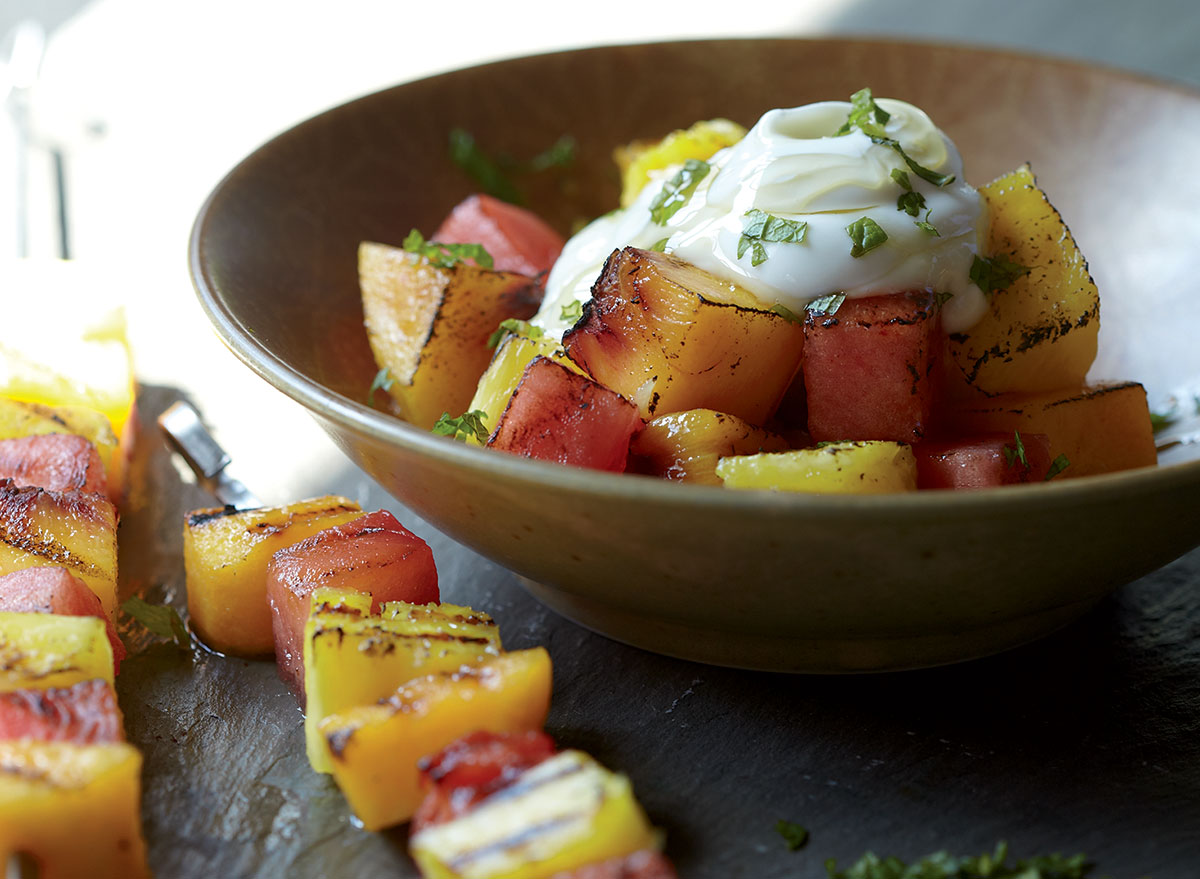 Every late-summer picnic needs at least one food on a stick, and you can't go wrong with this one, which coaxes caramelized sweetness out of stone fruits and other seeded summer treasures and then gilds the lily with a sauce made of honey-sweetened yogurt. Even better: This recipe goes from zero to complete in 10 minutes flat.
Get our recipe for Grilled Fruit Kabobs with Yogurt and Honey.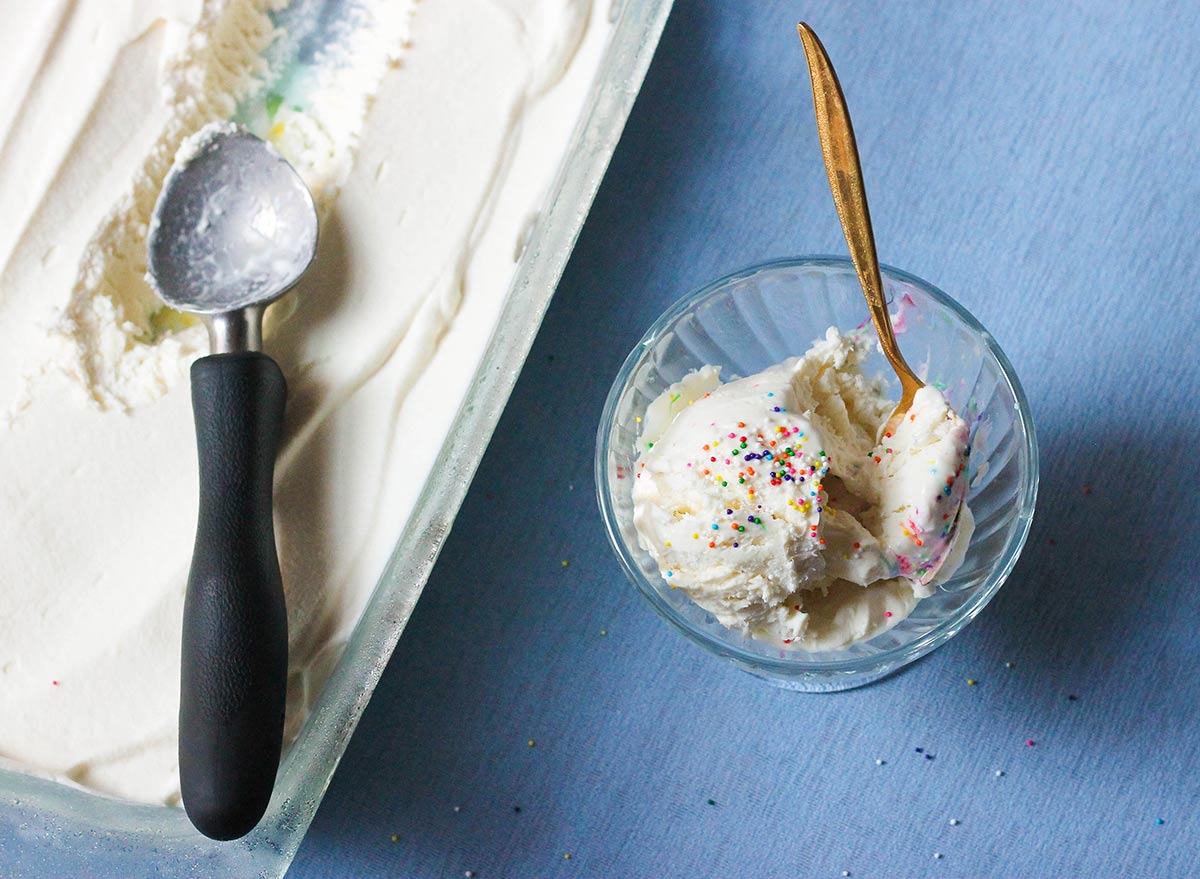 When you're the one hosting the Labor Day festivities, you'll want to be sure to have ice cream on hand because all your guests will be secretly hoping for it. Ice cream screams "summer," and it's perfect alone, on top of warm brownies or blueberry cobbler, or as a base for this grilled pineapple and rum sauce sundae. This three-ingredient, no-ice-cream-machine-needed recipe is easy to make, with ingredients you might have on hand already.
Get our recipe for Homemade Ice Cream. 
Individual key lime cheesecakes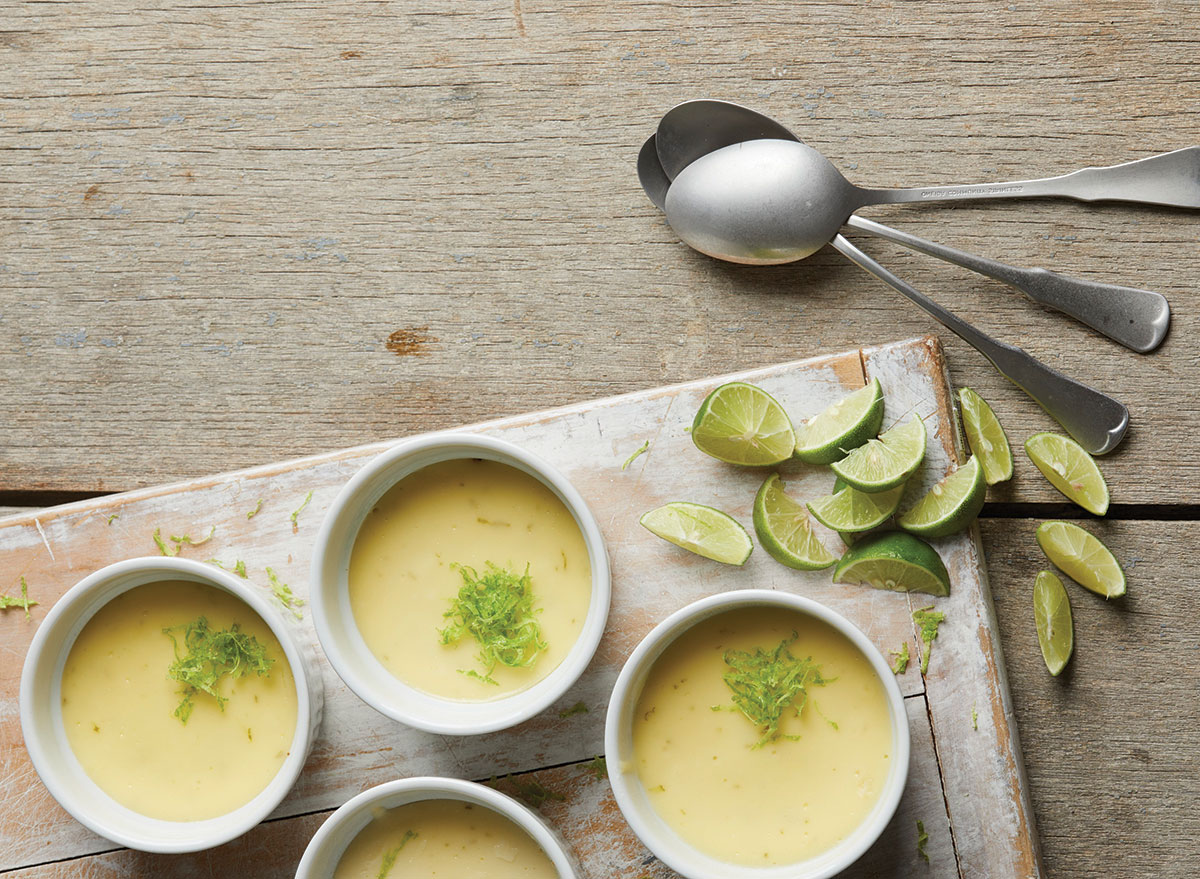 Perfectly pre-portioned and adorably festive, mini cakes are perfect for serving on holidays. Our individual key lime cheesecake recipe promises all that plus the audacious flavor of key limes, even if you can't find them fresh in the store.
Get our recipe for Individual Key Lime Cheesecakes. 
Read more: 15 Classic American Desserts That Deserve a Comeback
Lauren Cahn
Lauren Cahn is a food, health, and culture writer whose work has appeared online and in print for Reader's Digest as well as Health Digest, Huffington Post, Taste of Home, and others.
Read more about Lauren