The Best Spot to Get a Burrito in Every State
There really is nothing better than digging into a burrito.
Mexican food is one of the most popular cuisines in America, and the south, west, and midwest regions are particularly enamored with it. It's no surprise that states like California, Texas, New Mexico, and Arizona have a wealth of incredible options, ranging from taco trucks to upscale sit-down restaurants. But, luckily for us, there's at least one amazing Mexican food joint in every single state.
Burritos are a classic Mexican dish, invented over 100 years ago by Juan Méndez, a street vendor in Chihuahua, Mexico. There's a flavor combination to suit nearly everyone's taste buds, making burritos one of the most popular Mexican dishes. Plus, who doesn't love to heap on the toppings like guacamole, sour cream, and salsa? (That's a rhetorical question, of course.) And as much as we love huevos rancheros, some mornings, nothing beats a good breakfast burrito.
We searched high and low to find the best burrito in every American state. Thanks to reviews and feedback from locals and tourists alike, we put together a definitive list of the best spot to get a truly delicious burrito, all across the U.S. And for more, check out The Best Mexican Restaurant In Every State.
ALABAMA: Los Dos Hermanos Taco Truck in Birmingham
In addition to being an incredible taco truck, Los Dos Hermanos is also known for its amazing burritos. A staple in Birmingham for the past 13 years, reviewers say "the quality of the food is fresh and always filling." The steak burrito is a favorite, but you won't be left out if you don't eat meat—another reviewer noted the options are "so accommodating with my vegetarian diet."
ALASKA: El Green-Go's in Anchorage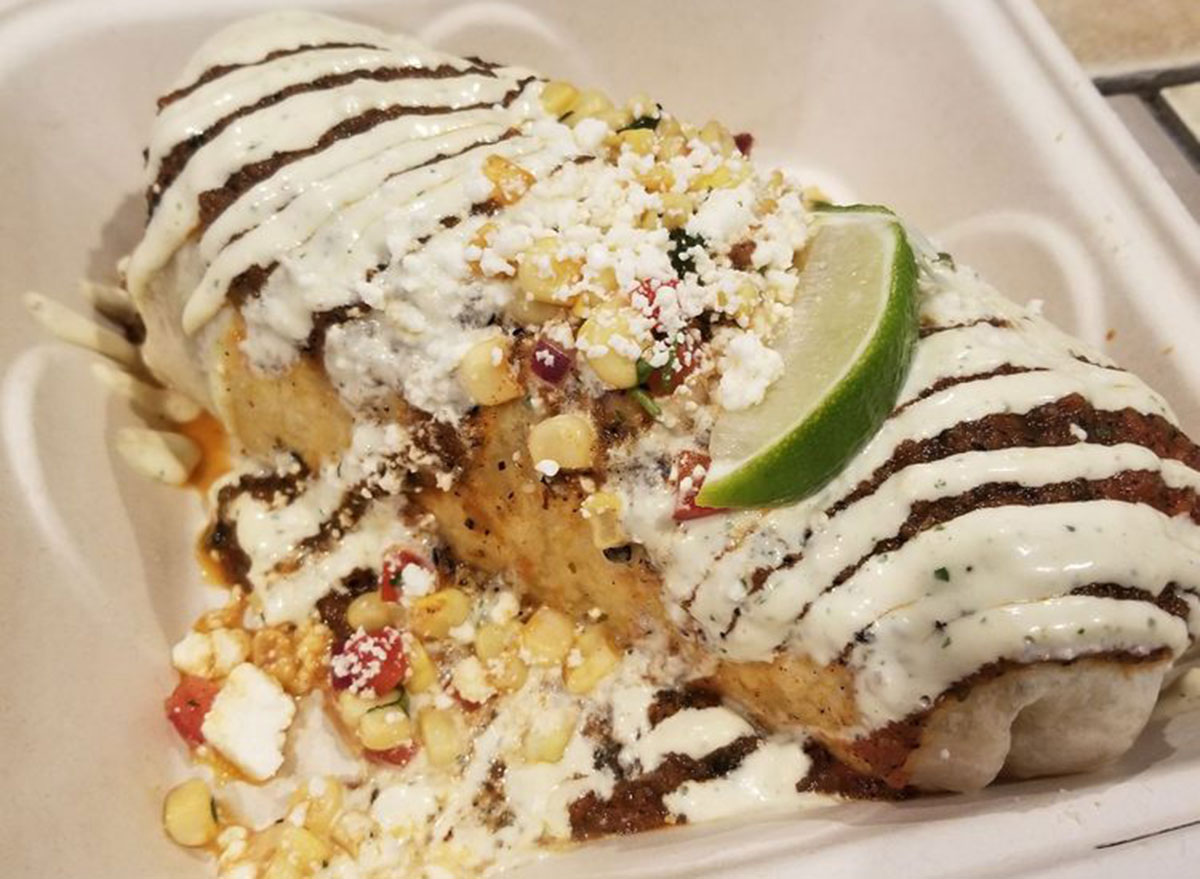 Named the best food truck in Alaska by the Food Network, El Green-Go's cooks up Mexican fare using local and organic ingredients. Reviewers note that the burritos are "a festival of amazing flavors perfectly blended on the plate." In addition to tasting delicious, the burritos are "massive," so expect to have leftovers.
ARIZONA: PHX Burrito House in Phoenix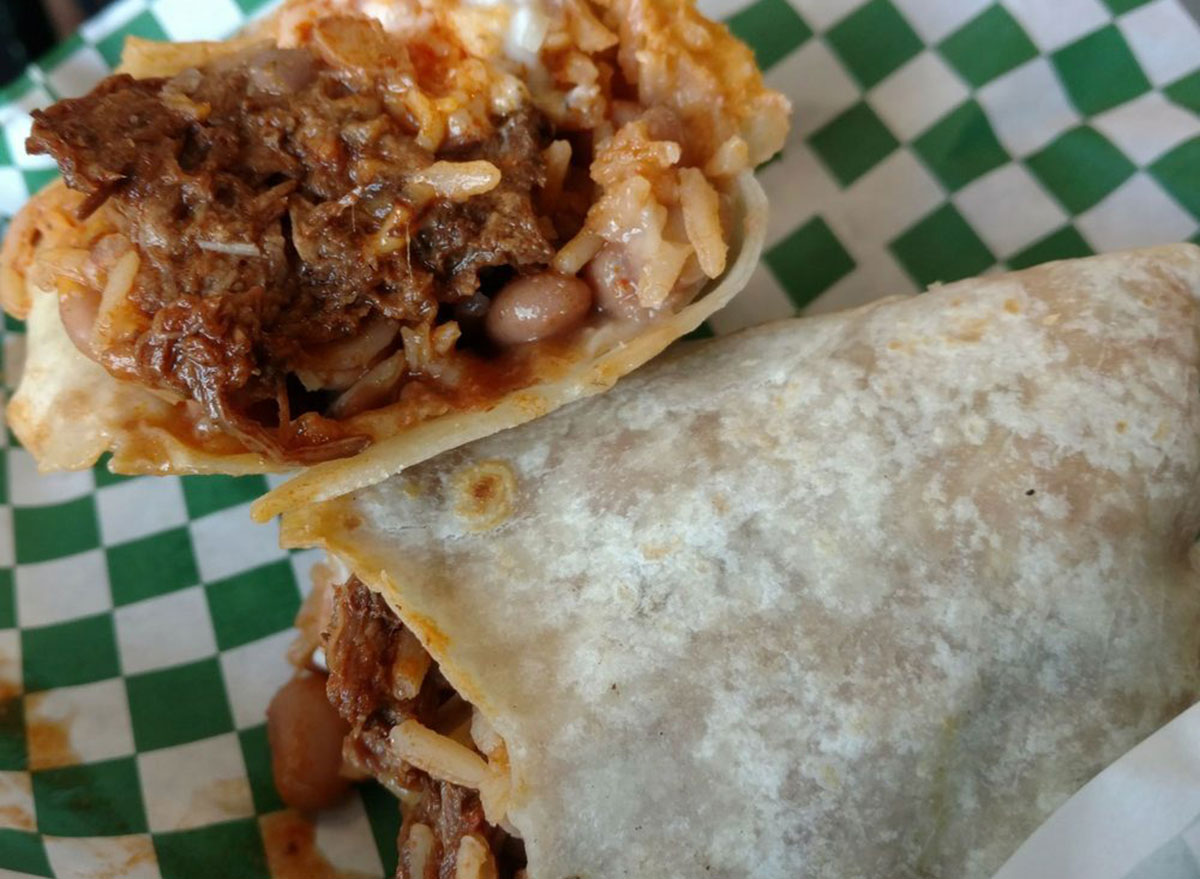 You can't go wrong at PHX Burrito House, but the carne asada burrito and the build-your-own breakfast burritos are especially popular among customers.
"I have never had a carne asada burrito this good from a restaurant before! I cannot describe it other than wow," raved one reviewer, while another described it as their "personal heaven."
ARKANSAS: Mug's Cafe in North Little Rock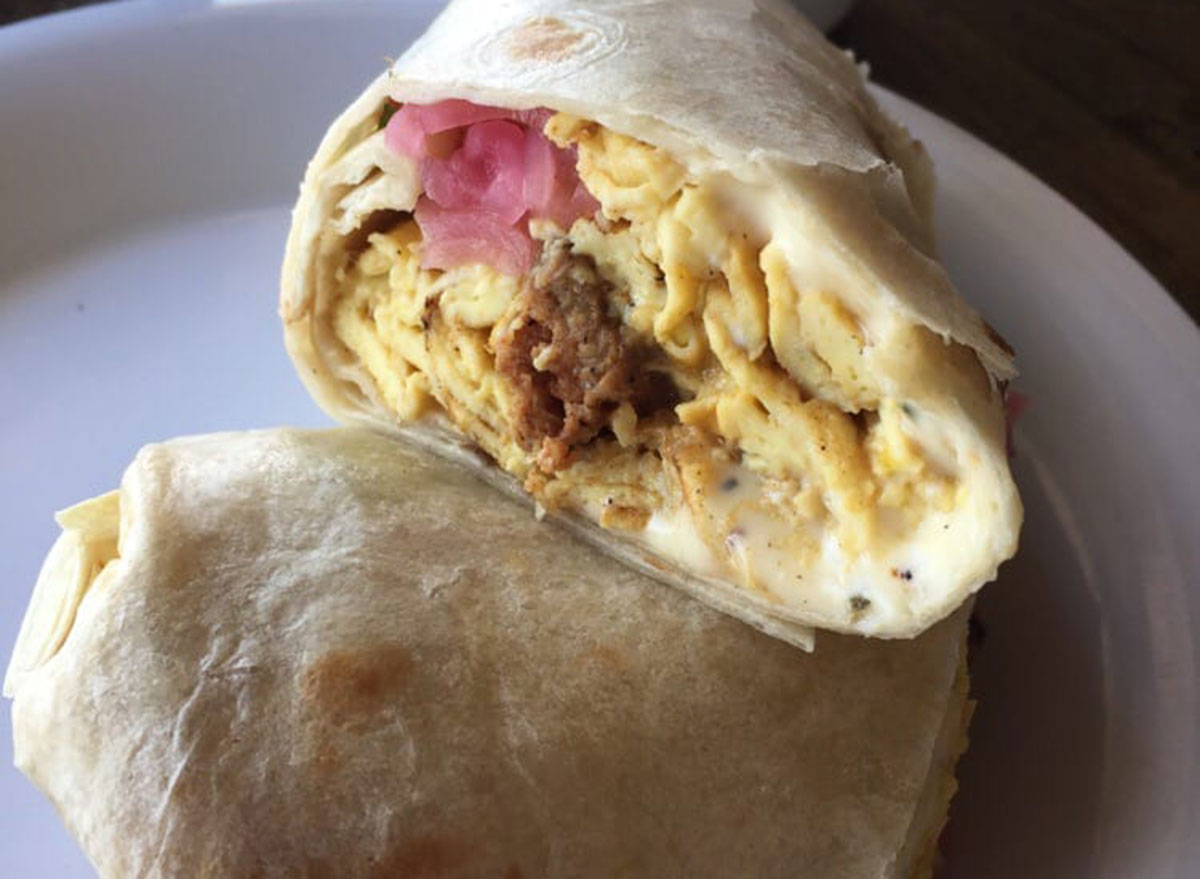 This coffee shop is known for its killer breakfast burritos. Cooked up with housemade chorizo, eggs, pepper jack cheese, onions, and cilantro, the chorizo-stuffed burrito is to die for. Don't forget to take advantage of the amazing coffee options, too. The Eiskaffee, a cold brew and vanilla ice cream float topped with whipped cream and Ghiradelli dark chocolate, is definitely not to be missed.
CALIFORNIA: Al & Bea's Mexican Food in Los Angeles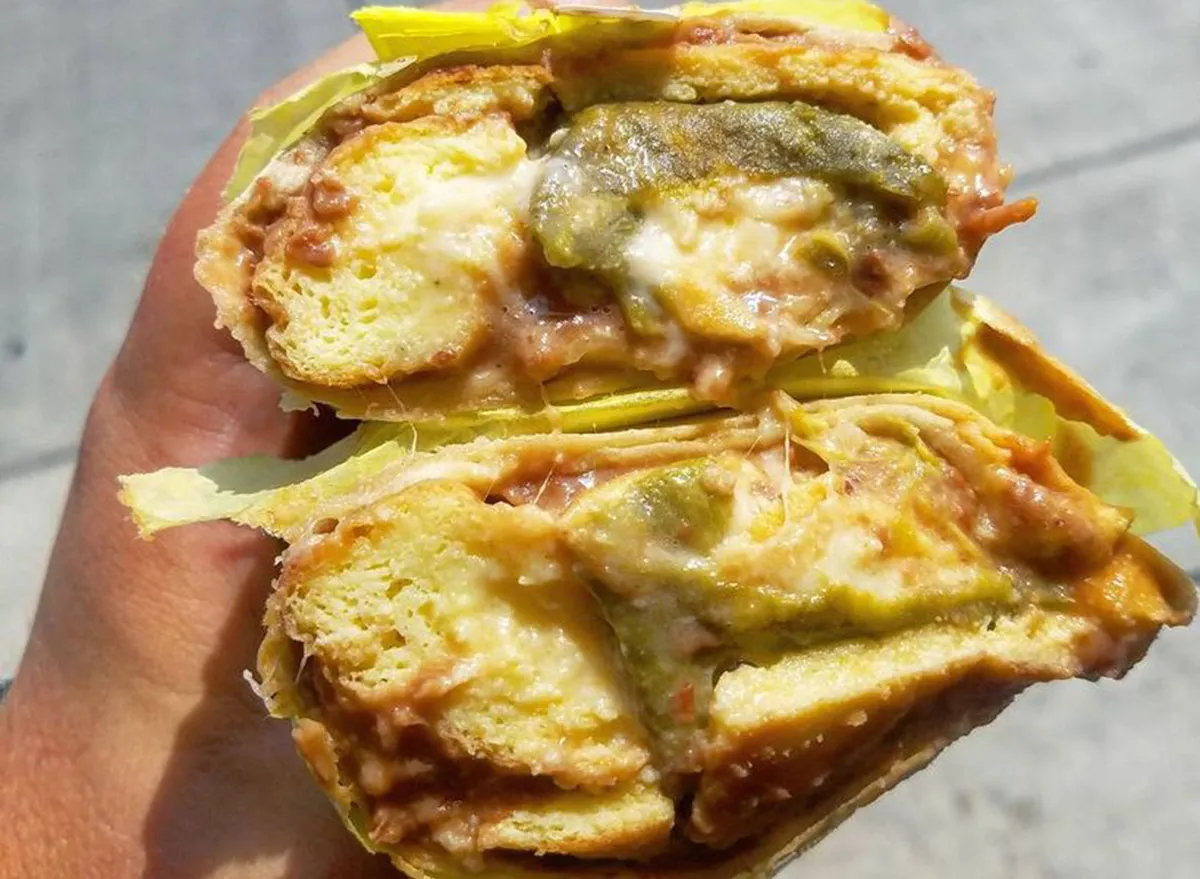 Al & Bea's is legendary in Los Angeles. Reviewers especially go wild for the bean and cheese burrito and the Al & Bea's special. "Few are as perfect and versatile as the humble Al & Bea's Green Chili and Cheese Burrito," one reviewer noted.
"You cannot go wrong with any burrito on the menu. From the bean and cheese to the combination burrito, they are all so delicious," another wrote.
COLORADO: La Loma in Denver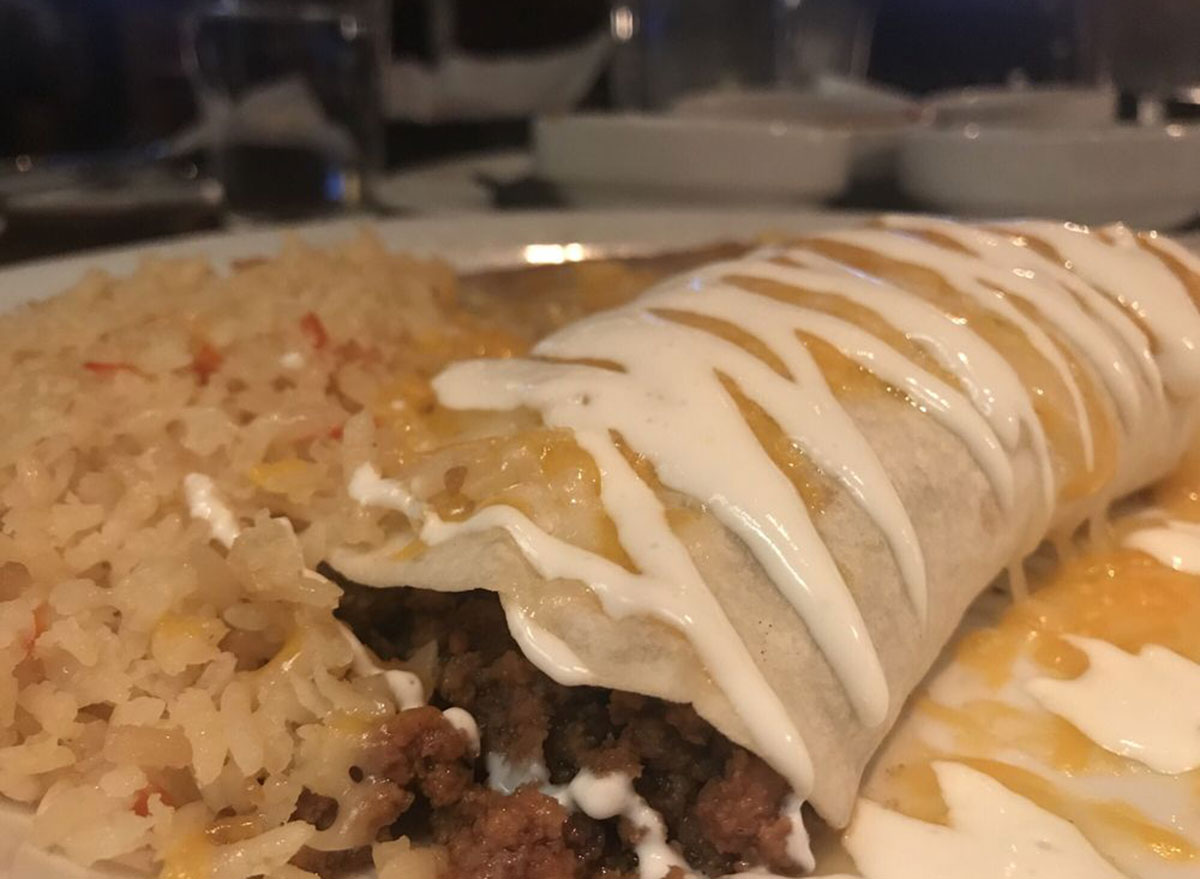 This family-owned Mexican restaurant has been a Denver staple for more than three decades. Reviewers love the ambience, the customer service, and (of course) the burritos, which come smothered with your choice of green chili, red chili, or enchilada sauce.
Bean and cheese, shredded chicken, ground sirloin, and brisket burritos are all on the menu. If you're extra hungry, ask for a "supreme," which adds melted cheese, sour cream onions, lettuce, and tomatoes.
CONNECTICUT: Rincon Tacqueria in Norwalk
Measuring eight inches, the burrito at Rincon Tacqueria is as massive as it is delicious. One reviewer who favors the steak burrito described it as "some of the most complex and satisfying flavors you've ever had. Rice, beans, cheese, meat, etc. And I swear the flavors are something you'd expect from a 5-star restaurant."
"The food and service are both incredible here!" wrote one local. The only complaint was the huge portion sizes, which isn't bad news at all! Just be prepared to take home leftovers and you'll have another full meal in the fridge.
DELAWARE: El Diablo Burritos in Wilmington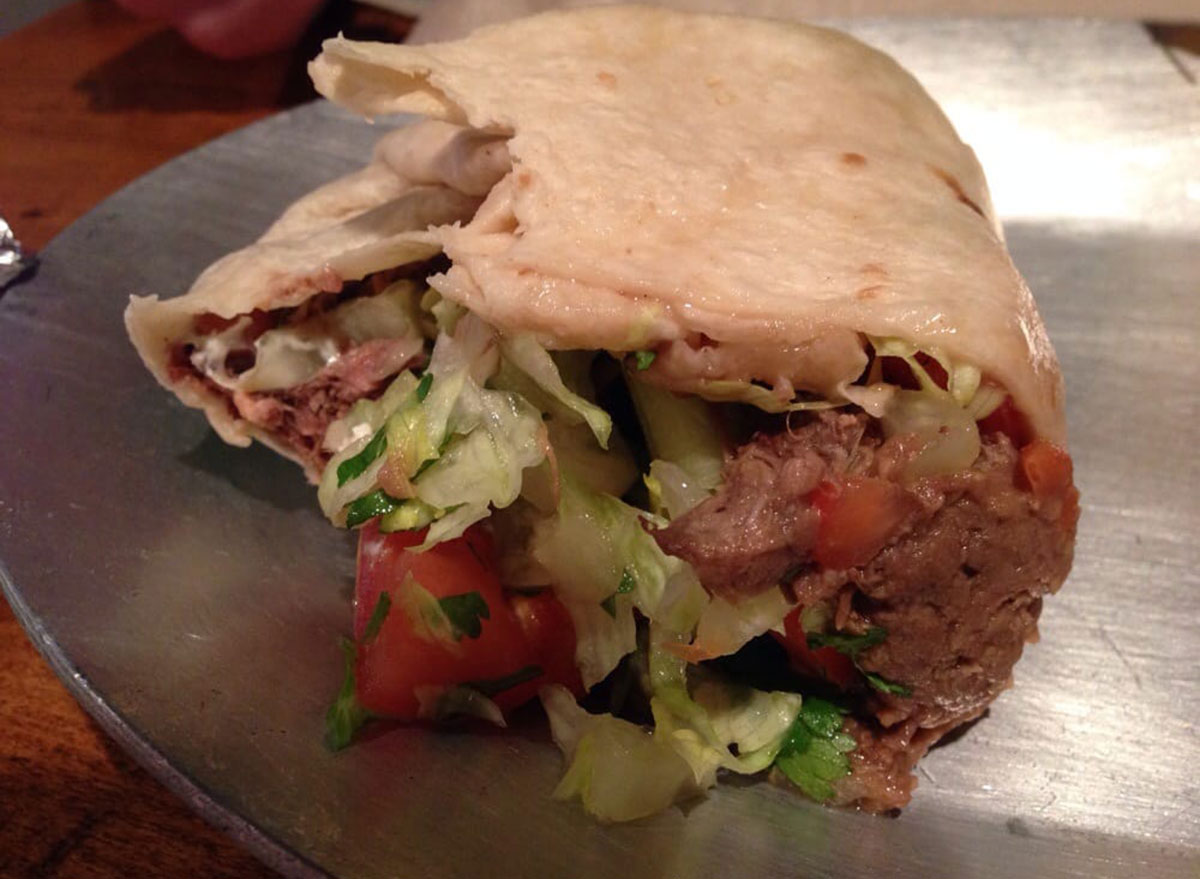 This hole-in-the-wall shop in Wilmington allows you to build your own burrito, and you've got your pick of toppings, meats, sauces, and all the other fixings. Reviewers rave about the braised short rib option paired with goat cheese.
"We both kept saying how it's probably the best burrito and tacos we have ever had!" wrote one customer who dined with her boyfriend at El Diablo while on vacation.
FLORIDA: My Ceviche in Miami Beach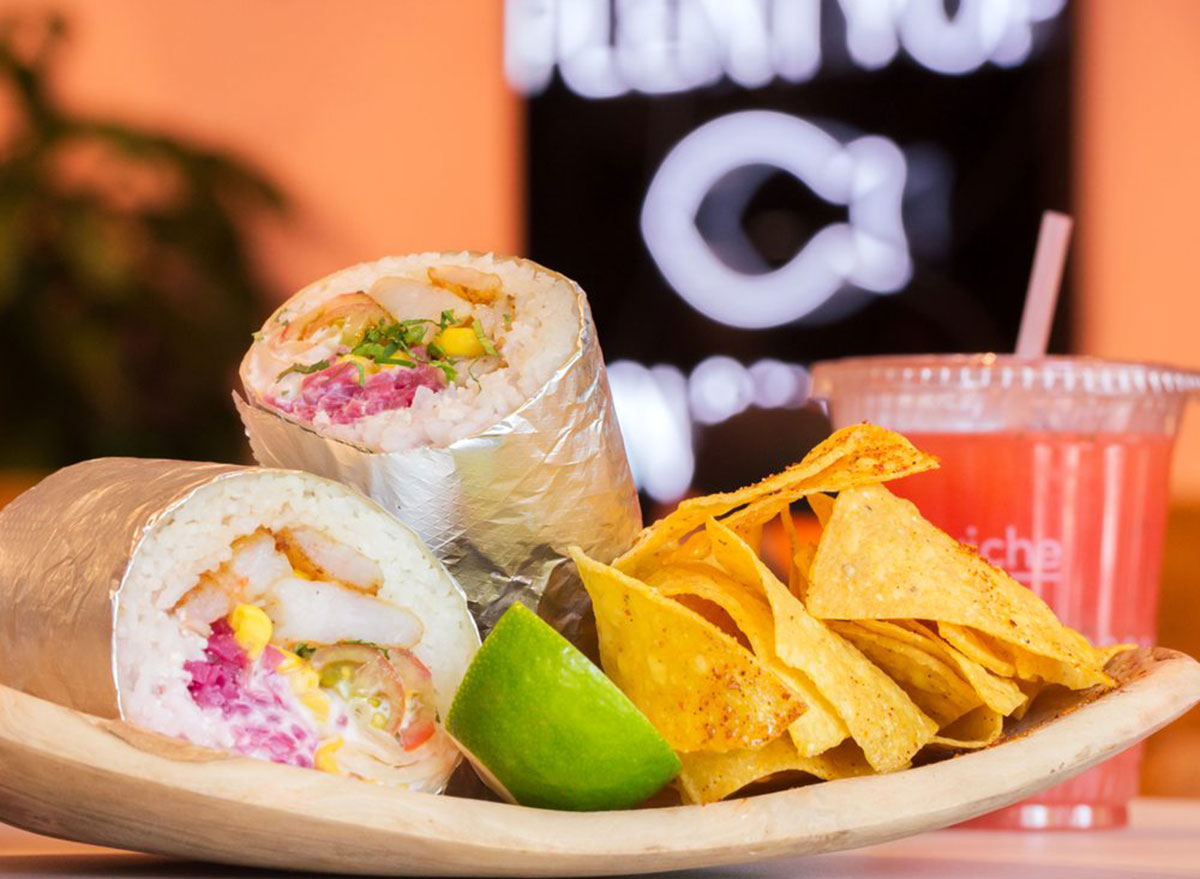 You wouldn't expect a ceviche restaurant to serve up the best burrito in the Sunshine State, but one taste of the wild-caught seafood burrito will convince you. Choose from tuna, shrimp, octopus, and mahi.
"The octopus burrito is amazing," raved one reviewer, while another praised its "fresh ingredients and flavorful taste." The seared tuna is another favorite.
GEORGIA: El Burrito in East Ellijay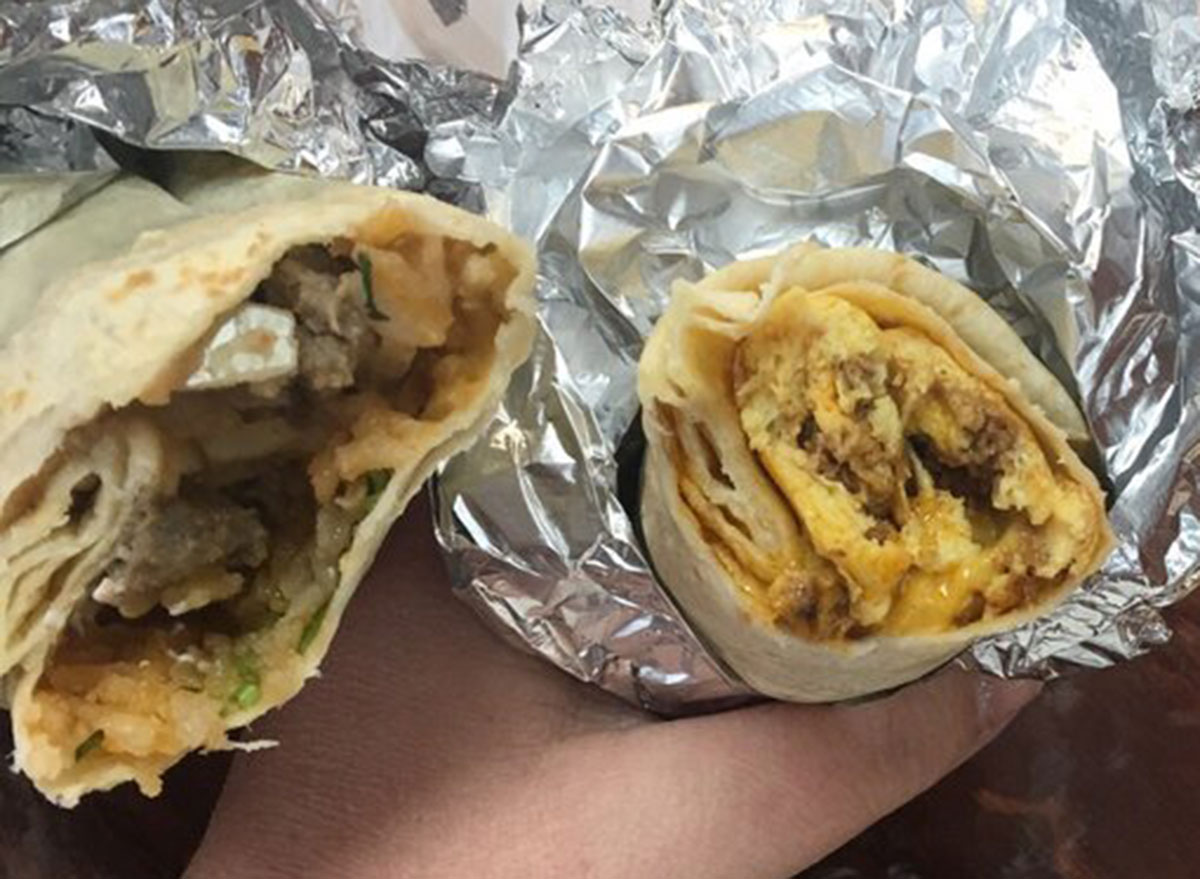 Tucked away behind a gas station, get your burrito fix at this no-frills stand in East Ellijay. "I am Mexican and this place is legit," wrote one reviewer. "All I can say is WOW."
HAWAII: Shaka Tacoz in Captain Hook
It's best known for its tacos, but overlooking the burritos at Shaka Tacoz would be a major mistake. "Best meal we had on the island!" wrote one reviewer. Another described their meal as "delicious, fresh, and consistent every single time."
RELATED: The Best Asian Restaurant in Every State6254a4d1642c605c54bf1cab17d50f1e
IDAHO: Morenita's Mexican Restaurant & Bakery in Idaho Falls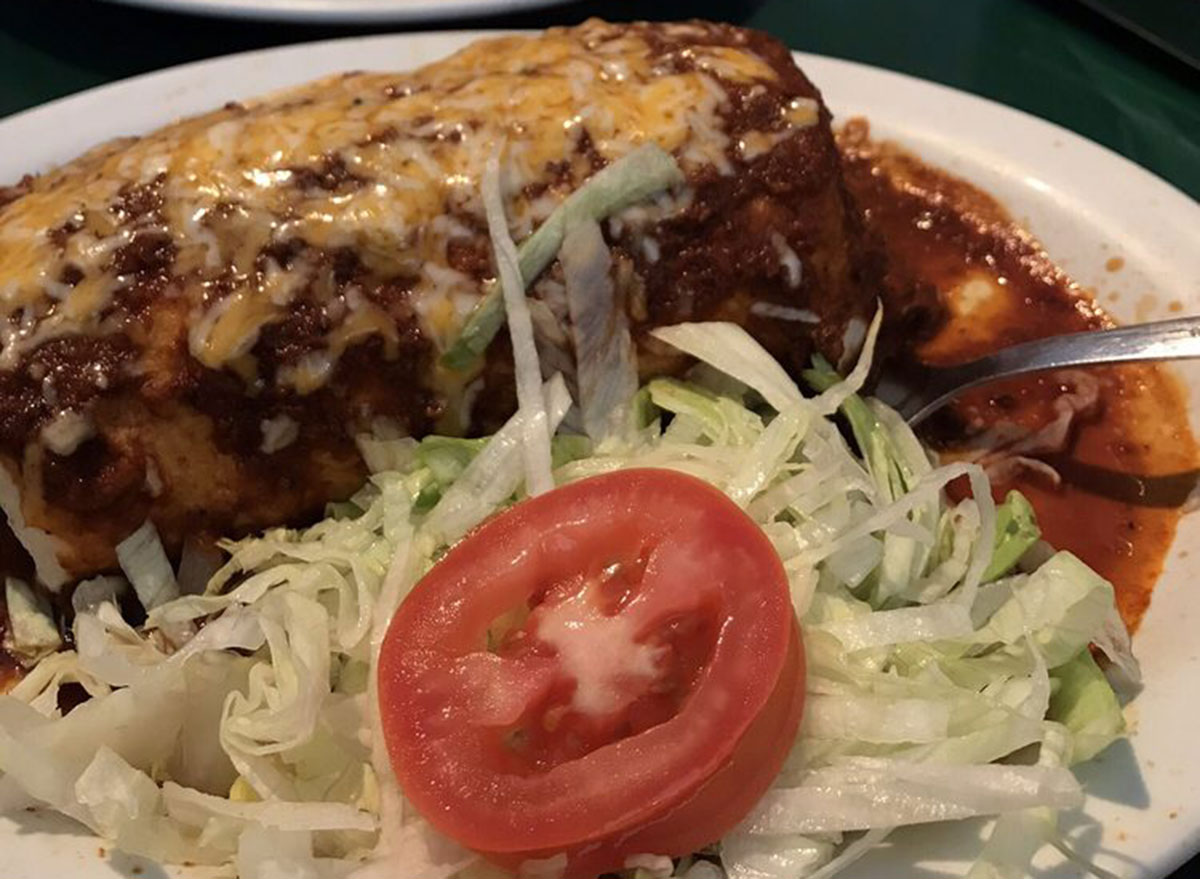 Reviewers describe the burritos at Morenita's as "incredible," "fantastic," and "full of flavor." The smothered burrito is a favorite—you can get it with your choice of red or green salsa, or a mix of the two. The super burrito is also popular, especially among vegetarians.
ILLINOIS: Maize Mexican Grill in Champaign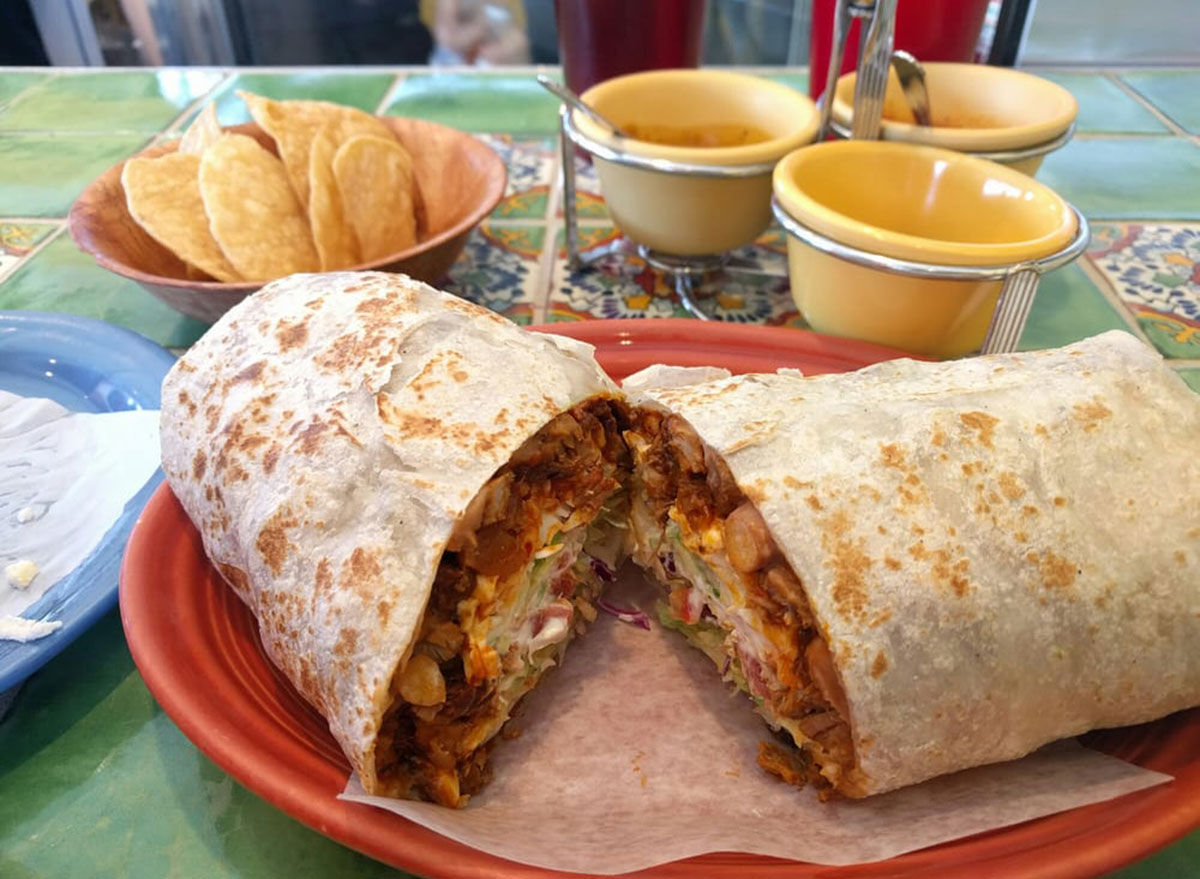 This small eatery doesn't have fancy decor, but it boasts the best burrito in the state. For just $7 you get your choice of carne asada, chicken, pastor, chorizo, or bean and cheese.
"The food is excellent, always fresh and flavorful," wrote a local who frequently grabs food at one of Maize's two locations. Another frequent customer recommends the steak burrito with cilantro and onion. The restaurant also has a food truck that can be found at various locations throughout the week.
INDIANA: Ricky's Taqueria in Elkhart
Ricky's may be small and simple, but the same certainly can't be said for its massive burritos.
"The service is phenomenal and the food was just spot on when it comes to true authentic Mexican [dishes]," wrote one reviewer. A tourist reported going to Ricky's several days in a row because they couldn't get enough of the "amazing" food.
IOWA: El Rey Burritos in West Des Moines
Another hole-in-the-wall gem, El Rey Burritos is where it's at when you're craving a burrito in Iowa. "Diggity dang. Burritos here are the specialty, don't stray from the script," advised one reviewer who favors the super burrito with steak. Duly noted!
KANSAS: Taqueria Los Burritos in Manhattan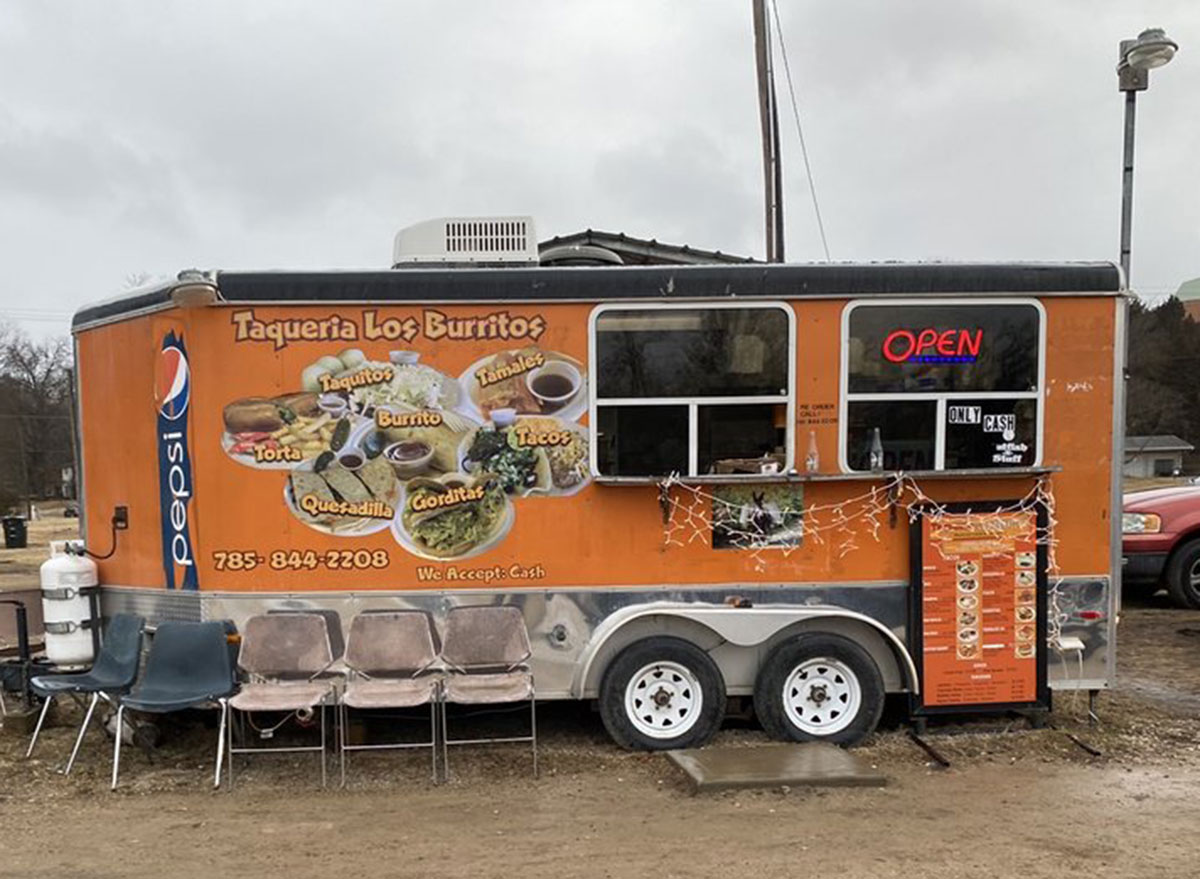 The burritos at this food truck are "so amazing and truly authentic," according to one reviewer. "I eat it at least once a week, and it's consistently amazing every time," wrote a local.
KENTUCKY: New Wave Burritos in Louisville
What began as a late-night delivery service is now the best restaurant for burritos in Kentucky. Reviewers especially seem to love the Garbage Burrito, which is made from taco-spiced ground beef, refried beans, Fritos, queso, sour cream, rice, pickled jalapenos, Monterey jack cheese, and green onions.
"The garbage burrito was an A++++," wrote one reviewer. We don't know about you, but our mouths are watering just thinking about it!
LOUISIANA: Juan's Flying Burrito in New Orleans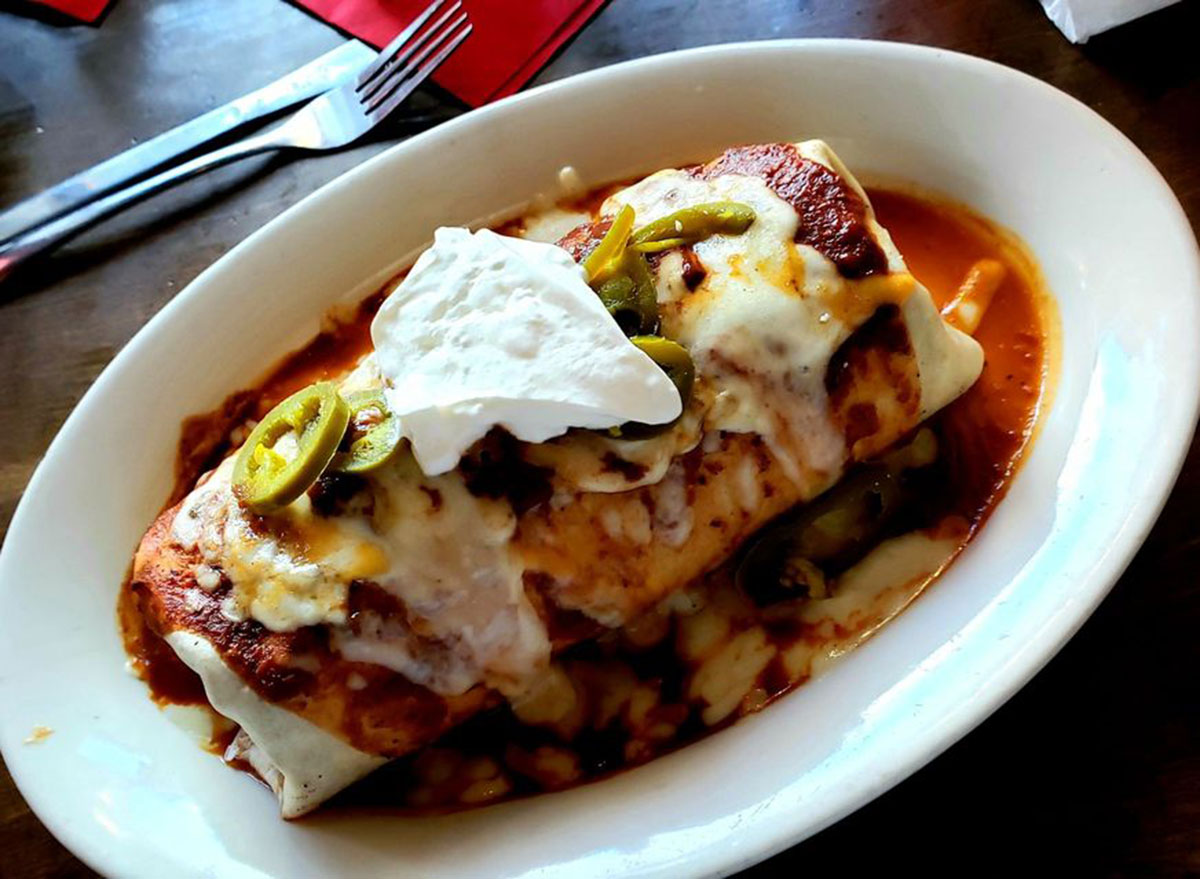 This Tex-Mex bar has several locations throughout New Orleans. The menu offers a wide variety of burritos, but the Flying Burrito is the most popular. Reviewers describe it as "ridiculously amazing," "full of flavor," and "the bomb."
MAINE: El El Frijoles in Sargentville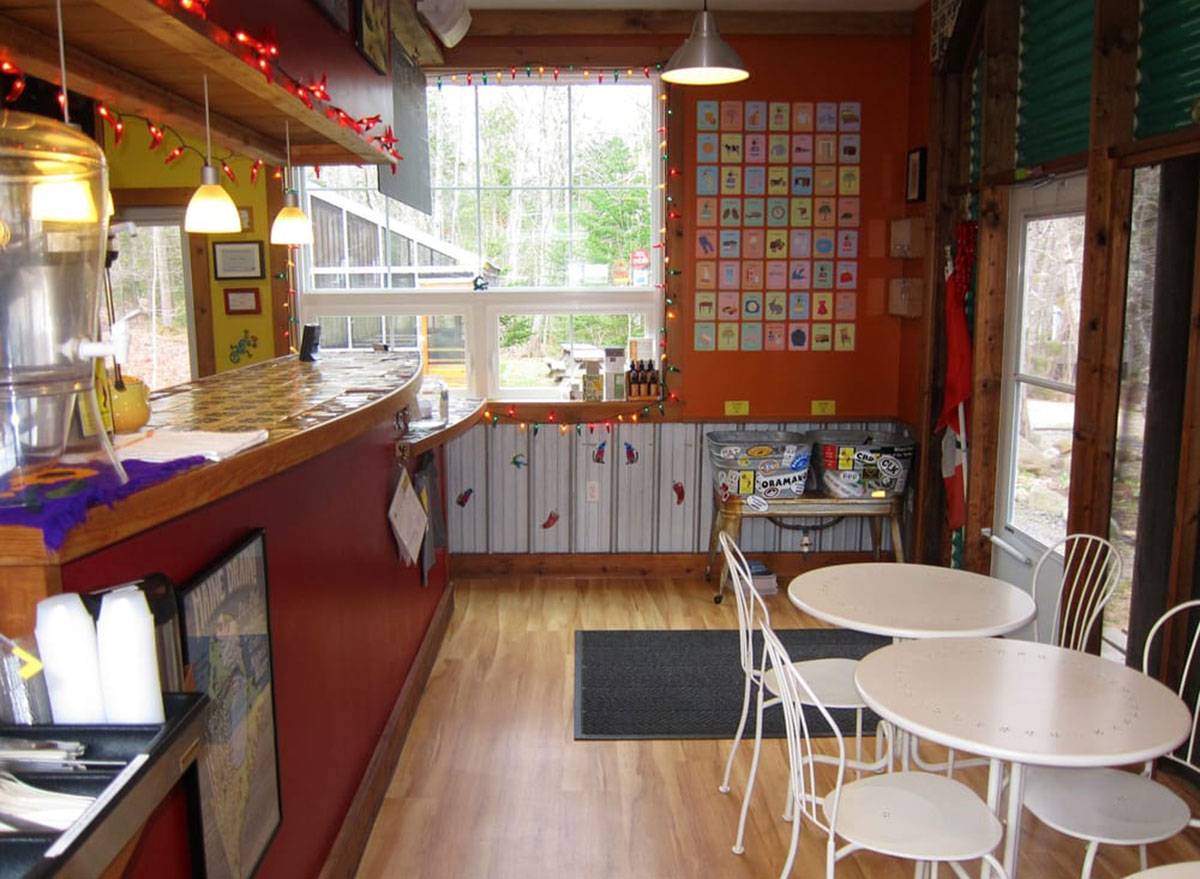 "One of the best burritos I've had, even in the South," wrote one tourist about her experience at El El Frijoles. Made from locally sourced ingredients, the result is "possibly the best burritos and nachos we have EVER had," noted another reviewer.
MARYLAND: Tacos Tolteca in Baltimore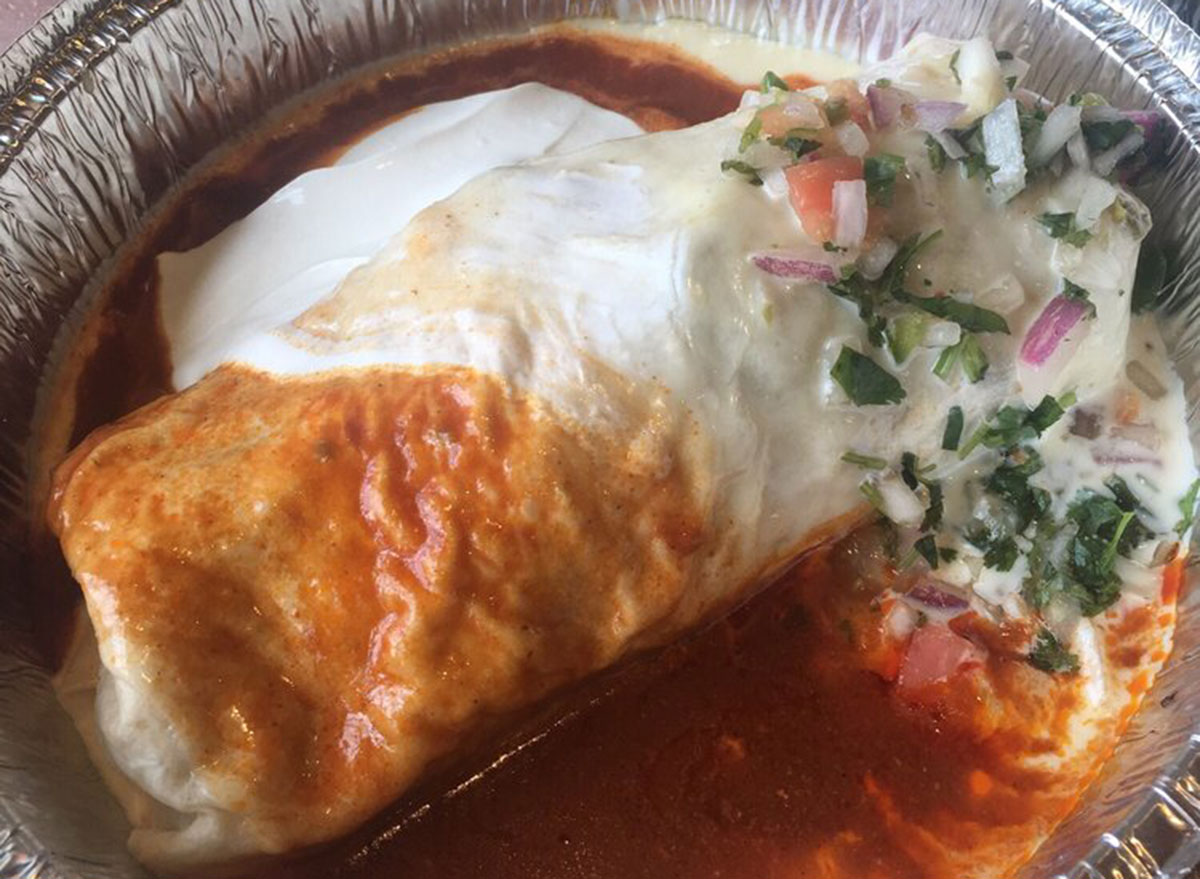 The dragon burrito and shrimp burrito are both popular choices at Tacos Tolteca. "The burritos we had were huge and DELISH," wrote one reviewer. A local was kind enough to provide an insider tip: "The Gordo Burrito is not on the menu. Ask for it."
MASSACHUSETTS: Chilacates in Boston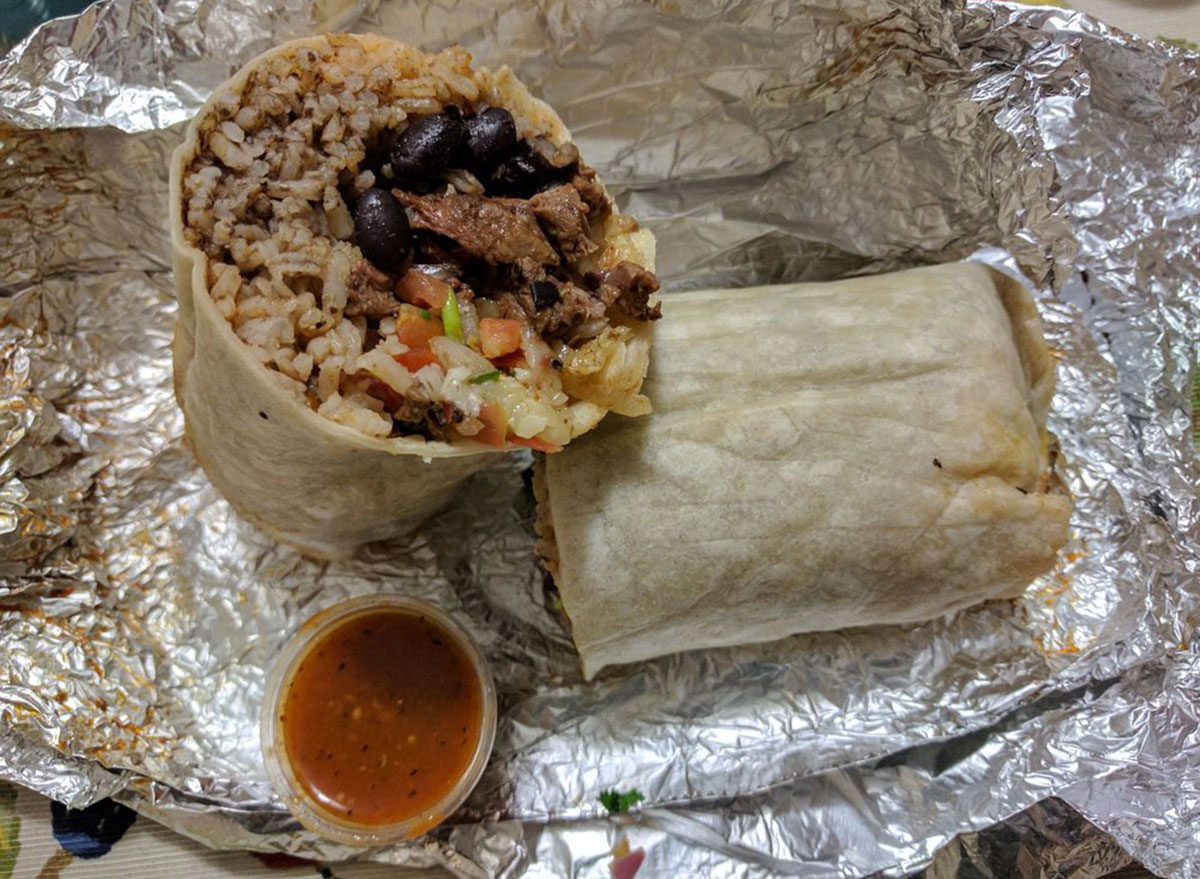 With multiple locations in Boston, Chicalates has rave reviews with customers noting "the burritos, in general, are the way to go." Popular choices are the carne asada and chicken burritos.
"I was extremely impressed with how much meat [is] put into [the] burrito. The cheese was melted and the flavors were amazing," wrote one customer. Reviewers also praised the vegetarian options, with some saying they opt for vegetarian even if they're meat-eaters.
MICHIGAN: Jaku Sushi and Grill in Caledonia
The best burrito in Michigan being at a sushi restaurant wasn't on our bingo card, but the extensive sushi burrito menu is mouthwatering. Jaku offers 15 types of burritos, with one reviewer saying "the flavor seriously knocked my socks off. The rice was perfectly sticky and tasty and the burrito had just enough crunch to balance the fish and light wrap of the seaweed."
MINNESOTA: Catrina's Cerveza & Mexican Grill in Oakdale, St. Paul, Skyway, and St. Anthony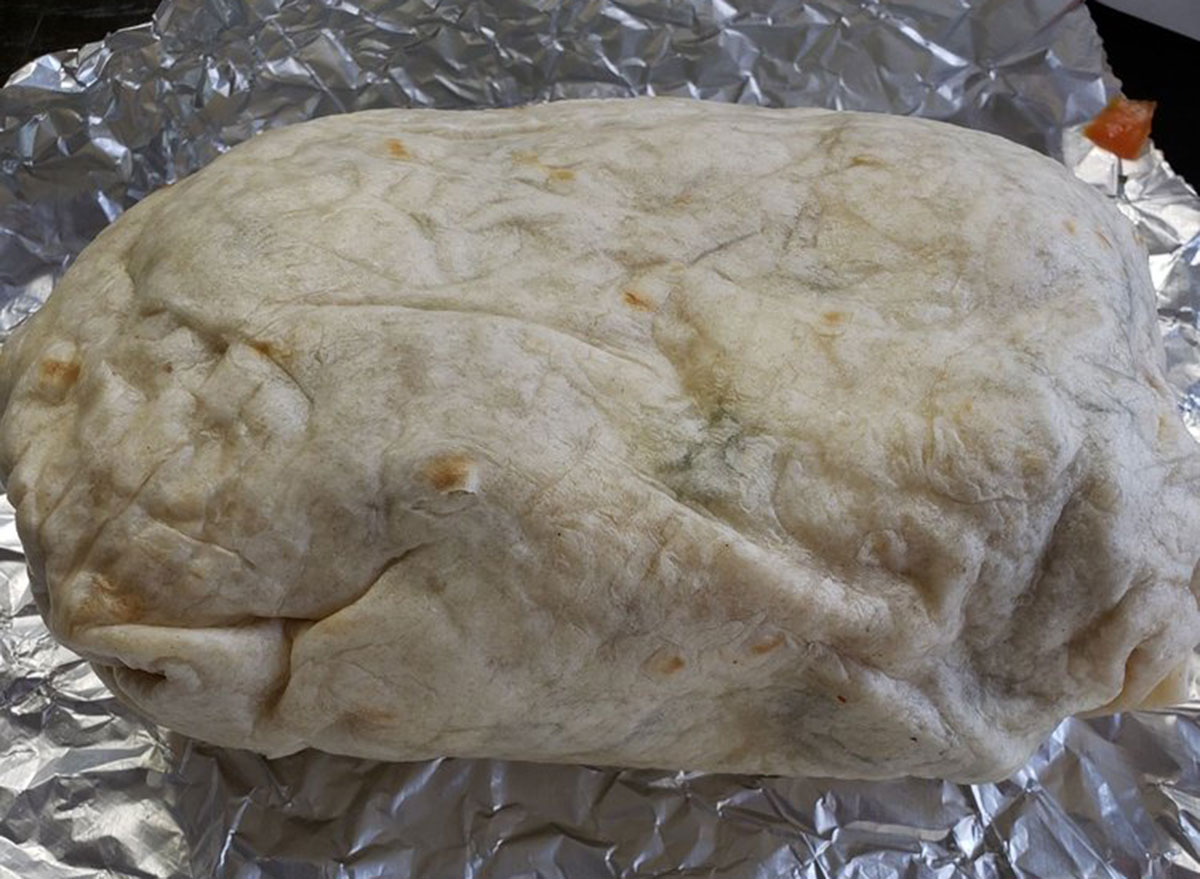 You'll find the most authentic Mexican food in Minnesota at Catrina's, which has a build-your-own system. Made from locally sourced ingredients, you choose your rice, beans, veggies, protein, toppings, and salsa flavor. Then, you can sit back while the burrito of your dreams is whipped up.
"If I could only have one food for the rest of my life, it would be Catrina's," raved one local, while another commented that, "this place is like Mary Poppins: practically perfect in every way."
Although you can get your food to go, be sure to at least stop and check out the decor, especially the Dia de los Muertos paintings.
MISSISSIPPI: Burrito Zone & Tamales in Diberville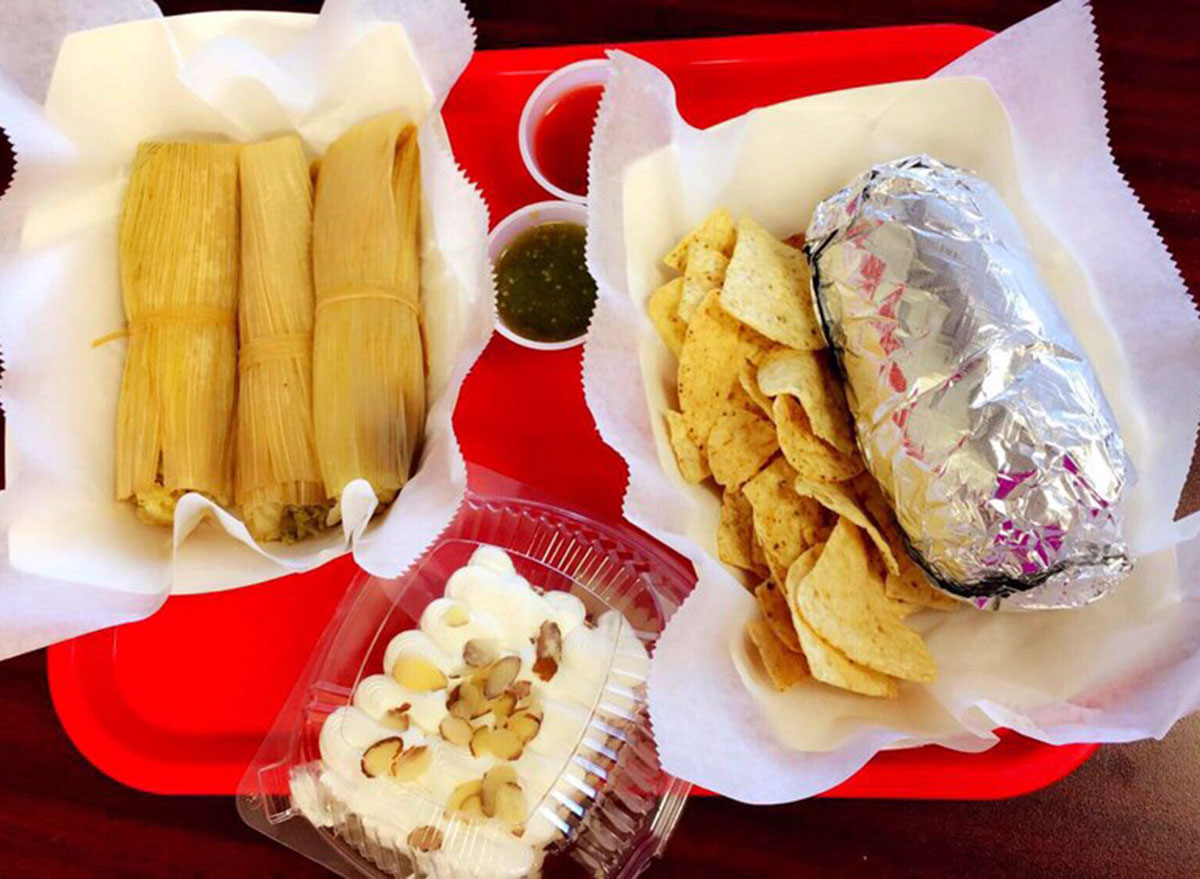 Burrito Zone also uses a build your own burrito model.
"Meat was flavorful, so many fixin' options, and the sauces are all fire," wrote one reviewer. "My buddy got a burrito bowl and that thing was loaded down! Definitely worth the money! If you're looking for a sign this is it! GO GET THAT BURRITO."
Reviewers are especially fond of the barbacoa burrito.
MISSOURI: Mariachis II Mexican Restaurant in St. Louis
People go wild for the fajita burrito at this St. Louis restaurant. One reviewer ordered the chicken version wrote that the burrito arrived "sizzling on a bed of tasty fajita veggies, and was amazing. The burrito ingredients were perfectly seasoned and cooked, and well distributed." Customers noted that the burrito is massive and suggest cutting it in half right away. This way, you can bring home a second meal to enjoy.
MONTANA: El Vaquero Taqueria in Helena
Described by reviewers as "deliciously messy," the burritos at El Vaquero Taqueria are affordable and the "most authentic I've seen in MT so far."
NEBRASKA: Burrito House in Schuyler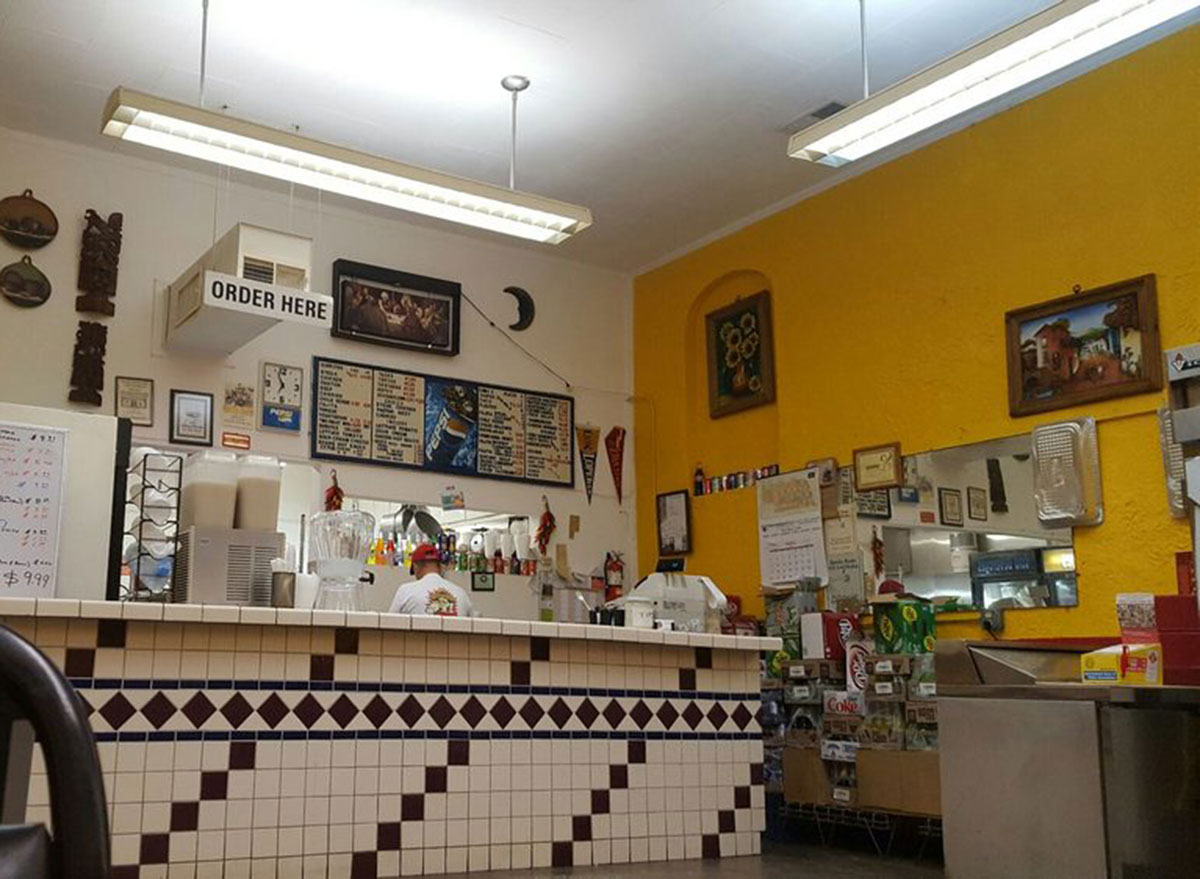 Burrito House serves up burritos that one reviewer describes as "big, cheap, and tasty." Another customer who ate the pork al pastor burrito praised the "excellent" dish, saying it's "not stuffed with beans and rice like so many. Meat was mixed with vegetables and spread throughout the burrito-not just one end. YUMMM!!!"
Reviewers also say Burrito House has great customer service. And that's always a major plus!
NEVADA: El Steak Burrito in Las Vegas
When you're craving a burrito in Sin City, head straight to El Steak Burrito. The carne asada burrito is a favorite. Additionally, this spot is home to an excellent breakfast burrito if you're craving a fix in the AM hours.
NEW HAMPSHIRE: California Burritos in Nashua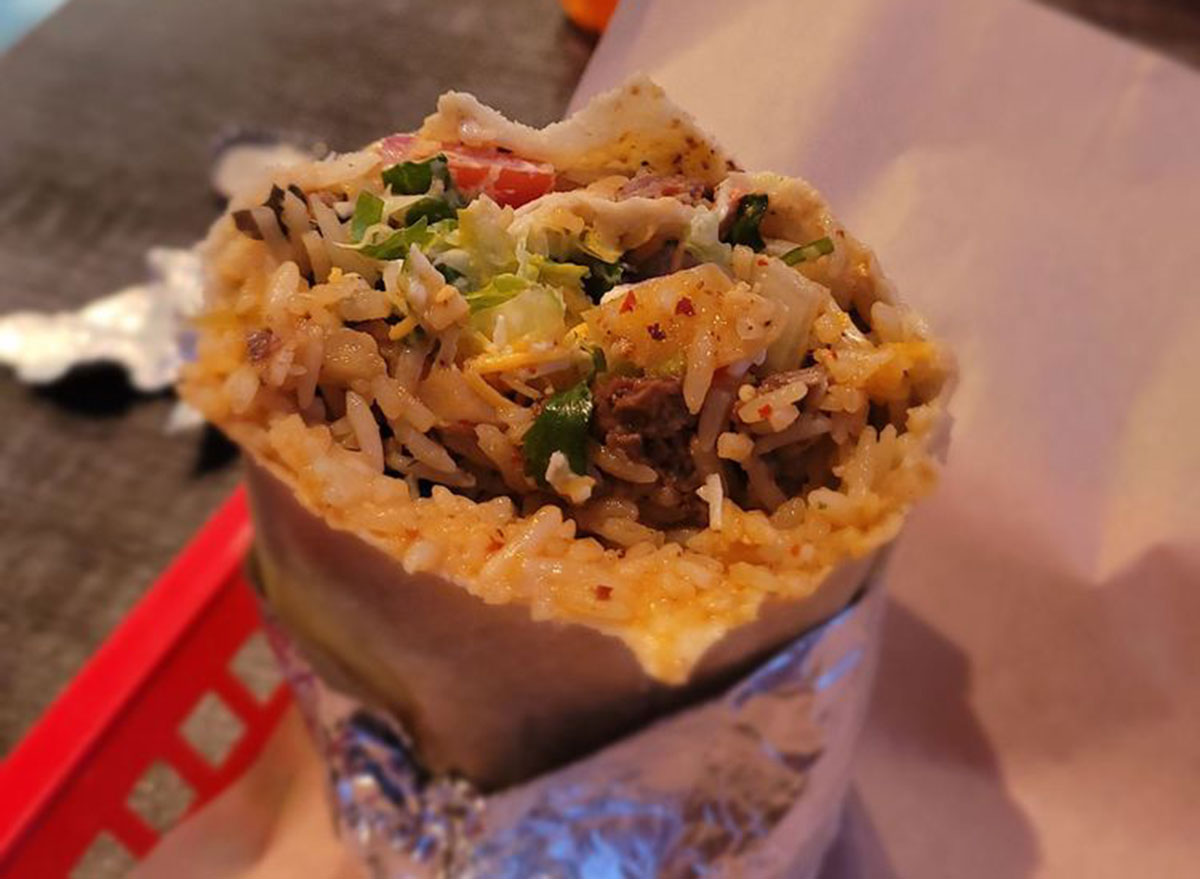 "Best burrito I've had in my life," one reviewer wrote. "Food is always hot [and] fresh, portions are large, and the flavor is amazing," said another.
You can either build your own burrito, or get the restaurant's special, aptly titled the "California Burrito," which is made with melted cheese, fresh seasoned French fries with grilled steak, salsa verde, pico de gallo, sour cream, and guacamole.
NEW JERSEY: Chanos Latin Kitchen in Pompton Lakes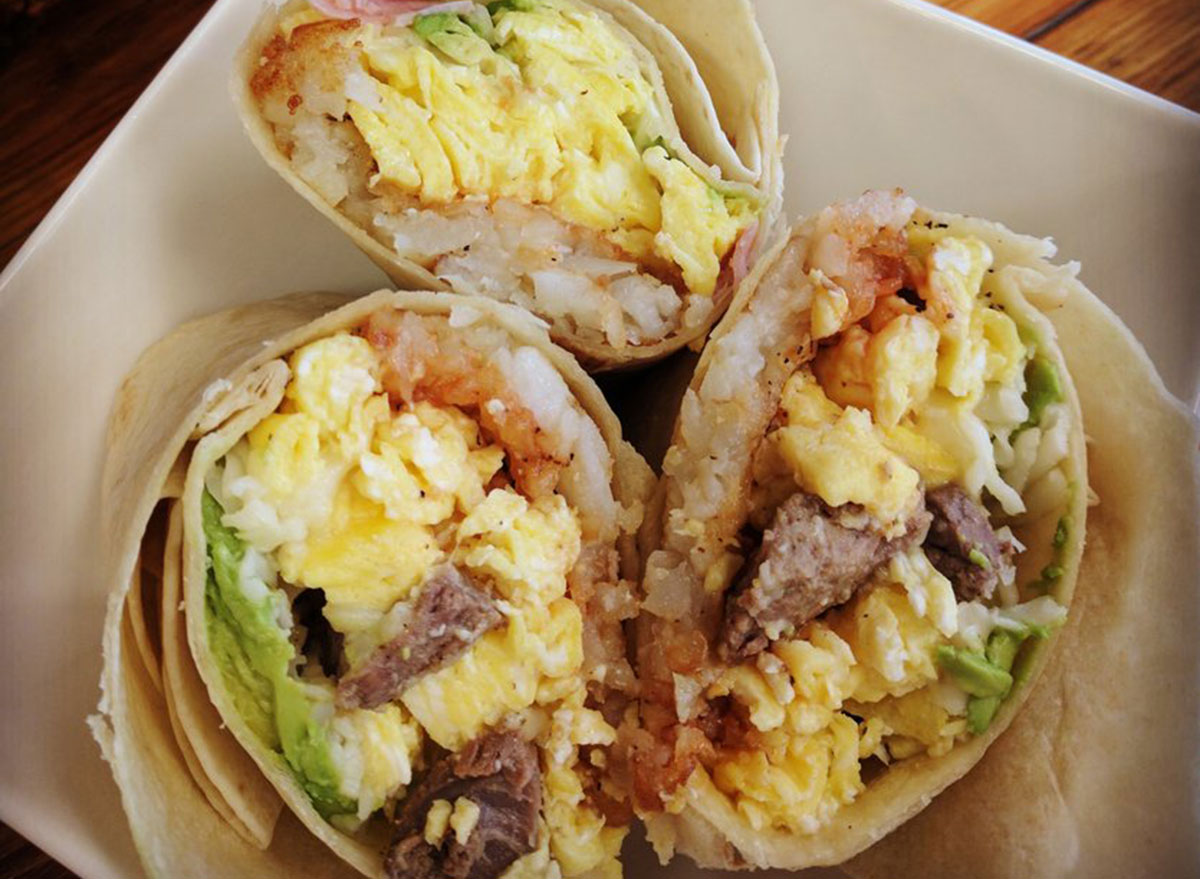 Chanos Latin Kitchen offers an amazing breakfast burrito and a wide variety of lunch and dinner options. Reviewers sang the praises of the chicken mole burrito, describing it as "superb," "delicious," and "super fresh."
Another favorite is the pulled pork burrito, which a local said, "melted in her mouth." Reviewers also noted that the burritos are never greasy, which is a common complaint even in popular restaurants.
NEW MEXICO: The Shed in Santa Fe
Ever since it opened its doors in 1953, The Shed has been famous for its green and red chiles, which the state is famous for, too. The green chile burrito is truly out of this world. Made with pinto beans, white cheddar cheese, and onion that is rolled in a large flour tortilla and covered with The Shed's own roasted green chile, this burrito is also vegetarian-friendly. It's served with rice on the side. A perfect meal!
NEW YORK: Frijolito's in New York City
This Harlem mom and pop shop is a hidden gem that serves up authentic Mexican fare for affordable prices, as all the burritos are $10 or under). "I love their burritos, ready quickly and always hot," wrote one regular.
"They are willing to customize your burrito—I like less rice and more cheese, and my roommate prefers no sour cream," said another. A California native wrote that Frijolito's "is the place I go to when I need to scratch that itch" for authentic, affordable Mexican food. More proof this spot is truly delicious!
NORTH CAROLINA: Mountain Burrito in Morganton
"The only thing wrong with Mountain Burrito is that there are too many things to choose from to put on your burrito—and they are all good," wrote one reviewer. It's certainly not a bad problem to have!
Made from local ingredients, Mountain Burrito offers a build-your-own burrito option. The naked burrito is also a popular choice.
"Best naked burrito I've ever had," wrote one customer, while another recommended loading it up with beans, rice, peppers, onions, and guacamole.
NORTH DAKOTA: El Paricutin Mexican Food in Dickinson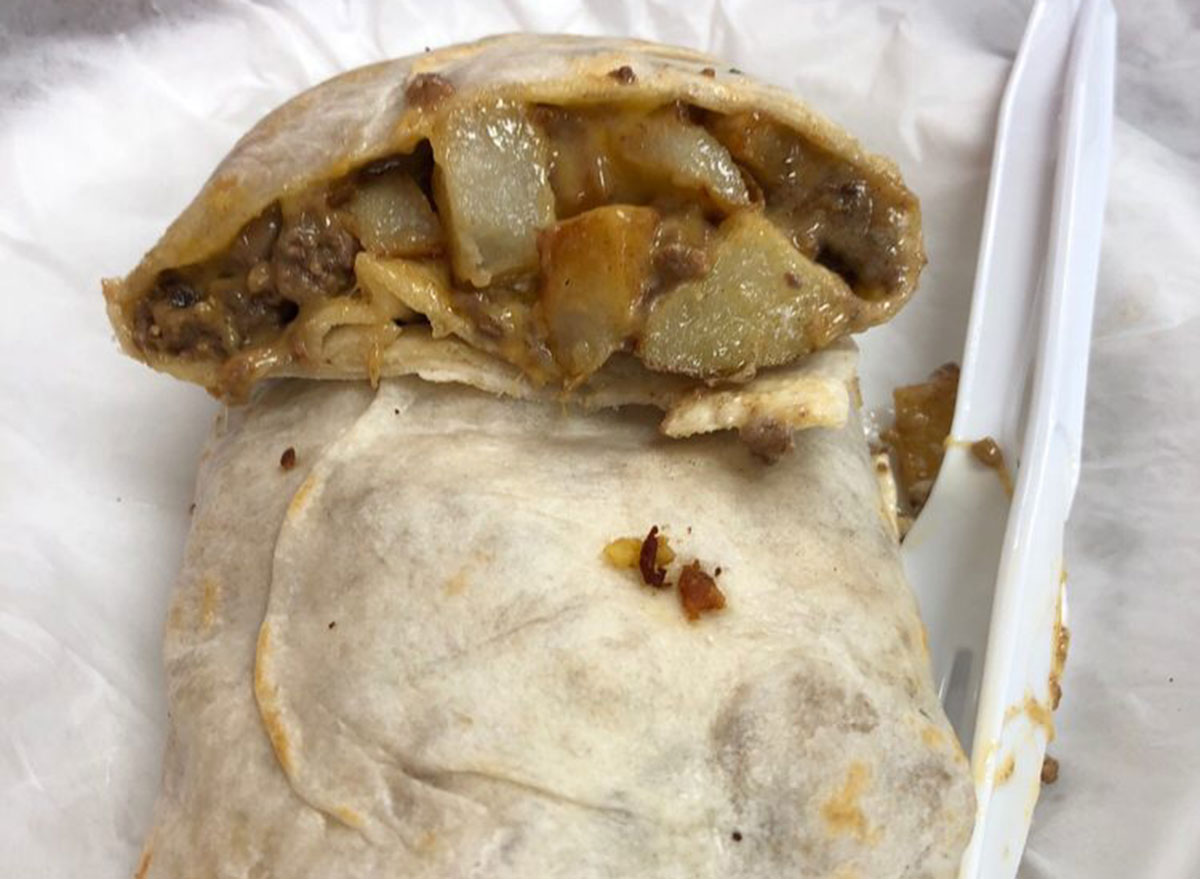 When in North Dakota, head to El Paricutin. Reviewers recommend the wet green burrito and the Baja burrito. Don't forget to check out the market attached to the restaurant if you're looking to buy some authentic Mexican food items.
OHIO: Mi Burrito Mexican Grill in West Chester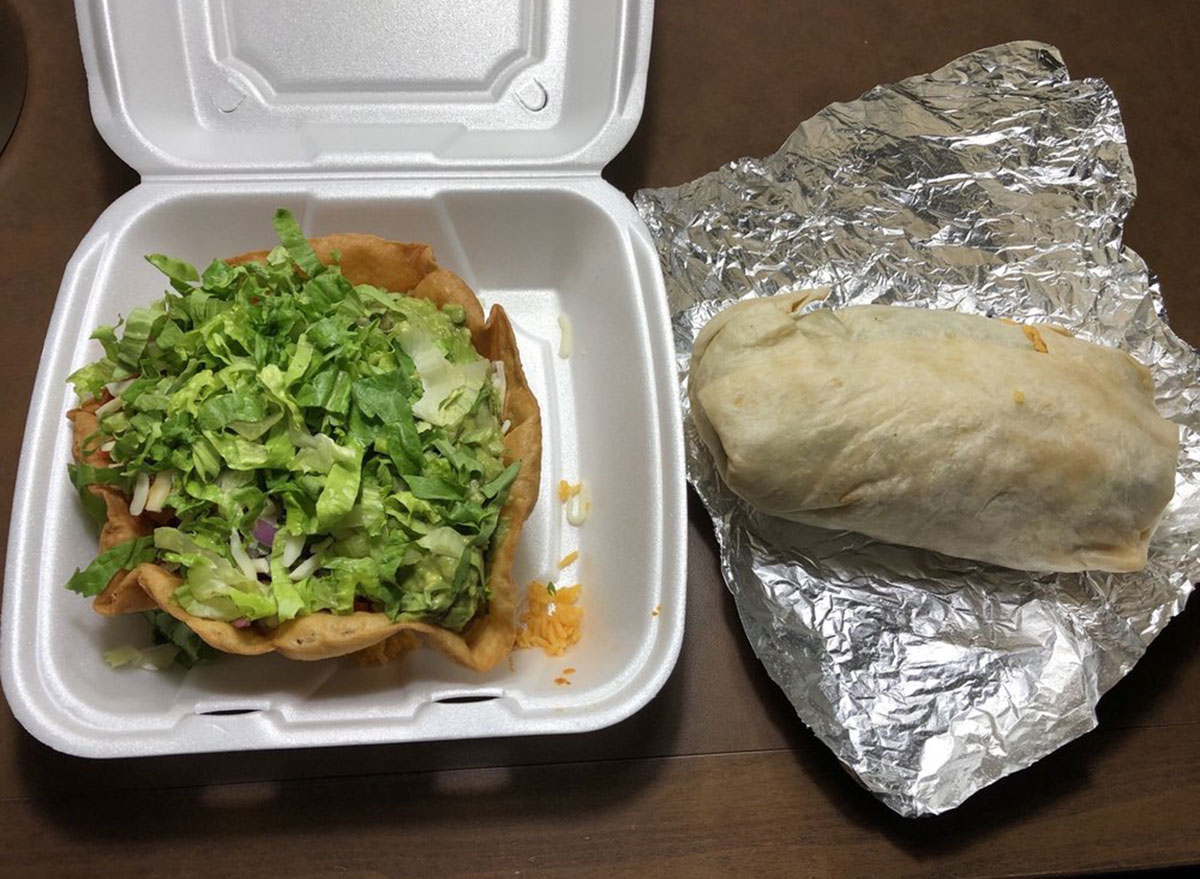 A hidden gem in Ohio, Mi Burrito has excellent authentic Mexican food and reviewers say the customer service stands out. One customer who visited the restaurant with his wife wrote that, when they shared it was their first time eating there, "[the staff] let us sample almost every component of the burrito." He settled on the fully loaded burrito, which he described as "about the size of an American football," and recommended to any future customers.
OKLAHOMA: Burrito Grill in Blanchard
Burrito Grill's slogan is "Home of the 1 lb Burrito." Enough said!
The burrito is simple but delicious, made from rice, beans, lettuce, cheese, salsa, and your choice of meat. It's also available as a bowl if you're looking for a low-carb option.
"Burritos are huge and juicy and made of fresh ingredients!" wrote a local reviewer.
OREGON: Tienda Santa Cruz in Portland
For more than 20 years, Tienda Santa Cruz has been a Portland staple and an automatic go-to for anyone craving Mexican food. Although best known for the tacos, the burritos are every bit as worthy. Regardless of which burrito flavor you choose, be sure to order it with avocado salsa.
PENNSYLVANIA: El Limon in Conshocken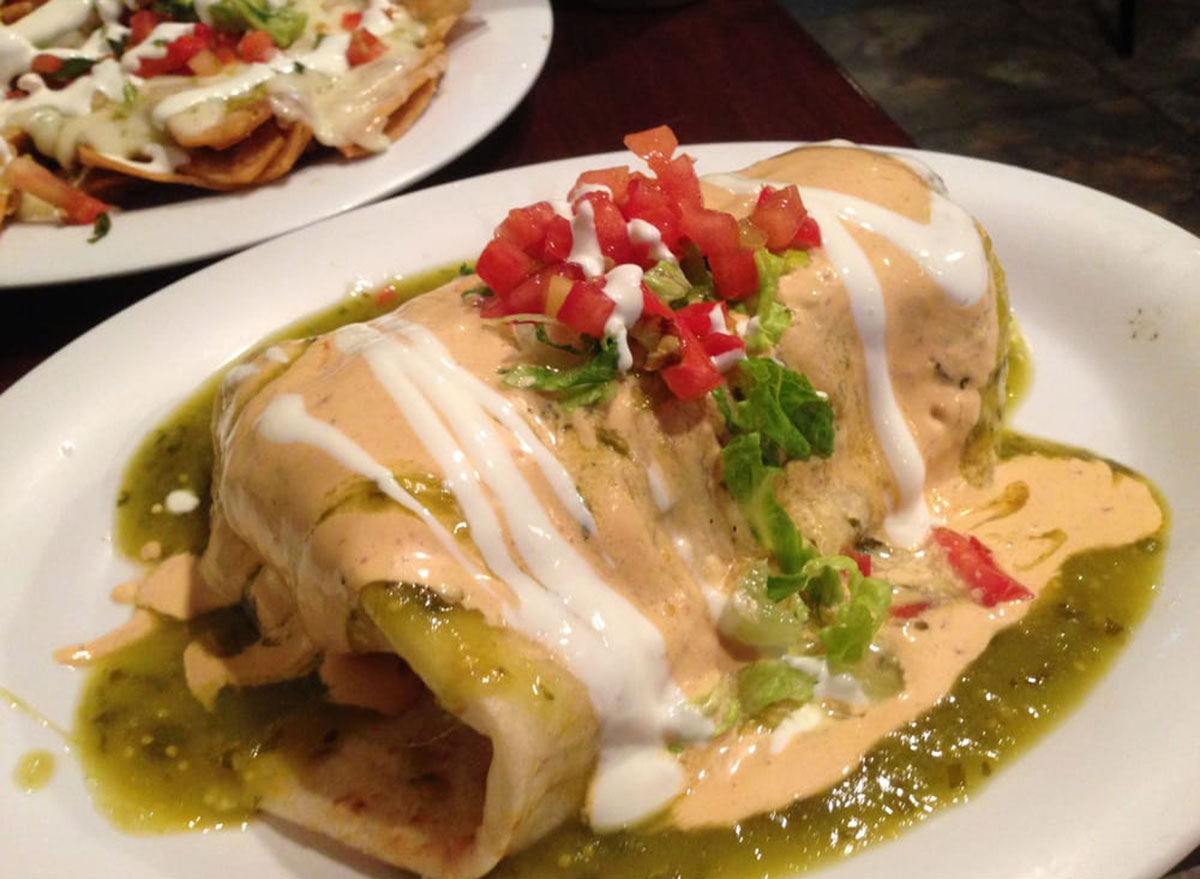 When in Pennsylvania, head to El Limon for your burrito fix. This BYOB eatery is nothing fancy, but the food is to die for. The El Pastor burrito "literally melts in your mouth," wrote one reviewer, while another raved that the "food was so fresh and very flavorful." If you have a sweet tooth, be sure to try the famous Tres Leches Cake, too.
RHODE ISLAND: Chilango's in Providence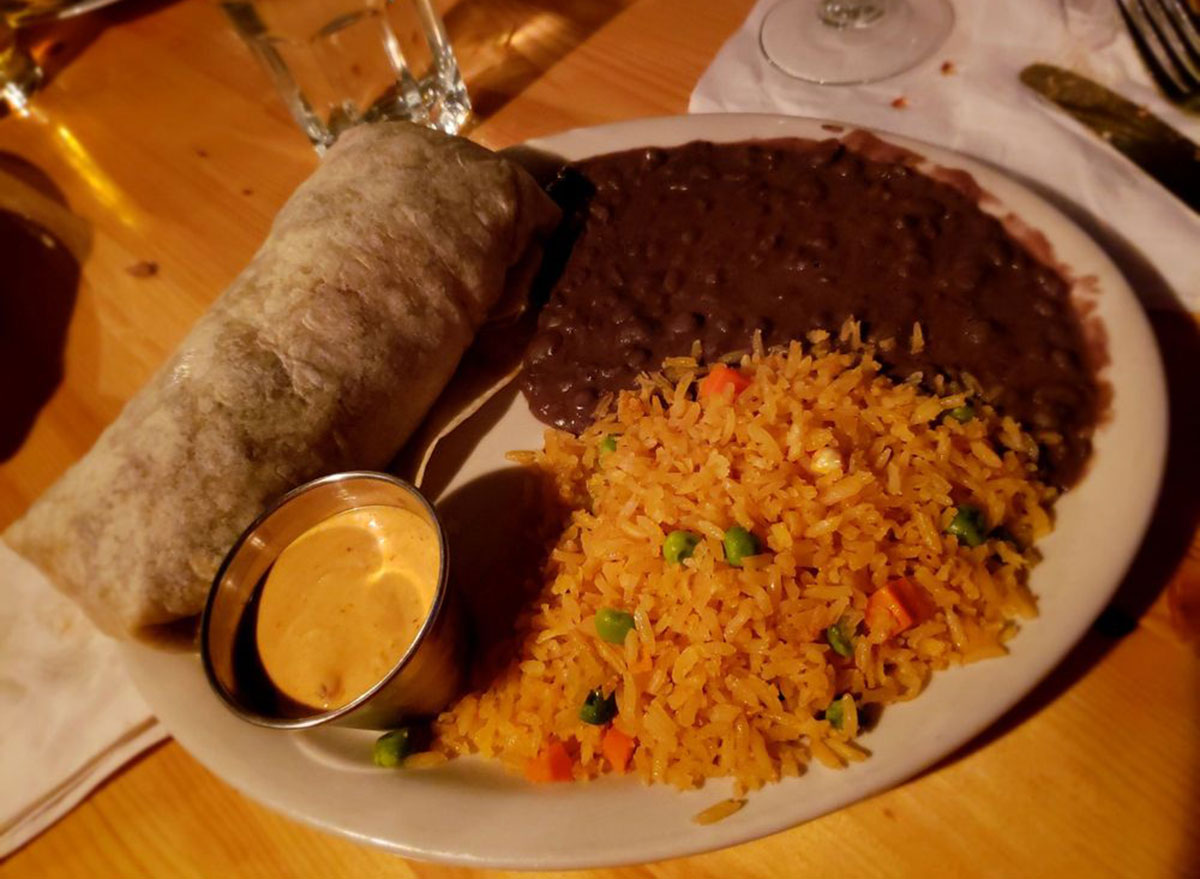 Chilango's originated as a food truck in Providence and got its start serving up Mexican fare at local soccer games. The brick-and-mortar location opened its doors two decades ago and it now has the best burrito in the state. "The food was delicious, the atmosphere was great and the service was amazing," wrote one reviewer.
"I still think about you, Villa Burrito, and I hope you think about me," wrote a tourist who still dreams of their meal from Chilango's.
SOUTH CAROLINA: Java Burrito Company in Hilton Head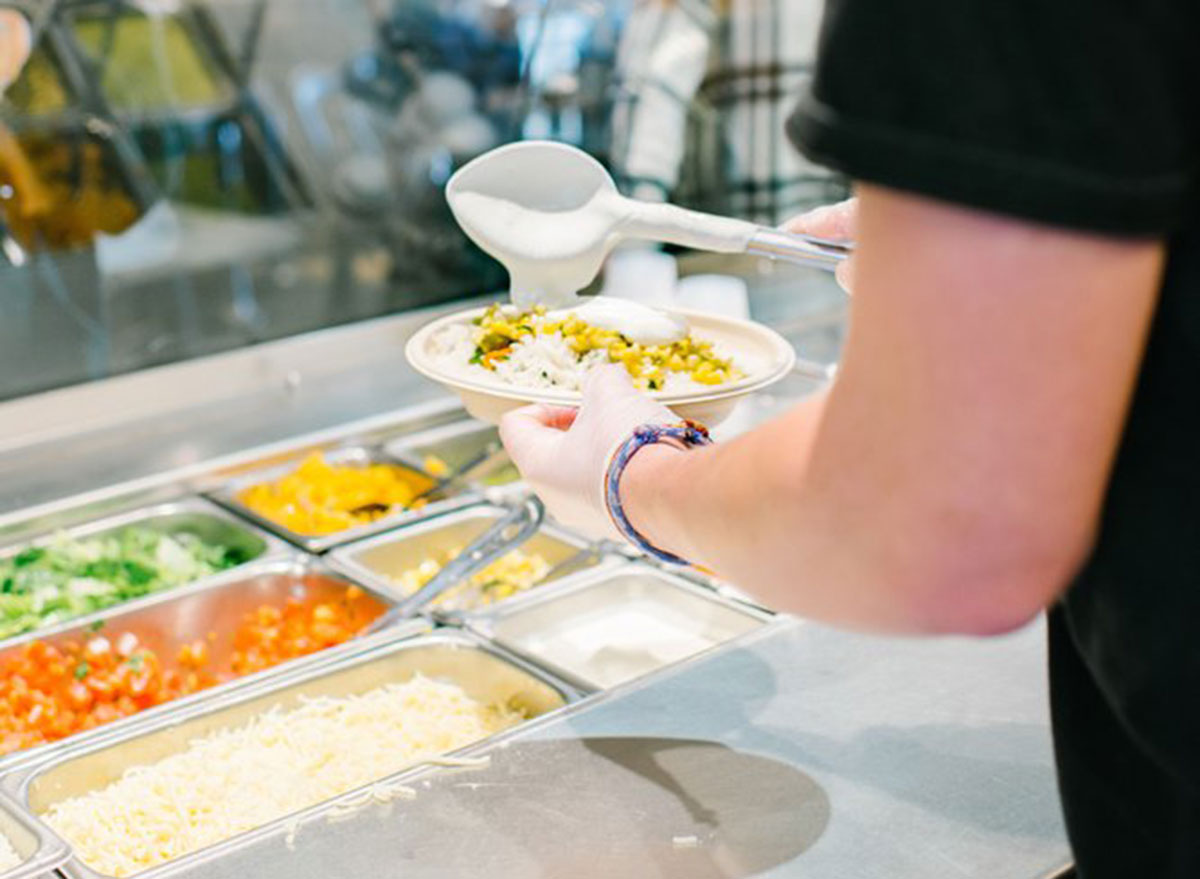 The burrito bar at this Hilton Head restaurant is the stuff of dreams thanks to the wide variety of delicious options to make the perfect burrito to suit your taste buds.
"Our absolute favorite burrito place and we have to visit at least once every time we come to Hilton Head," wrote one reviewer. "The food is always super fresh and flavorful. So many topping options…..I can't say enough good things."
SOUTH DAKOTA: Tortilleria Hernandez in Sioux Falls
The fresh tortillas at Tortilleria Hernandez are key to making the perfect burrito. A reviewer praised the take-out spot's "extra authentic Mexican burritos" where the al pastor and steak burritos are highly recommended.
TENNESSEE: Baja Burrito in Nashville
This locally-owned independent burrito shop always has chicken, steak, veggie, and rib burritos on the menu, but be sure to ask about the specials. For example, reviewers went wild for the tampico pork burrito, which was a special on the menu for quite some time.
"Very yummy place! Can't go wrong with a huge burrito and some queso," wrote one happy customer. "Everything tasted delicious!"
TEXAS: Taqueria El Crucero in Waco
Finding the very best burrito in Texas is an undeniably difficult task—after all, the state's Mexican food is to die for. But head to Taqueria El Crucero in Waco if you want to be seriously wowed by the burritos.
"Great burritos for a great price," wrote one reviewer. "The food is delicious and flavorful—you can't beat it." Another said the $7 Oso burrito is their go-to; it's stuffed with rice, whole beans, and chile verde, and topped with Oso sauce and shredded cheese. Another recommended the Campesino Burrito with sausage. You can't go wrong with the breakfast burritos, either.
UTAH: Red Iguana 1 & 2 in Salt Lake City
This festive Mexican food restaurant has two locations in Salt Lake City and both boast "delectable" burritos on the menus. In fact, many local reviewers say they're regulars because they can't get enough of the amazing food. They describe the burritos as "outstanding," "delicious," and "fantastic."
VERMONT: Mojo Cafe in Ludlow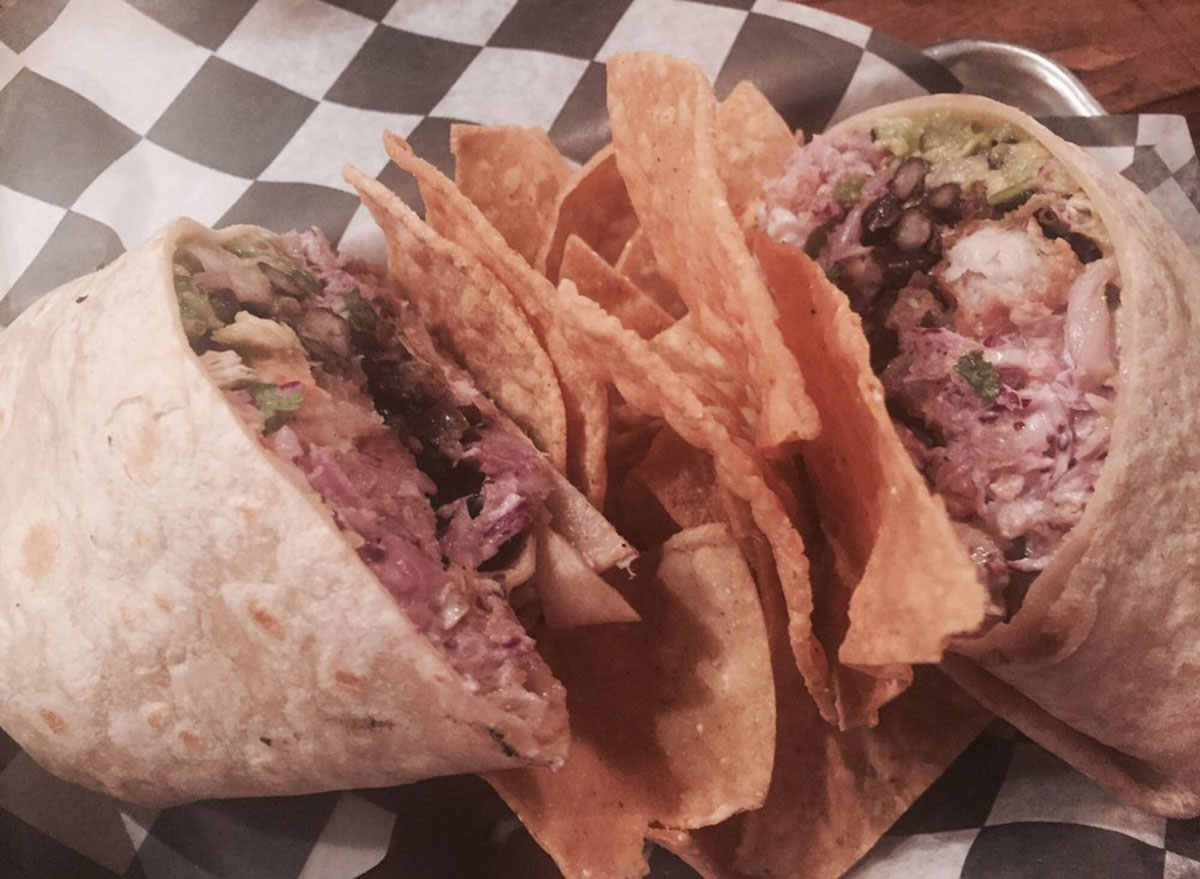 Mojo Cafe serves what they describe as "modern Mex-Orleans and street cuisine" and the reviewers say it's a winning marriage of flavors. The Voodoo Shrimp burrito is especially popular, with one New Yorker writing that the meal alone is worth the four-hour drive. The catfish and lobster burritos also earned rave reviews.
VIRGINIA: Tacos Mexico in Richmond
Tacos Mexico is best known for (you guessed it!) its authentic tacos. But the burritos are also super popular. "Very fresh ingredients, tasty for an incredible price!" wrote one reviewer. Another described their burrito as "simply delicious." The steak burrito and the chorizo breakfast burrito were mentioned as standouts at this hole-in-the-wall joint that's earned a five-star average on Yelp.
WASHINGTON: Pita's Taqueria in Enumclaw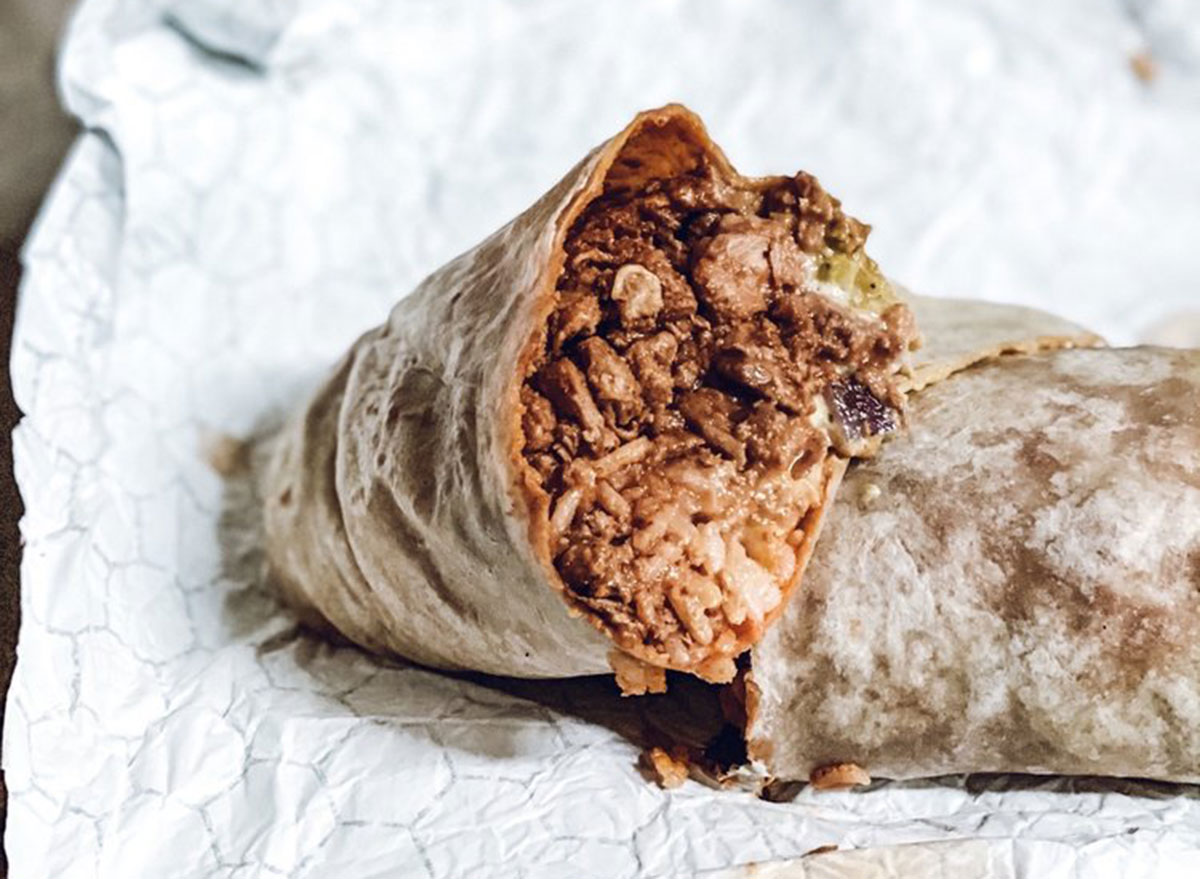 "I'm 46 and this was the best burrito I've ever had," wrote one very happy customer after dining at Pita's Taqueria. Another reviewer declared "these burritos are huge and delicious." Diners also appreciate the friendly staff and reasonable prices.
WEST VIRGINIA: Black Bear Burritos in Evansdale and Morgantown
Black Bear Burritos doesn't claim to have authentic Mexican cuisine, but the unique menu offerings certainly sound mouthwatering and reviewers confirmed our suspicions. There's a build your own burrito option, or you can try the Slow Burn, made with steak and Sriracha refried beans in a flour tortilla, melted cheddar, cilantro rice, and sautéed bell peppers, and smothered in a fire-roasted chipotle salsa.
One reviewer wrote that his burrito at Black Bear "blew his mind." A number of vegetarians voiced their appreciation for the wide variety of options for herbivores, too.
WISCONSIN: Cafe Corazon (Multiple Locations)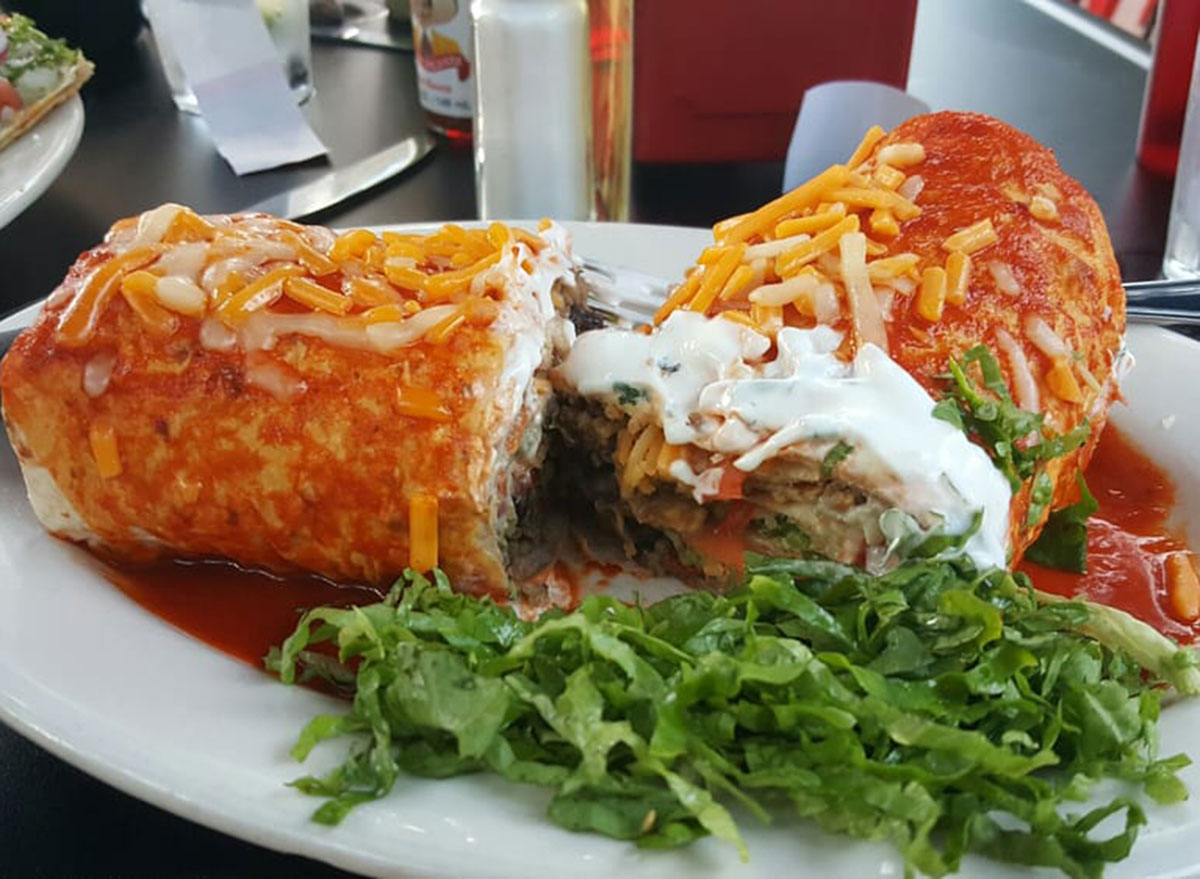 This farm-to-table Mexican restaurant has multiple locations throughout the state. Reviewers love the wet burrito, describing it as "so yummy" and "so delicious, you'll dream about it."
WYOMING: Michael's Tacos in Cody
When you're craving a burrito in the Cowboy State, look no further than Michael's Tacos. Reviewers suggest "go big or go home" when it comes to choosing a burrito—the "Big Burrito" is the size of a dinner plate and is made from locally sourced ingredients.
"I had the big burrito with ground beef. Oh my, is it big!!!!," wrote one happy customer. "Excellent food, friendly service, and huge portions."
Caitlin Flynn
Caitlin Flynn is an award-winning writer and reporter who experienced early age corporate burnout in 2015 and traded New York City for the misty air and superior coffee of Seattle.
Read more about Caitlin