11 Best-Quality Costco Items Worth Buying Right Now
You don't need to splurge to find first-rate groceries.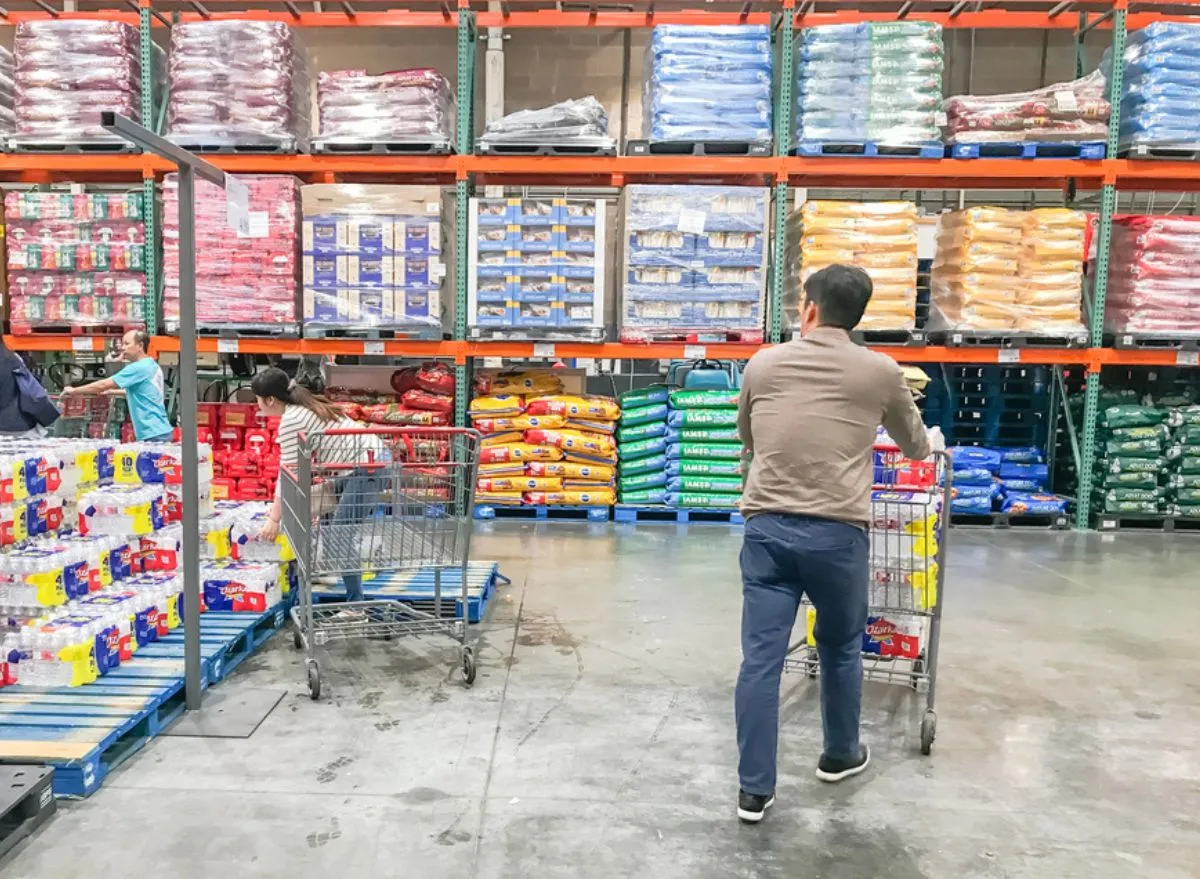 This post contains affiliate links. If you use these links to buy something, we may earn a commission.
There are nearly 119 million cardholders who pay a monthly fee to gain entry to the giant aisles and sky-high shelves of Costco. If you have a membership, you know all the reasons to opt for the warehouse shopping experience. It's not just because the bulk pricing makes your grocery bill more palatable.
It's because Costco has a long list of cult favorites, too. The bakery, deli, frozen section, and food court all have their own hidden gems that the longtime member knows by heart. There are rotating seasonal products that garner a larger following with each passing year. And, yes, many of the items are going to cost less than at another store with your membership. Why pay more for the label when you can find just as good—if not better—options at your favorite warehouse retailer?
Shoppers think these 11 foods sold at Costco stand up on their own as some of the best grocery products out there.
Rao's Homemade Marinara Sauce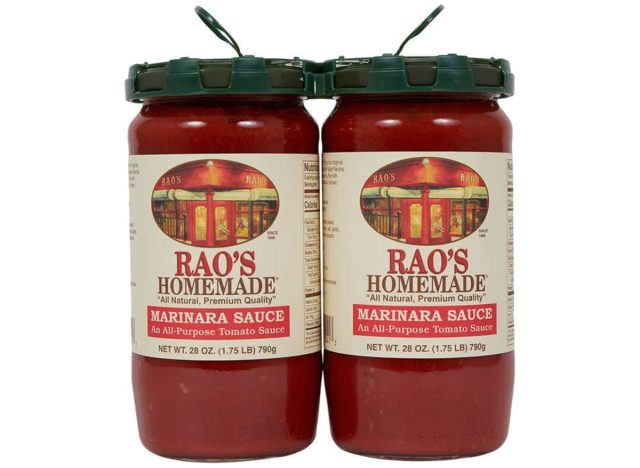 The key to elevating any at-home Italian dinner is in the seasoning. But why make a slow-cooked tomato sauce yourself when you can get Rao's? This New York-based company's marinara was named best by Bon Appétit in 2018, and Costco members have been in on the secret ever since. This rich, premade sauce with imported tomatoes, olive oil, and spices—without any preservatives or added sugar—seems to be a surefire hit.
A crowd-sourced lineup of all the gourmet pasta sauces on Reddit put Rao's on top as well. "I mean, just look at that [ingredient] list and compare it to any other brand [of] sauce. Beautifully simple," said one user. At Costco, a bundle of two 28-ounce jars is $11.49.
Kirkland Organic Extra Virgin Olive Oil
There aren't a lot of times when choosing the more affordable option will give you best results. But in this case, you're definitely going to want to skip those expensive small-batch olive oils for the Costco brand. According to The List, the warehouse retailer goes the extra mile to maintain top-notch quality through worldwide sourcing.
"We have always been involved in this program by meeting the farmers and touring the mills and the processing plants in order to hold everyone in the olive oil production process accountable for the olives they bring in," Costco corporate food buyer Shauna Lopez said in Costco Connection.
Compared to high-end olive oils like California Ranch at $22.99 for one liter, Kirkland's is a steal at just $15.99 for a 2-liter bottle.
Cretors Small-Batch Popcorn, Cheese & Caramel Mix
As the weather gets colder, staying inside sounds more appealing than going out. A cozy movie night on your couch can be just as exciting when you have theater-quality snacks. This duo of hard caramel-coated and cheddar-dusted popcorn is highly addictive, according to Costco fans.
"I'm not able to purchase this popcorn anymore, I lack the self control to not eat it until I hate myself," one customer said. "Popcorn is in my top 5 favorite foods, and this combo is especially delicious!" Another commenter on the Reddit post about the popcorn advises opening the bag upside down to evenly distribute the mixed kernels. You can get a 2-pound bag of this treat for $8.99 at the warehouse.
Here's an Italian topping you can use on pasta, crusty bread, or pizza. Made with Genovese basil, pine nuts, pecorino, salt, and sunflower oil, this pesto is as simple as it is delicious.
A Reddit post called it an "absolute game changer," and a review by Costcuisine gave it a 9.5 out of 10 for its taste and quality. "I'll just say it, you will not find pesto that is this high quality at this price. You just will not," the blogger wrote. "At a specialty Italian store this would probably be 20 dollars or more."
Though delicious, the heaping 22-ounce jar, according to other commenters, is tough to get through before it expires. Luckily, storing it in frozen batches is totally doable. "Can [confirm] it freezes perfectly. We freeze it in cubes and thaw them for use on pizza or in dishes," said one Redditor. If you have the freezer space, this bulk buy will last you months for the upfront cost of $11.49.
Motor City Pizza Co. Detroit-Style Deep Dish Pizza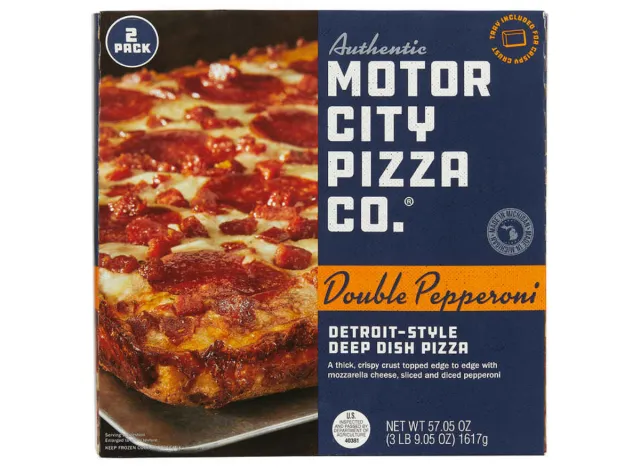 When it comes to pizza preferences, you can find New York-style thin or Chicago-style thick. But some people—including ones in this Reddit thread praising Motor City Pizza Co.—want their pie Detroit-Style deep. One customer calls this one of the frozen best pizzas they've ever had. "If cooked correctly this would be a $20 pizza in a restaurant," they wrote. "12/10 recommend to anyone who enjoys pizza." According to the post, though, not every Costco seems to keep it in stock. If you can find it, it's sold in a box of two for $14.29.
Kirkland Organic Creamy Peanut Butter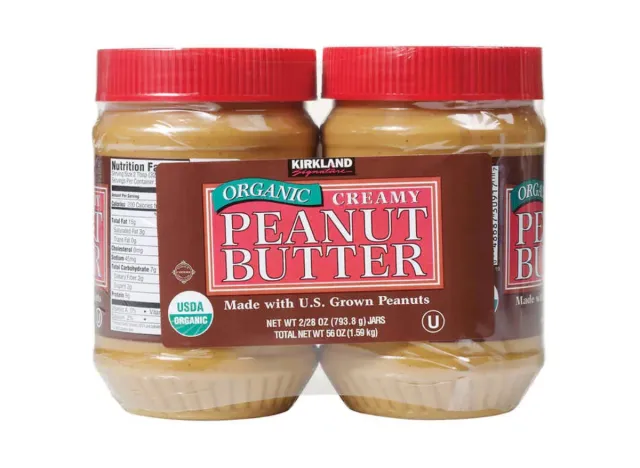 Nothing feels better than a reunion. The cult following for Costco-brand peanut butter was briefly interrupted by a temporary discontinuation of the creamy spread in July 2021, but it was brought back later in the year to clamoring customers. The reason people love this peanut butter? The simple ingredient list. Made of roasted organic Valencia peanuts and sea salt, with very minimal sugar, shoppers swear you can taste the simplicity in this creamy spread.6254a4d1642c605c54bf1cab17d50f1e
"It has an outstanding roasted flavor. Best of all it has only 2 ingredients: Peanuts and salt. Not added oils, hydrogenated fats," one five-star review on Amazon said. "What really sets the flavor apart is that the peanuts are dry-roasted before being ground…So I like the fact that there is no ingredient other than salt used during processing." From Costco, it's sold in a pack of two 28-ounce recyclable plastic jars for $12.69.
Kirkland Signature Italian Sausage and Beef Lasagna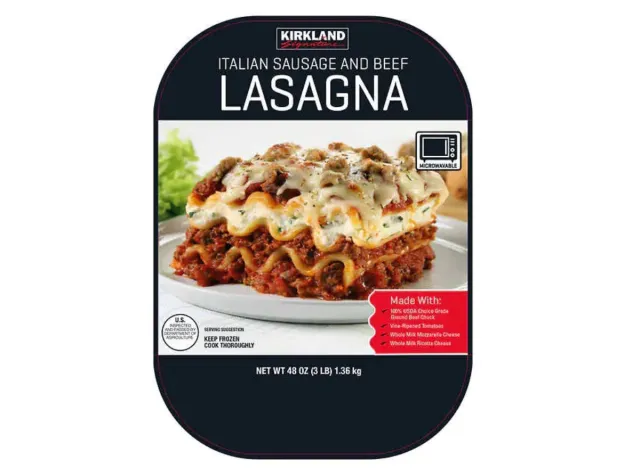 Nothing beats homemade…except maybe this quick oven-ready meal. Shoppers on Reddit say this rivals even the best lasagna prepared from scratch. "My wife is straight Italian and an awesome cook so I have to cheat on her with the Costco lasagna," one Redditor said. "It's honestly really close to my wife's as far as taste and texture. My wife's is super good!"
We're not saying it's the healthiest dinner, but it beats eating out at a restaurant. The sheer quantity of lasagna you can get from the frozen section is the other selling point—$18.49 for two 3-pound trays of pasta, meat, and cheese.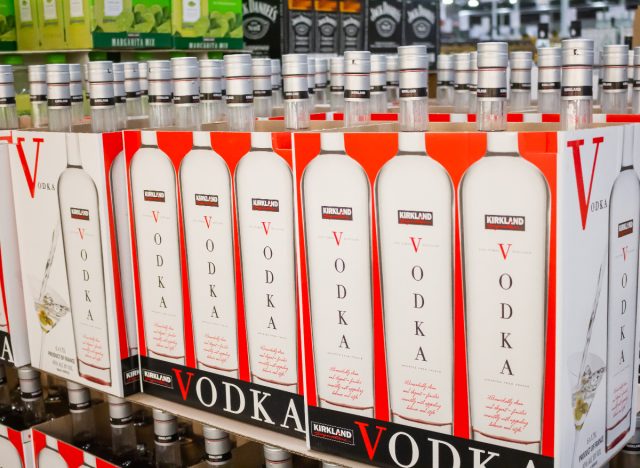 This French vodka made its mark when rumors swirled about its Grey Goose origins. That theory has since been debunked, but the private label still holds up against premium brands. Cocktail blog Blacktail NYC noted that it often beat out Grey Goose in blind taste tests, as did frequent buyers of the vodka in Costco's subreddit.
"IMO it's better than [Grey] Goose. I doubt anyone will find better (wheat vodka) for the price," one user commented. For half the price—Grey Goose retails at $49.99 for 1.75 liters, whereas the Costco brand is $24.99 for the same sized bottle—this vodka is an impressive show of Kirkland quality.
Kirkland Signature Organic Maple Syrup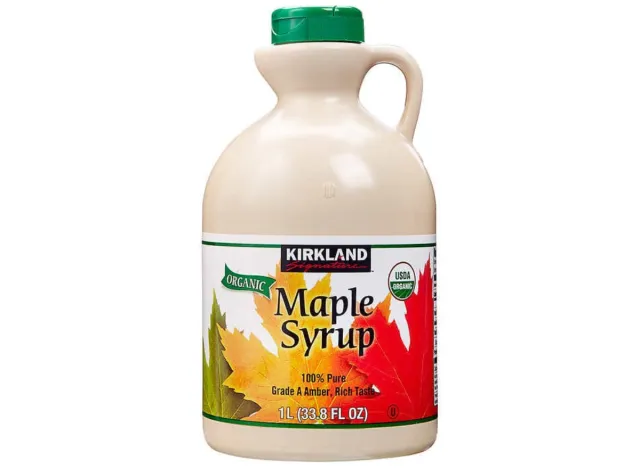 The quality of this maple syrup hasn't dipped for as long as it's been around. It's certified Grade A, and it contains only one ingredient—pure organic maple syrup. It also gets a 10 out of 10 for taste from Costcuisine.
"It has a slight hint of molasses flavor and hints of vanilla and caramel. The syrup is not overly woody tasting and tastes like genuine pure maple syrup. It's super smooth with a bold maple flavor," the reviewer writes. "This Costco maple syrup tastes pretty much the same to me as the high quality, glass bottle maple syrup you would buy at a specialty Canadian gift shop."
And yet, instead of paying over $10 for an 8-ounce leaf-shaped bottle, the liter-sized jug contains four times the syrup for only $14.99 at Costco. So pick it up from the warehouse and pour to your heart's content.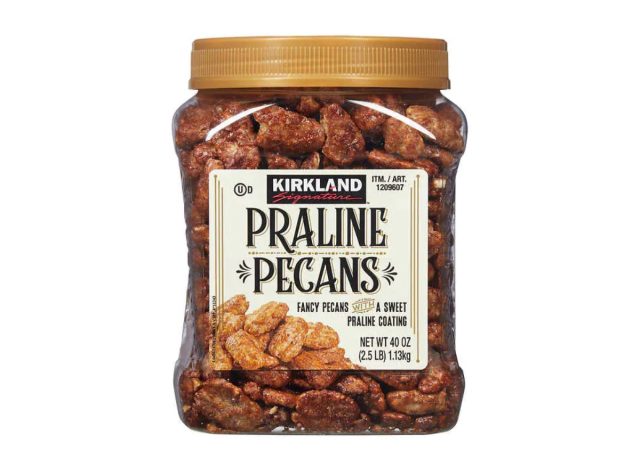 Perfect as a coffee table nibble during the holiday season, these are so dangerously good that fans aren't letting themselves take the container home from the store. This Reddit post about the Praline Pecans received 74 comments raving about the caramelized nuts.
"I am on an auto-declared ban from buying these," one person commented. "So good and addictive." It's likely that the 14 grams of sugar per serving is one reason you shouldn't buy these pecans, but if you think you have what it takes to portion control with this indulgence, the 40-ounce jar is $16.99.
Wild Planet Albacore Wild Tuna
For a quick and heart-healthy source of protein, Costco carries this tuna that shoppers like for its freshness and the brand's commitment to sustainable fishing. We also think it's the best canned tuna on the market because it's 100% tuna and salt with no fillers or oils, is richer in omega-3 fats than your average tuna can, and contains less mercury. Not to mention, it's pole and troll caught, which means it's environmentally friendly.
"Personally, this might be the best tasting canned tuna I have ever eaten. It tastes pleasant and fresh," one customer declared. It's not the cheapest option, but if you can spring for the better-for-you choice, you can pick up this pack of six 5-ounce cans with all your other Costco faves for $18.99.
Sarah Wong
Sarah studied at Northwestern University, where she received a bachelor's degree in computer science and experimented with mixing tech and journalism.
Read more about Sarah