10 Delicious Blueberry Recipes To Make With the Summer Bounty
Take advantage of this summer berry's amazing health benefits by trying some of these blueberry recipes.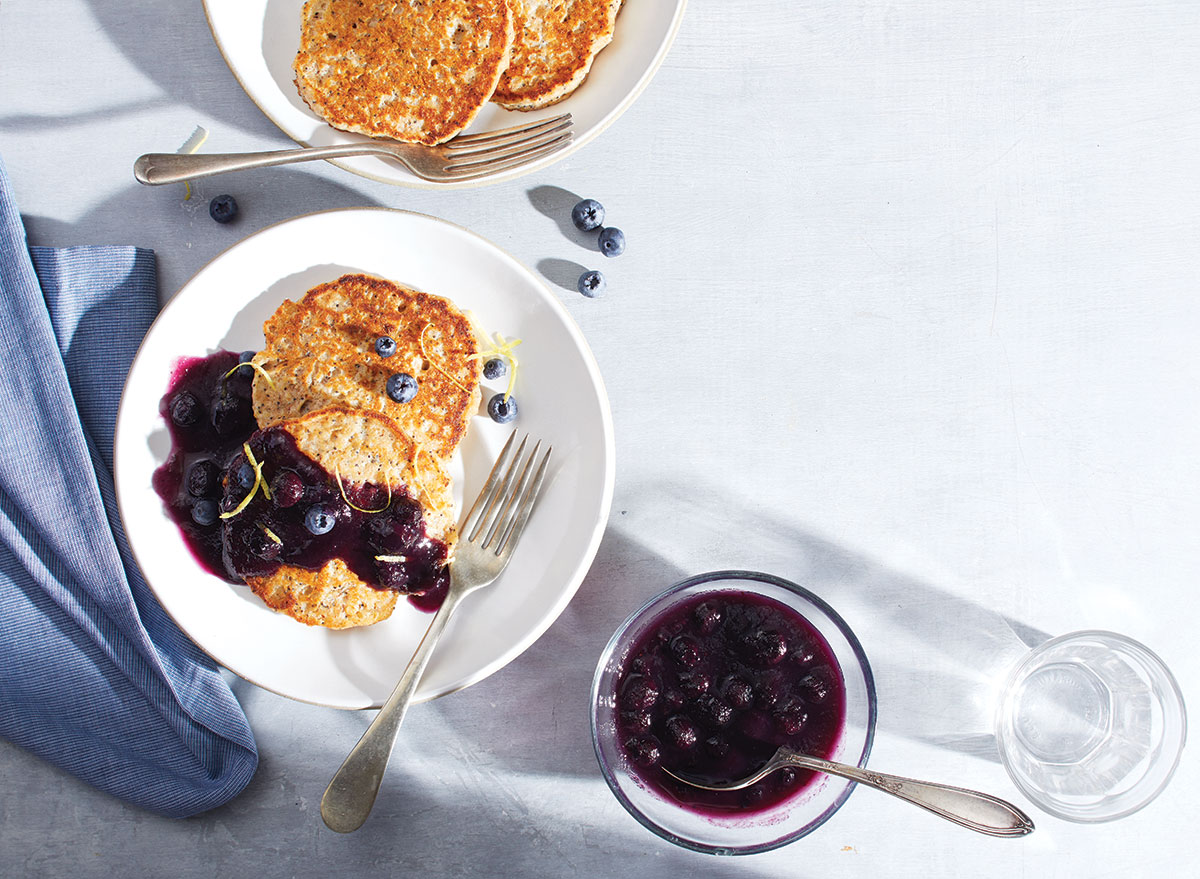 Blueberries are aplenty over the summer months and are a base to so many classic summer dishes like cobblers, salsas, cocktails, salads, pies, cocktails, and so much more. They provide a ton of flavor and sweetness to your favorite meals and are packed with vitamins, nutrients, and antioxidants, so trying your hand at some delicious blueberry recipes is the perfect way to take advantage of this superfood being in season during the remaining summer months.
In just one cup of blueberries, you're getting about 3.5 grams of fiber, 1 gram of protein, and only 84 calories. Not only that, but this cup of blueberries will also give you a hefty dose of potassium, magnesium, manganese, vitamin C, and vitamin K. If that weren't enough to sell you on making some delicious blueberry recipes, a report in the journal Advances in Nutrition also stated recently that blueberries have an extremely high concentration of antioxidants, which are crucial for healthy aging and fighting free radical damage in the body.
So, for those who want to enjoy the health benefits and bold sweetness of this beloved summer berry, the following blueberry recipes will give you ideas for breakfast, lunch, dinners, desserts, and healthy, filling snacks. Read on, and for more, don't miss 10 Cucumber Recipes That Are Crisp, Crunchy & Refreshing.
Blueberry Lemon Ricotta Pancakes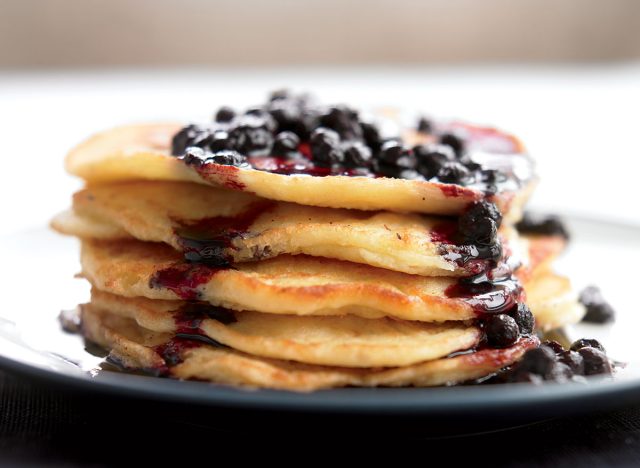 Lemon and blueberry are both such satisfying summer flavors, so why not combine them and enjoy a sweet breakfast? Made with ricotta, Greek yogurt, and whole wheat flour as the base, this recipe is bursting with flavor but keeps the calories at a minimum. With the yogurt and ricotta, these pancakes will also give you a boost of protein, something you won't always get from a regular pancake breakfast.
Get our recipe for Blueberry Lemon Pancakes.
Fruit and Granola Yogurt Parfait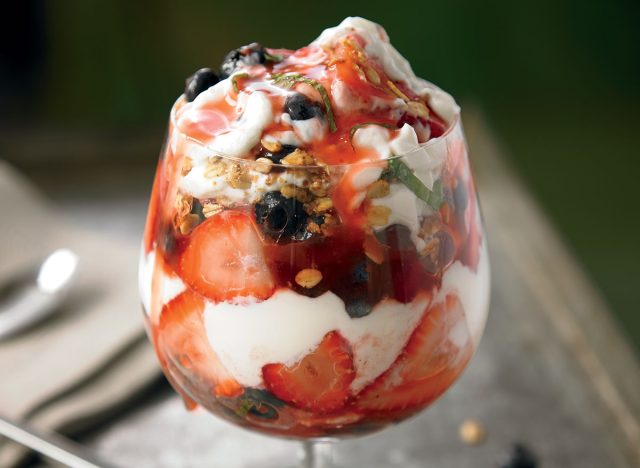 Another option for breakfast—or a lighter, healthier dessert—this yogurt and granola parfait is easy to make and gives you a protein boost while satisfying that sweet tooth. You can pile it up with blueberries, strawberries, or any other fruit of your choosing. This recipe is great with low-fat Greek yogurt that doesn't have added sugar because this will provide more protein, but you can use any type of yogurt that you prefer.
Get our recipe for Yogurt Parfait.
Ricotta Cheesecake with Blueberries
People may often think of a New York-style cheesecake made just with cream cheese, but Italian cheesecakes are normally used with ricotta or mascarpone cheese instead, making it a totally different experience. This recipe, however, combines the best of both worlds and uses cream cheese and ricotta, which creates a creamy, flavorful cake for you to bring to the next summer gathering.
Get our recipe for Ricotta Cheesecake.
Healthy Blueberry Peach Cobbler
Whether it's peach or blueberry, cobbler is a defining summer dessert. This recipe happens to use both fruits, and at just 310 calories per serving, it is also much lower in calories than many other cobblers you'll come across. Serve this one up for your next family dinner or bring it as a dish for your friend's BBQ—either way, it will instantly become a crowd-pleasing dessert.
Get our recipe for Blueberry Peach Cobbler.
Lemon Poppyseed Pancakes with Blueberry Compote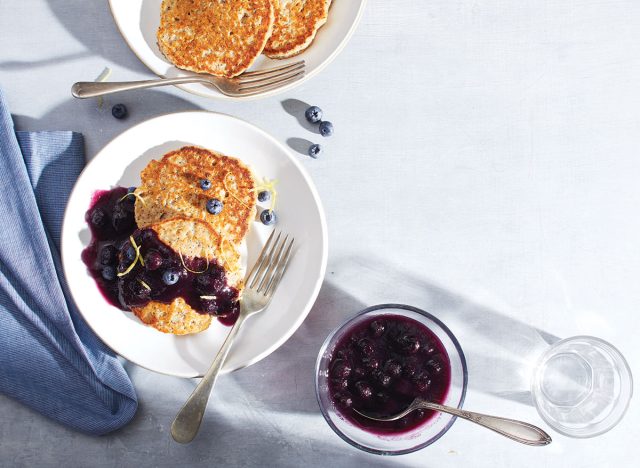 Lemon pancakes are sweet without being overpowering, which makes them a great way to start your day for those who have an undeniable sweet tooth. For even more flavor and a boost of antioxidants, you can quickly throw together a blueberry compote that goes right on top.6254a4d1642c605c54bf1cab17d50f1e
Get our recipe for Pancakes with Blueberry Compote.
Acai-Bluberry Smoothie Bowl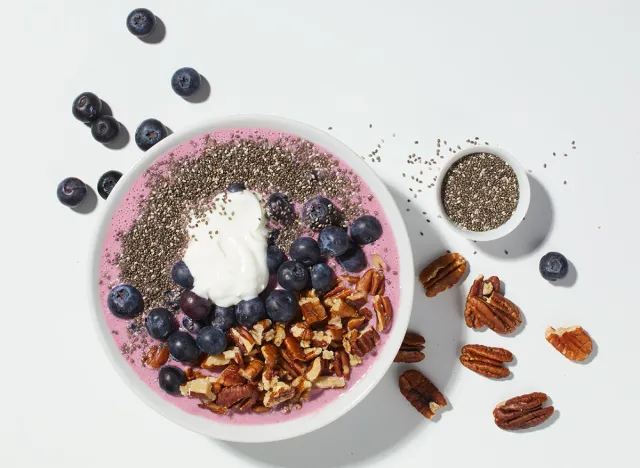 Smoothie bowls are the perfect warm-weather treat because they provide some relief from the heat, while also giving your body a heaping serving of vitamins and nutrients. This recipe uses açaí fruit, blueberries, nuts, chia seeds, yogurt, and almond milk, but you can alter the ingredients list to be exactly how you want it to be.
Get our recipe for Acai-Blueberry Smoothie Bowl.
Blueberry-Avocado Salsa and Ginger-Cumin Swordfish
Chances are you don't think of blueberries when you think of salsa, but this blueberry-avocado salsa recipe is flavorful and easy enough for anyone to whip up when they need something quick. This particular recipe also pairs the blueberry salsa with a delicious ginger-cumin swordfish, making the perfect summer meal.
Get our recipe for Blueberry-Avocado Salsa.
Keto Shake with Superfoods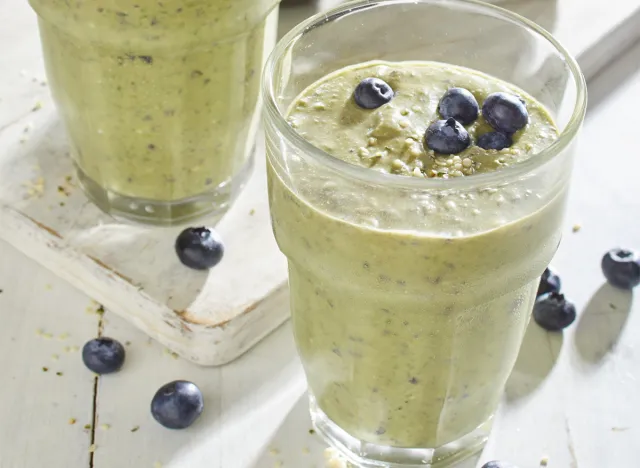 Those on the Keto diet have to limit their intake of fruits and other carbohydrates, so they may not feel that they can enjoy their favorite smoothies or shakes. But this shake—which uses blueberries, spinach, avocado, hemp seeds, and coconut milk—keeps the ratios of fat, protein, and carbohydrates to a Keto-friendly limit, just in time to cool you off during the scorching summer heat.
Get our recipe for Keto Shake.
Berry Cauliflower Smoothie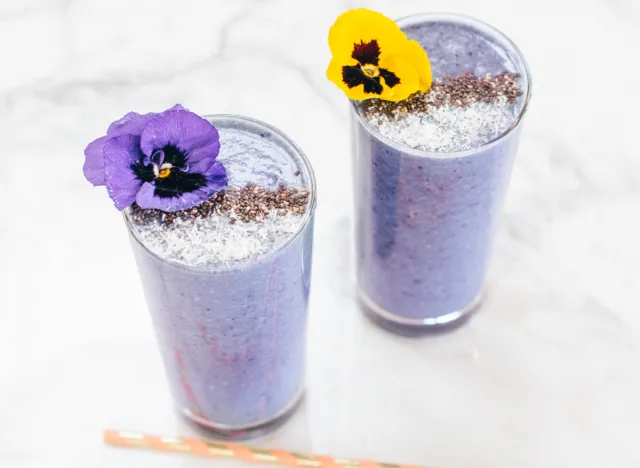 When you're trying to craft the creamiest possible smoothie texture, you should always consider using frozen cauliflower. This vegetable has little to no taste so it won't interfere with the other flavors, and when it's frozen and blended it provides a thick, smooth texture to your drink. This recipe uses cauliflower, protein powder, almond milk, peanut butter, and blueberries to make a healthy sweet treat for your morning or mid-afternoon snack.
Get our recipe for Berry Cauliflower Smoothie.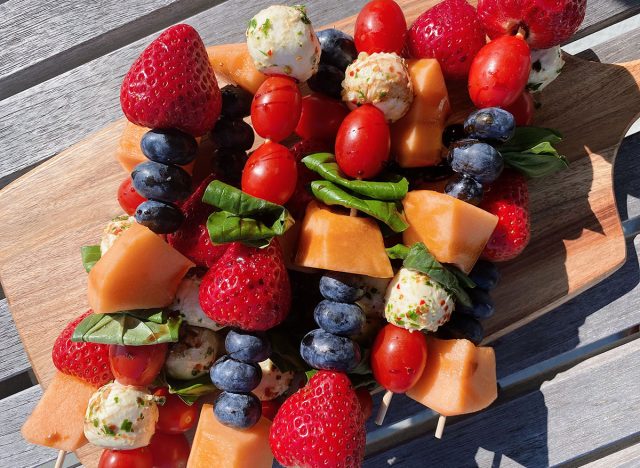 Sometimes the best summer foods are those that are refreshing and that can be enjoyed while you're standing and talking at your family BBQ. These skewers are just that, except they aren't the classic meat-based skewers you may expect. Instead, these are made with mozzarella, tomatoes, basil, cantaloupe, strawberries, and blueberries. Drizzle them with a balsamic glaze, and you'll have the perfect sweet and savory snack.
Get our recipe for Caprese Skewers. 
Sources referenced in this article