29 Best Healthy Cooking Hacks of All Time
These healthy cooking ideas couldn't get any easier.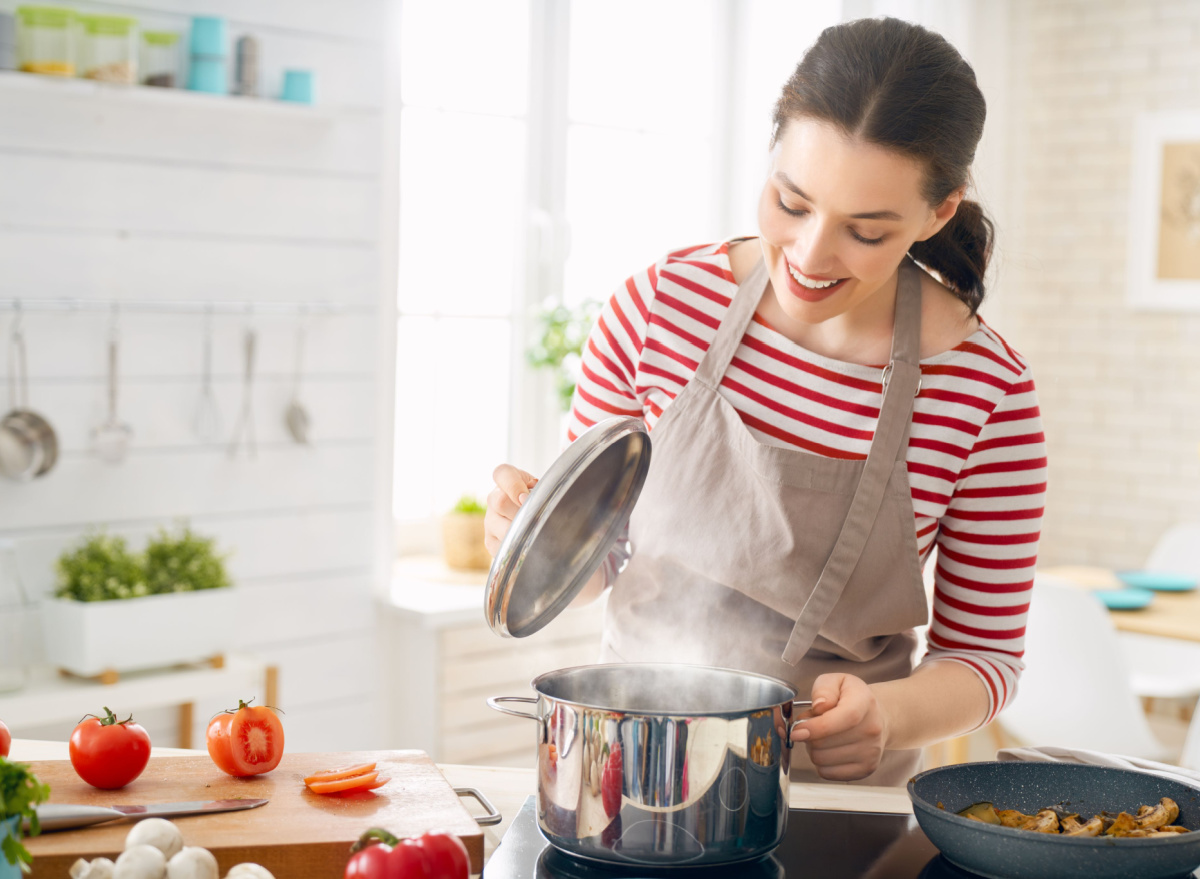 Cooking meals at home is one of the best things you can do for your health. When you opt for a homecooked meal instead of ordering one at a restaurant or fast-food joint, you're more than likely going to consume fewer calories and less sodium, saturated fat, trans fat, and added sugars. Having this kind of control of all the ingredients gives you freedom and peace of mind. However, some people may find healthy at-home cooking a bit challenging, so we have gathered some easy, healthy cooking hacks to make your life a whole lot easier.
These hacks range from things as simple as swapping out certain ingredients like using cauliflower rice instead of regular rice or going for Greek yogurt instead of sour cream, to things that may require a bit more planning like making your own marinades or french fries at home. Some of these healthy cooking hacks even come recommended by expert dietitians as tips that they use in their own home cooking endeavors.
Read on for 29 easy, helpful, healthy cooking hacks, and for more cooking advice, check out these 20 Breakfasts to Stay Full & Energized.
Eat cauliflower rice or zoodles.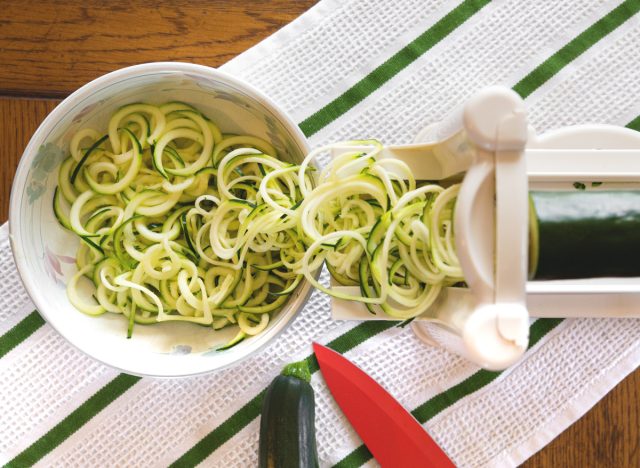 An easy cooking hack for getting in more food for fewer calories is to swap out your regular rice or pasta with some veggie-based alternatives.
"Try swapping out regular rice for cauliflower rice in your bowl, or zoodles for pasta," says Amy Goodson, MS, RD, CSSD, LD. "Swapping in the vegetables cuts back on the calories, but allows you to actually eat more!  So, fewer calories for more volume and nutrients—it's a win-win!"
Lean on frozen vegetables.
According to Lauren Manaker, MS, RDN, leaning on frozen vegetables can help you in your healthy cooking endeavors.
"Frozen vegetables can be just as nutritious as fresh options (sometimes even more nutritious)," says Manaker. "Save preparation and cooking time by using frozen veggies in your recipes, or use them as an easy—just microwave and serve." Another benefit of choosing frozen over fresh? You won't have to worry about your produce going bad before you can use all of it up!
Make your oatmeal with milk.
Many people shy away from using dairy milk because of the fat and calories, but unless you're vegan or lactose intolerant, dairy milk can provide you with enormous health benefits. Because of this, Goodson suggests using milk instead of water when you're cooking your oatmeal.
"Making your oats with milk instead of water adds high-quality protein and 12 other essential nutrients like calcium, vitamin D, and more," says Goodson. "Not to mention it helps make oatmeal more creamy and satisfying."
Use cottage cheese.
Cottage cheese can be used in more ways than most people realize—including recipes for creamy, homemade ice cream. Because it's high in protein and low in fat, Manaker suggests incorporating it whenever you can.
"Adding cottage cheese to pasta dishes, smoothies, and even scrambled eggs can add a boost of protein to your recipe as well as some satisfying creaminess," says Manaker. She also adds "If you choose a cottage cheese without stabilizers, know that it won't handle direct heat well, and therefore needs to be added at the very end with very little heat."
Add chocolate collagen powder to your energy bites.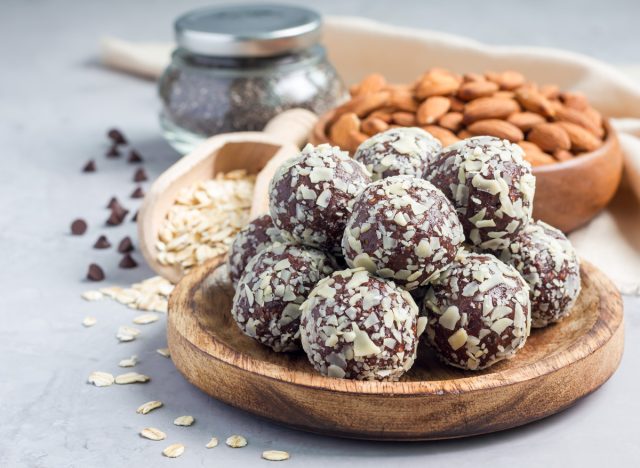 An easy way to get a boost of protein and flavor at the same time is to make energy bites with chocolate collagen powder, according to Goodson.
"Many people are looking to add collagen to their eating routine for skin and joint health, and while it can easily be stirred into smoothies and coffee, you can also add it to homemade energy bites," says Goodson. "Oats, pureed Medjool dates, nut butter, and chocolate collagen powder taste like a peanut butter fudge dessert with the added benefit of protein."
Cook extra grains.
Sometimes healthy eating is about being prepared and planning ahead. If you can cook food ahead of time for future meals, you may be less tempted to just order some takeout or fast food (unless that's what you're really craving, of course).
Manaker says that one way you can be prepared is by cooking larger amounts of healthy grains. "When you are going through the effort of cooking quinoa, sorghum, or any other grain, just double your recipe," she says. "Allow your surplus to cool completely and place it in a freezer-friendly container. Use your pre-cooked grains on a busy weeknight when you need a boost of whole grains."
Swap out sour cream and cream cheese for Greek yogurt.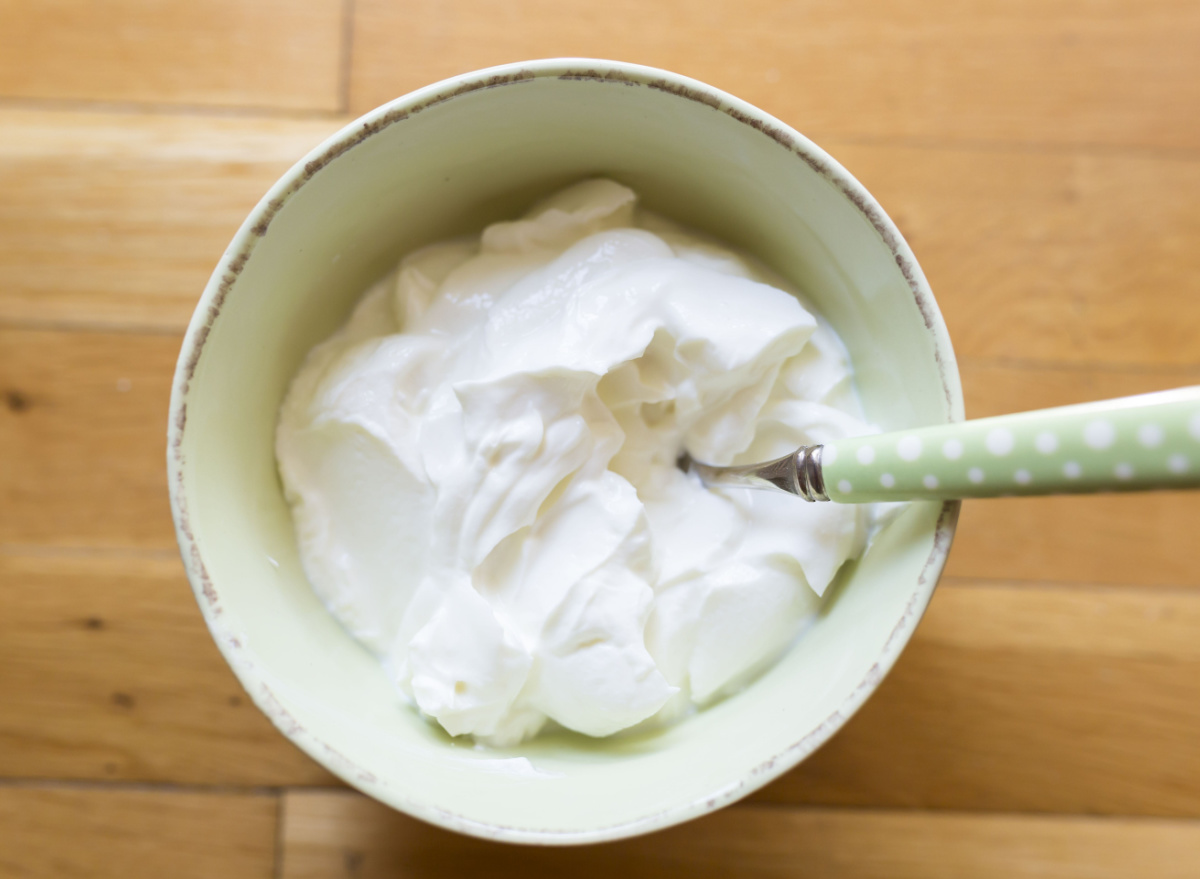 If you're looking for a healthy cooking swap that won't compromise on flavor or texture, Goodson suggests using Greek yogurt in recipes that call for cream cheese or sour cream.
"Game day and holiday dips and appetizers can add up in calories, especially when they have sour cream or cream cheese as the base," she says. "To cut back on fat and calories and amp up the protein, make your dips with Greek yogurt instead. You'll also get the added benefit of probiotics to your appetizer spread."
Use 100% juice as a marinade ingredient.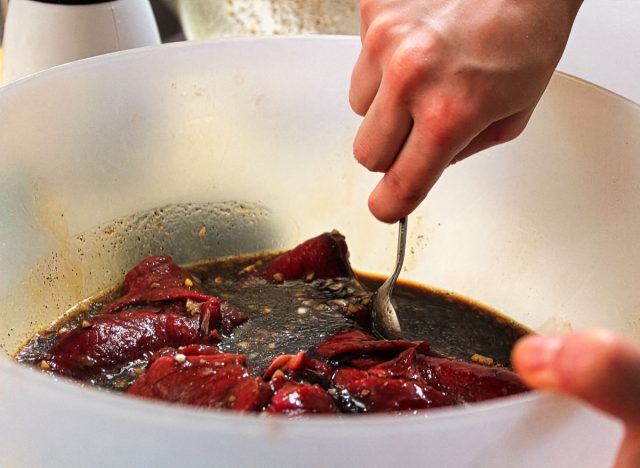 "Pre-made marinades are delicious, but they can be high in sodium, fat, and other unsavory factors," says Manaker. To avoid these high levels, she suggests making your own marinade at home that uses 100% fruit juice. "Making a marinade like this can add flavor to your meats while also adding important nutrients to your dishes," she says.
Roast your entire dinner on one sheet pan.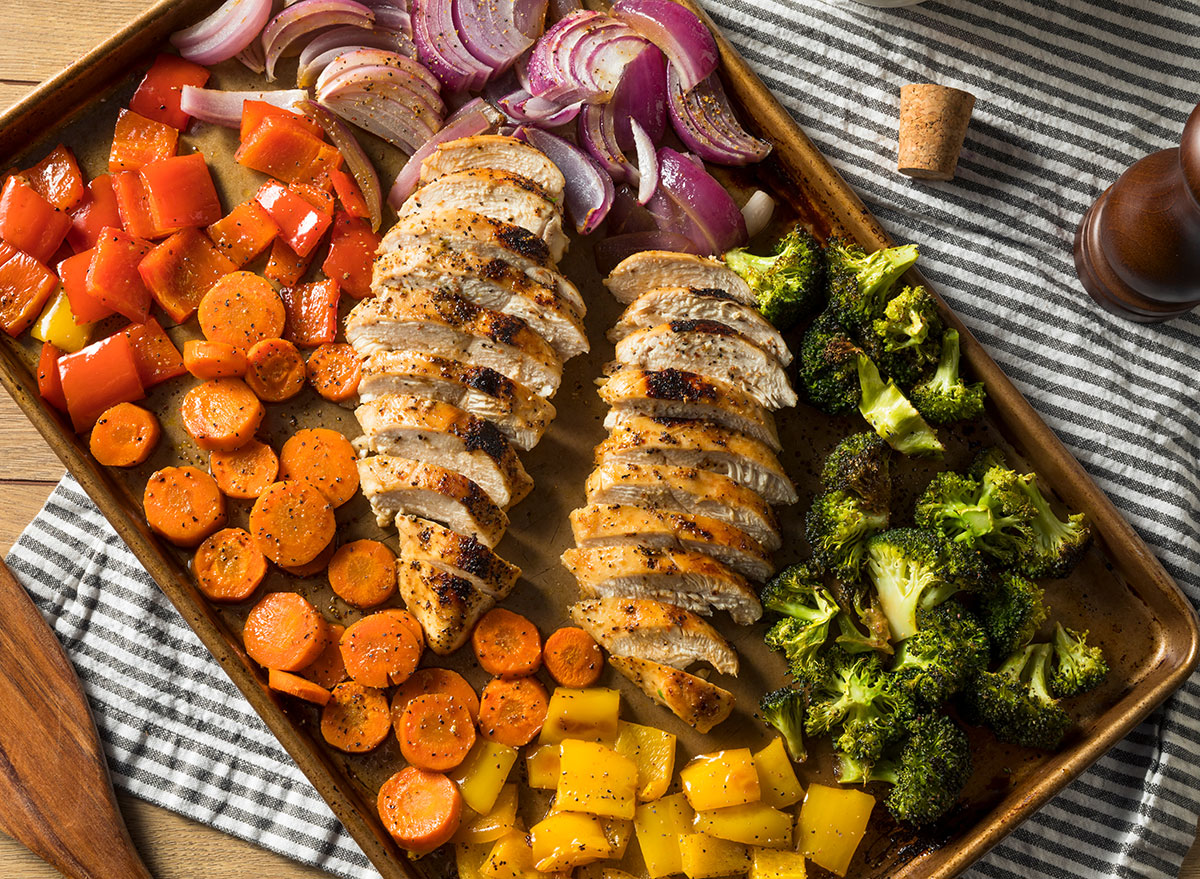 There are a few ways to throw a weeknight meal together. Frying and sautéing are two of the most popular, but if you're not careful, that method of cooking can cause you to add in more oil than the dish probably needs. An easy way to control the amount of oil you are using is to roast your dinner on a sheet pan in the oven. Plus, with this method, you can get all of your cooking done at once and clean minimal dishes later. It's a win-win.
Add water to a pasta jar.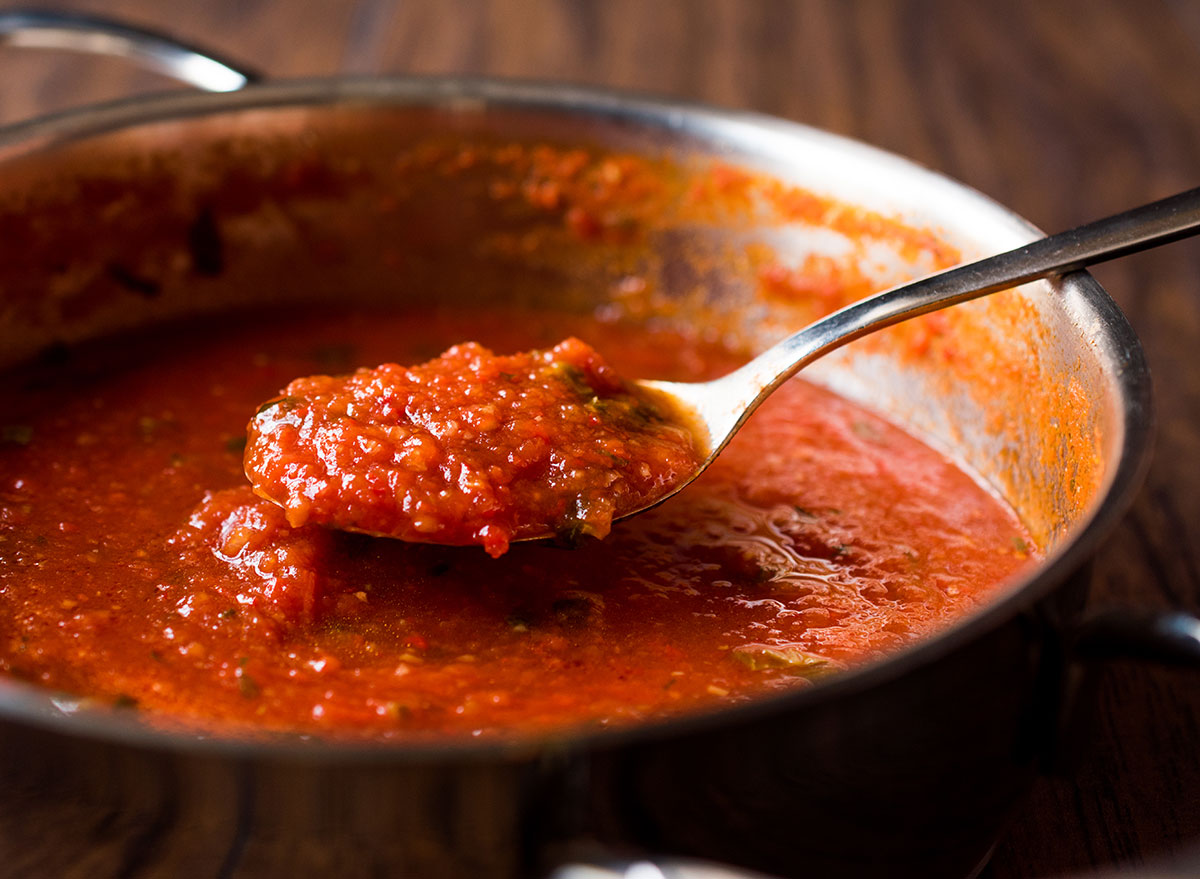 While it is fun to make your own marinara sauce at home, buying it in a jar is a lot easier for weeknight meals—and a lot of them are pretty low in calories and filled with great, whole ingredients. But sometimes when you pour that jar of sauce into your pot, not all of it will pour out. An easy way to get the rest is to add a small splash of water, close the lid, and shake it up. Then pour it back in. It will add just a splash more liquid to it, but we promise, you won't even notice.
Sauté your spinach.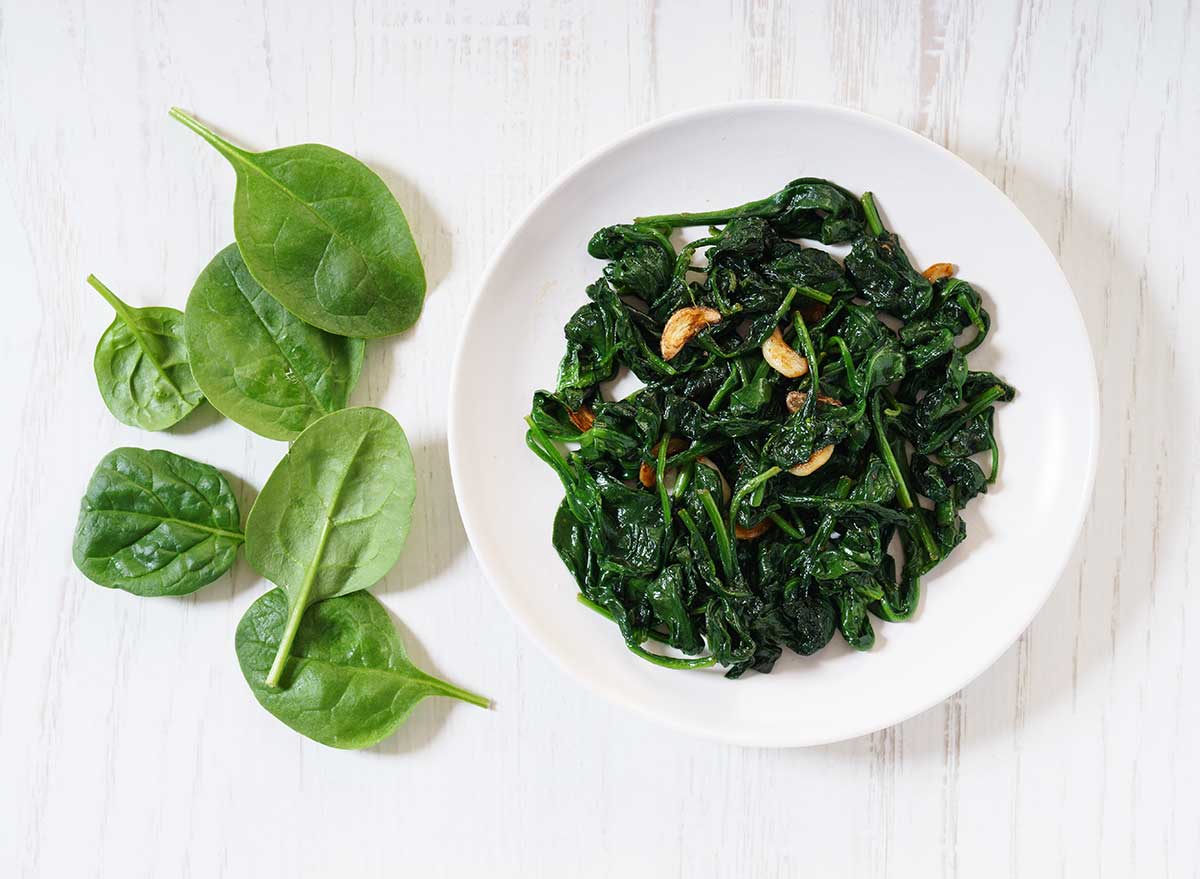 Spinach is known for having heat-sensitive nutrients, meaning it will lose a lot of its health benefits when you cook it. Boiling tends to have the harshest effect on the nutrients in spinach. If you want to make the most of the nutrients in your spinach, sauté them quickly and enjoy it while it's warm.
Make open-faced sandwiches.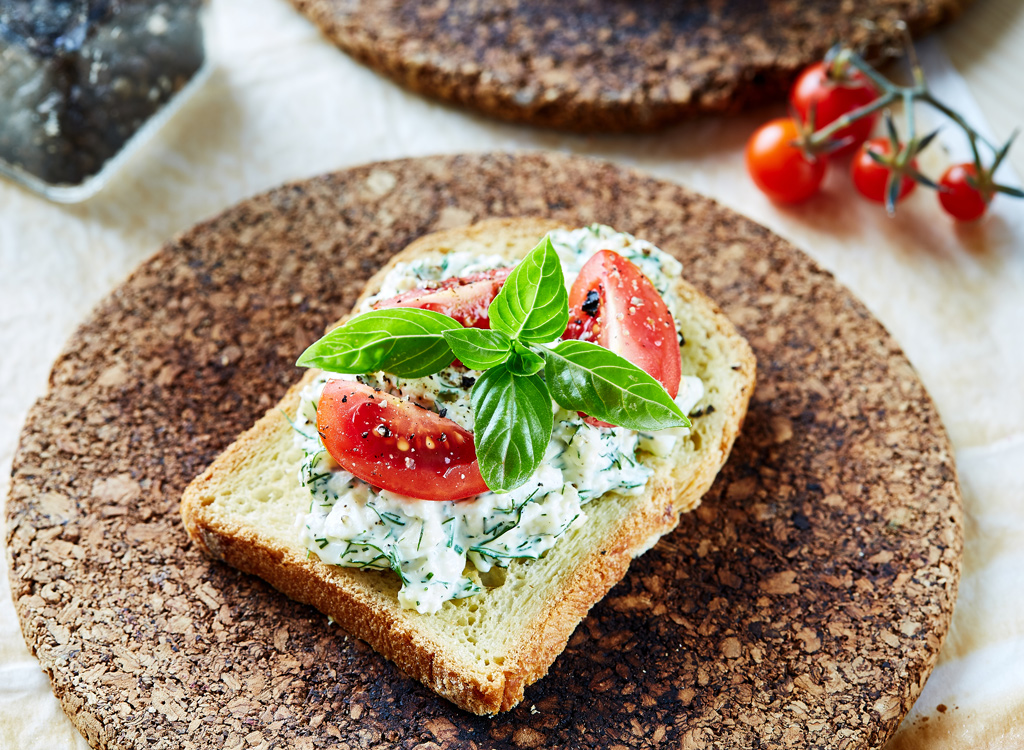 We know that the bread of the sandwich is probably the most important aspect of the meal because it holds all of the fillings together. But since a bottom slice can hold everything sufficiently, why even bother with the top half? You can cut a few calories and simply toast one slice of bread and top it with all of your favorite sandwich fixings.
Bake fries.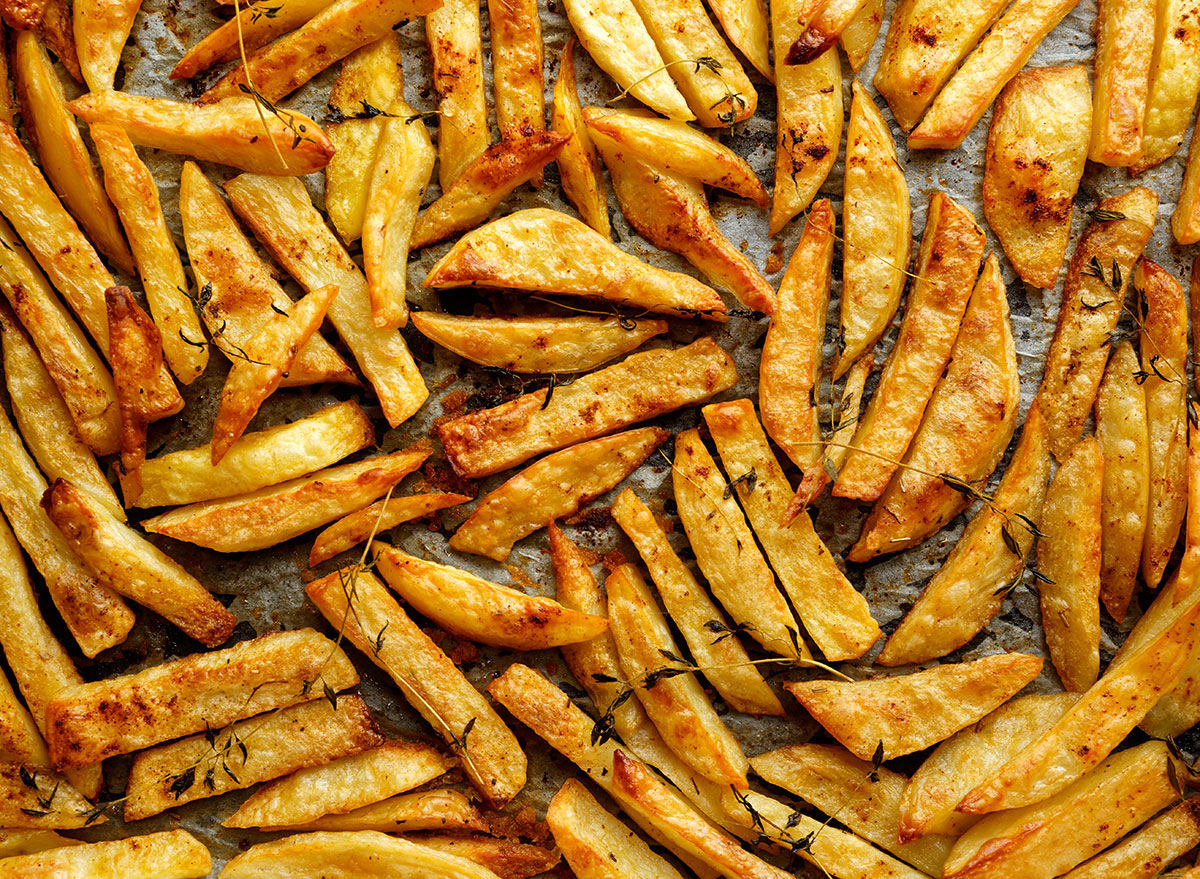 Did you know potatoes are one of the best appetite suppressants? It's true! They are a great source of satiety in your diet—not to mention the myriad of nutrients they can give you. However, if those fries you are making are dripping in oil (and likely a high amount of saturated fat), they aren't the best for your body overall. But that doesn't mean you can't enjoy fries! Instead, cut up the fries and roast them in the oven with a bit of oil, salt, and pepper. You'll have a crispy snack or side dish that will make you feel full, without all of the excess oil and calories.
Double-up on veggies.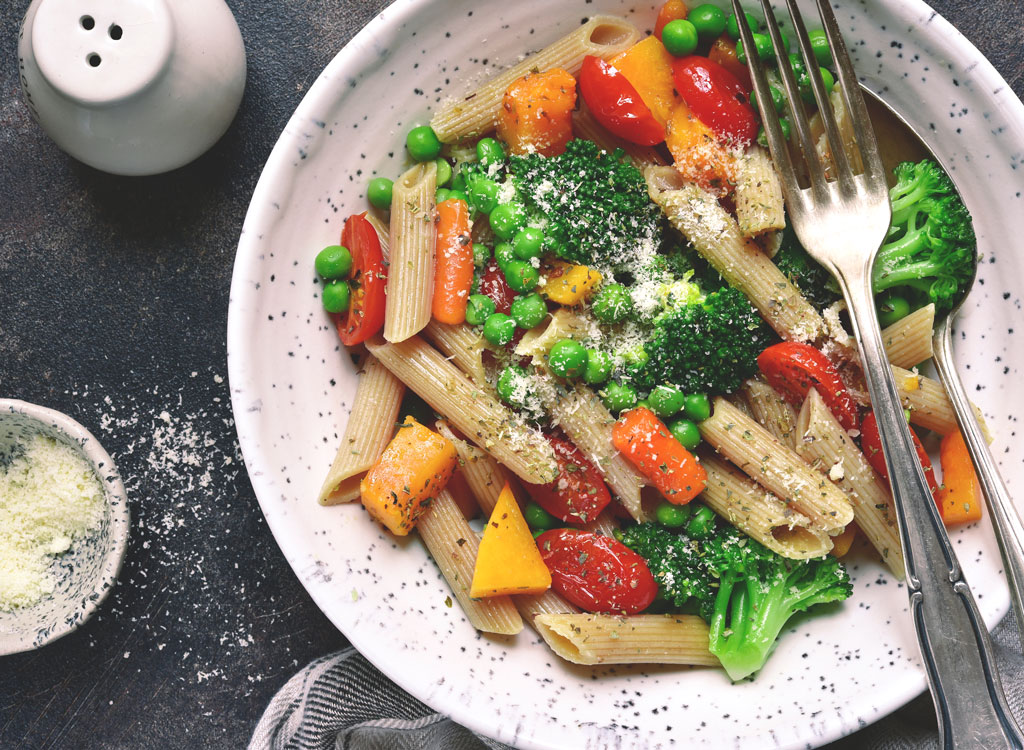 Eating healthy doesn't mean you're only stuck with boring salads. You can actually enjoy some of your favorite dishes like pasta, pizza, and even burgers. The trick is to pair your meals with lots of filling vegetables to round out the meal. Pile your favorite vegetable toppings on pizza and burgers. Toss together a serving of pasta with your favorite roasted vegetables. Not only will this add a ton of nutrients and fiber to your meal, but it will help you to feel full.
Make a roux for cream-based dishes.
Cream-based pasta dishes may sound like an unhealthy meal, but only if you drown it in cream and butter. Instead, you can make a thick, creamy sauce by making a roux to lighten it up. To make a roux, you melt butter and sprinkle in some flour, whisk till combined, then slowly pour in regular milk (not cream!) until the sauce gets thick. Add in a bit of cheese, and voila! The perfect cream sauce. We use a roux in some of our favorite recipes including our loaded Alfredo, Chicken and Dumplings, and this Instant Pot Chicken and Rice Soup.
Serve meals with a side of greens.
Portion control is the key to cooking healthy meals, but we know that can be difficult if you're used to feasting on your favorite dishes. An easy way to portion control is to fill half your plate with a simple side of greens. This could be any vegetable, but one of our favorite healthy cooking hacks is to simply toss a side of leafy greens with a small drizzle of olive oil, salt, and pepper. Fill half your plate with greens and the other half with your dish, and voila! Easy portion control that you didn't have to think too hard about.
Add chia seeds.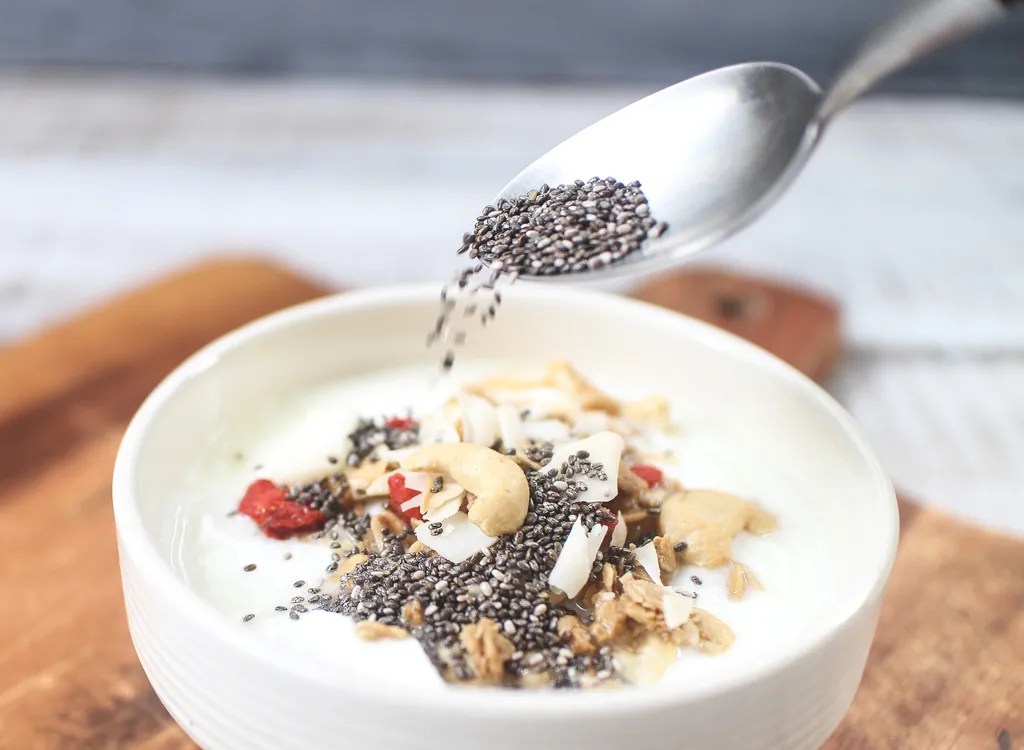 Did you know chia seeds are loaded with dietary fiber? Fiber is one of the best nutrients to have in your meals because it will help with weight loss and ward off autoimmune diseases. An easy way to get your fiber in is to sprinkle chia seeds on some of your meals—especially breakfast foods. Sprinkle it on a slice of toast with peanut butter, add it to your yogurt or your overnight oats, or even make a chia seed pudding for breakfast for a big fiber boost.
Make your own granola.
Not only is granola absurdly expensive at the store, but most bags are loaded with added sugars. You can avoid both altogether by simply making your own granola at home. Granola is obviously a great topping for yogurt, but it can even go well topped on a scoop of ice cream for dessert or a simple snack on its own. Here's an easy granola recipe you can try.
Swap with whole-grain products.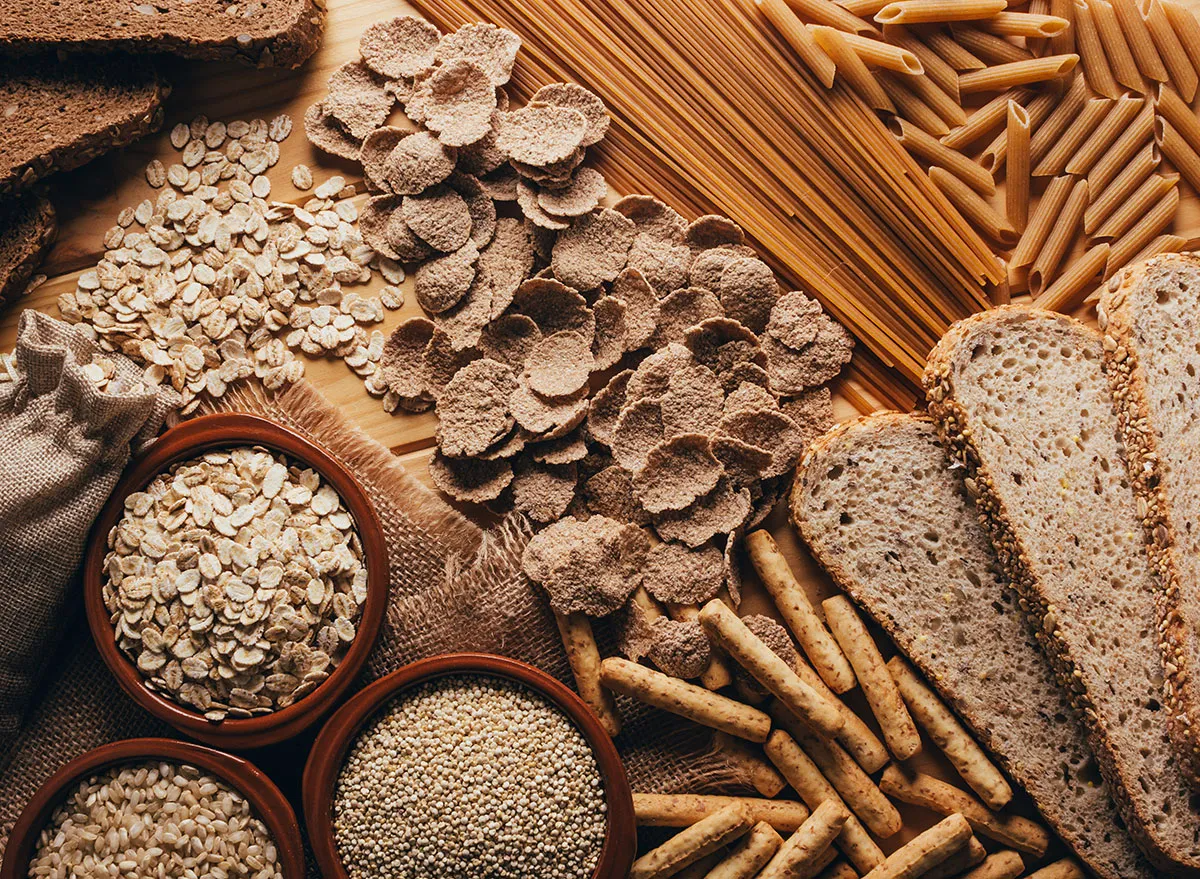 Another easy way to get fiber into your diet is to swap your typical go-to carbohydrates with whole-grain (or whole-wheat) products. Some of the easiest swaps include bread, buns, tortillas, crackers, pasta, pizza dough, and more.
Heat frozen berries for an easy jam.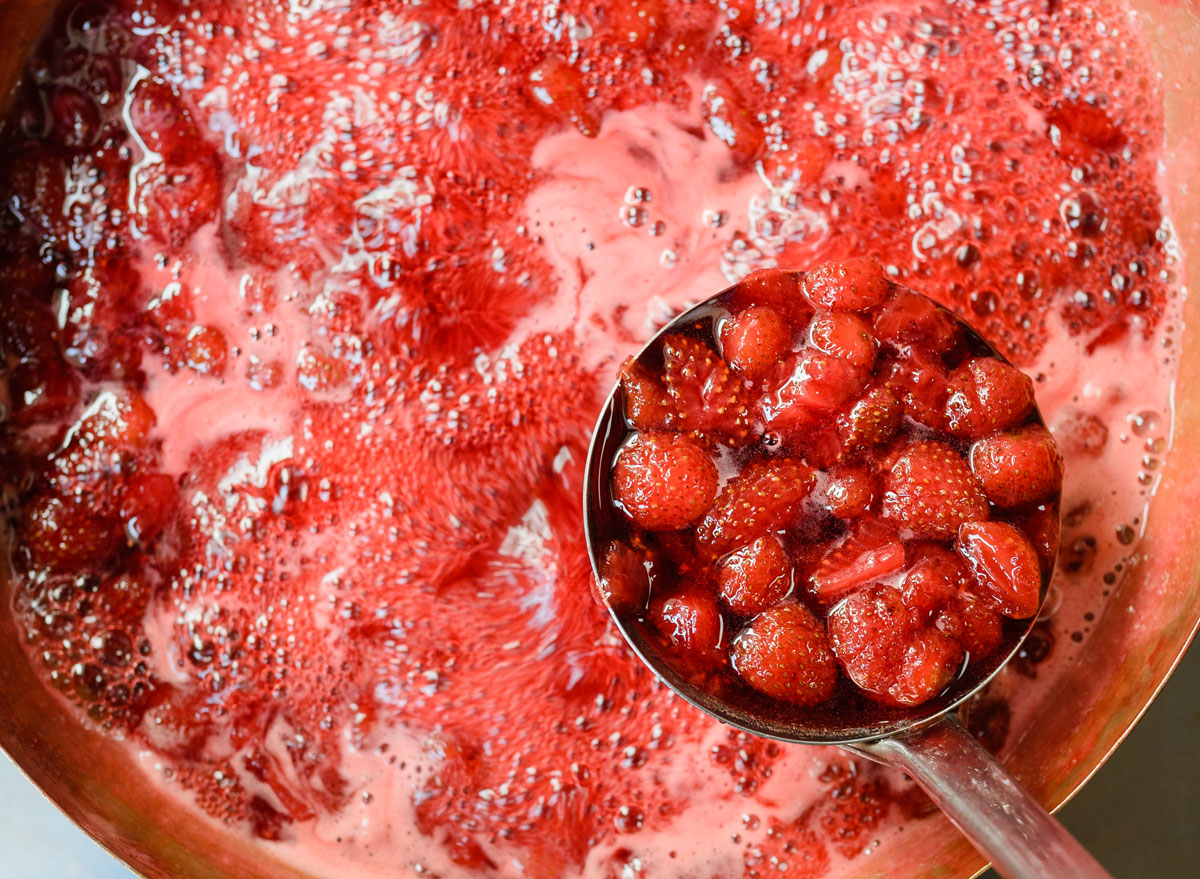 Who doesn't love a good PB&J? It's a classic dish, but if you're not careful, the sugar count can increase pretty quickly. Instead, add 1/2 cup of berries to a saucepan and heat it until the berries are broken down. Add the heated berries to your slice of toast with peanut butter, and there you have it! A healthier PB&J. This trick works well with all kinds of dishes that you like to enjoy with jam such as oatmeal, pancakes, or muffins.
Bake with oat flour.
Because oat flour is full of nutrients (including fiber) and is naturally gluten-free, it's an easy choice for flour in all of your recipes. To make it, all you have to do is blend up rolled-cut oats! For 1 cup of oat flour, you blend up 1 1/4 cup of oats and simply multiply accordingly based on how many cups of flour you need. Try it in some of your favorite recipes, or even test out our Zucchini Bread recipe.
Freeze fruit and kale for easy smoothies.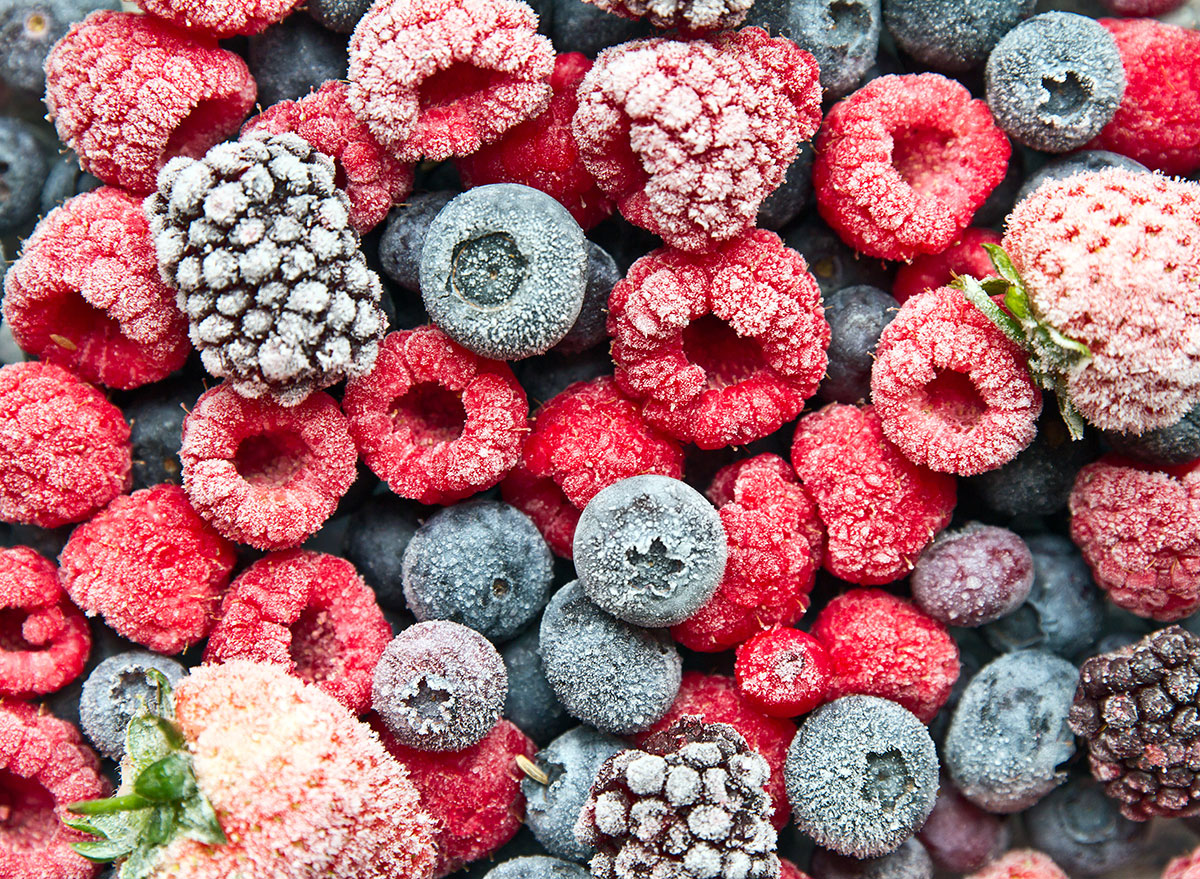 Do you have fruit going bad in the fridge? Before it's completely gone for good, freeze it for later! Pack up 1/2 a banana, 1/2 cup of the fruit of your choice, and 1 cup of kale in small freezer bags. When you're reading for a smoothie, blend that smoothie pack with 1 cup of almond milk and either 1 tablespoon of peanut butter or 1 scoop of protein powder.
Top salads and oats with sliced almonds, not whole.
Nuts are a great topping for all kinds of dishes—salads and oats especially. But if you're not careful, the calories can add up quickly. Instead, buy a container of sliced almonds. One tablespoon of sliced almonds is only 30 calories, while a mere 15 whole almonds hit over 100 calories. With the sliced almonds, you get more opportunities for crunch compared to the whole. Another win-win.
Leave the skins on.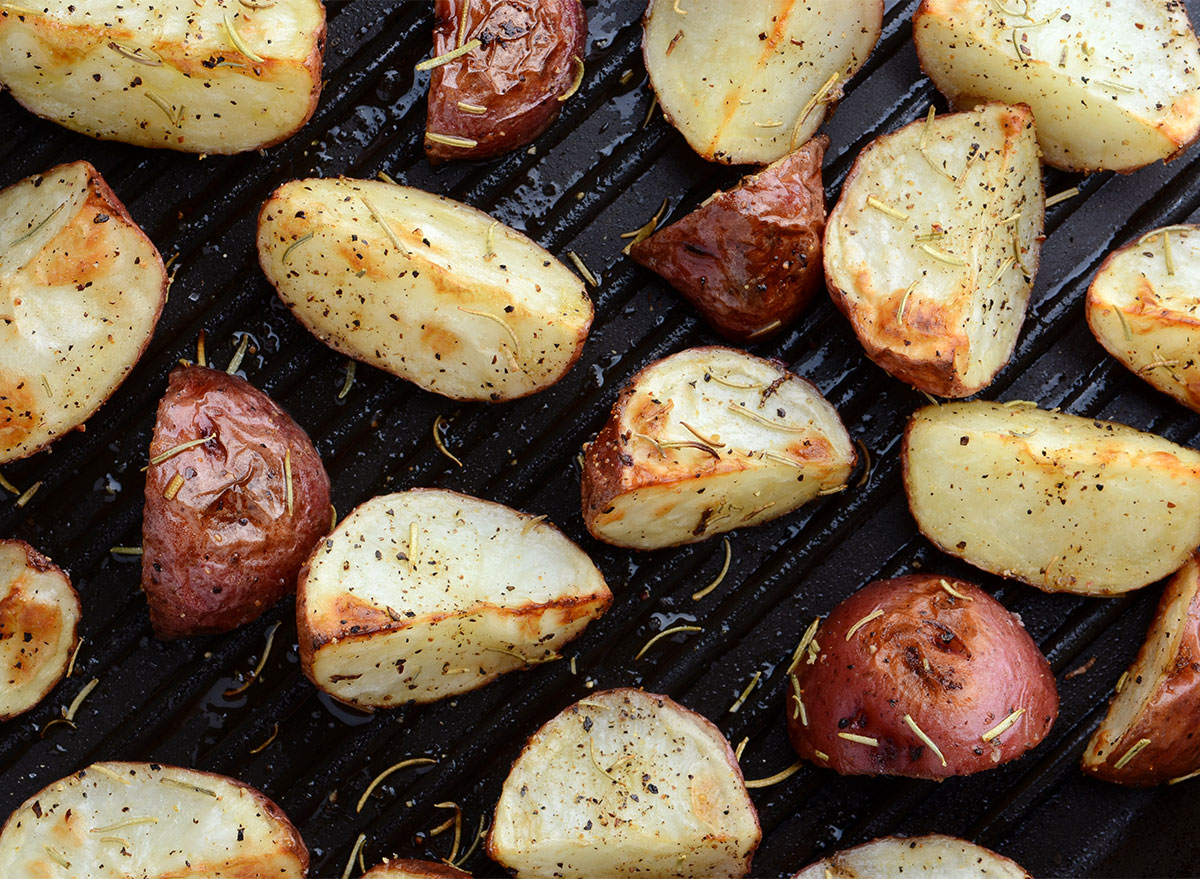 Why peel potatoes, carrots, or even apples when the skins give you a significant amount of nutrients? Unless the recipe calls you to peel these items, leave them on, and enjoy the health benefits that these natural vegetable skins will give you.
Microwave garlic for 7 seconds.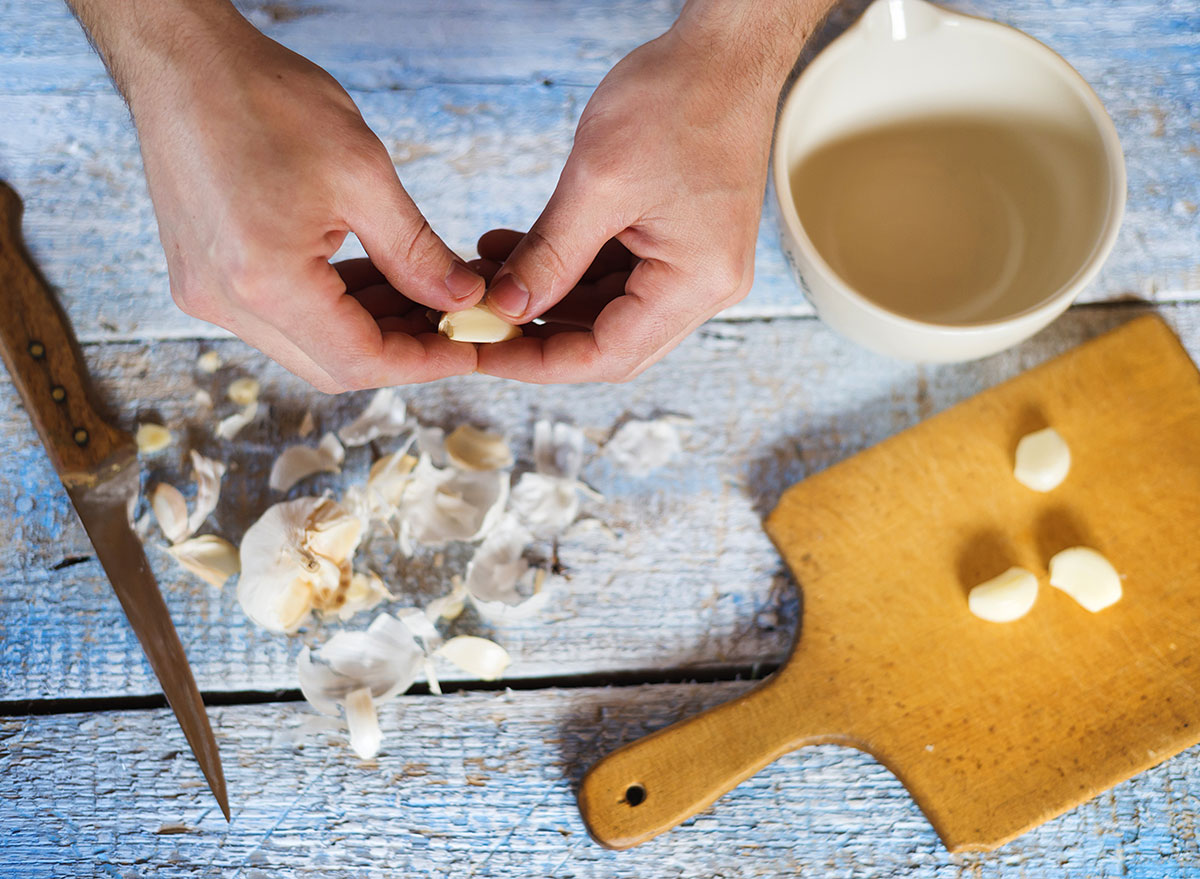 Peeling garlic is one of the most inconvenient steps when making a recipe with garlic in it. While you could shake it up in a mason jar, an even faster way to slip those garlic cloves out of the peel is microwaving them. Place the garlic cloves (peels on) in a small bowl and microwave for 7 seconds, and the cloves will slip right out of those peels when you grab them.6254a4d1642c605c54bf1cab17d50f1e
Add a splash of milk to scrambled eggs.
Fluffy scrambled eggs are easier to make than you think! However, you don't need to drown your eggs in cream and cheese to get there. Instead, simply add a splash of milk with two cracked eggs in a bowl. Whisk to combine, then cook on the pan with just a small amount of butter. Continuously stir with a rubber spatula until the eggs are just about cooked, then remove from the pan.
Thicken sauces with pasta water.
If you made a roux that ended up being runnier than you hoped, don't fret just yet—or add more flour than you need. Instead, use up a bit of the pasta water that your pasta is cooking in. When the pasta boils in a pot, the starch is released into the water, which can easily be used while you cook. Splash a tablespoon (or two) into the pan with your sauce and stir. It will naturally thicken.
Cook shrimp with shells on.
The last thing you probably want to eat is dried-out shrimp—especially after paying a good price to get them! Instead, buy shrimp with the shells still on them (which are typically cheaper) and cook them in whatever sauce you are making with those shells. The shells help to capture all of that juicy flavor and make an even softer, juicer piece of shrimp.
Let pancake batter sit for 15 minutes.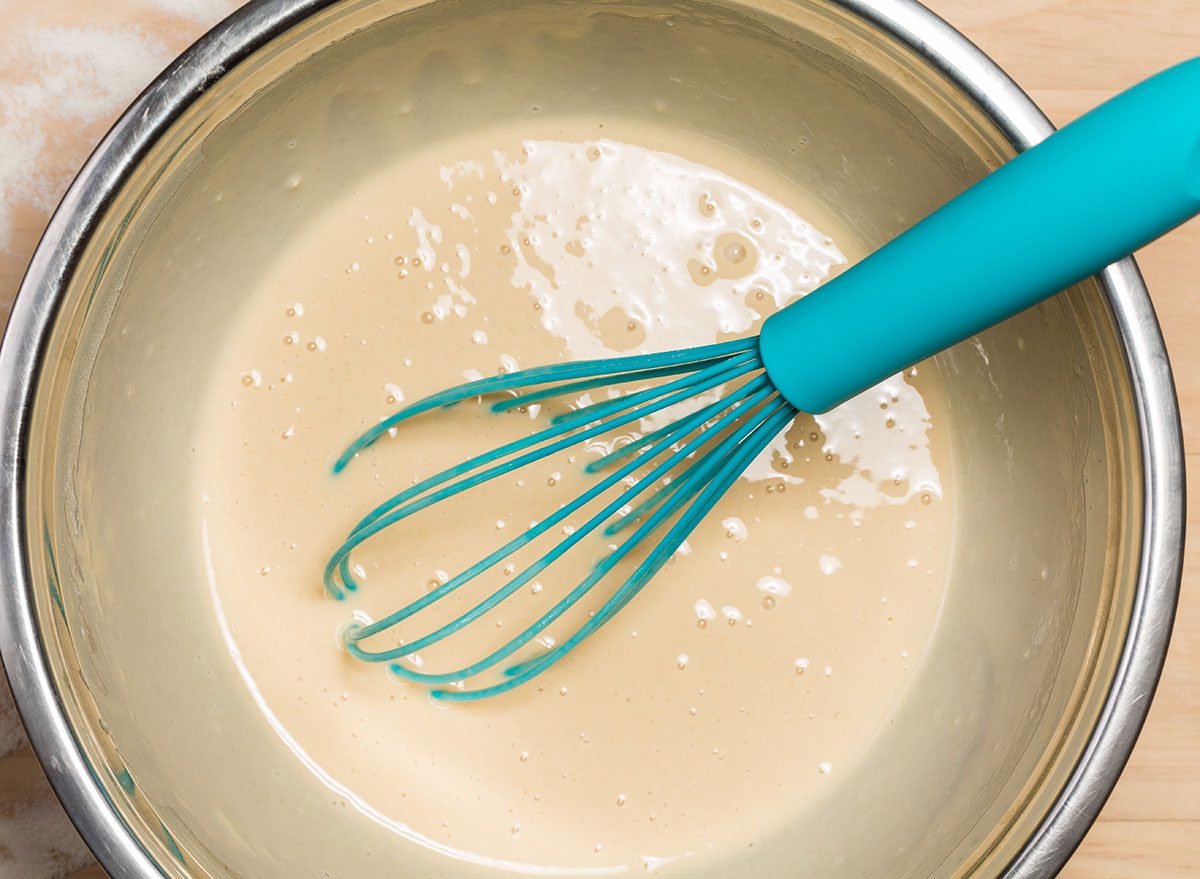 Most pancake recipes call for you to put in baking powder, which is a leavening agent. The baking powder is the key trick to making a fluffy pancake versus a flat pancake. However, if you don't leave your pancake batter to sit for a bit, it doesn't give your batter enough time to soak in the baking powder and make it fluffy. So after you whisk together your batter (but not too much, those lumps create great air pockets for the pancake!), leave it for 15 minutes while you get your pan and your toppings ready. This means that with fluffier pancakes, you're likely to eat less of them, and not indulge in too many flat, calorie-dense flapjacks.
A previous version of this story was published on August 25, 2020. It has been fact-checked and updated to include additional copy.
Sources referenced in this article