29 Best Sausage Recipes Ever
Chicken sausage, Italian sausage, even kielabsa—we have recipes for them all!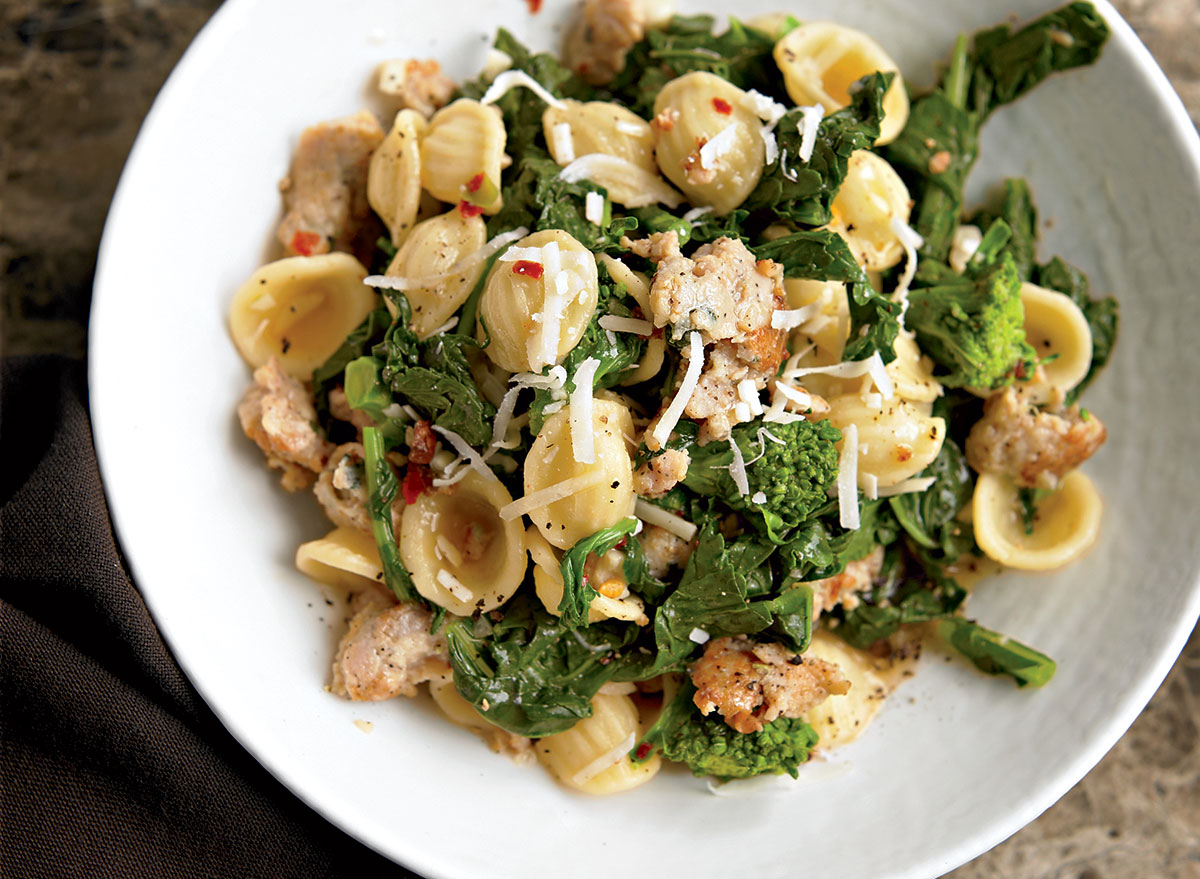 Bored of ground beef? Tired of chicken? Then it's time to start cooking up some of your favorite meals with sausage! Sausage is an easy—and flavorful—way to get protein into your dinner without feeling like you're eating the same things over-and-over. Our personal favorites include recipes with lean chicken and turkey sausage to slim out the calories! From breakfast hash and burritos to pizza and pasta, here are some of our favorite sausage recipes to make. Plus, our 22 Meals to Melt Belly Fat in 2022.
Breakfast Hash With Sweet Potato and Chicken Sausage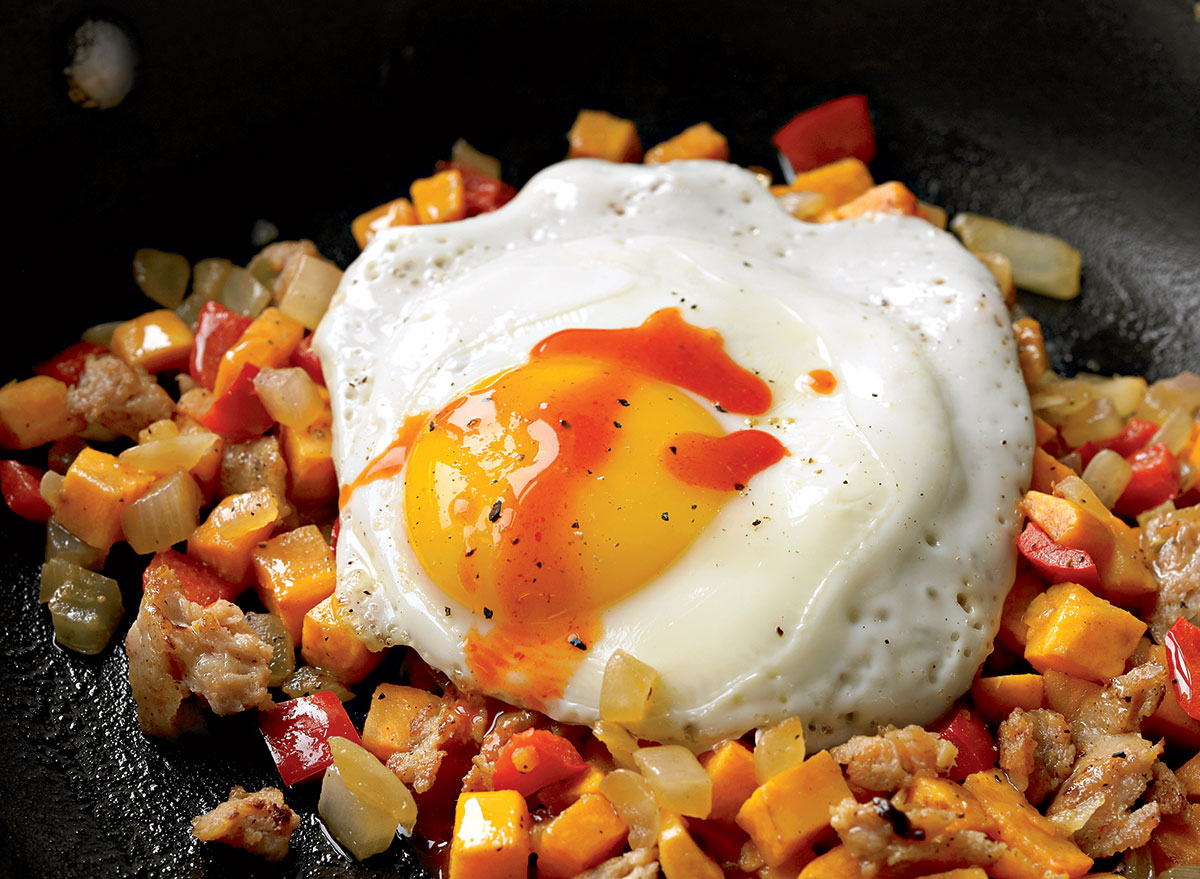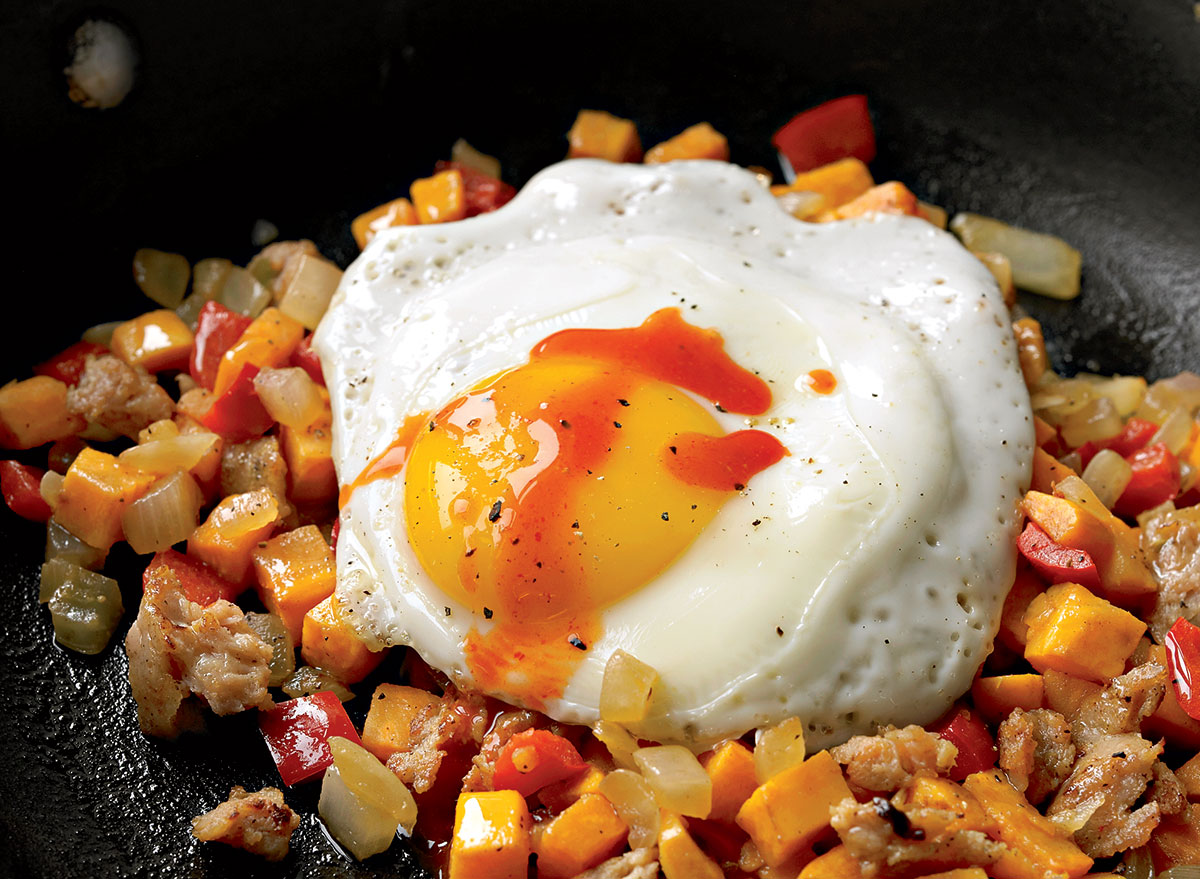 By replacing the beef with lean chunks of chicken sausage and the greasy spuds with crispy sweet potato nuggets and bell pepper, you end up with a whole that is far greater than the sum of its parts.
Get our recipe for Breakfast Hash With Sweet Potato and Chicken Sausage.
Artichoke Feta Quiche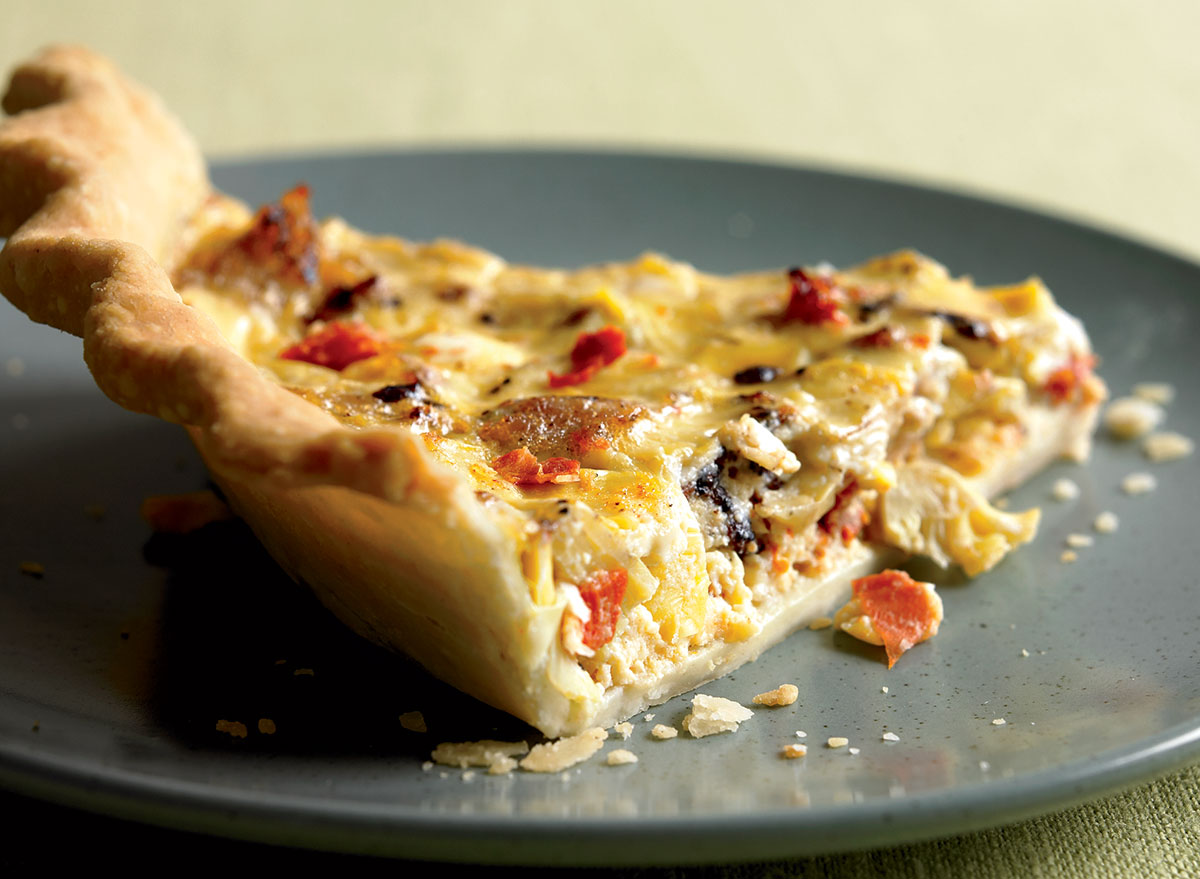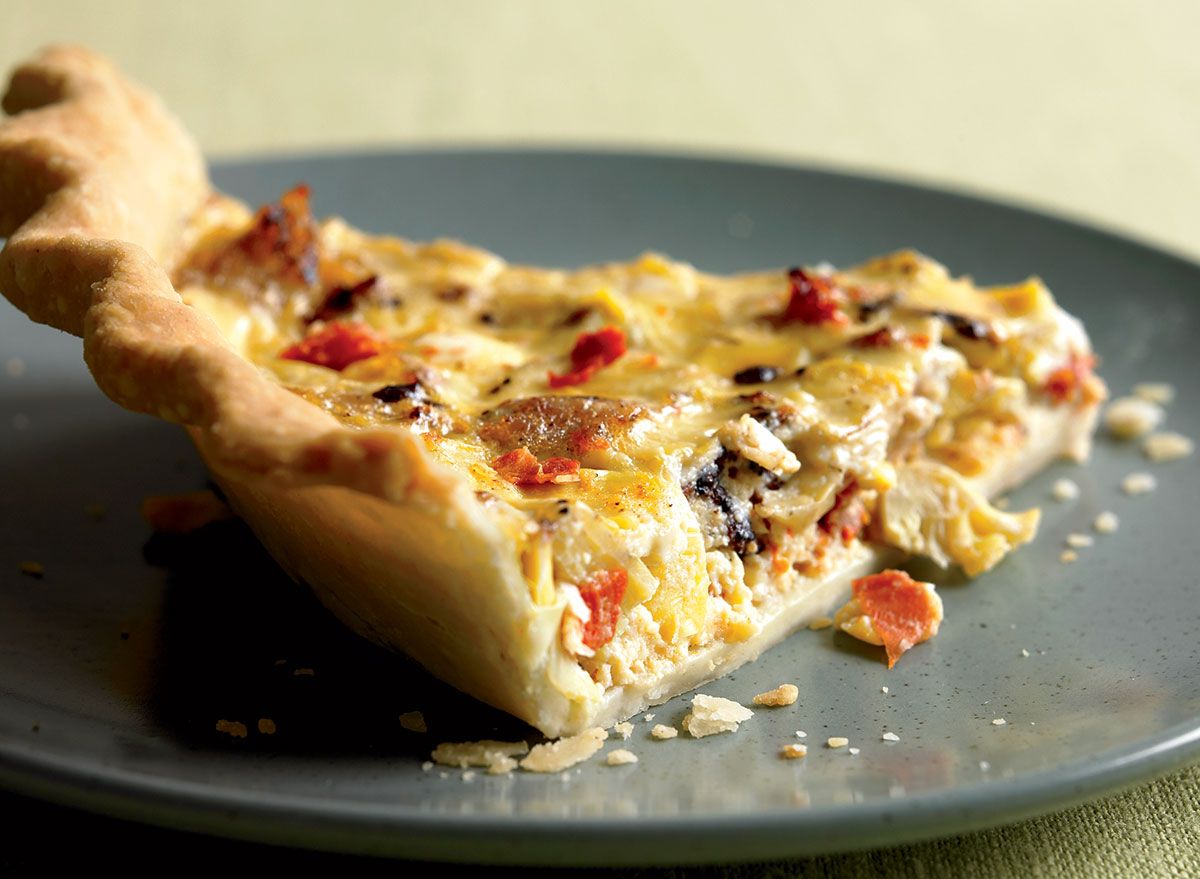 This quiche dispenses with the heavy dose of dairy fat and instead gets its flavor and substance from antioxidant-dense sun-dried tomatoes, artichoke hearts, and lean chicken sausage.
Get our recipe for Artichoke Feta Quiche. 
Baked Ziti
Save your cash—and your ticker—and eat our healthier version of baked ziti. You can easily make it at home with chicken or turkeys ausage, and it won't weigh you down. This is home-cooked comfort food at its finest.
Get our recipe for Baked Ziti. 
Veggie and Chicken Loaded Calzone
This version of a loaded calzone recipe offers something for everyone: sautéed greens and roasted peppers for the produce proponents, and chunks of chicken sausage for the calorie-conscious carnivores.
Get our recipe for Veggie and Chicken Loaded Calzones. 
Mini Sausage & Pepper Pizza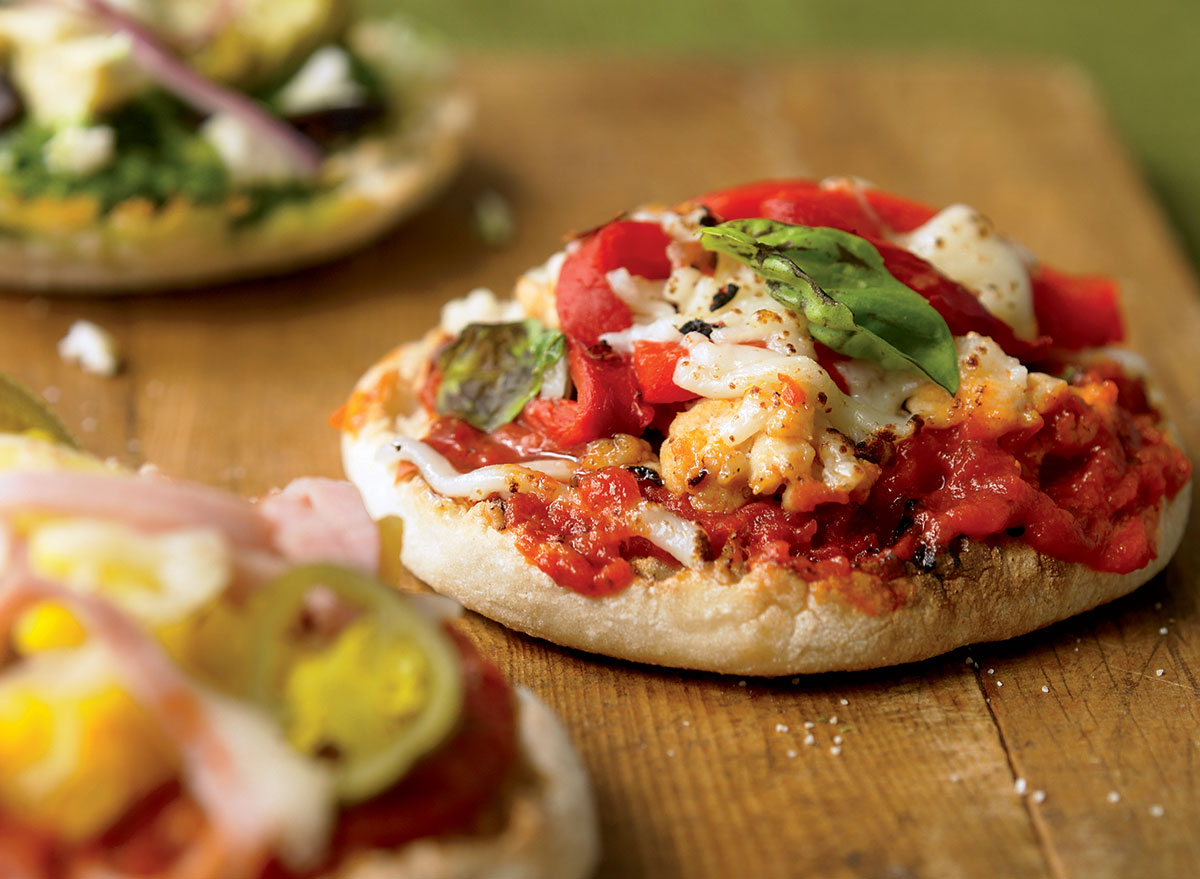 Many pizza joints load individual pizzas with more than a day's worth of fat and sodium. English muffins, though, come with built-in portion control, so no matter how lavishly you adorn them, you won't break the 400-calorie barrier. And that's why they serve as the perfect base for our personal, mini-sized pizza recipe—like our mini Sausage and Pepper pizza.
Get our recipe for Mini Pizzas. 
Chicken Sausage Lasagna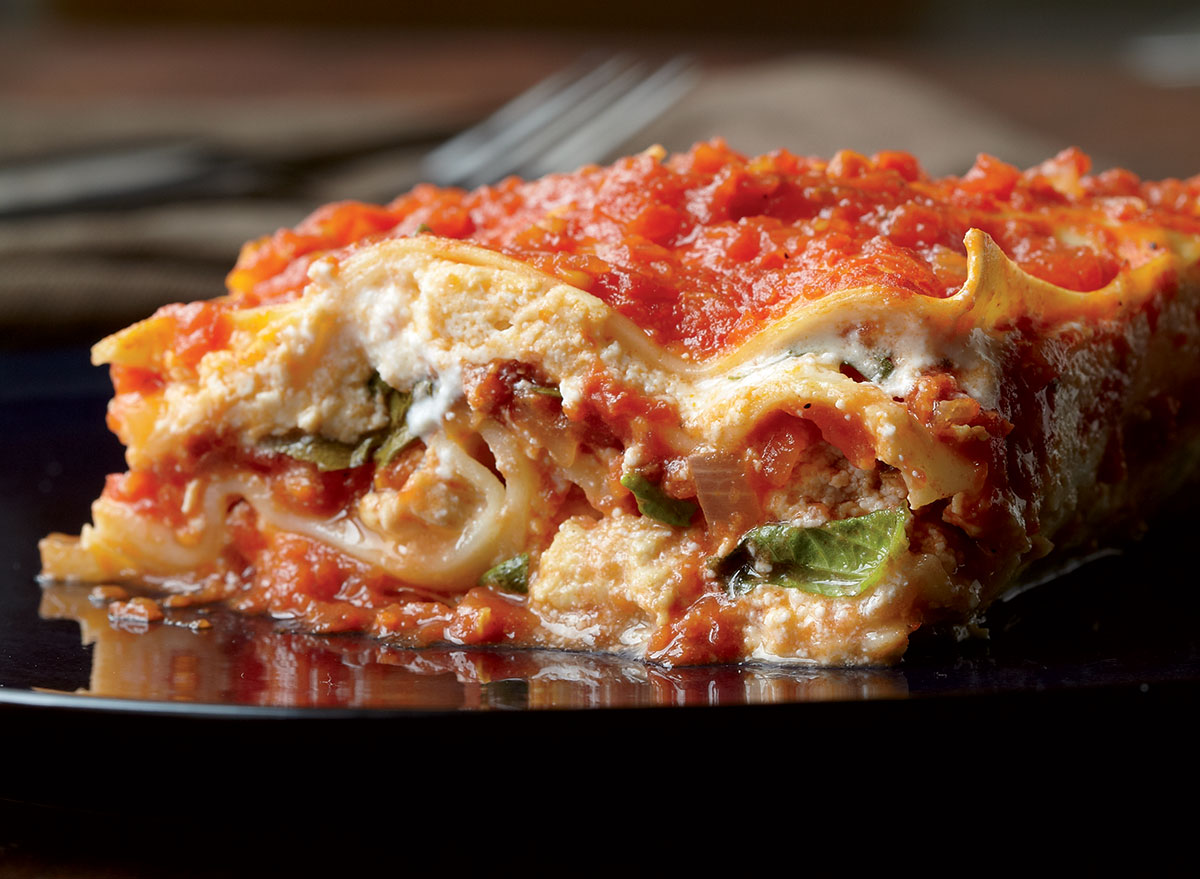 This version of the chicken lasagna recipe represents the best of both worlds, blending the cheesy, tomatoey comfort of the American version with the meatiness and relative healthfulness of the Italian take. Perfect for large dinner parties and for freezing.6254a4d1642c605c54bf1cab17d50f1e
Get our recipe for Chicken Sausage Lasagna. 
Spinach, Sausage, Pepper Pizza
Making pizza at home—like this sausage pizza—gives you ultimate quality control over the freshness of the ingredients, the bulk of the crust, and the combination of flavors.
Get our recipe for Spinach, Sausage, Pepper Pizza. 
Italian Sausage Soup
You can load this one full of vegetables, doubling the amount used below, and end up with a chunky, sausage-strewn minestrone. And if you want to cut out the pasta all together, replace farfalle with your favorite brown rice or quinoa. Either way, this Italian sausage soup is hearty enough to work as dinner on its own.
Get our recipe for Italian Sausage Soup. 
Jambalaya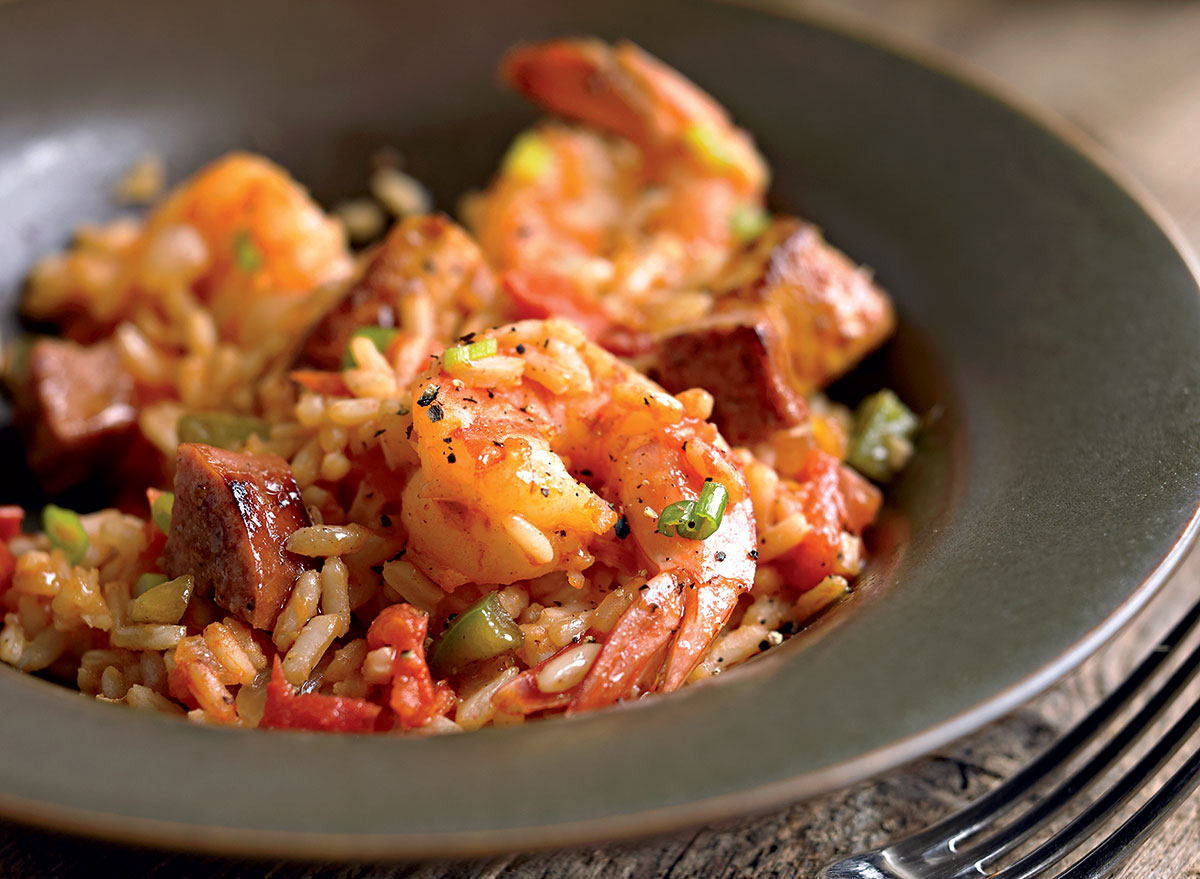 By decreasing the rice ratio (or even swapping out with quinoa for a gluten-free alternative) and increasing the produce and protein, this jambalaya recipe cuts the calories and carbs dramatically. Don't worry though: it still has enough soul (and flavor) to satisfy the most discerning Creole critics.
Get our recipe for Jambalaya. 
Sausage Mushroom Frittata
These Italian open-face omelets are lighter than their American cousins since they're less likely to be loaded with cheese and more likely to be stuffed with vegetables. You're going to want to make this mushroom and sausage frittata recipe all the time.
Get our recipe for Sausage Mushroom Frittata.
Apple-Sausage Stuffing
In our recipe, we turn to the complex combination of sausage, tart apples, and fresh sage, which effortlessly converts a normal stuffing into something extraordinary. Alternatively, this recipe works equally well with garlic-rosemary roast beef, bourbon-glazed ham, or a roast chicken or giant Thanksgiving turkey.
Get our recipe for Apple-Sausage Stuffing. 
Orecchiette With Broccoli Rabe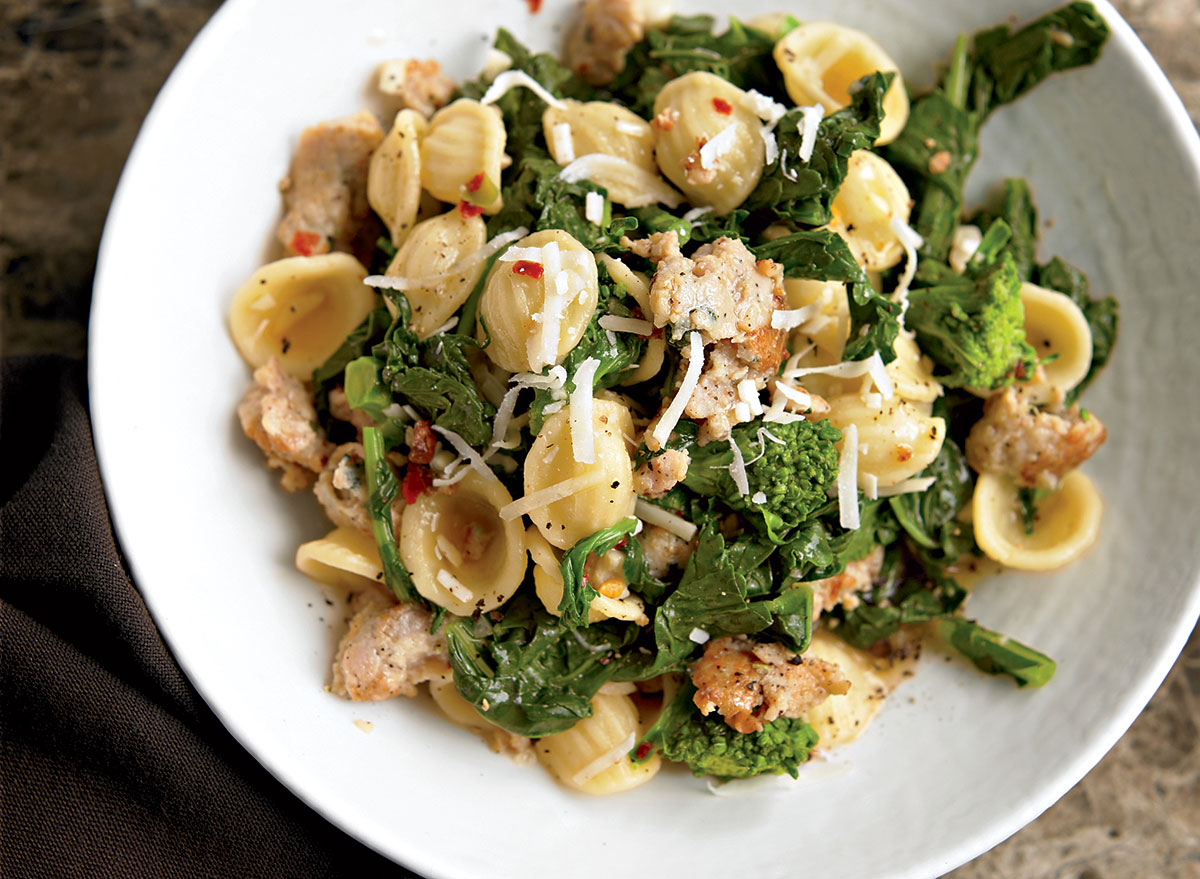 This classic combines slightly bitter, peppery broccoli rabe (or, if you can't find rabe, regular broccoli) and lean crumbled sausage with orecchiette, little ear-shape pasta shells that cup the sauce beautifully.
Get our recipe for Orecchiette With Broccoli Rabe.
Italian Hash with Eggs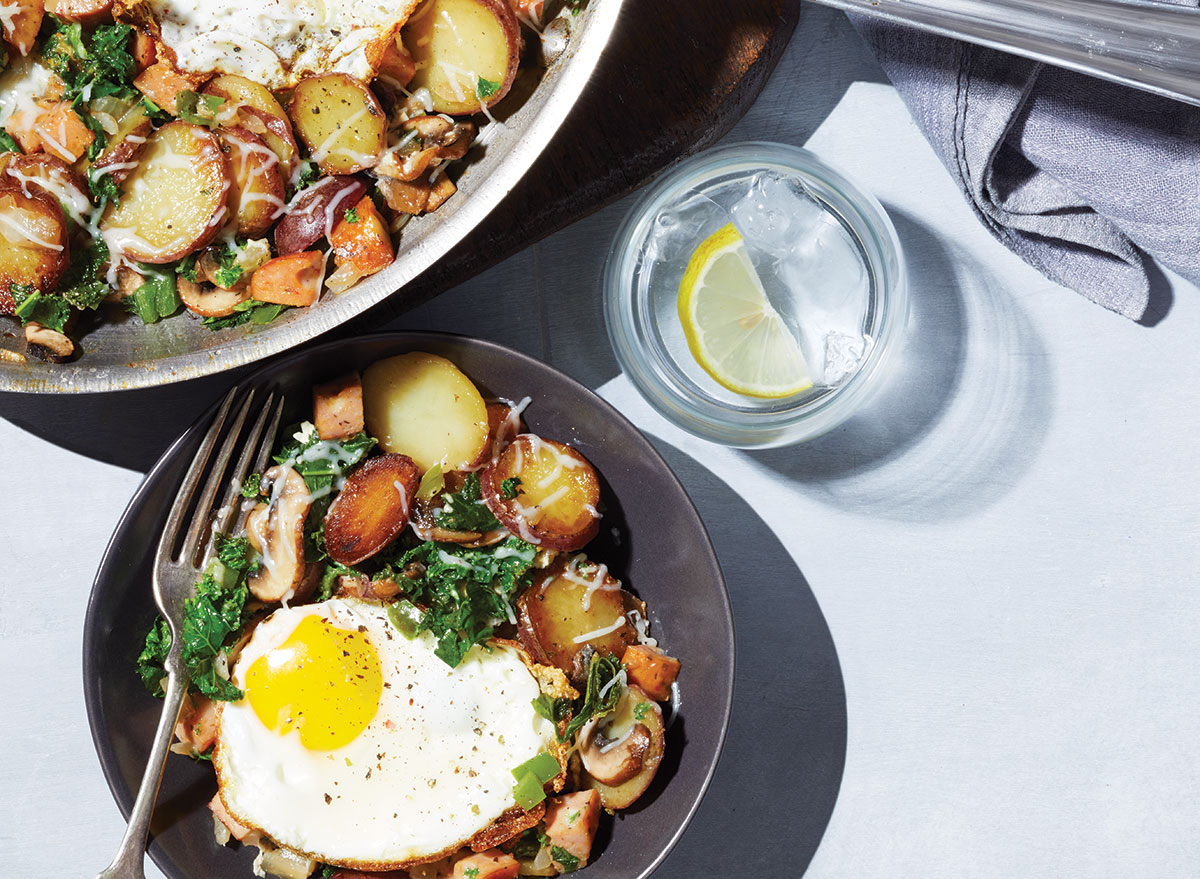 Is there anything more satisfying than a hearty breakfast hash? With crispy potatoes, fresh vegetables, and a nice fried egg, you can't go wrong with this filling morning meal.
Get our recipe for Italian Hash with Eggs. 
Sweet Potato and Spicy Chorizo Taco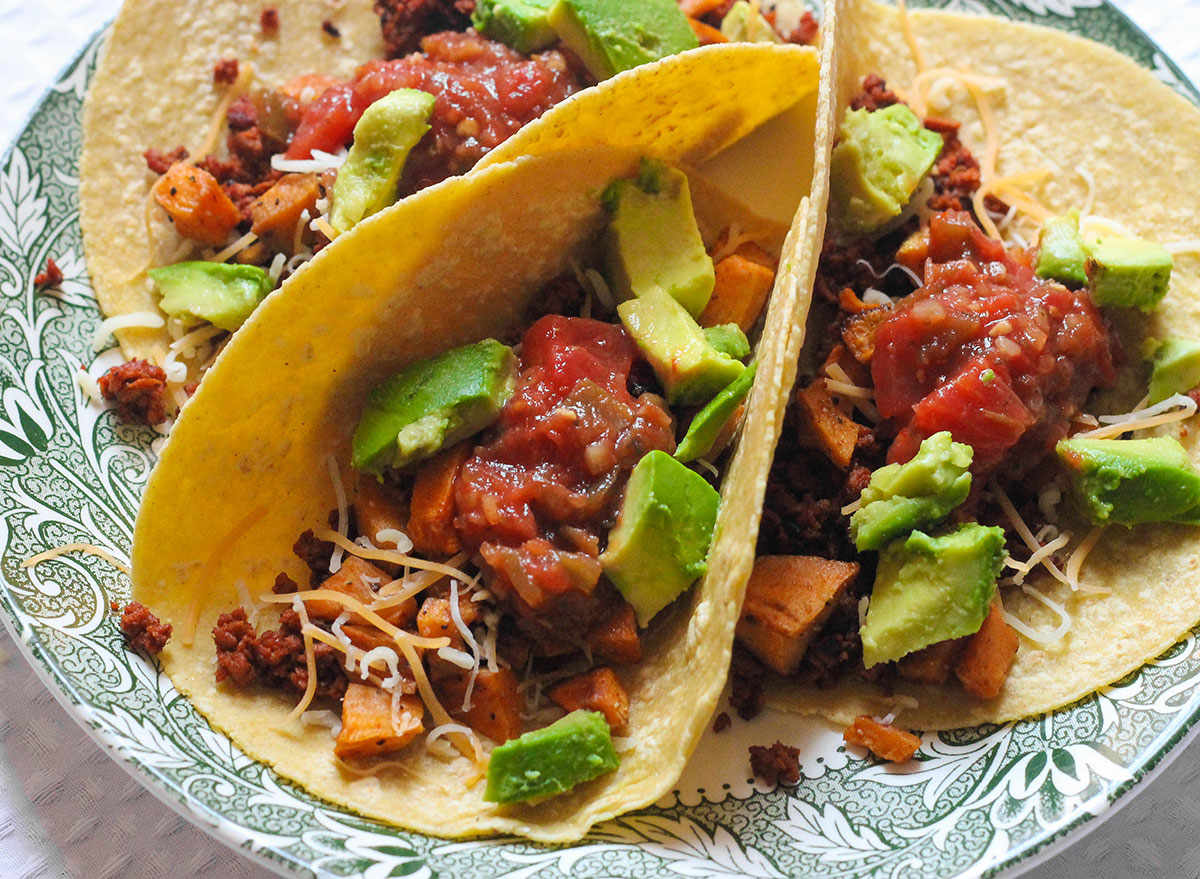 Having salty, spicy chorizo with the sweetness of a sweet potato seemed like the perfect combination to us, and boy, were we right about this one!
Get our recipe for Sweet Potato and Spicy Chorizo Taco.
Italian Meatballs
Want to know the trick to the best flavored hoemade tomato sauce? According to one Italian grandmother, it's cooking those meatballs in sauce with a few Italian sausage links. Here's her trick.
Get our recipe for Italian Meatballs. 
Breakfast Burrito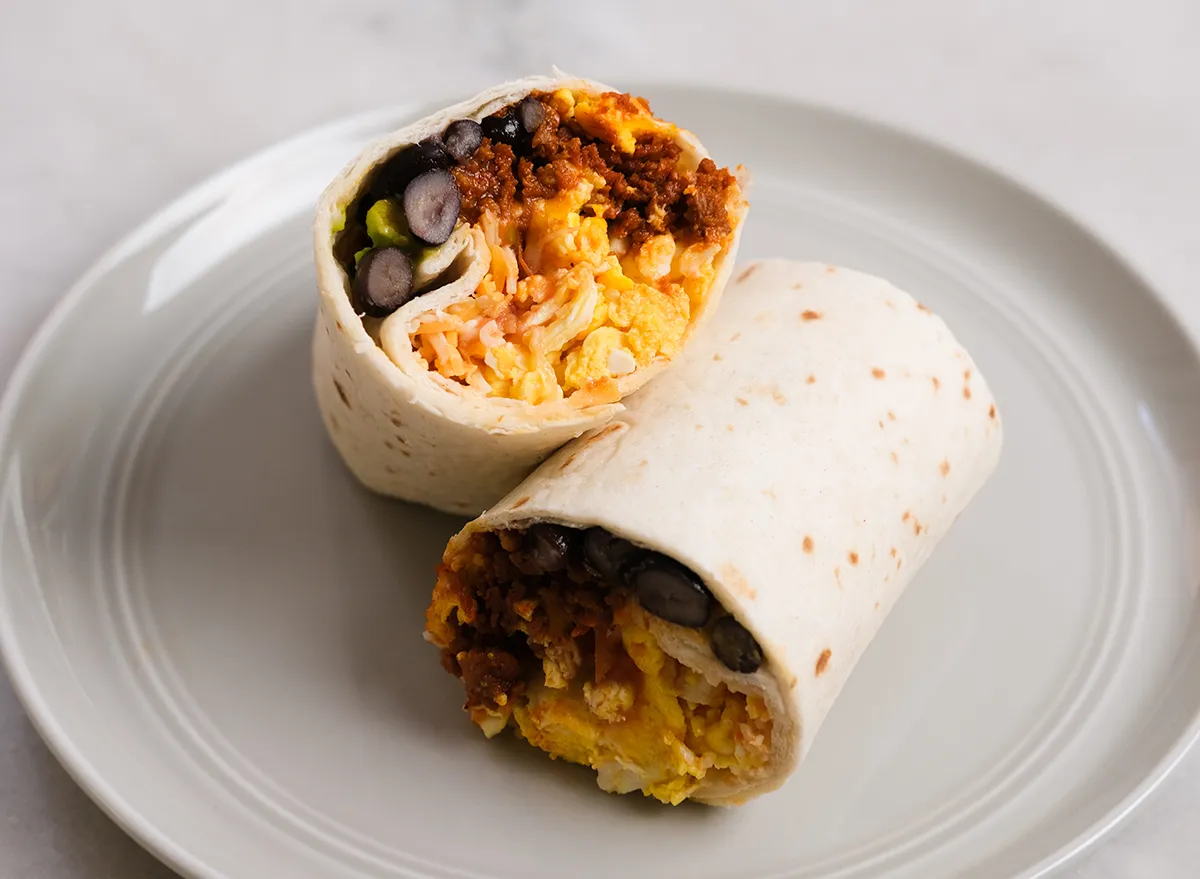 While chorizo may not sound like breakfast food, it does give the burrito a flavor profile that's out of this world. Since chorizo is a highly seasoned pork sausage, you don't have to add extra seasonings to liven up your breakfast burrito. The cooked chorizo will just do it for you!
Get our recipe for a Breakfast Burrito. 
Paleo Sausage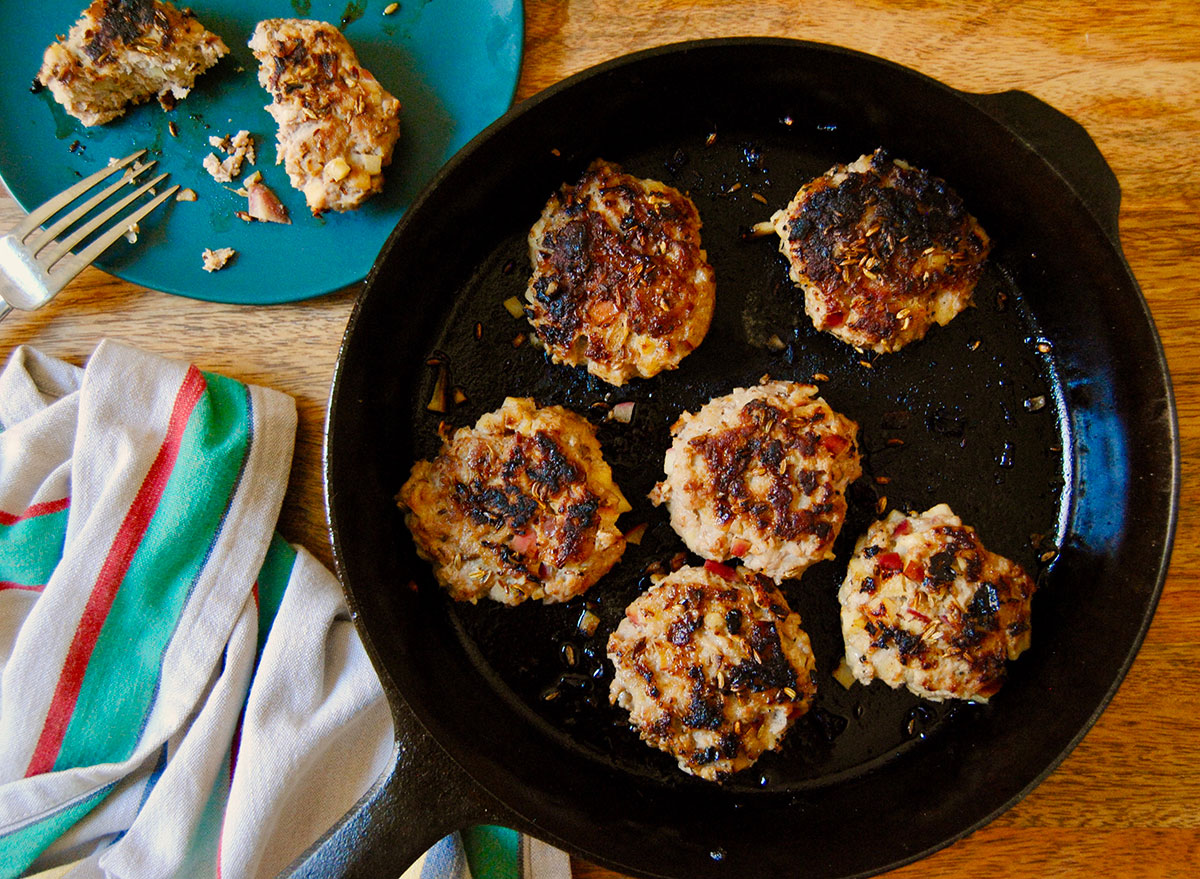 Could you reach for a few links of frozen packaged sausage? Of course. But you should also know how easy sausage is to DIY. These paleo breakfast sausage patties come together quite quickly. You could wake up a little early on a slow morning to throw together a batch, or you can freeze them and cook them off one by one.
Get our recipe for Paleo Sausage. 
Frizzled Eggs and Sausage With Sauteed Greens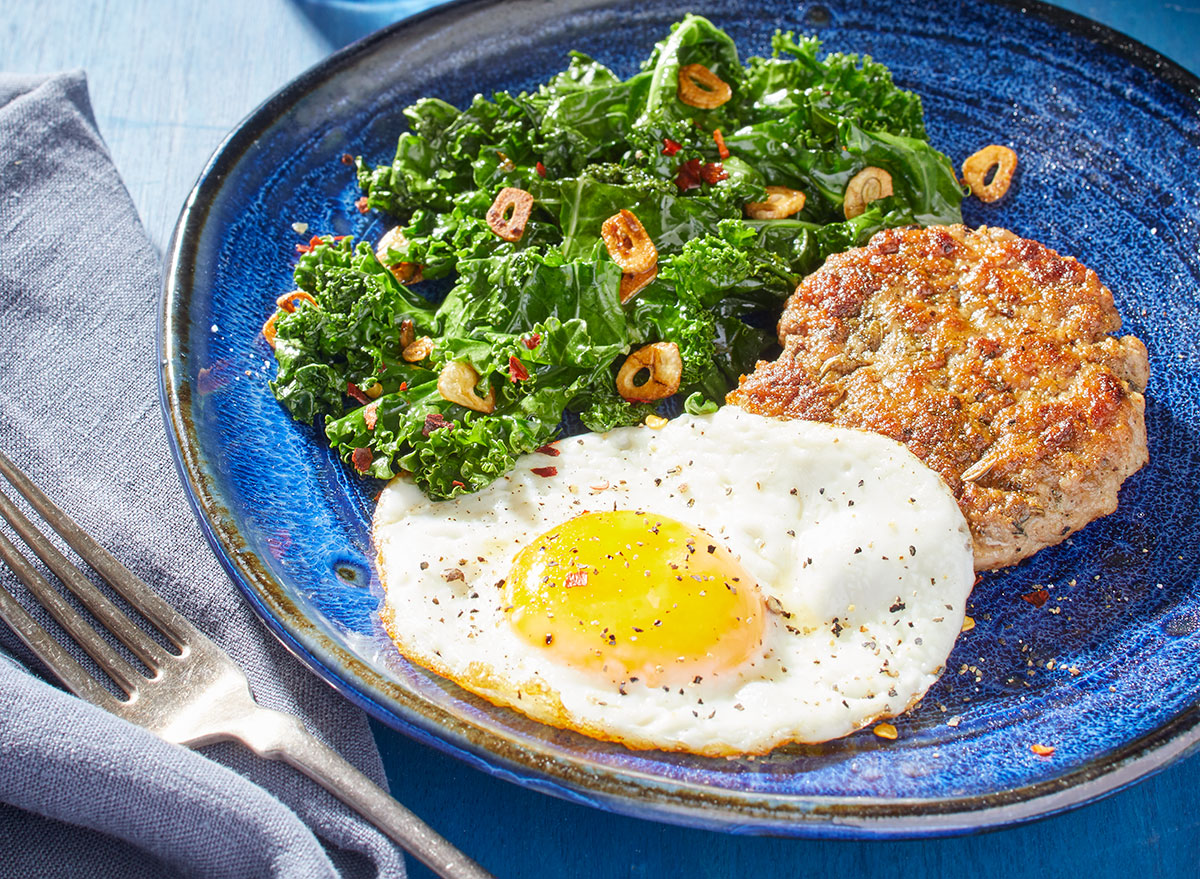 When carbs reign king in terms of easy breakfast options, finding filling breakfasts that fit a keto diet can be rather difficult, which is why this particular keto eggs recipe is the perfect plate to have you feeling full and ready for your day! It's full of protein and healthy nutrients that will have you feeling satisfied until lunch—or even beyond!
Get our recipe for Frizzled Eggs and Sausage With Sauteed Greens.
Blackberry Sage Breakfast Sausage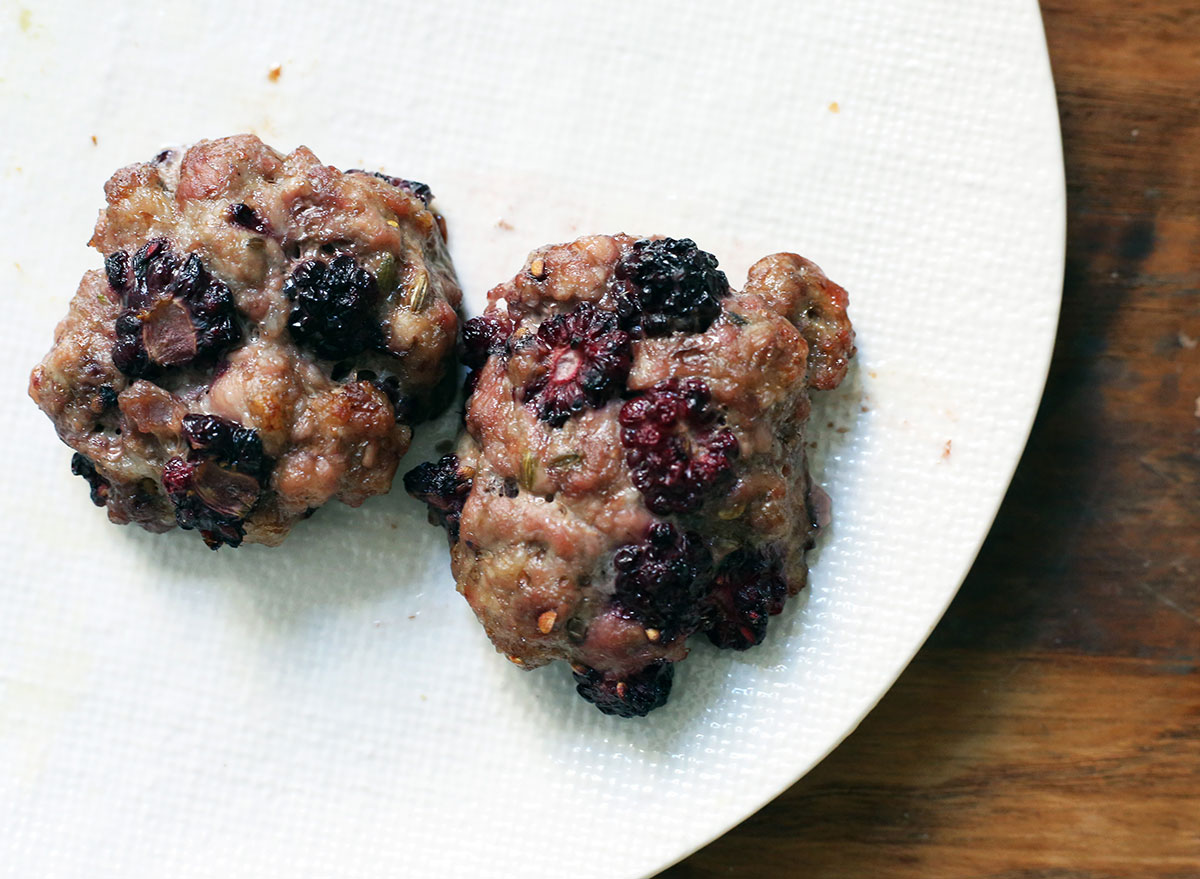 When you're on the Whole30 diet, you're trying to avoid processed meats, and that includes any type of breakfast patty or sausage. Which is why we've created this simple recipe for a Whole30 breakfast sausage patty that you can quickly put together at home.
Get our recipe for Blackberry Sage Breakfast Sausage. 
Sheet Pan Vegan Sausage and Vegetables
Vegan or not, this sheet pan recipe is a delicious way to get your veggies in! When it comes to plant-based sausages, there are lots of options on the market. Just like with any other grocery item, your best bet is to look for a nutrition label with a short ingredient list of recognizable foods. Make sure the sausage contains a decent amount of protein, and if there's some fiber in there, that's an added bonus. Stay away from plant 'meats' that are predominantly made up of carbohydrates.
Get our recipe for Sheet Pan Vegan Sausage and Vegetables. 
Portobello Mushroom "Pizzas"
Craving pizza, but trying to keep it low-carb? Use portobello mushrooms! Fill up those mushroom caps with all of your favorite pizza ingredients to make a flavorful portobello mushroom pizzas, and skip all the carbs. These portobello mushroom pizzas are also great for meal prepping if you're looking for something easy to whip up for the week ahead.
Get our recipe for Portobello Mushroom "Pizzas". 
Sheet-Pan Gnocchi with Chicken Sausage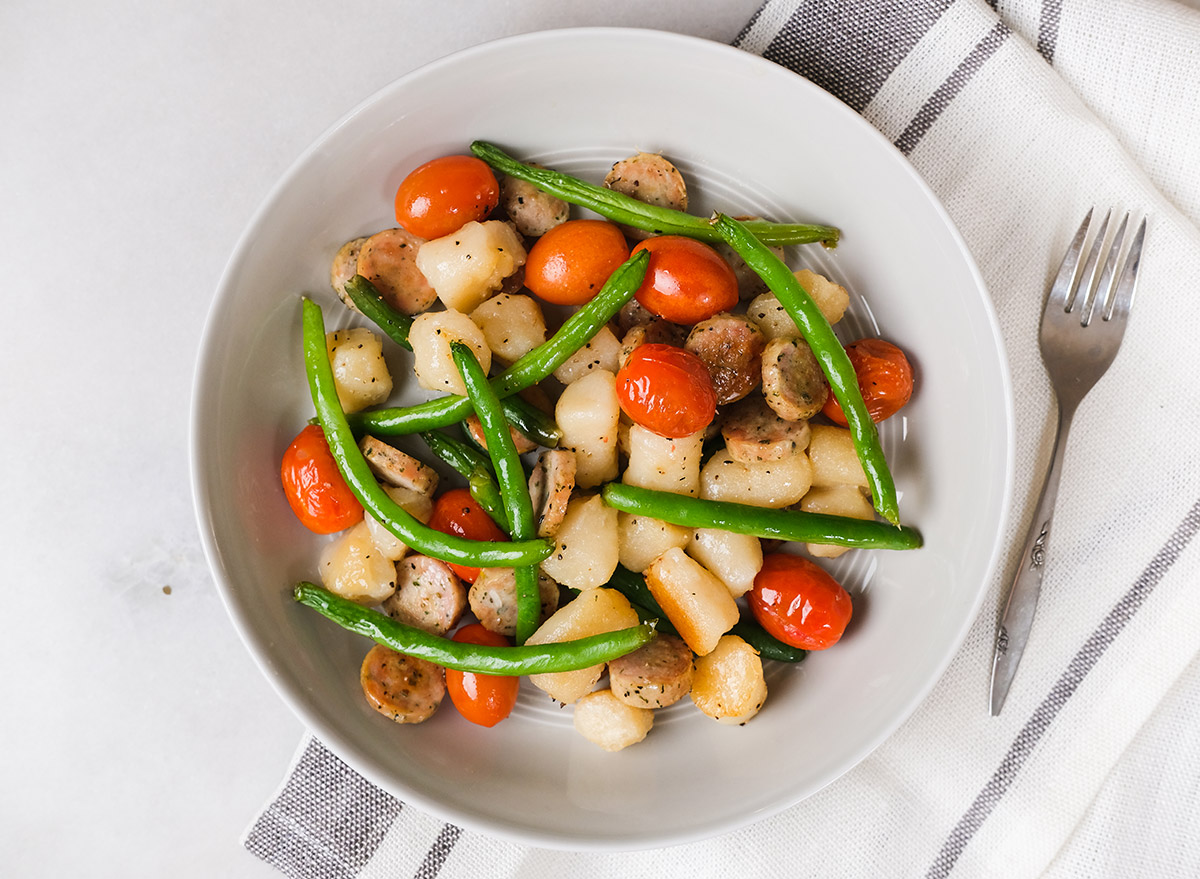 Need a new idea for meal prep? This sheet pan recipe is for you! With four simple ingredients, you'll have four meals that are great for lunches throughout the week.
Get our recipe for Sheet-Pan Gnocchi with Chicken Sausage.
Sausage Sandwich with Peppers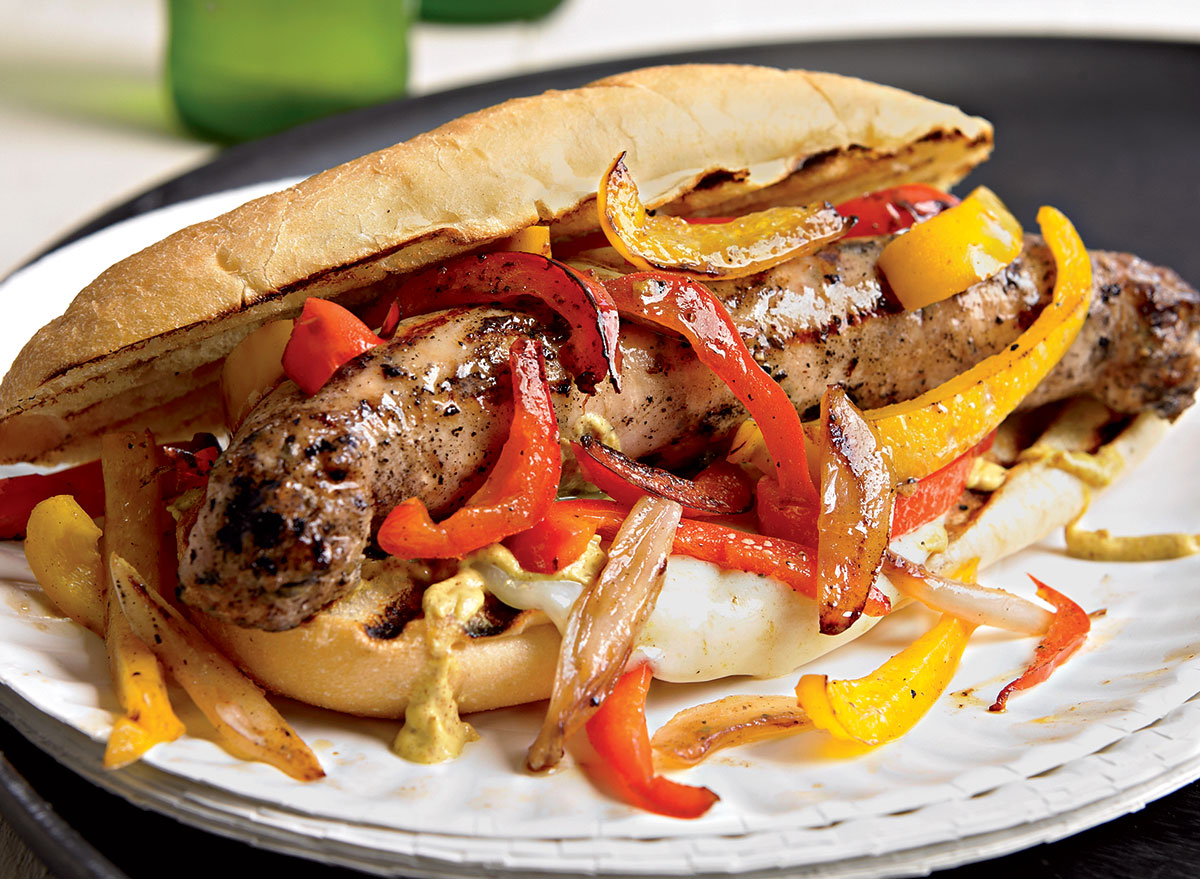 Pork sausage can contain up to 30 percent fat, meaning a single link of bratwurst on its own can pack on 400 calories and that doesn't even include the bread or bun they're likely wrapped in. Switching to a lean chicken or turkey sausage will bring that number to fewer than 150 calories, and a tangle of sautéed onions and peppers, a bit of melted cheese, and a slick of spicy mustard will ensure that you won't miss the pig one bit in this sausage sandwich recipe.
Get our recipe for Sausage Sandwich with Peppers. 
Hasselback Kielbasa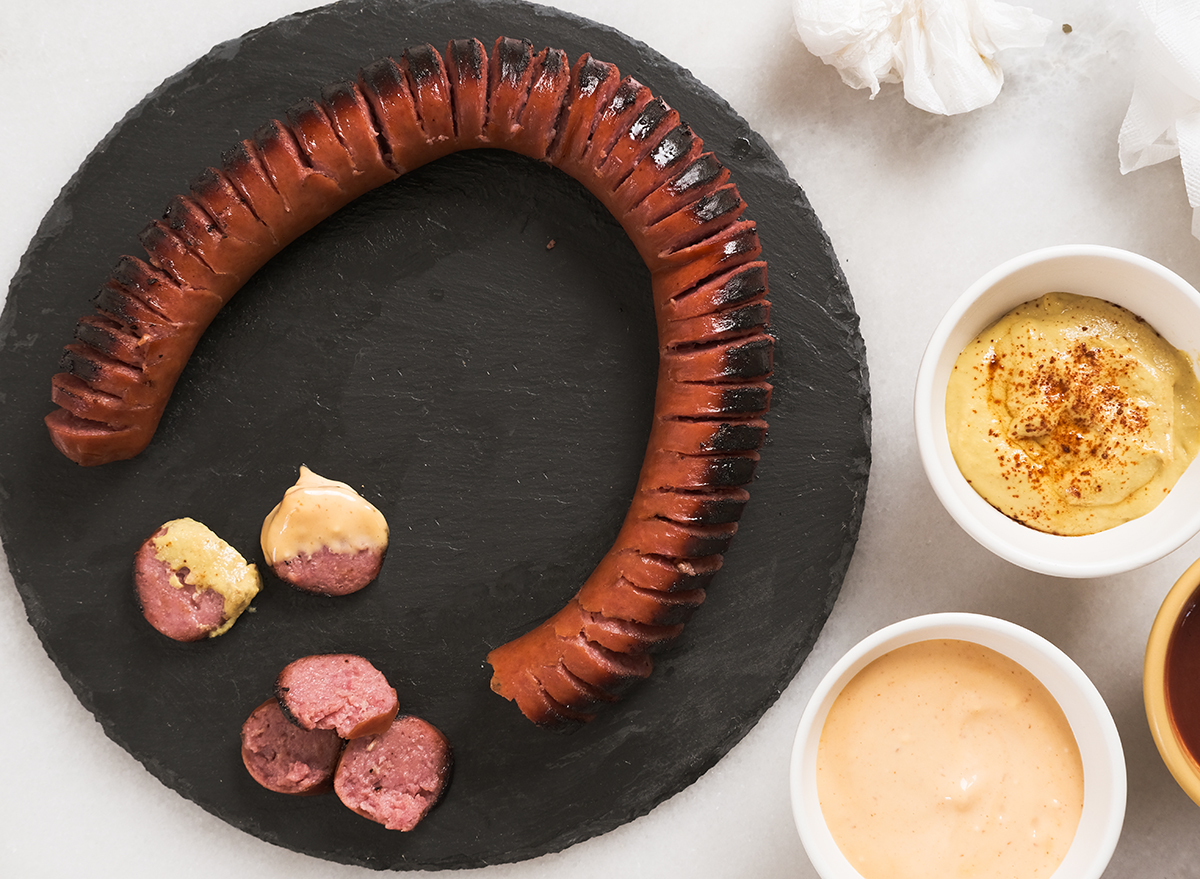 By simply using a cast-iron skillet and a generous helping of butter, our charred version of the Hasselback kielbasa came out juicy and crispy—perfect for ripping and dipping. After giving it a try, we decided it was something we had to share with our readers.
Get our recipe for Hasselback Kielbasa.
Butternut Squash Hash
Crunchy, salty, and golden brown, this butternut squash hash is just as good for dinner or lunch as it is for breakfast. Sausage makes it filling enough to start your day, but you can also top it with a fried or poached egg if you want even more protein and heft to the meal. Don't skip the fennel and tarragon—both brighten up the dish considerably with herby flavor.
Get our recipe for Butternut Squash Hash. 
Zuppa Toscana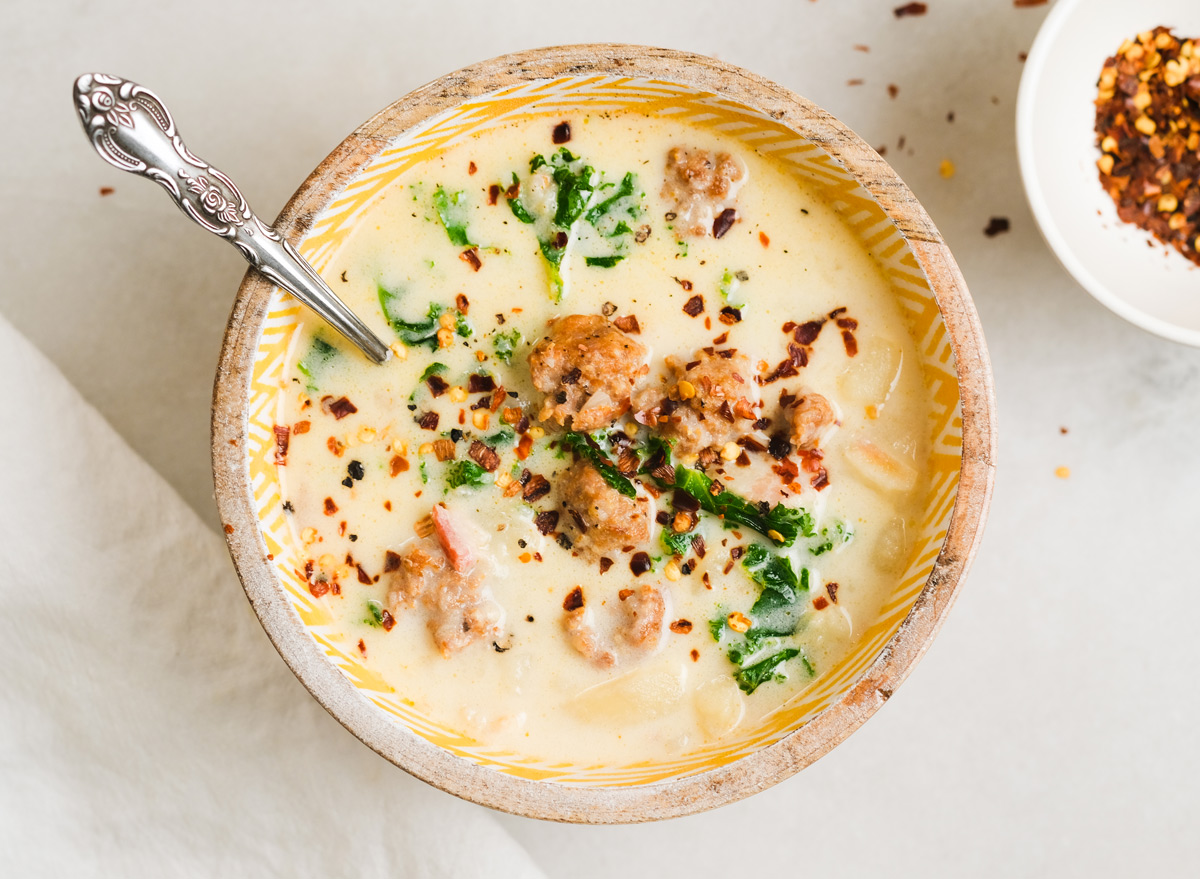 Between the fatty sausage and bacon, the potatoes, and the nutrient-dense kale, having a cup of this Zuppa Toscana will truly leave you feeling full for hours. Plus by making it in your Instant Pot, you'll have numerous cups of soup that you can meal prep and pack for the week ahead.
Get our recipe for Zuppa Toscana. 
Loaded Pizza with Turkey Pepperoni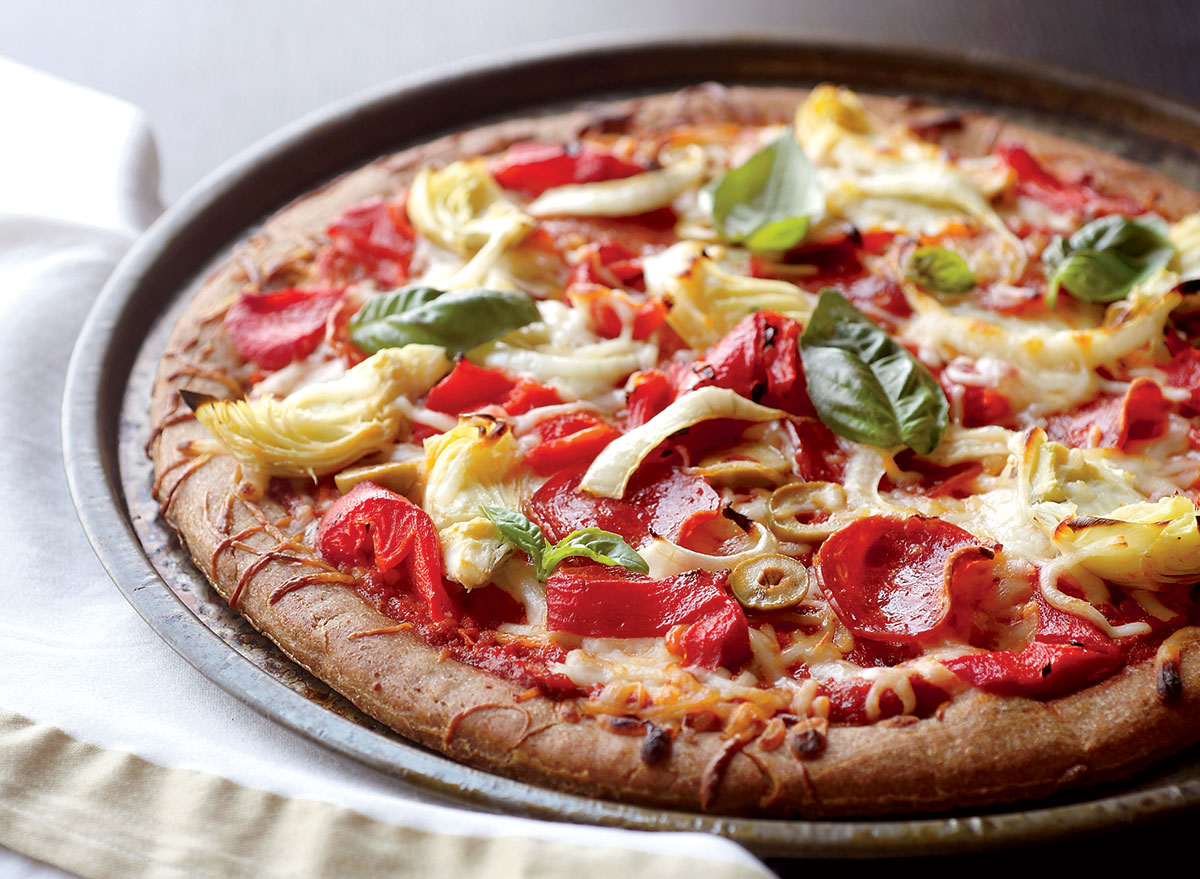 Here, we use Boboli's whole-wheat thin crust shell as a low-calorie, fiber-rich base. We then load the pizza with a team of nutritional all-stars (red peppers, artichokes, fresh basil), and a good amount of turkey pepperoni. Torn deli ham or Canadian bacon would also work great here. You're your own delivery person now!
Get our recipe for Loaded Pizza with Turkey Pepperoni. 
Lasagna Rolls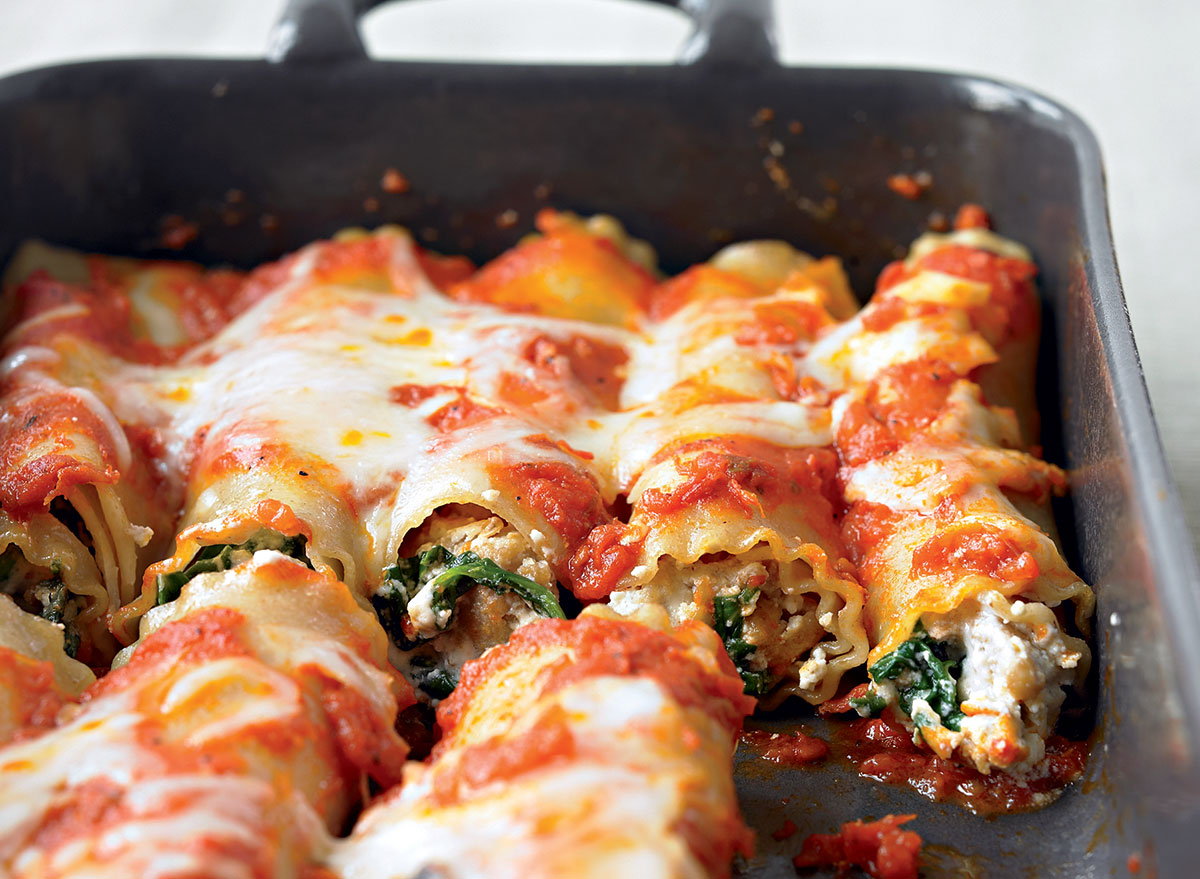 The idea of building a multi-tiered, multi-component lasagna can be dizzying for most cooks. For them, we offer this simplified form, the lasagna roll: a tight pasta bundle containing all the same flavors as the traditional baked pasta, but without the daunting architecture.
Get our recipe for Lasagna Rolls. 
Turkey-Sweet Potato Breakfast Hash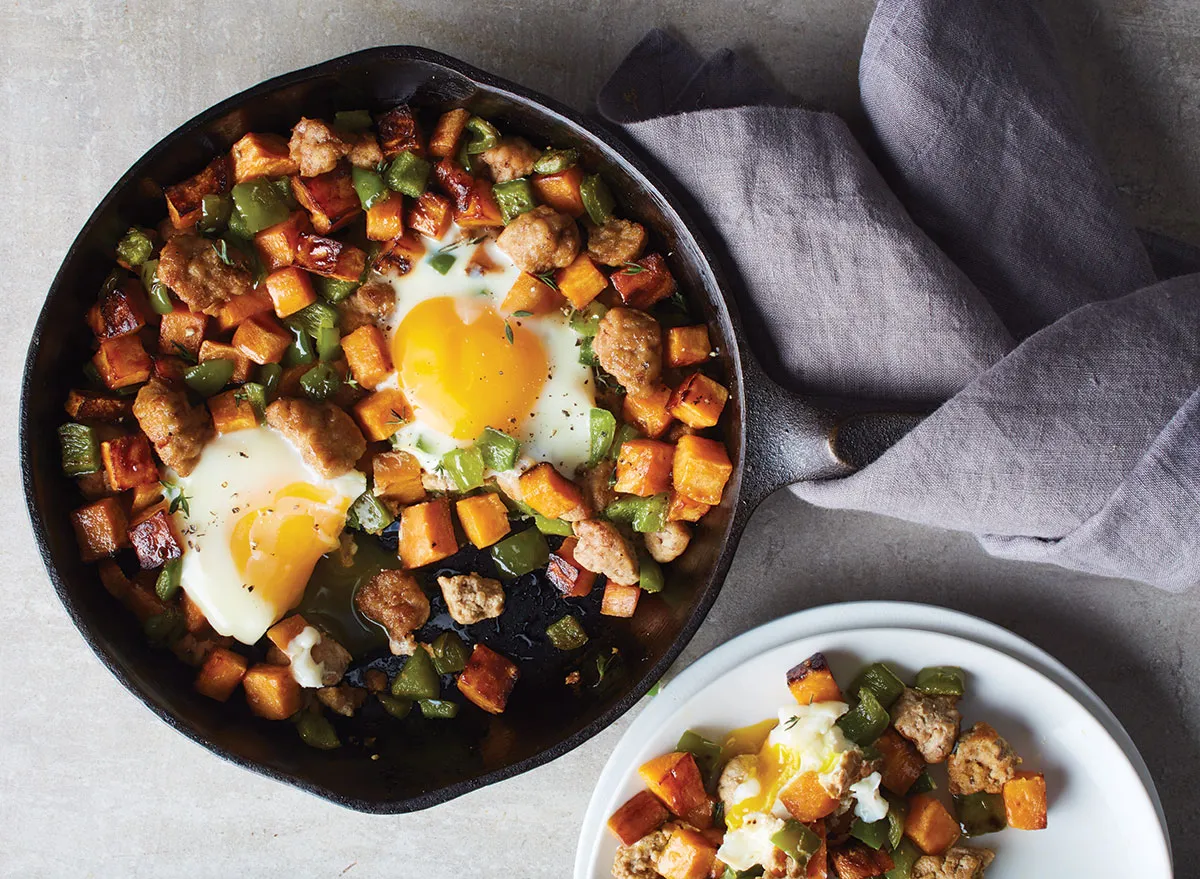 If you're looking for an easy way to add more vegetables into your breakfast routine, this sweet potato hash recipe is a perfect place to start. Packed with protein and fiber, this hash features sweet potato and green bell peppers, along with protein-boosting eggs and turkey sausage.
Get our recipe for Turkey-Sweet Potato Breakfast Hash. 
Read more: 108 Most Popular Sodas Ranked by How Toxic They Are
Eat This, Not That!
Inspired by The New York Times best-selling book series, Eat This, Not That! is a brand that's comprised of an award-winning team of journalists and board-certified experts, doctors, nutritionists, chefs, personal trainers, and dietitians who work together to bring you accurate, timely, informative, and actionable content on food, nutrition, dieting, weight loss, health, wellness, and more.
Read more about Eat This