The 100 Best Products from Top Food Trends in 2019
We identified the top 18 food trends from 2019 and selected our favorite food products so you can get a taste of the trends.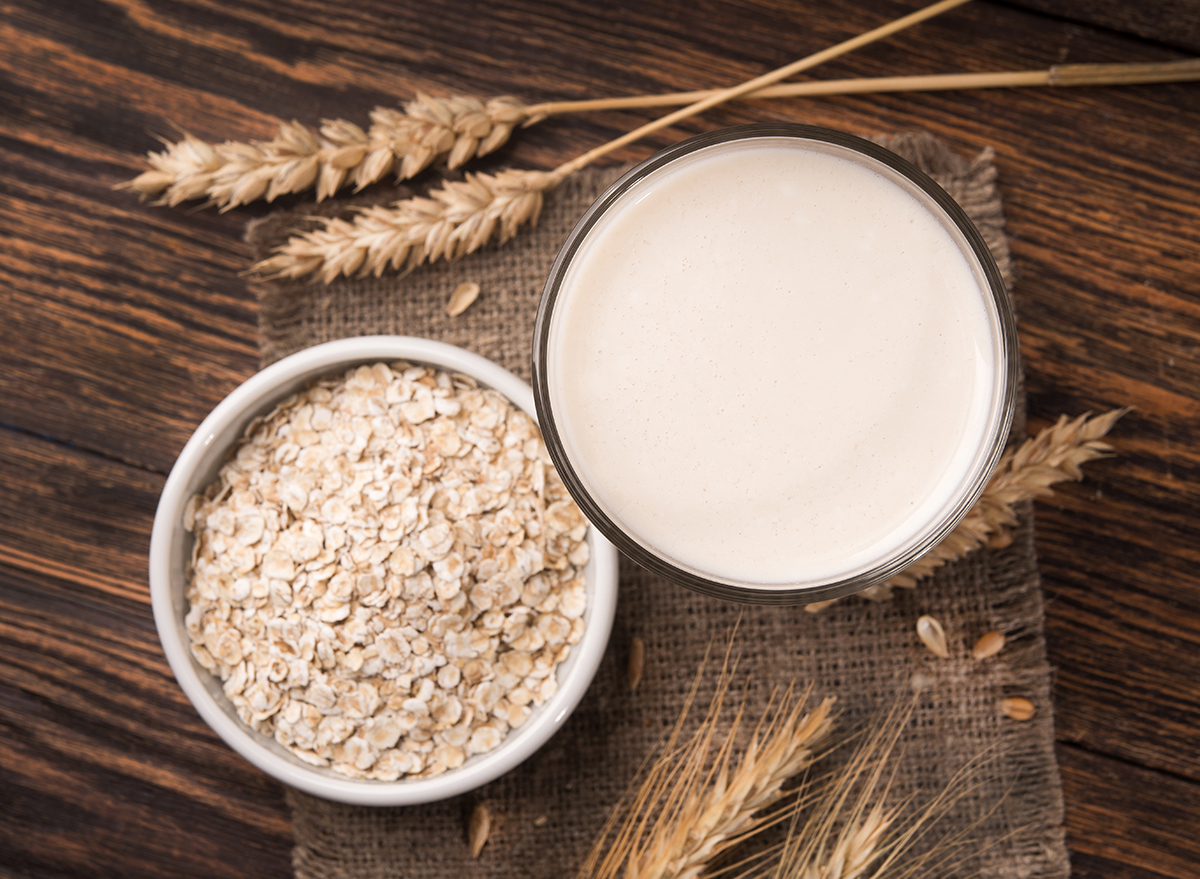 We may earn a commission for anything you purchase through links on this page.
After seeing some of the wildest trends take off in 2019, we're never going to be able to guess what's in our food again. This year, we saw the rise of burgers that aren't made of meat, milk that's made of oats, and cheese dip that's crafted from nuts.
Food trends ebb and flow—and we've seen some truly crazy trends—so it's expected that certain products that are in vogue now will fall out of fashion as we move on to the new year. However, there are some food movements, if you will, that we predict will stick around throughout 2020 and beyond.
The Eat This, Not That! editors compiled a list of the food trends we've seen rise in popularity throughout 2019 that we expect to continue in 2020. To try these popular trends (you're going to sooner or later, trust us), we've pulled together some of our favorite products in each category.
Plant-Based Meat Alternatives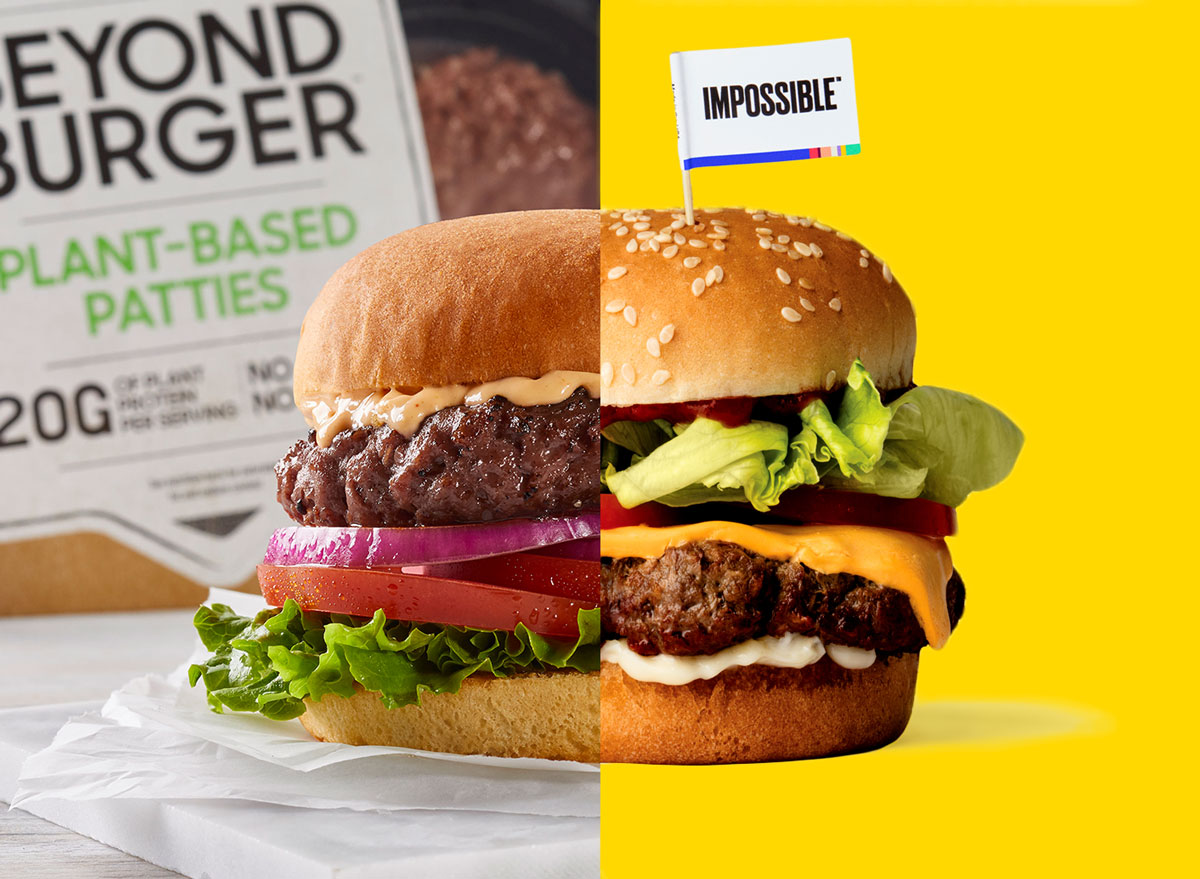 Your meat is not what it seems. After advances in food technology, plant-based meat alternatives have finally gone mainstream due to their uncanny ability to mimic the look and taste of real meat. There are now dozens of products to choose from, and we've picked our favorites.
Impossible Burger Ground Beef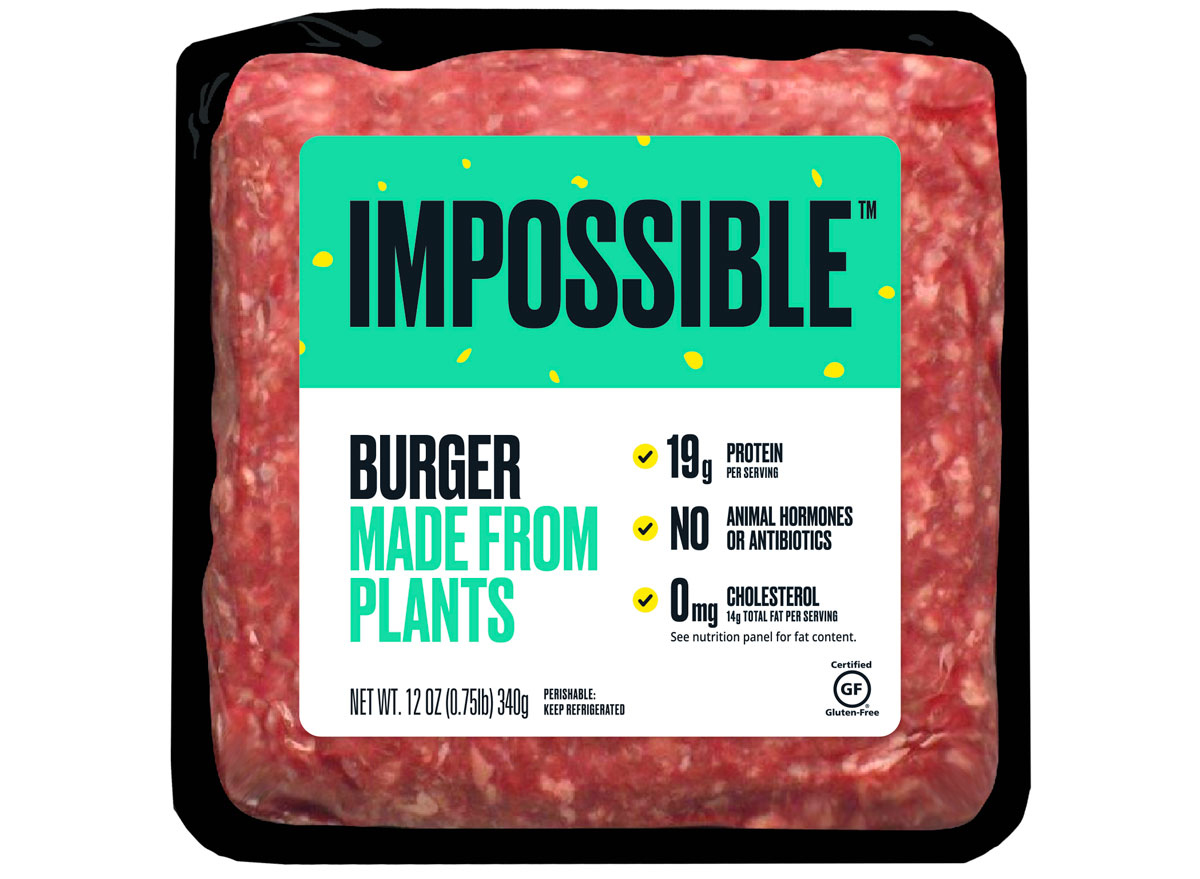 Until now, the Impossible Burger was only available in foodservice. The soy-based, meat-free burger has a special ingredient—heme—which makes it taste exactly like meat and even bleed like it, too. While the burger is available in countless restaurant chains across the country, most notably, fast-food giant Burger King hopped on the bandwagon and introduced the Impossible Whopper in 2019. Now, you can purchase the ground beef version in select retailers in eight lucky states.
Beyond Burger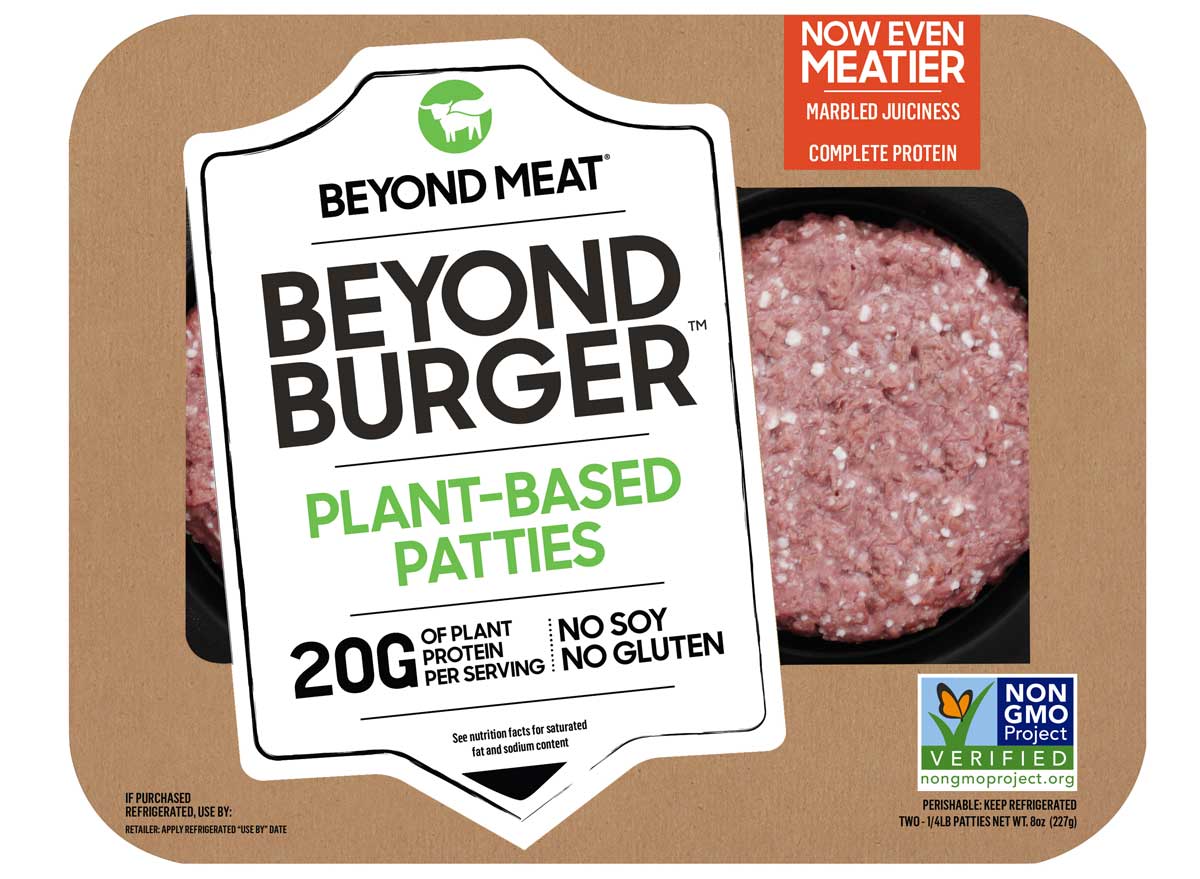 The Impossible Burger's nemesis, the Beyond Burger, has been available in both grocery stores and foodservice for years. In 2019, the company reformulated their recipe to get rid of wheat, making the patty gluten-free. This soy-free burger is made with the perfect combination of complementary proteins to form a complete protein blend that's comparable to real beef.
Lightlife Plant-Based Italian Sausage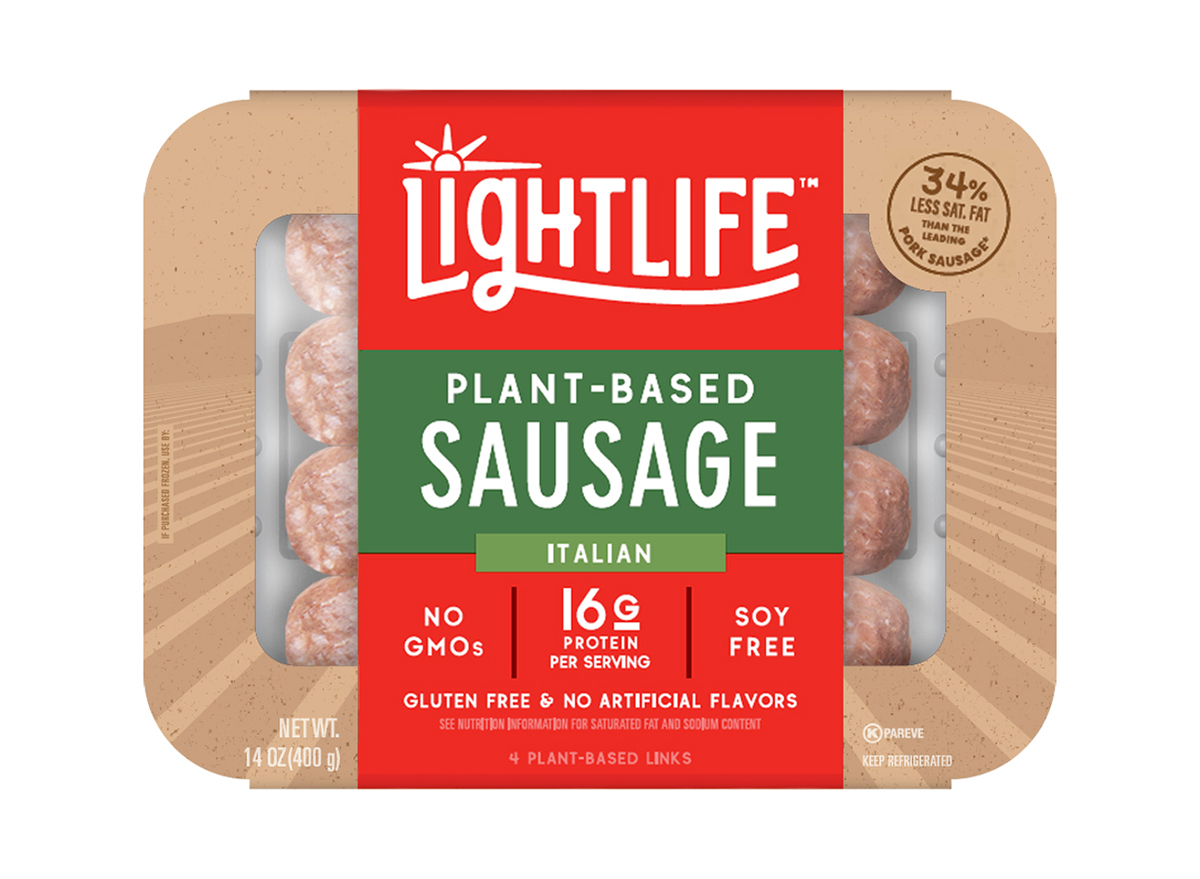 Lightlife launched a new line of meat-like pork sausage replacements in 2019. They may be plant-based, but we bet you'd barely be able to distinguish the difference between this and the Italian sausage you've been buying your whole life.
UNCUT Breakfast Sausage
If you want to make your own Sausage Egg McMuffin at home, there hasn't really been a good way to do it—until now. While store-bought sausage patties, like Jimmy Dean's, are too small for an appropriate breakfast sandwich, this plant-based breakfast sausage from UNCUT is the perfect size (and was actually specifically shaped to fit on an English muffin). This plant-based sausage patty also crisps up even better than your regular sausage.
Raised & Rooted Nuggets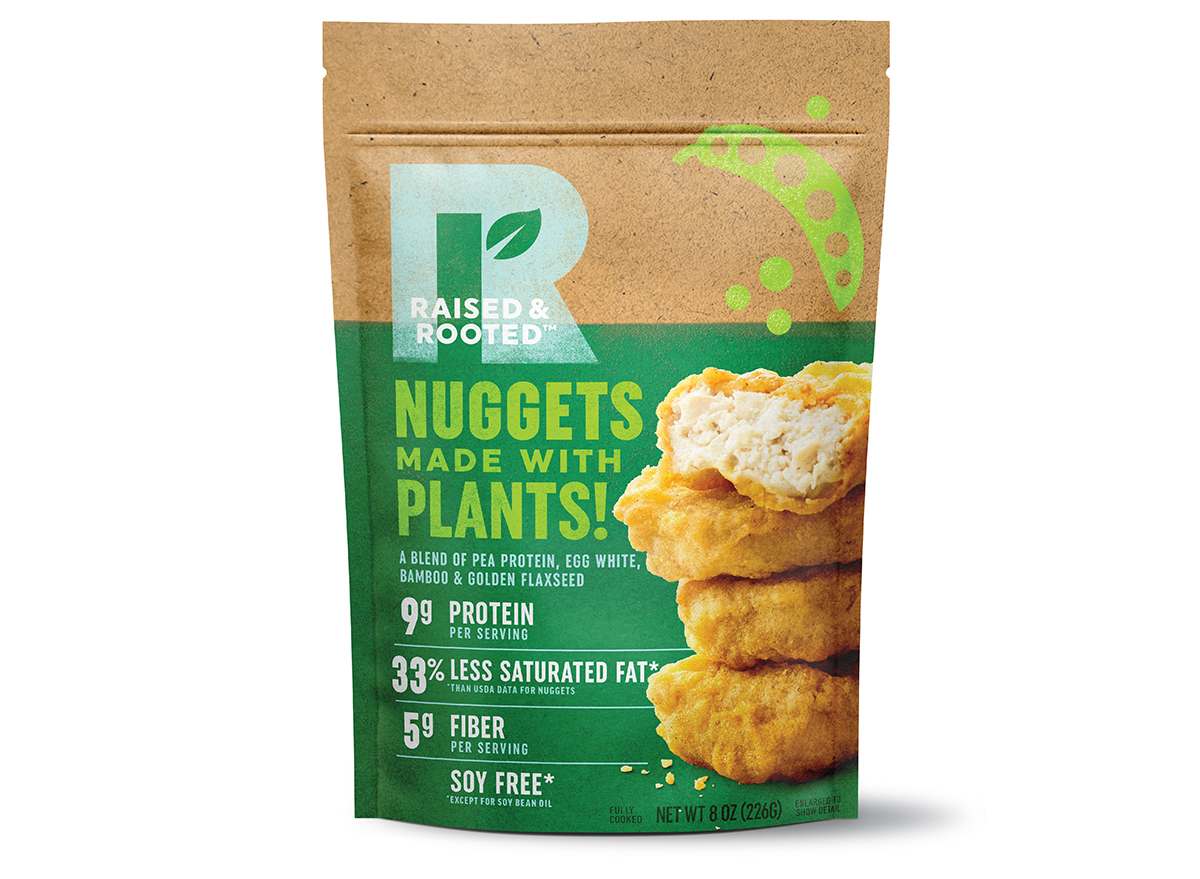 The title-holders of "the number 1 brand of chicken nuggets in the U.S.," Tyson, introduced this entirely plant-based version of nuggets in September 2019. These nuggets are made with pea protein and plant-based fiber for a meaty, tender texture on the inside, and a crispy batter for a satisfying crunch on the outside.
Abbot's Butcher Chorizo
Unlike the other heavily processed meat alternatives on the market that were developed in labs, The Abbot's Butcher was developed in a kitchen. Their taste-forward approach rather than the scientific quest to make the most meat-like product really makes their flavors stand out, appealing to people who are looking for food that simply tastes good. You'll only find ingredients you can recognize in this "Chorizo": like extra virgin olive oil, organic tomato paste, and Spanish smoked paprika.
Gardein Fishless Filet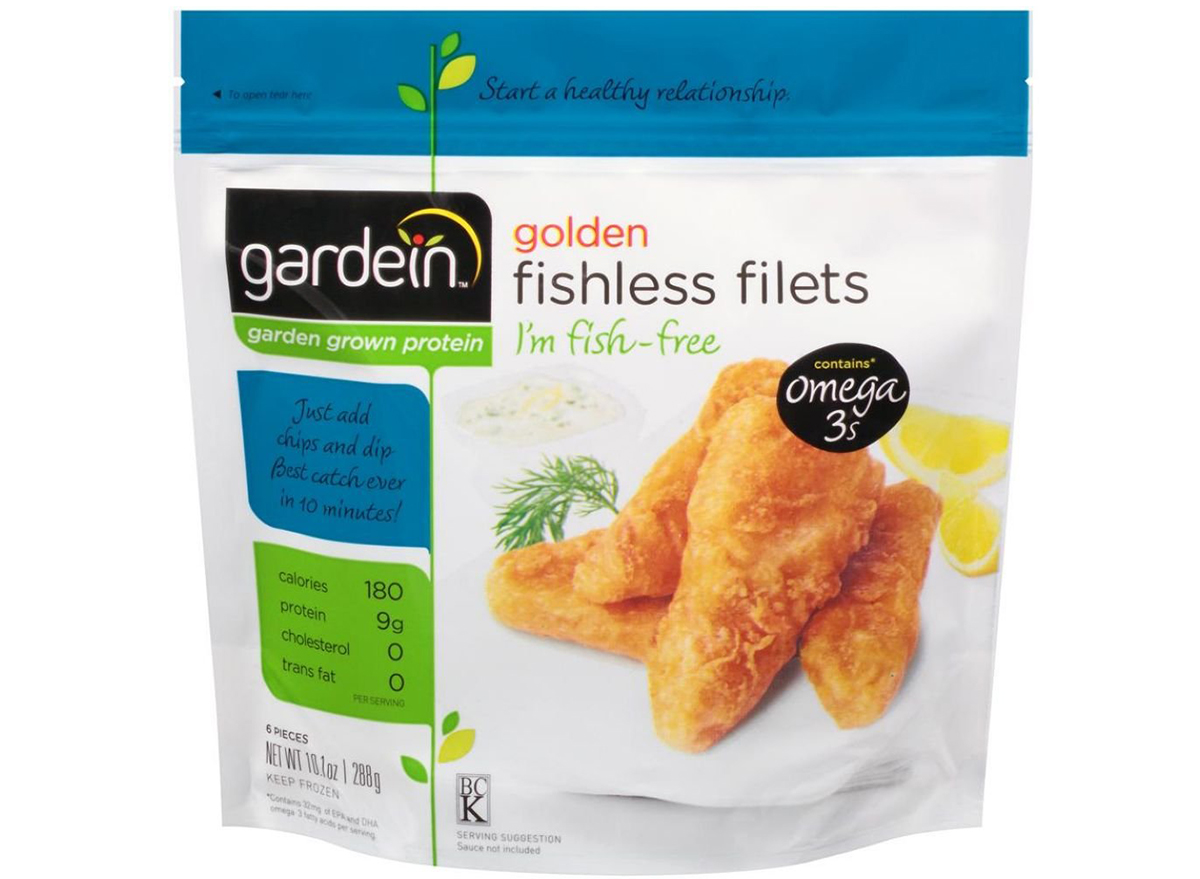 Everyone knows about the beef, sausage, and chicken meat alternatives, but did you know you can also try fish alternatives? Gardein has been selling their Fishless Filets for years, and they're a classic. They're perfect for fish tacos, fish sandwiches, and classic fish and chips.
Plant-based foods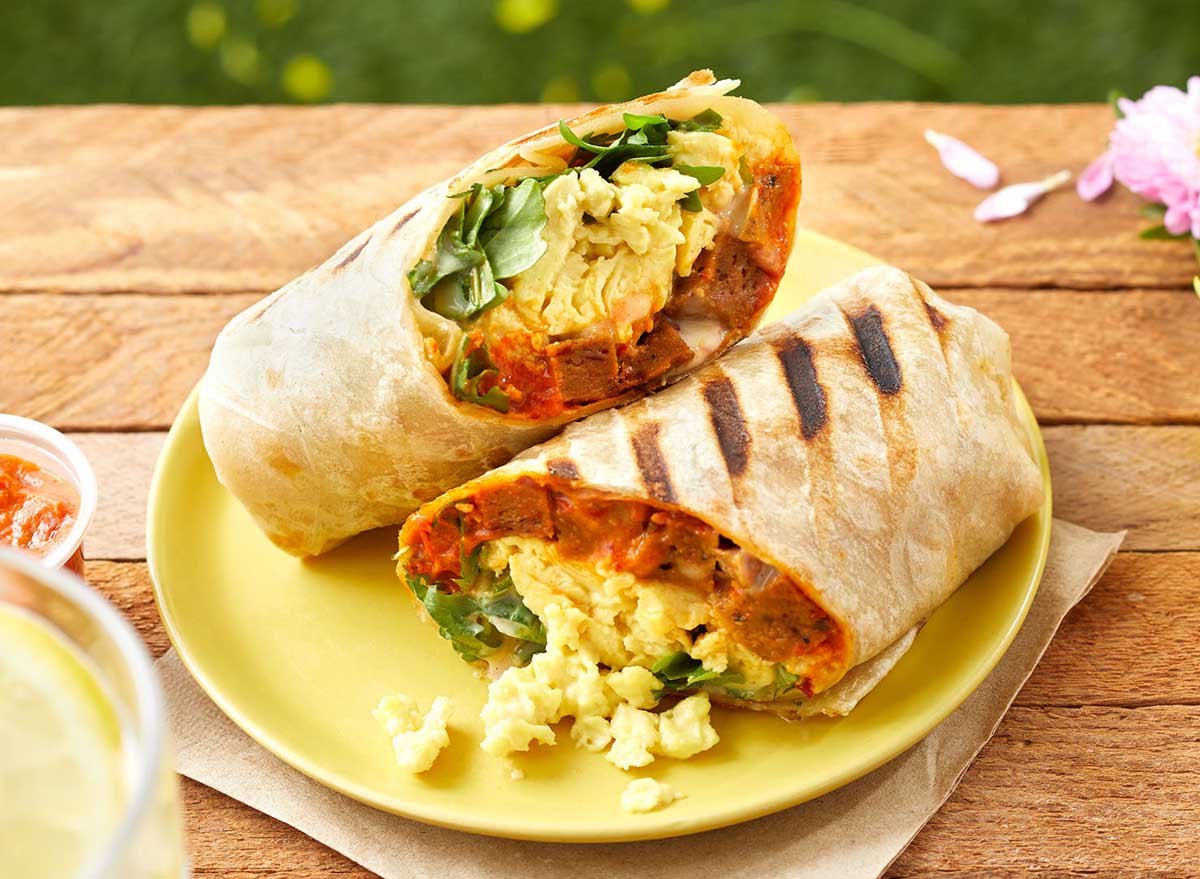 Plant-based meat alternatives aren't the only popular items people are raving about! Other delicious plant-based snacks have popped up among grocery store aisles around the country, and there are a few that you absolutely need to stock up on.
JUST Egg
Made from mung beans, this vegan egg substitute looks, cooks, and tastes just like scrambled eggs. Perfect for those with egg allergies, the elderly watching their cholesterol intake, or vegans looking for an egg substitute, JUST Egg satisfies all your egg needs, both in baking and in dishes.
Good Foods Plant-Based Dips, Queso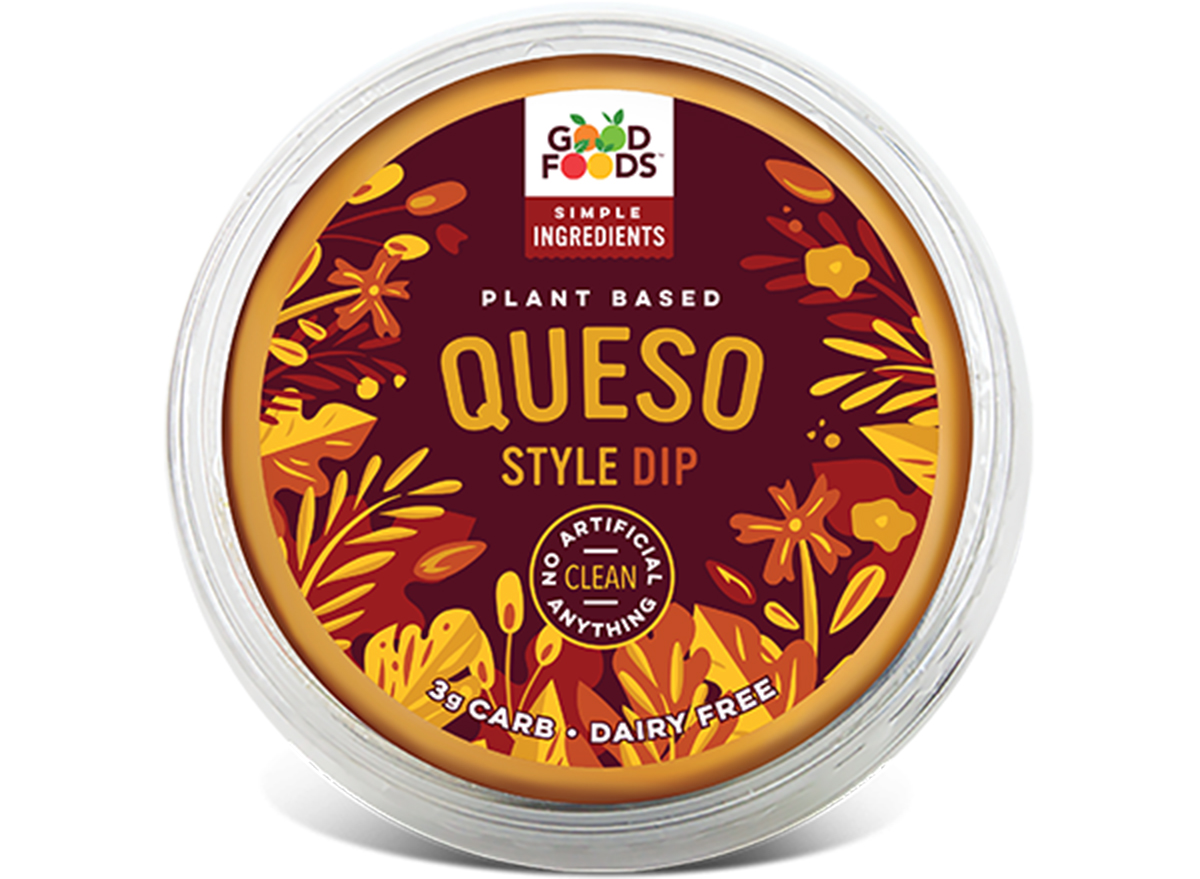 In the mood for queso, but trying to follow a plant-based diet? Get the delicious taste of queso with Good Foods Plant-Based Dips! You can even get other delicious flavors like Buffalo, Avocado, and Tzatziki.
Miyoko's Cultured Vegan Butter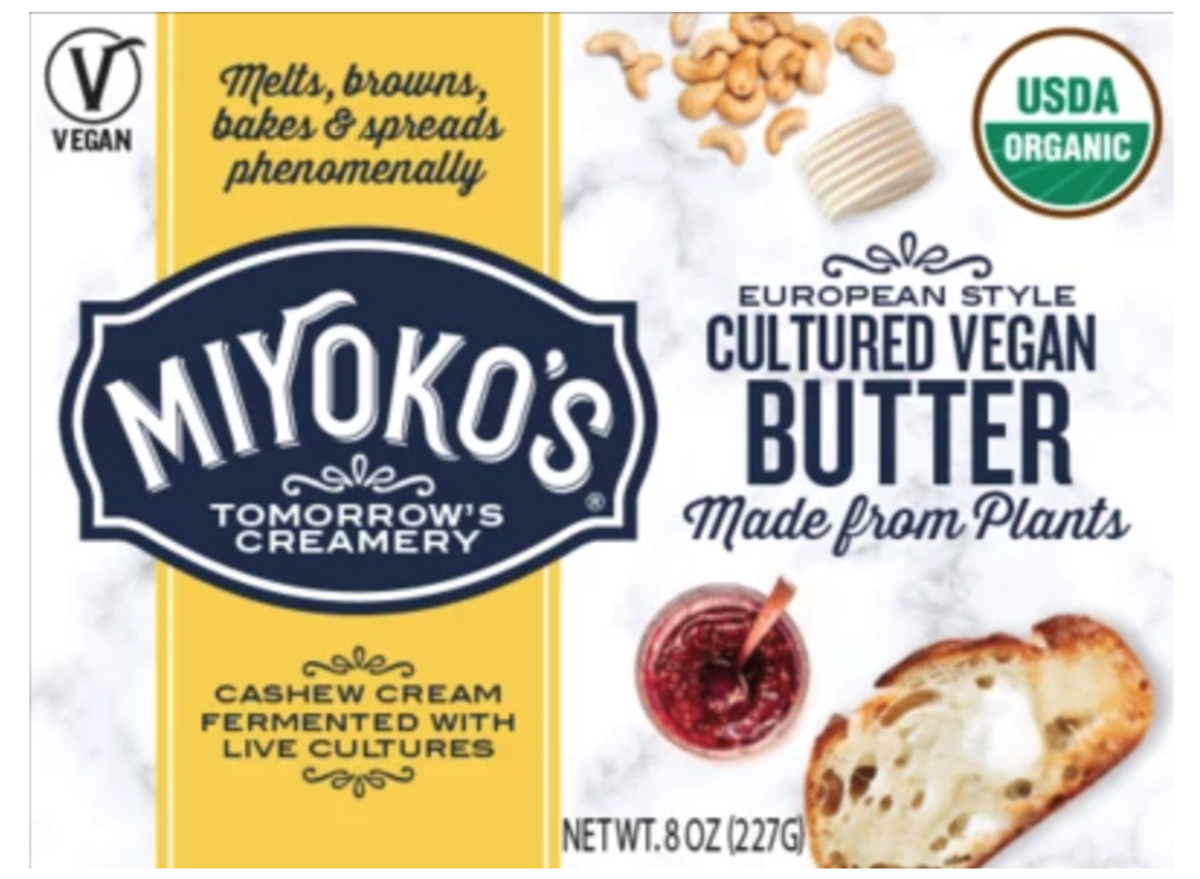 While Miyoko's has a line of delicious vegan cheeses, you can also stock up on their vegan butter as well! It will give some of your favorite dishes that fatty, buttery texture and taste.
Deep Indian Kitchen Chickpea Masala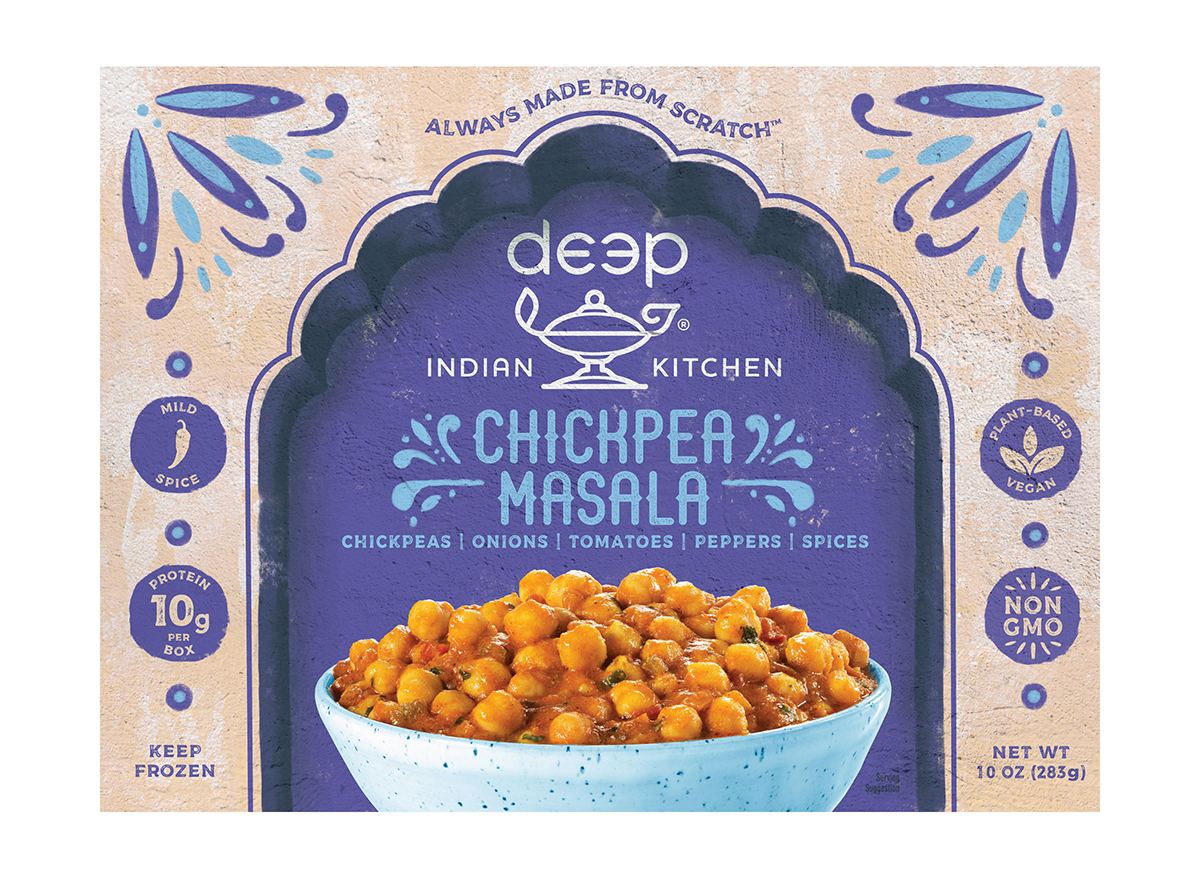 For an easy dinner (or lunch!) heat up a box of Deep Indian Kitchen's Chickpea Masala! It's full of simple ingredients including chickpeas, tomatoes, onions, peppers, and other spices. Paired well with rice, each box has 10 grams of protein and it's non-GMO.
Bitchin' Sauce, Green Chile & Pepita
Looking for some creamy sauce to dipping some of your chips? This almond-based sauce is exactly what you've been looking for! The Green Chile & Pepita sauce is actually mild, but full of flavor thanks to the green chiles, pepitas, cumin, garlic, and jalapeno.
Daiya Plant-Based Homestyle Breakfast Burrito
A breakfast burrito may seem like the kind of item that would be off-limits on a plant-based diet, but never fear! Daiya—a member of the Plant-Based Food Association—comes with egg-style scramble, meatless sausage, and cheddar-style shreds. It's a plant-based home run!
Cauliflower-based foods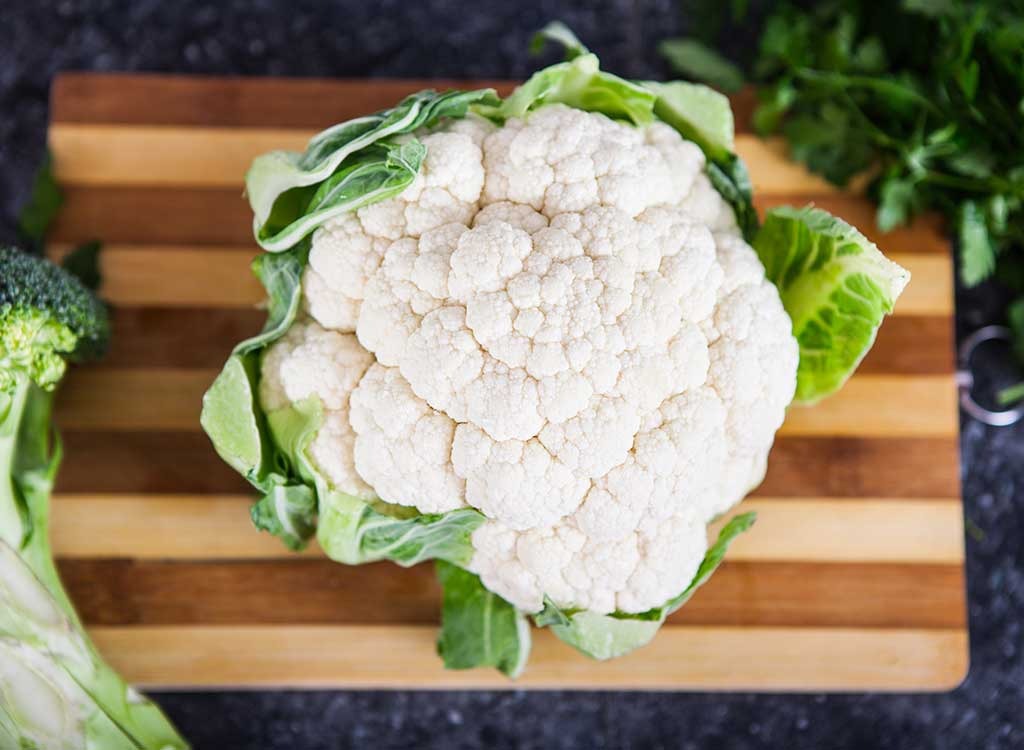 The cousin of your least-favorite childhood veggie somehow stole the hearts of American food manufacturers. Its white color, unassuming flavor, and starchy texture make the cruciferous vegetable extremely versatile. You can try it in what feels like hundreds of products—likely with many more to come in 2020.
Trader Joe's Cauliflower Gnocchi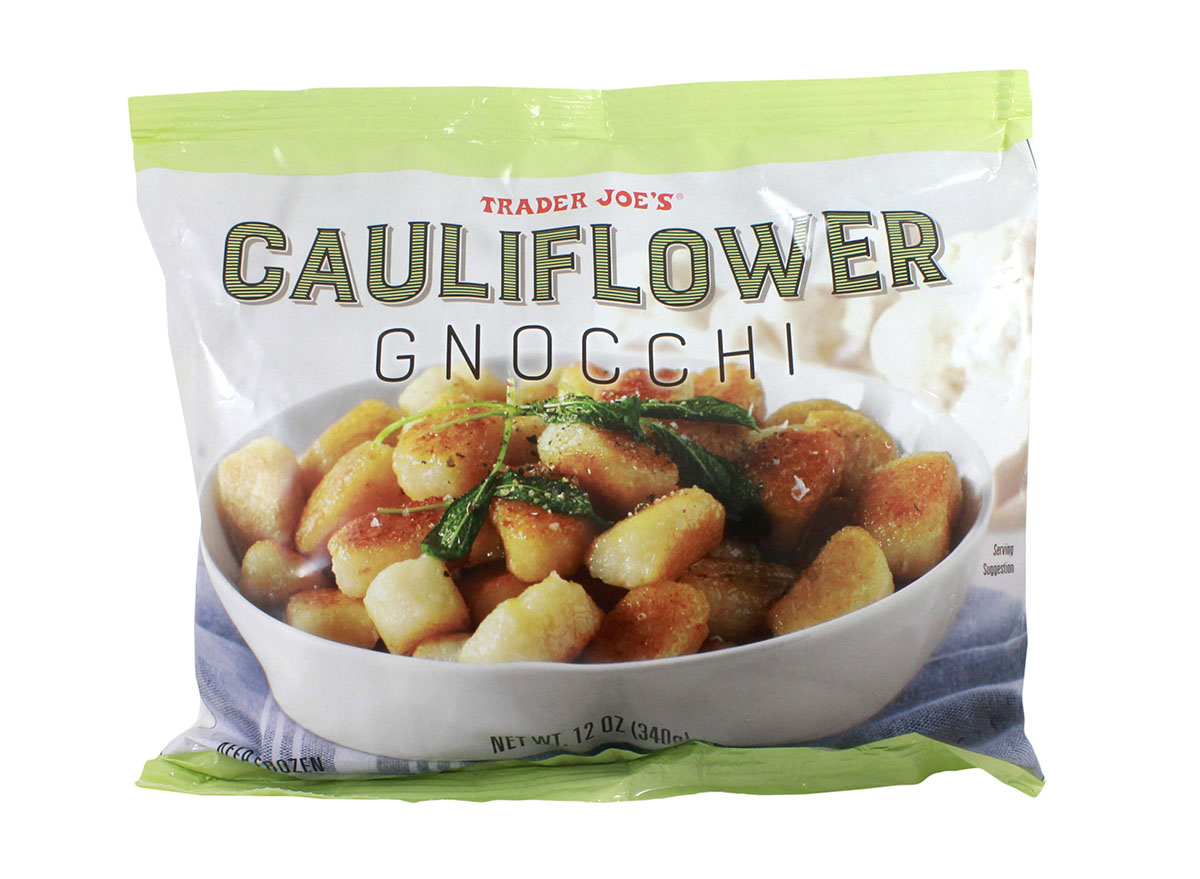 Arguably the most famous of the cauliflower products, cauliflower gnocchi has a legion of devoted fans. Cauliflower Gnocchi has its own Instagram account and over 13,000 posts have used the hashtag #cauliflowerghnocchi. There may be a few different brands out there now, but Trader Joe's was one of the first (and is still our favorite). Try it with everything from pesto to marinara sauce to cinnamon sugar and icing.
From the Ground UP Sea Salt Cauliflower Pretzel Snacks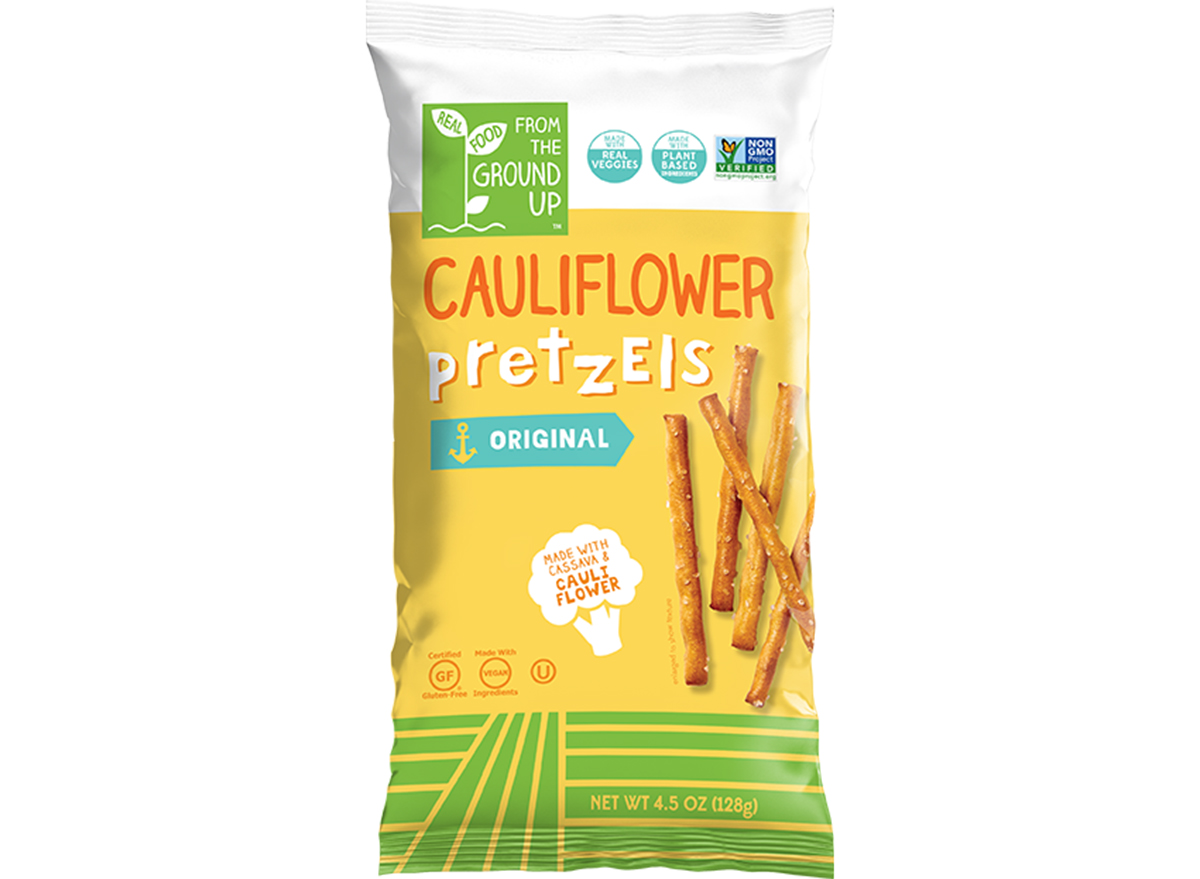 These grain-free, gluten-free pretzels boast a deep, roasty flavor from the hidden cauliflower. From the Ground Up also sneaks in six more veggies, from spinach to tomatoes, in their recipe.
CAULIPOWER Original Chicken Tenders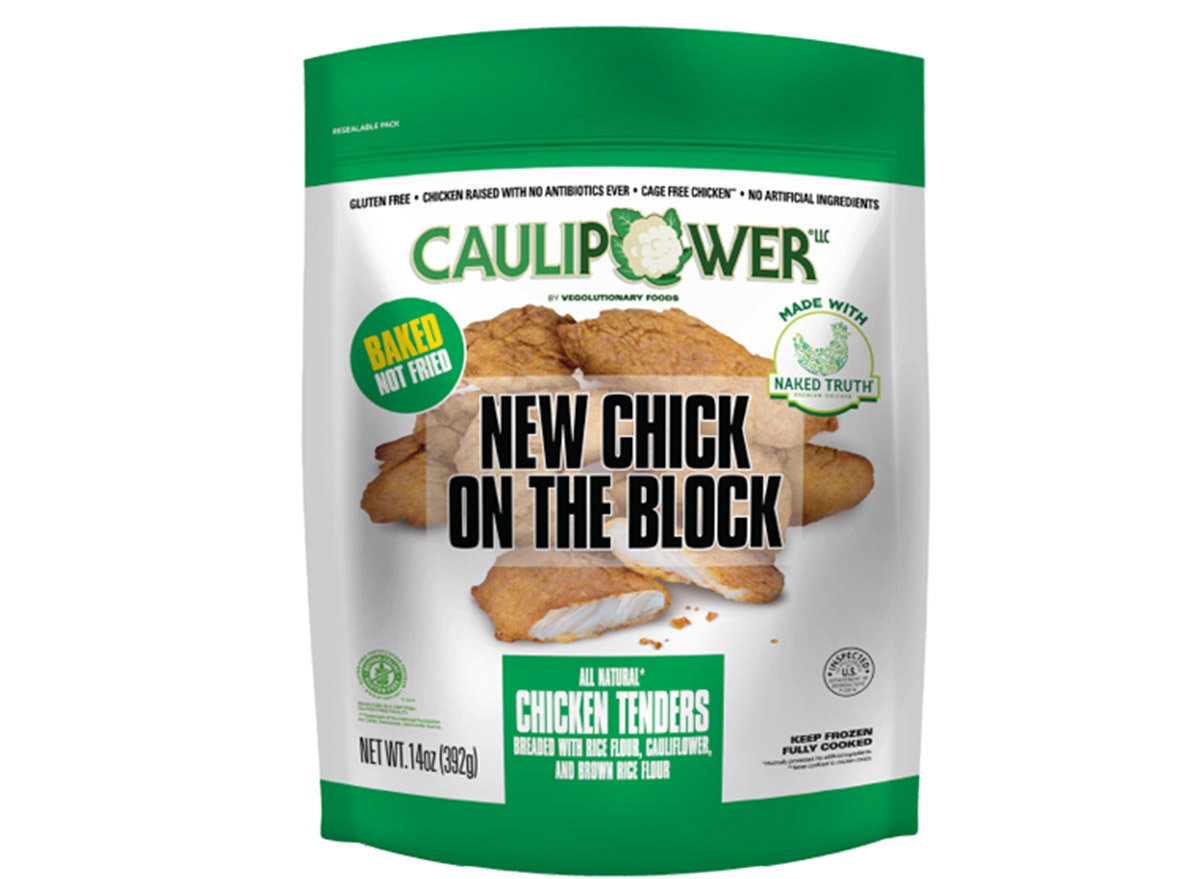 Yes, these tenders are gloriously coated with a blend of cauliflower and rice flour, but perhaps more importantly, they're the first baked (not fried) chicken tender available on the market. That means guilt-free munching!
Purely Elizabeth Strawberry Hazelnut Cauli Hot Cereal
Freeze-dried cauliflower instead of oatmeal? It sounds bizarre, but Purely Elizabeth is onto something here. The cauliflower turns into a creamy, velvety texture when you add boiling water. It's all brightened up with tangy strawberries and mellowed out by roasted hazelnuts for a deliciously convenient breakfast cup.
Outer Aisle Cauliflower Sandwich Thins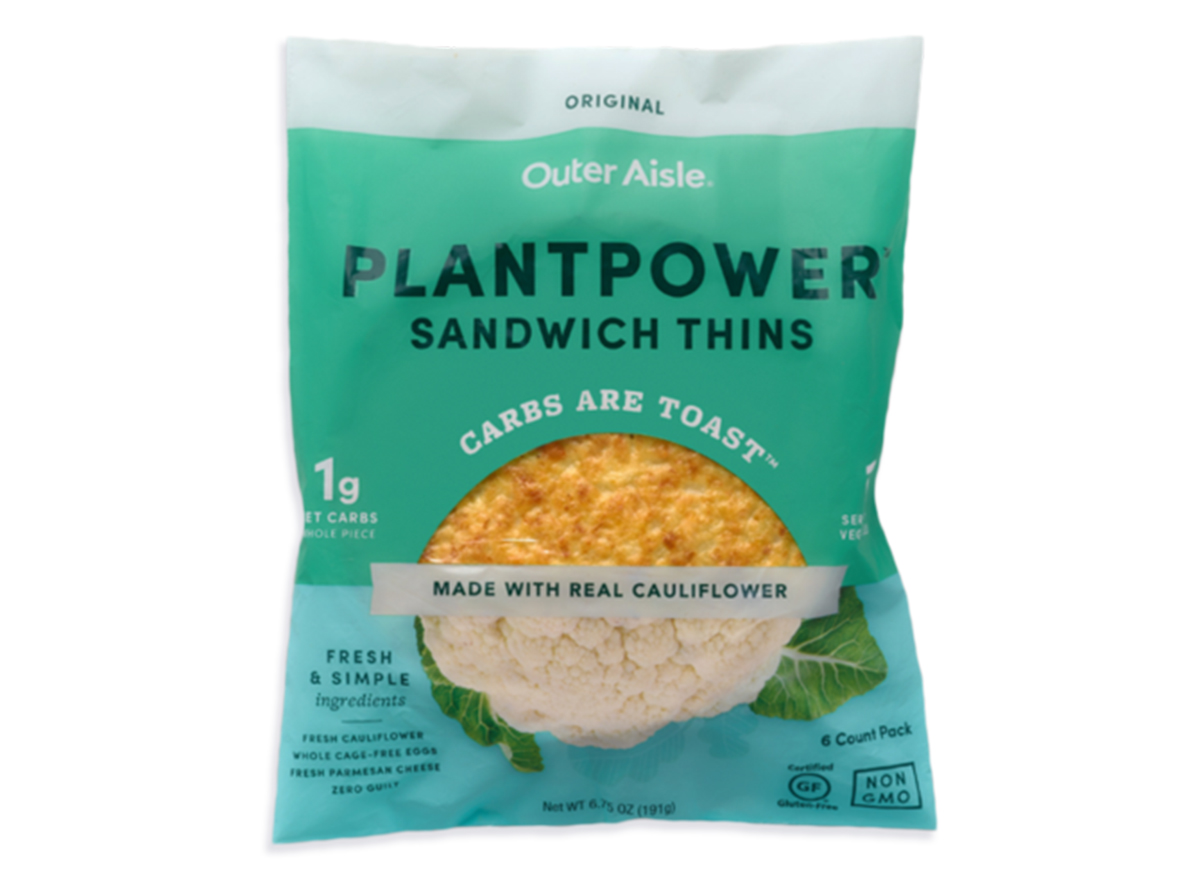 We know pizza crust is all the rage, but did you ever want to reap the same low-carb benefits on a sandwich? Whether you're watching your macros, you're gluten-free, or you just want to get more veggies in your diet, try these cauliflower sandwich thins for Outer Aisle the next time you make your avocado toast.
Green Giant Garlic & Herb Mashed Cauliflower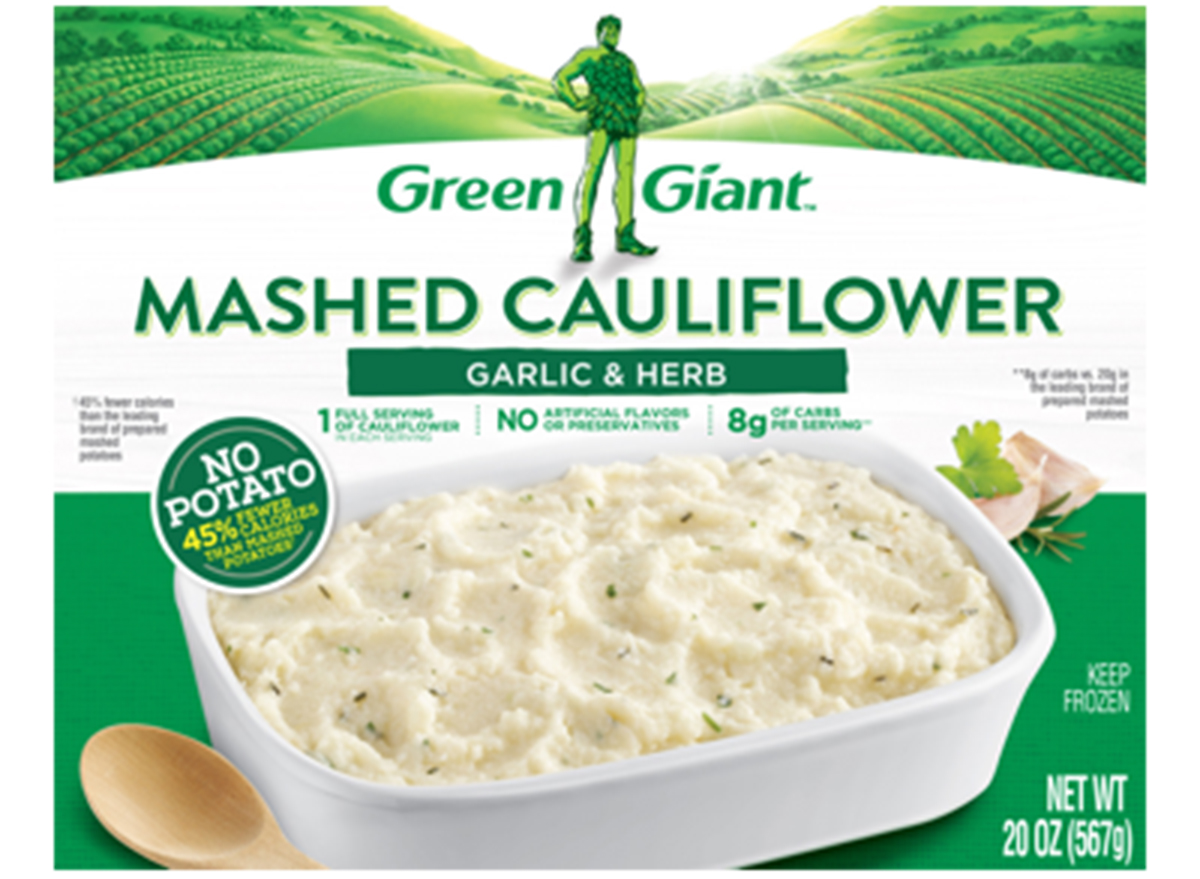 Mashed potatoes are true soul food, but if you're interested in a lighter take on the dinner table classic side, check out this product from Green Giant. It's a fun way to eat vegetables, but more importantly, it's extremely convenient to prepare: The mashed cauliflower is already seasoned and all you need to do is pop in the microwave to reheat.
Hippie Snacks Cauliflower Chips, Original
Crunchy, dippable, and craveable. You'll want to keep a bag of these cauliflower chips on your desk at all times for when those cravings hit.
Cece's Veggie Co. Riced Organic Veggie Medley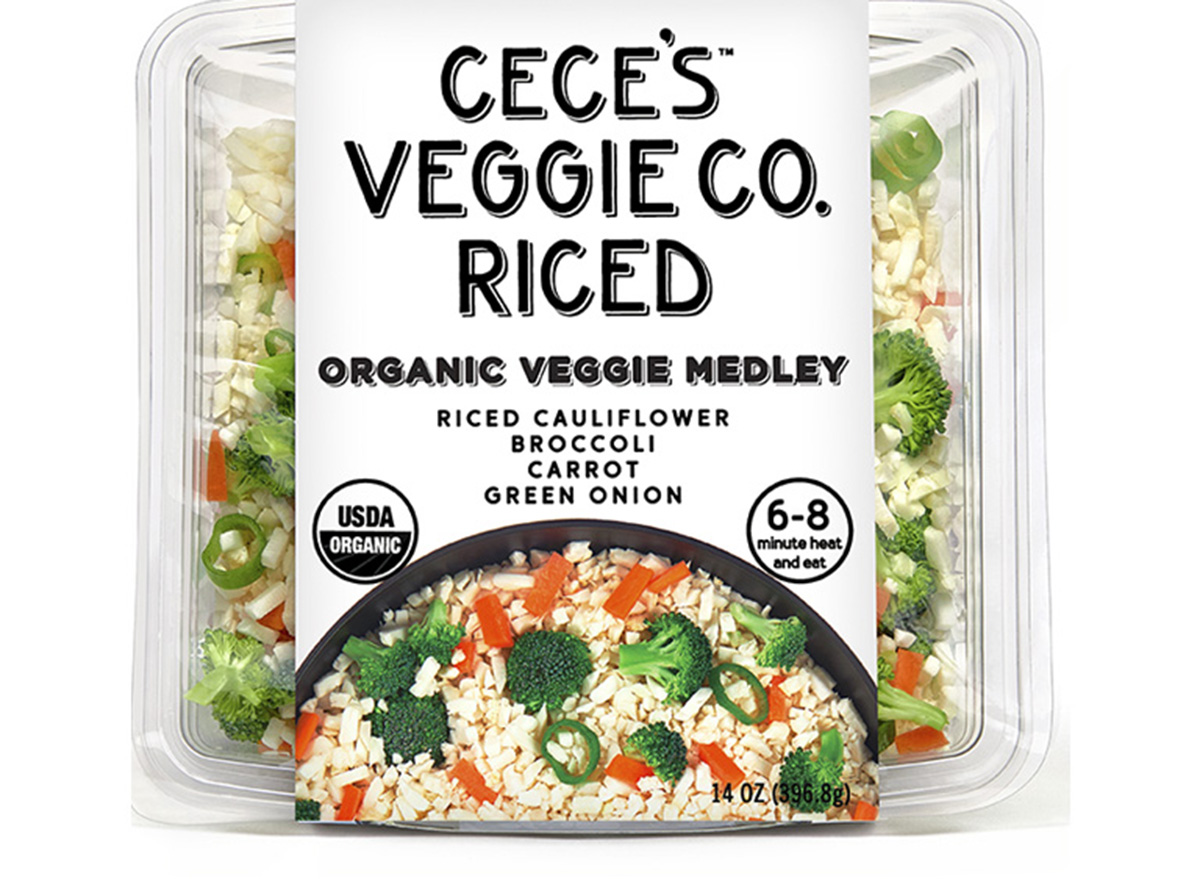 Want to whip up some fried rice without the rice? Buy a fresh package of Cece's Veggie Co's veggie medley featuring riced cauliflower, broccoli, carrot, and green onion.
Keto foods
People are still buzzing about the keto diet—a high-fat, low-carb diet. Looking ahead, keto will continue to be a top food trend for 2020. If you're looking for a few high-fat, low-carb snacks, here are a few you can easily stock up in your kitchen.
Lilly's Organic Original Keto-Cauliflower Hummus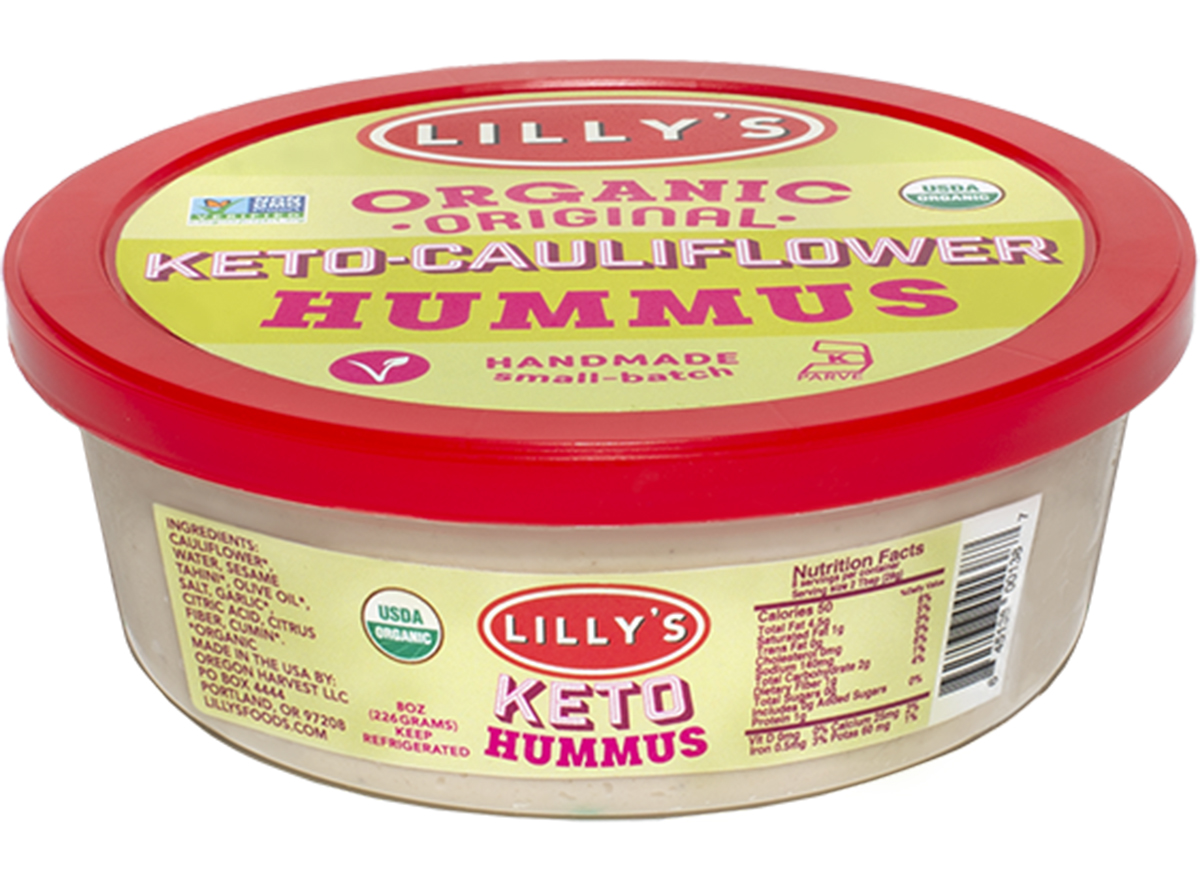 Lilly's combined two of the biggest trends—cauliflower and keto—and married them in this innovative product. The brand uses cauliflower instead of chickpeas to lower the carb count of traditional hummus, making this a keto-friendly snack.
Hilo Super Cheesy Snack Mix
Cheese and nuts are easy high-fat snacks to have on the keto diet, so why not have them together? Hilo's Super Cheesy Snack Mix will combine different types of baked cheese and flavored nuts in one mix. If you're a ranch lover, stock up on their Really Ranchy flavor.
Blue Diamond Gourmet Black Truffle Almonds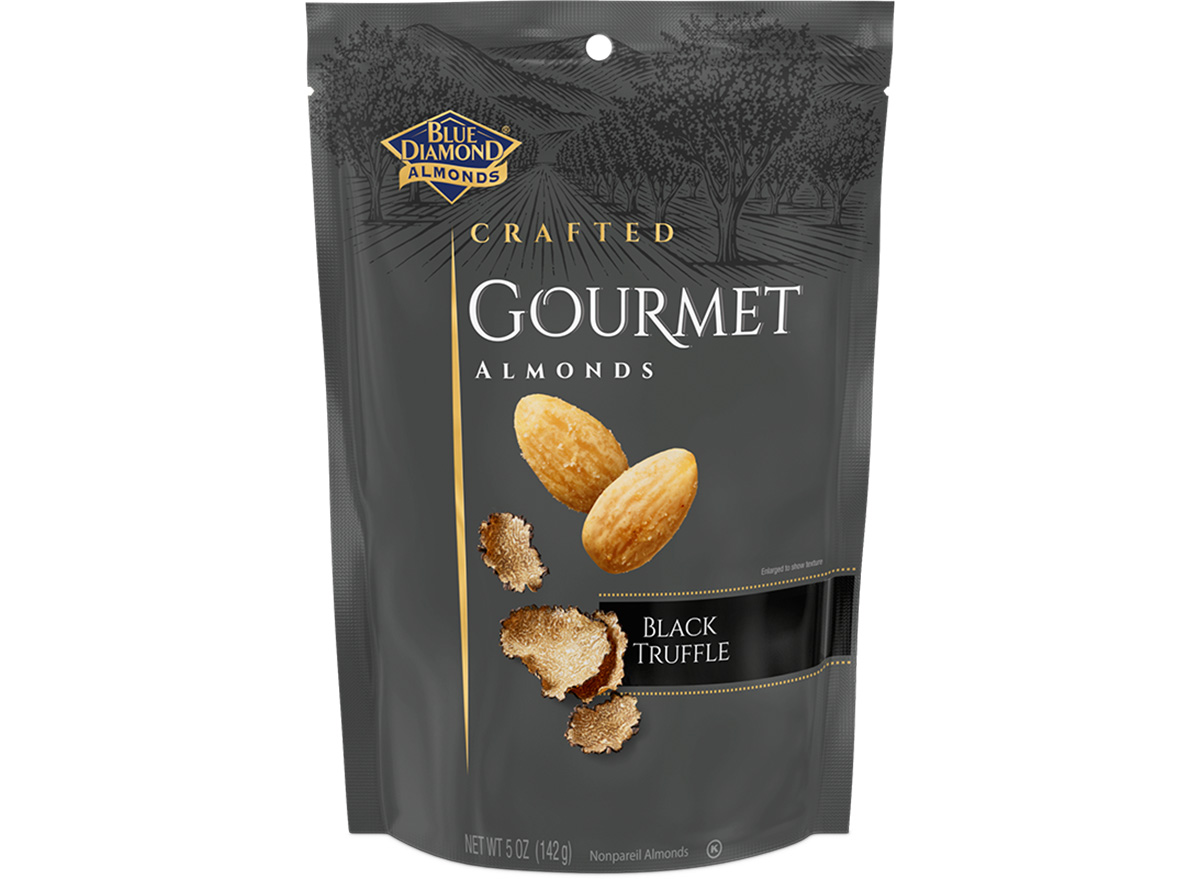 Again, nuts are an easy snack on keto, so take it up a notch with Blue Diamond's gourmet flavors! Their Black Truffle flavor seems almost too decadent to be such a simple snack, as well as their Rosemary and Sea Salt.
Enlightened Chocolate Peanut Butter Keto Ice Cream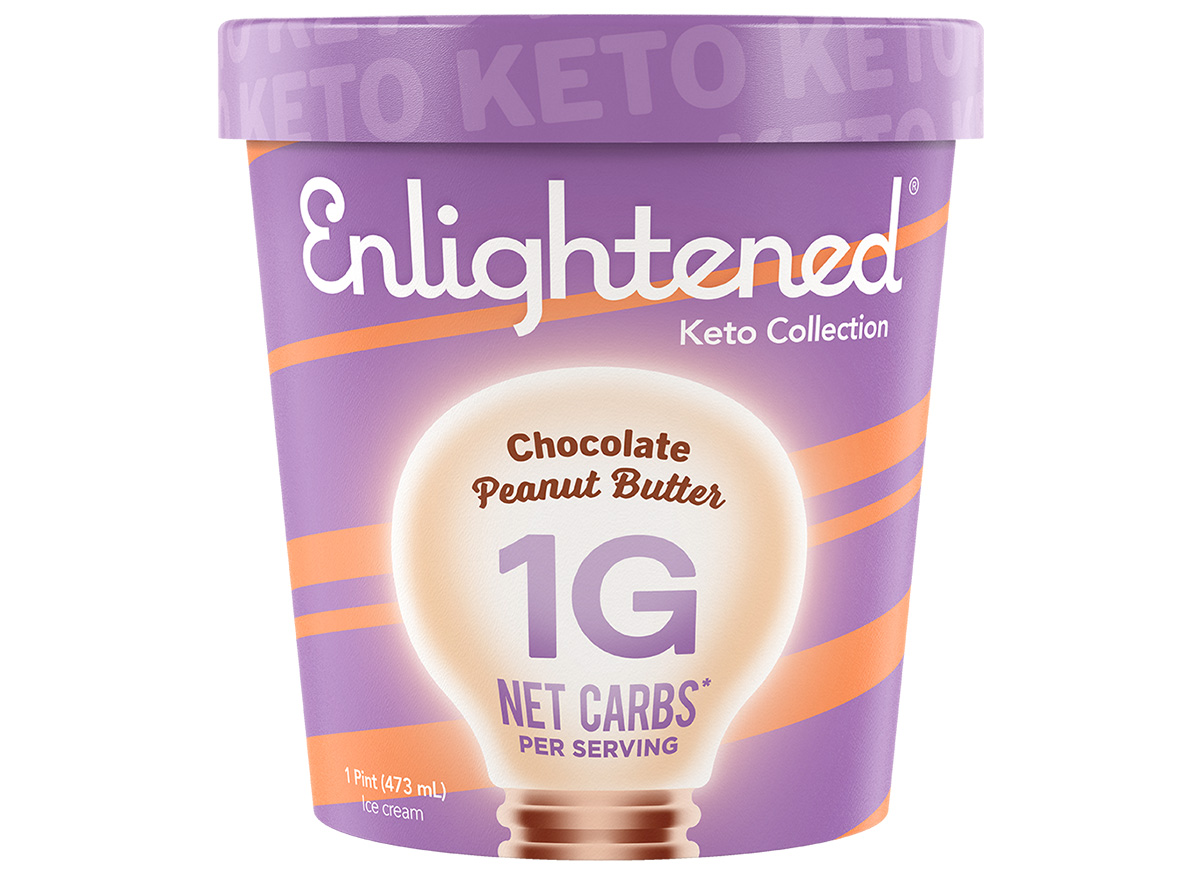 Enlightened's line of keto ice cream is so creamy and delicious, it's hard to actually imagine that it's a keto-approved food. With such a low net-carb count, this ice cream is the perfect indulgent treat that won't take you out of ketosis. There are numerous flavors in their keto line, but the Peanut Butter Chocolate flavor is particularly delicious.
Koia Keto Protein Shake, Cake Batter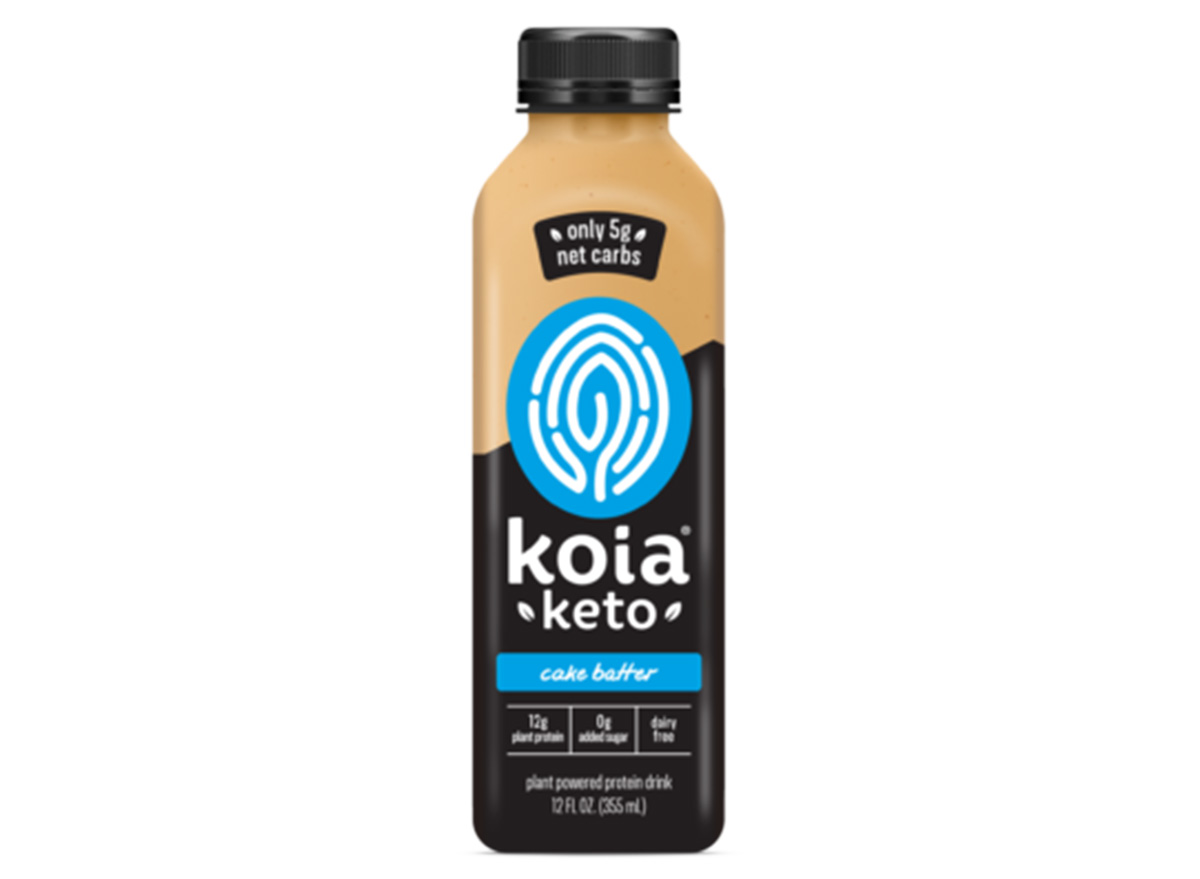 Craving a milkshake on keto? Snag a bottle of Koia Keto Protein Shake! Get a hearty dose of protein (12 grams per bottle) while still enjoying a delicious and filling snack. Made of coconut milk and a protein blend, their Cake Batter shake will feel like an indulgent treat.
Whips Asiago & Pepperjack Cheese Whisps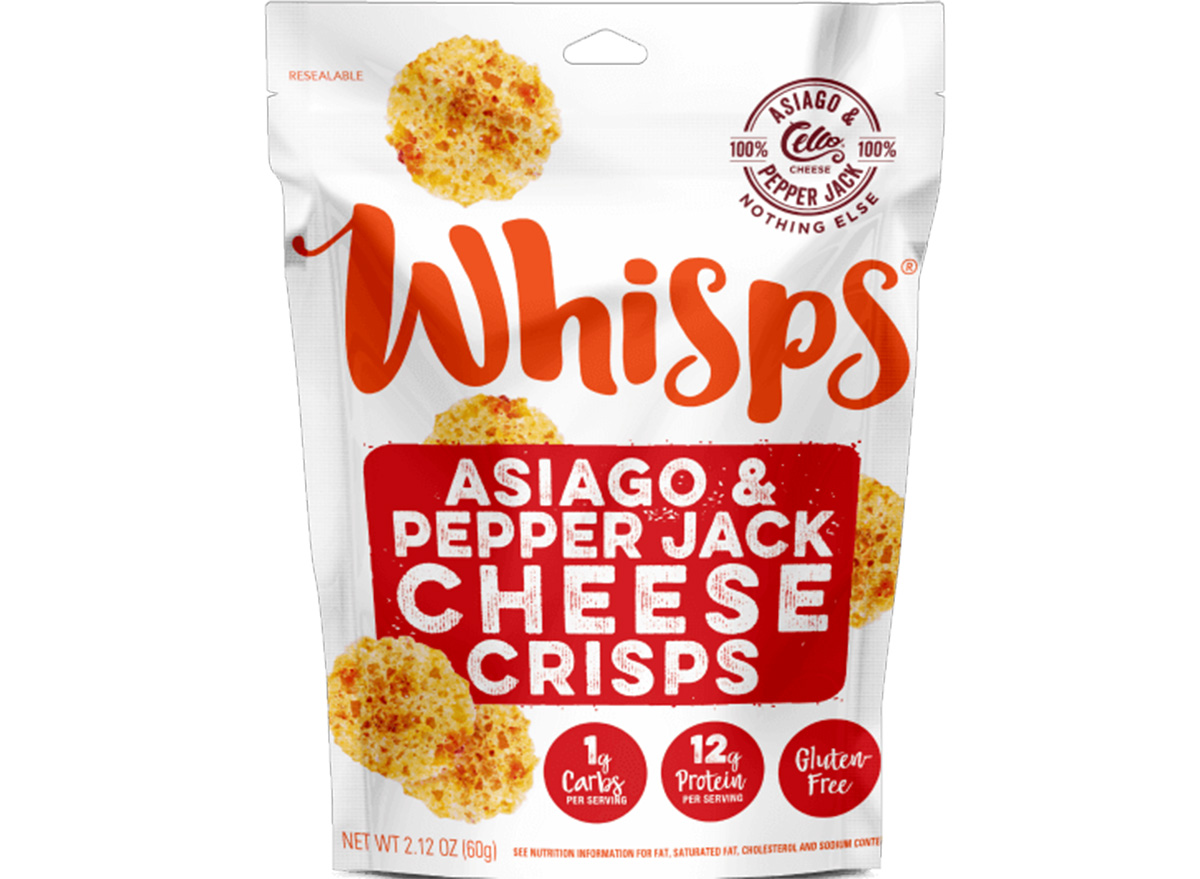 Miss having some simple crackers to snack on while on keto? Skip the Cheez-It's and grab a bag of Whisps instead! Made with 100% cheese, this snack only has 1 gram of carbs and a whopping 12 grams of protein per serving. You can also choose from all sorts of flavors including Bacon BBQ and Tomato Basil.
Chomps Turkey Jerky, Original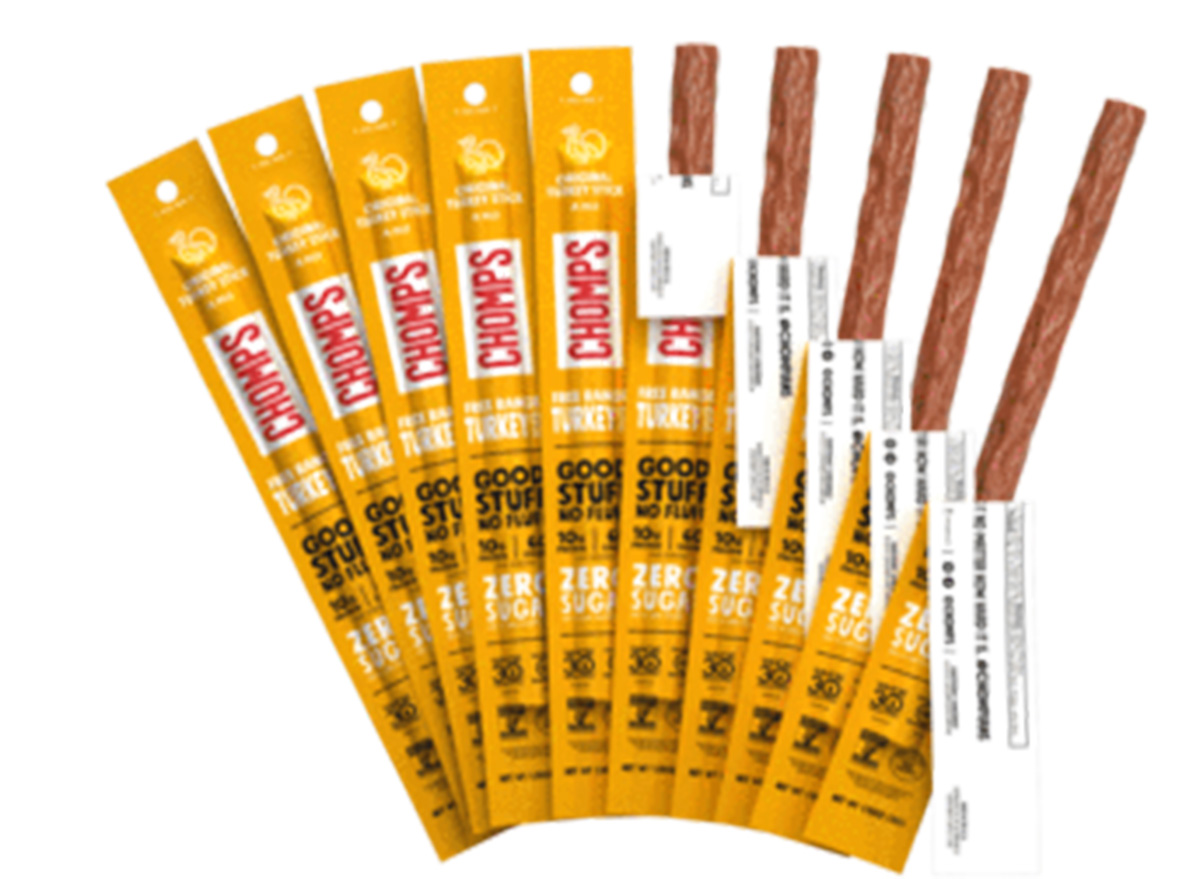 Meat is an encouraged part of the keto diet, but eating a cooked piece of chicken may not be ideal in terms of a snack food. Stock your kitchen with some Chomps jerky for those moments when you need a protein boost! The Free Range Turkey Jerky only has 60 calories per stick, with absolutely no grams of sugar or carbs.
Fat Snax Cookies, Double Chocolate Chip
Craving a sweet treat, but don't want to fall out of ketosis? Fat Snax Cookies are the snack to have for those moments! Their Double Chocolate Chip cookie is so good, you won't believe it's actually considered keto with just under 2 net carbs.
Flexitarian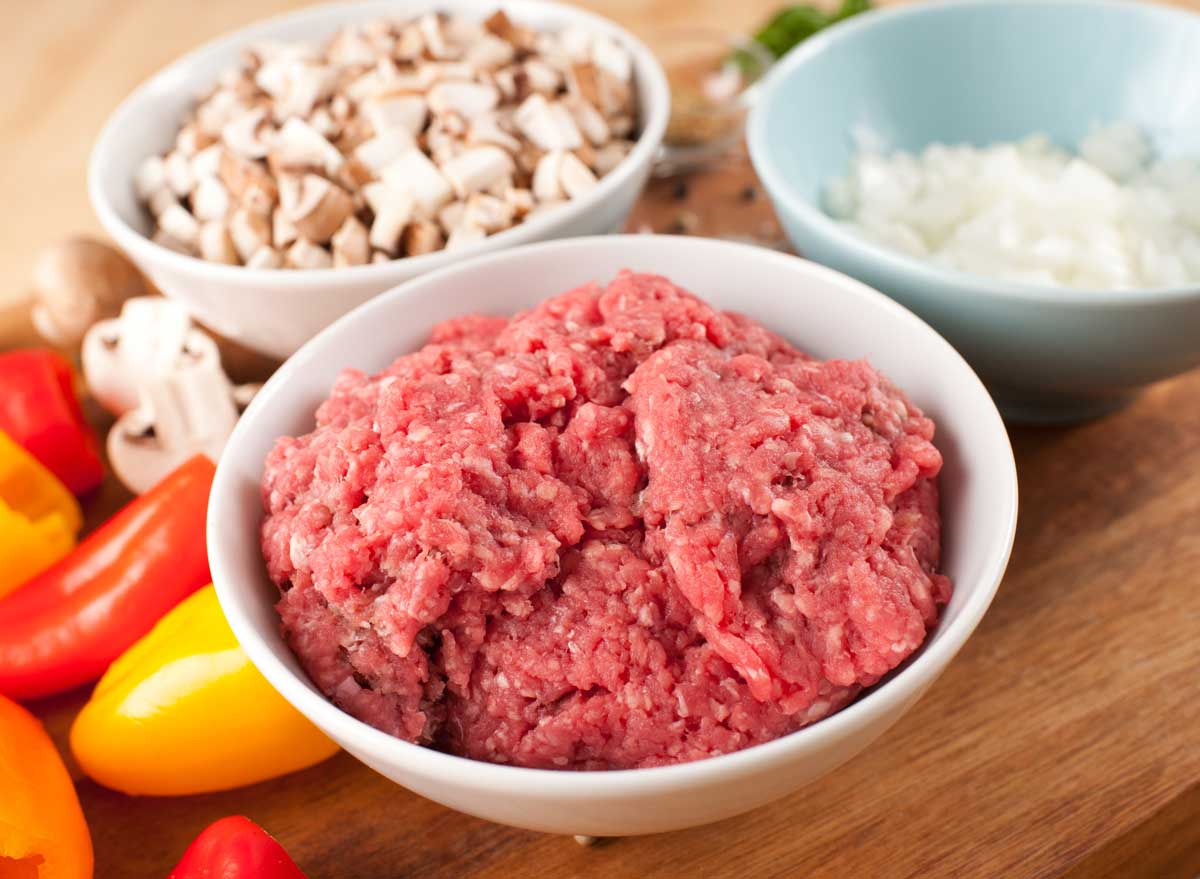 Don't want to sacrifice the meat you love in favor of those aforementioned plant-based alternatives? If you want to ease into eating more plants, we have just the right solution. All of these products are a blend of meat—either beef, chicken, or turkey—mixed with vegetables. The result is a simple way to sneak in more veggies onto your plate.
Aidelis Falafel Seasoned Chicken & Quinoa Balls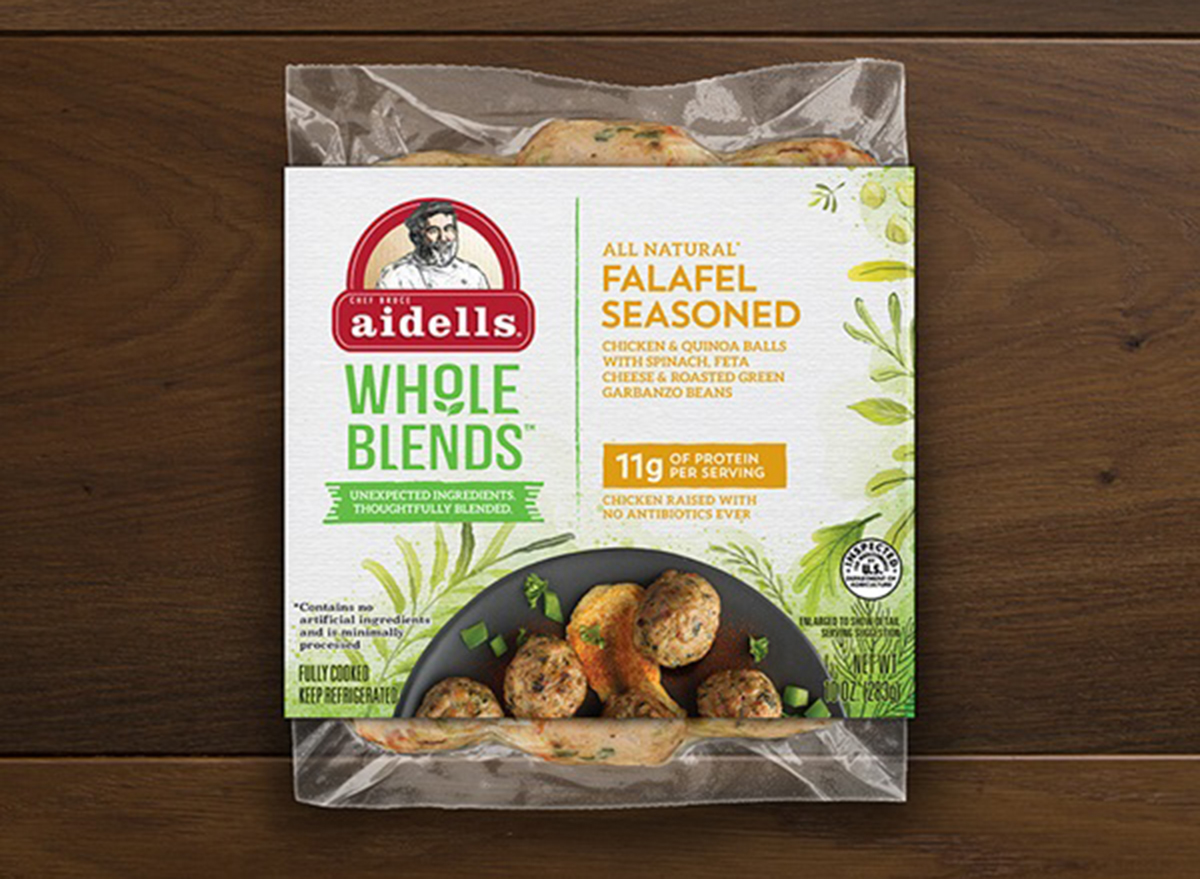 Between the chicken and quinoa, these falafel-seasoned meatballs are the perfect blend of starch and meat that will pair perfectly with some of your favorite Mediterranean dishes. You even get 11 grams of protein, and it has flavors of roasted green garbanzo beans, spinach and creamy feta cheese.
Applegate Organics The Great Organic Blend Burger Turkey Burger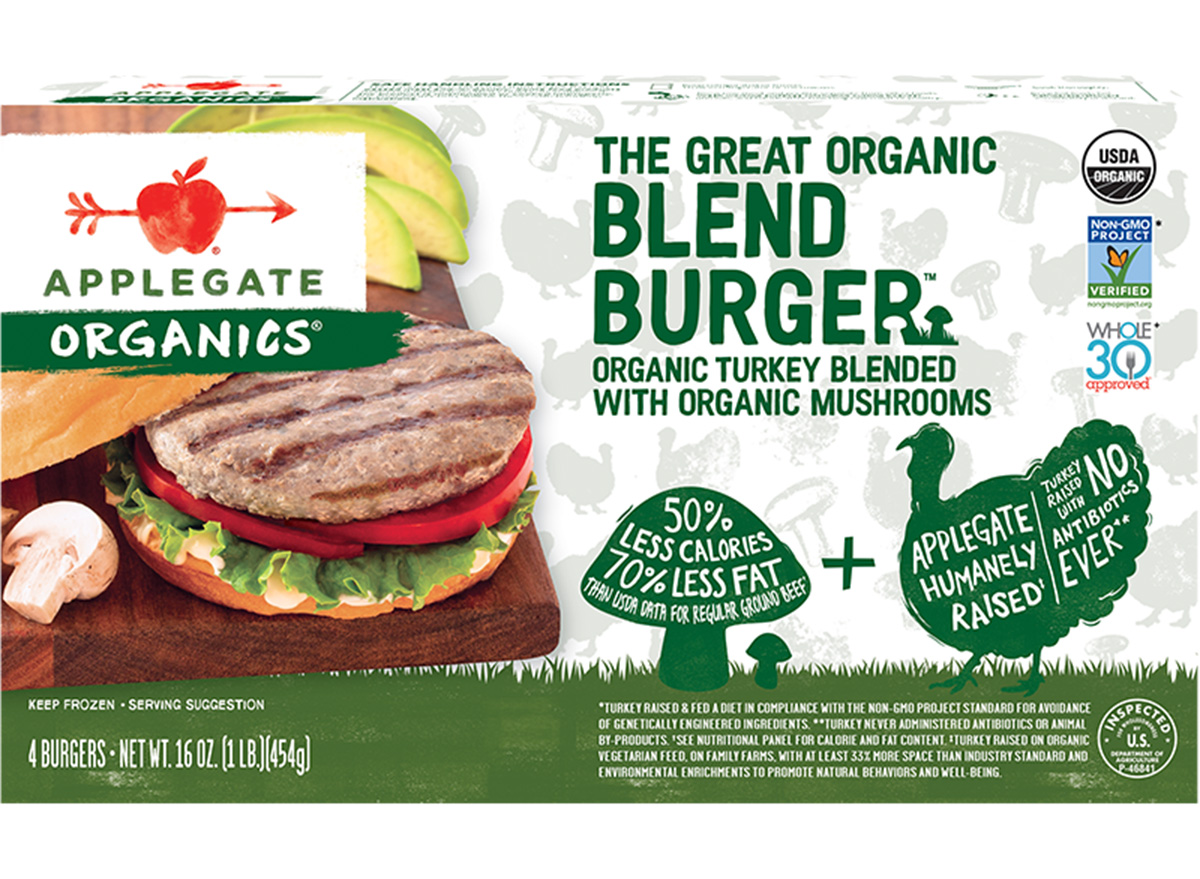 Blended with organic turkey and mushrooms, this burger is the perfect balance between meat and vegetables while still giving you that delicious turkey-burger taste you're craving for dinner. Plus, the ingredient list is small with only three simple ingredients! Organic turkey, organic mushrooms, and organic rosemary extract.
Teton Waters Ranch Blended Burgers, Sea Salt & Cracked Pepper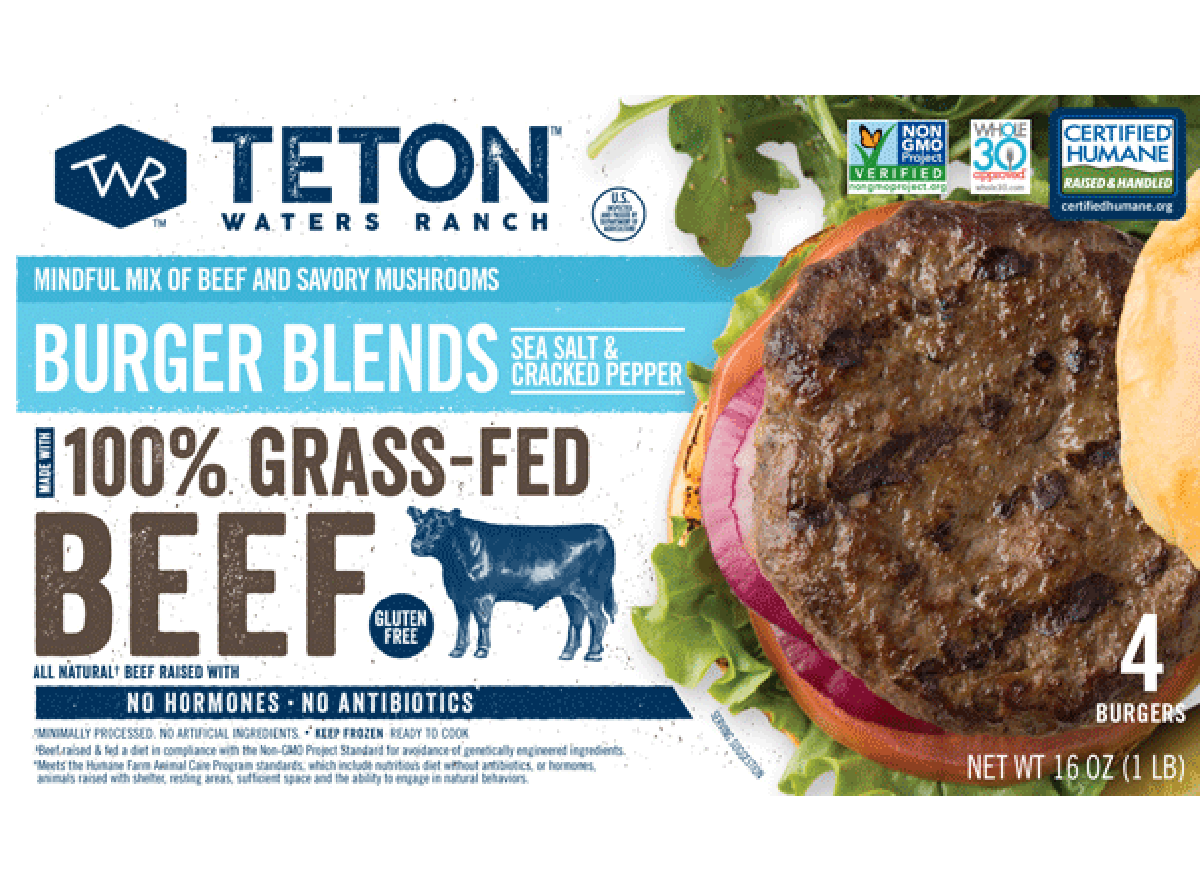 Not a fan of turkey burgers? Get the same type of burger blended with 100% grass-fed beef instead! Teton Waters Ranch Blended Burgers are made with grass-fed beef, mushrooms, salt, pepper, and rosemary extract yet again. If you want to add a little kick to your burger, buy a box of the Southwest Style instead. The patties are blended with poblano peppers.
Purdue Chicken Plus Chicken Tenders
Purdue sneaks a quarter cup of veggies—cauliflower and chickpeas—into a serving of these chicken tenders.
Protein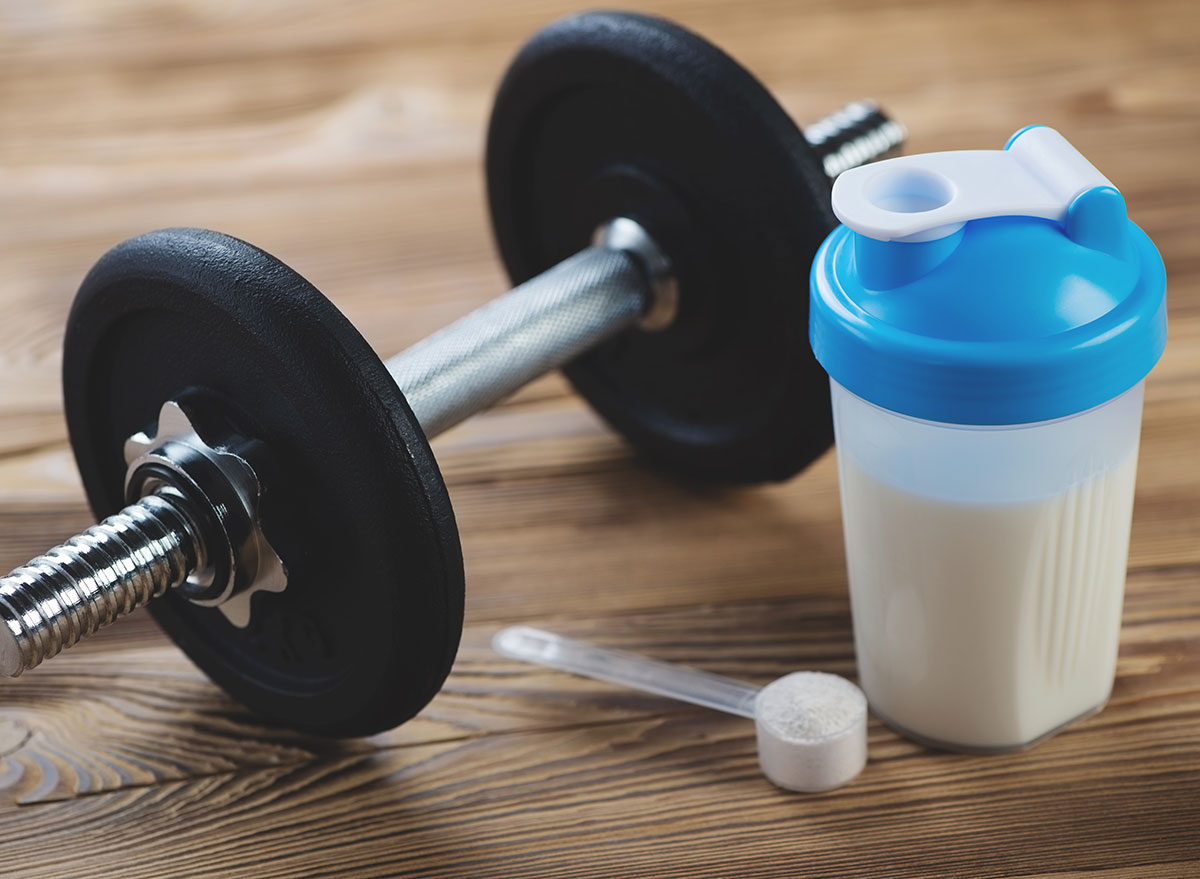 Why have you been seeing protein everywhere? The macronutrient will fill you up and help you actually feel full. Plus, it's particularly important if you're looking to build muscle. Now, you're not restricted to getting protein in more "traditional" forms like meat and eggs. Food brands are adding protein to all types of foods that typically left you hungry before. Each of these products are high-protein versions of your favorite foods.
Tone It Up Chocolate Peanut Butter Bars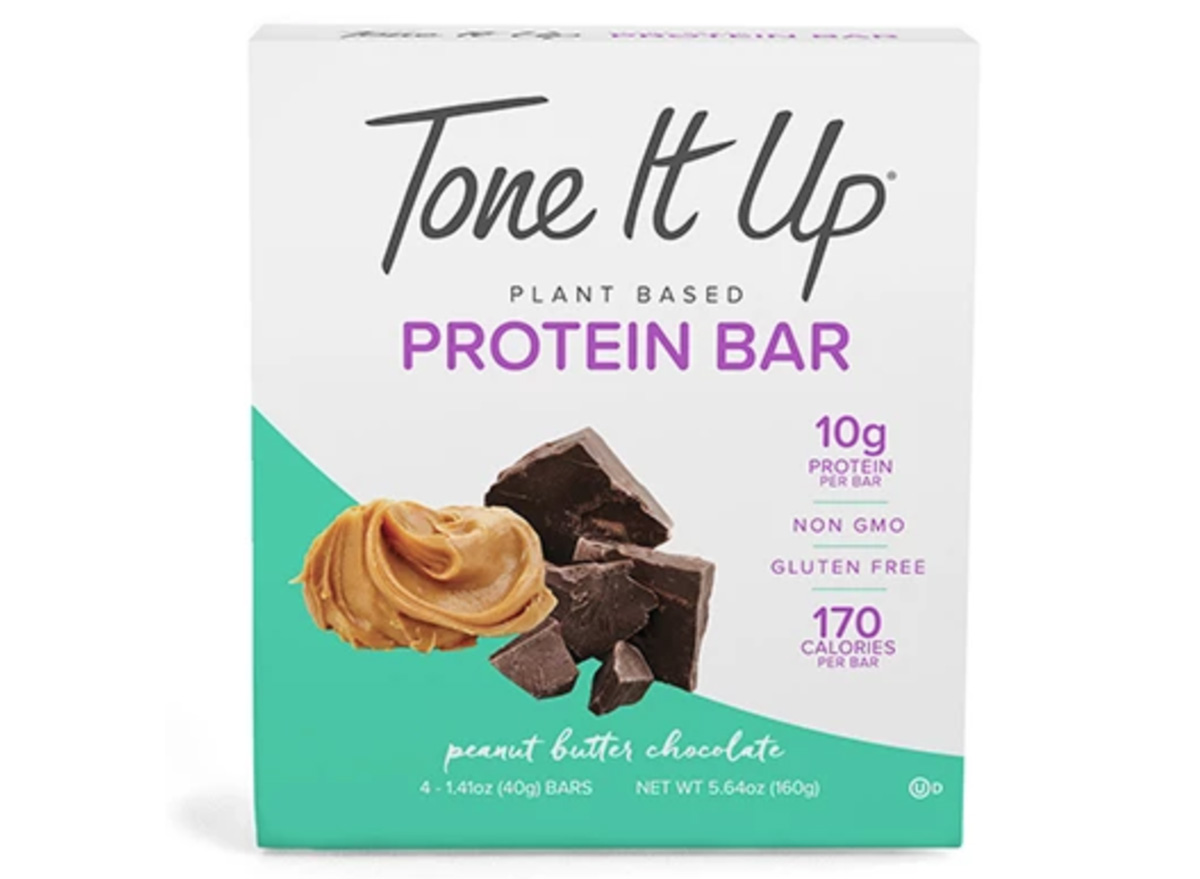 Most protein bars have a particular texture and taste, typically due to the type of protein added to the bar. But the Tone It Up bars are on a completely different spectrum! The 10 grams of protein per bar comes from the pea protein blend, a mixture of seeds, and peanuts. The texture is like biting into a granola bar, and the entire bar is plant-based.
Krusteaz Buttermilk Protein Pancake Mix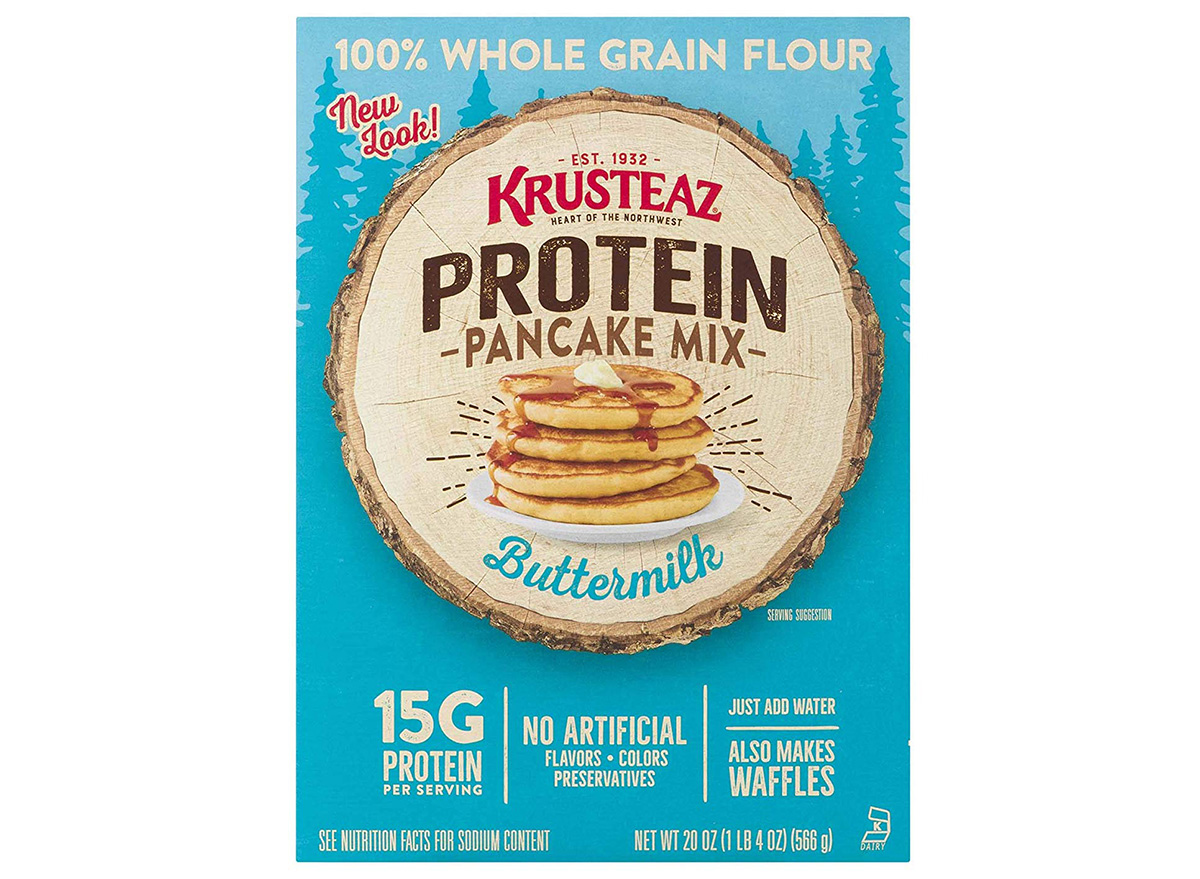 Wake up to a hearty dose of protein for breakfast with Krusteaz Buttermilk Protein Pancake Mix! Swap out your usual box of pancake mix with this Krusteaz blend, giving you 15 grams of protein per serving.
Horizon Organic High Protein Reduced Fat Milk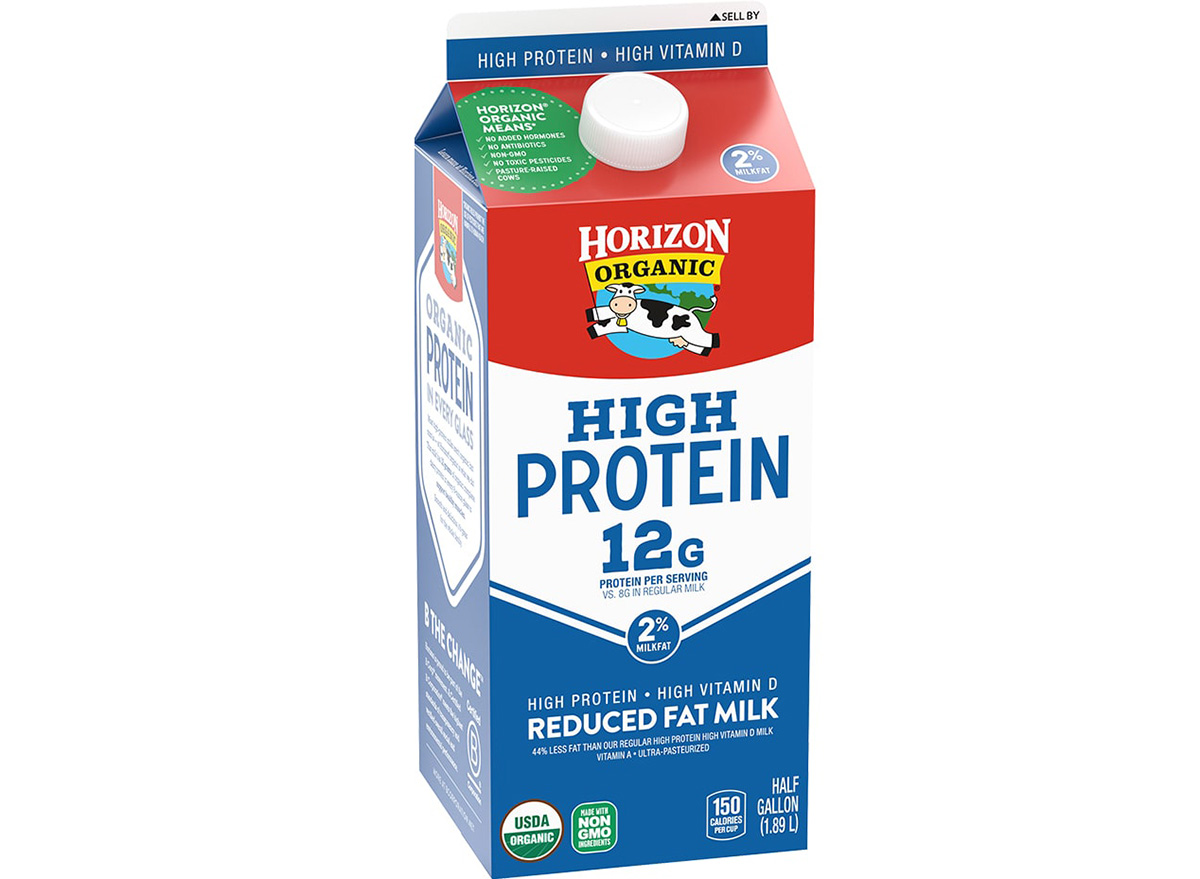 Not a fan of protein shakes? Make it easier for yourself by simply enjoying a glass of Horizon Organic High Protein Reduced Fat Milk. You can get 12 whole grams of protein per a simple eight-ounce serving, making it the perfect protein-packed item to add to your breakfast routine.
Kodiak Cakes Protein-Packed Power Waffles, Dark Chocolate
Protein pancakes and waffles are all the rage, but if you don't have the time to actually make a homemade blend, snag a box of Kodiak Cakes' protein-packed waffles instead. Their Dark Chocolate flavor is particularly decadent, with 12 grams of protein per serving.
Barilla Protein+ Penne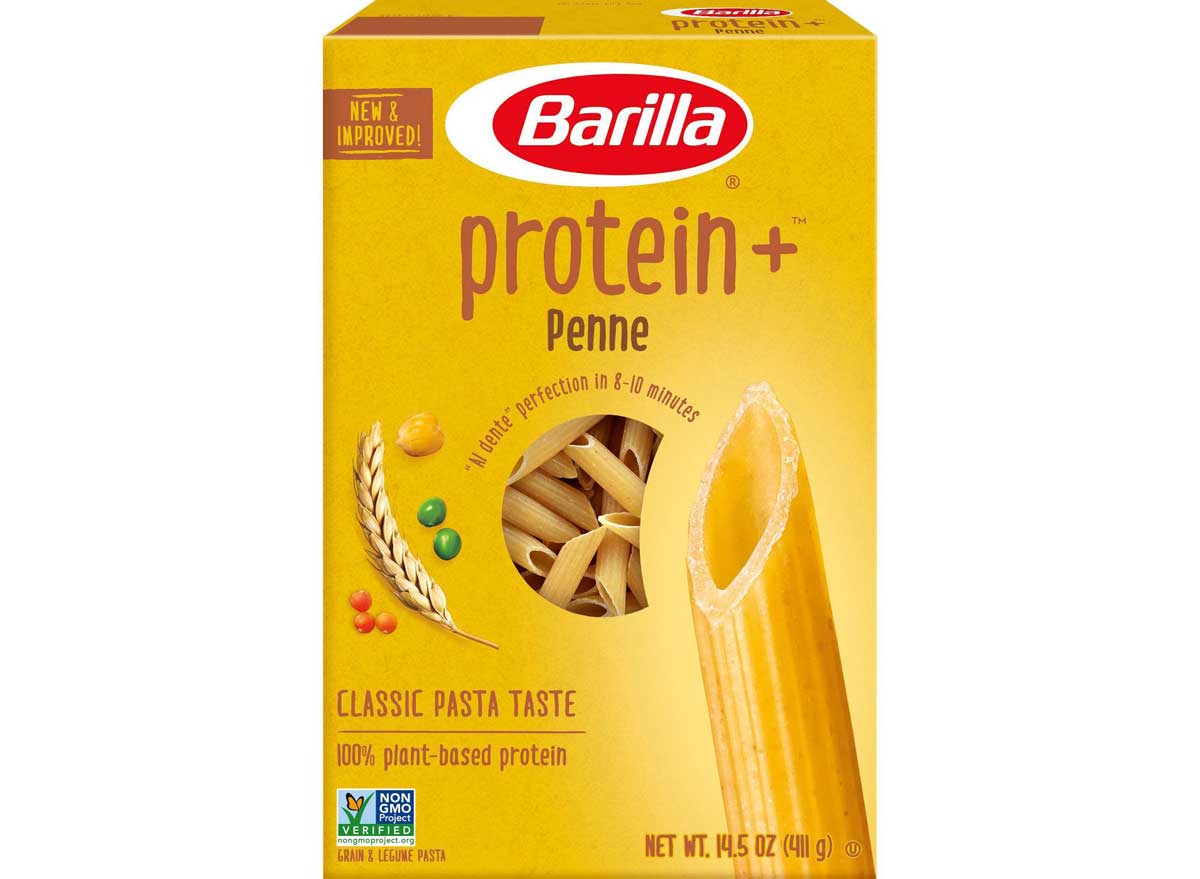 Give your pasta recipe an extra dose of protein by using Barilla's Protein+ Penne pasta. Made with 100 percent plant-based protein, this pasta gives you an extra 10 grams of protein per serving that is sure to satisfy.
Popcorners Flex Protein Crisps, Cheddar & Sour Cream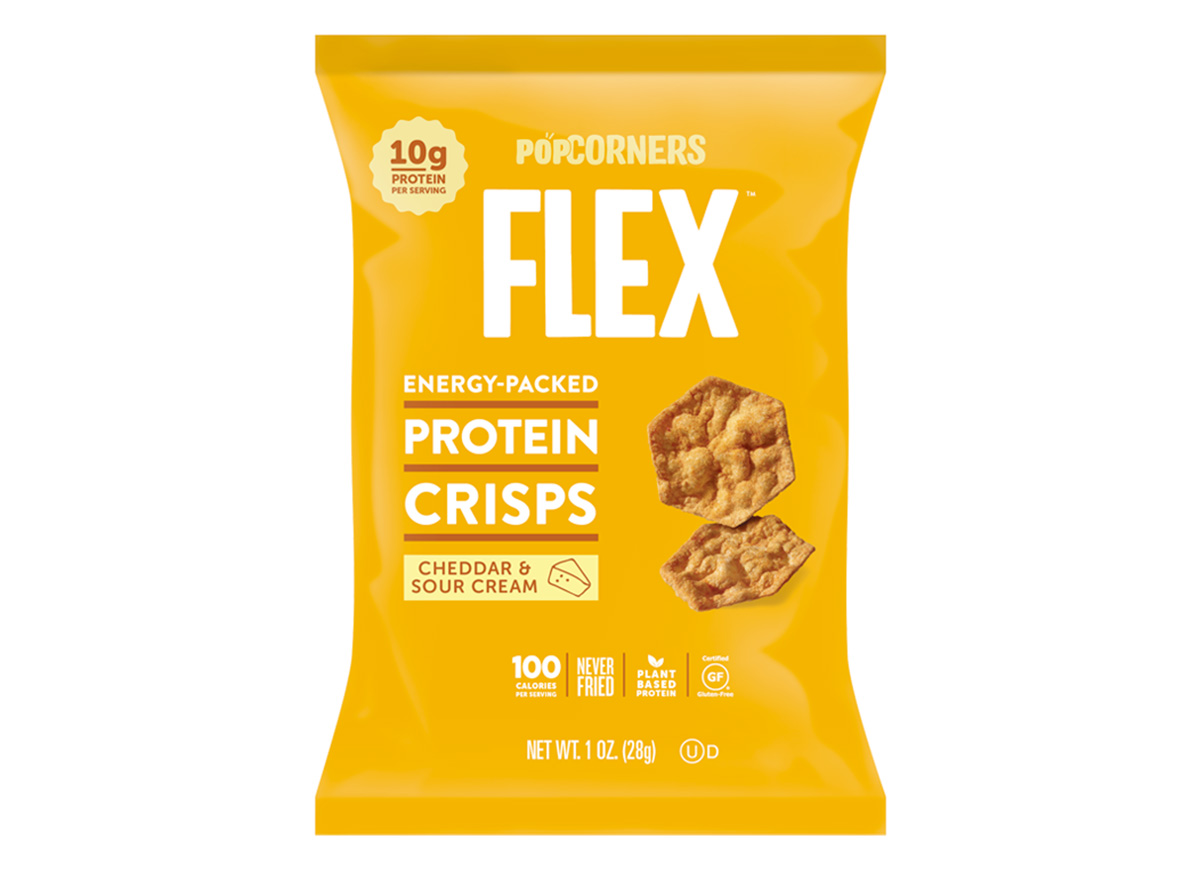 Craving a crunchy snack, but still need to get your daily protein intake up for the day? Popcorners Flex Protein Crisps are the perfect snack for just that. Their Cheddar & Sour Cream flavor is like having a bag of regular cheddar & sour cream chips, but only with 100 calories per serving and 10 whole grams of protein.
Clio Greek Yogurt Bars
It's like having a chocolate-covered slice of cheesecake, without actually having to make dessert! Clio Greek Yogurt Bars are the perfect high-protein dessert that leaves you feeling satisfied after every bite. Each bar has 8 grams of protein per serving and 170 calories or less. Snag Clio in all different flavors including Peanut Butter, Strawberry, Vanilla, Blueberry, Espresso, and Honey.
Oat-based products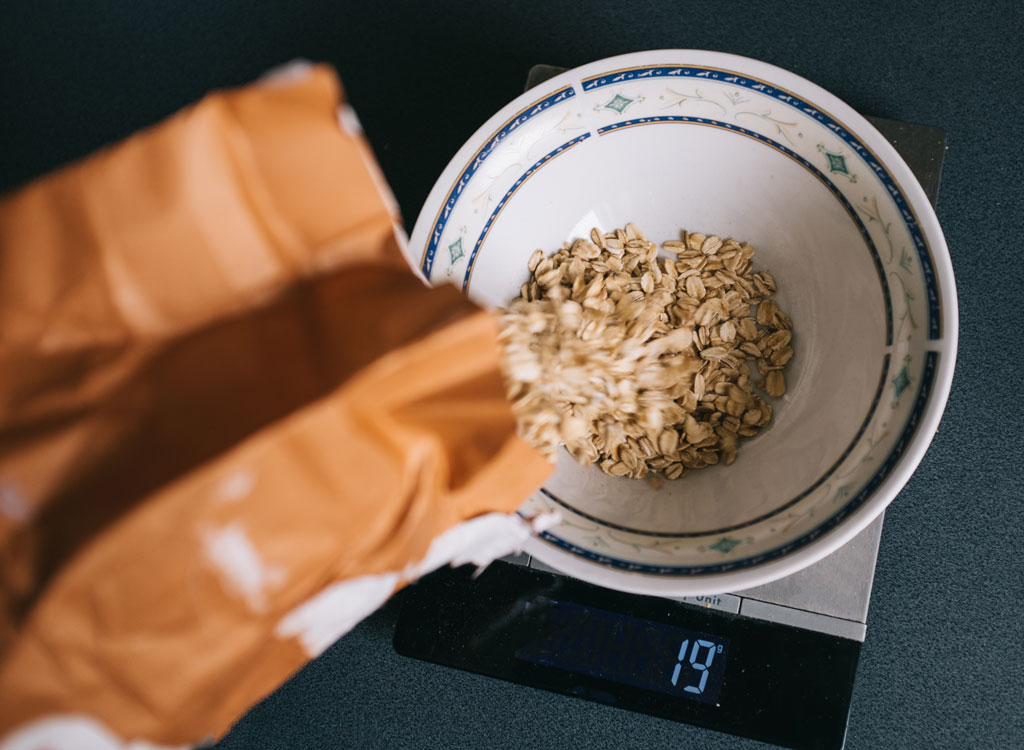 Almond milk is out, and oat milk is in. Why is it so popular? People love that oat milk lends a bit of a richer, creamier, thicker texture to their milk alternatives, unlike nut-based milks that tend to be watery. It's also free of major allergens. You can now find oat milk in nearly every product imaginable—just take a look.
Oatly Ice Cream, Salty Caramel
This ice cream is made from oats but don't think you'll be digging into a pint of oatmeal! The salted caramel flavor is rice and decadent like you would hope to get from a sweet treat like this.
Califia Farms Nitro Draft Oat Milk Latte, Black & White
Pop open a can of this oat milk latte and prepare for your tastebuds to go on a journey. One sip and your lips will be met with smooth nitro foam.
Nancy's Oatmilk Yogurt, Blueberry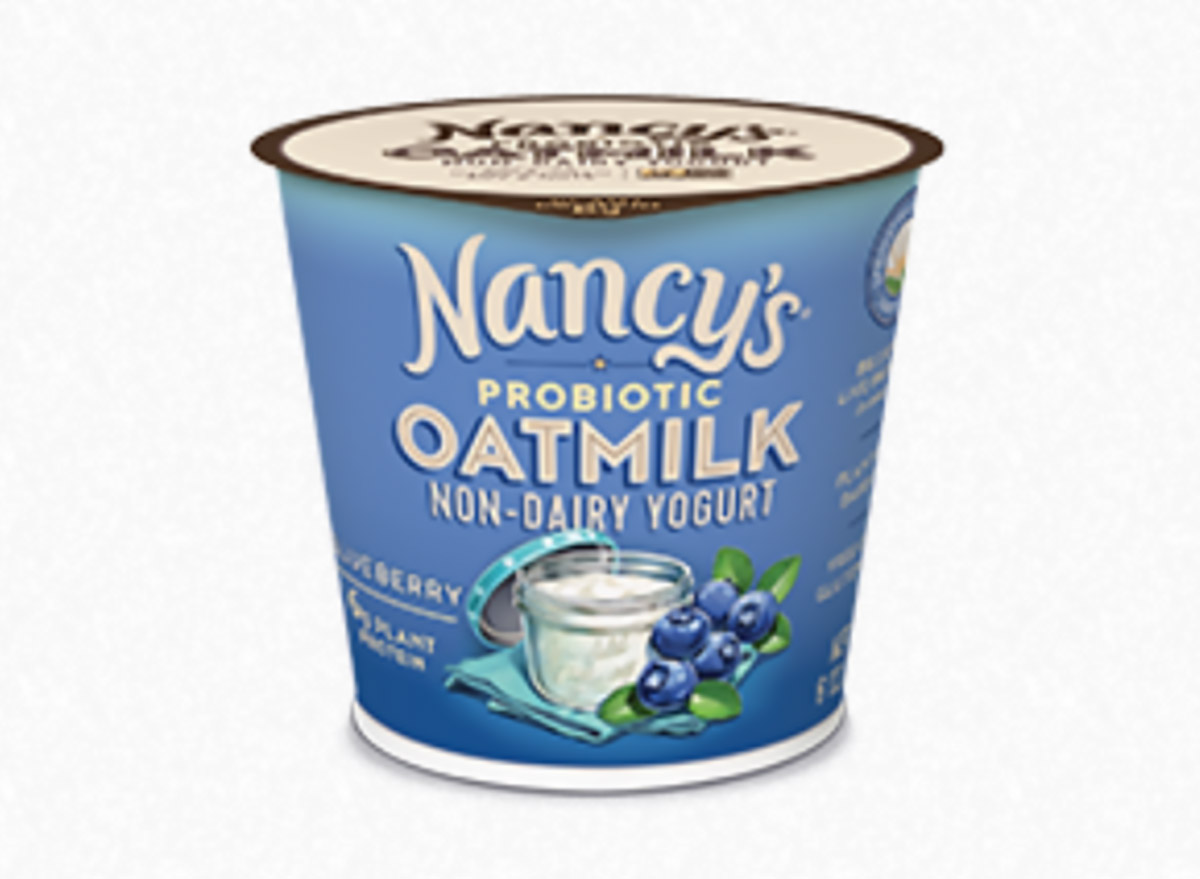 Craving a yogurt and is oh so creamy, tastes simply delicious and is plant-based? Look no further than Nancy's, with the blueberry being a top flavor choice.
Chobani Oat Peach Coconut Crisp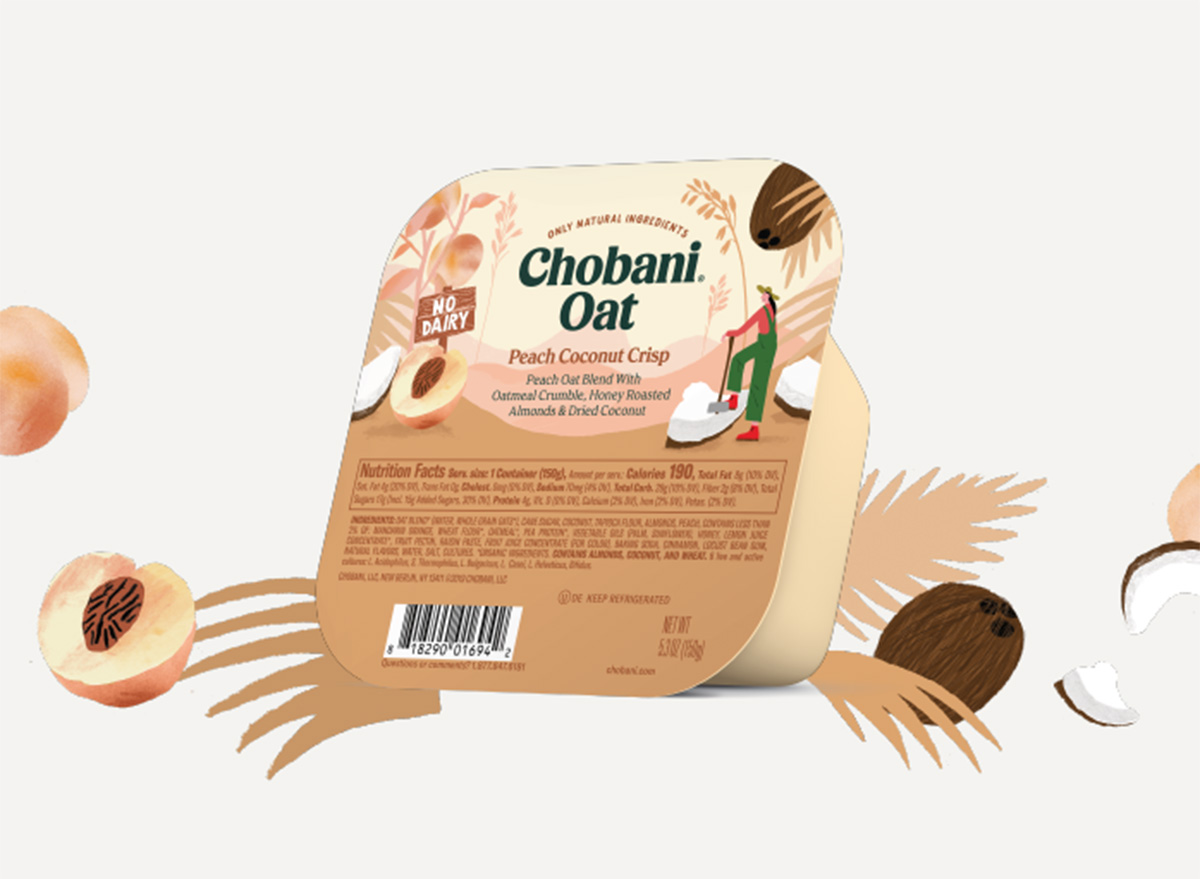 There's a good chance you'll be turning to this Chobani yogurt for dessert! Don't believe us? Well, allow the peach coconut crisp flavor from the new Chobani Oat line to prove otherwise, as it's made with oatmeal crumble, honey roasted almonds, and dried coconut.
OATH Protein Shake, Double Chocolate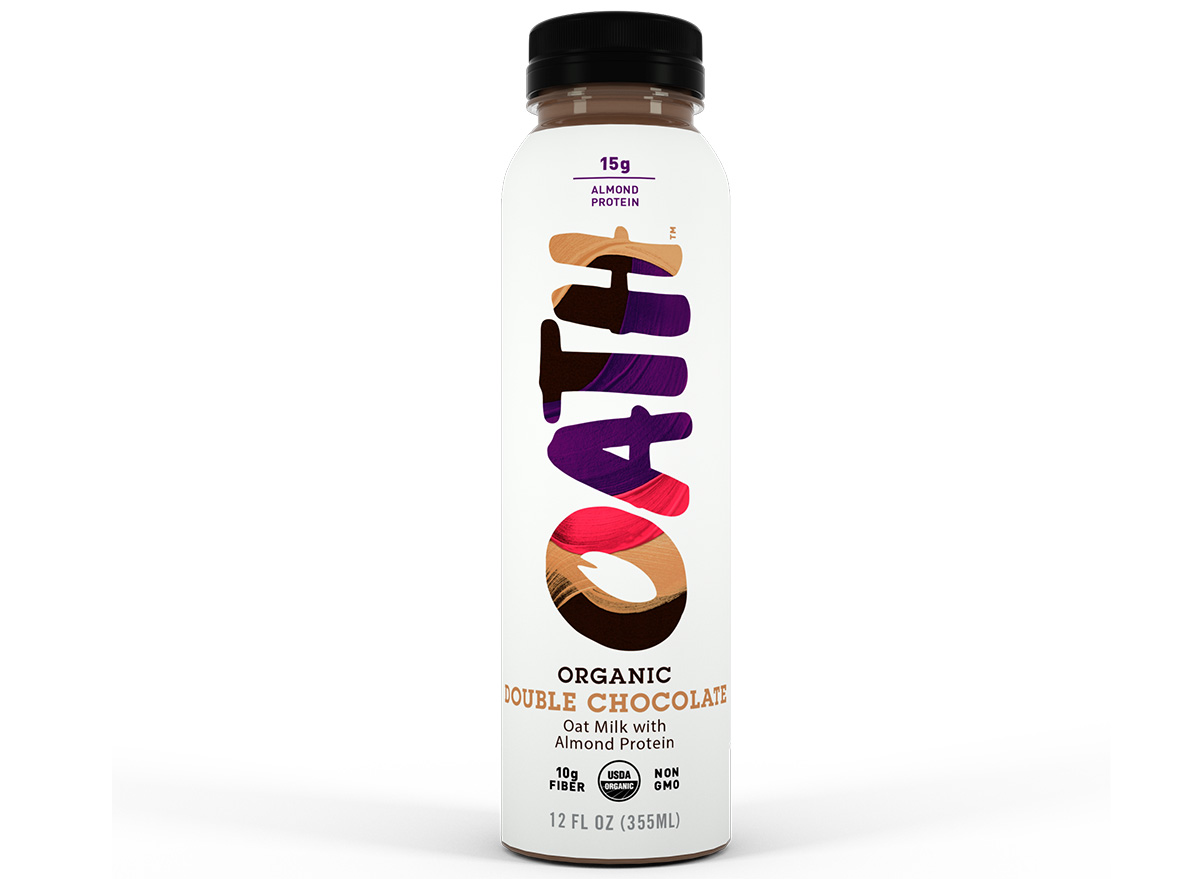 For when you're looking for something to take on the go for breakfast or for something to sip on when you're done with a workout, OATH's Protein Shakes are it. The double chocolate flavor is great as it can be heated up or served frozen for two different types of chocolate drinks!
Halsa Oatgurt Mango Pear Drink
Although this drink has no sugar added to it, don't worry, as it is plenty sweet. The mango pear is a knockout flavor, for all the right reasons!
Elmhurst 1925's Unsweetened Milked Oats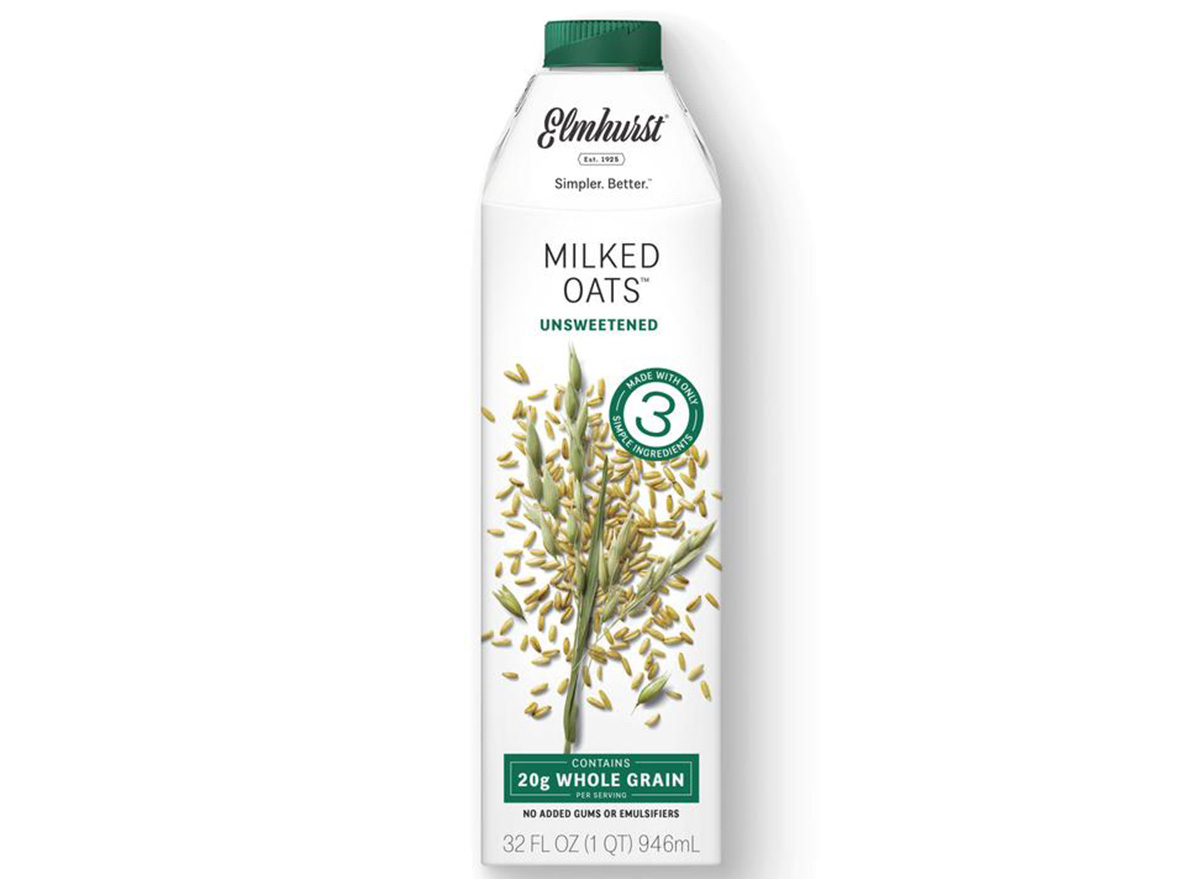 You don't have to worry about popping this oat milk in the fridge until you open it! Plus it's only made with three ingredients–can't get any simpler than that.
Live Real Farms Dairy + Oat Original Milk Blend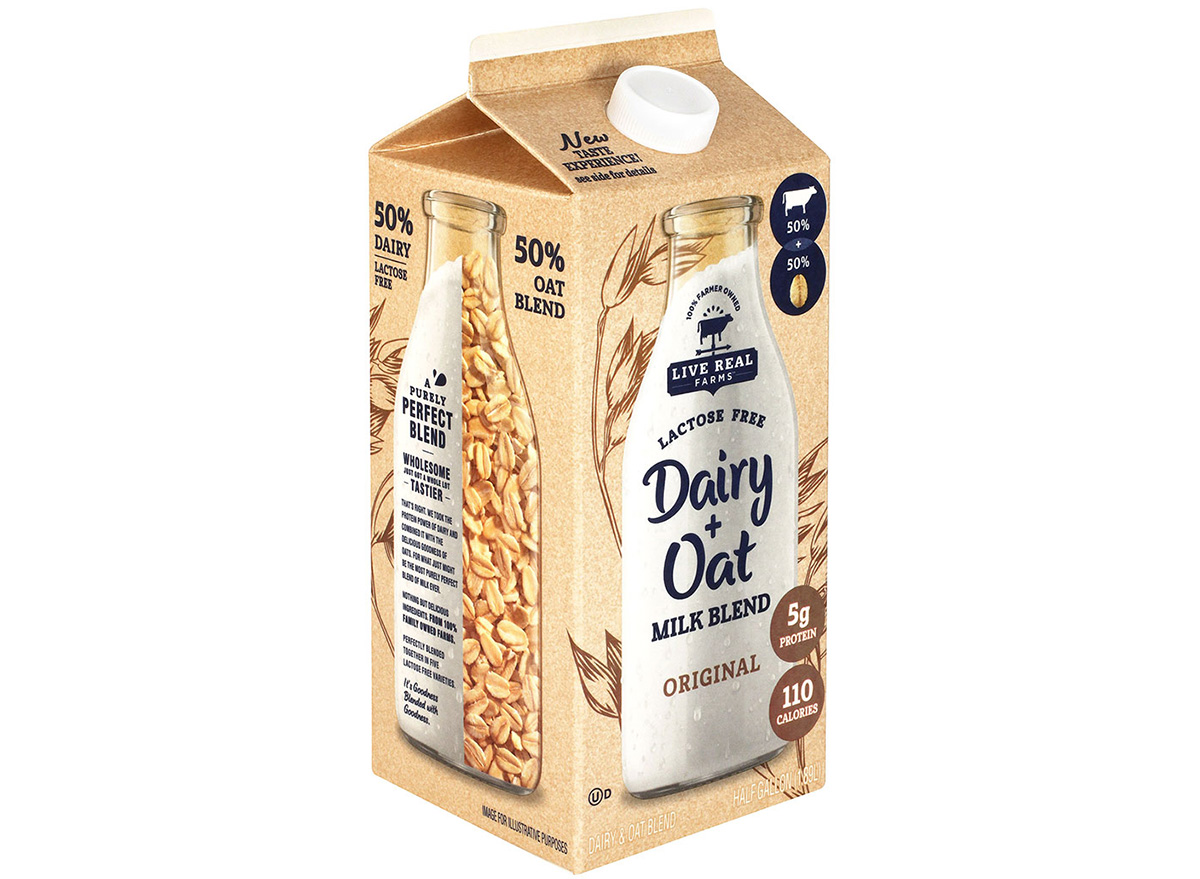 If you don't want to fully commit to an oat milk, opt for Live Real Farm's offering. It's a blend of oat milk and real dairy milk for a higher-protein oat milk that has a more familiar taste.
Low-cal sparkling waters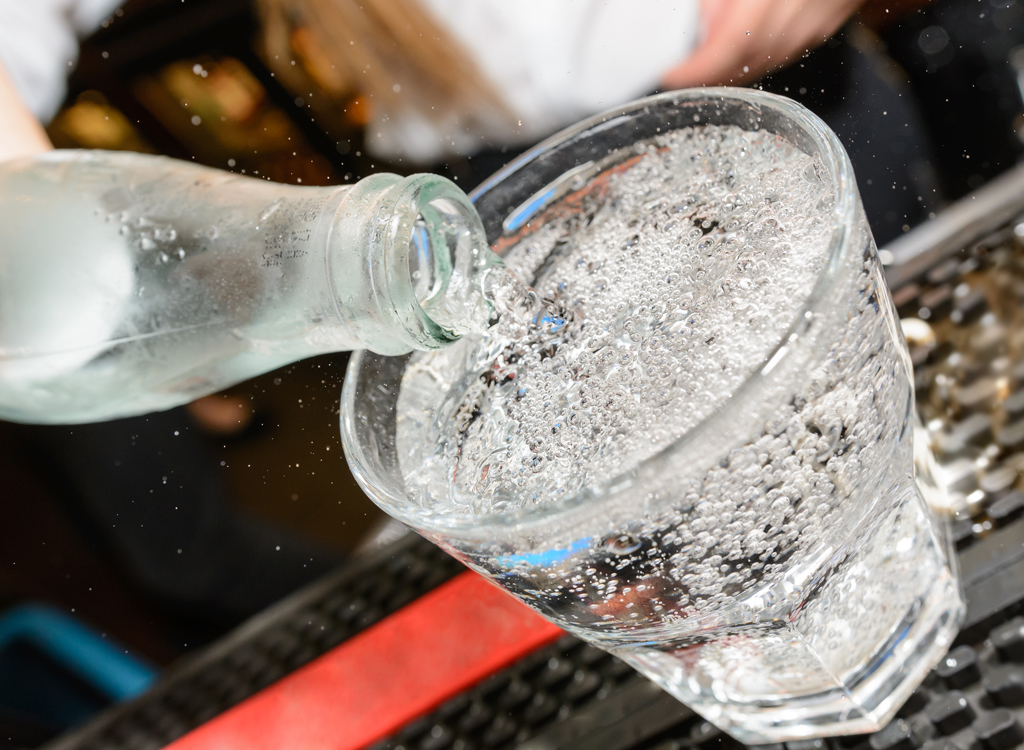 Soda sales have been dropping for almost half a decade now, as consumers favor their less-sugary, carbonated alternatives: sparkling water, seltzer, and club soda.
Spindrift, Cran-Raspberry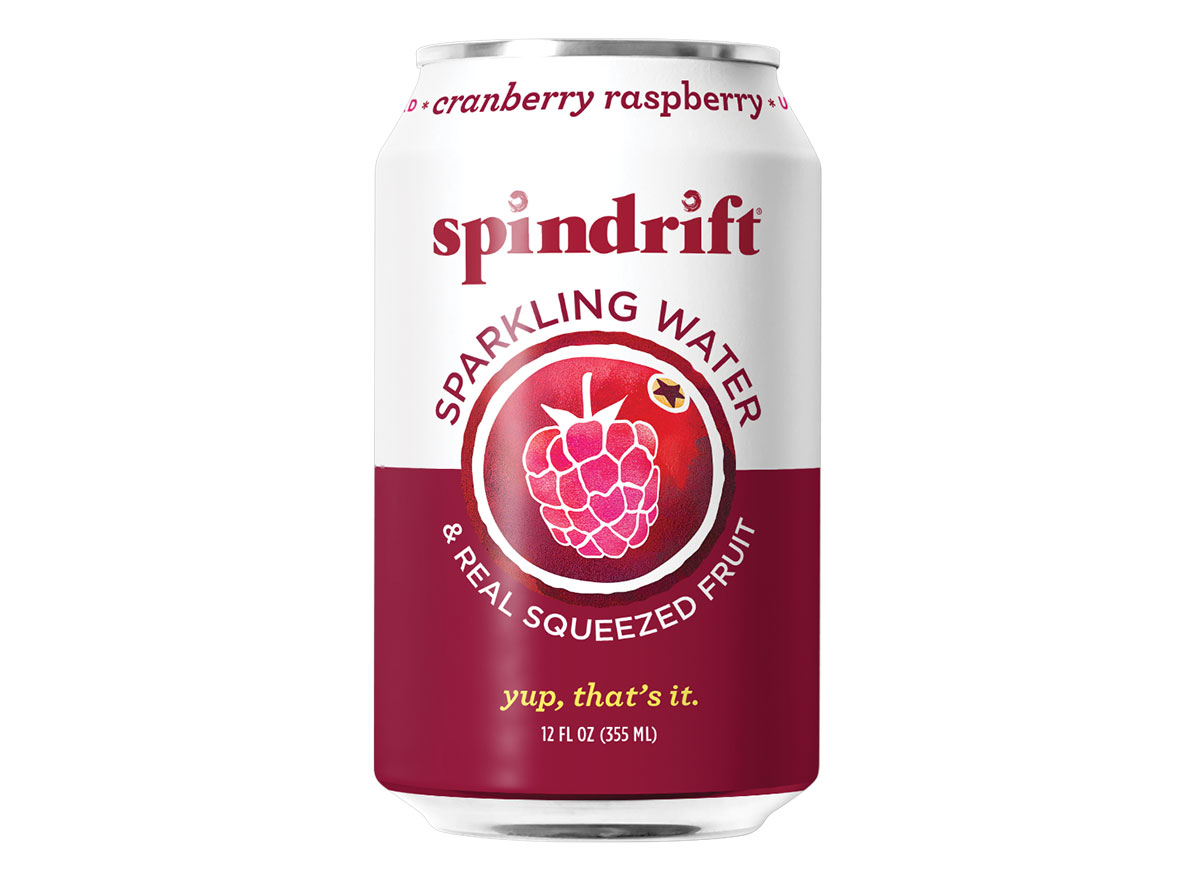 It seems like Spindrift is everywhere these days, and for good reason! Their Cran-Raspberry has such a powerful flavor that's perfect for sipping on its own or even using as a mixer with a splash of vodka. What's unique about this sparkling water is that it's sweetened with real fruit juice, rather than natural or artificial flavors like other carbonated beverages.
Bubly, Strawberry
While Spindrift cans are full of bold flavors, Bubly cans have subtle flavor for those who would rather a classic sparkling water taste. Strawberry is a popular flavor, but their Blackberry is a personal favorite.
Bai Bolivia Black Cherry Sparkling Water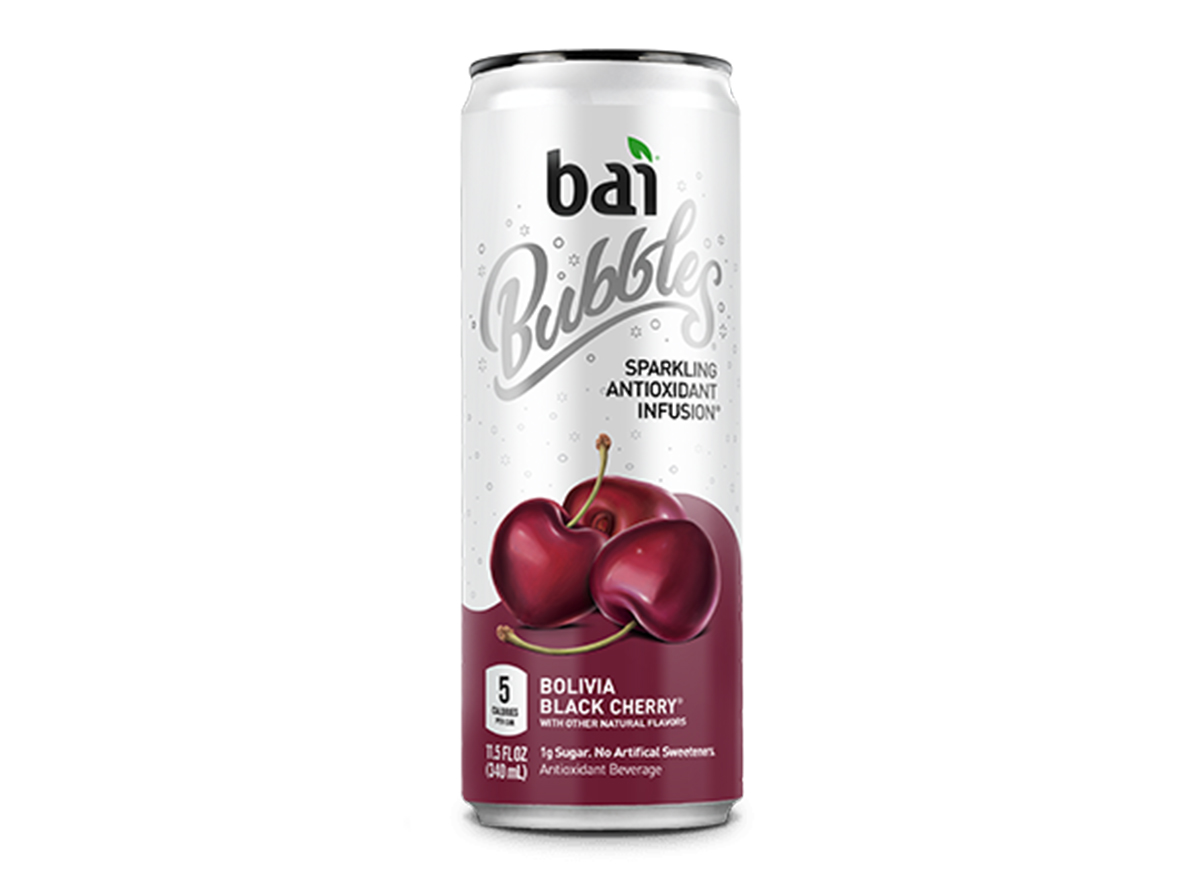 This antioxidant-infused drink is like having a refreshing can of tea or even a mocktail, without having to add all of those extra sugars and calories.
Limitless Sparkling Energy Water, Watermelon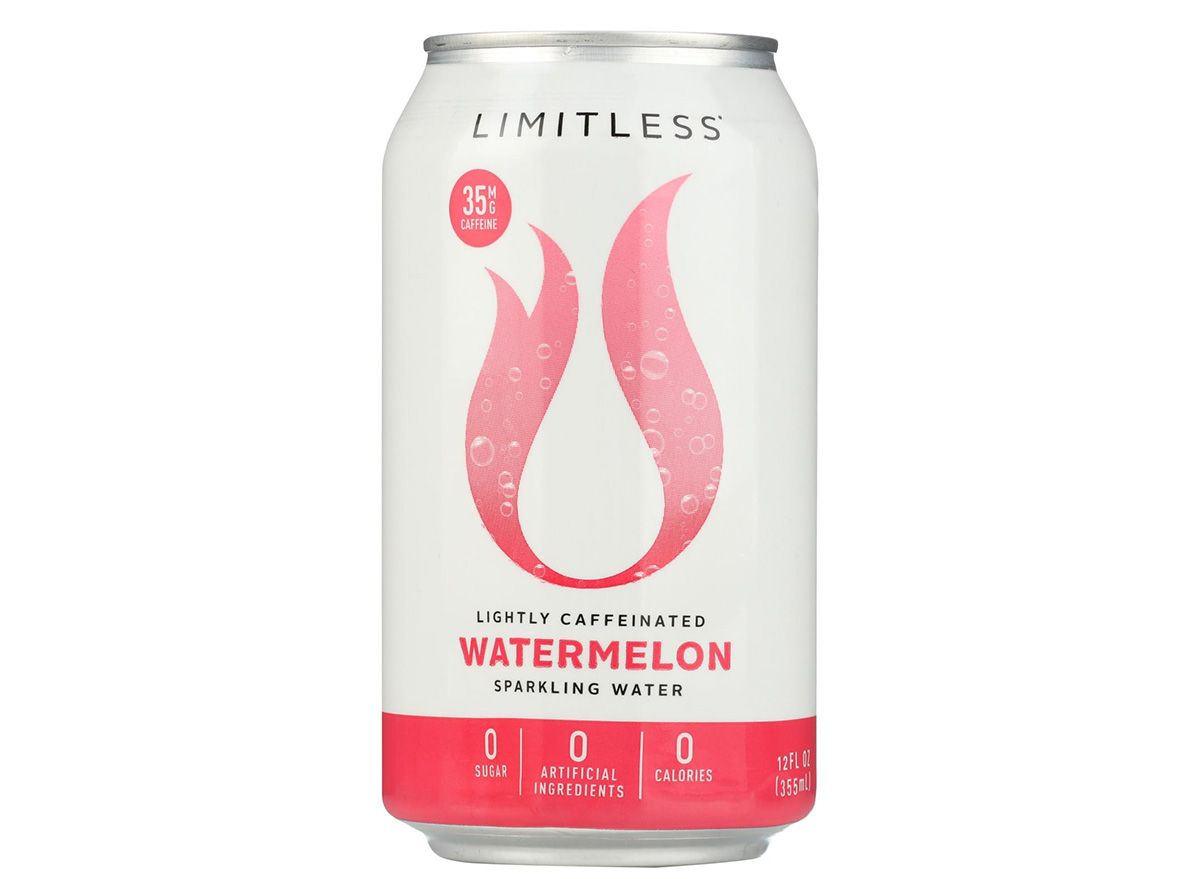 Get a boost of energy in the afternoon with Limitless Sparkling Energy Water! Each can has 35 milligrams of caffeine, which is as much caffeine as you would see in a can of soda—without all of the calories.
Clean label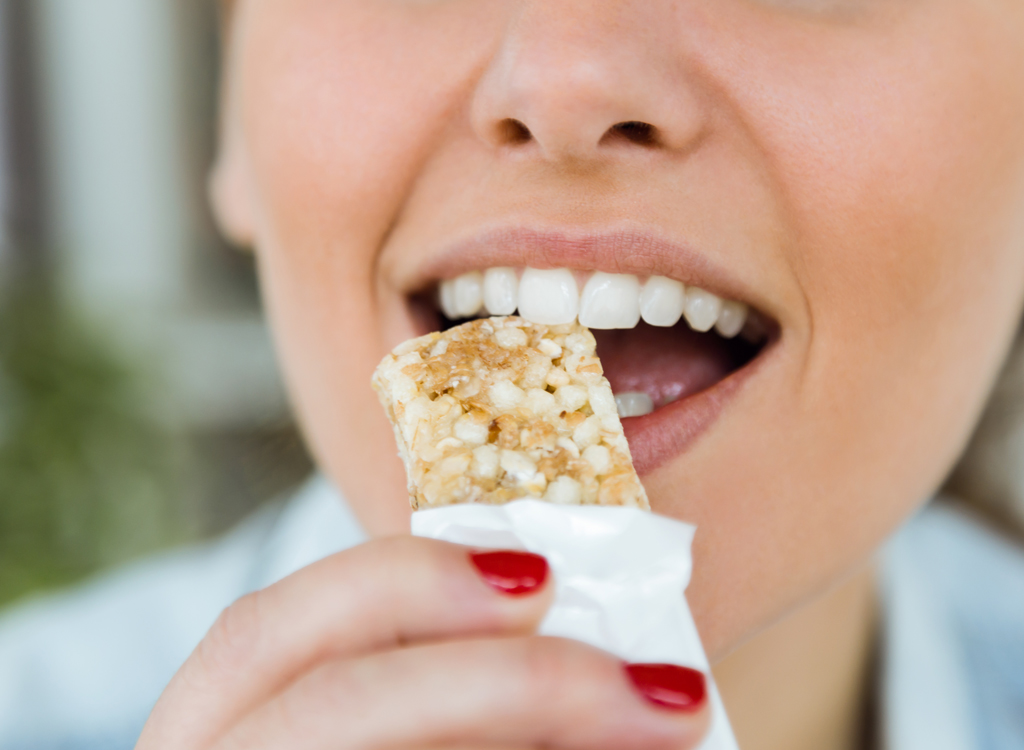 What is a clean label? It's basically a trend of simplifying ingredient lists as far as food manufacturers can go. The reasoning is simply that we should be eating more real foods and less of the stuff we can't pronounce. That means saying sayonara to artificial ingredients and additives and hello to whole foods.
Dandies Marshmallows
Curious what's in your marshmallows? With Dandies, you never have to question it? With just a few ingredients, these vegan-friendly marshmallows are the perfect natural swap for any recipe you're making that calls for marshmallows.
RX Oats Maple
Have them hot, or make cold overnight oats, with RX bar's new line of oats! The Maple was a favorite among a number of our editors, so we recommend stocking up on a few containers of these for easy morning meals that have minimal, natural ingredients.
That's It Apples & Strawberries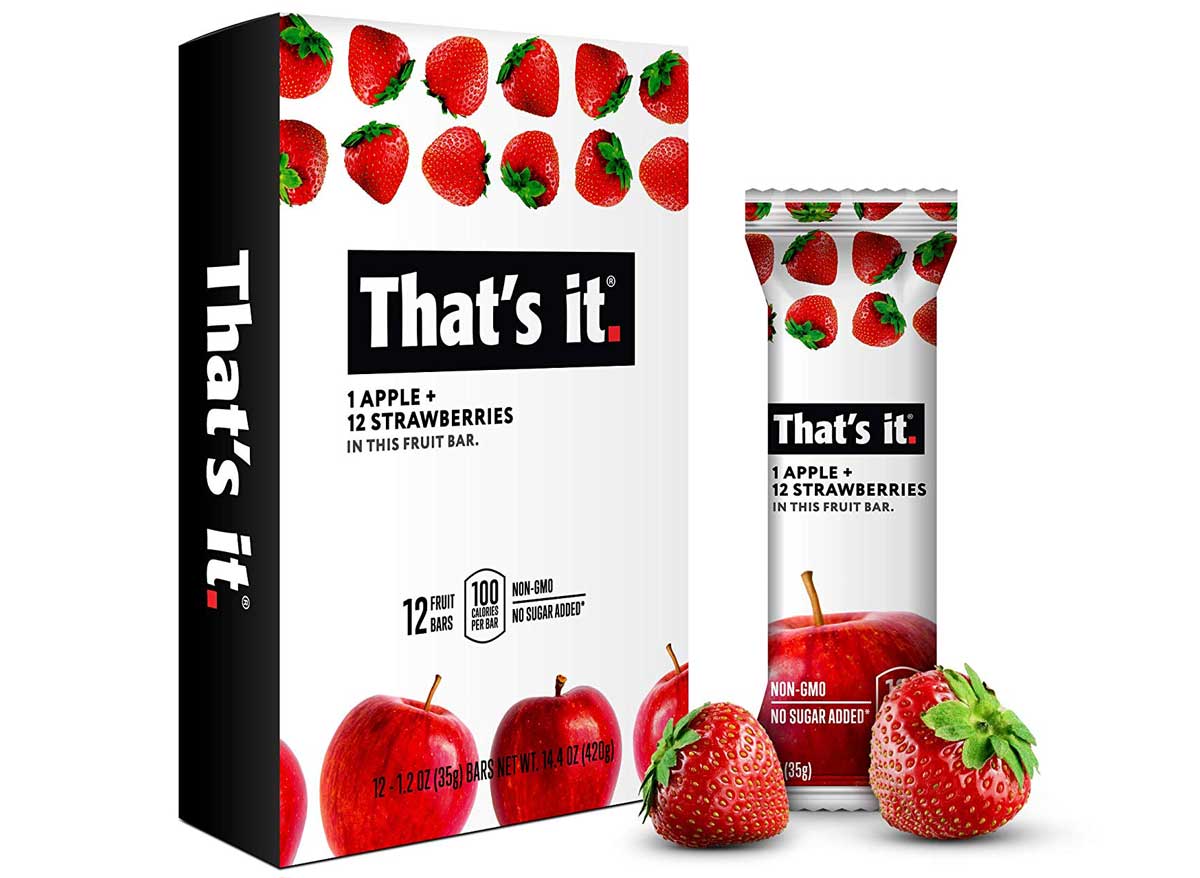 1 apple and 12 strawberries? Seriously, that's it! Get your daily dose of fruit with this simple bar, made simply of dried ingredients that you already love—and nothing else!
Unreal Dark Chocolate Peanut Butter Cups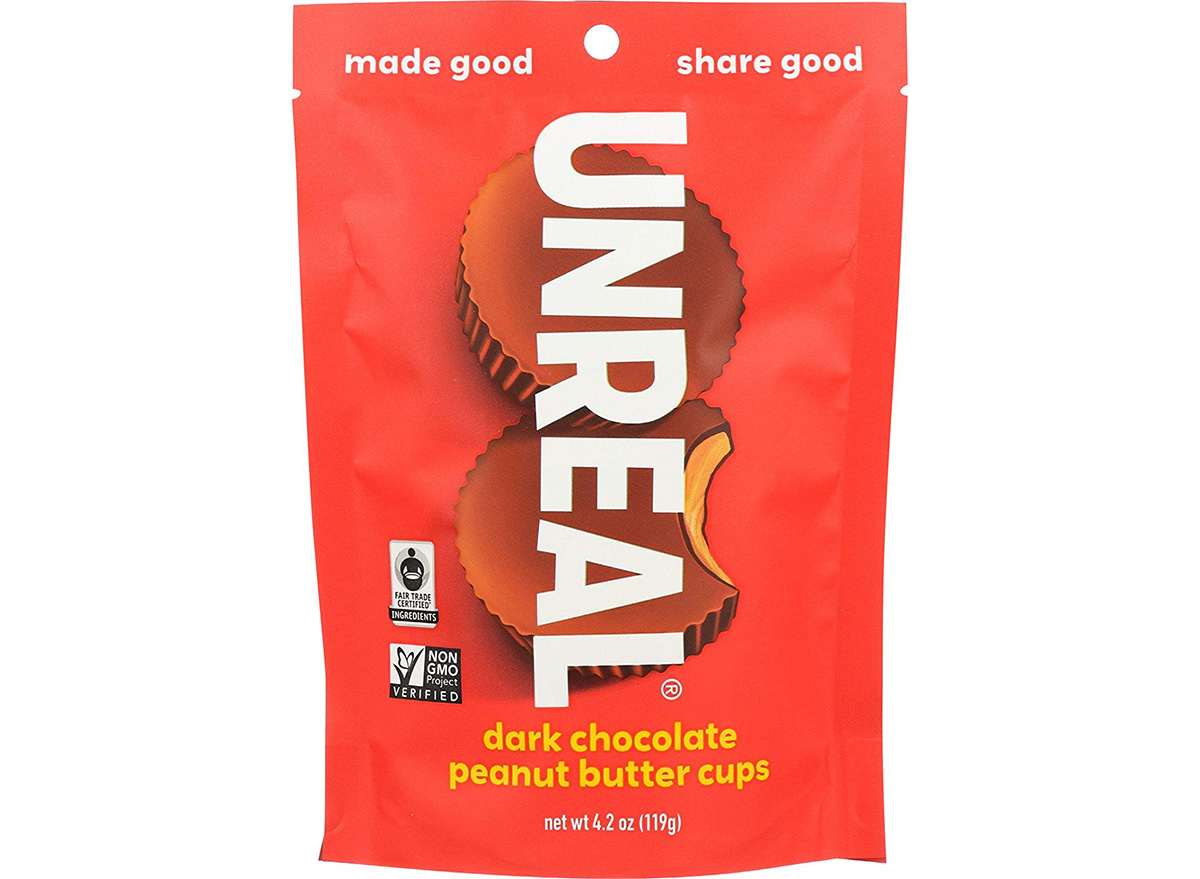 If you're particular on clean labels and want to have some candy for the kitchen, grab a bag of Unreal Dark Chocolate Peanut Butter Cups. Each cup is wrapped individually—perfect for throwing into a lunchbox or for having a small treat after dinner.
Daily Harvest Brussels Sprouts + Lime Pad Thai Harvest Bowl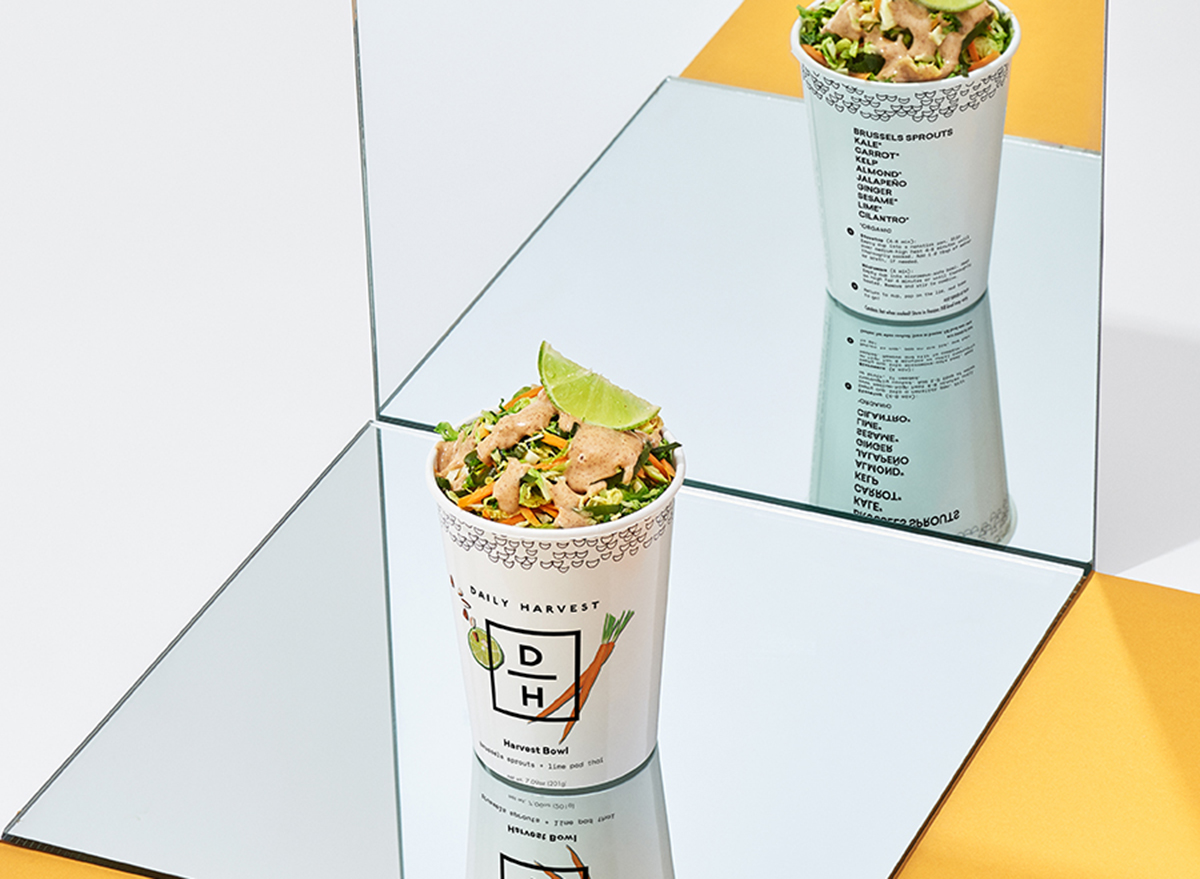 You can't get more transparent with a product that literally seeing every item that goes into what you're eating. Each cup of Daily Harvest is made with individually frozen veggies that you can visibly see, so you know exactly what you're getting. This particular Harvest Bowl is a veggie-centric riff on your classic pad thai takeout dish—and its incredibly delicious.
Rao's Chicken Noodle Soup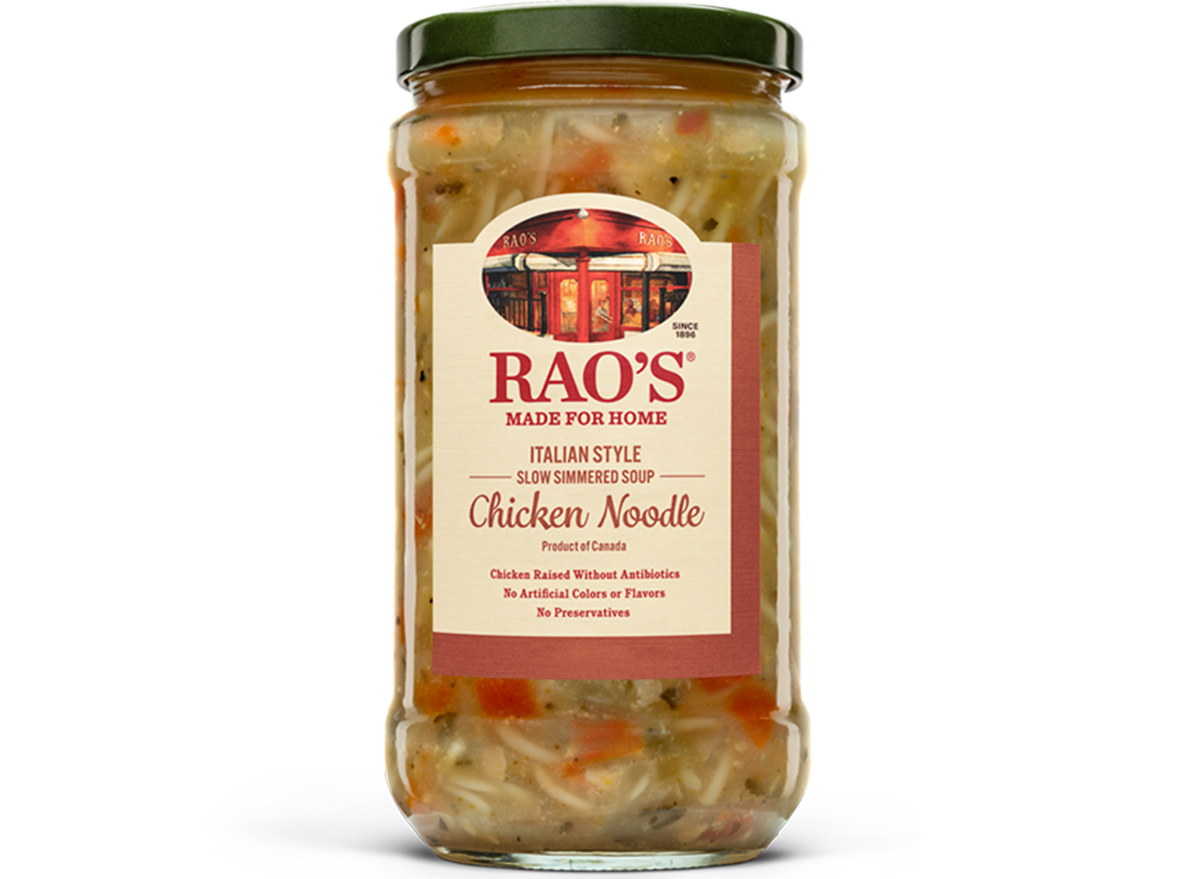 Ever wonder why soups are hidden behind a tin can? They're usually soupy messes of indistinguishable pasta and veggies. Not Rao's. Their clean-label soups are made using premium ingredients and no additives. And they're not hiding anything: each soup is packaged in a glass jar. Now that's transparency!
Gut-Healthy (Probiotics + Prebiotics)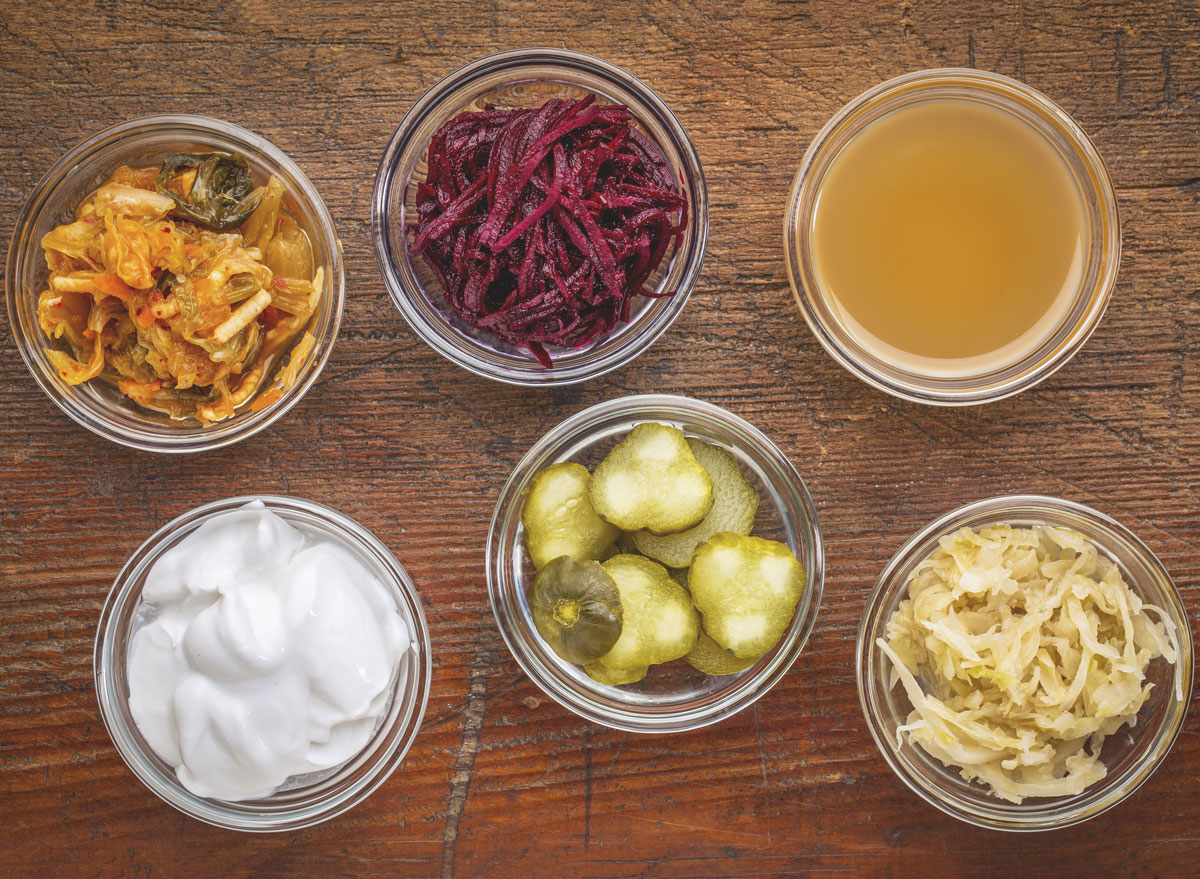 Gut health remains at the top of consumers' minds, as a healthy gut has been linked to weight regulation, mental health, and your immune system. You'll find gut-friendly products are full of two main ingredients: prebiotics and probiotics. Prebiotics are types of dietary fiber that feed the good bacteria in the gut and are found in foods like underripe bananas, barley, and roots. Probiotics are good bacteria found naturally in fermented foods and can be added to regular foods that can conceivably colonize your gut and help nurse it back to health. These products
Health Ade Kombucha, Grape Vibes
Sip on this kind of bubbly! This kombucha is made with cold-pressed organic California grapes for an equally sweet and tart drink.
Core Foods Overnight Oatmeal Bar, Dark Chocolate Cherry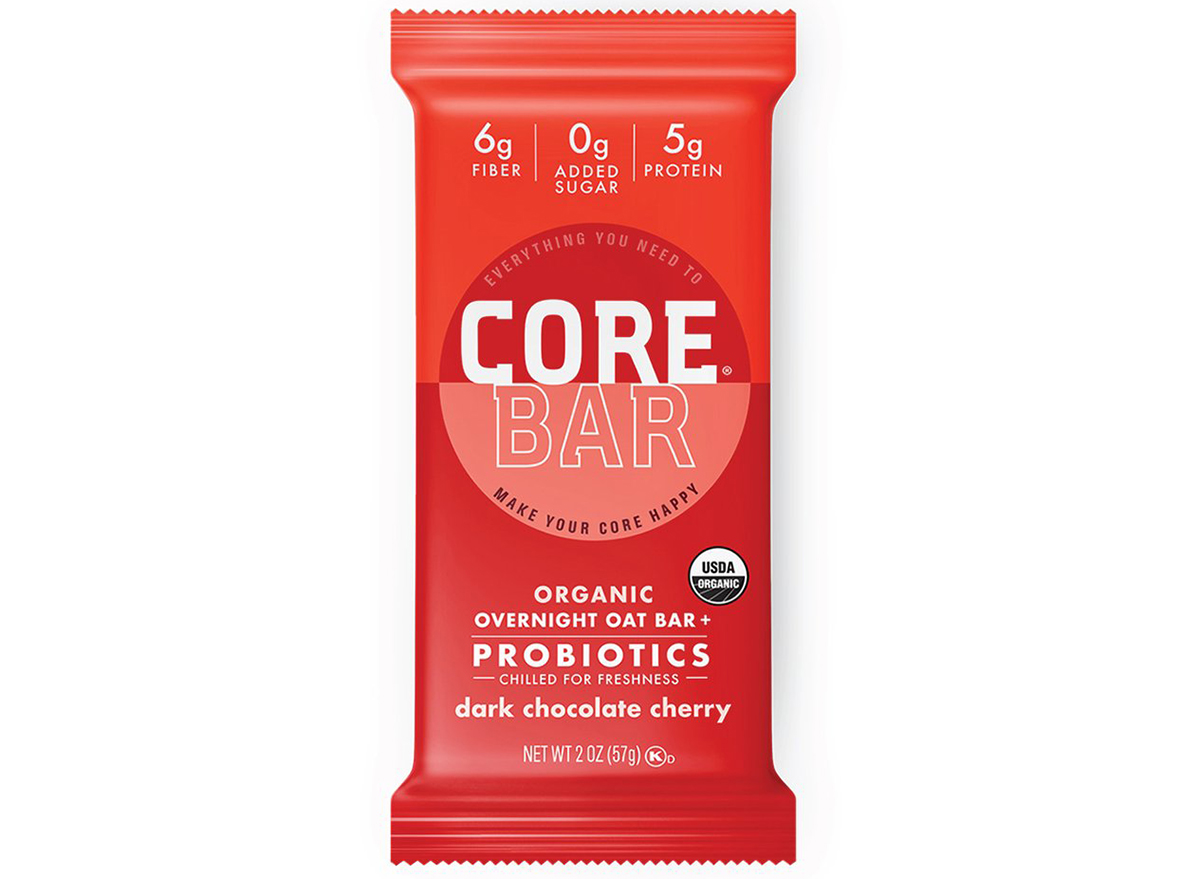 If you love the convenience of overnight oats, but want the added benefits of gut-healthy probiotics, you'll love the CORE Bar. The combination of probiotics and prebiotics enhances the bar's gut-friendly benefits to promote digestive health in just one breakfast bar.
Rowdy Prebiotic Bar, Chocolate Coconut Cashew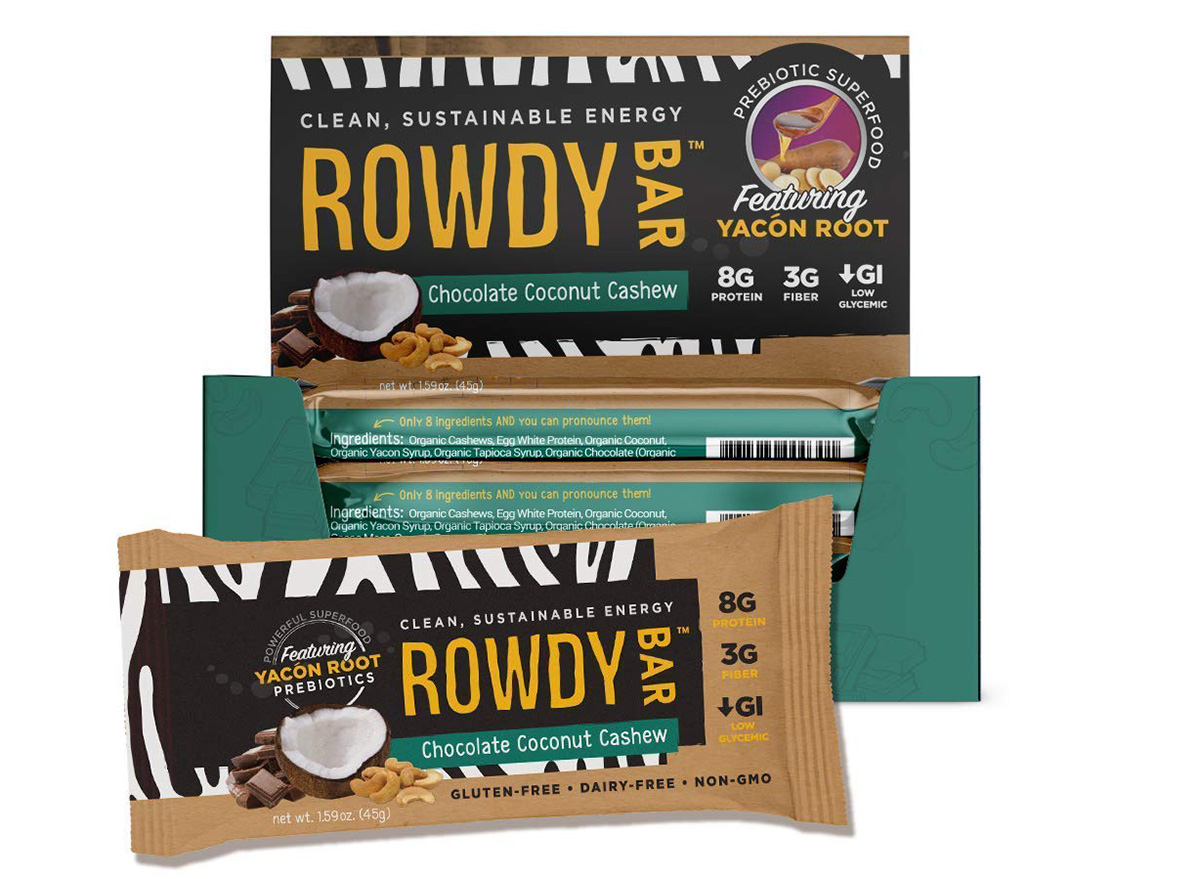 This bar contains yacon root, dark chocolate chunks, coconut flakes, and ground cashews for a truly satisfying snack you can easily bring with you anywhere.
OLIPOP Prebiotic Soda, Ginger Lemon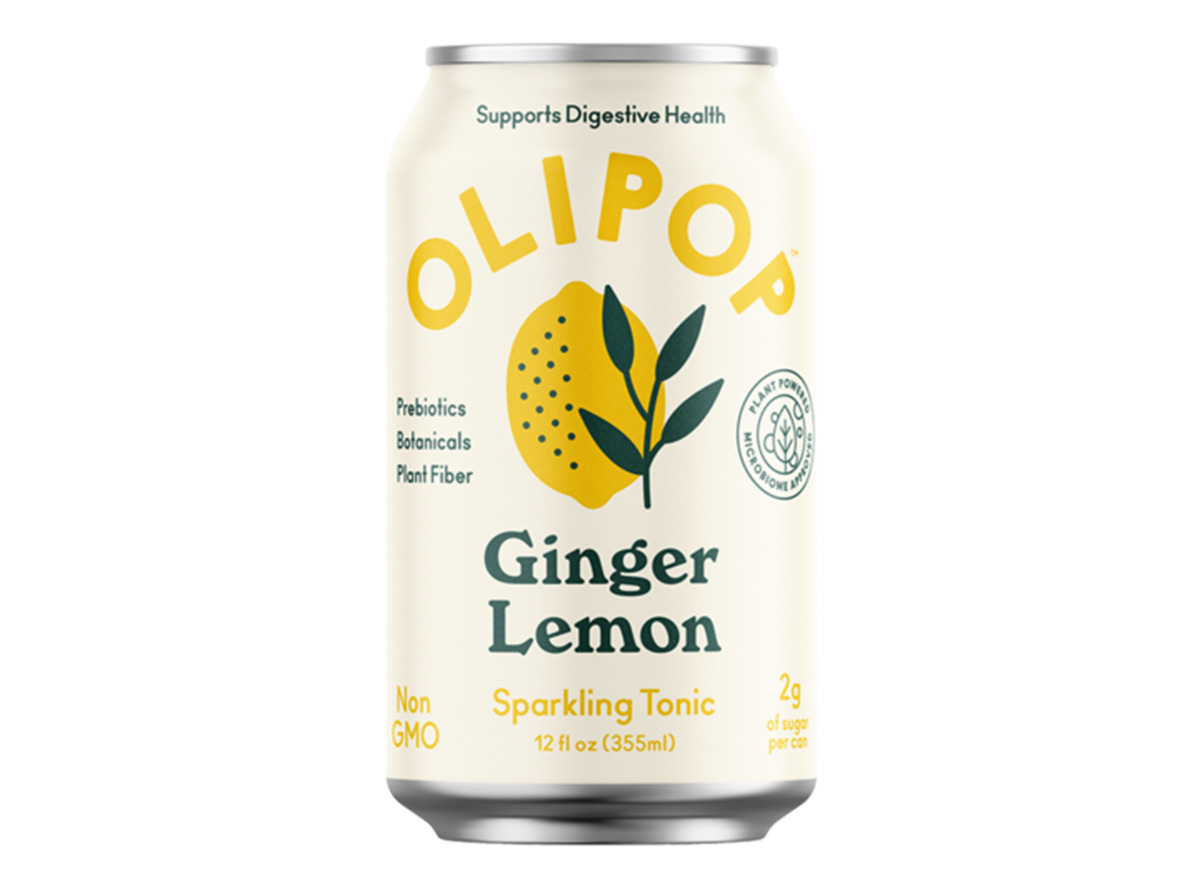 This isn't your typical soda. OLIPOP contains a secret benefit you can't get from your average sparking water: prebiotic fiber. Each 12-ounce can of OLIPOP is hiding more fiber than what you'd find in two medium apples.
LAVVA Plant-Based Yogurt, Vanilla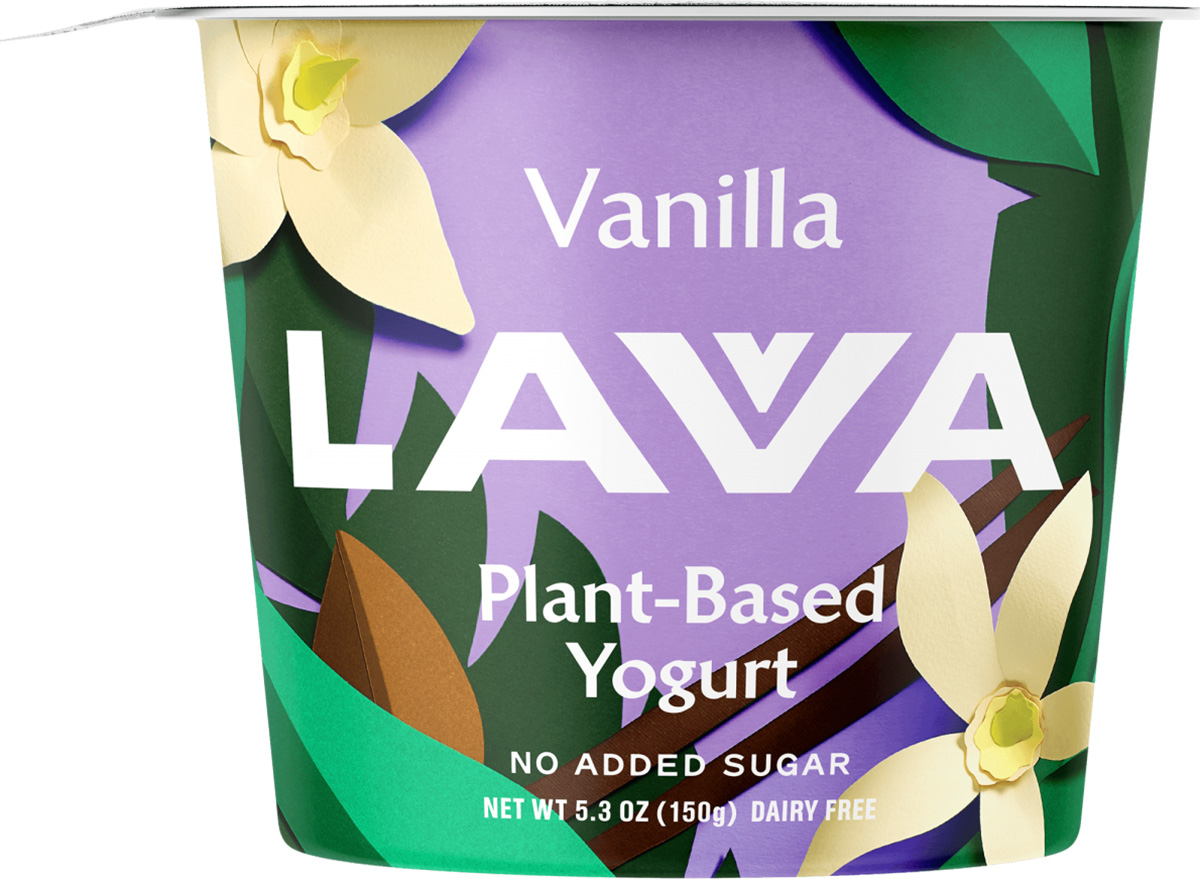 Lavva isn't your average plant-based yogurt. Not only does it have 50 billions vegan probiotics, but the coconut-based yogurt is packed with food-based (as opposed to overly-processed) prebiotics from young plantains and cassava root.
Buchi Kefir Soda, Lemon Lime Echinacea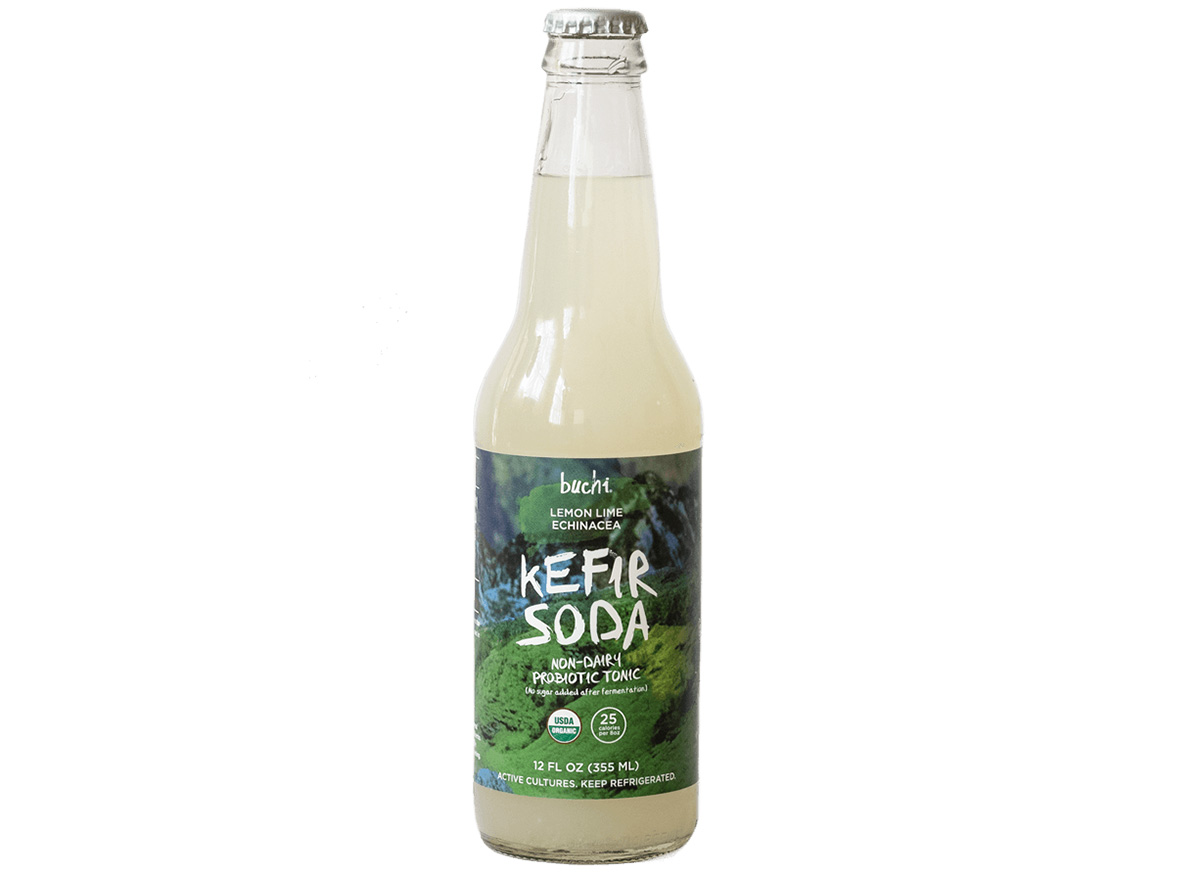 This is a soda you want to stock up on. It's fizzy and light and the lemon lime echinacea flavor is crisp and refreshing. You might just feel like you're ready to climb a mountain after drinking one of these and that's exactly the point!
Collagen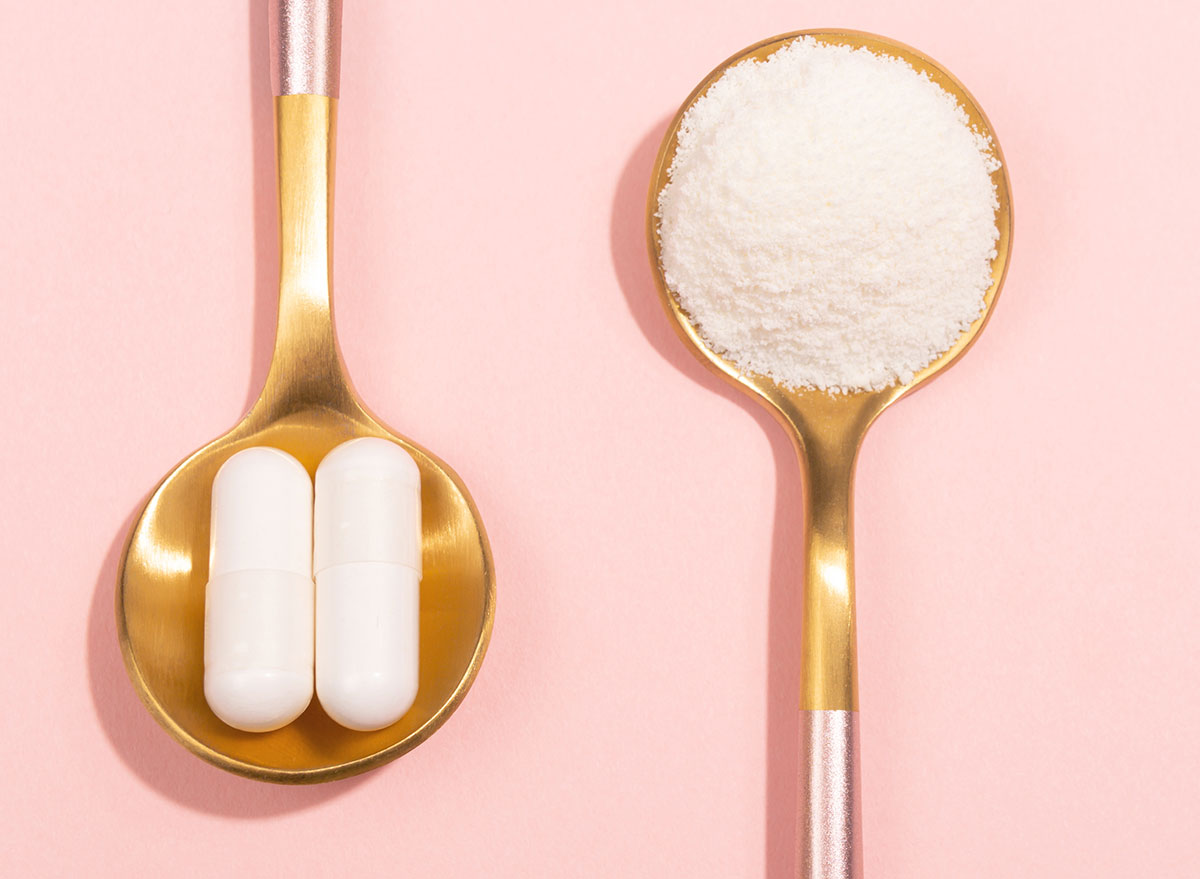 From drinks to supplements, it seems like collagen really popped up everywhere. And there truly are so many ways you can get your collagen fix.
Vital Proteins Collagen Water, Peach White Tea
Take a sip of this water and you'll notice the texture might not be what you would expect. It has a much smoother texture than that of a protein shake and the Peach White Tea flavor is just refreshing.
Purely Elizabeth Vanilla Pecan Collagen Protein Oats, Vanilla Pecan
You can take your collagen on the go with this easy to whip up breakfast! You get a mix of sweet vanilla and crunchy pecans in this oatmeal cup that is made with grass-fed bovine collagen.
Garden of Life Grass Fed Collagen Peptides
If you really just want to get your collagen fix in the quickest, most customizable way possible, adding this collagen peptide powder as a fixture in your kitchen is the key.
Primal Kitchen Dark Chocolate Almond Collagen Fuel Bar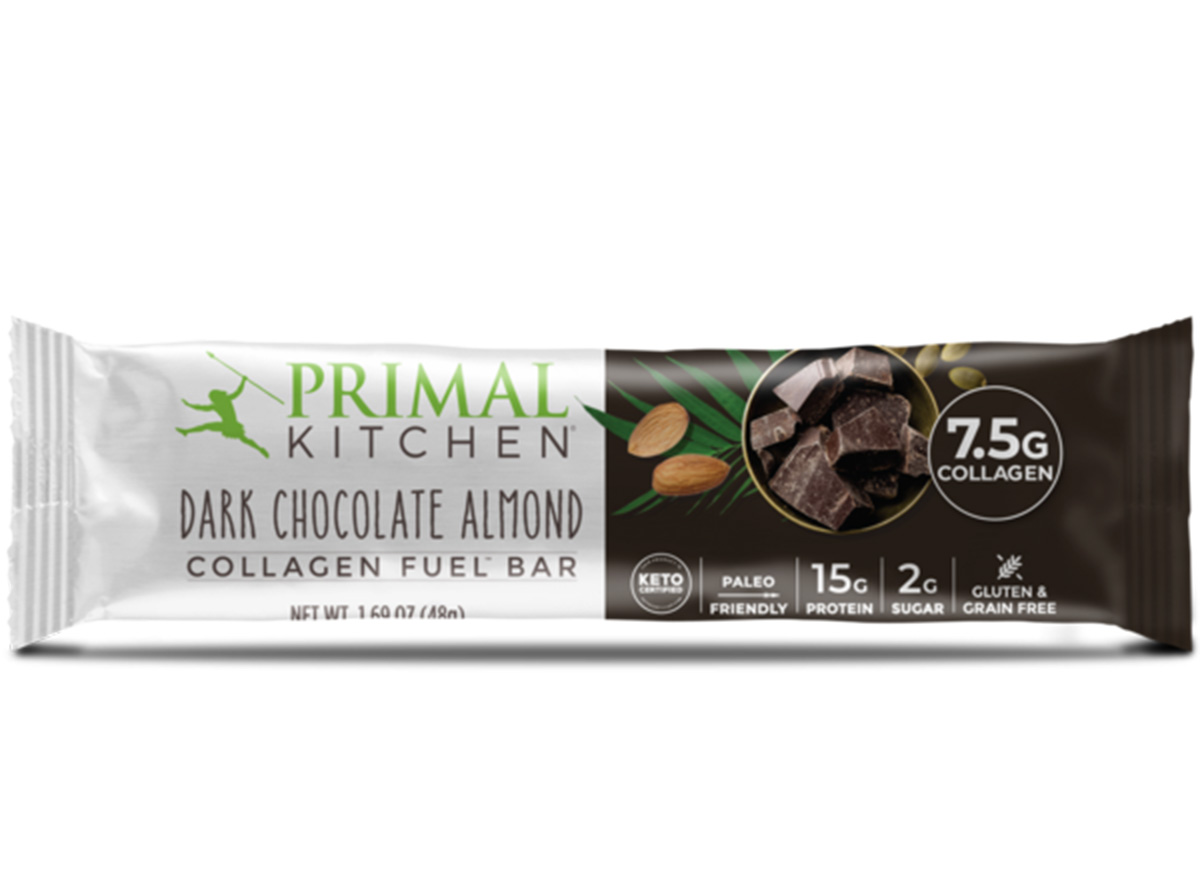 Yes, collagen even comes in a dark chocolate bar. This sweet treat is oh so decadent with a salty and sweet mix going on thanks to the almonds, pumpkin seeds, and honey.
'Everything Bagel'
While it would be lovely to snag a fresh-baked everything bagel every day, that just isn't possible with a busy schedule! Thanks to the everything bagel seasoning trend, you can get the same delicious taste on some of your favorite pantry products. Here are a few we absolutely love.
O-Dough's Everything Bagel Vegan Thins
Craving a bagel, but don't feel like having all of that dense dough in one sitting? O-Dough's bagel thins are the perfect alternative to have in your pantry! Made of chickpea flour, each thin is only 100 calories, and delicious when used for a homemade egg and cheese sandwich.
Trader Joe's Everything But The Bagel Seasoning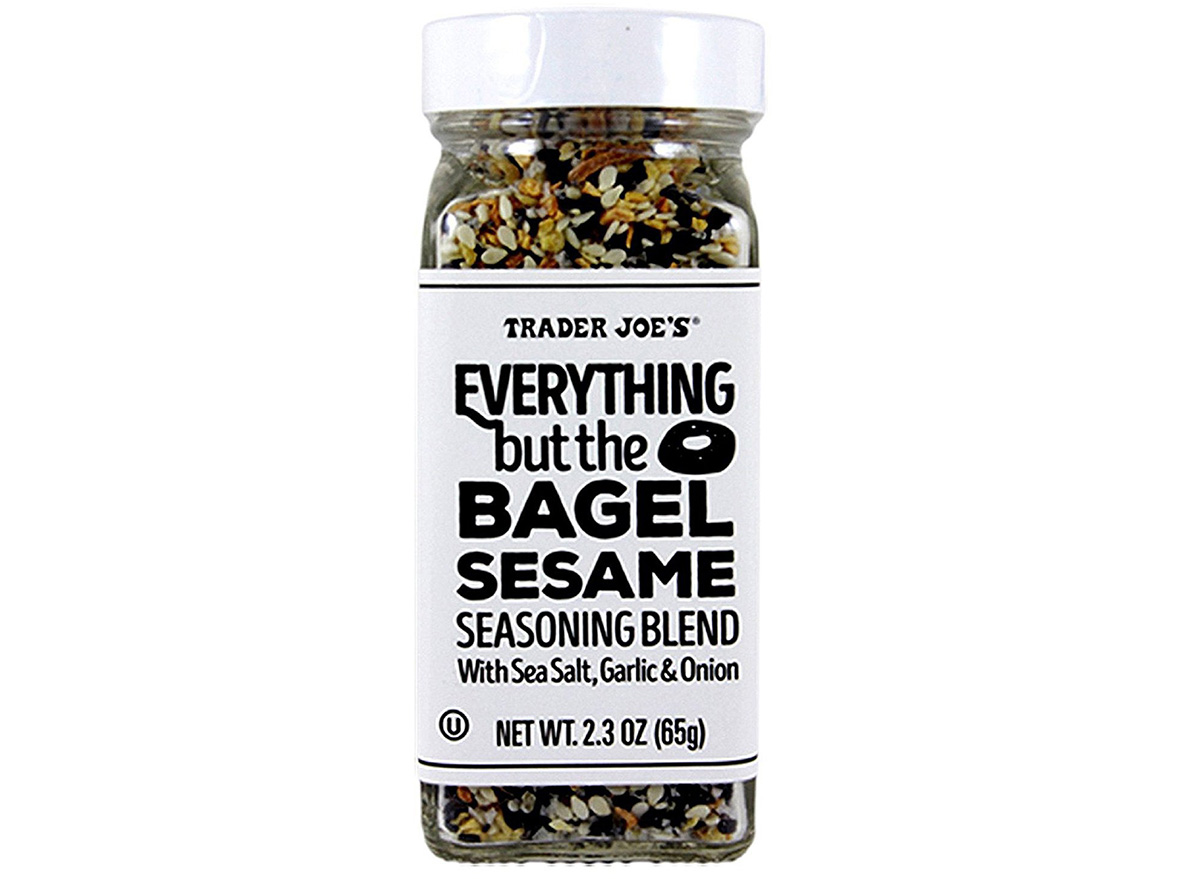 Turn everything into an everything bagel with this easy seasoning from Trader Joe's! Sprinkle it on eggs, avocado, and even some roasted vegetables!
Peckish Eggs and Everything
Take your hard-boiled egg to the next level with a pack of Peckish! Each pack comes with two perfectly boiled eggs and a side of seasoning to dip. We're partial to their Eggs and Everything flavor, but they have a ton of other creative flavors like Fried Rice, Maple Waffles, and Rancheros.
Field Trip Jerky, Everything Bagel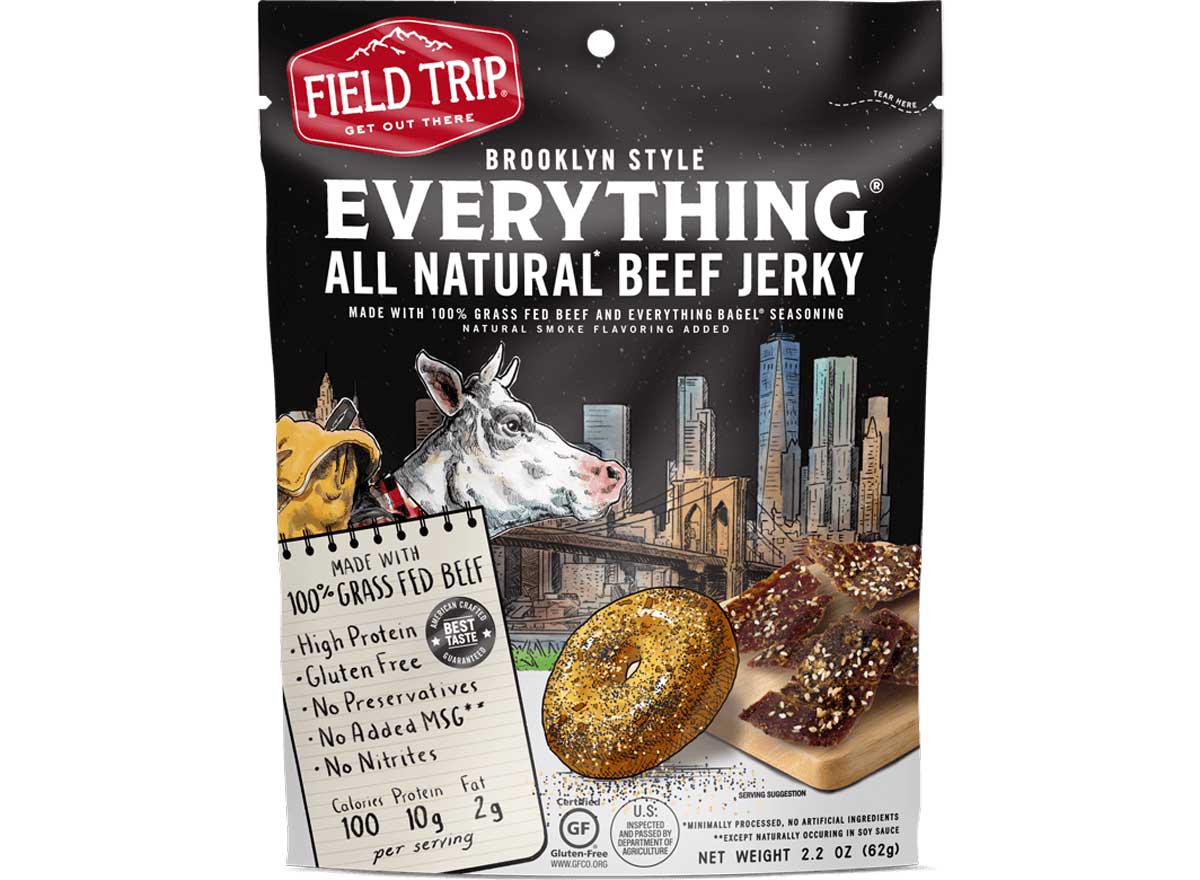 Keeping it low carb? Get that delicious everything bagel taste on a piece of jerky with Field Trip! Store a bag in your pantry, or at your desk for easy snacking at work.
Gratify Prtzl Everything Thins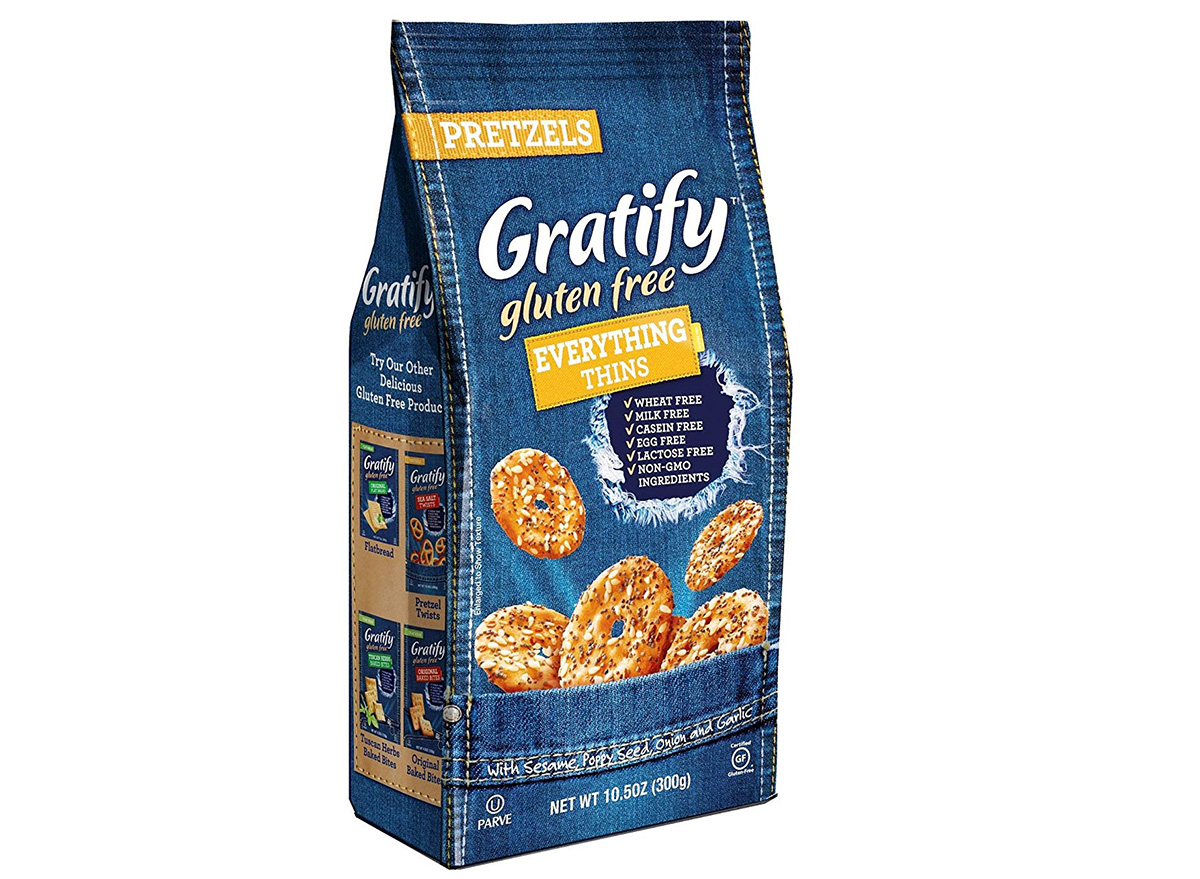 Pretzel thins and some hummus are always a delicious snack—especially if it's with these Gratify Prtzl Everything Thins! These would also go great with a homemade charcuterie board if you need something in a pinch.
Lactose-free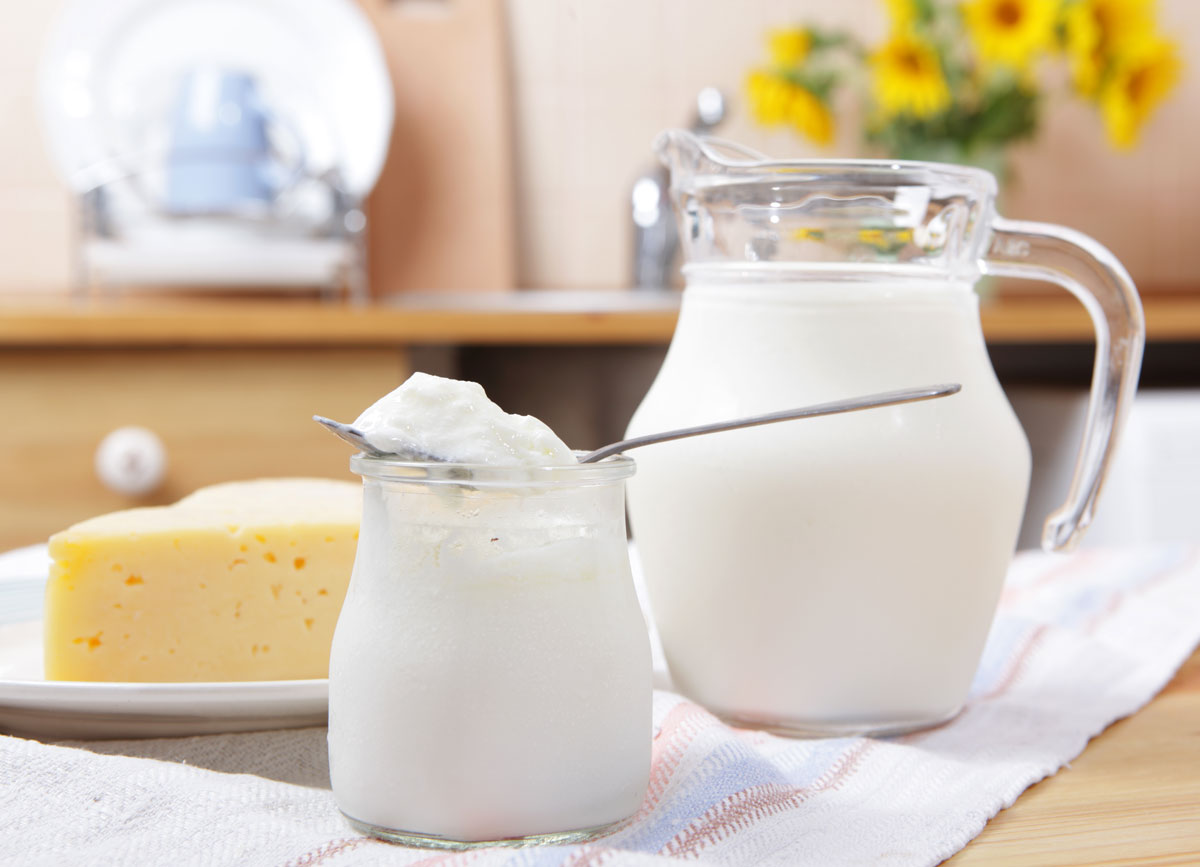 An estimated 36 percent of Americans suffer from lactose malabsorption: a reduced ability to digest lactose. Many of us have struggled through bloated stomachs, expedited bathroom trips, and general inflammation by forcing ourselves to continue to consume lactose-containing dairy products because they just taste so good. Now, food manufacturers are listening to our problems, and they've developed an array of lactose-free solutions to our dairy problems.
Siggi's Lactose-free, Plain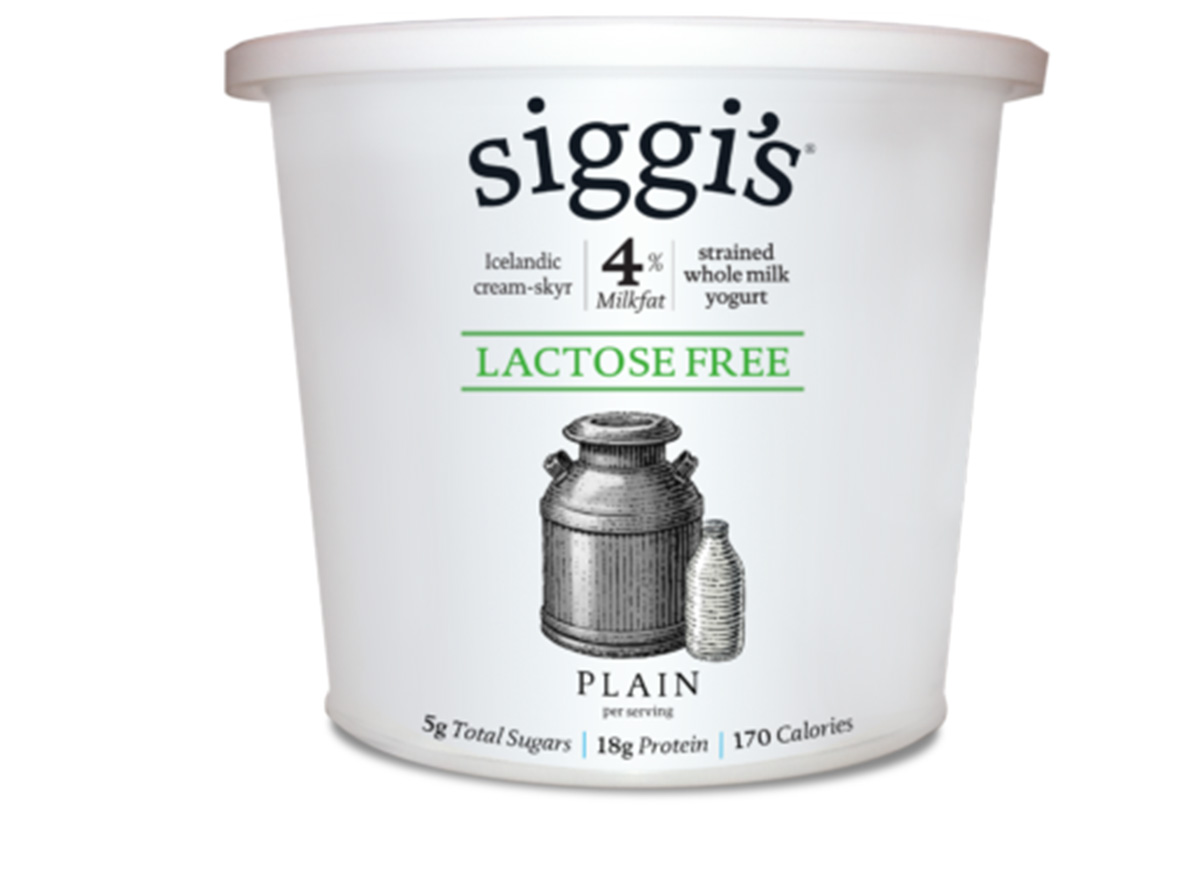 While there are many lactose-free yogurts on the market, there wasn't really an option for Icelandic yogurt fanatics. Icelandic yogurt—or skyr—is creamier and higher in protein than your run-of-the-mill yogurt. And now, you can get it completely lactose-free.
Beckon Ice Cream, Mint Chip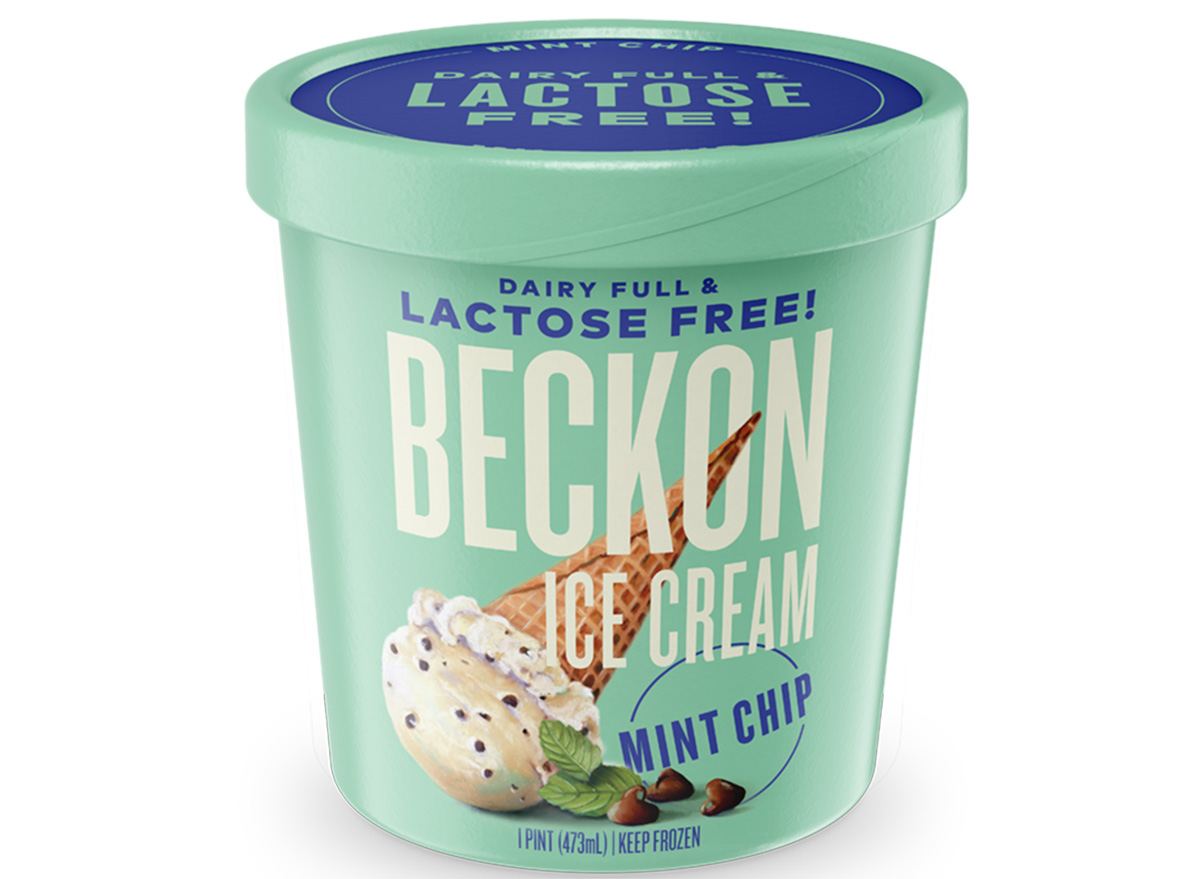 A bowl of creamy ice cream is sometimes just what you need and Becken's delicious Mint Chip is made with pure peppermint extract and no added colors. Can't beat that!
Fairlife Ultra-Filtered Milk, Original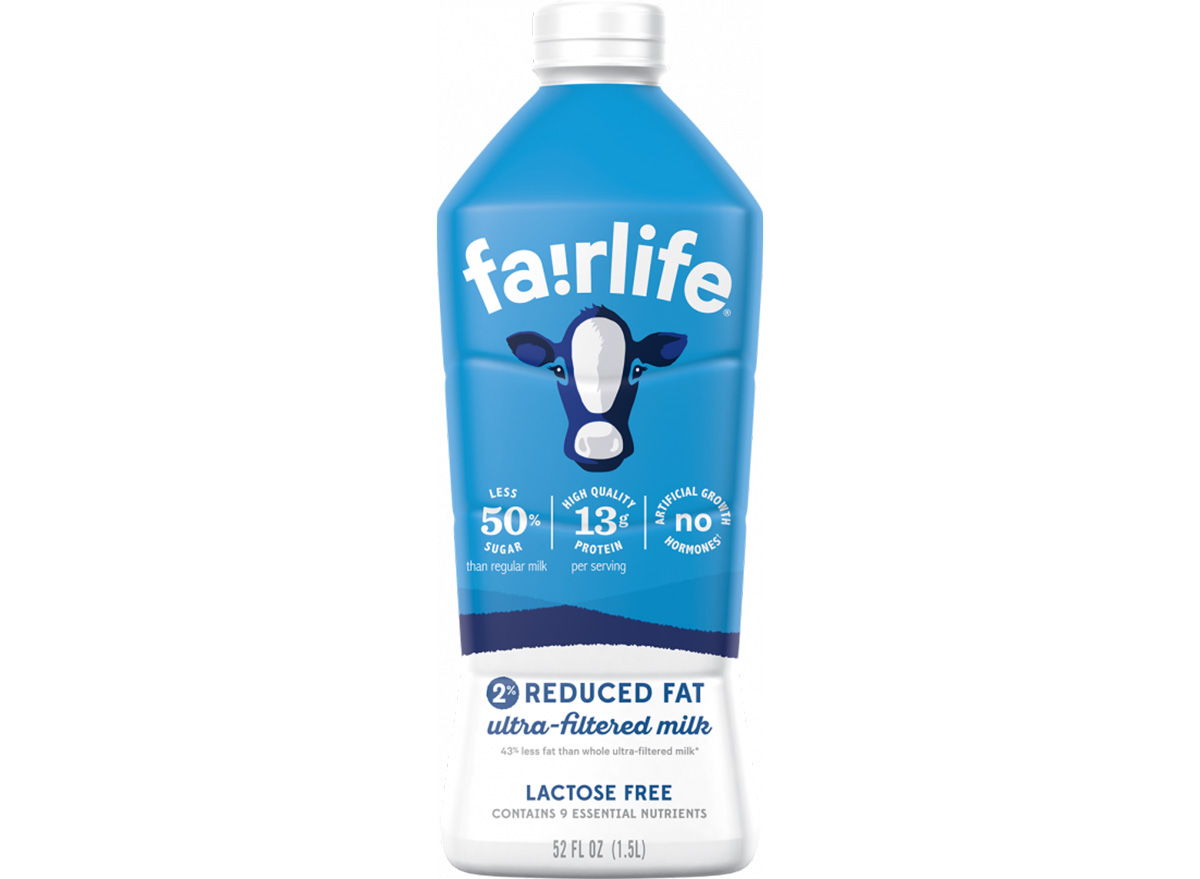 Yes, this milk comes from a cow and yet it's lactose-free. Magic! Fairlife makes their rich and creamy milk with the help of special filters that remove the sugars, then making it free of lactose.
YQ Yogurt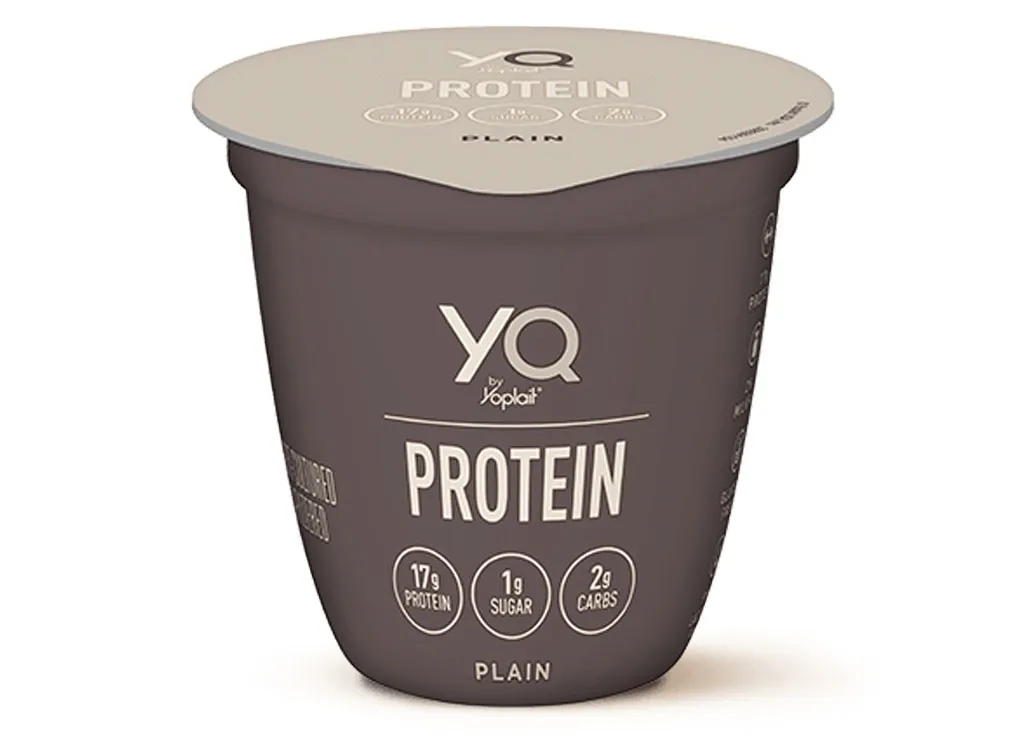 The name of the protein-packed YQ Yogurt is rather genius, as it's a play off of IQ since the brand wants it known their yogurt is smart just like the person choosing to eat some. Clever, right? With flavors such as mango, lime, and peach, it's hard to choose just one favorite.
Vital Farms Ghee
Ghee has been making its way into more and more kitchens although the clarified butter has already been a staple in Indian cooking, Southeast Asian, and Mediterranean cuisine. What makes ghee so special is that it has a super high smoke point, so buy some of Vital Farms' ghee that you can use to fry dishes or just spread on toast or butter.
Two Good Yogurt, Blueberry
Two Good Greek Yogurt is, well, simply too good. This yogurt clocks in with a lot less sugar than other brands and still manages to taste great. From coconut to peach to black cherry, there are plenty of yummy fruit flavors to choose from.
Grain-Free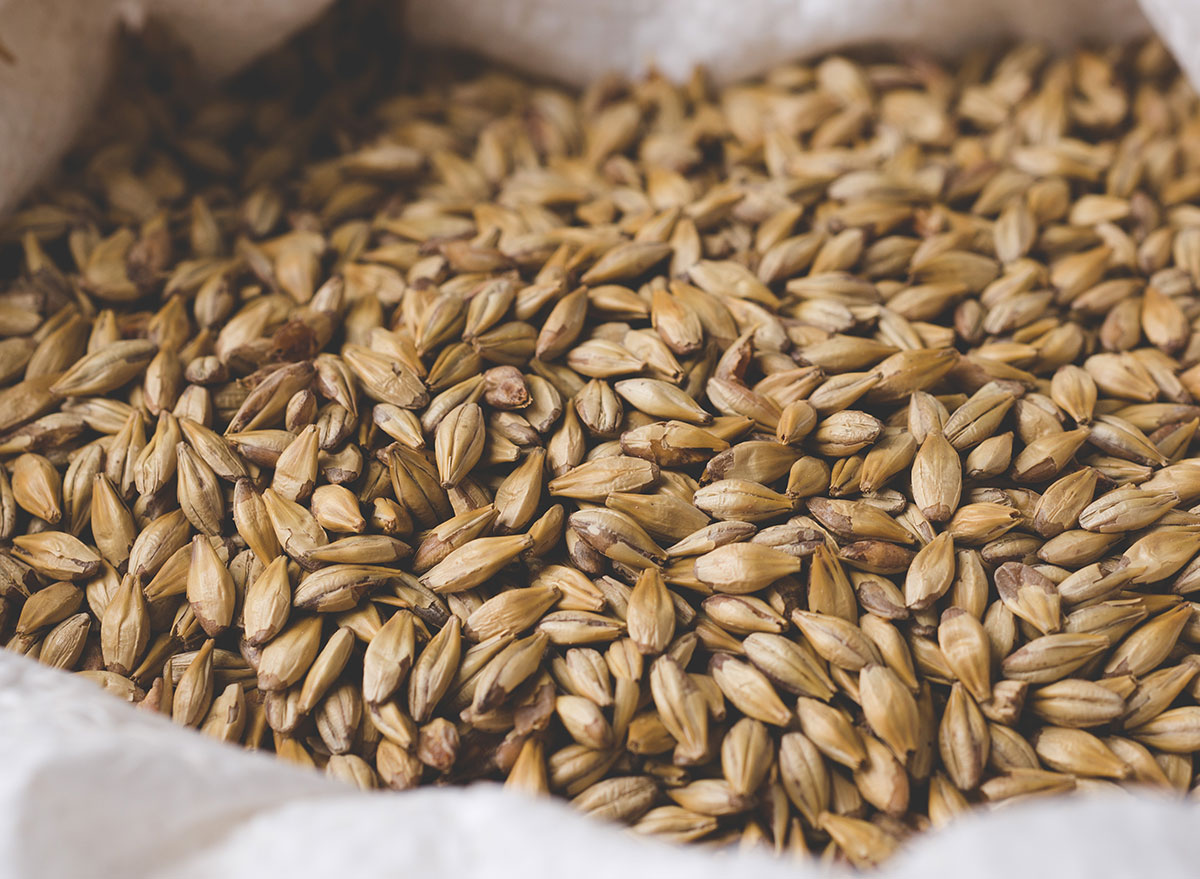 It's no secret that there are many types of grains out there, with corn, rice, and quinoa falling under that category. And for some, they have no choice but to eliminate grains. So if you're thinking that exactly do grain-free foods taste like? Delicious, if we say so ourselves!
Hu Kitchen Grain-Free Pizza Crackers
If you're craving pizza, these bite-size crackers will do the trick. They're thin and crispy and bring on all the tomato basil flavor.
FitJoy Pretzels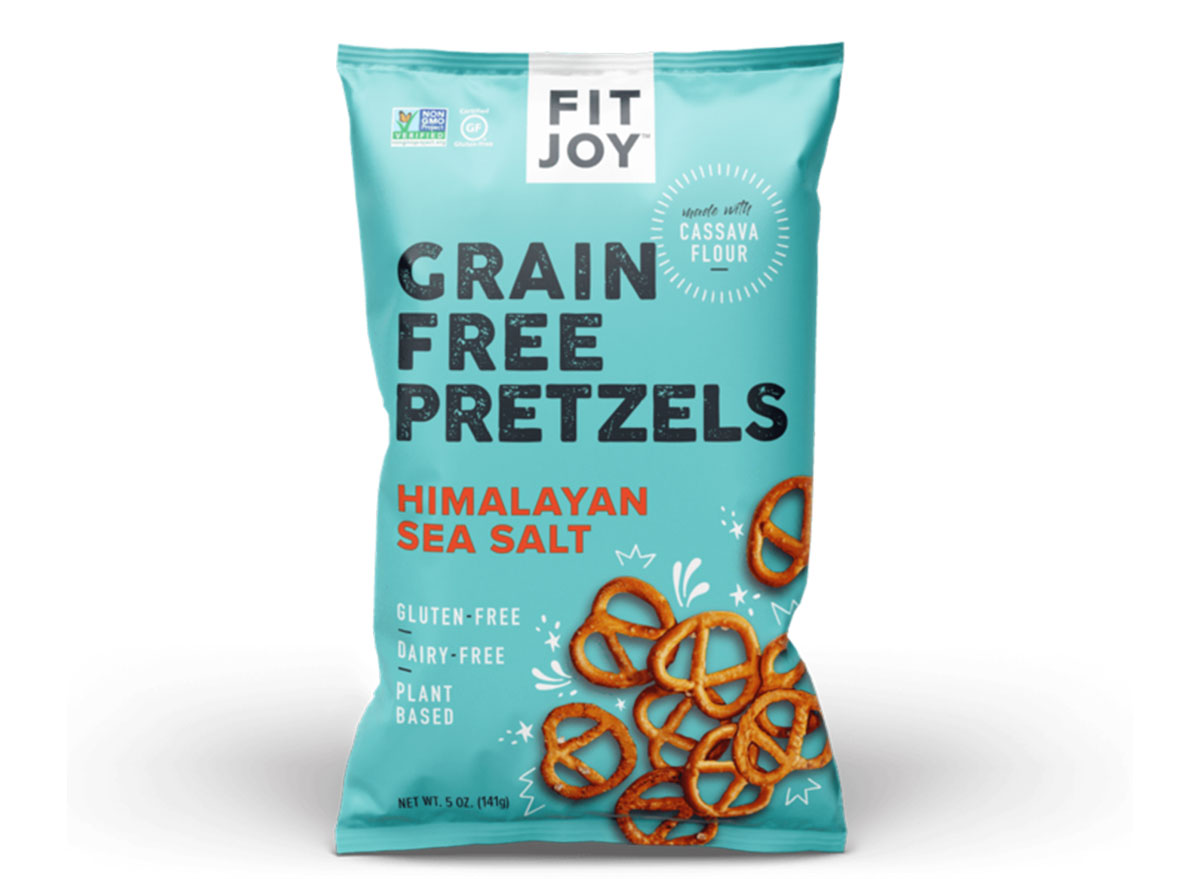 Why yes, grain-free pretzels do exist! FitJoy's are baked with cassava and chickpea flour and feature pink Himalayan sea salt for some added salted goodness.
Egglife Original Egg White Wraps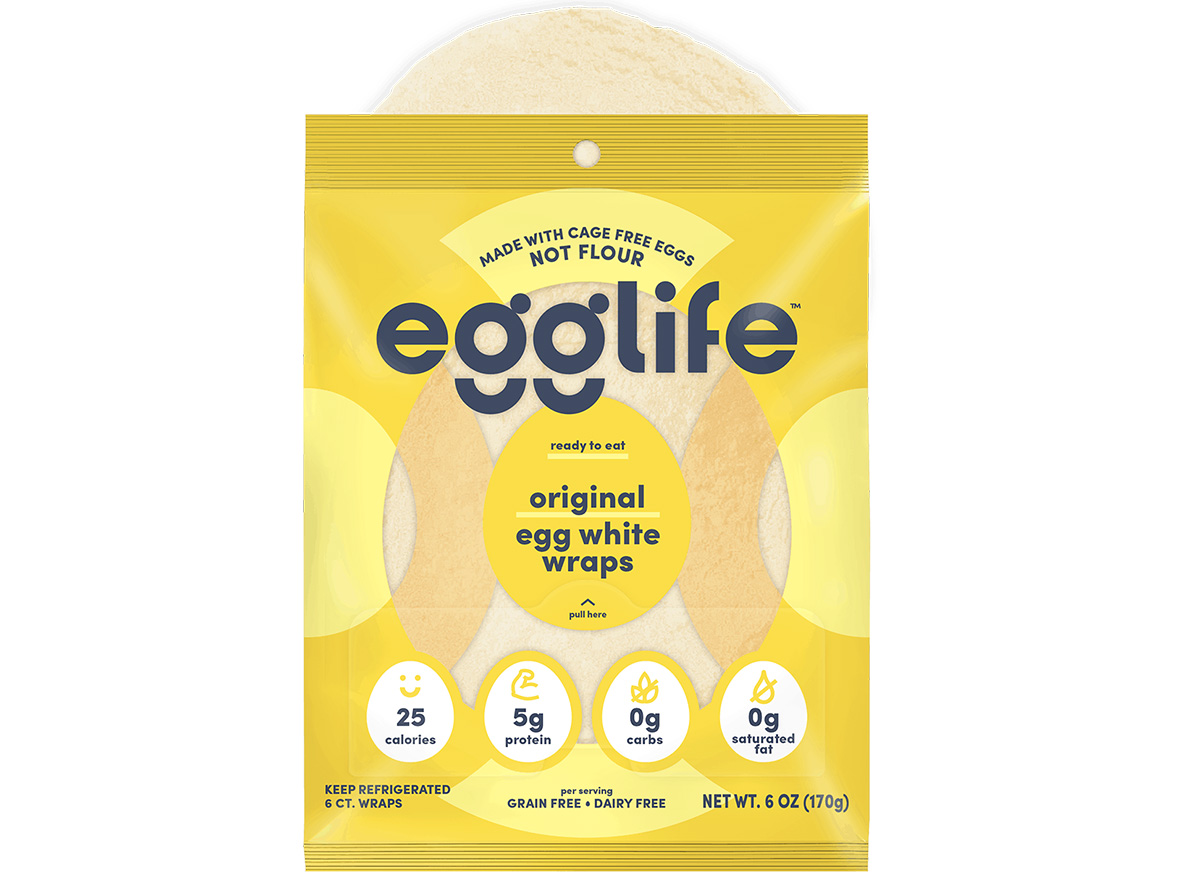 These wraps are great if you want to make a breakfast burrito wrap sandwich or tacos for dinner–they're versatile! A tortilla made mostly from just eggs is unlike any you've had before!
Siete Foods Sea Salt Grain Free Tortilla Chips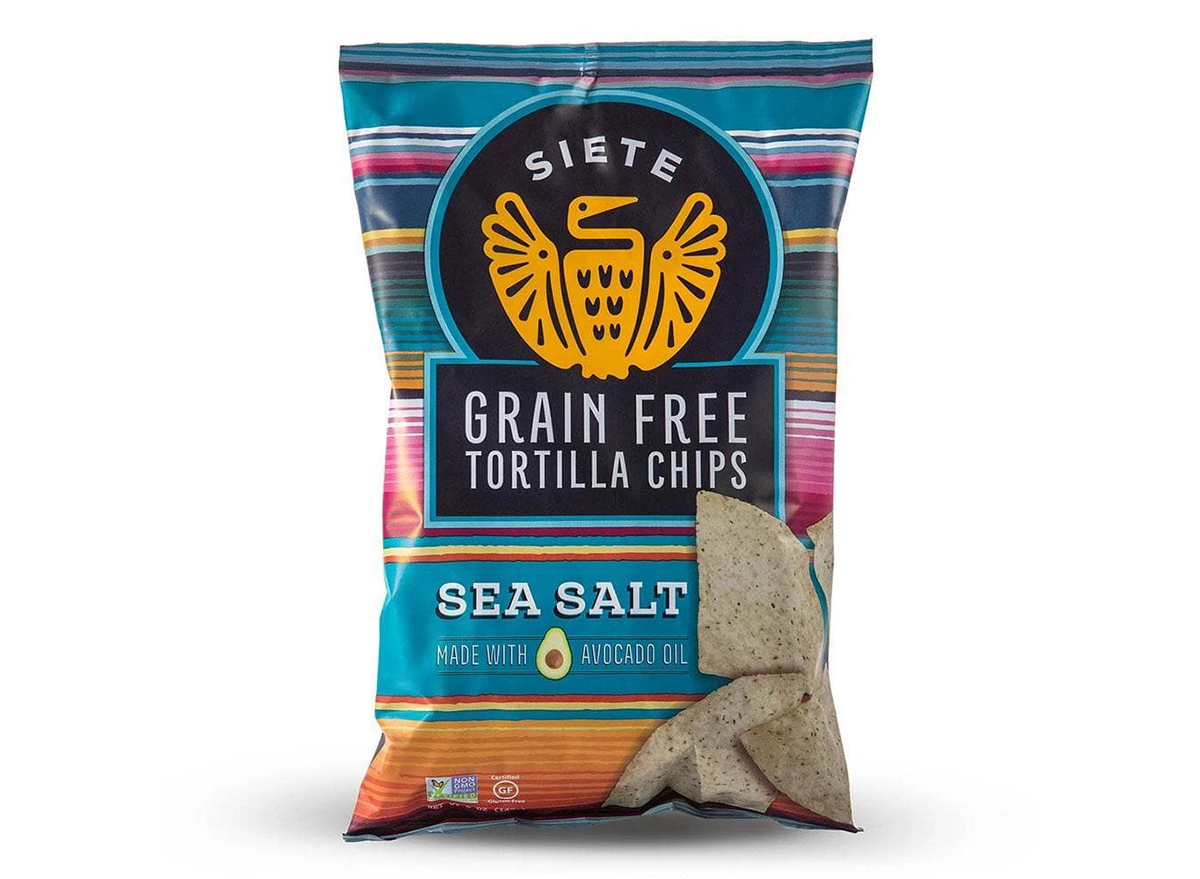 Don't think these tortilla chips won't taste as good without grains–if anything, they taste better! They're still crispy and perfectly salted so they pair well with guacamole or any of your favorite dips.
Cappello's Pizza, Cheese
Cappello's is a frozen pizza unlike one you've had before. It is not only grain-free but also free of gluten, soy, and yeast and is vegetarian. The crust is made with almond flour and trust us when we say that when you pop this pizza out of the oven and slice it up, you might just think you're enjoying some delivery. Talk about a high-quality frozen pie!
Mushrooms
Mushrooms have seemingly grown in popularity, as their overall benefits are being explored more and more. Functional mushrooms especially have come to the forefront and in most products, you can't even taste the mushrooms, showing how versatile the fungi truly is.
Shrooms Splits, Filet Mignon and Portobello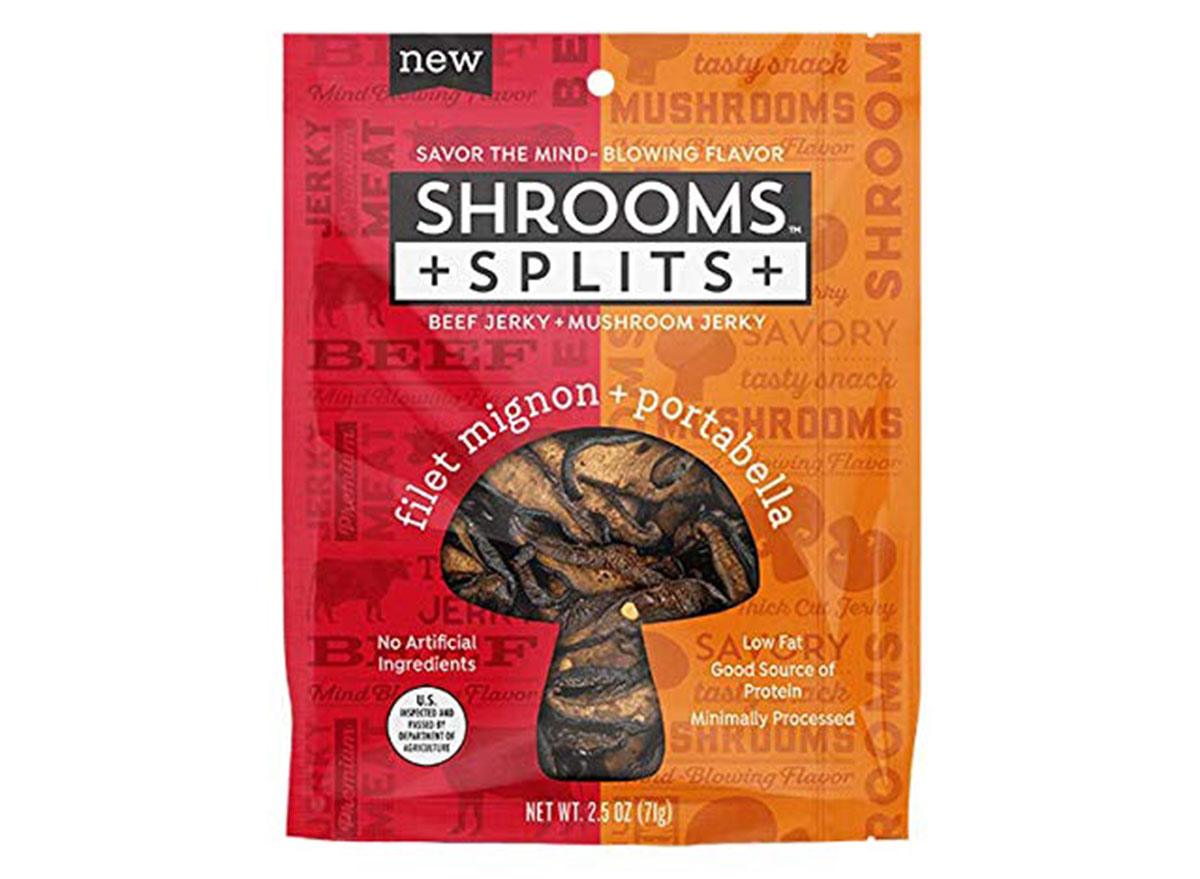 Eat more shrooms while still enjoying the beef jerky you love with this flexitarian snack. Shrooms Snacks pairs marinated mushroom jerky made from meaty portabella mushroom caps with tender Filet Mignon jerky made from grass-fed, USA-bred beef.
Pan's Mushroom Jerky, Zesty Thai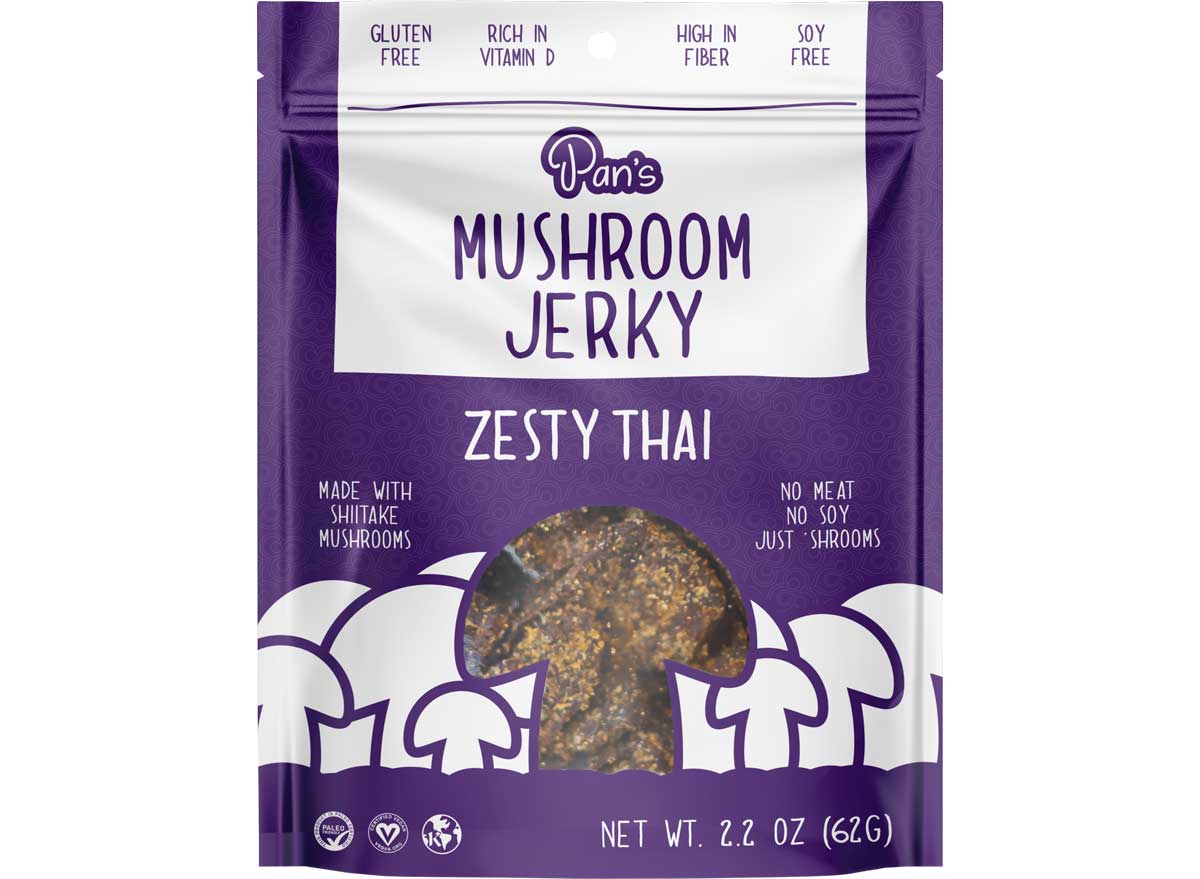 For those looking to be a little more adventuresome, Pan's Mushroom Jerky takes the beef training wheels off to serve up mushroom jerky—straight up.
Outstanding Foods PigOut Pigless Bacon Chips, Original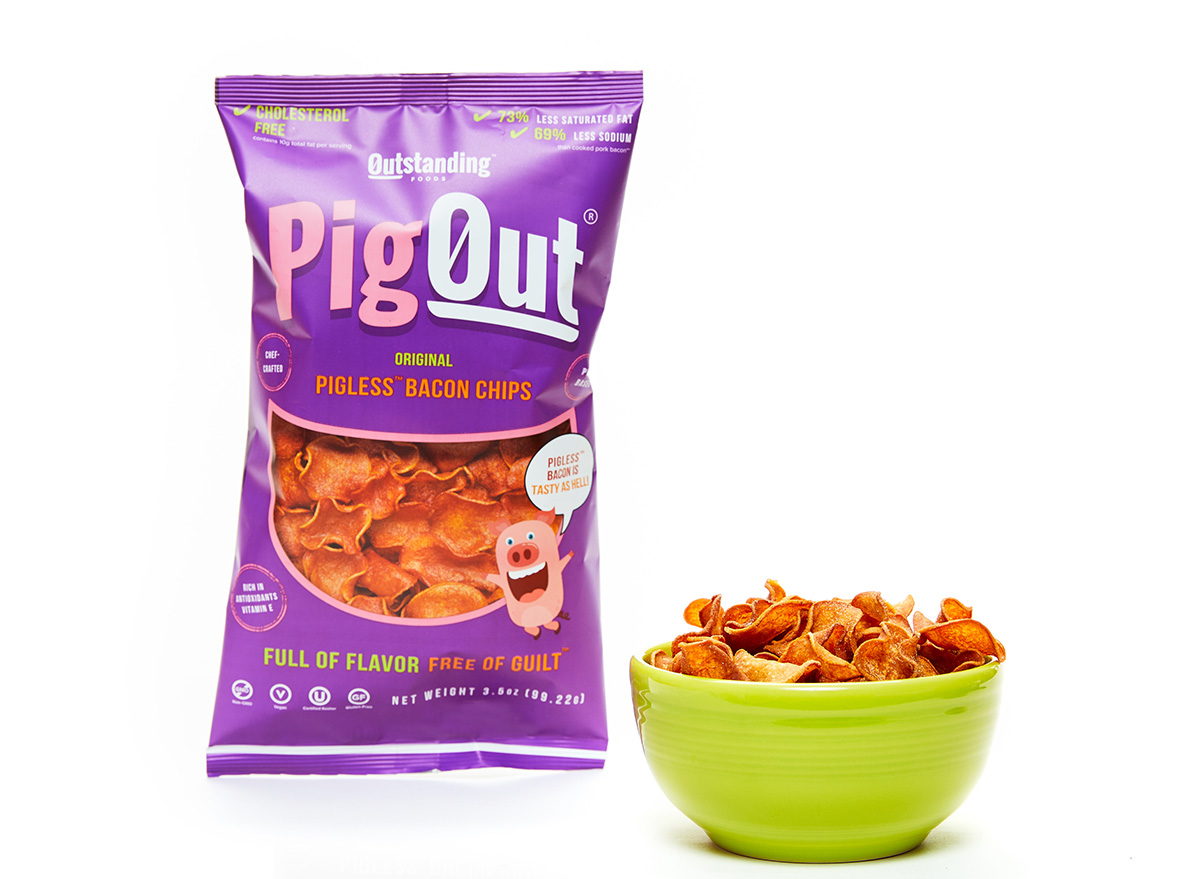 Outstanding Foods has managed to combine two of America's guilty pleasures—bacon and chips—into an entirely plant-based, vegan snack. How is it possible? It all starts by slicing up king oyster mushrooms, crisping them up, and then seasoning them to uncannily match that crispy, crunchy bite of a perfectly-cooked slice of bacon.
Four Sigmatic Mushroom Coffee Mix with Lion's Mane and Chaga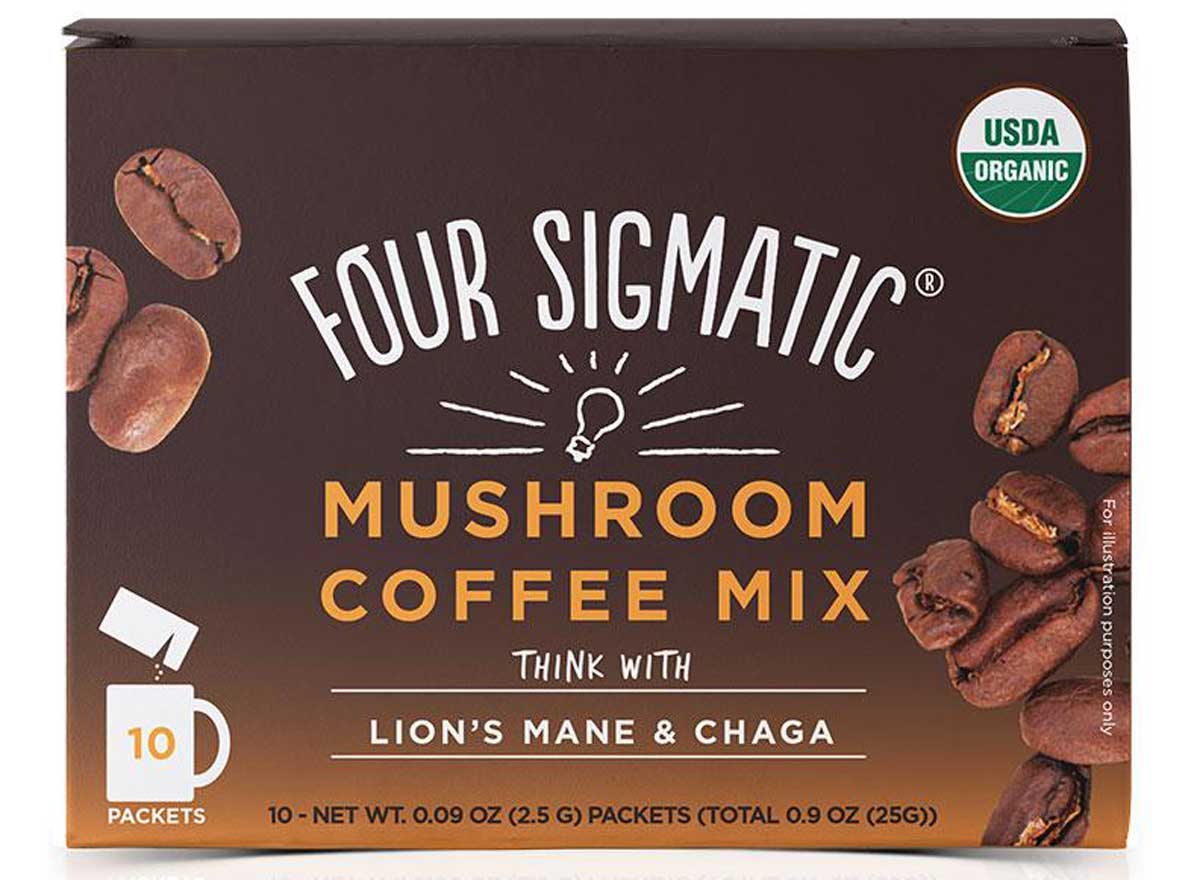 You probably never thought you would be adding fungi to your morning cup of Joe, did you? That's what you get when you sip on Four Sigmatic's mushroom coffee with chaga and lion's mane is said to "support productivity, focus, and creativity", so pour yourself some of the organic, vegan, and Whole 30 approved coffee to kickstart your day, the right way. And don't worry, it tastes just like typical coffee, not mushrooms!
Om Energy+, Lemon Lime
6254a4d1642c605c54bf1cab17d50f1e
Forget Red Bull—this natural energy boosting powder will be your secret weapon. Add this to your water for a refreshing boost that's made with all natural ingredients including Cordyceps, Reishi, Lion's Mane, and B-vitamins.
Low Sugar/Sweetened with Real Fruit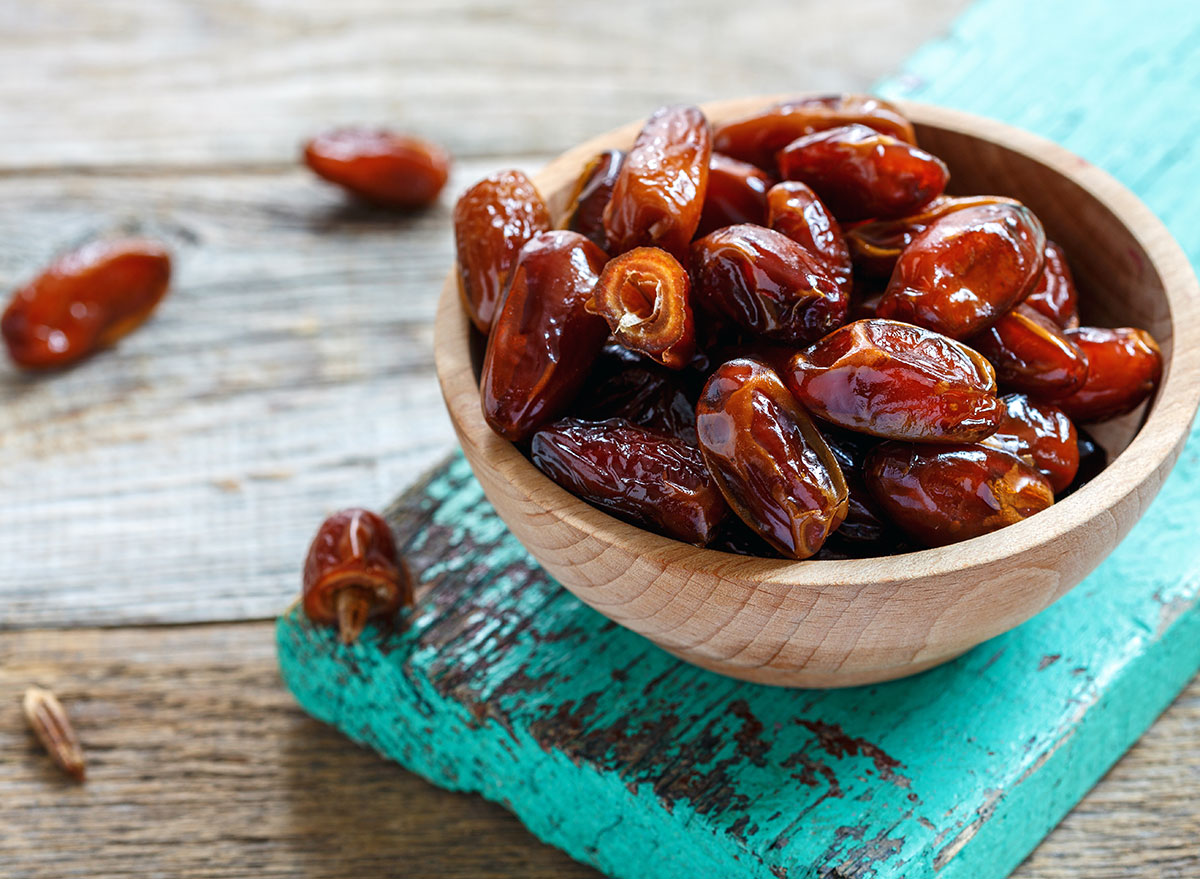 The new nutrition label is slated to go into effect in January 2020. This change marks the first time "added sugar" will appear on the nutrition label. To avoid having to declare added sugars, many manufacturers are opting to sweeten their products with real fruit, which does not require an added sugars declaration on the Nutrition Facts panel. The result is a new class of food products that are lightly sweetened and have a nice hint of fruitiness.
Lopaus Point Gluten-Free Waffles, Chocolate Chip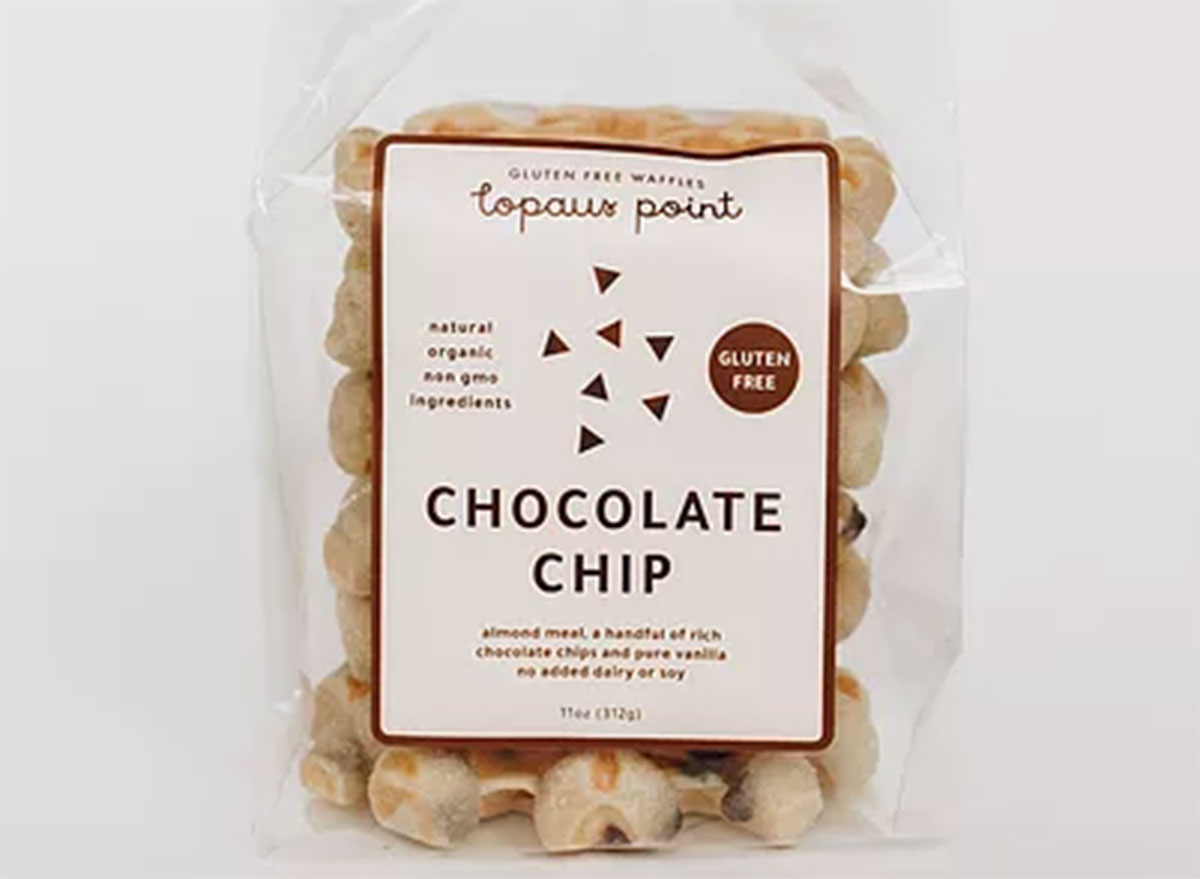 Lopaus Point strictly uses only whole, organic fruit to lightly sweeten their batters. The buck doesn't stop there. By adding flaxseeds and other whole-food ingredients, you're also getting a more satisfying breakfast than you would with your average toaster waffles.
Tessemae's No-Sugar-Added Diggy's Sweet & Spicy BBQ
Sweetened with dates, Tessemae's BBQ sauce is the perfect complement to your next barbeque or dip on the side of your plant-based nuggets. It's the perfect blend of sweet, savory, tangy from the balsamic, and spicy from the addition of chipotle powder. The brand also launched an unsweetened ketchup that has half the sugar of your average tomato-based condiment.
Wallaby Organic No Sugar Added Aussie Greek, Peach Hibiscus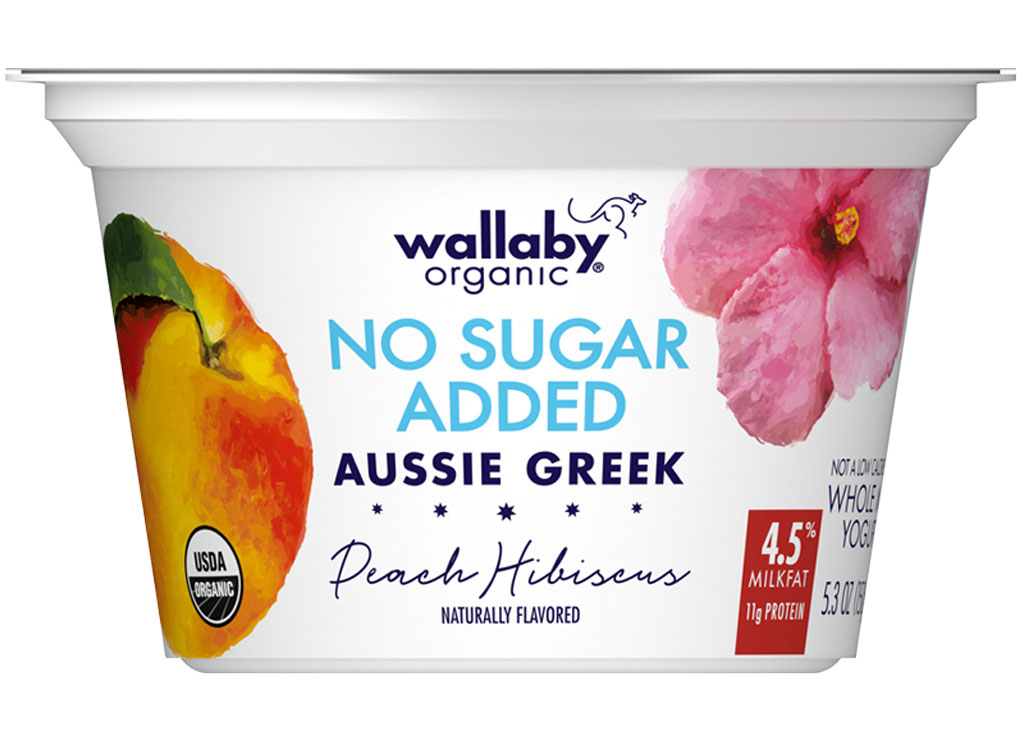 Usually, fruit-on-the-bottom yogurts are loaded with a sugary fruit jelly. On the other side of the spectrum, no sugar added yogurts are often plain, boring, and fairly tart. The solution? Wallaby sweetenes their yogurt with organic peaches and natural flavor. That way, you get the fruity flavor you love without that goopy layer of fruit puree.
Canned Alcoholic Drinks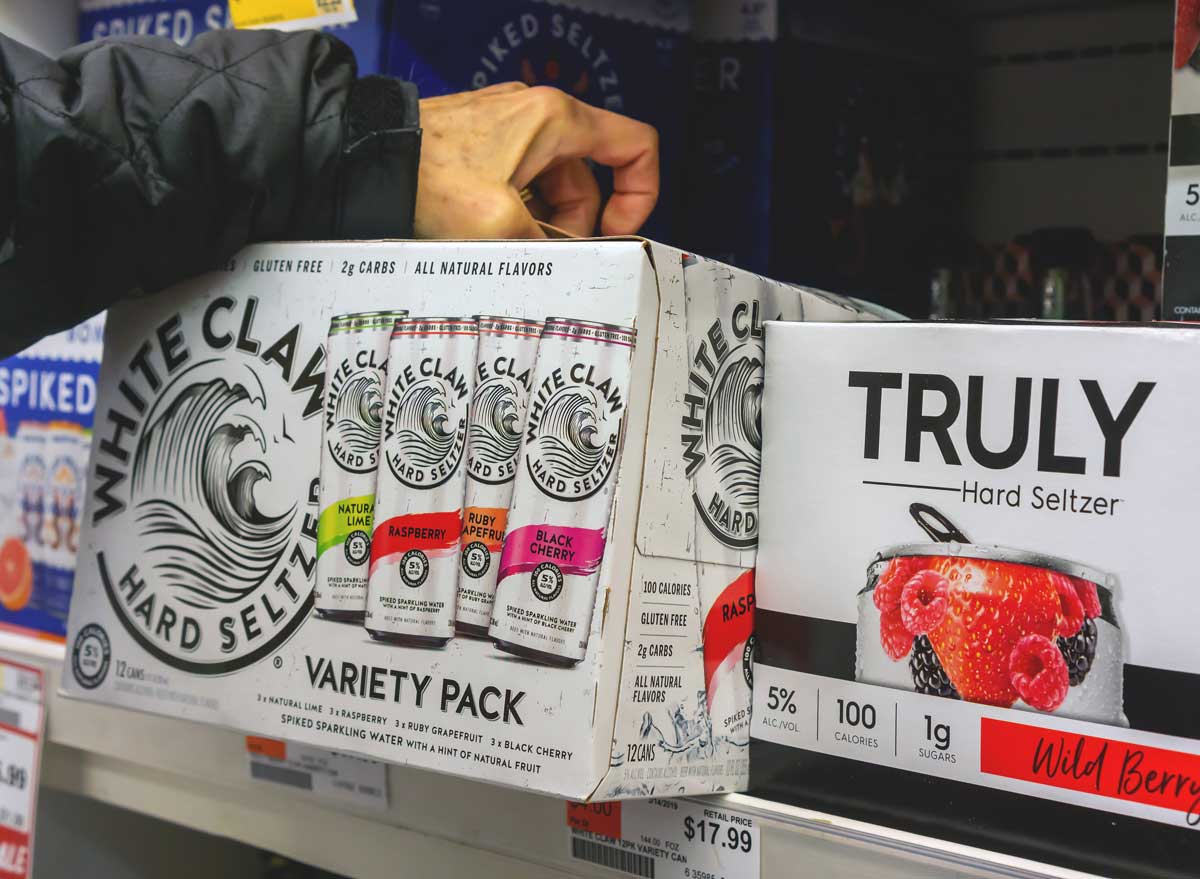 Sometimes, you just want to pop open a can after a long day and get sipping on something a little stronger than soda. Canned alcoholic drinks are convenient and the idea of a read-to-sip cocktail is a popular one, as their sales increased 40 percent in 2019 and will no doubt continue to rise.
White Claw, Black Cherry
Take a peek into a millennial's' fridge and there's a good chance you'll find some White Claw cans. The spiked seltzer brand—which is naturally gluten-free and clocks in at just 100 calories—has managed to become a staple at every gathering from barbecues to Friendsgiving. It's safe to say this is easily becoming a go-to drink of choice for both men and women and the black cherry flavor is simply refreshing.
Truly Hard Seltzer, Mango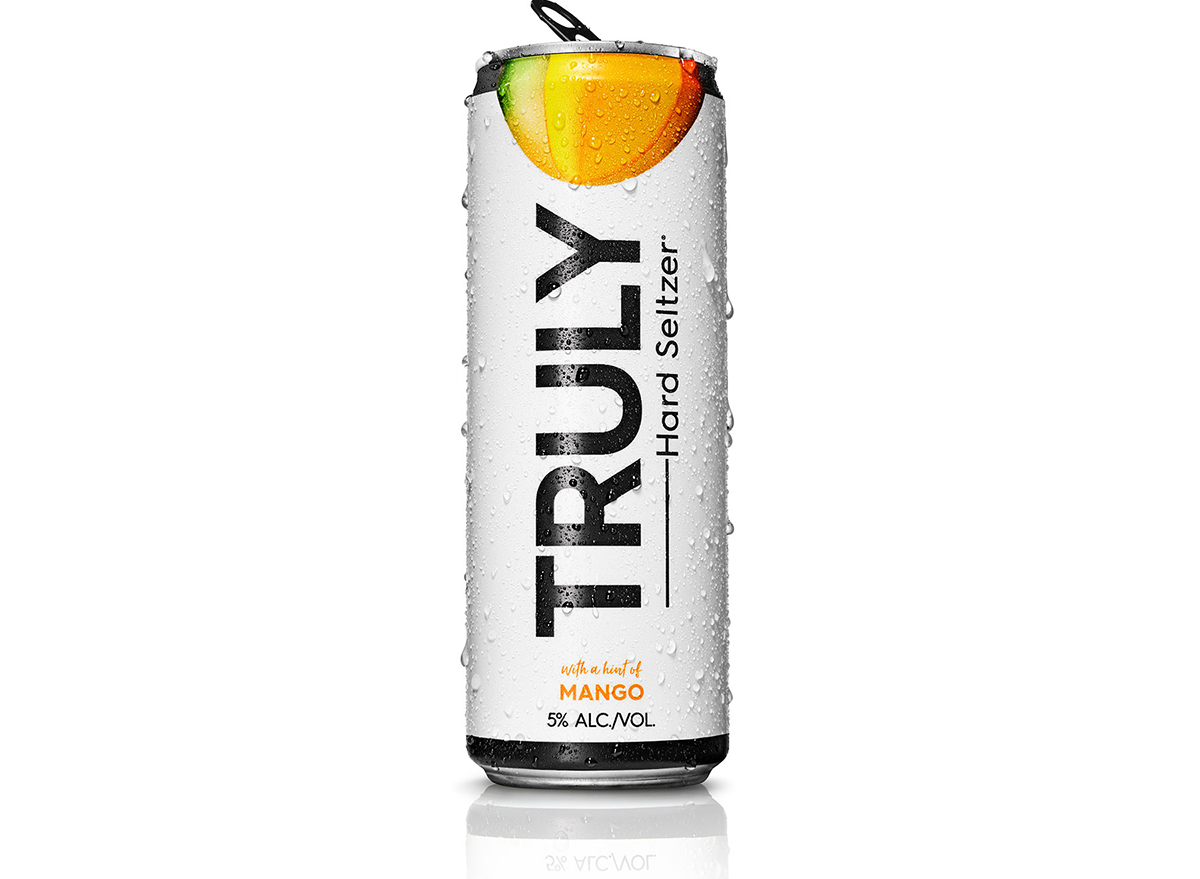 Truly markets itself as the "best tasting hard seltzer on the market" and the mango flavor lives up to the hype. It's crisp and refreshing, and in the fall of 2019, the brand introduced an updated seltzer formula. Starting in 2020, new flavors will be available too, such as original lemonade, strawberry lemonade, and mango lemonade.
USUAL Wines: Brut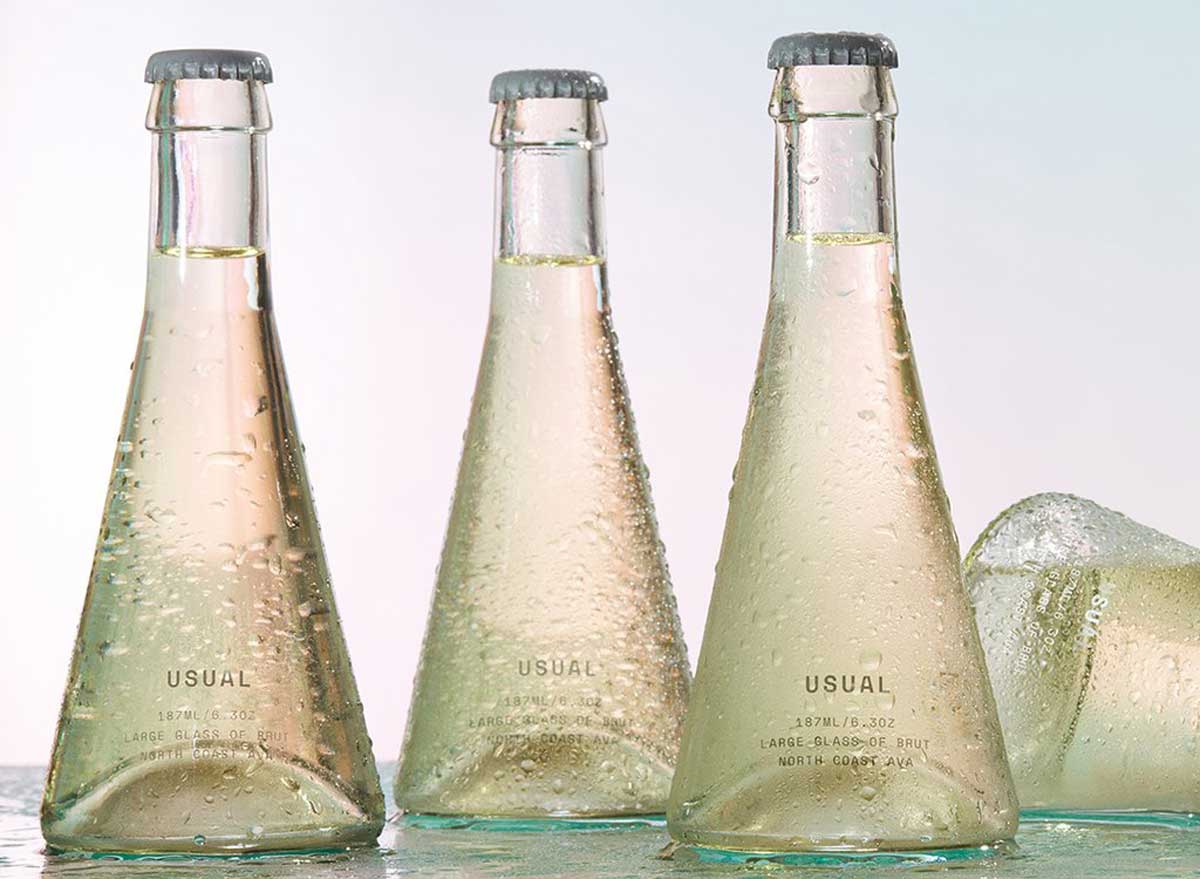 We're just going to say it: the bottles USUAL's wine comes in are simply aesthetically pleasing. But along with looking good, a bottle of sparkling Brut tastes great and comes from sustainably farmed grapes.
Simpler Wines, Rosé & White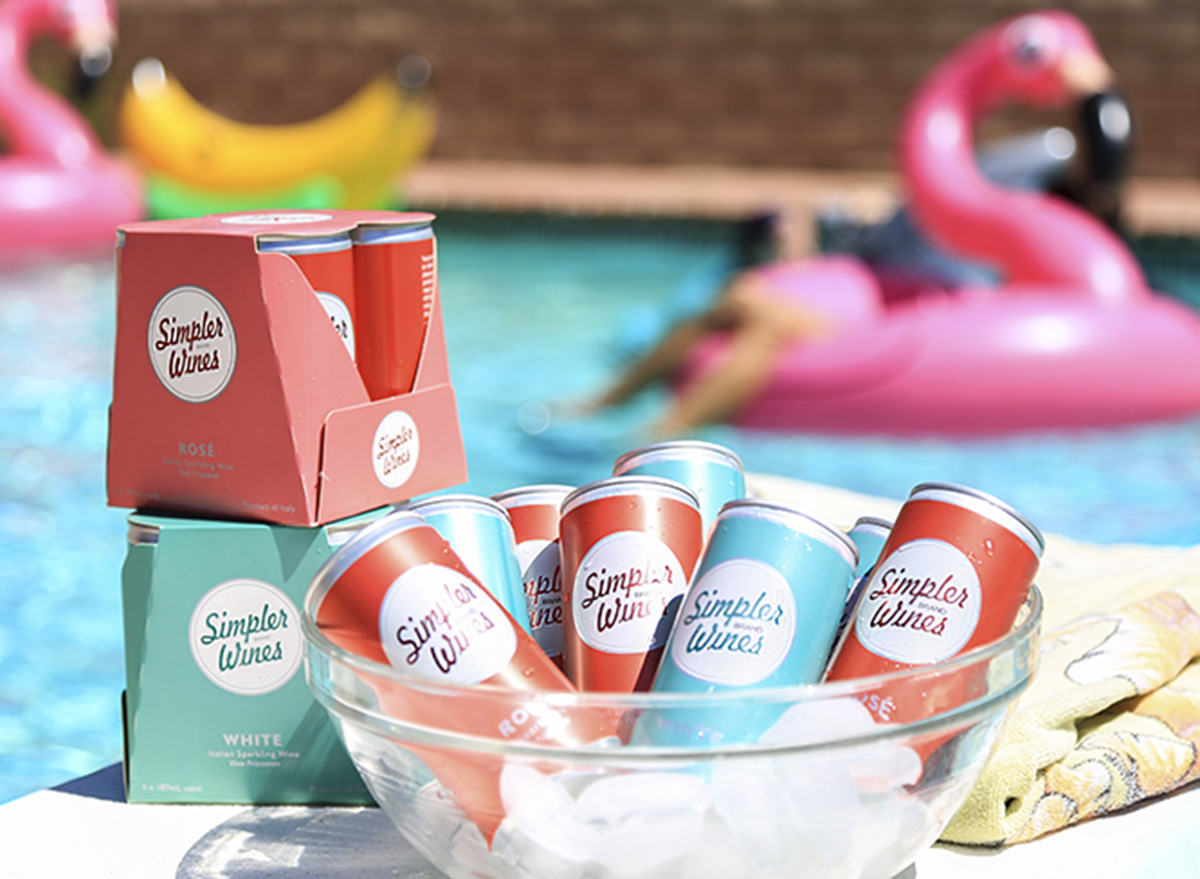 A trip to Trader Joe's wouldn't be complete without some canned wine, right? Well, you can find Simpler Wines in rosé and white varieties at TJ's that provide a light carbonated flavor.
Mocktails/No-Alcohol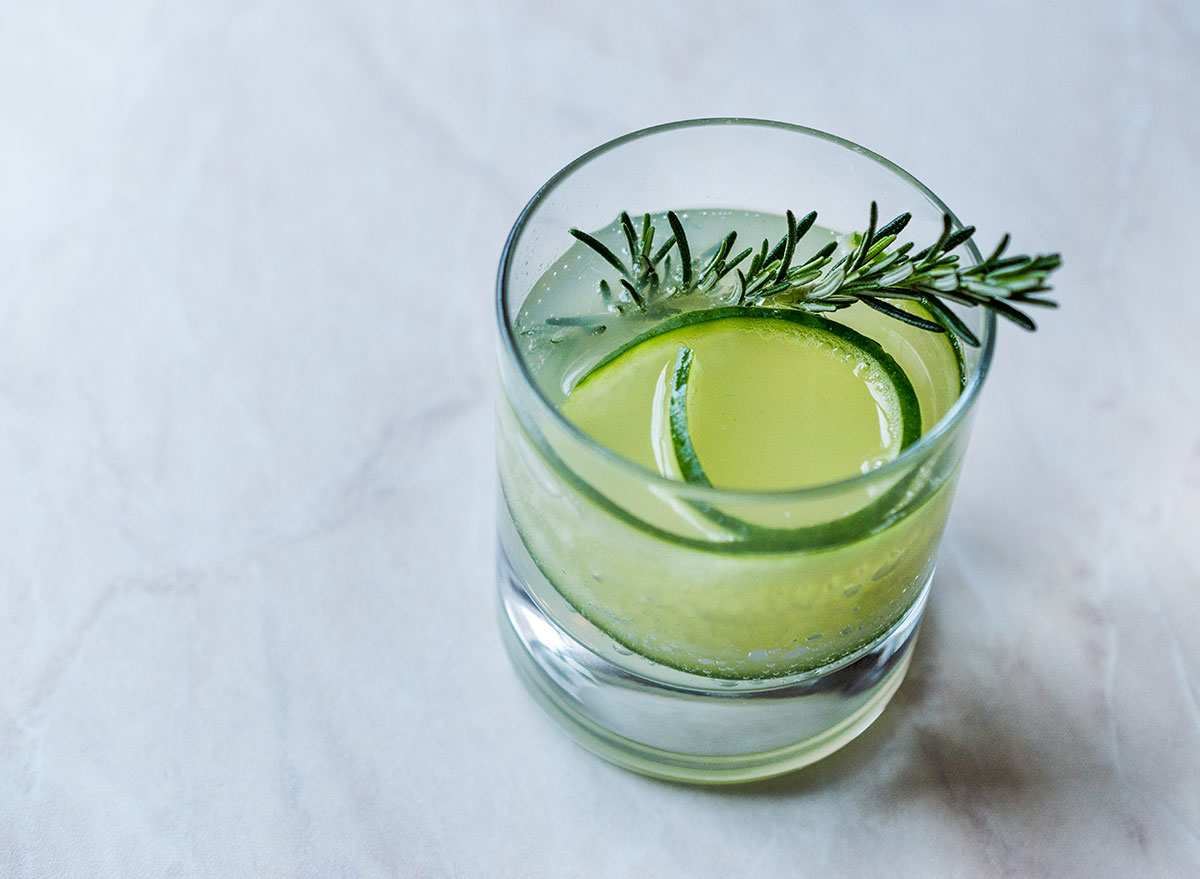 With the increase in health consciousness, many people are becoming "sober curious," or people who are interested in drinking less often or not at all. With this sober curiously comes the products perfectly poised to solve these mindful consumers: alcohol-free spirits. Previously, non-drinkers were relegated to sipping on a sugary soda or water at a bar. Now, they, too, can indulge in a handcrafted mocktail of their choosing, courtesy of the following brands leading the alcohol-free charge.
Seedlip, Garden 108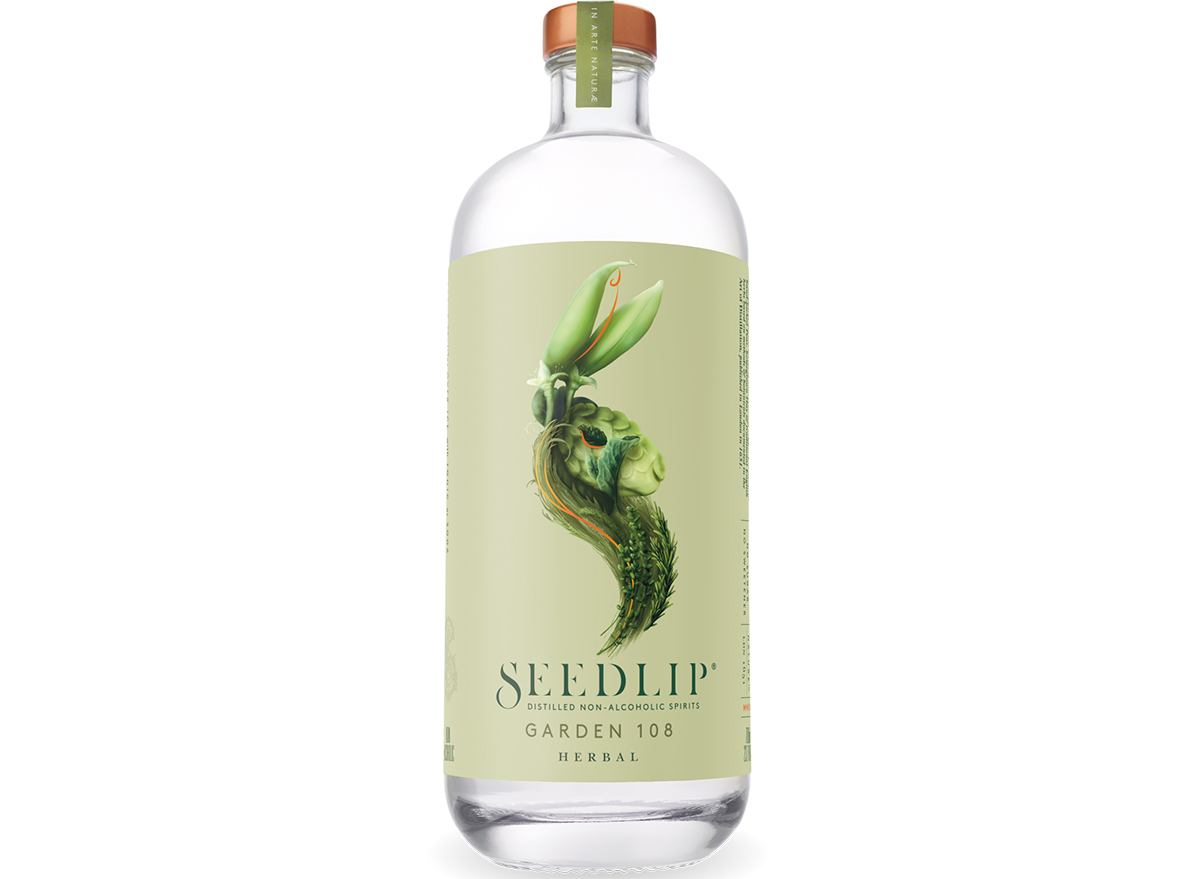 Yes, yes, you might be fearful of the "pea" in the description, but we urge you to set aside any preconceived notions of legumes and just try it. This non-alcoholic cocktail is beautifully balanced with a hint of earthiness and it's wildly herbaceous. It's both refreshing and intriguing. You've never tried anything like this before, but after you do, you may end up swearing off the booze for good.
Bar None, Spiced Ginger Mule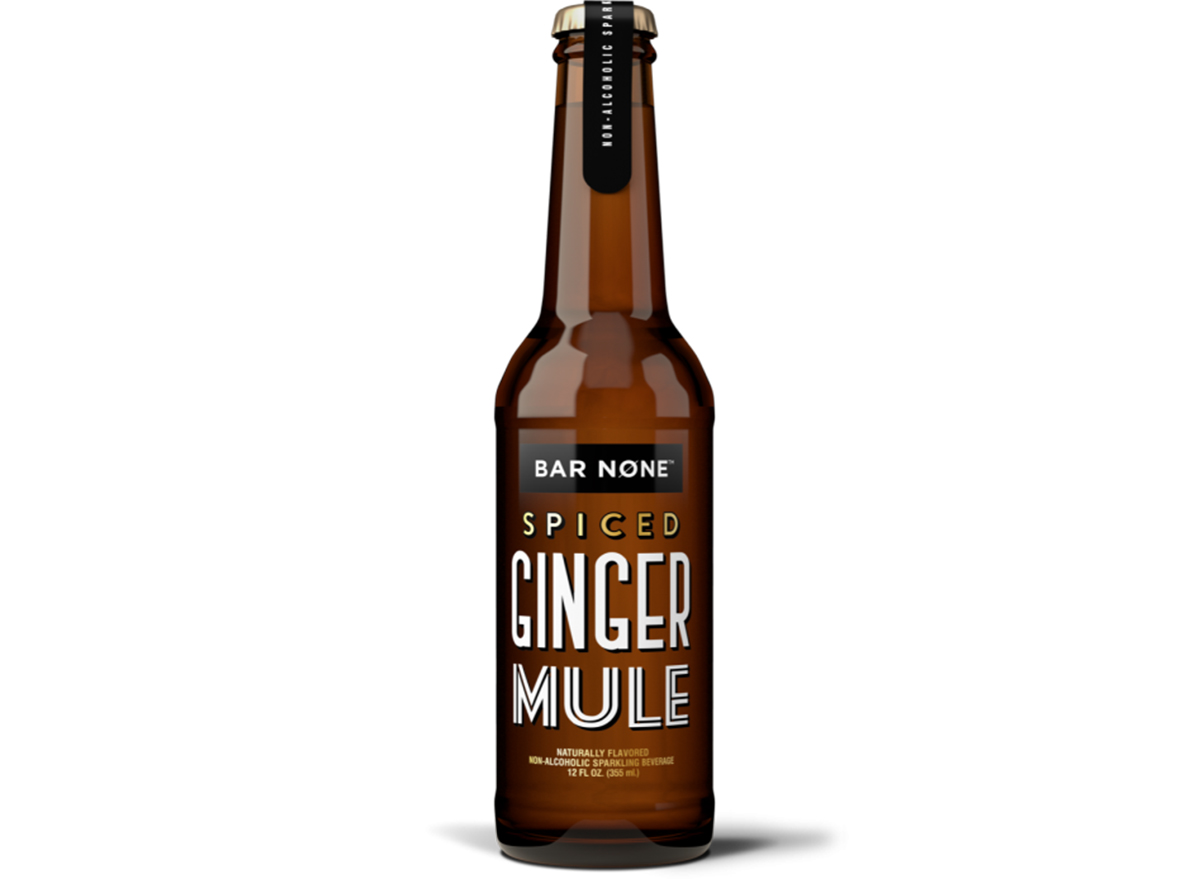 You'll find no gin in this mule. This alcohol-free version features some interesting ingredients you wouldn't typically find in a mule, like kombucha and apple cider vinegar. The pleasant ginger spice flavor is heightened by the lime juice, which is all rounded out by a mild sweetness. It's honestly worth drinking as a standard drink rather than an alcohol replacement.
Hella Bitters & Soda, Dry
Bitters are an essential ingredient in numerous cocktails, so these canned drinks are extremely reminiscent of the flavors you think of when you think of alcoholic drinks. Hella's beverages are designed to be drunk on their own, straight out of the can, or you can also use them as a mixer when you're feeling like having a drink.
Kin High Rhode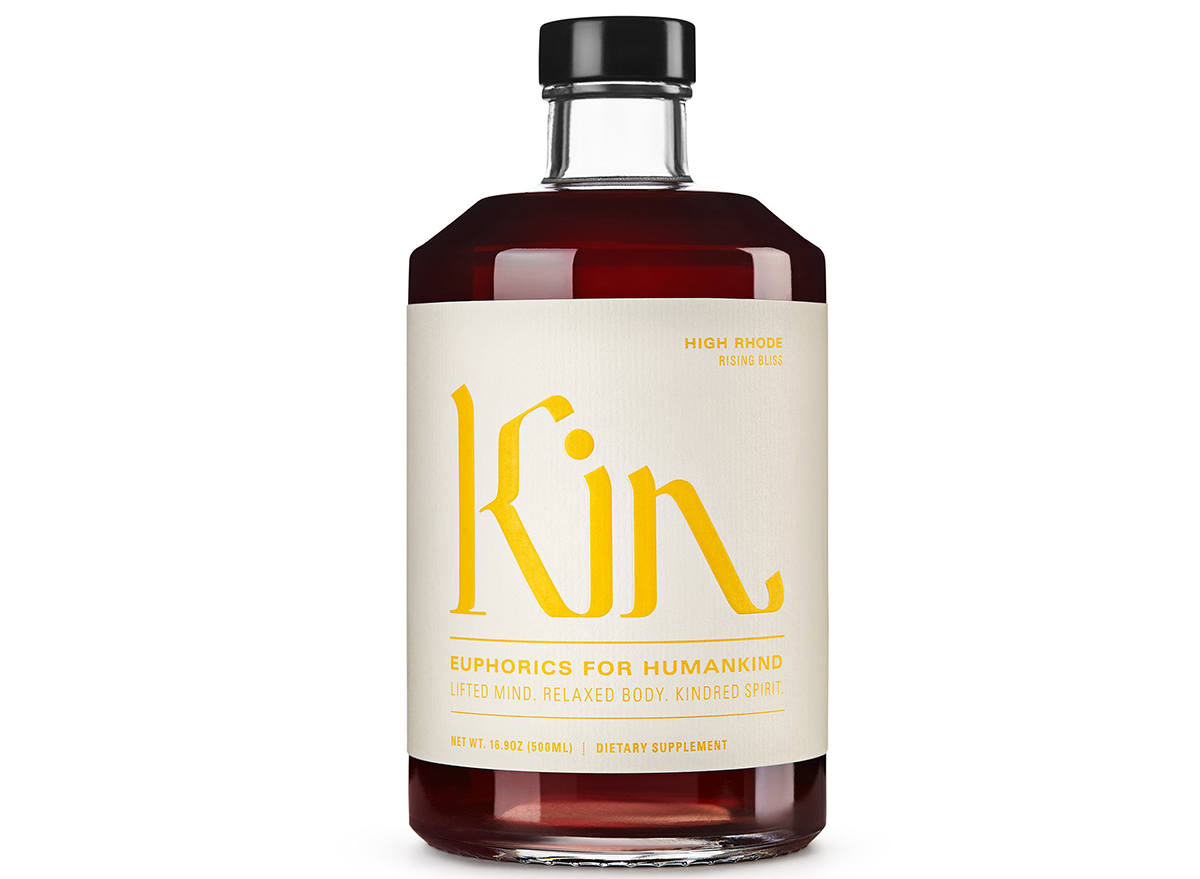 This tonic is part of a newly-invented category of functional beverages known as "euphorics," which is described by the brand as "a nightlife beverage made from nourishing nootropics, balancing adaptogens, and replenishing botanicals that lifts the mind and relaxes the body to open the spirit to connection." Basically, their blend of ingredients targets neurotransmitters in your brain to make you feel both stress-free and elevated.
Eat This, Not That!
Inspired by The New York Times best-selling book series, Eat This, Not That! is a brand that's comprised of an award-winning team of journalists and board-certified experts, doctors, nutritionists, chefs, personal trainers, and dietitians who work together to bring you accurate, timely, informative, and actionable content on food, nutrition, dieting, weight loss, health, wellness, and more.
Read more about Eat This