15 Healthy, High-Protein Snacks to Buy for Work
Stock up on these nutritious noshes when the 3 p.m. lull hits.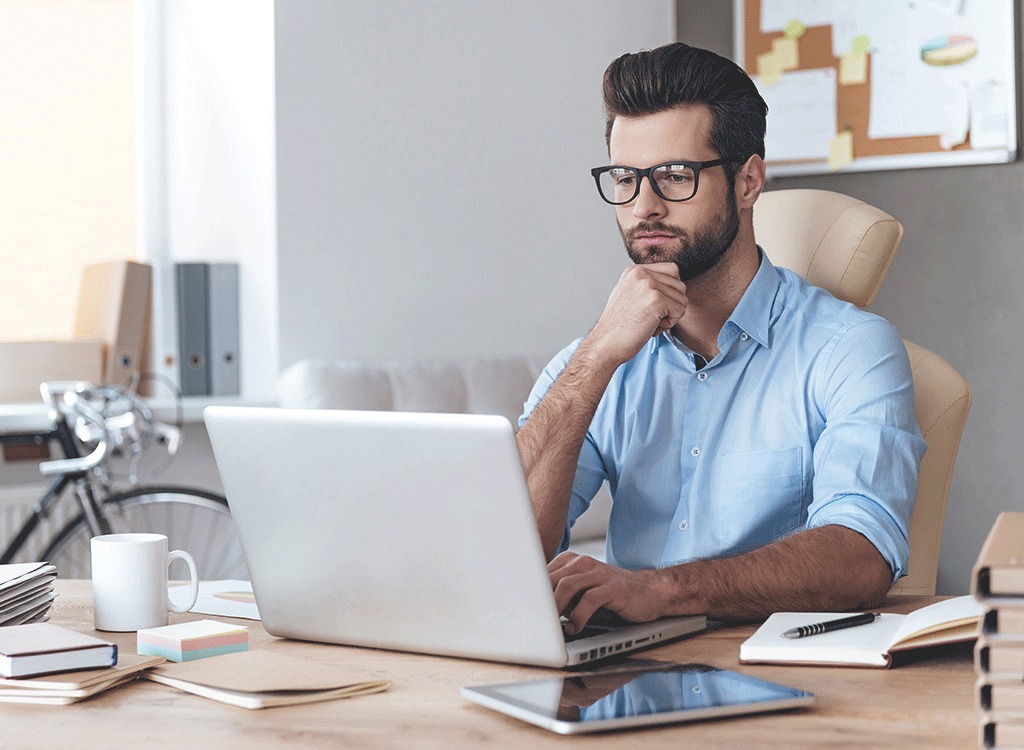 It's a busy day in the office: you have a pressing deadline and your fingers are rapidly typing away until your stomach starts to rumble. You start to lose your speed, and you feel tired. But you don't need a nap—what you need is a high-protein snack. Research has shown that high protein, low sugar snacks can help squash hunger better than sugary, carb-heavy noshes out there. In fact, researchers at the Centers for Disease Control and Prevention (CDC) found that Americans might be overindulging in unhealthy snacks while on the job, amounting to almost an extra 1,300 calories a week! These snacks mostly contained added sugars and sky-high levels of sodium.
What's not so surprising is that more than 70 percent of the calories were from free food. While it's tempting to snack on every office freebie, it's best to stock up on more nutritious options. To help you keep your snacking in check, we rounded up some high protein snacks that are totally office-friendly. Eating these low-sugar, protein-packed snacks (with no less than seven grams of the muscle-building nutrient per serving) will be the key to staying focused on that big project due at the end of the day as well as for sparking weight-loss results and suppressing your appetite. For more ways to blast away belly fat—and curb your sweet tooth—snag a copy of The 14-Day No-Sugar Diet, available wherever books are sold!
FlapJacked Double Chocolate Mighty Muffin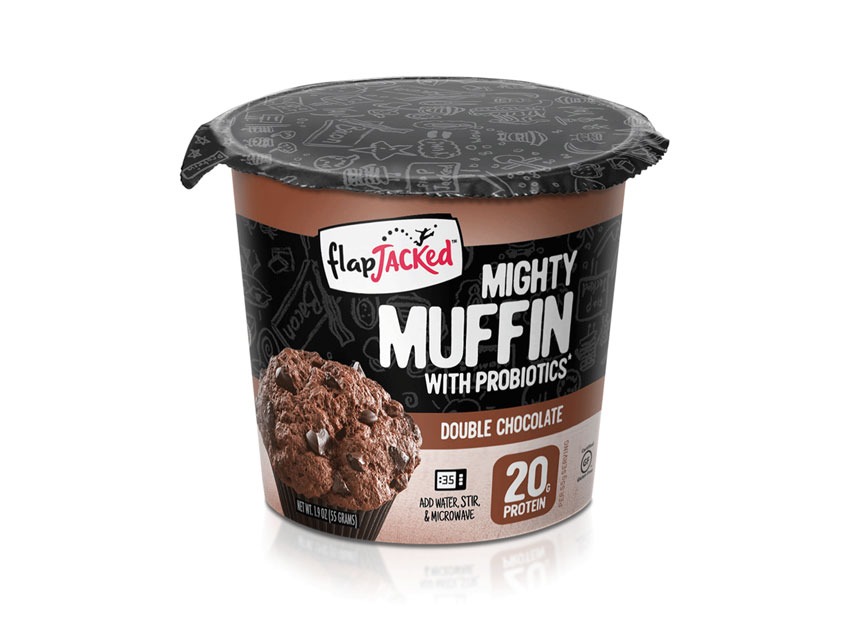 Per muffin
: 220 calories, 8 g fat (4.5 saturated fat), 350 mg sodium, 21 g carb (6 g fiber, 7 g sugar), 20 g protein
Most muffins are filled with sugar, fat and zero nutritional benefits. But FlapJacked changed the cliche caloric culprit into a flat-belly-friendly mouthwatering muffin. Unlike traditional store-bought muffins offering on average 521 calories and 22 grams of waist-widening fat. These high protein snacks offer 20 grams of protein, 6 grams of fiber, 8 grams of fat for only 220 calories. And while the nutritional facts do enough to give this snack a thumbs up, these get even better: they're ready for your enjoyment in less than a minute — all you have to do is add water and microwave for 35 seconds. If you want to satisfy your sweet tooth and fuel up without feeling guilty about it, these treats are the way to go.
Planters Nut-rition Heart Healthy Mix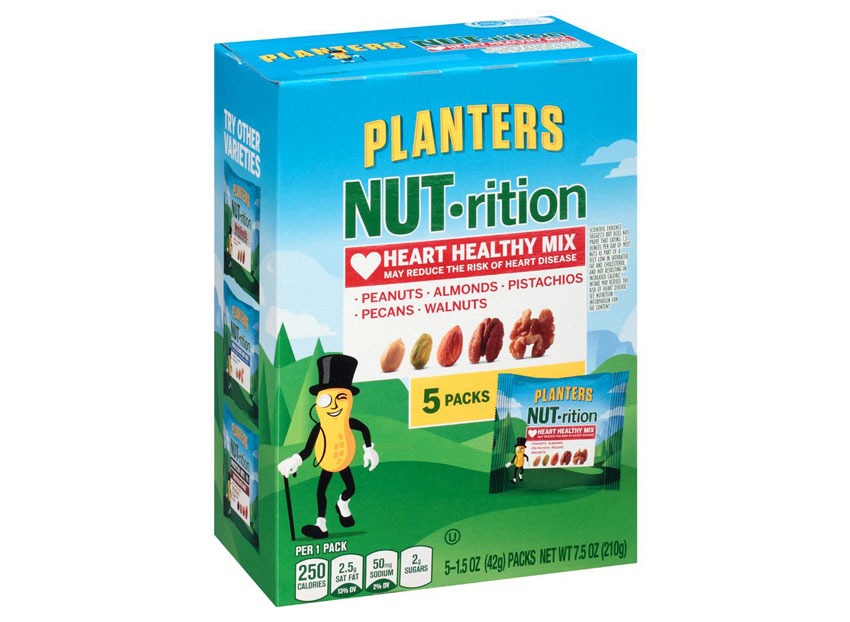 Per Pack
: 250 Calories, 23 g fat (2.5 g saturated fat), 50 mg sodium, 8 g carbs (4 g fiber, 2 g sugar), 9 g protein
Eating nut mixes can easily become a calorie-filled trap, sometimes they're extremely high in sugar when you're eating renditions with sweet pieces of raisins and chocolate, sometimes they're packed with sodium when they're as tasty as potato chips. But Planters solved that problem. With these pre-portioned packs, you're getting a well-balanced snack — a variety of nutty profiles to please your taste buds, little-to-no sugar or salt to keep that belly flat, and plenty of protein. This high protein snacks mix is the way to go if you're going nuts in the office.
Sea Point Farms Dry Roasted Edamame 100 Calorie Packs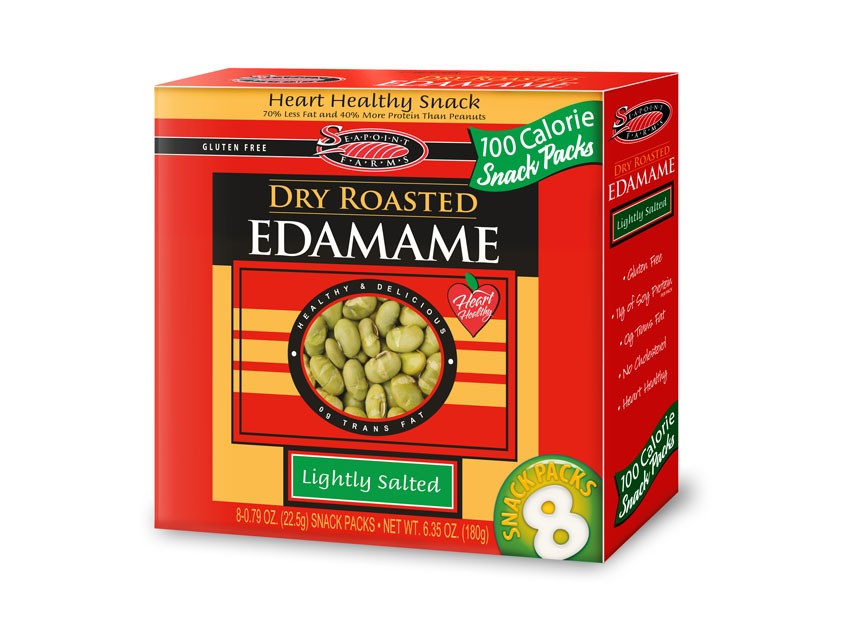 6254a4d1642c605c54bf1cab17d50f1e
Per Container
: 100 calories, 3 g fat (0.5 g saturated fat), 115 mg sodium, 8 g carbs (6 g fiber, 1 g sugar), 11 g protein
When you're bored of almonds and you're ready to spice things up go for dry roasted edamame. These protein snacks provide you with 11 grams of protein, 6 grams of belly-filling fiber and only 100 calories. Free of stink, and filled with crunch these packs are an awesome office alternative.
Chobani Plain Non-Fat Greek Yogurt with Raspberries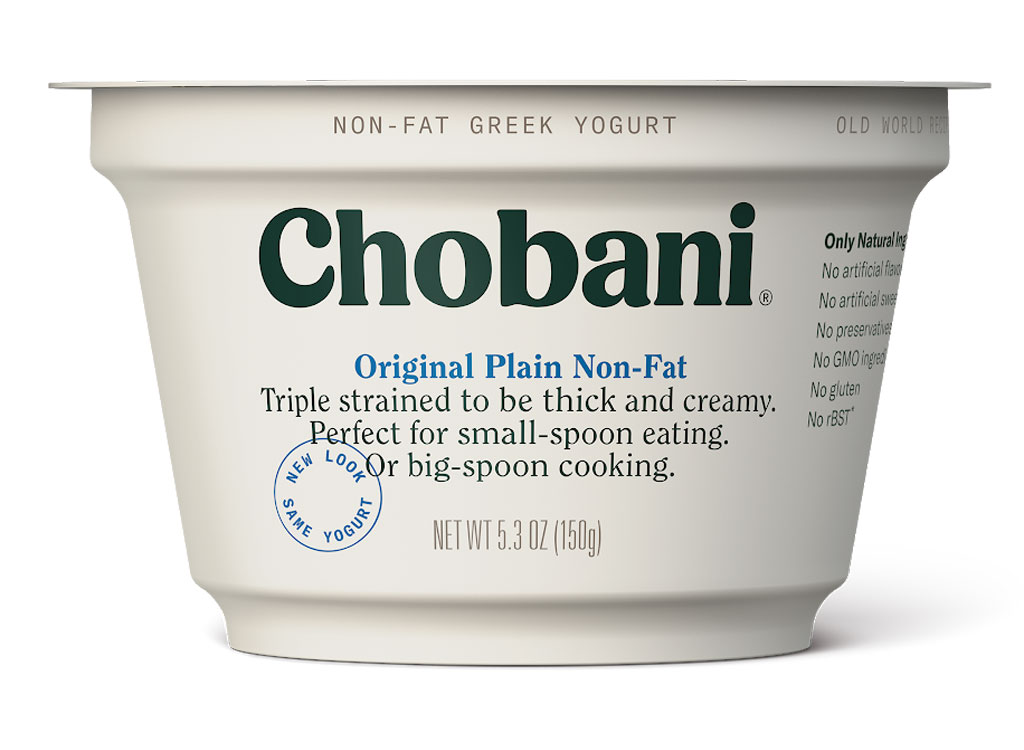 Per Container
: 80 calories, 0 g fat (0 g saturated fat), 55 mg sodium, 6 g carbs (0 g fiber, 4 g sugar), 15 g protein
This simple Greek yogurt is made from just two ingredients: milk and live active cultures. Packed with 15 grams protein, this deliciously tangy, low-cal, high-protein treat is ready for your indulgence. By adding raspberries you're packing more fiber and liquid than most other fruits, this helps to boost feelings of satiety without damaging your waistline, unlike traditional yogurt toppings such as granola that might.
Siggi's Icelandic Plain Yogurt
Per Container
: 100 calories, 0 g fat (0 g saturated fat), 55 mg sodium, 6 g carbs ( 0 g fiber, 3 g sugar), 17 g protein
If you haven't tried Icelandic Yogurt before, you're truly missing out. Here at Eat This, Not That! we are all about the Icelandic yogurt, especially Siggi's! Containing more protein than our favorite Greek, this great-tasting yogurt is low sugar and low cal too. And just like Greek, this Icelandic treat is filled with good bacteria — probiotics — which may be more than just good for your gut. In a recent research, studies showed that women who got their daily fix of probiotics lost nearly twice as much weight when compared to women who didn't.
Forget sugar filled fro-yo, place some delicious toppings on Siggi's and you're in for a hunger-squashing treat. Better yet, if your office has a blender, fold Siggi's yogurt into a delicious smoothie! The yogurt's thick texture makes smoothies extra creamy and filling. Don't believe us? Test participants in Zero Belly Smoothies lost up to 16 pounds in two weeks and boosted their metabolism after sipping on smoothies. Grab a copy today to find out what other fat-burning ingredients and high-powered veggies and fruits you should add to your smoothie.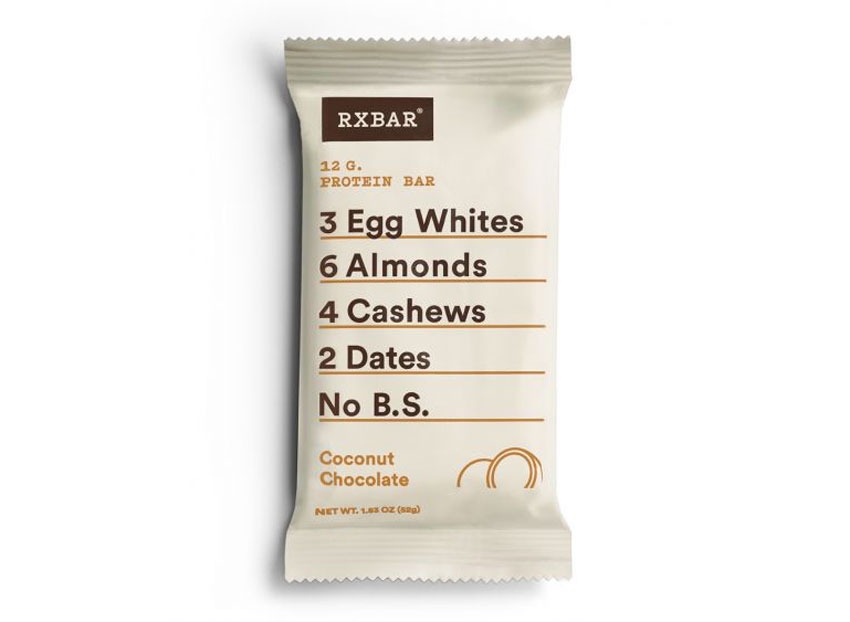 Per Coconut Chocolate RX Bar
: 210 calories, 9 g fat (2 g saturated fat), 150 mg sodium, 23 g carbs (6g fiber, 14 g sugar), 12 g protein
Unlike many protein bars, RX Bars are filled with ingredients we know and trust. Made from 3 egg whites, 6 almonds, 4 cashews, and 2 dates your body will thank you after you choose this whole food treat. Not too mention the wide array of flavors; from chocolate chip to blueberry, or even peanut butter there are protein packed options for everyone.
Simply Protein Herb Chips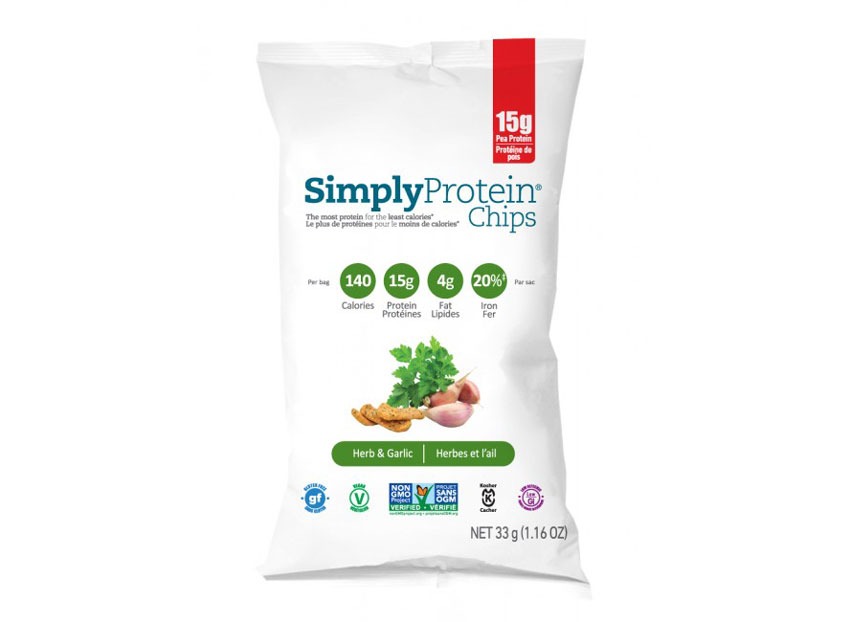 Per bag
: 140 calories, 4 g fat (0.3 g saturated fat), 320 mg sodium, 11 g carbs (1 g fiber, 2 g sugar), 15 g protein
Unlike the greasy potato chips calling your name in a vending machine, these chips lend you a whopping 15 grams of powerful, hunger-squashing protein sourced from peas. Yes, you read that right: pea protein. This salty, crunchy, addictively delicious snack is a way better option than your traditional bag of Lay's.
Per 6 Pieces Chicken Sesame BBQ Bites
: 100 calories, 4.5 g fat (1 g saturated fat), 290 mg sodium, 7 g carb (< 1 g fiber, 5 g sugar), 8 g protein
Jerky can easily become a sodium-soaked, overly processed, high fat snack. But not when we're talking about Epic Brand Jerky. These bites mere 100 calories, 15 grams of wholesome, naturally raised chicken protein, and are still low-fat and low-carb. Does it get better than that? No way. This jerky brand is the way to do it when you're needing some animal-based protein to keep those hunger strikes at bay.
Justin's Classic Peanut Butter Packets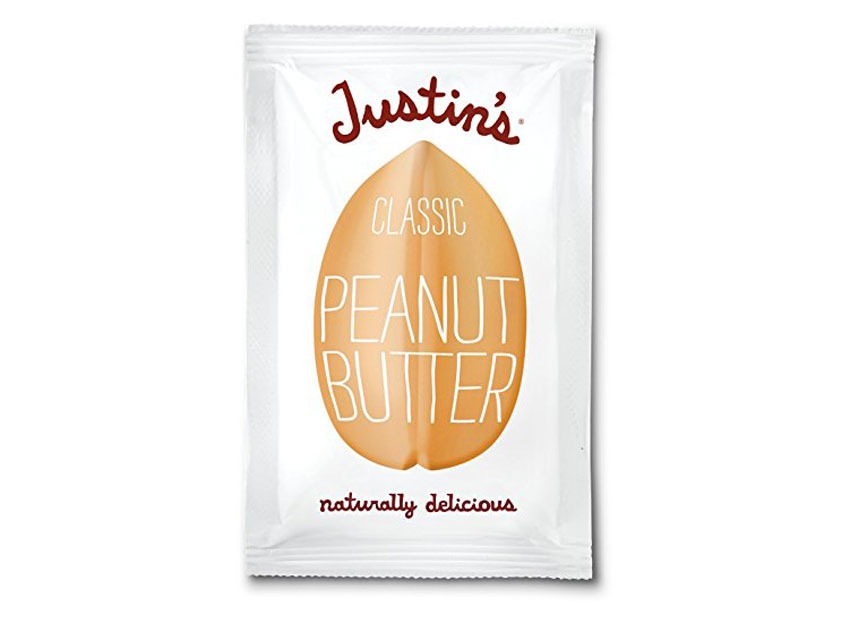 Per Squeeze Pack
: 190 calories, 16 g fat (3 g saturated fat), 25 mg sodium, 7 g carbs (2 g fiber, 2 g sugar), 8 g protein
Whether you're going to spread it on a banana, dip it with pretzels, or eat is as is Justin's Peanut Butter does the trick to putting an end to any mid-day hunger. The fiber-rich and protein-packed servings of peanut butter help control cravings and regulate blood sugar. And because the brand knows spoonfuls of the rich spread can quickly become a good snack gone bad, these individual pouches make sure you don't overdo it with one too many calorie-crammed spoonfuls.
Horizon Organic Mozzarella Sticks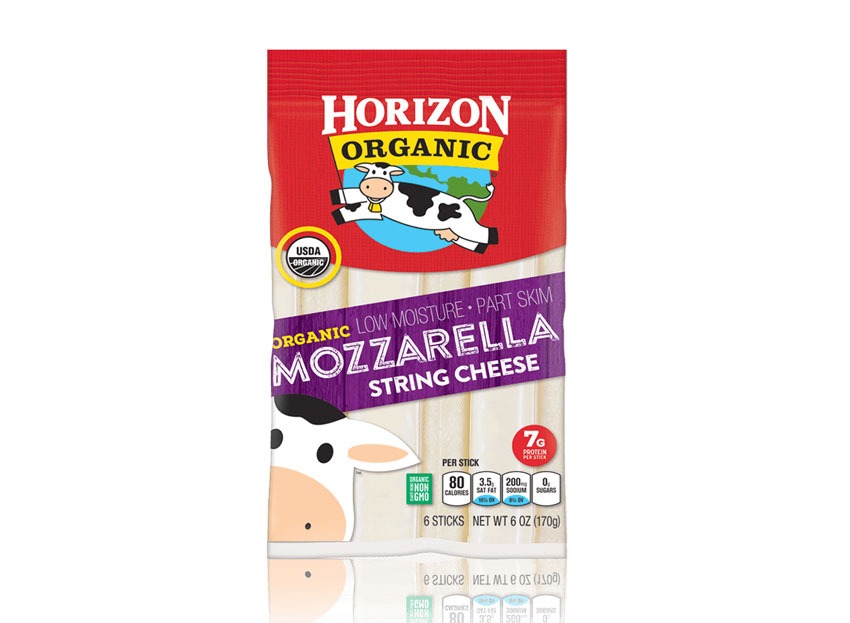 Per Stick
: 80 calories, 6 g fat (3.5 g saturated fat), 200 mg sodium, < 1 g carbs ( 0 g fiber, 0 g sugar), 7 g protein
Nope, not just for your kid's lunch box. These string cheese sticks are packed with more than just 7 grams of protein.The deliciously creamy, low-fat string snacks serve you a fifth of your day's calcium intake. Pair with a seed based cracker or eat on its own.
Enlightened Mesquite BBQ Roasted Beans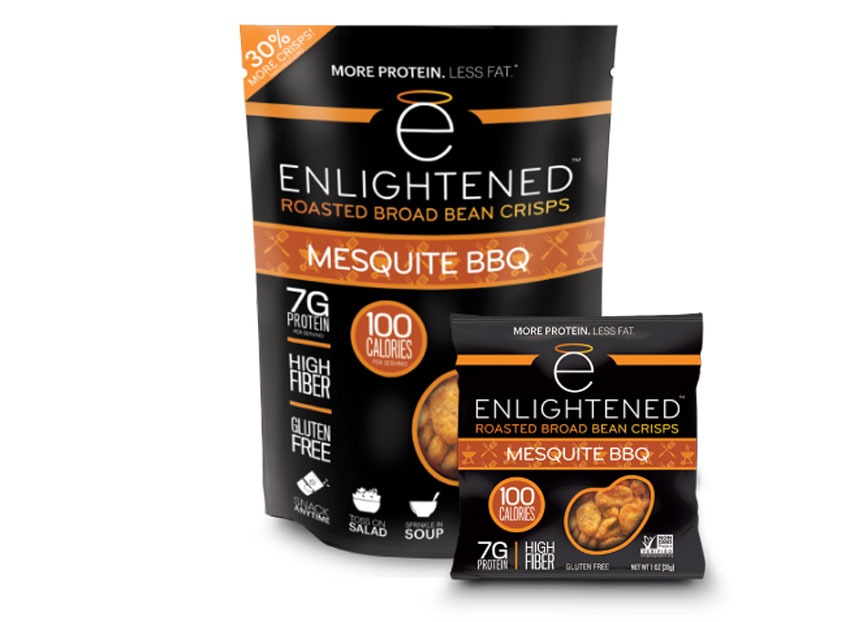 Per Snack Pack
: 100 calories, 3 g fat (0 g saturated fat), 150 mg sodium, 15 g carbs (5 g fiber, 1 g sugar) 7 g protein
Beans, beans they're good for your heart the more you eat… the less happy your spouse may be later on at night. But during the day, who cares! These roasted bean snacks make the perfect pick-me-up when you're in need of an extra energy boost. With flavors like mesquite BBQ, garlic, & onion, and sriracha you'll be able to curb any chip-like-craving you may be having with these high protein snacks.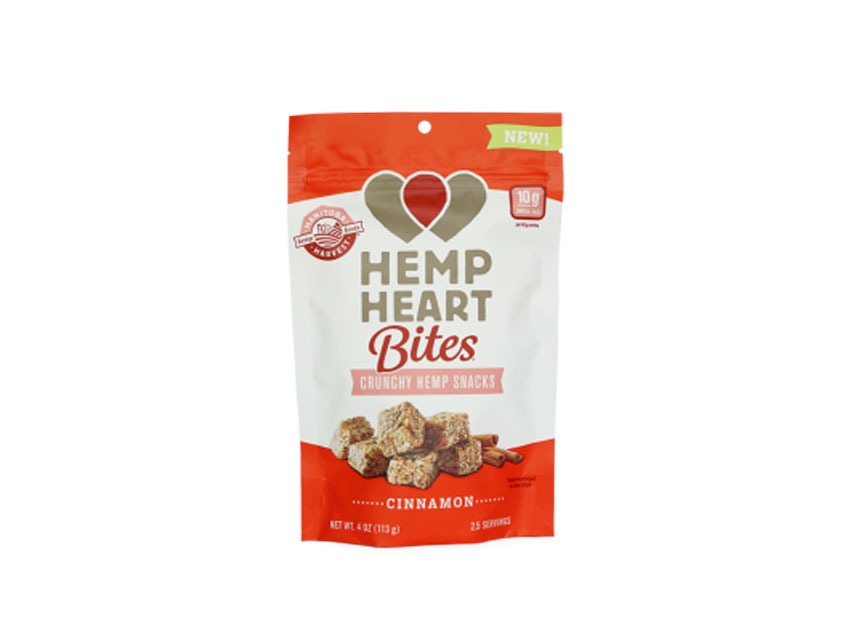 Per 10 Cinnamon Flavor Bites
: 230 calories, 15 g fat (1.5 g saturated fat), 130 mg sodium, 15 g carbs (3 g fiber, 10 g sugar), 10 g protein
Hemp is the newest craze when it comes to snacking. The nut-like seed can ward off heart disease, obesity, and metabolic syndrome. The brand knew exactly what we were looking for: crafted to beat your "mid-day snack attack" these bites offer 10 grams of crave-stopping protein and are totally delicious high protein snacks. And we can't forget to mention the stellar amount of omega-3s and omega-6s too.
Health Warrior Superfood Protein Bar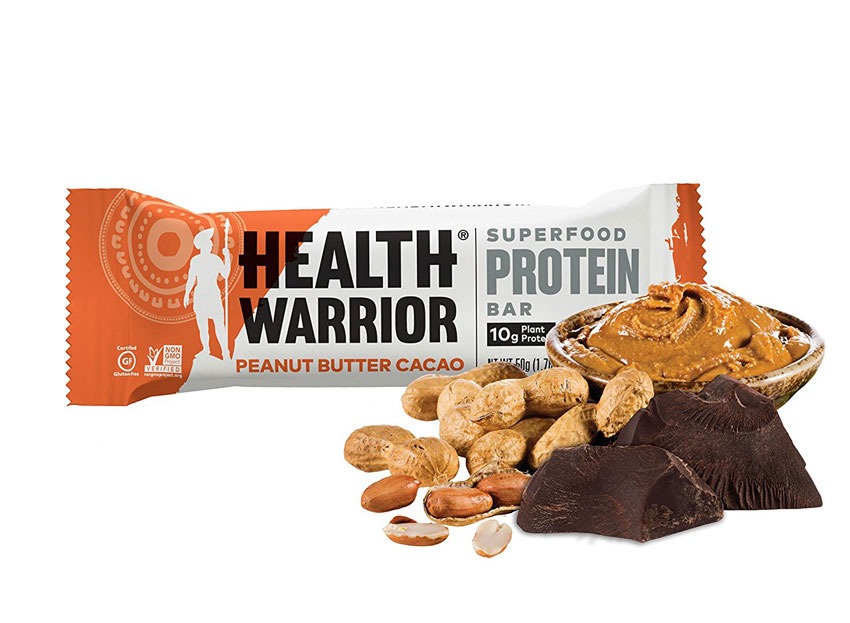 Per Peanut Butter Cacao Superfood Bar
: 200 calories, 8 g fat (2 g saturated fat), 180 mg sodium, 25 g carb (5 g fiber, 11 g sugar), 10 g protein
We ranked chia bars as one of the best nutrition bars for a reason — their main ingredient has a lot to offer your body. Rich in soluble fiber, chia seeds help fix an irregular metabolism and curb cravings. Even better, these superfoods are stocked with omega-3's, calcium and protein, making them the ultimate in high protein snacks. It may taste like a Reese's, but unlike the candy bar, this snack will energize you, boost feelings of satiety without doing any damage to your waistline.
BUMBLE BEE Sensations Chipotle Seasoned Tuna With Crackers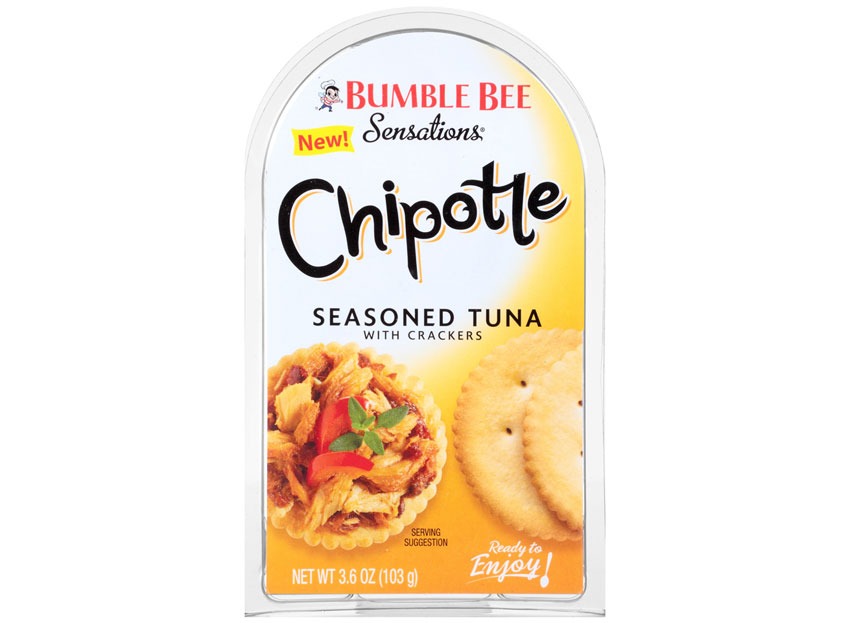 Per pack with crackers
: 170 calories, 3.5 g fat (0 g saturated fat), 515 mg sodium, 15 g carbs (1 g fiber, 2 g sugar), 20 g protein
Looking to lose weight and build muscle? Look no further than tuna fish. This fatty fish is full of anti-inflammatory, heart-healthy omega-3 fatty acids that will help to fight back against waist-widening inflammation. Plus, the 20 grams of protein will be sure to help you tone up and blast fat when paired with exercise.
Blue Moose of Boulder Hummus
Per pack
: 368 calories, 22 g fat (2.6 g saturated fat), 456 mg sodium, 40 g carbs (8 g fiber, 4 g sugar), 12 g protein
If you're in need of a mini mid-afternoon meal, you have to try Blue Moose of Boulder's on-the-go hummus packs. Choose from original or roasted red pepper hummus paired with gluten-free crackers, these high-fiber, and high protein snacks will keep you full (and your taste buds pleased) for a while. The fat in chickpeas is one of the 20 Healthy Fats That Help You Get Slim.
More content from
Groceries