29 Low-Carb Breakfast Ideas That Will Keep You Full All Morning
Say goodbye to mid-morning hunger pangs with these 29 low-carb breakfast recipe concepts.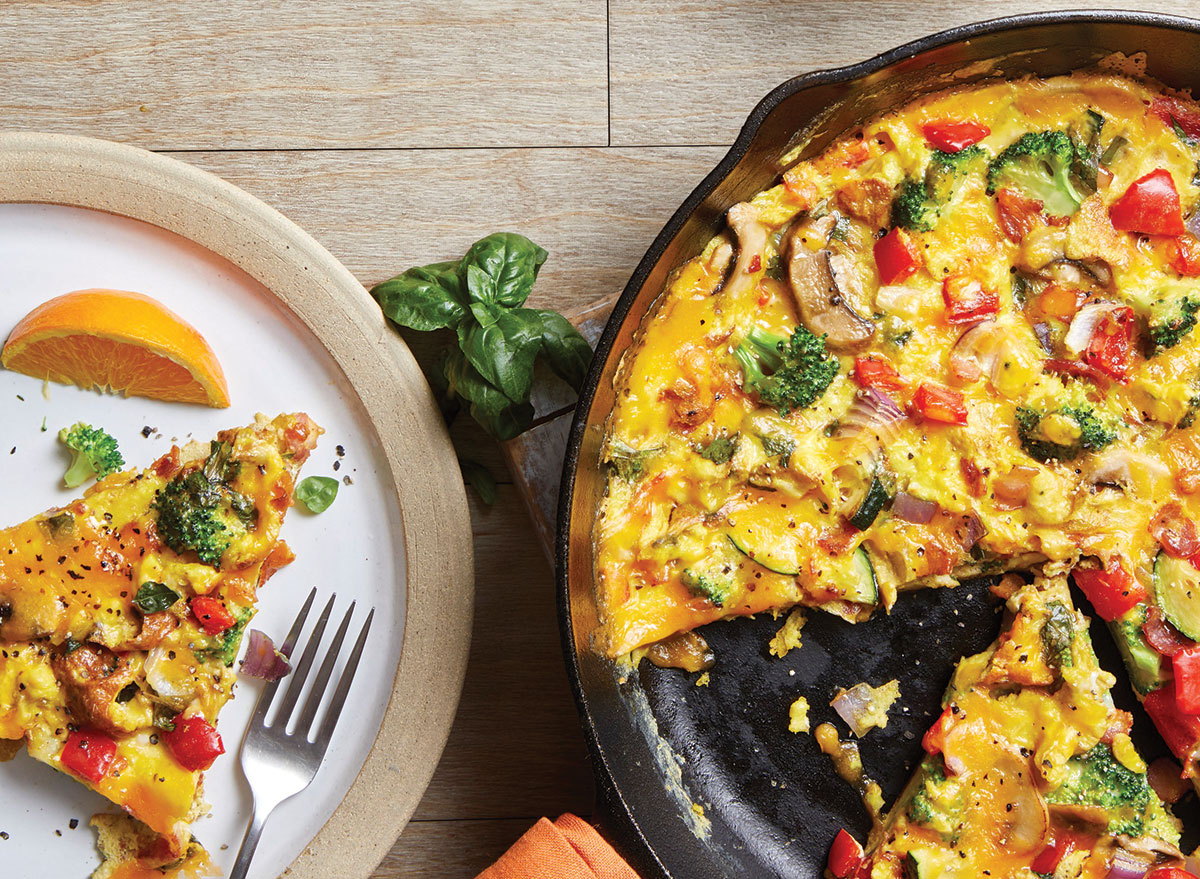 Some say breakfast is the most important meal of the day, and other people can't stomach the idea of food first thing in the morning. If you're a breakfast eater but you still struggle with mid-morning hunger, it could be because your breakfasts are carb-heavy but lacking protein and fiber. So, what's a hungry eater to do? Instead of the more traditional breakfast foods, try these low-carb breakfast recipes to help keep you full all morning long.
Though not totally carbohydrate free, these low-carb breakfast recipe ideas each emphasize fiber or protein to help keep you full all the way through until your next meal. Read on to learn more, and once you've had your fill, also be sure to check out these additional 9 Best Breakfast Recipes for a Longer Life.
Chocolate Chip Protein Muffins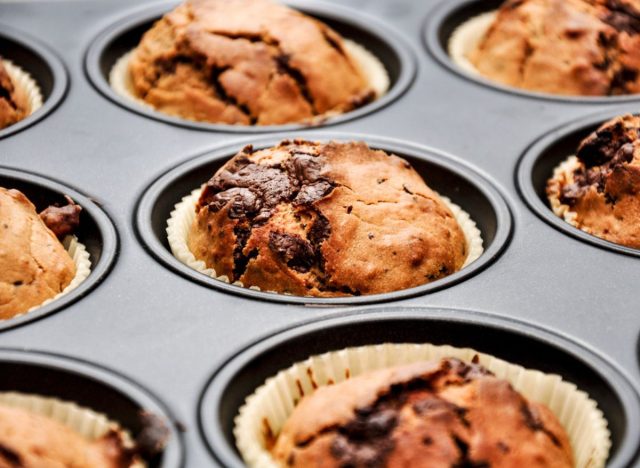 These healthy, low-carb breakfast muffins from Ayat Sleymann, RD, are made with high-protein Kodiak Cake mix, Greek yogurt, and of course, chocolate chips. If you like, add mashed banana to boost the sweetness and your potassium intake at the same time. (However, if you're watching carbs closely, be aware that bananas do have carbs.) Each muffin sans banana has seven grams of carbohydrates, so enjoy two muffins and a glass of milk, and you'll still be under 30 grams of carb when you start your day.
Get the recipe from AyatSleymannRd.com.
Broccoli Cheese Egg Muffins
Want to start the day off with a heartier muffin? These flourless, low-carb muffins from registered dietitian Julie Andrews, MS, RDN, FAND at the Healthy Epicurean are savory and delicious. Don't like broccoli? They're also easy to customize with your favorite vegetables, and they can be made ahead of time, frozen, and reheated in under a minute. Enjoy three of them for just 7 grams of carbohydrates.
Get the recipe from the Healthy Epicurean.
Carrot Cake Baked Oats
Wish you could eat cake for breakfast? Your wish will come true when you make these carrot cake baked oats from Leanne Ray at Healthy(ish) Appetite. This breakfast treat is only 22 grams of carbohydrates—and that includes the cream cheese frosting. (Wow, so good!)
Get the recipe from Healthy(ish) Appetite.
Savory Quinoa Breakfast Bowl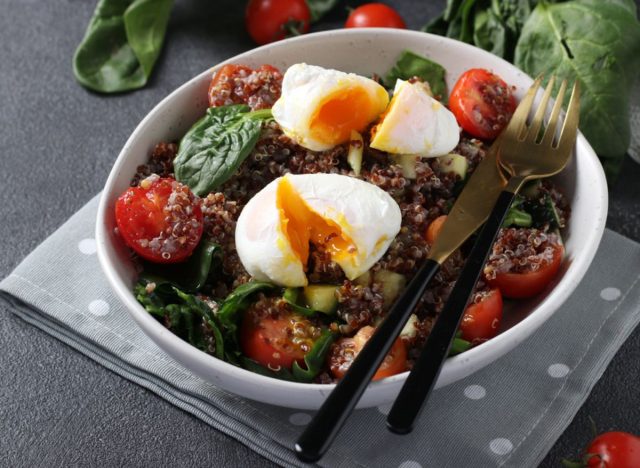 These hearty and filling savory quinoa breakfast bowls from Brynn McDowell, RDN, at the Domestic Dietitian, could work for brunch with a crowd as well as breakfast on your own. In order to keep your meal low-carb friendly, keep your portion of quinoa down to a half cup. This will limit the carb count to about 15 grams. Then, heap your bowl full of as many veggies as you like to get full and stay satisfied all morning long.
Get the recipe from the Domestic Dietitian.
Berry Chocolate Smoothie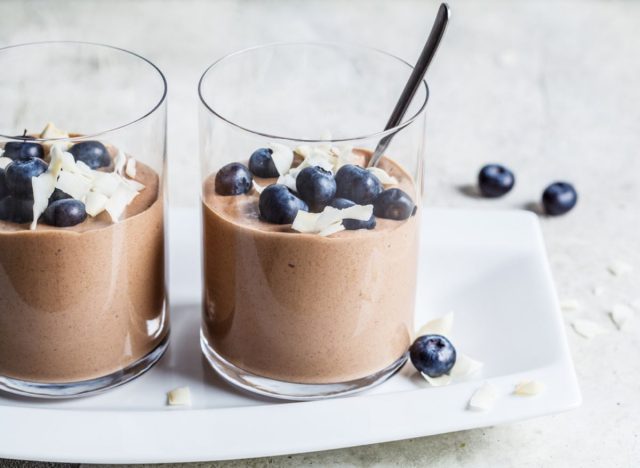 Prefer to whip up your breakfast and drink it on the go? Plant-based dietitian Amy Gorin, MS, RDN, offers a low-carb berry chocolate smoothie recipe. It's full of antioxidants from frozen blueberries and strawberries and can be blended up in five minutes on a busy morning. All this chocolate goodness, and only 24 grams of carbohydrates.
Get the recipe from Plant Based With Amy.
5-Minute Pesto Eggs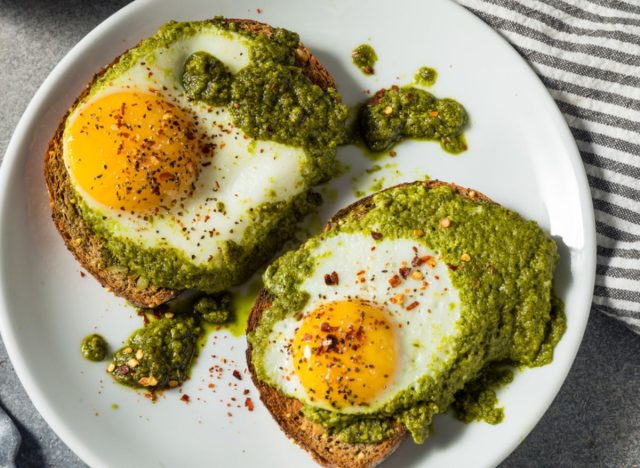 Do you love Mediterranean flavors? Start your day with registered dietitian nutritionist Anne Danahy, RDN's 5-Minute Pesto Eggs. The only carbs are those in the toast you use as a base for your savory creation. Eggs, pesto, tomatoes, and feta cheese? Yes, please!
Get the recipe from Craving Something Healthy.
Loaded Vegetable Frittata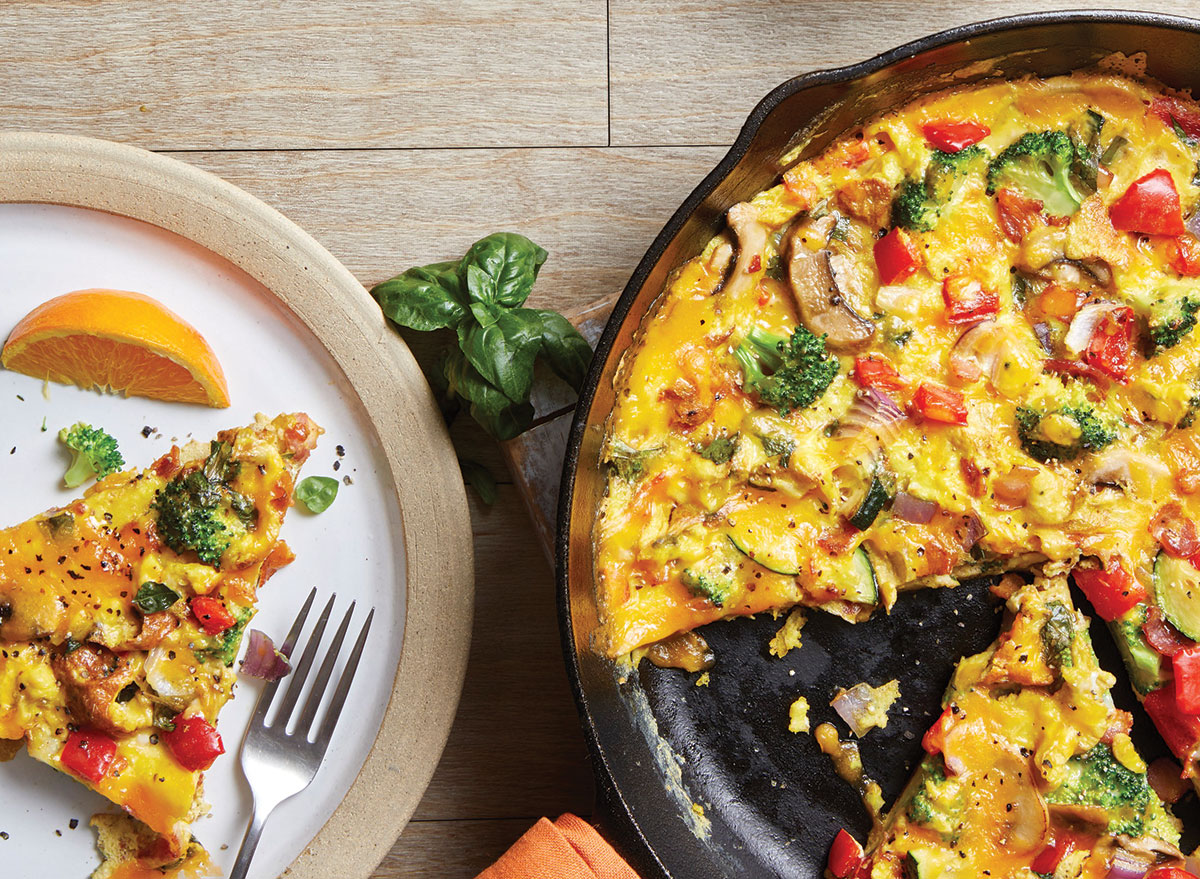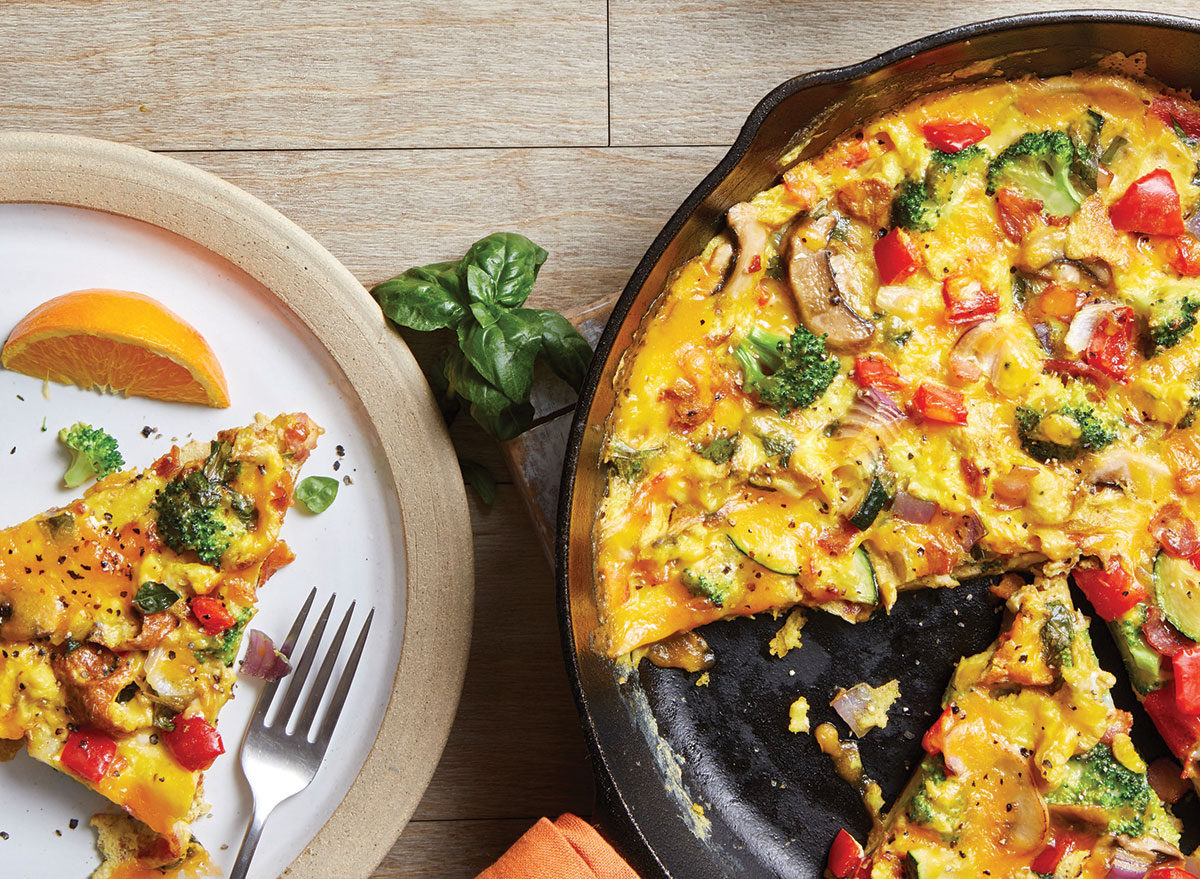 It makes sense that eggs are such revered breakfast staples. These protein-packed nutritional powerhouses are also low in calories and carbs. But if you're sick of basic boiled eggs or scramble, zhuzh up the flavors of your morning meal with the egg-cellent additions of vibrant veggies while keeping its carb count low.
Get our recipe for Loaded Vegetable Frittata.
Overnight Chia Pudding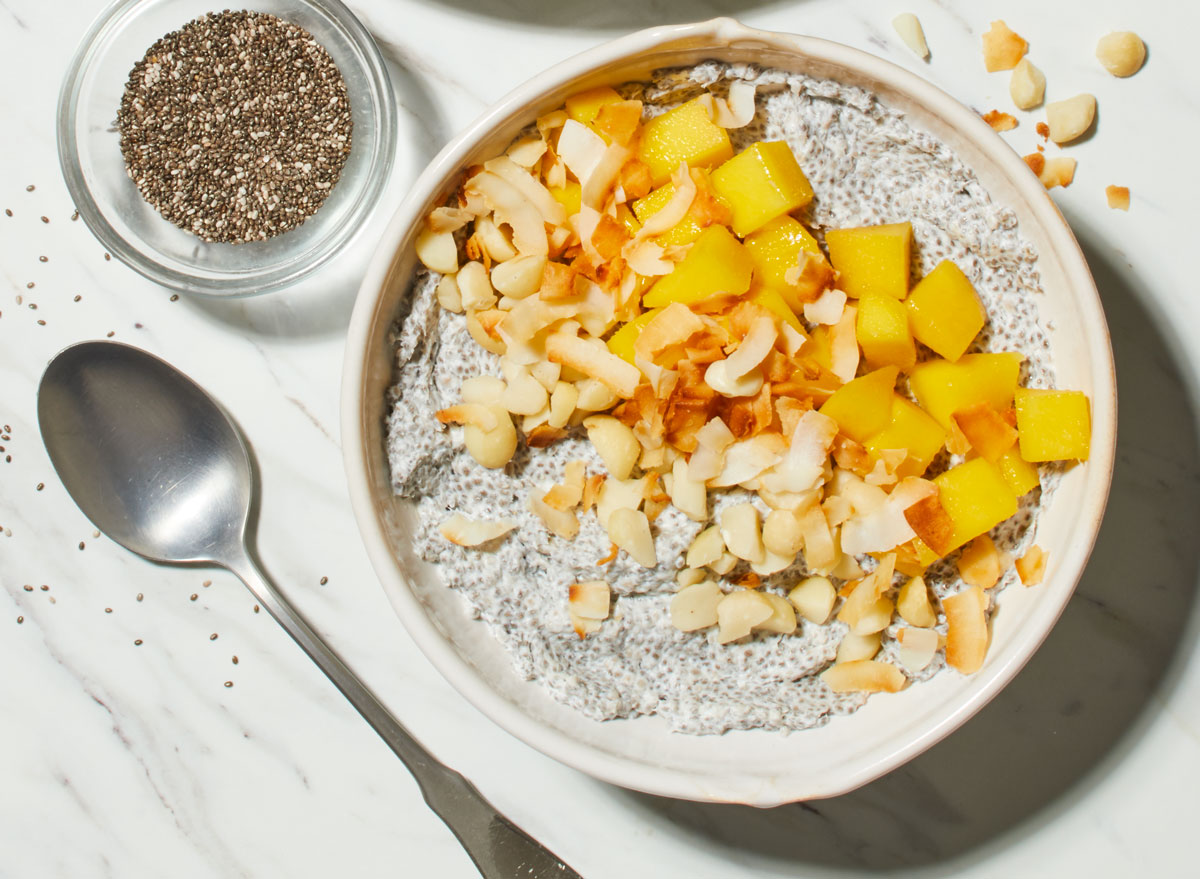 If a fiber-forward, low-carb breakfast is what you're after, a recipe featuring chia seeds may be the answer to your prayers. Not only are chia seeds chock-full of fiber (about 10 grams per ounce) but eating them will also give you a healthy dose of omega-3s. For a sweet sampling of satiating chia seeds, try this overnight chia pudding recipe.
Get our recipe for Overnight Chia Pudding. 
Spicy Waffled Cauliflower Hash Browns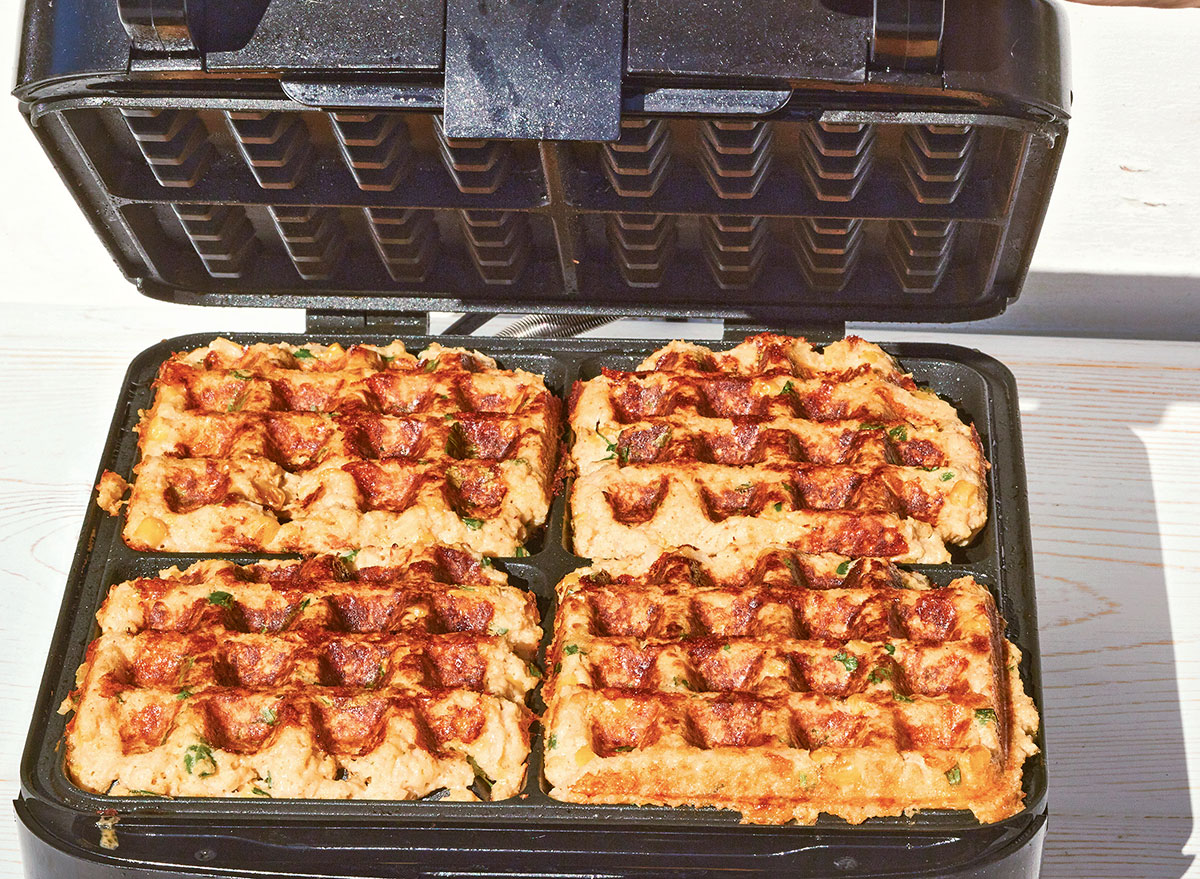 When eating a low-carb diet, perhaps one of the most challenging foods to limit or abstain from are potatoes. Luckily, when it comes to texture, cauliflower is a great alternative that can mimic the consistency of starchy potatoes—but with fewer carbohydrates. If you have a waffle maker at home, these flavorful cauliflower hash browns are a creative way to keep the carb count low while kicking your potato cravings to the curb. Use them as a base for some sliced avocado, turkey bacon, and a poached egg, or add a second hash brown on top for a breakfast sandwich.
Get our recipe for Spicy Waffled Cauliflower Hash Browns. 
Keto Overnight Oats With Berries & Cream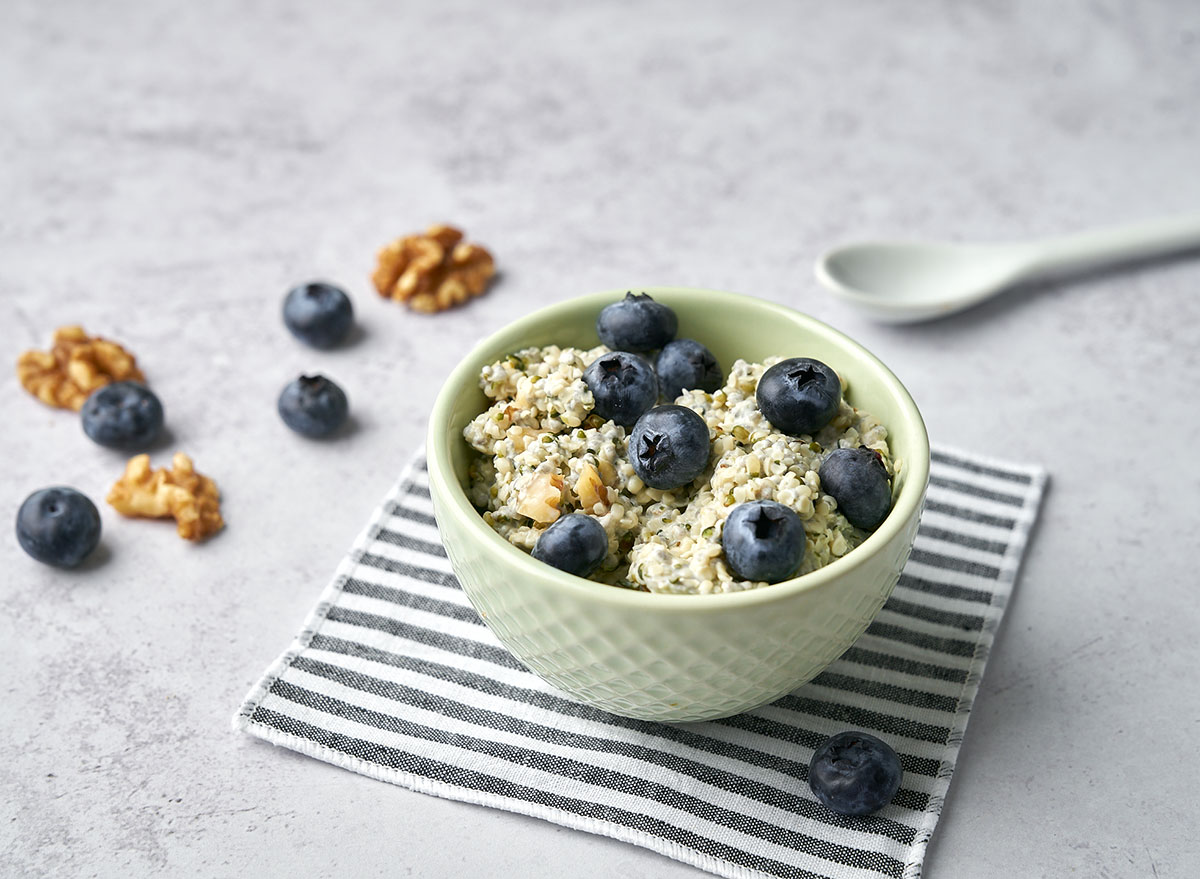 Up the ante on basic, carb-laden oatmeal with this recipe, which combines hemp hearts, walnuts, and chia seeds, for a keto-conscious, low-carb breakfast that will surely stick to your bones and keep you full for hours. The addition of chopped walnuts and chia seeds also provides omega-3 fatty acids, not to mention gives the dish a more oatmeal-esqe texture.
Get our recipe for Overnight Oats With Berries & Cream. 
Berry Cauliflower Smoothie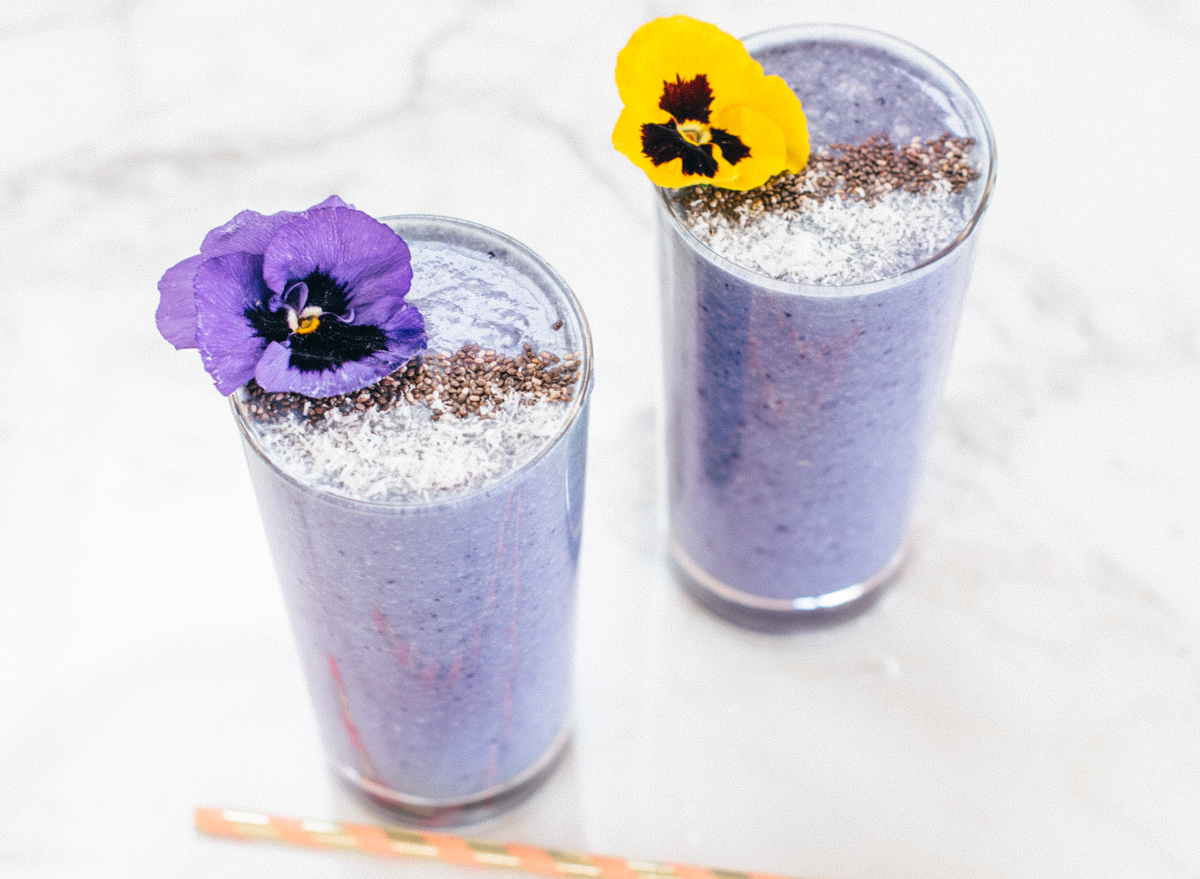 Another way to capitalize on cauliflower's creamy texture post-blending is to use it as a base in a lower-carb smoothie. When in pursuit of the ideal velvety textured smoothie, adding a dollop of Greek yogurt, a bit of banana, or even avocado is the way to go. However, if trying to keep the carb count low at breakfast time, blended cauliflower can be a tasty lower-carb ingredient swap to consider making when whipping up a smoothie. Capitalize on cauliflower's creamy texture post-blend by using it as a base in this lower-carb berry smoothie.6254a4d1642c605c54bf1cab17d50f1e
Get our recipe for Berry Cauliflower Smoothie. 
Veggie Scramble With Mushrooms, Spinach, & Goat Cheese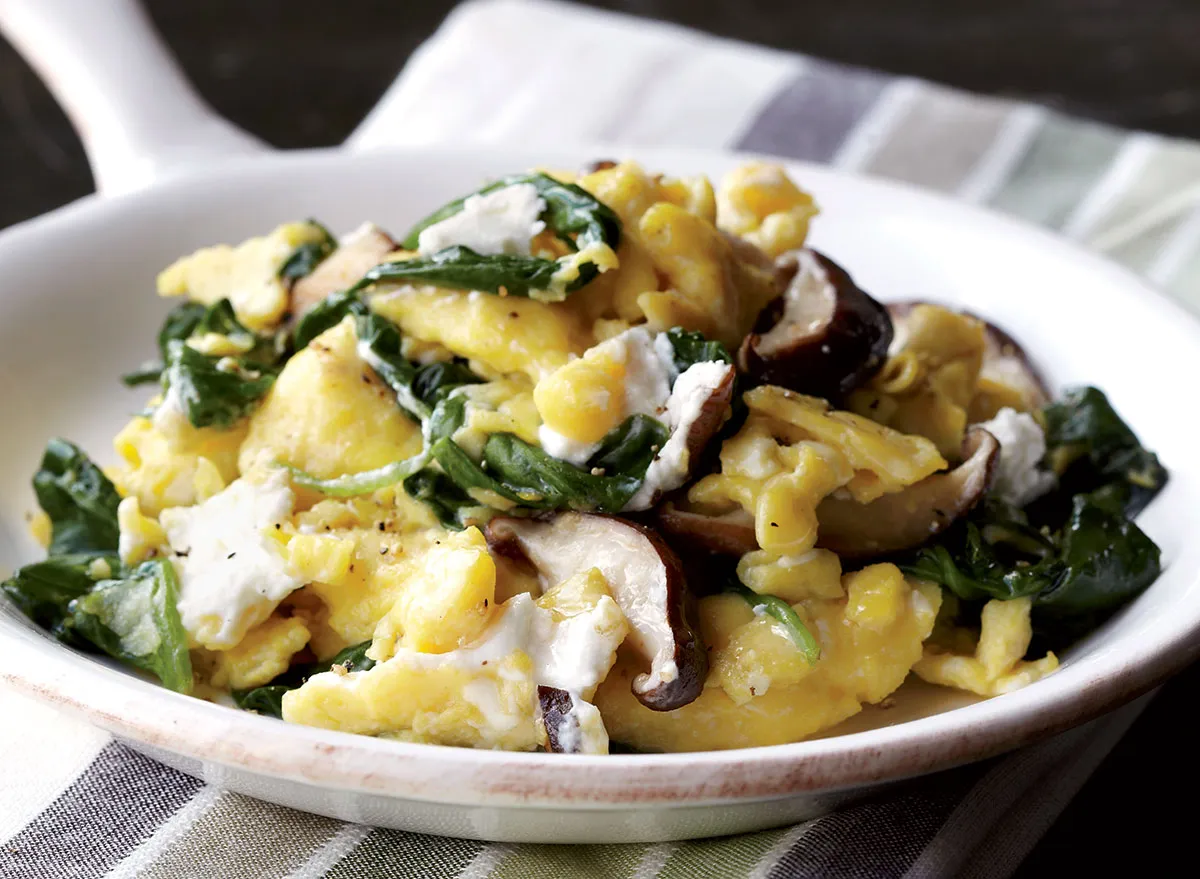 For a fluffy yet creamy, soft, scramble, this combination of eggs, spinach, mushrooms, and goat cheese is a simple yet delicious way to get your fill of nutritious veggies while also keeping your carb count low.
Get our recipe for Veggie Scramble with Mushrooms, Spinach, and Goat Cheese. 
10-Minute Baked Eggs With Mushroom & Spinach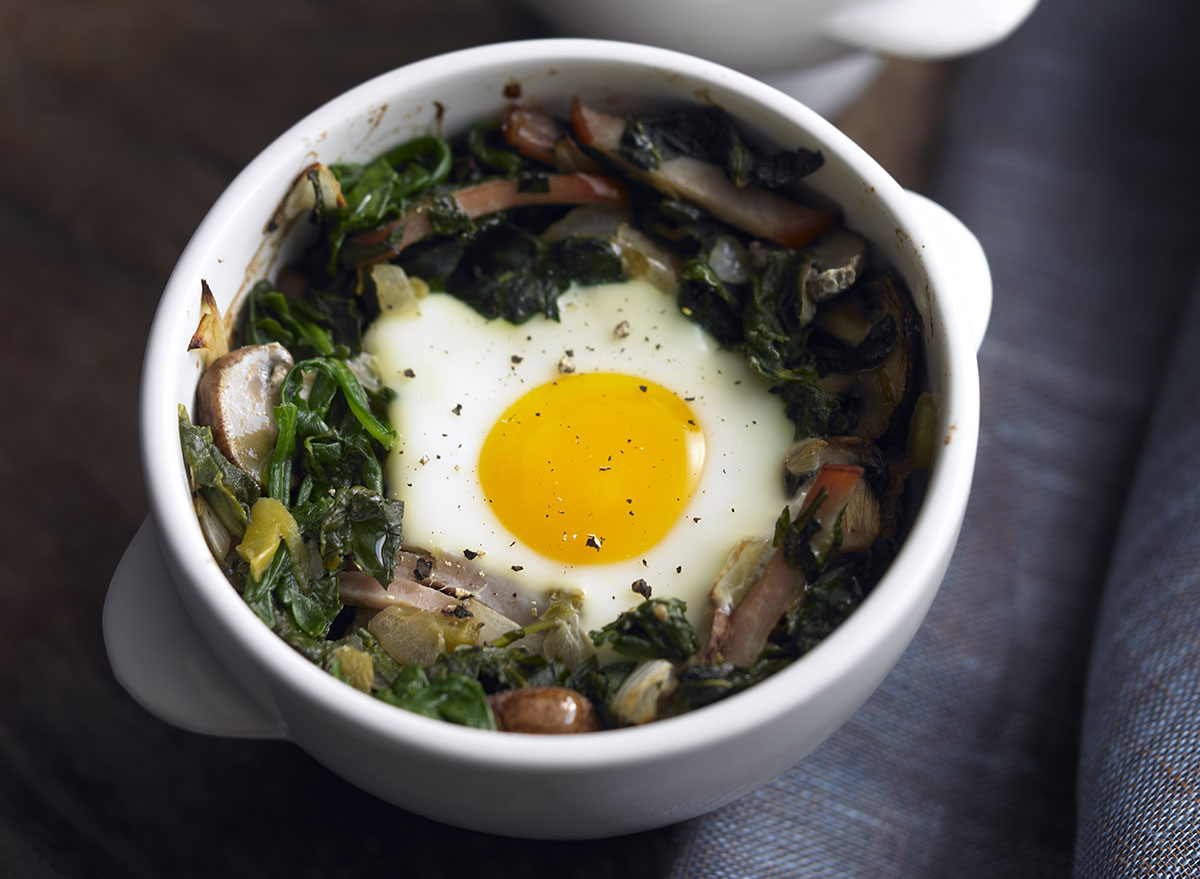 If you are short on time amid your weekday breakfast routine, but you love the flavor combination featured in eggs, spinach, mushrooms, and goat cheese spinach scramble, it's time to break out those ramekins! Because this baked egg iteration will give you similar flavor vibes. Although this recipe doesn't include goat cheese, the addition of green chilies, onion, and Canadian bacon takes this savory taste profile to the next level. Best of all, you're still getting all these bold flavors via a nice serving of protein and veggies without taking a major hit in the carb department.
Get our recipe for 10-Minute Baked Eggs With Mushrooms & Spinach. 
Crunchy Breakfast Salad With Eggs
Who says you can't enjoy a filling salad at breakfast? This elegant salad is an idyllic medley of crisp snap peas, radishes, cucumbers, and boiled eggs. For an additional low-carb crunch that will also provide some healthy omega-3 fats, sprinkle a few walnuts on top and prepare to have any cravings well-curbed until lunch.
Get our recipe for Crunchy Breakfast Salad With Eggs. 
10-Minute Mediterranean Tofu Scramble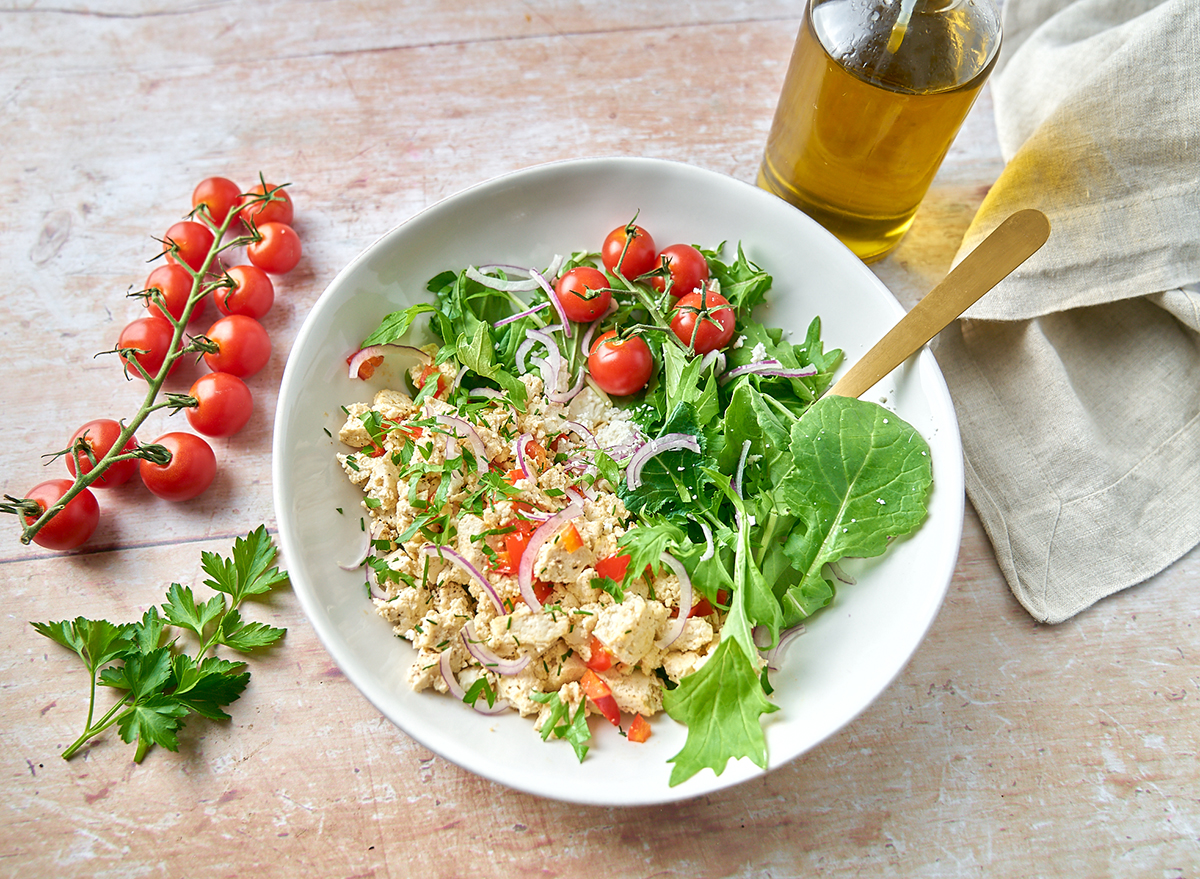 For a low-carb breakfast that will give you a taste of Mykonos in 10 minutes, you have to try this tofu scramble. You don't have to be vegetarian or vegan to appreciate a yummy tofu-based dish. If you're looking to spice up your mornings with a lean protein other than the usual meat, eggs, and seafood, tofu might be the satiating protein you're searching for. This fast and easy tofu scramble also has a bit of a Mediterranean flair, as it combines flavorful ingredients like bell peppers, feta, parsley, and tomatoes.
Get our recipe for 10-Minute Mediterranean Tofu Scramble. 
Breakfast Burrito
This recipe swaps out the carbohydrate-laden tortilla wraps for bright, bold collard green leaves. Then stuff this serving of healthy veggies with hot and savory scrambled eggs, onions, peppers, and spinach. Just be mindful that this recipe also incorporates one cup of potatoes, which comes out to about 32 grams of carbs. So to keep this dish within a low-carb range, skip them or use them very sparingly in this recipe while also being mindful of your carbohydrate intake the rest of the day.
Get our recipe for a Whole30 Breakfast Burrito. 
Butternut Squash Hash
This sweet yet also savory, golden brown butternut squash hash is one of those low-carb breakfasts that's so delicious it transcends morning meals, making for a nutritious lunch or even dinner side. Though this recipe suggests Blackberry Sage Breakfast Sausage Sausage, it also says any Whole30-compliant sausage will do. So, for a little extra kick of spice to complement the sweet flavor of butternut squash, I suggest Aidells' Smoked Chicken Sausage in the Cajun-Style Andouille flavor.
Get our recipe for a Butternut Squash Hash. 
Green Machine Veggie Casserole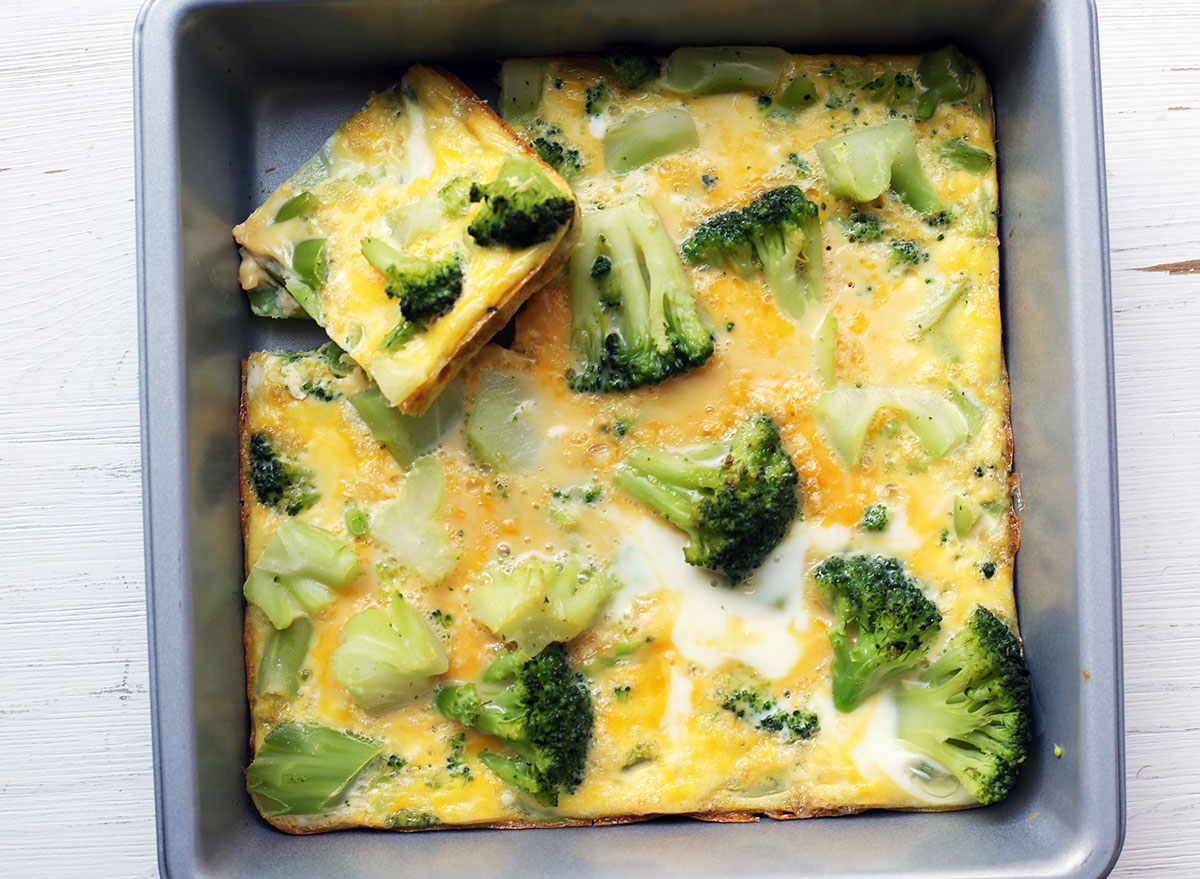 A marriage between the aforementioned flourless, low-carb muffins and low-carb veggie frittata is this protein-forward, fiber-dense veggie casserole. All you need to make this is a casserole dish, a few eggs, coconut milk, onions, some seasoning, and your favorite green veggies, and you have an irresistibly satisfying yet filling low-carb breakfast of champions.
Get our recipe for the Green Machine Veggie Casserole. 
Savory Parsnip Waffles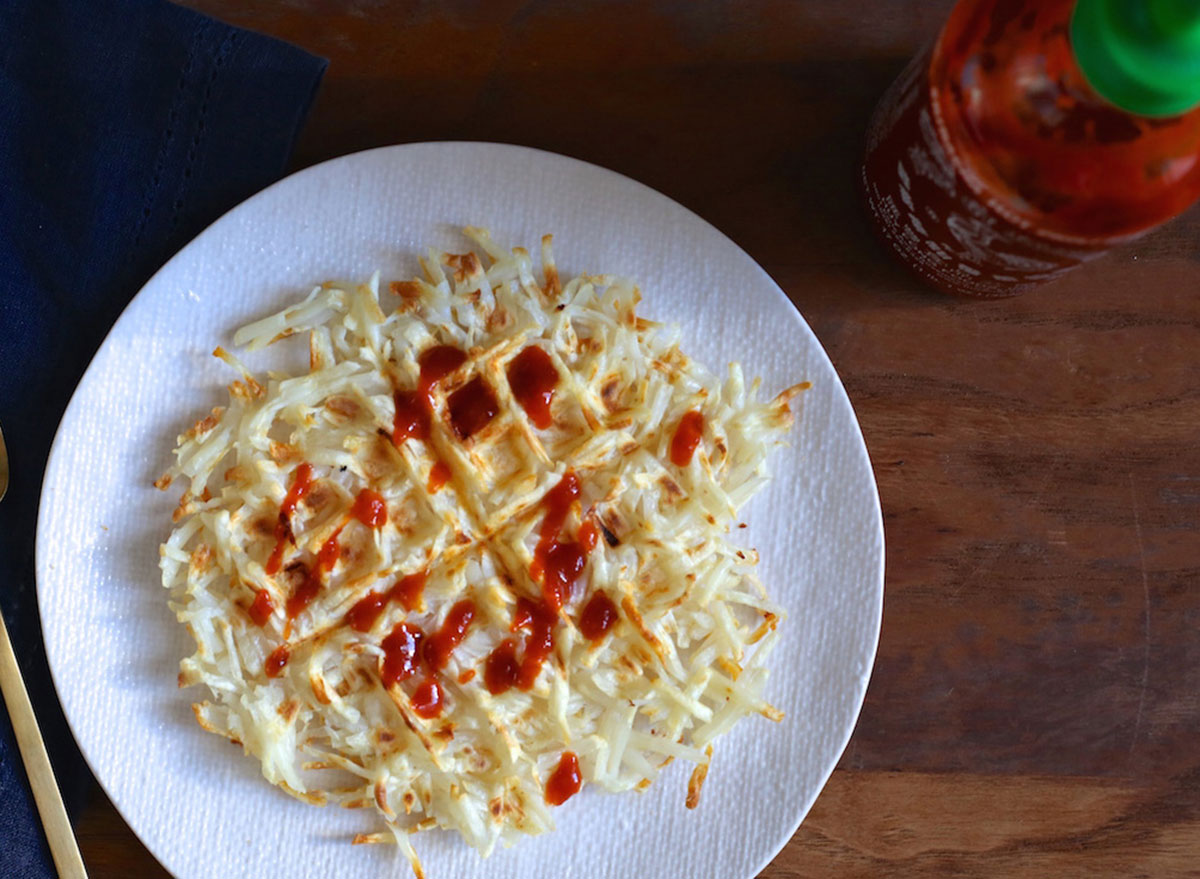 This savory, parsnip-based waffle will surely be a huge hit with those joining you in your breakfast nook. Parsnips are another veggie that can help satisfy any fried potato- or refined bread-driven hankerings as you scale back on your carb intake. Though highly underrated, this root veggie can make for a great low-carb ingredient swap for waffles, shredded hashbrowns, and more. As for this recipe, in particular, you can try using other root and cruciferous vegetables, as well, like shredded sweet potatoes, cauliflower, and even carrots.
Get our recipe for Savory Parsnip Waffles. 
Avocado With Everything Bagel Seasoning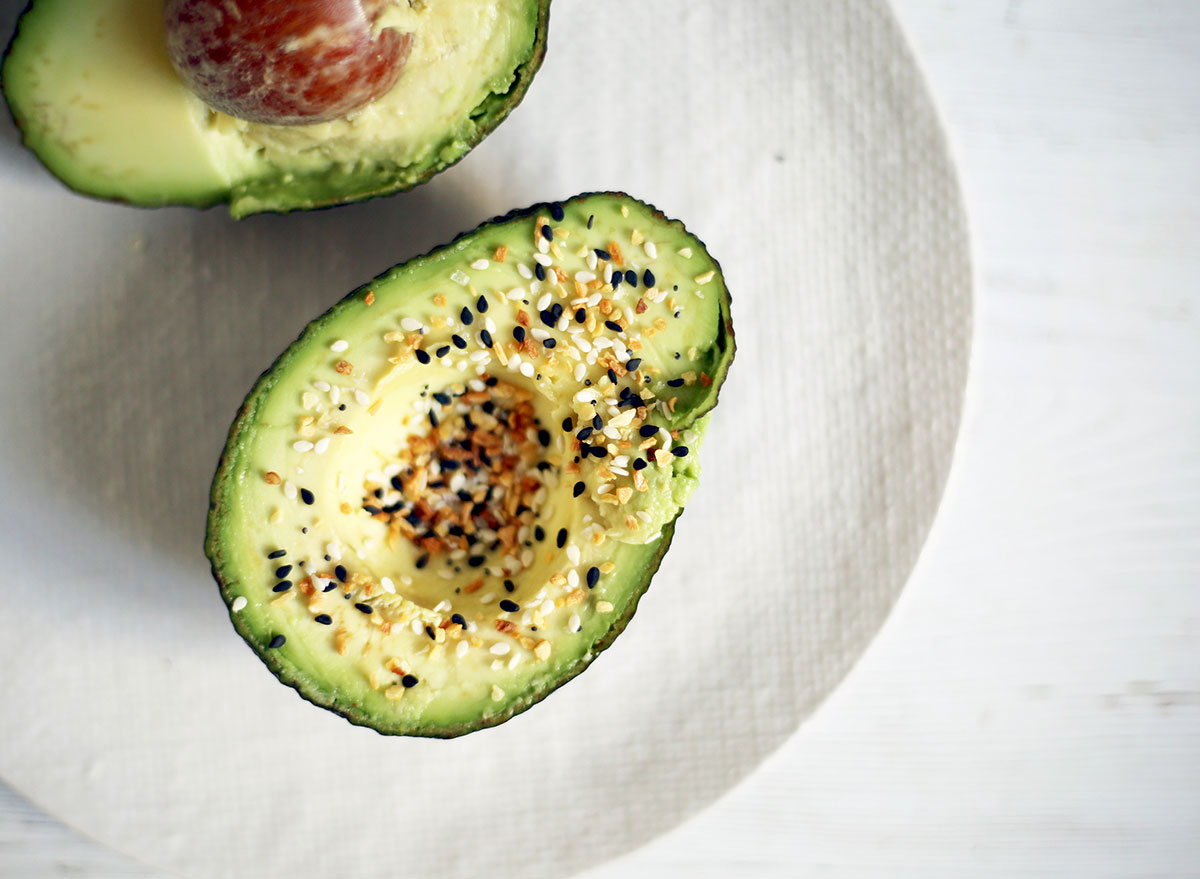 There's no denying that over the last decade or so, avocado toast has become an increasingly popular item featured on most breakfast and brunch menus. However, if you're trying to minimize your carb intake, finding a way to eat fewer carbs while still enjoying flavor sensations similar to avocado toast or avocado on a bagel can be challenging, to say the least. Fortunately, we have a simple yet nutritious recipe solution to give you the best of both worlds. Topped with everything bagel seasoning and a dash of olive oil, which adds even more quality fat to your plate, this is truly the filling, high-fat breakfast of your low-carb dreams.
Get our recipe for an Avocado with Everything Bagel Seasoning. 
Zucchini Noodles With Bacon Vinaigrette
Pasta for breakfast? Yes, please! But unlike traditional pasta recipes that are riddled with carbohydrates, this recipe uses spiraled zucchini noodles (or "zoodles"), giving you an extra helping of veggies while keeping the carb count low.
Get our recipe for Zucchini Noodles With Bacon Vinaigrette. 
Keto Breakfast Sandwich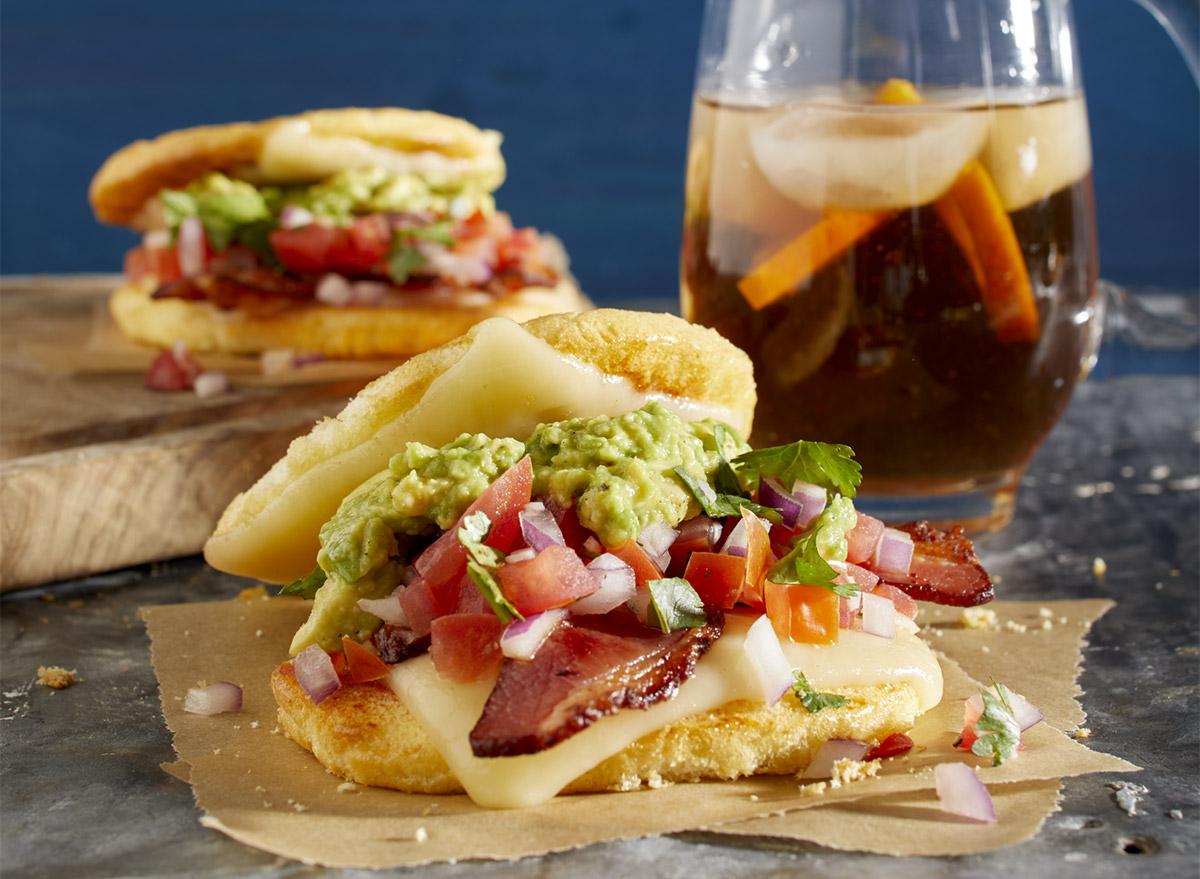 Whether you're watching your carb intake or not, it's hard to say no to a delicious breakfast sammie. Fortunately, you no longer have to pass on a yummy bacon, egg, and cheese thanks to this recipe, which uses cloud bread, a lighter-than-air, lower-carb alternative to traditional bread. Take the flavor dimensions of this dish a step further by also opting for pepper jack cheese, a little guac, and pico de gallo for an indulgent low-carb breakfast.
Get our recipe for a Keto Breakfast Sandwich. 
Eggs Baked in Cream With Prosciutto, Parmesan, & Basil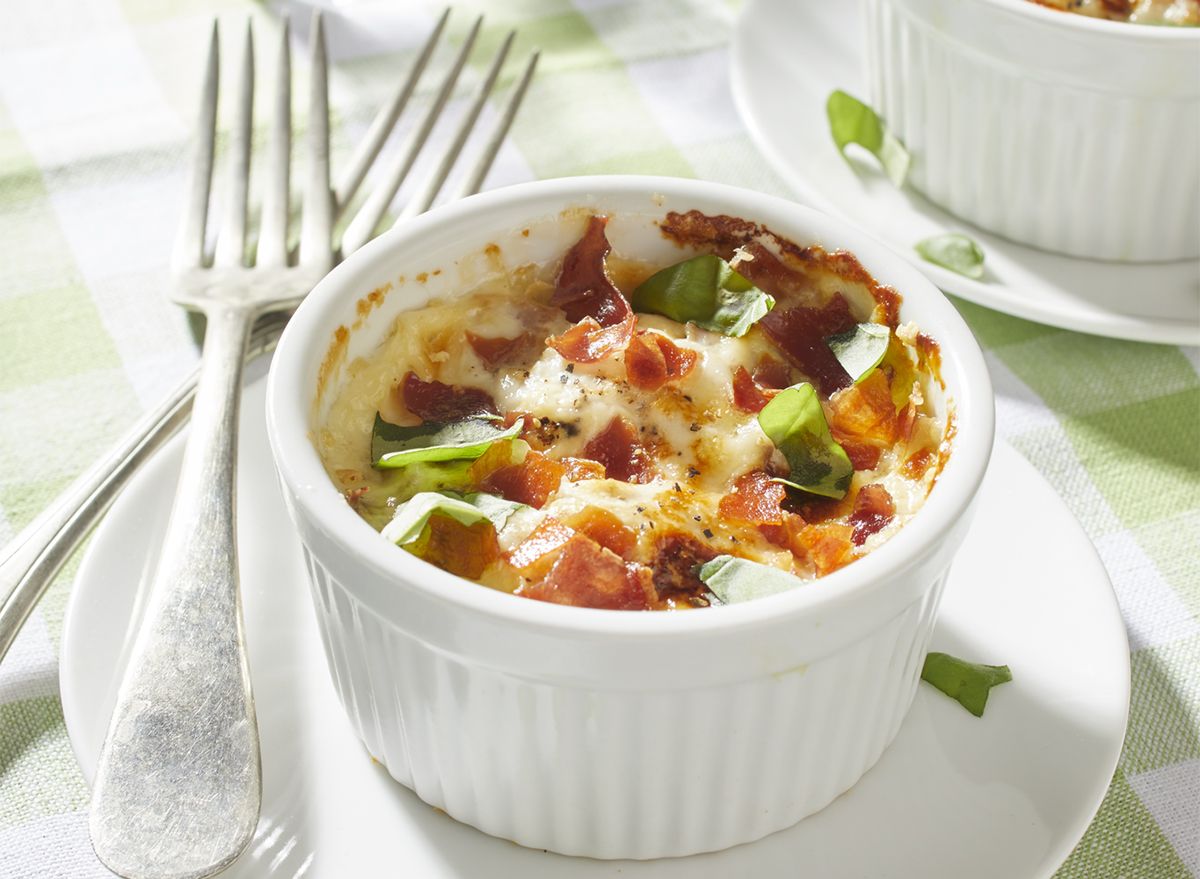 Is it just us, or is anyone else amazed at how many filling, flavorful ingredients can be packed into a tiny ramekin without any signs of carbohydrates? This mouthwatering dish features a combination of butter, heavy cream, cheese, eggs, and prosciutto, for a decadent breakfast that will keep you fully charged all the way through to lunch.
Get our recipe for Eggs Baked in Cream with Proscuitto, Parmesan, & Basil. 
Frizzled Eggs & Sausage With Sautéed Greens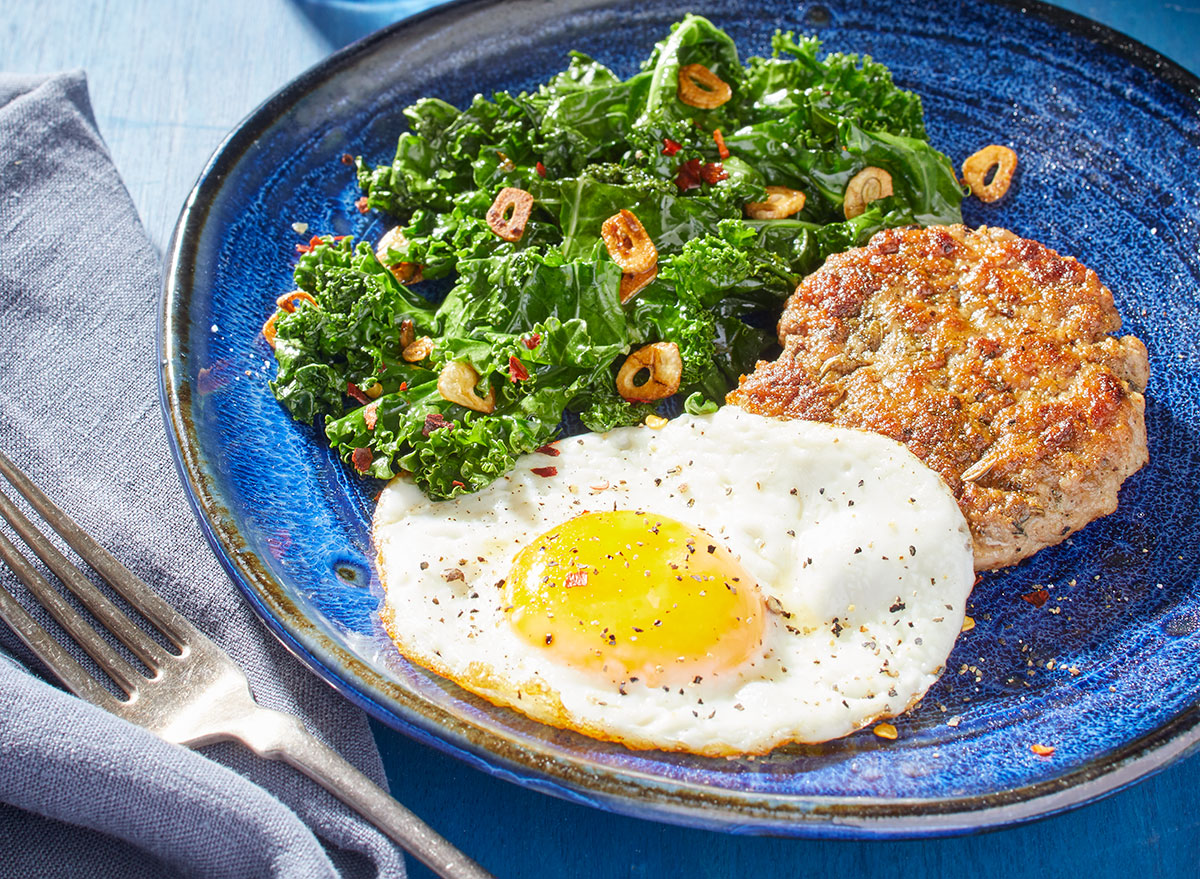 Sure Sam-I-am was initially quick to shut down the prospect of "green eggs and ham," but we doubt he'd be able to resist this plate of sautéed greens, sizzling eggs, and sausage. It's a great balance of healthy fats, protein, and vitamins that will have you feeling full and ready to conquer the day. While the name of this recipe may not roll off the tongue as easily as "Seussical: The Musical," don't be surprised if you find yourself wanting to chow down on this delicious low-carb breakfast "here or there—yes, you will eat it anywhere."
Get our recipe for Frizzled Eggs & Sausage With Sautéed Greens. 
Shakshuka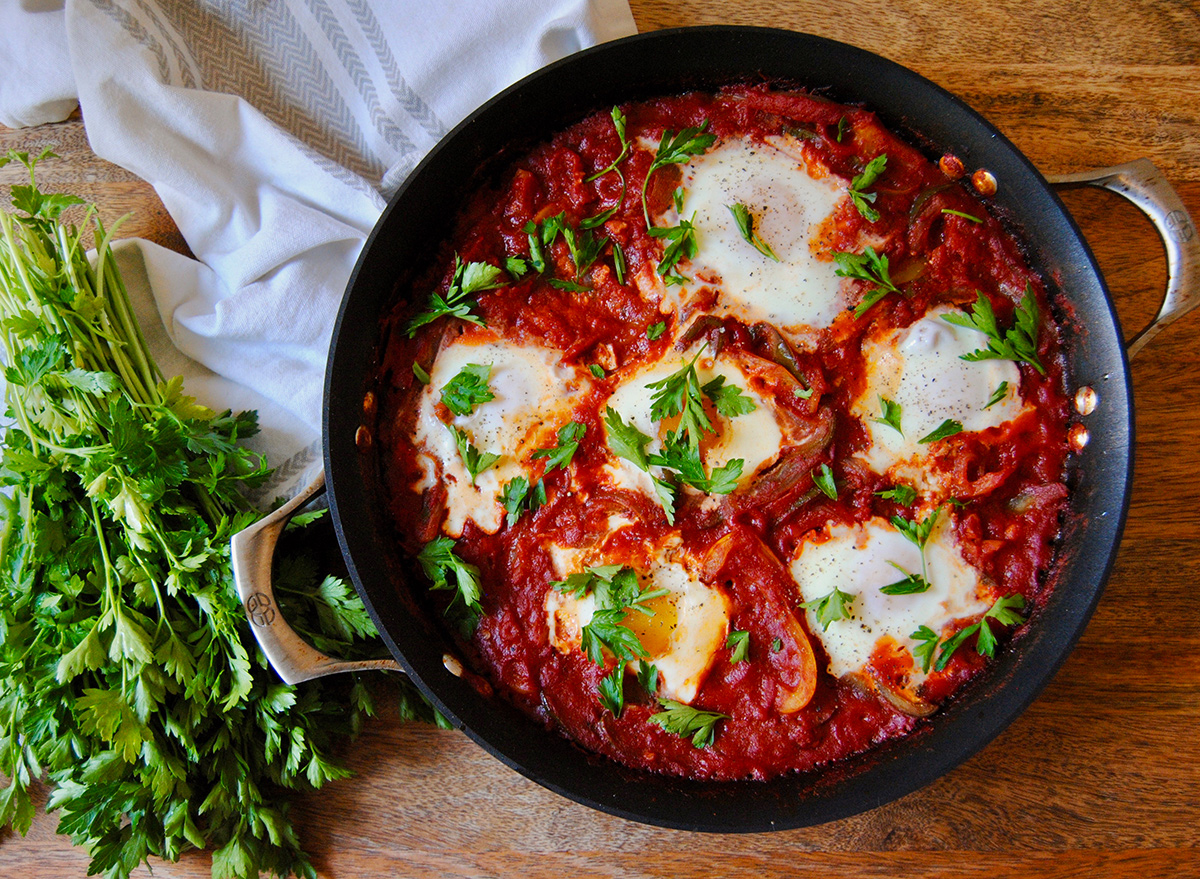 If you love spicy food and are looking for an exciting way to use up the last of your pasta sauce or crushed tomatoes in your pantry via a low-carb recipe, this paleo-friendly shakshuka recipe is a great way to tick off all of these boxes. Shakshuka is a classic Maghrebi dish from North Africa, which combines poached eggs with tangy tomatoes, sautéed bell peppers, onion, and garlic, and a spicy red pepper paste known as harissa.
Get our recipe for Shakshuka. 
Broccoli-Cheese Eggs in a Mug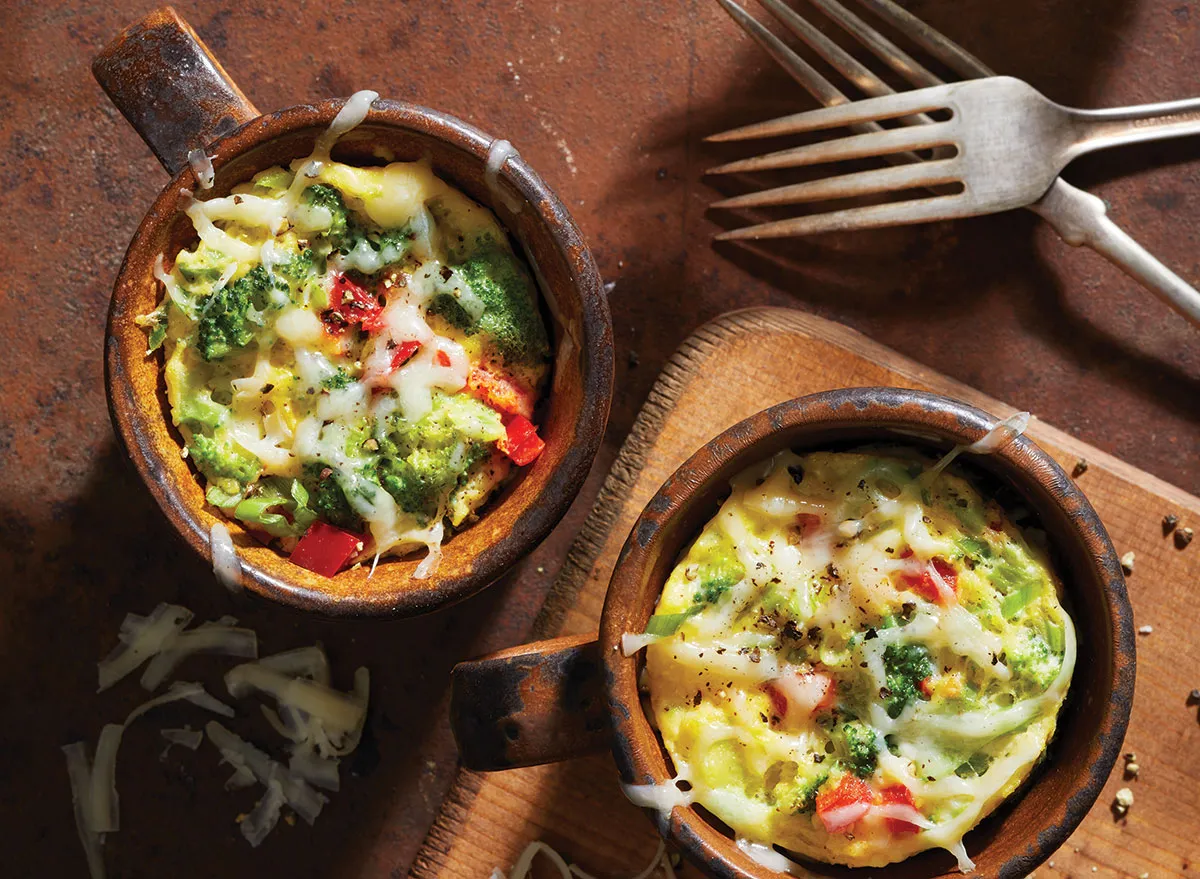 If you're short on time—and your casserole dishes or ramekins are still soaking in the sink—why not combine all your fave low-carb scramble, frittata, or omelet ingredients into a mug? Not only is this low-carb breakfast nutrient-dense but also using a mug makes this meal easier to grab and go when it's time to get on the move in the morning.
Get our recipe for Broccoli-Cheese Eggs in a Mug. 
Spring Vegetable Frittata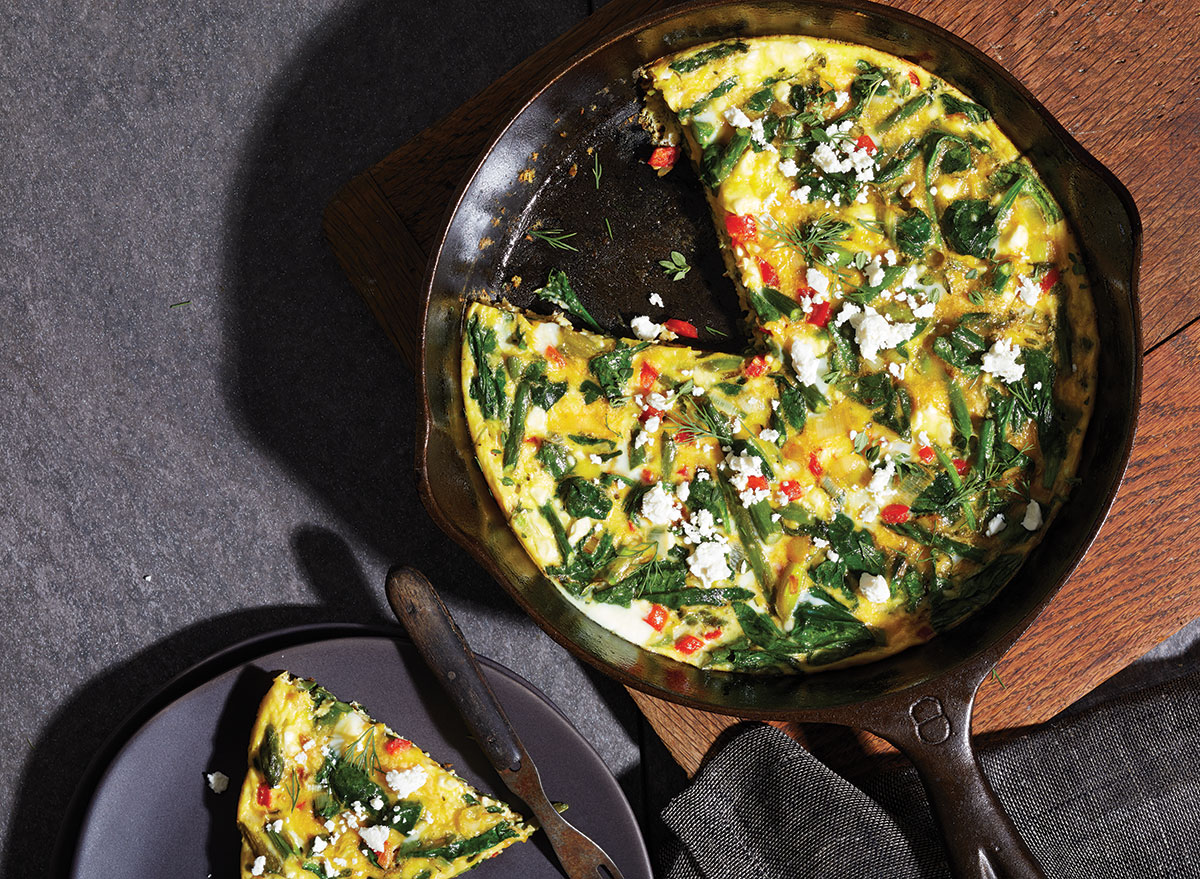 Requiring four cups of fresh spinach, this veggie low-carb frittata will not only fill you up, but also fuel your body with the calcium, magnesium, and fiber your body craves. If enjoying this dish as a low-carb breakfast, prepare to feel full all day while also receiving a boost of natural energy.
Get our recipe for Spring Vegetable Frittata. 
Denver Omelet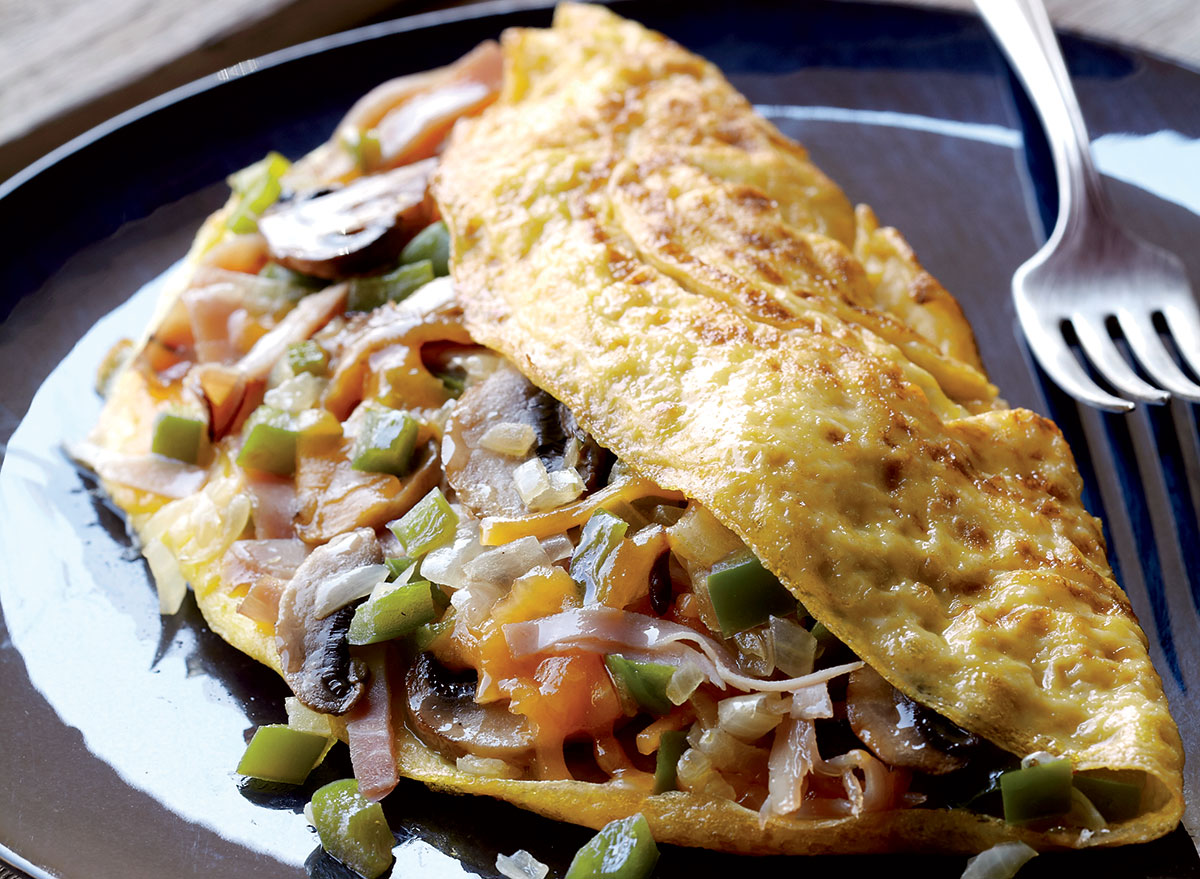 Why pay for a greasy diner omelet that's been cooked in cheap oils and stuffed with fatty fillings that are likely saturated in more oils and overseasoned with salt, when you can oversee the health content of your breakfast yourself by making a nutritious, low-carb omelet in the comfort of your own kitchen? With this low-carb breakfast recipe, you can enjoy a classic Denver omelet without the extra junk that does not serve you or your body well.
Get our recipe for a Denver Omelet. 
Scrambled Eggs With Salmon, Asparagus, and Goat Cheese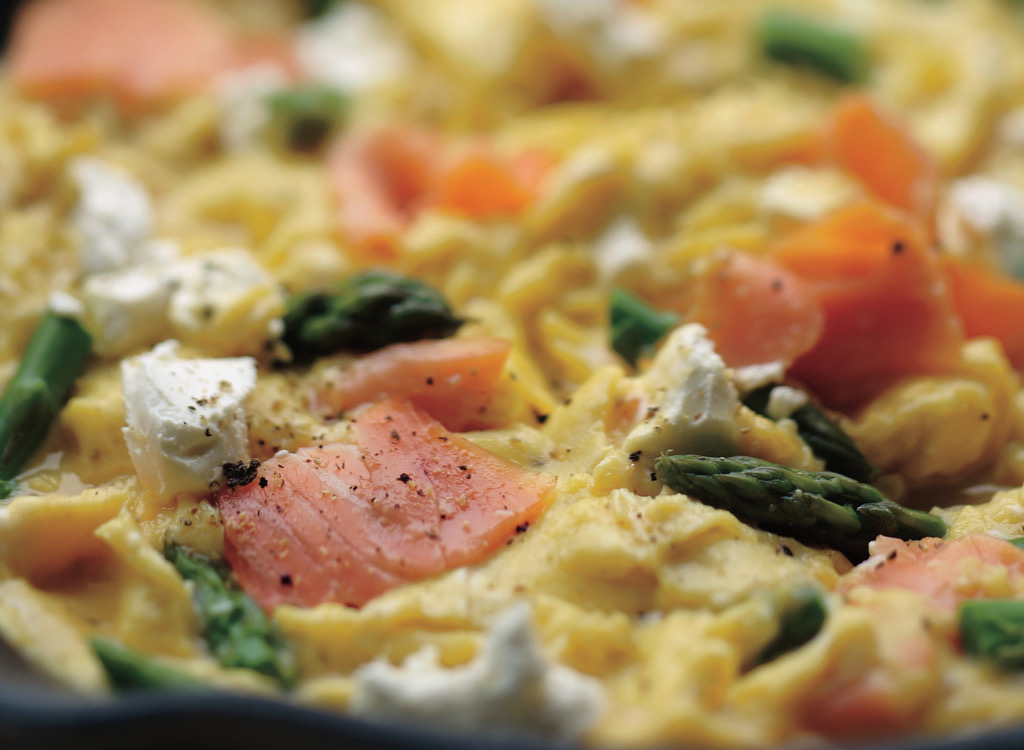 This nutritious scramble recipe has all the makings of hearty breakfast fare—butter, cheese, protein—but with healthy fats and fresh vegetables while taking a light caloric toll. And if at this point in your low-carb dieting journey, you feel as though you've beaten almost every other egg recipe to death (pun intended), you'll love how the savory, omega-3-rich salmon used here will brighten up every mouthful with a dynamic, new flavor combo.
Get our recipe for Scrambled Eggs With Salmon, Asparagus, & Goat Cheese. 
Final Thoughts
You don't have to stick to the traditional hot or cold cereal or pancakes and waffles for breakfast. Any food can be a breakfast food, so feel free to eat what you like no matter the time of day—and for more low-carb breakfast ideas, think outside the (cereal) box!
A previous version of this story was originally published on October 31, 2022. It has been updated to include additional entries and proofreading revisions.
Sources referenced in this article