Best Boosters for Your Weight Loss Smoothie
A smoothie needs a booster like a superhero needs a sidekick. They banish bad guys on their own, but they're an even stronger force in tandem.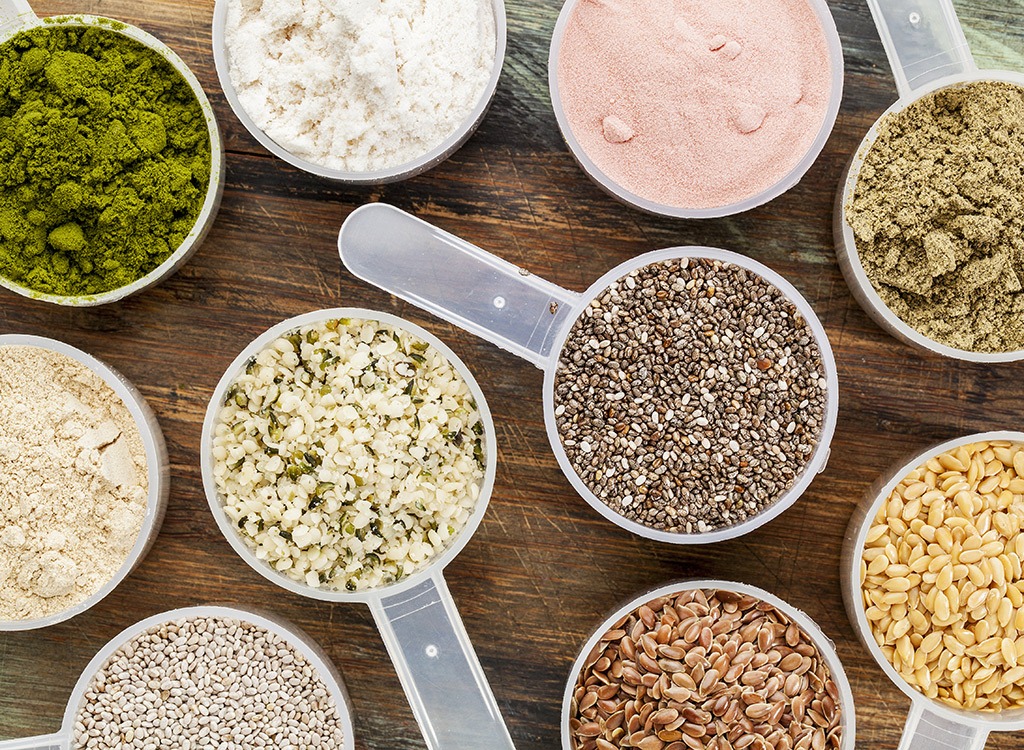 It's entirely possible to build a weight loss smoothie that will trim your middle and boost your total health with nothing but whole food ingredients. If you love them as is, keep sipping your way slim and ignore the supplements. But if you're wooed by the idea of big nutritional payoff for a tiny superfood shot, we've collected the very best.
Whether you're grabbing an on-the-go drink or blending at home, these are the boosters that are worth your hard-earned bucks.
Nutrition: 104 calories, 0 g fat, 16 g protein (approximate, 1 scoop)
No, protein powder isn't just for the muscle mag set. Dozens of studies have highlighted the importance of getting protein first thing in the morning. Not only will it help to jolt your metabolism into action, it's also been shown to help you retain focus throughout the morning.
Nutrition: 35 calories, 0 g fat, 9 g fiber (2 Tbsp)6254a4d1642c605c54bf1cab17d50f1e
Often sold under the name of psyllium husk (for the seeds this powder is ground from), a dose of fiber is going to do more than promote a healthy colon. Fiber will slow the digestion of the smoothie in your stomach, which not only means you'll stay fuller longer, but also that the sugar from the fruit will have a less dramatic impact on your blood sugar levels. And if the Quaker Oats dude has taught us anything, it's that fiber promotes a healthy heart, as well.
Nutrition: 80 calories, 5 g fat (1 g sat fat), 2,700 mg omega-3s (2 Tbsp)
These seeds, picked and ground from the flax plant commonly found across the Mediterranean and Middle East, deliver a mother lode of omega-3s. Consider stirring them into your oatmeal or yogurt, but if you're looking for the easiest way to sneak flax into your diet, look to the blender for seamless integration.
Nutrition: 0 calories (1 packet / 1 Tbsp)
Great for kids, of course, but given how few adults are eating their fruits and vegetables, smoothie drinkers of all ages should embrace a multivitamin boost. You can pick your product based upon your specific needs, but expect a massive dose of two dozen or more essential nutrients. Pick up a box at a health food store and add it to the base of your smoothie.
Nutrition: 35 calories (1.25 Tbsp)
What doesn't wheatgrass offer? Even a tiny dose like this packs fiber, protein, tons of vitamin A and K, folic acid, manganese, iodine and chlrophyll, to name a few. You don't need to know what each nutrient does for you; just know that a single tablespoon will have you operating at peak performance levels. Pick some up at amazinggrass.com
Eat This, Not That!
Inspired by The New York Times best-selling book series, Eat This, Not That! is a brand that's comprised of an award-winning team of journalists and board-certified experts, doctors, nutritionists, chefs, personal trainers, and dietitians who work together to bring you accurate, timely, informative, and actionable content on food, nutrition, dieting, weight loss, health, wellness, and more.
Read more about Eat This