These New Products Cut Smoothie-Making Time in Half
These two new smoothie kits make it easier—and faster—to reap as many nutrients in one creamy drink.
Whipping up a smoothie just got a lot easier, as if this 5-minute meal couldn't get any faster. Thanks to Sub-Zero Superfoods by Project Juice and Daily Harvest's Blend-At-Home Smoothies, throwing together this creamy concoction boils down to three simple steps: Dumping the pre-chopped frozen produce, adding some almond milk into a blender, and then watching it churn into a thick, filling drink.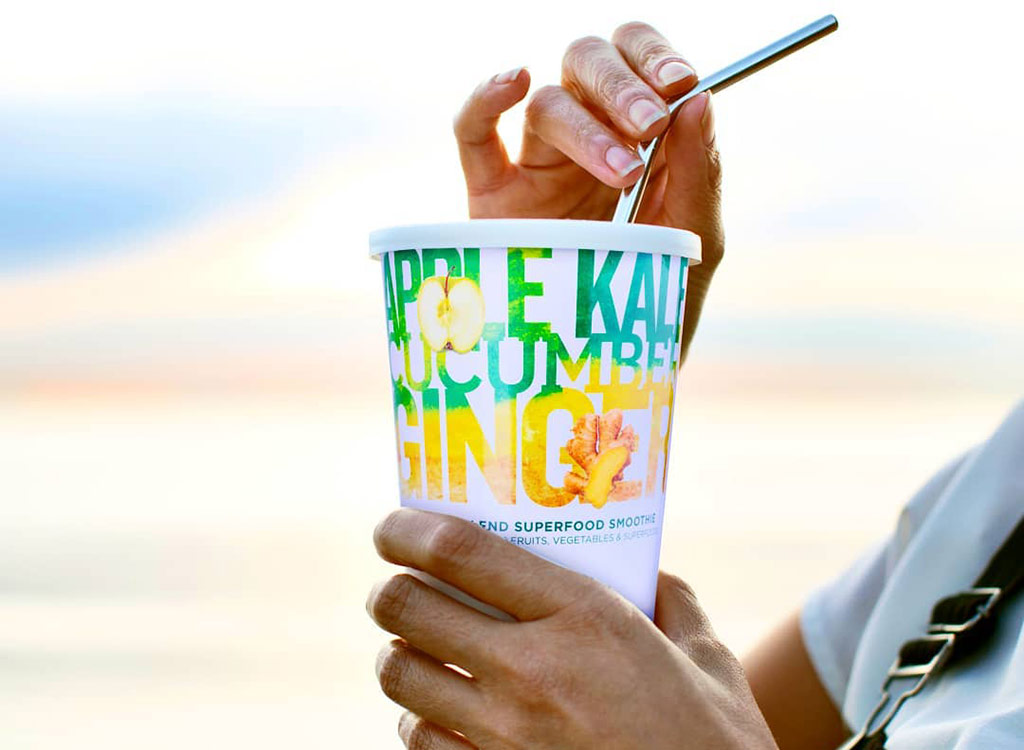 Sub-Zero Superfoods smoothie kits come in four different categories including greens, fruits, protein, and superfood bowls. All their smoothie kits are packaged in a freezable cup with the pre-chopped ingredients, which are perfect for two people. If you want to take your smoothie to go, simply pour the smoothie into the freezable cup and take it with you.
In the green smoothies, you'll find antioxidant-rich kale, spinach, avocado, and matcha blended while the fruit smoothies are all about acai and superfood additions, like bee pollen, turmeric, and chia seeds. On the other hand, the protein smoothies incorporate plant-based protein powders, hemp seeds, almond butter, and adaptogens like maca powder to help your body recover after a tough workout. And for a heartier morning breakfast, go for the Superfood Bowls, which pack in blueberries, acai, chia seeds, flax meal, and kale.
6254a4d1642c605c54bf1cab17d50f1e
For another great smoothie kit option, try Daily Harvest's new collection of protein smoothies: Chocolate + Hazelnut, Oats + Cacao, and Black Sesame + Banana. The Chocolate + Hazelnut protein smoothie has the perfect 4:1 carb-to-protein ratio to help your muscles recover. Bananas help replenish your potassium stores as well as fast-acting carbs and gut-friendly prebiotics. It has 250 calories, 19 grams of fat (5 grams of saturated fat, 75 milligrams of sodium, 21 grams of carbs (5 grams fiber, 8 grams sugar), 5 grams protein.
If you want something creamier, go for the Oats + Cacao, which features gluten-free oats, dates, apple, cacao nibs, coconut, coffee, and surprise: chickpeas. When blended to perfection, it delivers sustained energy as well as iron, fiber, and magnesium to help your body relax post-workout. It has 290 calories, 14 grams fat (5 grams saturated fat), 290 milligrams sodium, 32 grams carbs (7 grams fiber, 11 grams sugar), 9 grams protein.
And if you want to test the waters with new ingredients in your smoothie, we recommend the Black Sesame + Banana, which includes black sesame seeds, a banana, zucchini, cauliflower, apple cider vinegar, and pink sea salt. It has 270 calories, 18 grams fat (0 grams saturated fat), 135 milligrams sodium, 21 grams carbs (2 grams fiber, 10 grams sugar), 8 grams protein. Like the Project Juice smoothies, you can dump your drink into the freezer cup and take it with you on the road. Done and done!
More content from
Groceries