30 Nutritionist-Approved Healthy Breakfast Ideas
Jumpstart your progress (while you're still in your PJs!) with these delish, expert-approved breakfasts.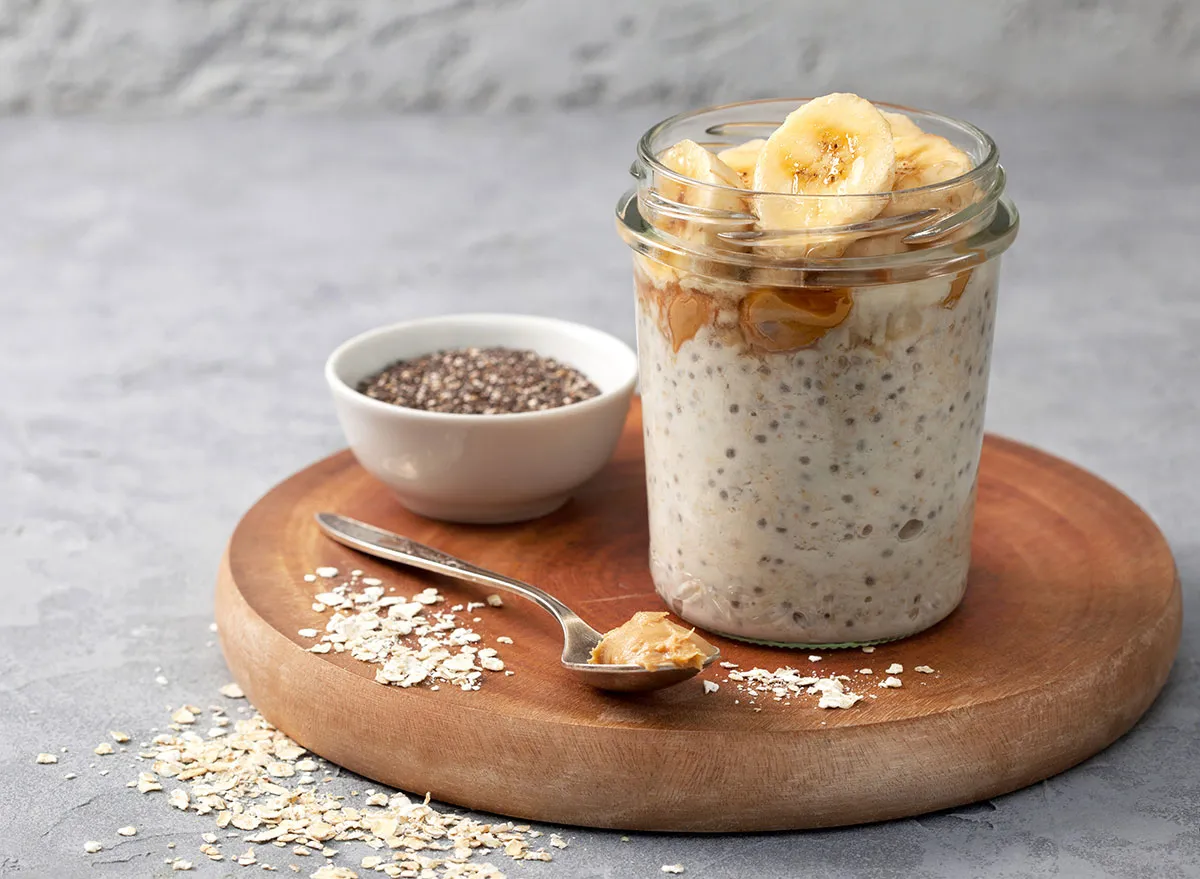 If you regularly confuse breakfast foods with your favorite frosting-topped desserts, it might be time to make a change—especially if you're trying to tone up around the middle. While many experts say that eating something for breakfast is better than noshing on nothing at all, that really only holds true for those rare times you're in a pinch. If you use the motto as your excuse to eat doughnuts, muffins, and other nutrient-void eats instead of a healthy breakfast, you're setting yourself up for flat-belly failure.
"Breakfast is the meal that breaks your overnight fast," says registered dietitian Cassie Bjork. "However, many people aren't eating the right thing. Typical breakfast foods like pancakes, bagels, and fruit juice are carb bombs that spike your blood sugar levels, leaving you ravenous barely an hour later. To make matters worse, we've been told that these highly-processed, high-carbohydrate foods are healthy, but in truth, they contain very little—if any—protein and healthy fat to counterbalance the sugar, and that's why you crash and burn shortly after eating them," she explains. The takeaway: The ideal breakfast is one that contains protein, fat, and complex, low-sugar carbs. Together, these nutrients work to provide you with the sustained energy you need to dominate your morning meetings, push yourself at the gym, and get you through your day.
Wherever your morning may take you, these genius, expert-approved breakfast ideas will serve up the fuel your body needs to get through the day—and lose weight over time, too! While all of the combinations are different and delicious in their own way, they've all got one thing in common: they're packed with healthy fats, protein, and complex, fiber-filled carbs. That's the ultimate morning trifecta!
Kodiak Cakes Cinnamon Oat Flapjacks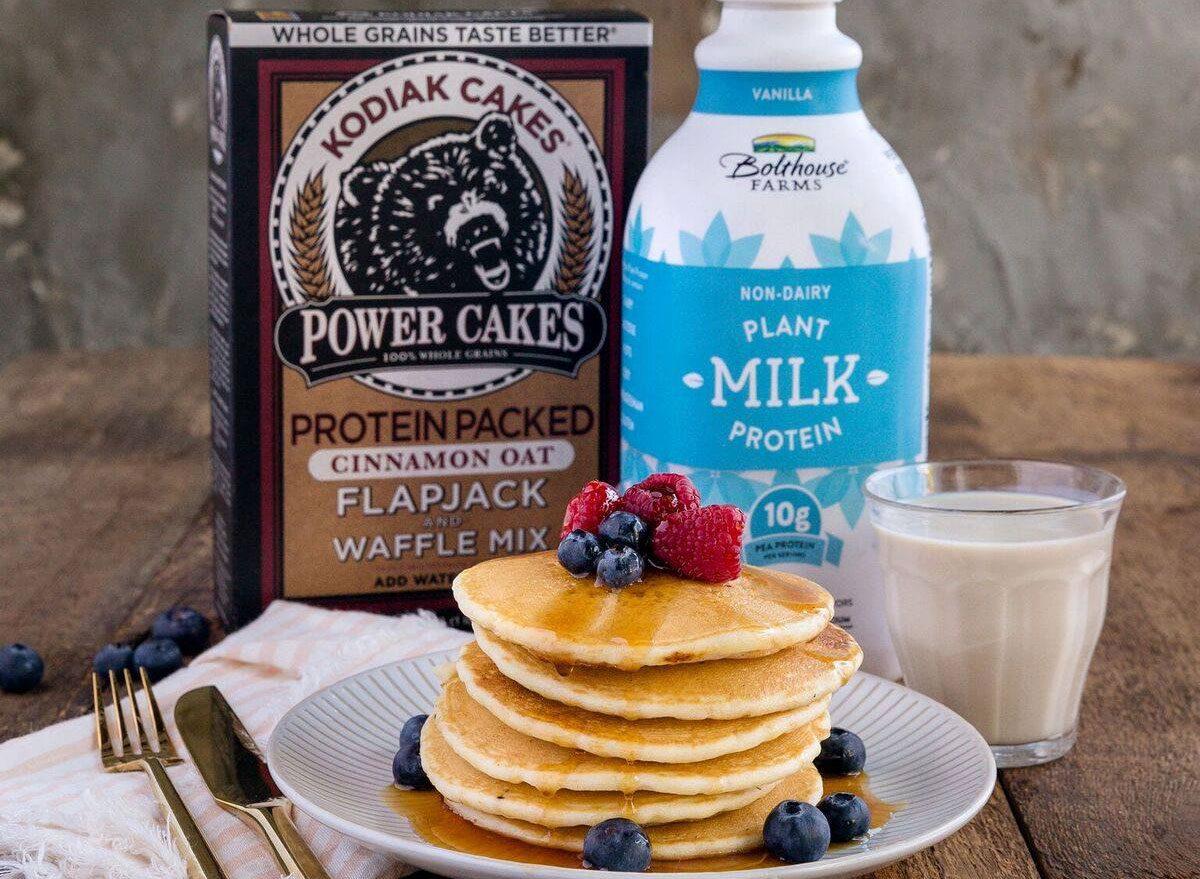 "I love this whole-grain, high-protein pancake mix. All you have to do is mix it with water and pour onto a skillet or waffle maker, and they are ready in minutes. I always top them with a drizzle of creamy almond butter instead of syrup or butter and usually add a handful of blueberries or strawberries on top."
— Angie Asche, MS, RD of Eleat Sports Nutrition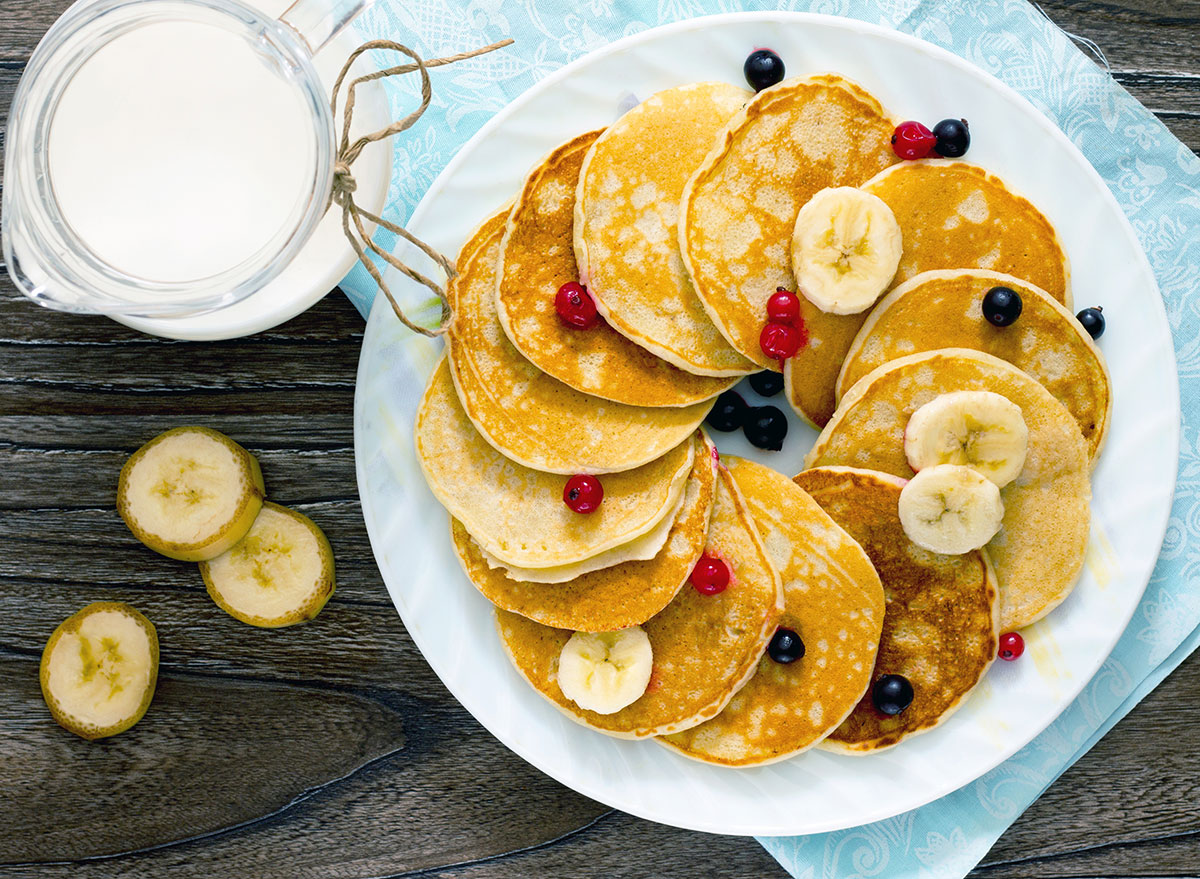 "These two-ingredient pancakes are easy to make and are a family favorite. They are healthy [packed with filling protein and debloating potassium] and extras can be frozen and put in a toaster oven for future mornings!"
— Skylar Nelson, RDN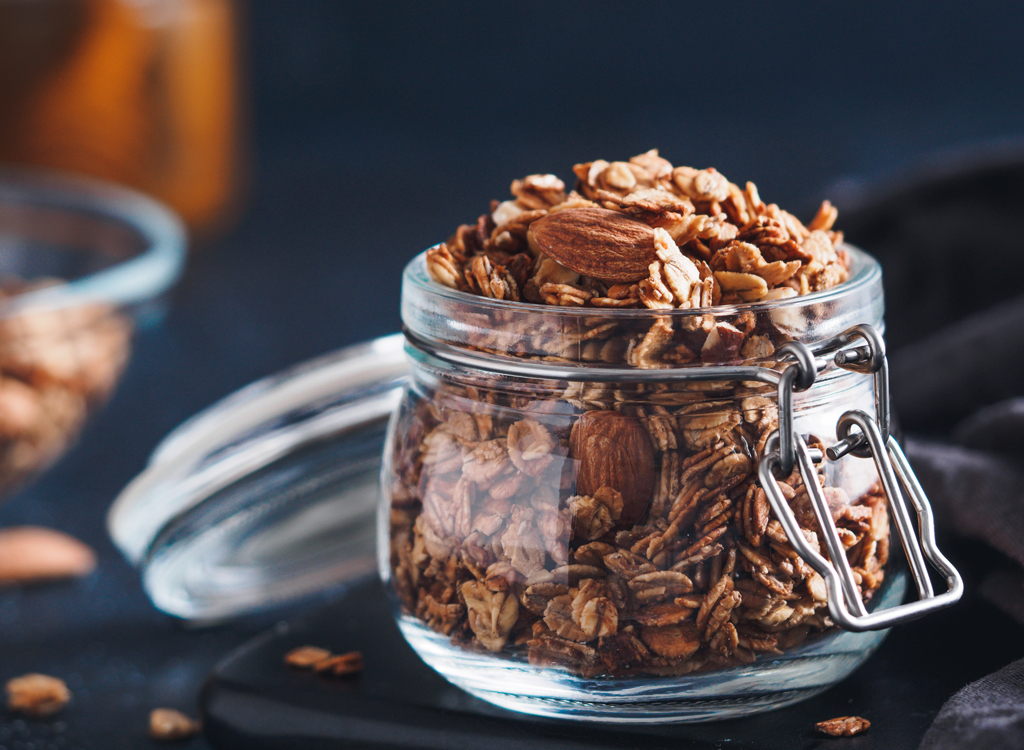 "I eat untoasted muesli that is homemade nearly 365 days a year! It is the only breakfast that fills me up and keeps me full for most of the morning. I mix the rolled oats with a variety of nuts (walnuts, almond meal), seeds (chia, linseed, sunflower, and pumpkin), and dried fruit (goji berries, dried apricots, dates). Then, I add Greek yogurt and/or other fresh fruit and it's good to go! This meal is full of protein, fiber, and low-GI! I also like to occasionally soak this mix overnight. [It helps me] eat less as the milk is soaked up and the oats, nuts, and seeds swell. Soaking also helps to break down the gluten to make digestion easier. Greek yogurt also gives me a probiotic boost for my gut. So, get creative and don't be afraid to use a variety of ingredients for nutritional benefits and to keep it interesting!"
— Kristy Manners, APD
Greek Yogurt With Granola and Frozen Berries
"This quick and easy breakfast is packed with nutrients to energize your day. The yogurt is a great source of protein, while the granola offers a delicious crunch. The frozen blueberries add just the right amount of sweetness and are packed with antioxidants."
— Sarah Marjoram, MS, RDN, LD 
Protein-Packed Chocolate Cereal Bowl
"Simply whisk 3 tablespoons of your favorite chocolate protein powder (whey, plant-based, or collagen) into about 1 cup of unsweetened nut milk or your milk of choice and add it to a combo of your favorite lower sugar, higher fiber cereals. Top with fresh or defrosted frozen fruit like strawberries or cherries. My combo contains 23 grams of protein and a whopping 16 grams of fiber to help keep you full all morning."
— Lauren Harris-Pincus, MS, RDN, author of The Protein-Packed Breakfast Club 
"Mug cakes, when done right, are a fabulous mix of comfort food meets good nutrition. This delicious Pumpkin Chip Protein Mug Cake is easily made gluten-free and dairy-free and packs 27 grams of protein 6 grams of fiber for only 280 calories."
— Harris-Pincus
"I am not a huge breakfast food person, so my absolute go-to breakfast is soup! I usually make a big pot during the weekends, and it lasts me during the week when my days are the busiest. I always pick a soup that has plenty of vegetables and some type of [legume], such as lentils or beans. Why? The combo starts my day with 1 to 2 servings of vegetables, fueling my body with vitamins, minerals, and fiber. The legumes also provide fiber and protein to sustain me through the morning. It is super quick and easy—I simply pop it in the microwave and I'm ready to sit down with my kids for breakfast."
— Kim Ferreira, MS, RD, LDN
Make-Ahead Meal-Replacement Shake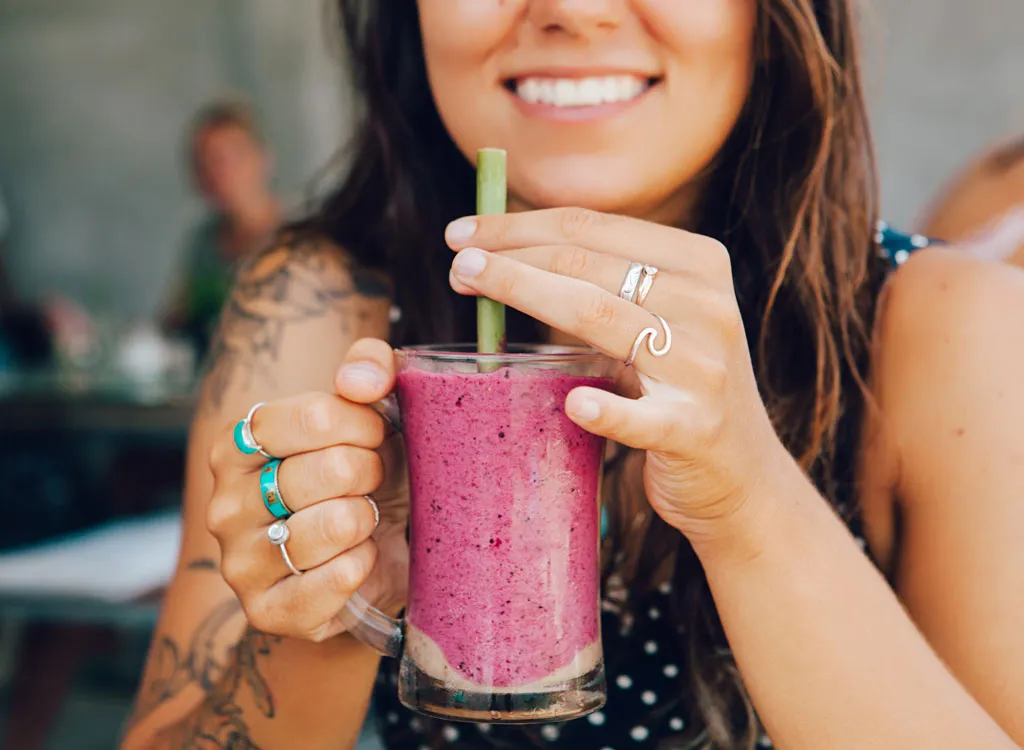 "I'll use unsweetened almond milk, egg whites, collagen protein powder, Greek yogurt, frozen high-fiber fruit (blueberries and raspberries), sunflower seed butter, ground flaxseeds, and chia seeds. I put everything in the blender and into the refrigerator the night before (except for the frozen fruit, which I add in the morning) and blend quickly in the morning before I leave for work. This is one of my favorite breakfasts because it is so easy and takes minimal time to prepare. The combination of healthy fats, protein, and fiber keeps me full and focused all morning long."
— Michelle Hyman, MS, RD, CDN
Greek Yogurt With Almond Butter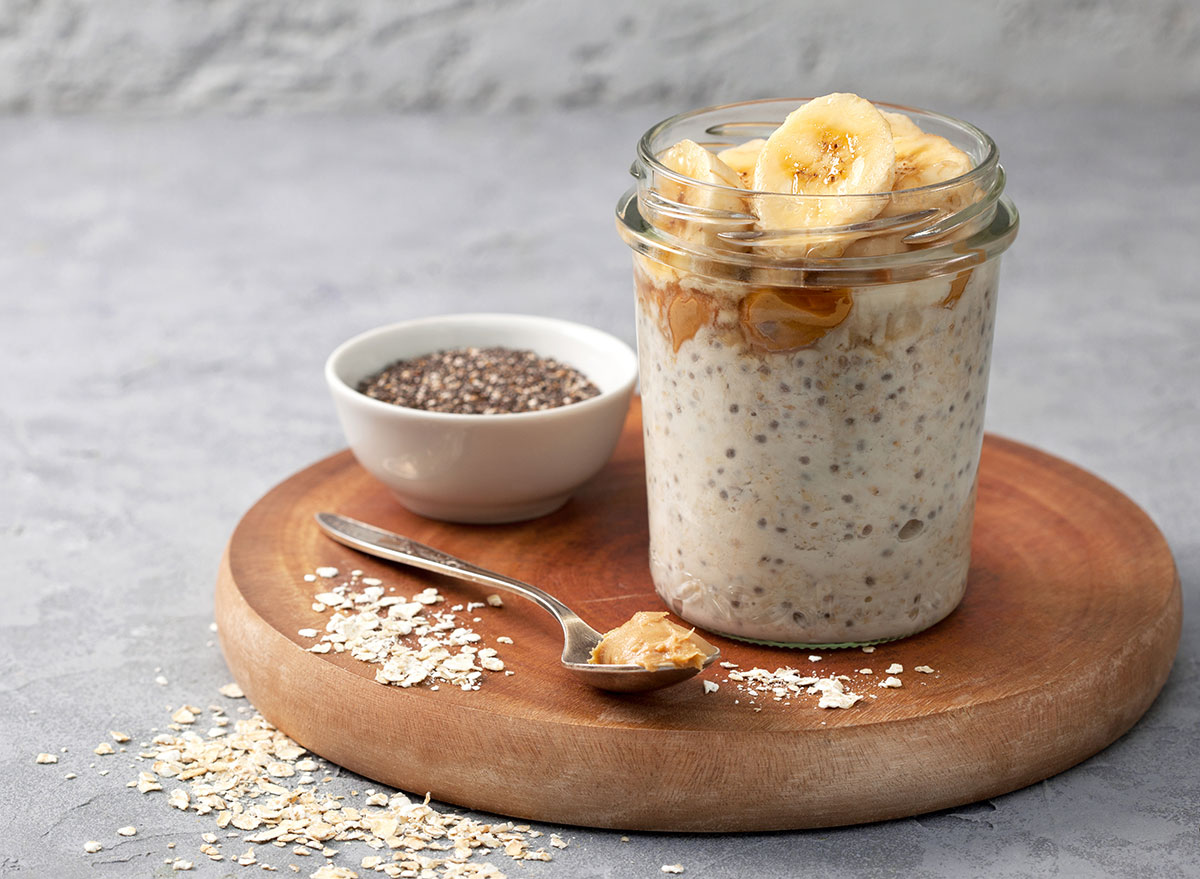 "A well-balanced breakfast will keep you full for hours and set you up right for the rest of the day. I typically eat a plain Greek yogurt and top it with a 1/4 cup of oatmeal, a scoop of almond butter, chia seeds, cinnamon, and a banana. The almond butter and chia seeds provide healthy fats for added satiety, while the Greek yogurt provides up to 20 grams of protein!"
— Meghan Donnelly, MS, RDN
Instant Oatmeal With Peanut Butter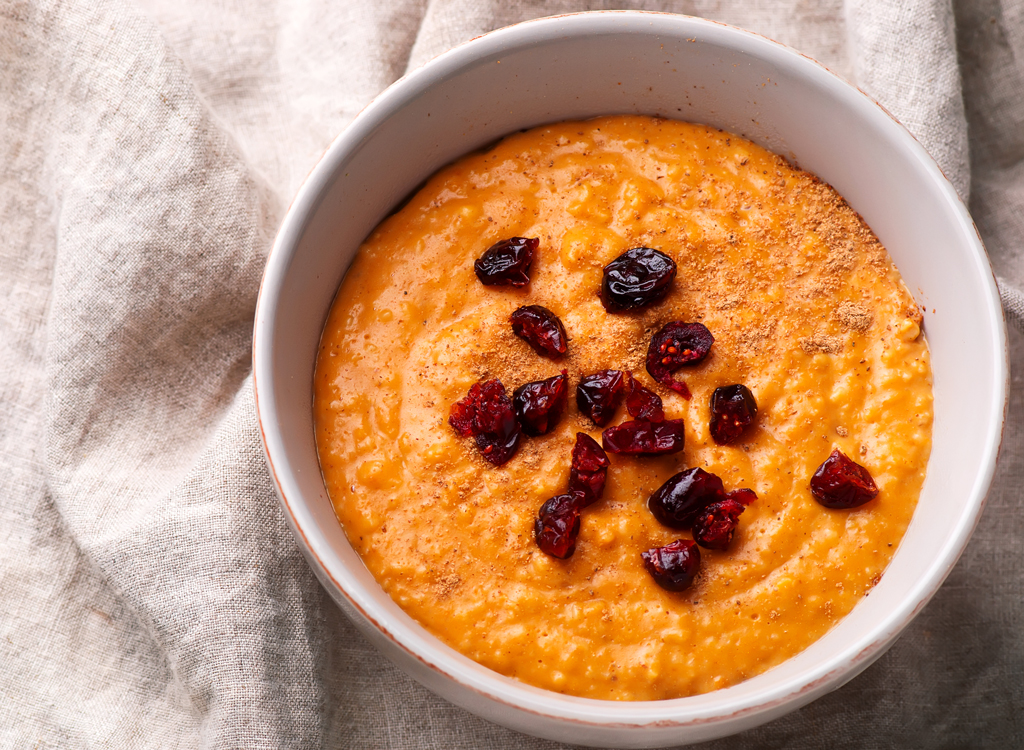 "I have a packet of plain instant oatmeal, which I prepare in 1.5 minutes in the microwave. Even though this is a convenient product, it is still a whole grain and contains no added sugar. I like to top my oatmeal with a tablespoon of peanut butter for some healthy fats. My current goal is to continue to maintain my healthy weight, but when I was losing weight, I would top my oatmeal with a powdered peanut butter product instead (such as PB2) to reduce both fat and calories. Even with the regular peanut butter, this entire meal is only around 400 calories."
— Summer Yule, MS, RDN
KIND Mini Bar and Greek Yogurt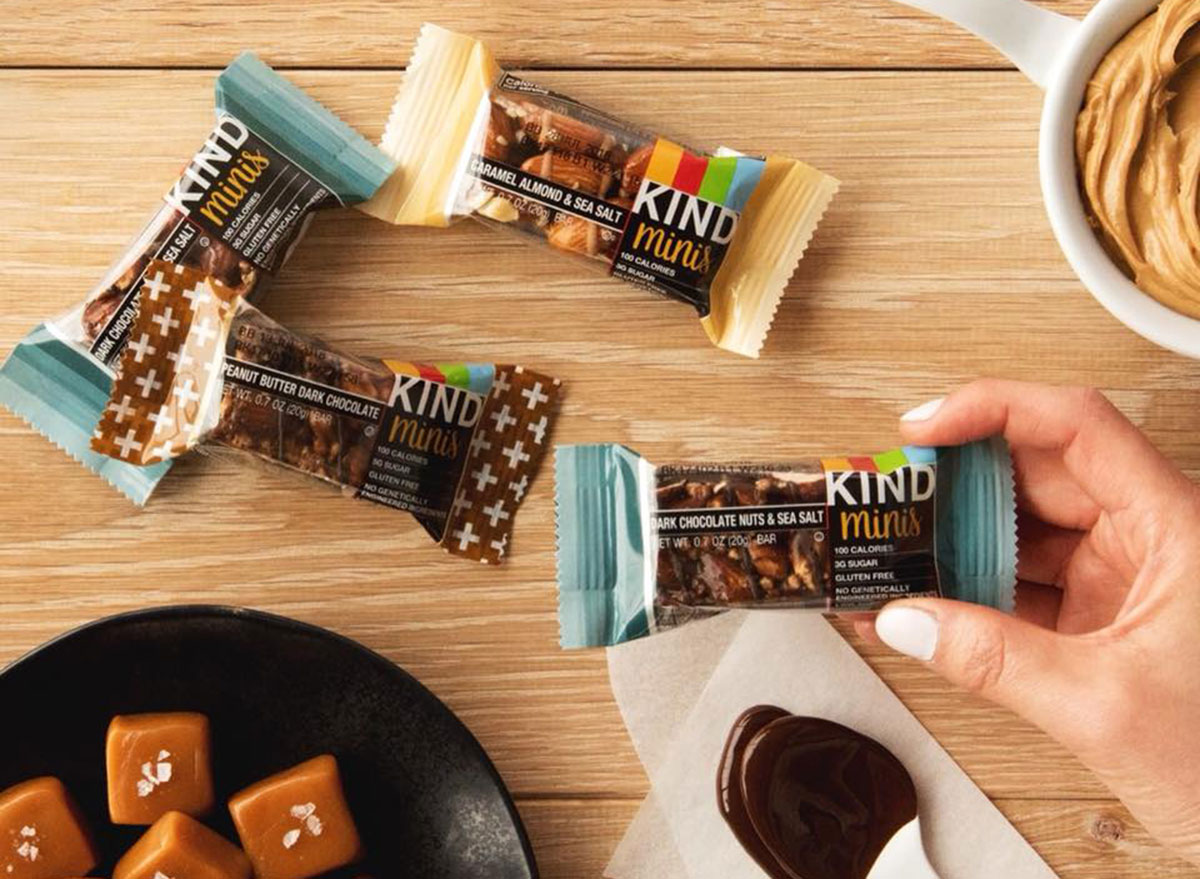 "If I'm running out the door to a spin class or meeting, I still want to have a complete breakfast full of protein, carbs, and healthy fats. For those mornings, I choose a KIND Mini bar and a plain Greek yogurt. The KIND mini is made from nuts—which have healthy fats—and is just 100 calories, so it's a great topper for a protein-packed Greek yogurt. This simple breakfast keeps me full for hours."
— Natalie Rizzo, MS, RD
Cottage Cheese With Berries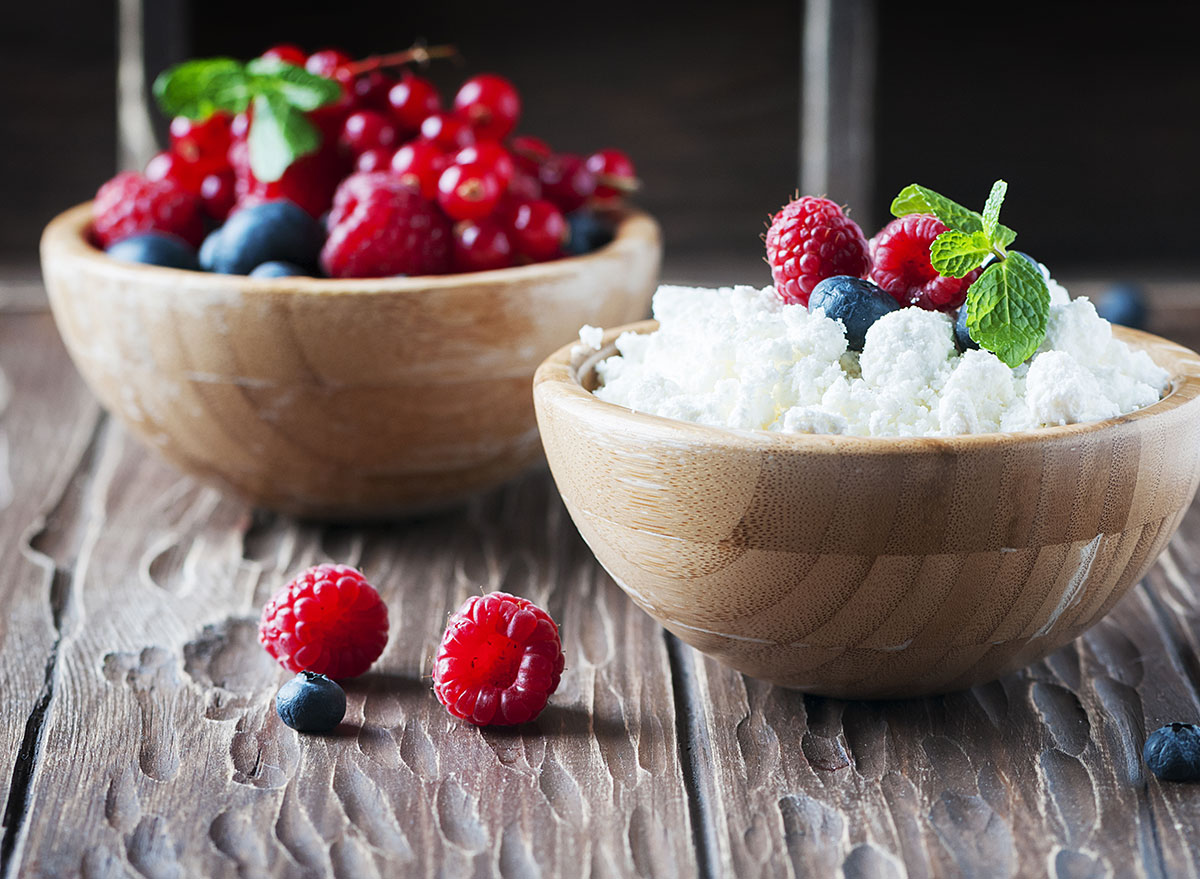 "For breakfast, I recommend pairing cottage cheese with berries like blueberries and strawberries because they're a prebiotic. When you combine a prebiotic (berries) and a probiotic (Muuna's low-fat cottage cheese) it creates a symbiotic meal or snack, essentially meaning you can reap maximum health benefits when they're combined compared to eating either on their own." Read more about how prebiotc and probiotic foods work together.
— Melissa Rifkin, RD
"Baked oatmeal is amazing because one batch cooked on a Sunday will feed you for the whole work week. This Cranberry Orange Protein Baked Oatmeal can be enjoyed as-is on the way out the door, delivering 13 grams of protein and 8 grams of fiber. [You can top it] with extra Greek yogurt or cottage cheese and fruit for an additional protein and fiber boost."
— Harris-Pincus
Power Grain Waffle With Nut Butter
"Every morning I toast a slice of Ezekiel bread or Van's Power Grains waffle and top it with some all natural crunchy nut butter, a touch of jam, and a sprinkle of raw shelled hemp seeds. This is a perfect combination of complex carbs, and protein, and heart-healthy essential fats. To round out the meal, I'll add any fruit that's in season. In the summer, my favorites are peaches and watermelon. This meal stabilizes blood sugar levels and keeps you satisfied for hours."
— Laura Burak MS, RD, CDN, Laura Burak Nutrition
"For breakfast, I'll make a plant-based protein shake with a tablespoon of Justin's Almond butter, 1/4 cup of ice, 8-ounces of water, a banana, 1/4 cup of acai berries, and a few tablespoons of pumpkin seeds. Not only are pumpkin seeds a great protein source, but they're also filled with magnesium, a nutrient that may help keep migraines at bay and play an important role in insulin function, helping the body convert glucose into energy."
— Jay Cardiello, celebrity fitness and nutrition expert and star of ABC's "My Diet Is Better Than Yours"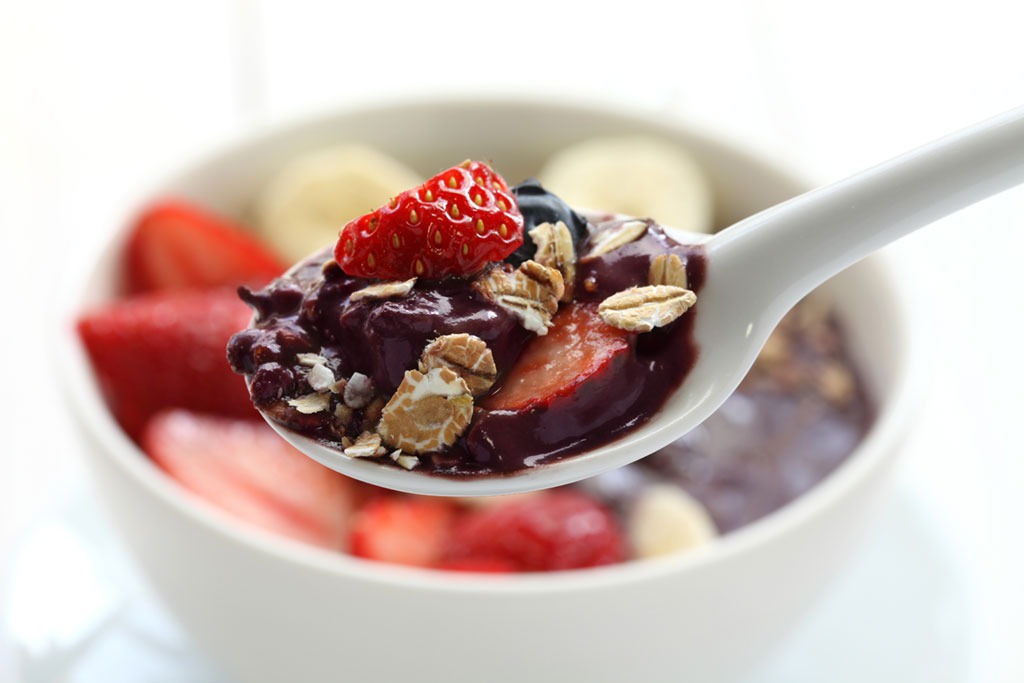 "I'm very streaky with breakfast; I tend to do something for a week or two and then switch gears. Right now, though, I'm on an acai bowl kick. I buy the frozen, unsweetened packets by Sambazon and blend them with a little Pacific coconut milk. The toppings are the fun part: I switch these up every day but I like bee pollen, unsweetened coconut, chia or hemp seeds, and a little seasonal fruit. I'm a fan of acai bowls because they're refreshing like a smoothie, but feel more satisfying because you eat them with a spoon and the toppings provide texture. Plus, I'm getting antioxidants, good fats, B vitamins, and fiber to start my day."
—Lauren Slayton, MS, RD, founder of Foodtrainers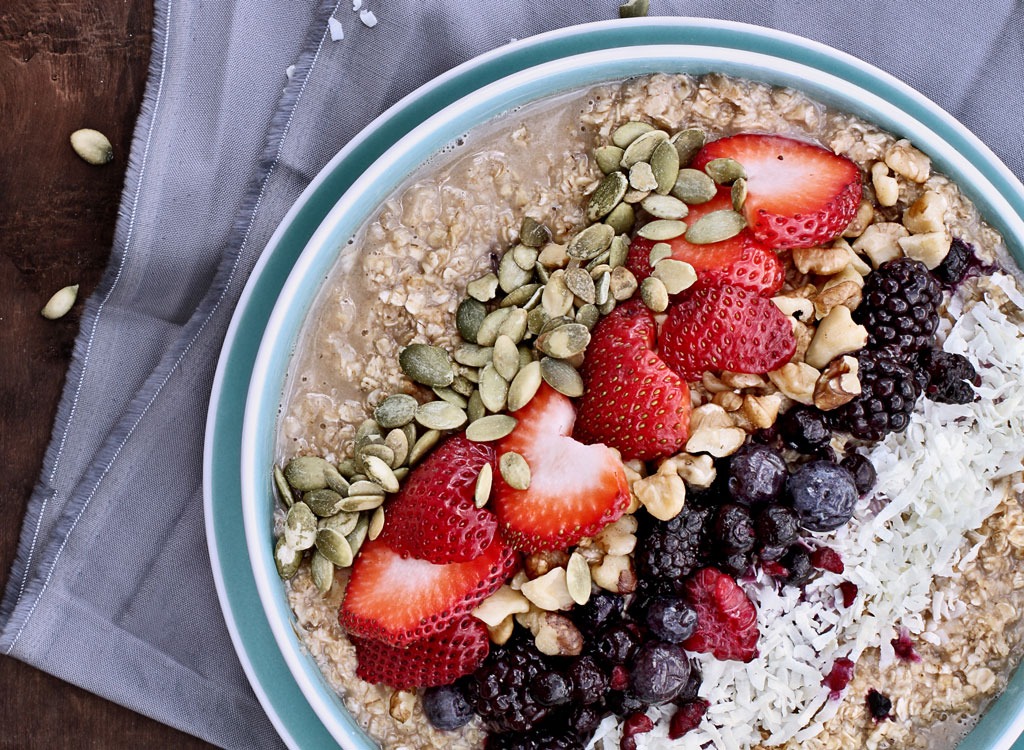 "Every morning I start my day with gluten-free oats topped with chia seeds, walnuts, shredded coconut, a few berries and a touch of honey or maple syrup for added sweetness. I'll also have an organic chicken sausage for some clean, satiating protein. When it comes to breakfast, I always include foods that are filled with healthy fats to help keep me satisfied and prevent my blood sugar from spiking and then crashing. On occasion, I'll also have a small green juice to boost my daily intake of veggies throughout the day!"
— Isabel Smith, MS, RD, CDN, founder of Isabel Smith Nutrition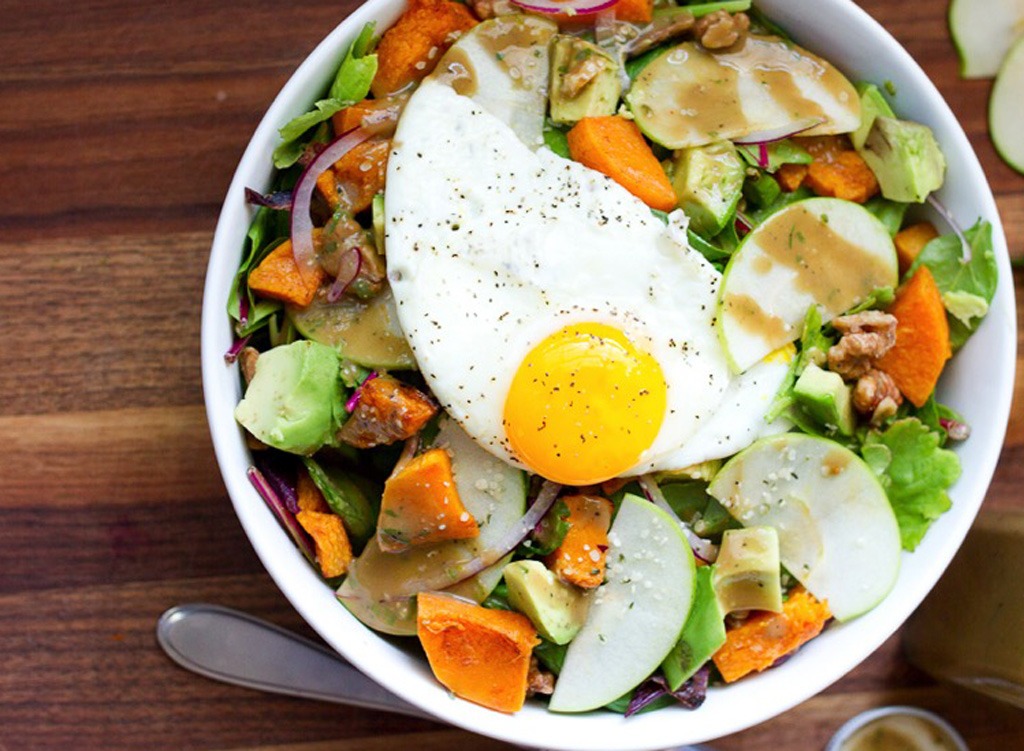 "I love using my leftover roasted vegetables from dinner the night before and topping them with poached eggs. I typically pair the combination with whole grain toast on the side. This meal gives me the jumpstart I need in the morning by providing a whole protein source, a serving of vegetables, and complex carbs to sustain me throughout the morning. It's also savory and enjoyable to eat. I would recommend this breakfast for anyone who has trouble getting protein in their breakfasts or those who have trouble meeting their vegetable quota for the day."6254a4d1642c605c54bf1cab17d50f1e
— Jim White RD, ACSM HFS, Owner of Jim White Fitness and Nutrition Studios
Never made an A.M salad before? Check out these 15 Breakfast Salads Worth Waking Up For to jump-start your culinary creativity.
Soft Boiled Egg on Whole Wheat Toast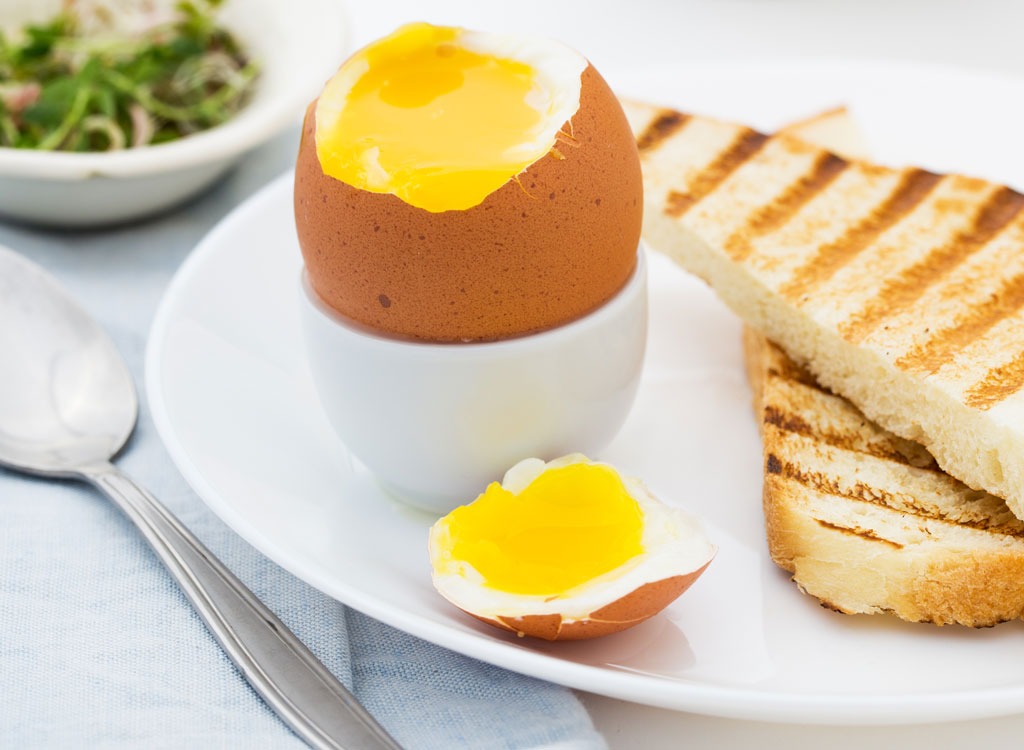 "My morning always starts out with a cup of coffee with a little half and half and sugar. As the morning progresses, I usually drink two more cups of decaf. I'll also enjoy a soft-boiled egg (a great source of protein, healthy fats, vitamin D, and fat-burning choline) on top of fiber-packed whole-wheat toast with a sprinkle of salt and freshly ground pepper. I usually soft boil two or three eggs at a time and keep the extras in a bowl in the fridge. That way, I can pull one out the next morning and simply warm it up in the microwave."
— Christine M. Palumbo, MBA, RDN, FAND, a Chicago-area registered dietitian and nutrition communications consultant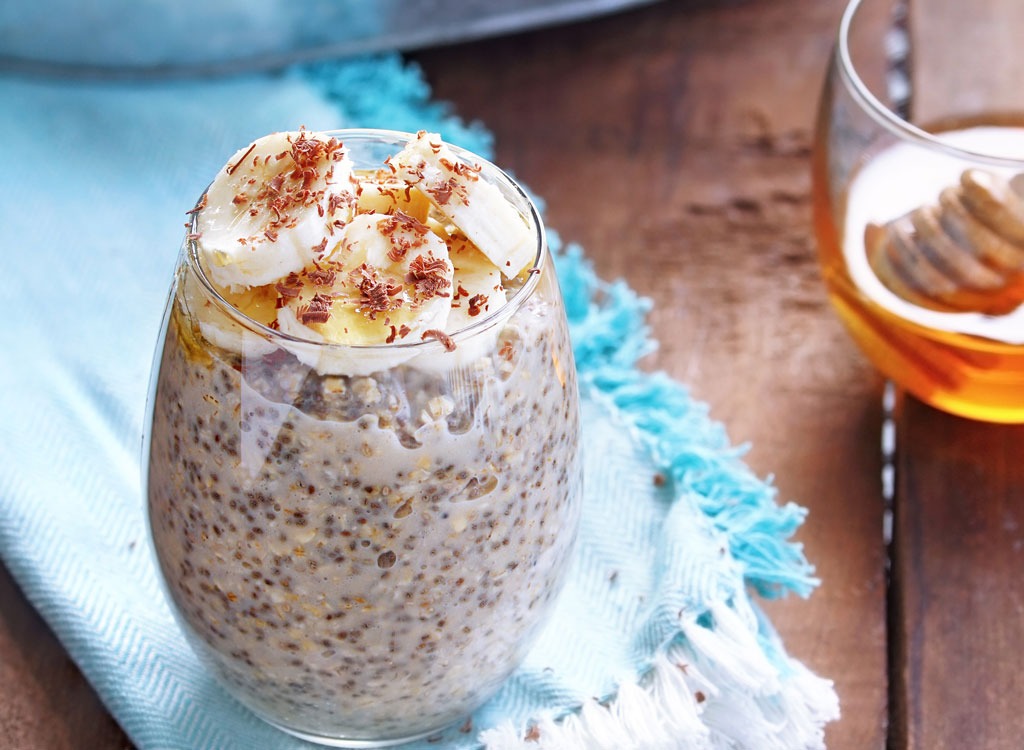 "Overnight oats are the perfect grab-and-go meal for busy mornings. Stir together enough ingredients for three or four jars and you're set for the next few days. For each serving, I mix together 1/4 cup of nonfat plain Greek yogurt, 3/4 cup of unsweetened vanilla almond milk, 1/2 cup of raw oats, 2 teaspoons of chia seeds, a sprinkle of cinnamon, a splash of real vanilla extract, and a touch of honey or maple syrup. Then I layer the mixture into jars with sliced banana or berries and leave them in the fridge overnight. In the morning you have the perfect combination of complex carbs and protein for breakfast."
— Burak
Eggs & Sautéed Sweet Potato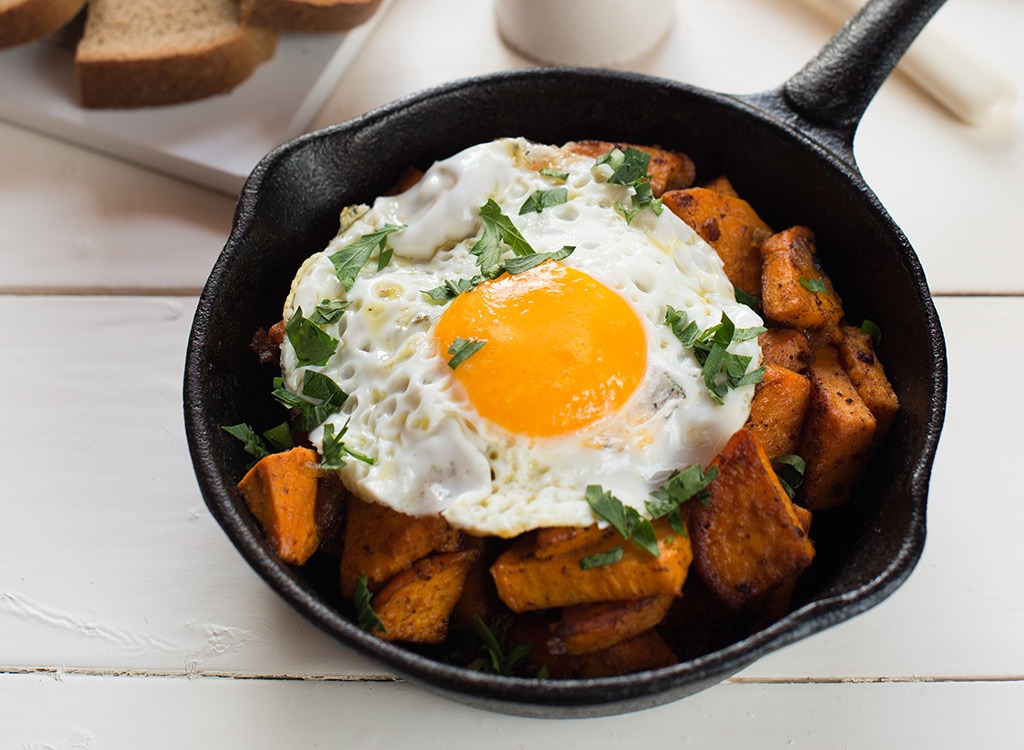 "The breakfast I have every single day is comprised of a couple eggs cooked in butter or coconut oil with a side of sautéed sweet potato or fruit. This balanced breakfast, chock full of protein, healthy fats, and carbs, jump starts my metabolism first thing in the morning by bringing my blood sugar levels into the stable range and keeping them there. Further, the healthy fat and protein keep me focused and energized throughout the day. If you're not a fan of traditional "breakfast fare," dinner leftovers are a great alternative so long as it's a combination that serves up protein, healthy fats, and carbs."
—Cassie Bjork, RD, LD of Healthy Simple Life
Salmon Breakfast Sandwich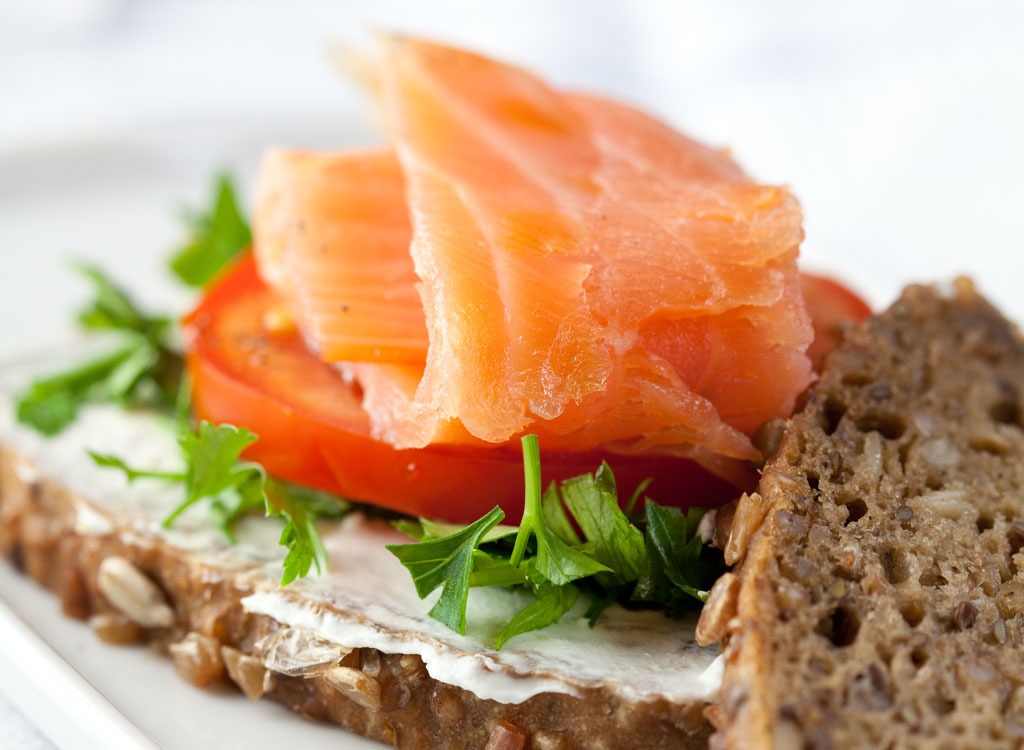 "I eat a lot of tomatoes for breakfast in the summer. I like to make a breakfast sandwich with two slices of Ezekiel toast, a thin slice of tomato, 6-ounces of salmon, olive oil, and black pepper. Not only does this sandwich provide protein and fiber for long-lasting energy, but tomatoes are also rich in beta-carotene which helps protect skin against sun damage. They also contain lycopene a powerful antioxidant that's been shown to make your body's skin less sensitive to UV light."
— Jay Cardiello, celebrity fitness and nutrition expert and star of ABC's "My Diet Is Better Than Yours"
Veggie Omelet, Toast & Fruit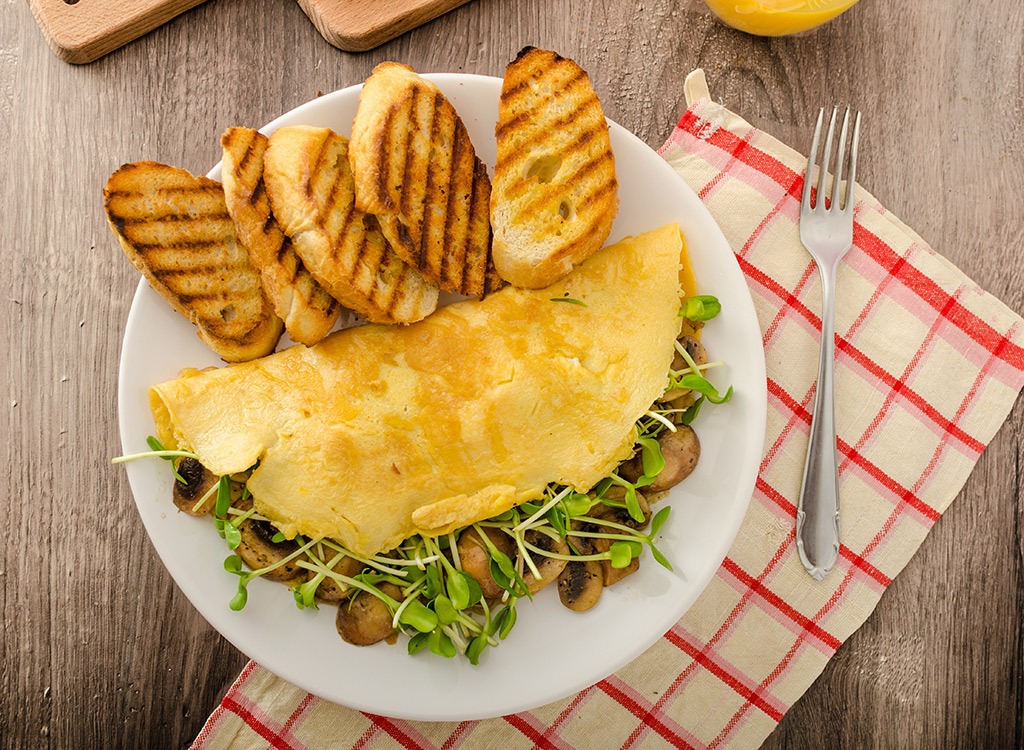 "I always start my day with an energy-boosting meal filled with a variety of food groups. My favorite breakfast includes one or two eggs over-easy or a two-egg omelet filled with whatever veggies are in my refrigerator. I pair the eggs with a slice whole grain buttered bread, a cup of strawberries, and a cup unsweetened black tea. Having both protein and fiber for breakfast helps slow down digestion and helps keep me going until I can grab my mid-morning snack."
— Toby Amidor, MS, RD nutrition expert and author of The Greek Yogurt Kitchen: More Than 130 Delicious, Healthy Recipes for Every Meal of the Day
PB & Chia Oats with Sparkling OJ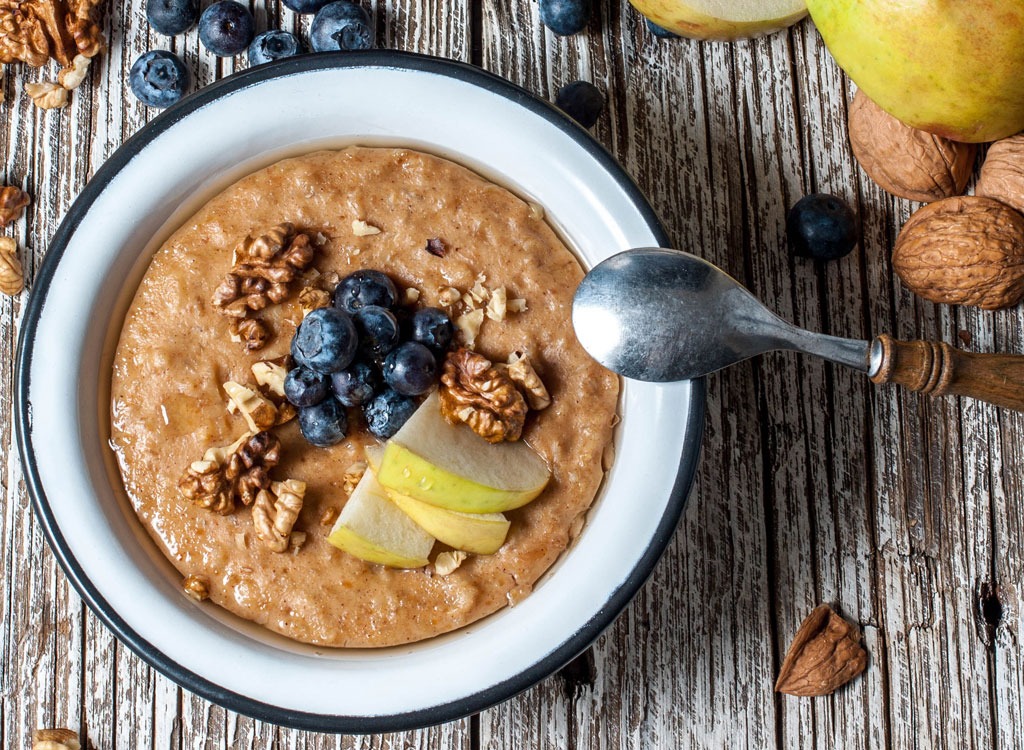 "I basically eat the same breakfast 365 days a year: Quick cooking—not instant—Quaker oats. I microwave the cereal for two minutes with nonfat milk and then top it off with a heaping tablespoon of crunchy natural peanut butter and a tablespoon of chia seeds. I also drink black half-caf coffee (half decaf, half caffeinated) and a glass of orange juice mixed with seltzer. The combination of fiber, healthy fat, and protein keeps me full until lunchtime."
— Keri Gans, MS, RDN, CDN, and author of The Small Change Diet
Avocado with Cottage Cheese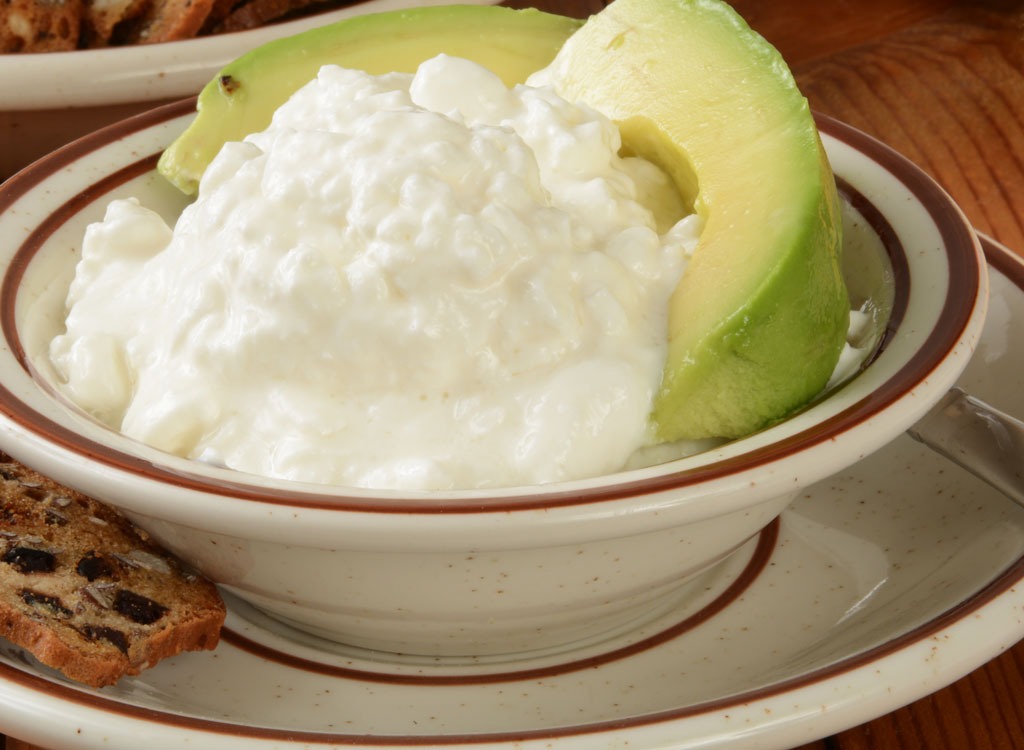 "My go-to breakfast lately has been half an avocado with cottage cheese. This meal has almost a third of my daily fiber and vitamin C needs and is packed with healthy fat and protein. The combination of fiber, protein, and healthy fats keeps me full all morning. Plus it's portable and most importantly, delicious!"
—Stephanie Brookshier, RDN, ACSM-CPT
Hard-boiled Egg & Cereal with Toppings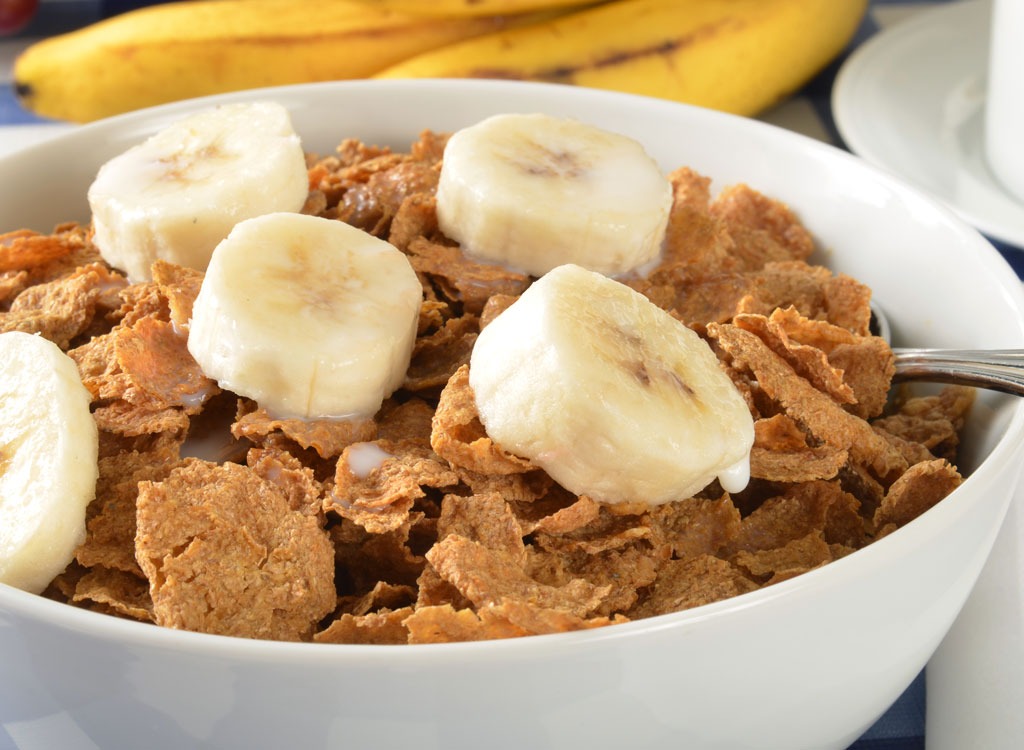 Almost every day, I eat Bran Flakes with skim milk, half a banana, a few walnuts and a hard-boiled egg for breakfast. Like most, taste is the main driver for my breakfast of choice, but the nutritional quality is certainly a huge consideration for me. The bran cereal provides a fair amount of fiber and 100 percent of my daily iron needs, a nutrient that I often struggle to get enough. I add the banana and walnuts for flavor and texture, and the walnuts have the added benefit of providing alpha-linolenic acid (ALA), the plant-based omega-3 that's been linked to a lower risk of heart disease. Using skim milk allows me to keep the calories controlled while still getting a healthy dose of high-quality protein, calcium, vitamin D, potassium as many other essential nutrients. Then, I include the egg for added protein to help keep me full until my next meal."
—Heather Mangieri, MS, RDN, CSSD, LDN, Spokesperson for the Academy of Nutrition and Dietetics
Ezekiel Bread with Peanut Butter & Apple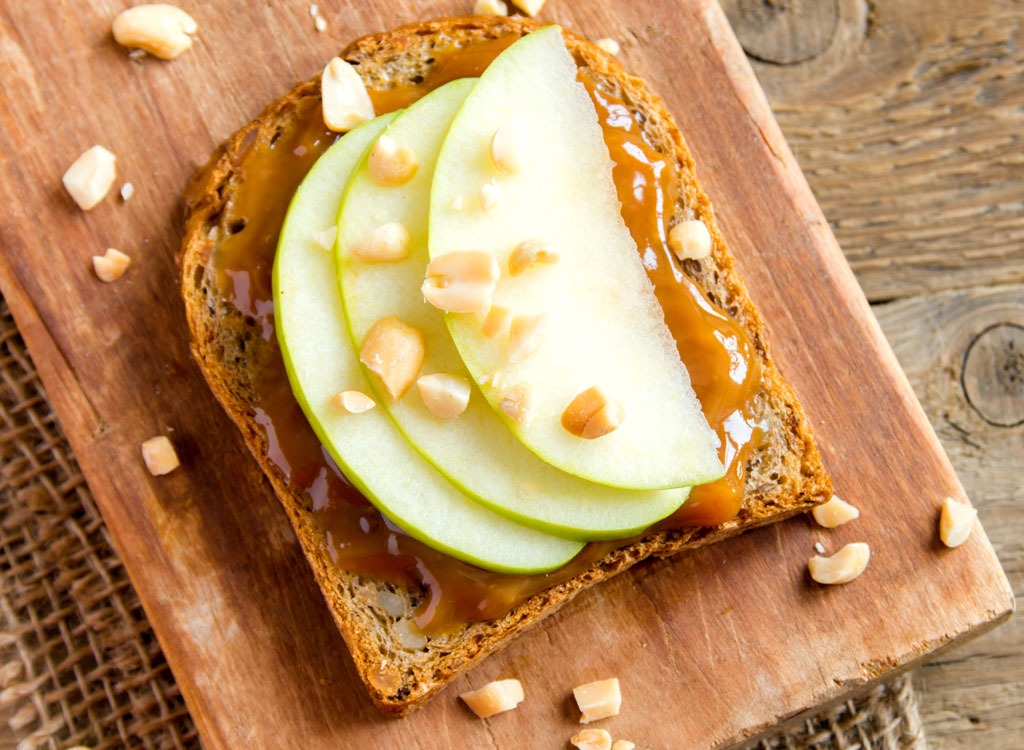 "If you're anything like me, then every single second you can spare in the morning is important. That's why I usually opt for something quick and easy, that sometimes when I am really rushing, I'm forced to eat on the run. While it's not ideal, I know eating something quick in the morning is better than nothing. My breakfast options in the morning must always contain some fiber and protein. It's a winning combination that fills me up and gives me the burst of energy I need in the morning, but also sustains my energy well into lunch time. Ezekiel bread is a non-processed, high-fiber, healthy whole grain bread that tastes great when paired with creamy all-natural peanut or almond butter. Apple slices help add some sweetness and studies even show eating an apple can give you more lasting energy than a cup of coffee."
— Lisa Moskovitz, RD, CDN, founder of The NY Nutrition Group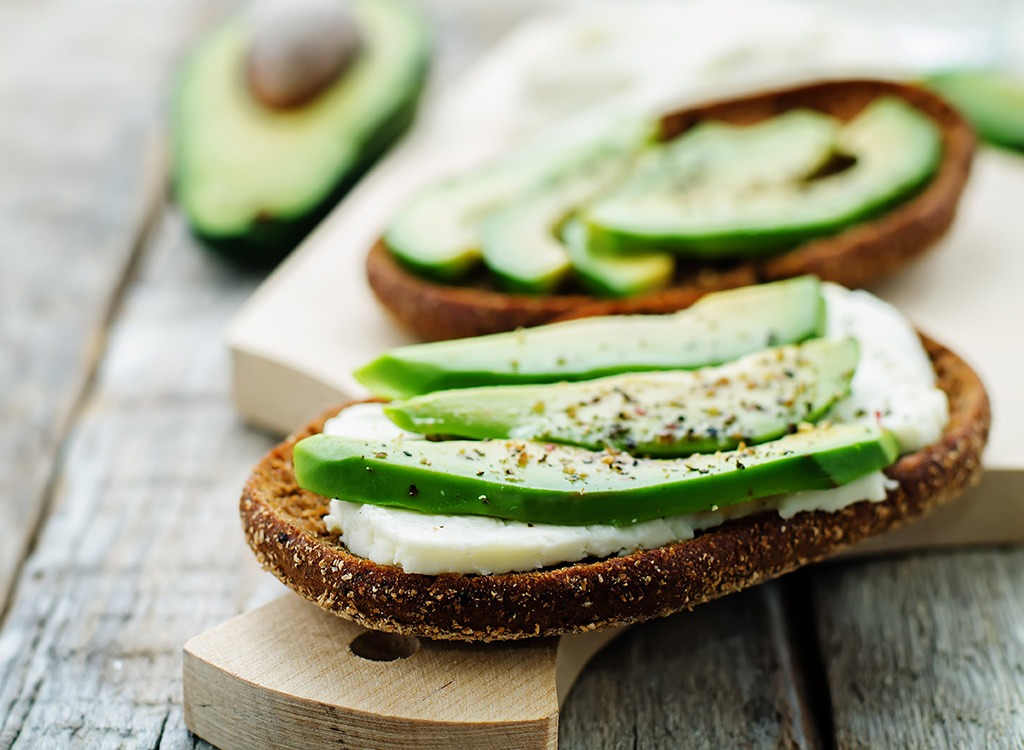 "One of my go-to breakfast choices is a slice of Flax Ezekiel bread, toasted and topped with mashed avocado, a sliced hard-boiled egg, and a sprinkled with hemp hearts. It's an easy-to-prepare meal that's packed with protein, healthy fats, vitamins and minerals like vitamin K, C and E, folate, and potassium. This combination keeps me full and fueled until my mid-morning snack. When I want to mix it up, I add almonds, different types of seeds, or fruit to the top of my toast."
— Paula Brooke Hankin, celebrity chef to fit stars like Alex Rodriguez, 50 Cent, and Vanessa Lachey.
Poached Egg with Refried Beans
"A healthy breakfast including protein is a great way to start the day because it'll keep you full for hours, keep your blood sugar levels even-keeled, and feed your muscles, which is especially important if you work out regularly. One of my favorite ways to kick off the day is a meal of fresh poached egg with refried beans."
— Cheryl Forberg, RD, 'Biggest Loser' dietitian and author of A Small Guide to Losing Big
For more of Forberg's go-to eats, check out our exclusive report, The 20 Best Weight Loss Foods According to the Biggest Loser's Dietitian
Yogurt with Berries & Chia Seeds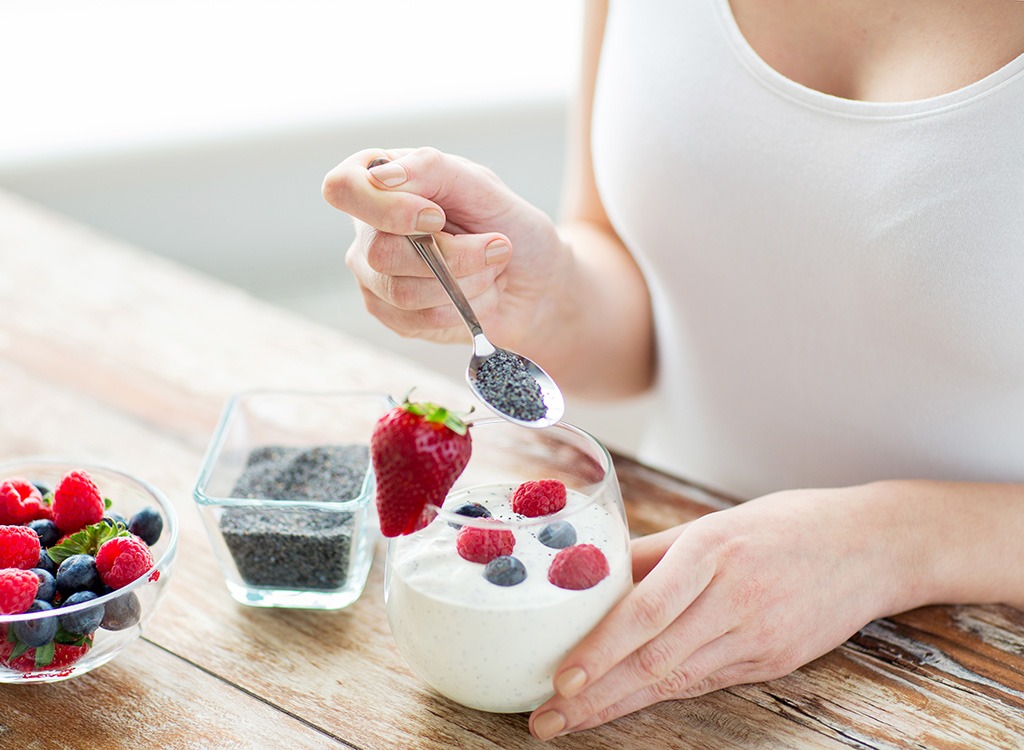 "Chia seeds aren't just a pet, they're a party in your mouth. I'm a huge fan of them because they're chock-full of heart-healthy omega-3s, fiber, protein, and calcium. Chia seeds are easily absorbed by the body, so they're very nourishing and satiating. Every day I add them to my breakfast smoothie or pair them with Greek yogurt or cottage cheese along with some blueberries."
— Sarah Koszyk, MA, RD, founder of Family. Food. Fiesta.
Read more:
15 Best Slow-Cooker Breakfast Recipes
90+ Healthy Breakfast Recipes for Weight Loss
April Benshosan
April is a born-and-raised Brooklynite who has a passion for all things health, wellness, and tastebud-related.
Read more about April