10 Unhealthiest Holiday Foods on the Planet
The festive time of year brings out all the sweet treats. These are the worst of the bunch!
The holidays are all about feasting, but with a table full of pies, cookies, cakes, and other sugary sweets, you're likely to end up feeling far from merry or bright. You don't have to deprive yourself of your favorite holiday foods completely, but knowing which ones are the unhealthiest can help you prioritize your top picks. This way, you'll leave more room in your belly for Grandma's pies or Mom's cookies while avoiding a sugar crash and stomach ache that interrupts the festivities.
Here are some of the unhealthiest holiday foods on the planet, that just so happen to all be desserts. Be a little extra mindful this season and enjoy in moderation if you're trying to stay on course with your goals! And to help keep you on the right path, try out these 21 Best Healthy Cooking Hacks of All Time.
Pecans are a great source of plant-based protein, fiber, and manganese. Suspend them in sugary syrup held in place with a buttery, flaky pie crust, though, and the health benefits are quickly overshadowed. A traditional pecan pie can contain around 500 calories per slice, and when you add the necessary vanilla ice cream, you're looking at about 700 calories for this dessert alone. When it is not a la mode, there's also about 30 grams of sugar and 19 grams of fat.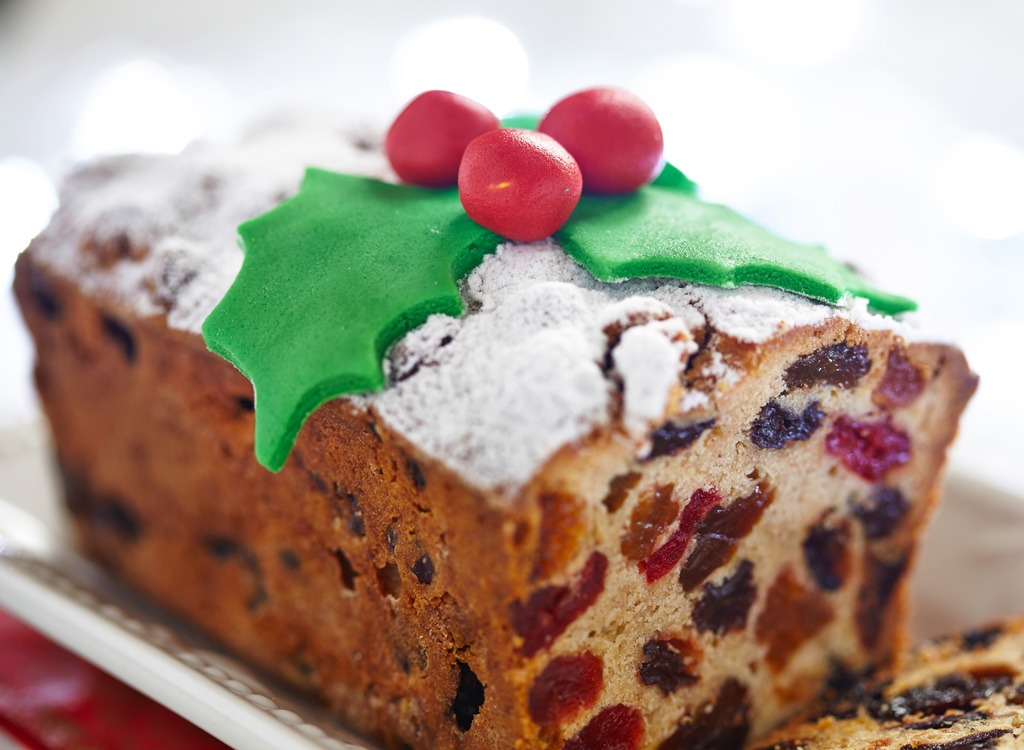 What's in a fruitcake exactly? Well, this dense cake is packed with dried or candied fruit and nuts, and is often soaked in alcohol. Even sans alcohol, this cake that might sound healthy is actually incredibly high in sugar. Each slice ranges anywhere from 300 to 500 calories and 22 to 50 grams of sugar, much higher than the American Heart Association-recommended 15-36 grams per day.
The problem?
After a slice of fruitcake, plus any other desserts you might have during a holiday dinner, blood pressure can rise, and according to Harvard Health, too much sugar can lead to increased risks of heart attack and stroke.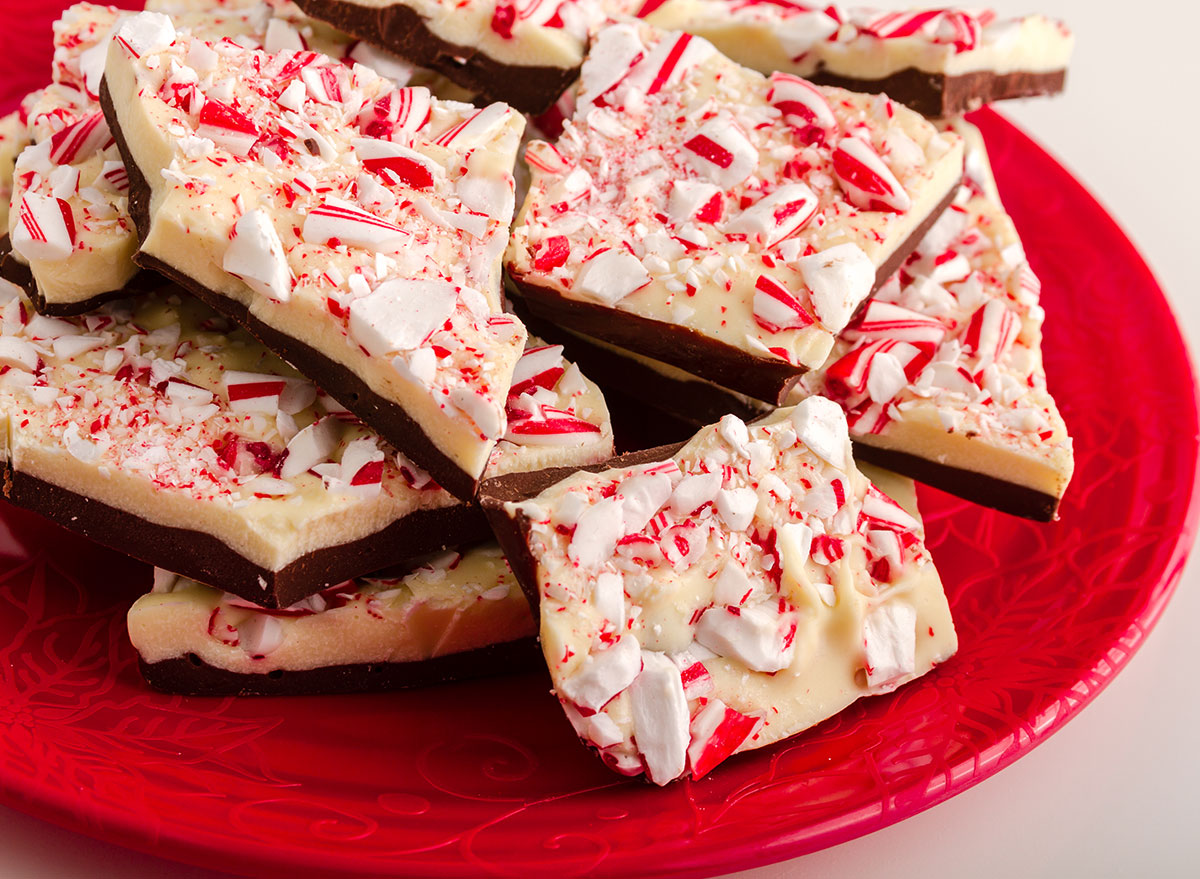 One piece of this mint-chocolatey dessert is OK as it stands, but who can eat just one small piece of bark? These addictively sweet treats beg to be eaten, and the calories and sugars quickly add up, especially if the bark is made with milk or white chocolate.6254a4d1642c605c54bf1cab17d50f1e
Boost the health benefits by swapping in dark chocolate and dispersing the peppermint light-handedly across the bark. You can also boost the peppermint flavor by adding peppermint extract into the chocolate.
Really looking to work on dropping some pounds? Learn how to harness the power of tea to lose weight!
Your family's fudge recipe is hard to resist for a reason—this dense treat is packed with sugar. Most fudge is made with sugar, butter, and milk (or sweetened condensed milk), which means it's a dessert option that is high in calories, fats, and sugars. Each 1-inch cube of fudge has about 90 calories and 16 grams of sugar. Enjoy a piece, then make room for some healthier dessert options on your plate.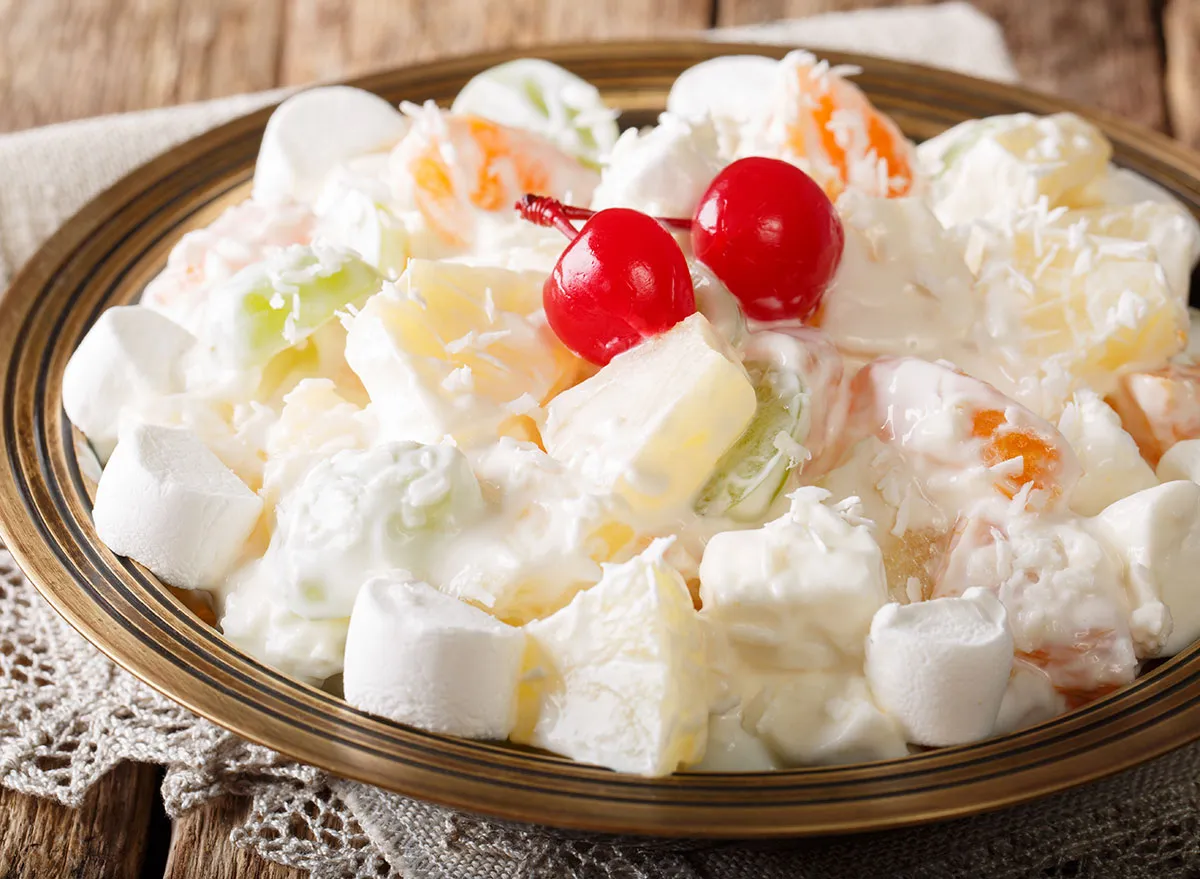 This classic holiday dish might seem like a healthier option—it is a fruit salad, after all—but it's actually one of the worst foods on the menu this time of year. It's typically made with syrupy canned fruit, marshmallows, maraschino cherries, and whipped cream. Basically, it's a bowl of added sugars and preservatives in festive colors. Swap this dessert for a fresh fruit salad instead.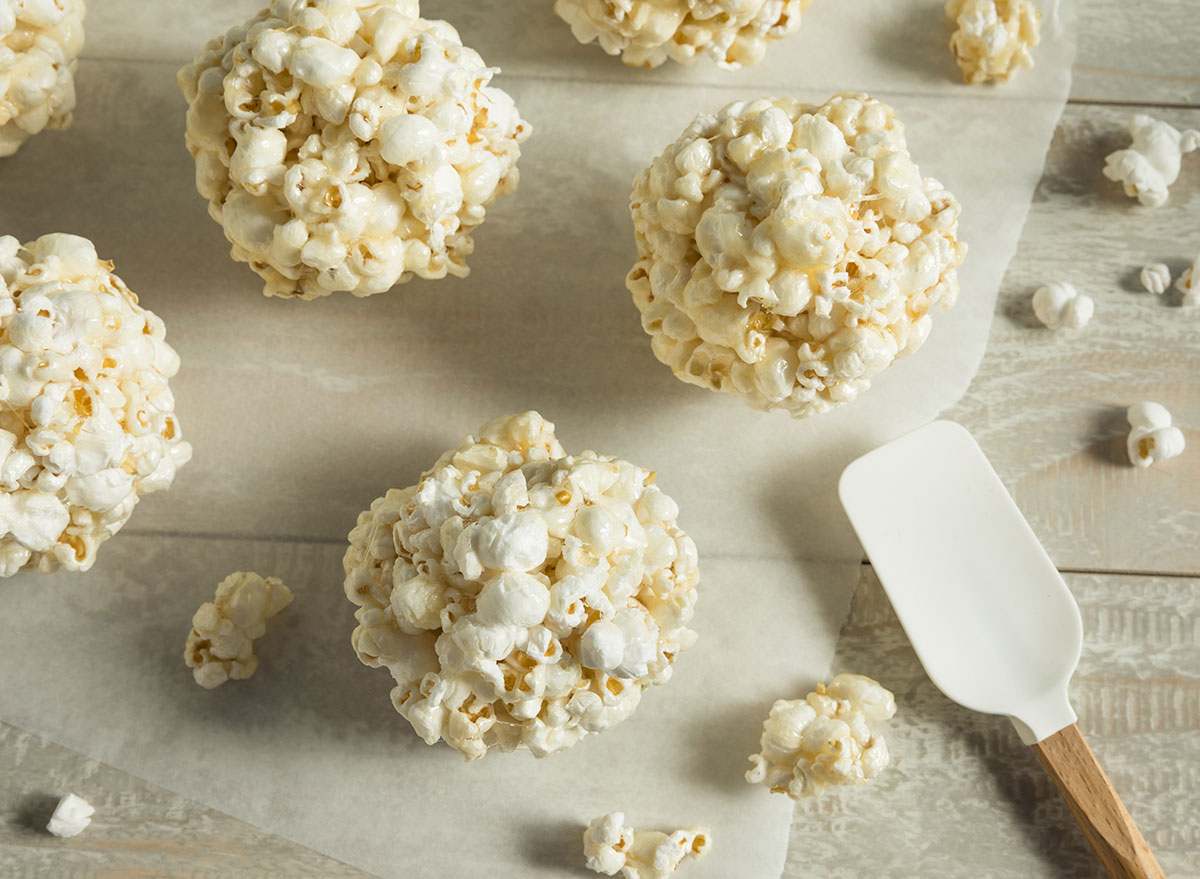 On its own, plain popcorn is actually a pretty healthy snack food. But mix it with ingredients like corn syrup, marshmallows, and caramel, and it quickly becomes one of the unhealthiest desserts. Cut back on the corn syrup and added sugar, and satisfy your sweet tooth by tossing plain popcorn with coconut oil, cinnamon, and maple syrup or honey.
Icing and decorating sugar cookies is a holiday tradition for many families. While you shouldn't skip out on the fun, be mindful of how many cookies you indulge in along the way. Each one can contain about 200 calories and 19 grams of sugar, and the more frosting and sugary toppings, the more calories and sugar you'll consume.
It's no secret that deep-fried, jelly-filled donuts aren't exactly good for you. While Hanukkah is a celebration of oil, hence frying this dessert in oil, you can make a healthier option by baking the sufganiyot. You can also opt for whole wheat flour in making the dough, and whip up a homemade low-sugar or sugar-free strawberry filling.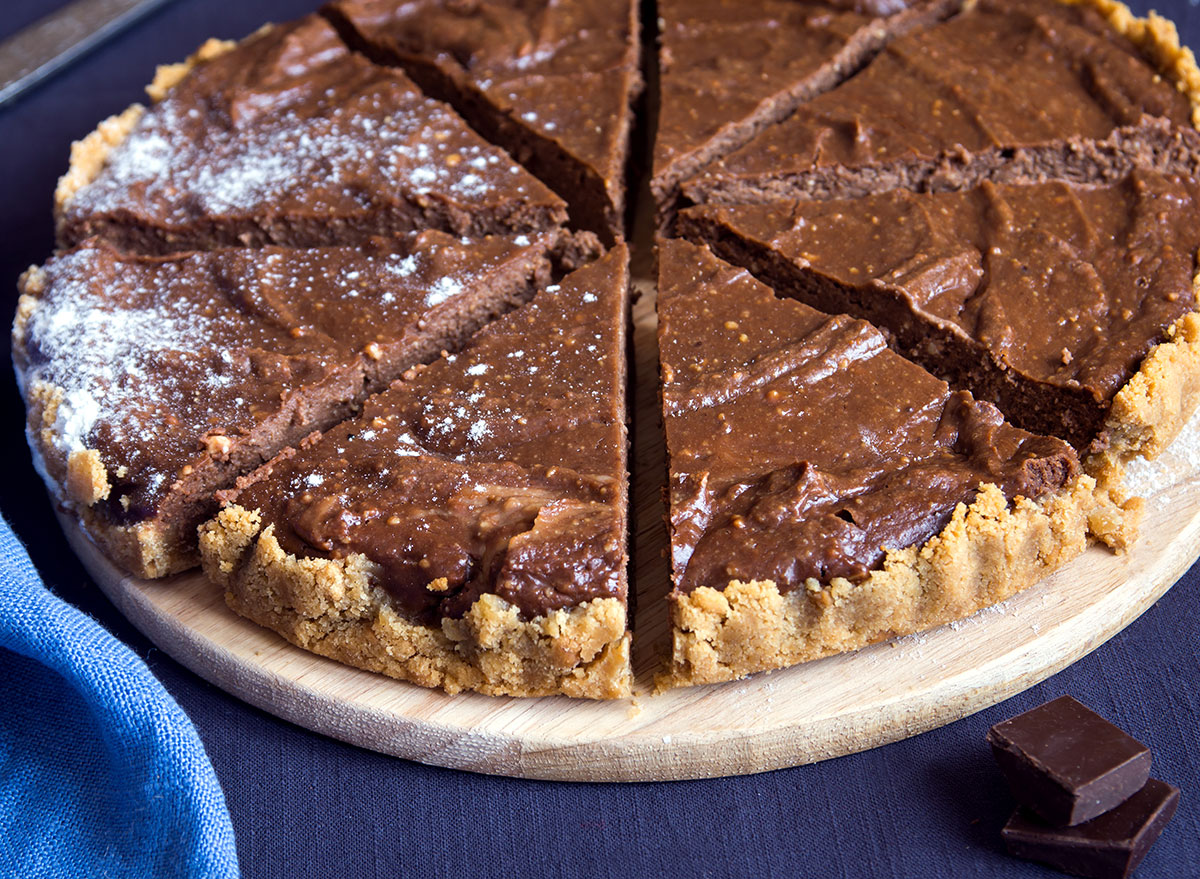 Like pecan pie, chocolate pie is traditionally placed in a buttery (aka fatty) pie crust. This dessert is even worse, as it lacks the nutritional benefits of the pecans. This chocolate pudding-filled pie is also often accompanied by a generous amount of whipped cream for topping, plus extra chocolate shavings for flourish. Even if you make the pudding from scratch, you're looking at about 500 calories a slice, 32 grams of fat, and nearly 40 grams of sugar. In this dessert alone, you'd consume nearly a full day's recommended amount of fat, plus more sugar than you should have in a day, too. If it's your favorite dessert, enjoy a small portion. Otherwise, you're better off making room for different types of desserts that you love more.
Nothing screams, "Christmas!" quite like a yule log cake. A buttercream swirl runs through the center of a log-shaped chocolate cake, all slathered in chocolate icing, along with any additional sugary decorations. While the nutritional makeup varies depending on the recipes, each slice of this festive, wintry cake is high calorie and as you can imagine, loaded up with fat and sugar. It's hard to resist a piece if it's on the menu this year, so keep portions small if you choose to indulge in this seasonal dessert.
Paige Bennett
Paige is a Los Angeles-based editor and freelance writer. In addition to writing for Eat This, Not That!, she works as the content editor for Inhabitat.
Read more about Paige